Crispy, crunchy Kohlrabi, fresh grapefruit and baked feta combine in this recipe to make a perfect light summer salad lunch.
Looking very distinctive and bold, it is sure to become the talking point of all your parties, picnics and barbecues. Yet it is so easy to make.
Jump to: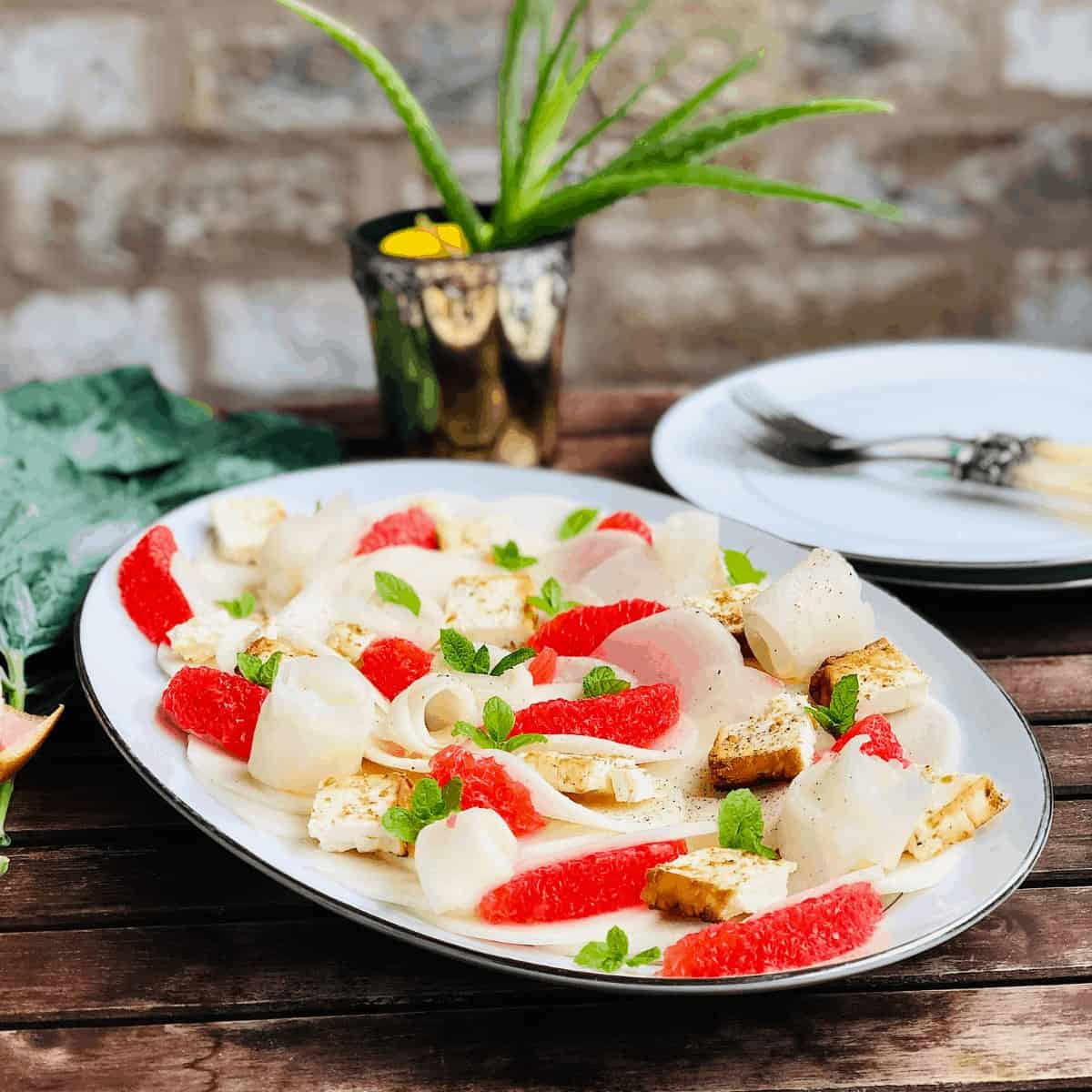 Kohlrabi - The Star Of This Healthy Summer Salad
This recipe shines a spotlight on Kohlrabi, an underrated vegetable in my opinion.
It is a member of the cabbage family and not the turnip family as its common name - german turnip - may suggest.
All parts of the Kohlrabi can be eaten, cooked or raw. However, in this recipe, we will be using the bulbous part only. So why not save the leaves for a stir fry?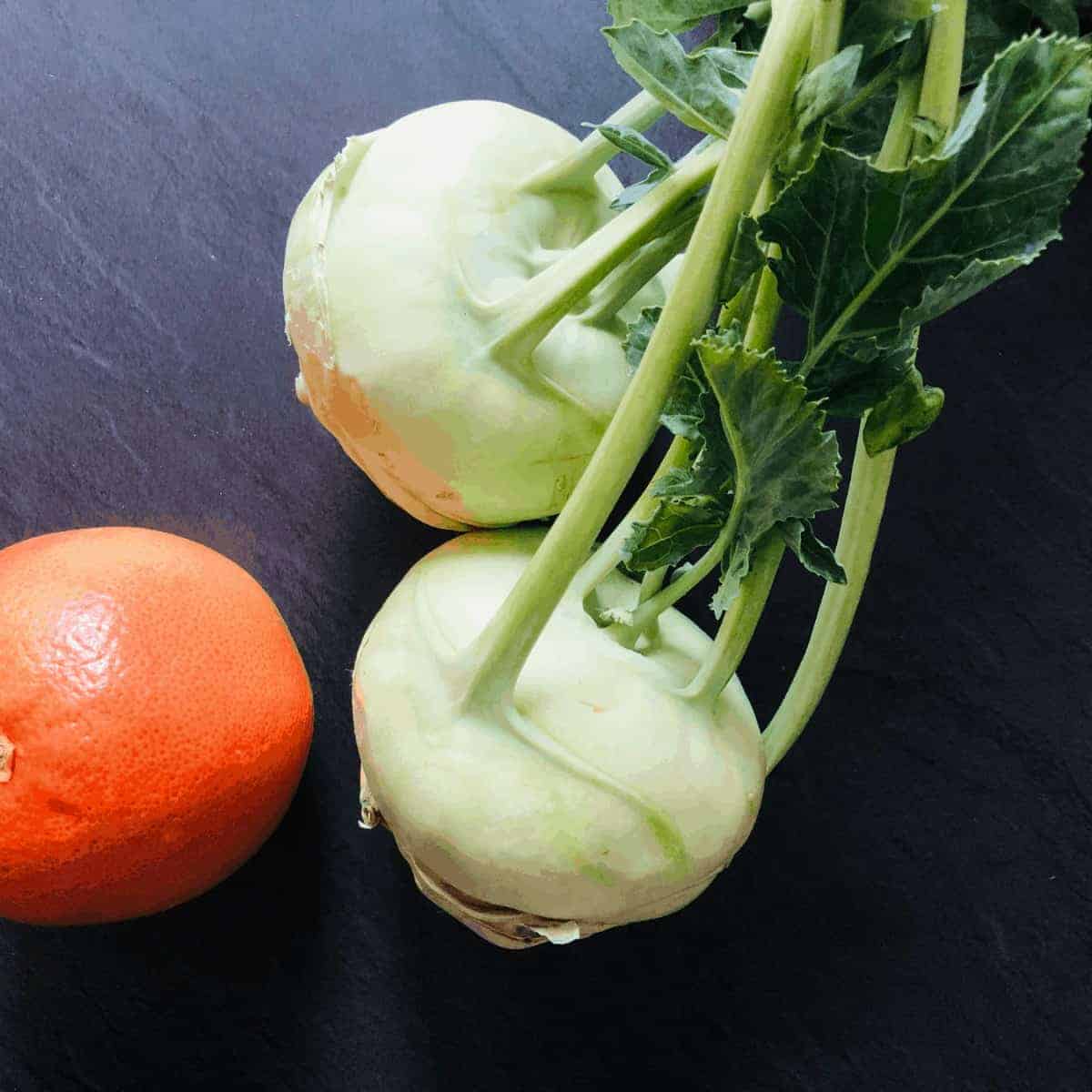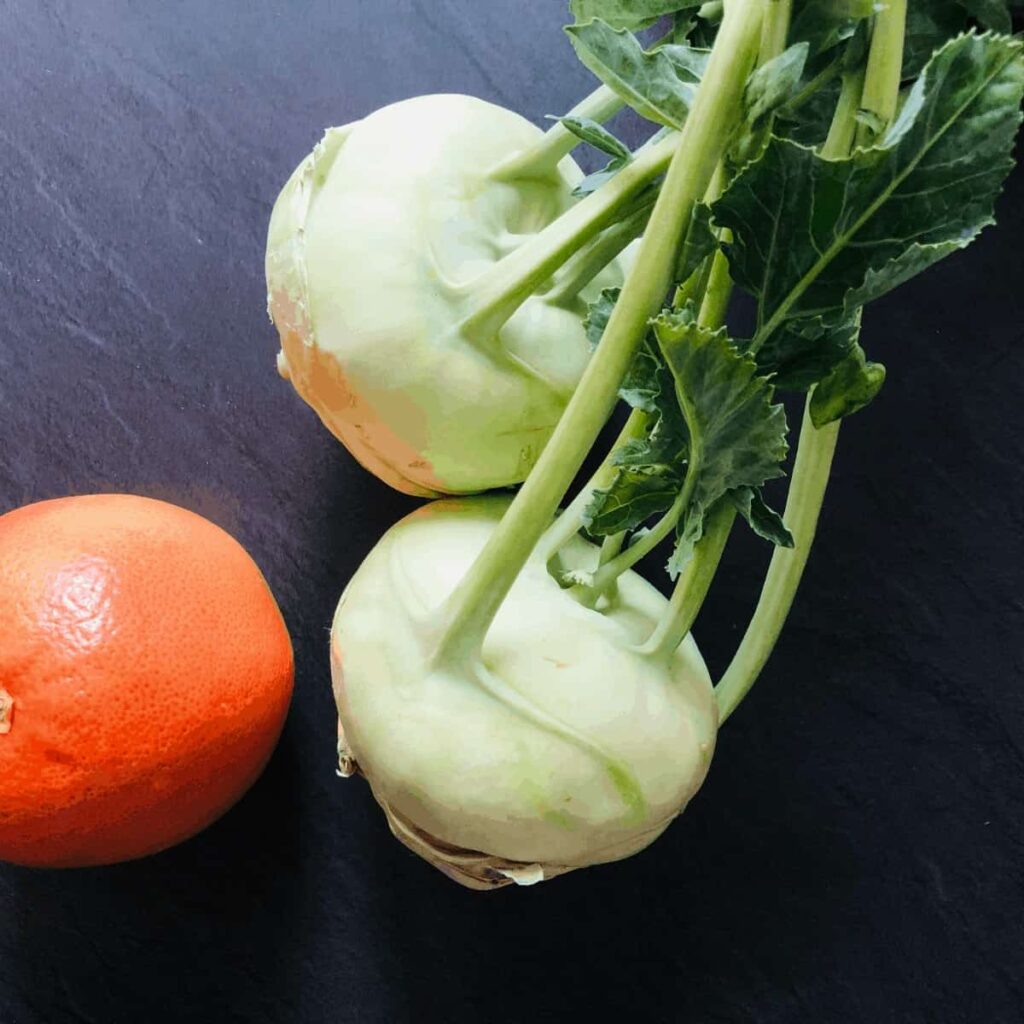 Kohlrabi is used as an ingredient in many parts of the world. For instance, in my home city of Calcutta, India, kohlrabi is a common vegetable known as Olkopi. Now living here in UK, I was pleasantly surprised to find it here, and even more surprised to learn that it has been grown in Europe since the 16th century.
If you haven't tried kohlrabi yet, this is your chance. Take a trip to your nearest farmers market and give this recipe a go. I am sure you will become a kohlrabi lover. I was a very fussy vegetable eater and never tried it in India, but this recipe has converted me.
Kohlrabi adds a crunchy texture to this salad. The flavour is a mild, water chestnut-like flavour that rests well with the citrusy grapefruit and the saltiness of the baked feta. A combination that is sure to please your taste buds. The elderflower vinegar introduces a whiff of summer and adds floral notes to the salad.
This healthy summer salad is straightforward to make. Baking the feta is the only cooking you need to do.
Another delicious fruit and feta combination is my beetroot, peach and baby spinach salad.
📖 Recipe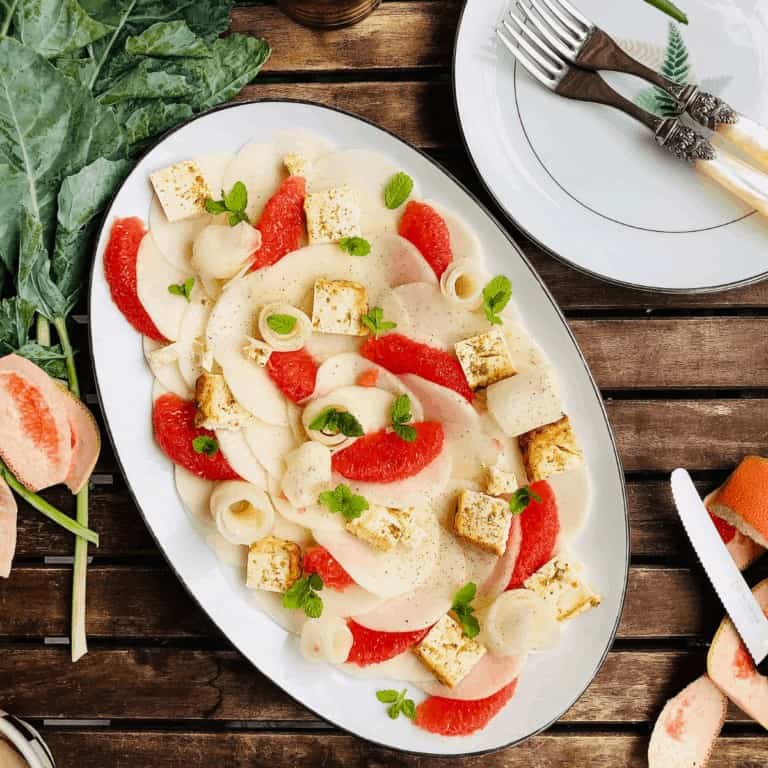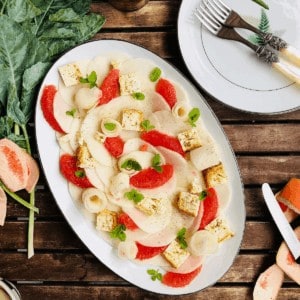 Kohlrabi, Grapefruit and baked Feta Salad
Delicious and refreshing, give this usual vegetable a chance
Ingredients
800

gms

Kohlrabi

400

gms

Grapefruit

2

tblsp

Elderflower Vinegar

1

tablespoon

Olive oil

Salt and pepper to taste

A few sprigs of mint for garnish
Baked Feta
100

gms

Feta

¼

teaspoon

Olive oil

¼

tsp

Lemon juice

Salt and pepper to taste
Instructions
Marinate Feta in olive oil, lemon juice and salt and pepper.

Transfer feta to oven proof baking tray and bake for 20 mins or until crisp and golden. Once ready set aside to cool.

Peel and slice Kohlrabi very thin. If using mandolin, please be careful with your fingers.

Peel and segment Grapefruit. (watch video for how to )

Mix olive oil, elderflower vinegar, salt and pepper in a jar and shake. Pour over kohlrabi and set aside.

Arrange kohlrabi on to a plate, add grapefruit segments, baked feta and sprigs of mint.

Grind some more fresh black pepper. ( optional, but highly recommended)
Instructional Video
Here is a how-to video guide:
Ingredient Substitutions
Elderflower vinegar is quite unusual, so if you don't have it or can't find it in the shops, you can substitute with apple cider vinegar or white wine vinegar. Alternatively if you are living in UK and want to order some,I highly recommend Belloathome.
I have only tested the recipe with grapefruit, however I think other citrus fruits like orange or pomelo would work well too.
For this recipe I have used dairy feta as I wanted to use it baked. You can use dairy-free feta cheese to add the saltiness. However you can't bake it because the fats used in it will cause it to melt.
Kitchen Education
What is a mandoline slicer? This is a slicing device made up of a flat surface with an embedded blade. To create thin, even slices, run vegetables back and forth over the blade. So much quicker than using a knife. A word of caution though: Handle with care and attention to avoid a nasty cut. Use the guard provided, to protect your fingers.