We all need comfort food once in a while. Something that's warming, filling and nourishing, that reminds us of home-cooked food when we were young—Daal ticks all these boxes. Daal's were a staple dish in my home when I was young, and it remains a delicious everyday meal choice in my busy household. There are many types of daal to make with different flavours and ways of cooking, so you can always keep meal times interesting. This daal recipe is for a simple daal so that you can master the basics.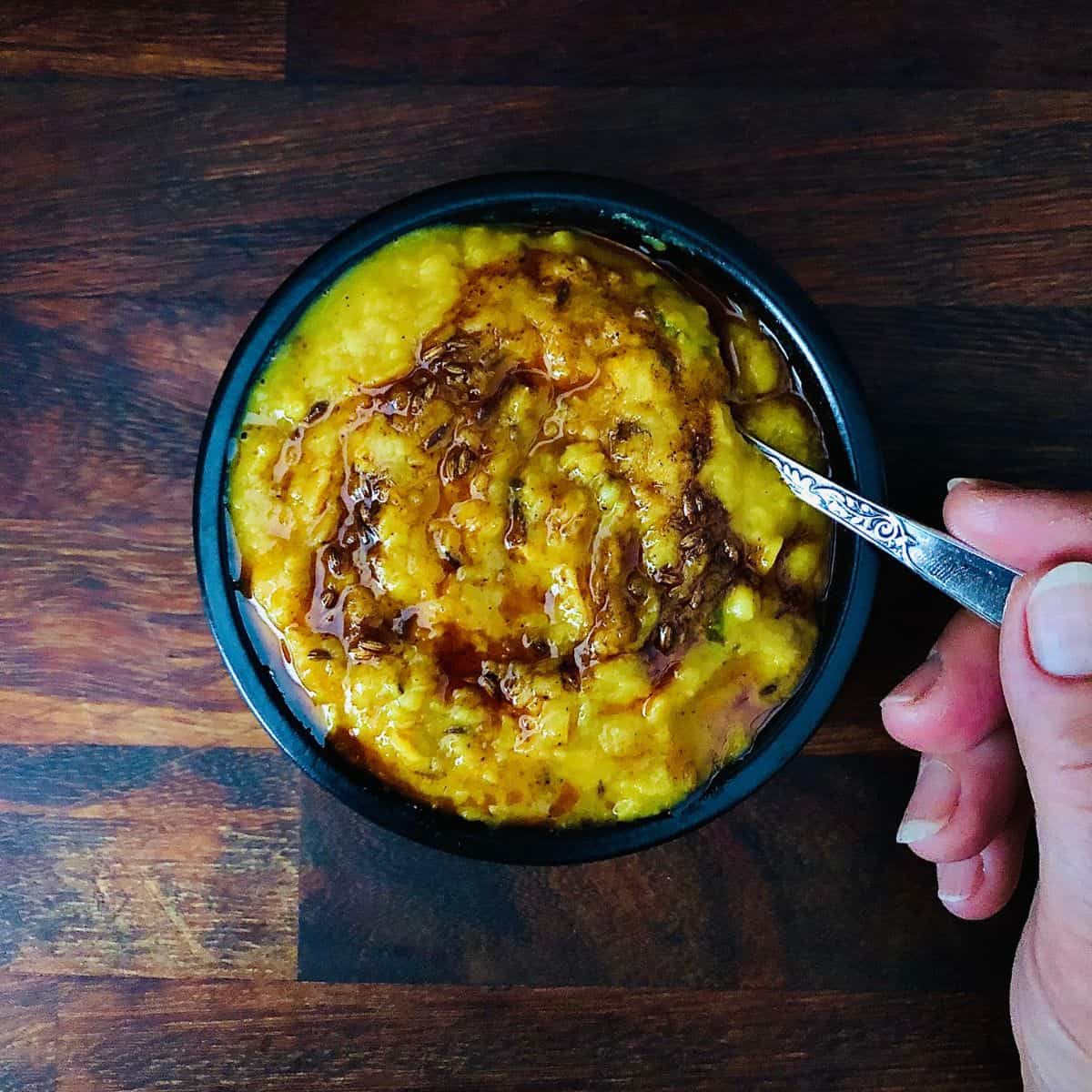 I have vivid memories of daal being cooked in my ancestral home in Kolkata, India. The last thing the cook would do before closing the kitchen was to soak the daal for the next day. First thing in the morning, he would light the charcoal stove. Once the daal was rinsed, it would be transferred into a brass pot and cooked for the next couple of hours. First, boiling with the intense heat from the charcoal stove, the daal would then simmer gently with the dying fire. Then just before serving for lunch, he would mix it with a wooden mathni or churning staff to make it more like a puree and then add the tadka (tempered spices - see the FAQ section below.)
This slow-cooked daal was earthy, flavourful and comforting. Living in London now, I don't have a charcoal stove to cook in at home, but I'll show you how to prepare daal in a similar slow-cooked way to best bring out the flavours and texture I so enjoyed. Pressure-cooking the daal does not match the slow-cooked way, in my opinion.
You will need something to scoop this daal up with. My laccha paratha provides the perfect solution for this job!
Jump to:
Ingredients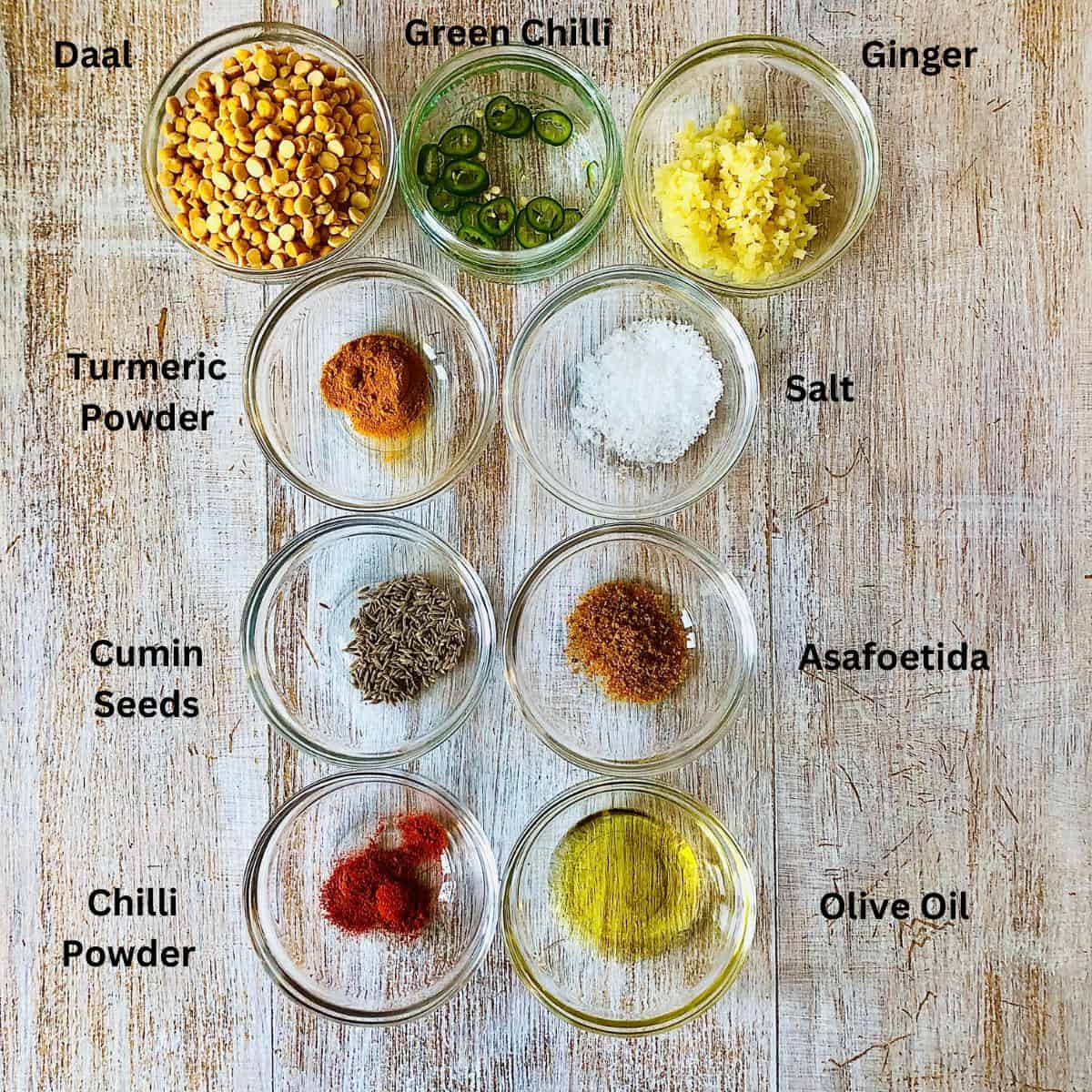 Arhar Daal/Toor Daal/Split Pigeon peas
Ginger
Salt
Turmeric powder
Green chilli
Cumin seeds
Asafoetida
Chilli powder
Extra virgin olive oil
See the recipe card for quantities.
Instructions
An essential part of preparing daal is to soak it. Each daal, however, has a different soaking time. Arhar or Toor daal, also called split pigeon peas used in this recipe, definitely need a longer soak. I like to soak my daal overnight.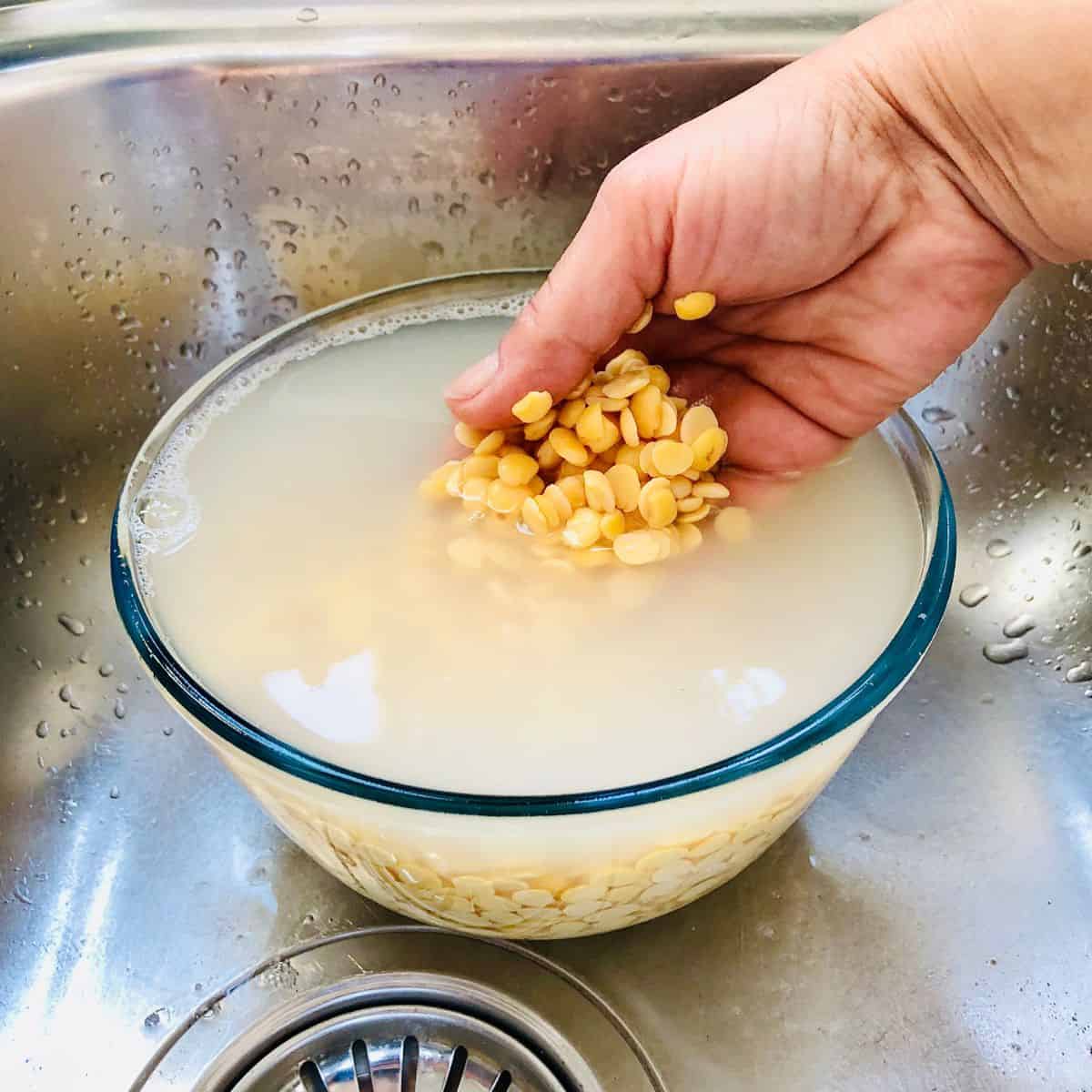 Wash and rinse the daal to remove any dust, dirt or bugs. You need to wash and rinse the daal until the water turns clear. Initially, it will be murky.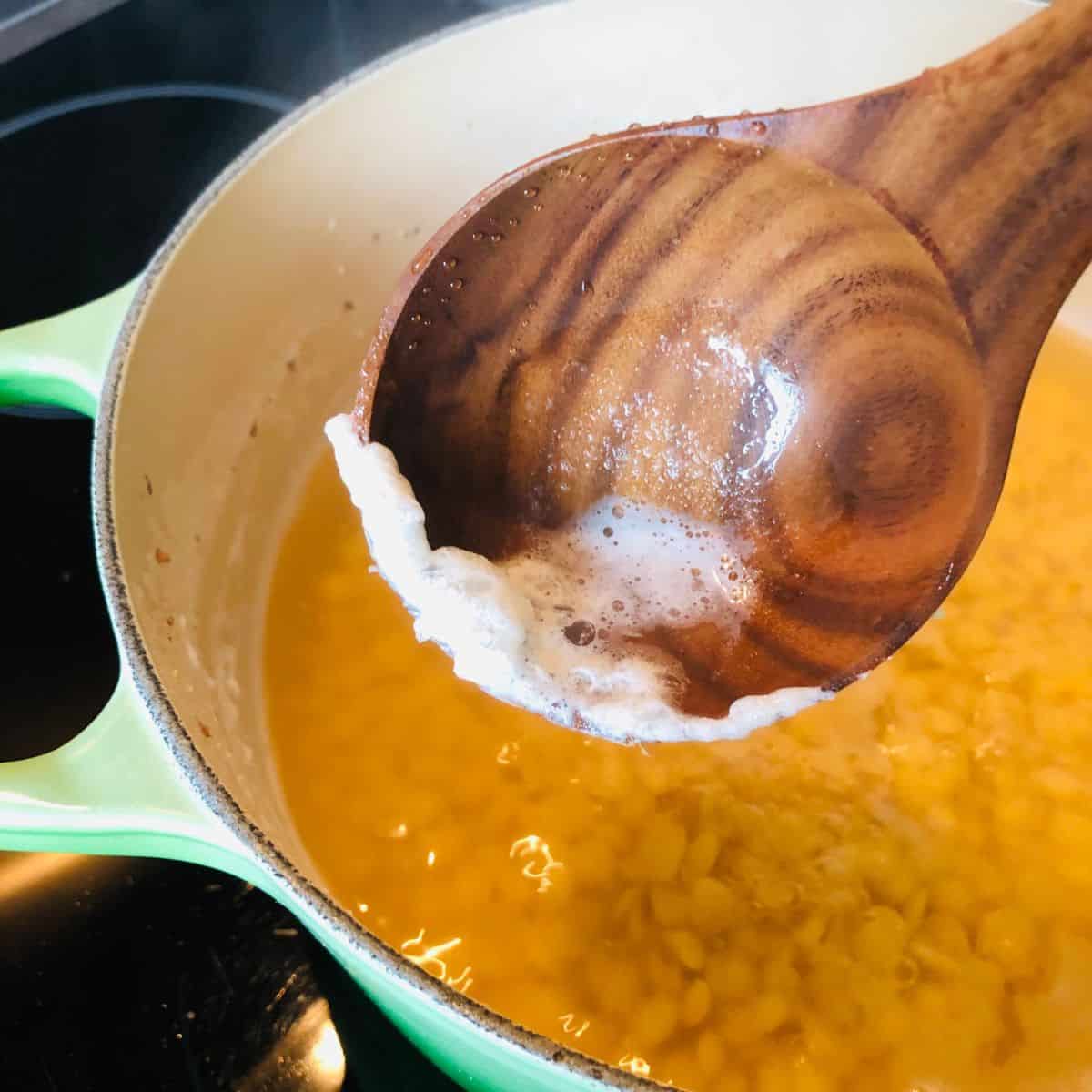 Drain all the water from the lentils and transfer it into a heavy bottom pot. Add 800 ml water and bring to a boil. Remove the scum or the foamy bits from the top immediately. Reduce the heat to a simmer.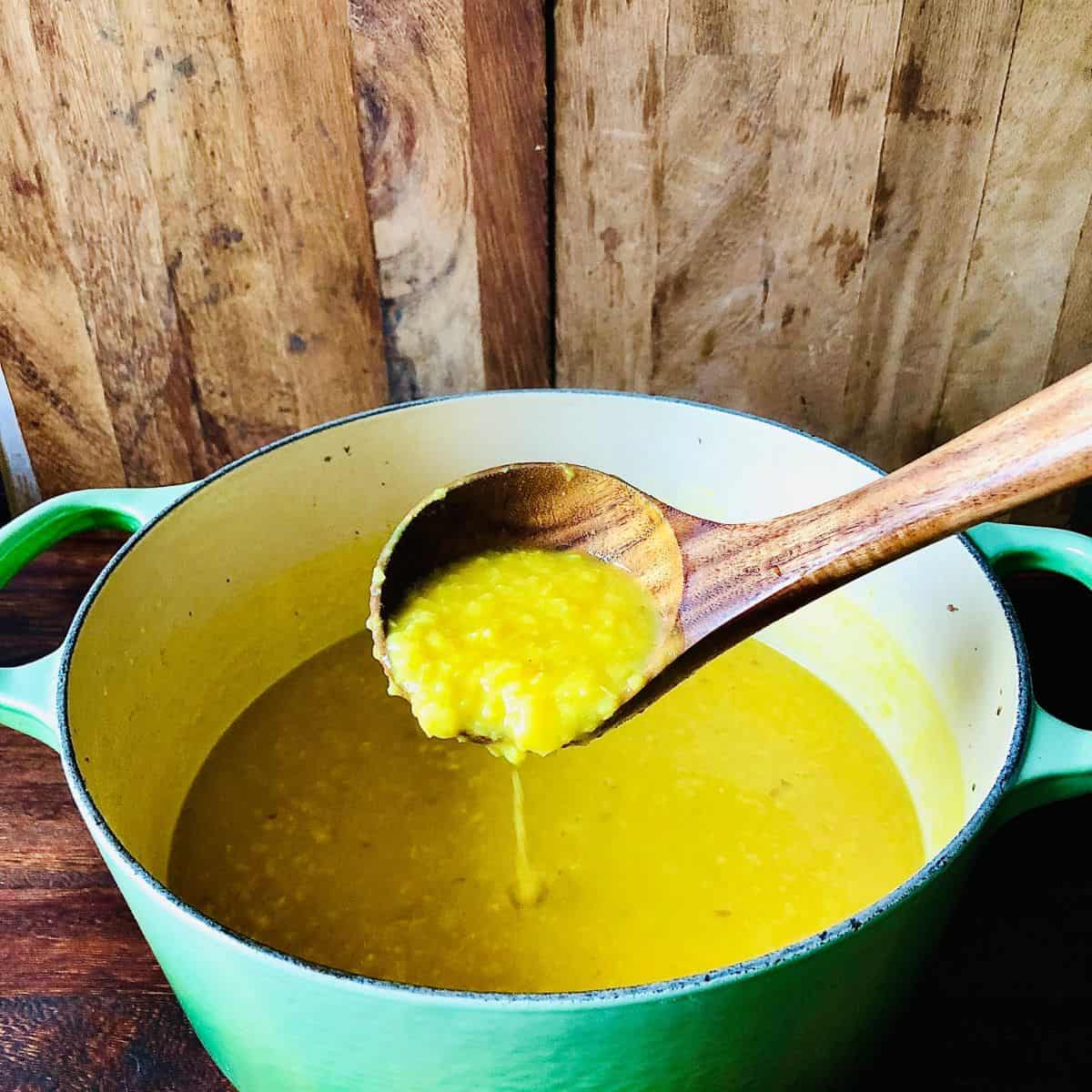 Add the turmeric, ginger and salt. Cover and cook for 20 minutes or until the lentils are soft and mushy.
For the tadka (see the FAQ below), heat the oil in a small pot or pan, and add the cumin seeds, followed by the asafoetida and chilli powder. The tempering process takes less than a minute, so be quick and be careful not to burn the spices.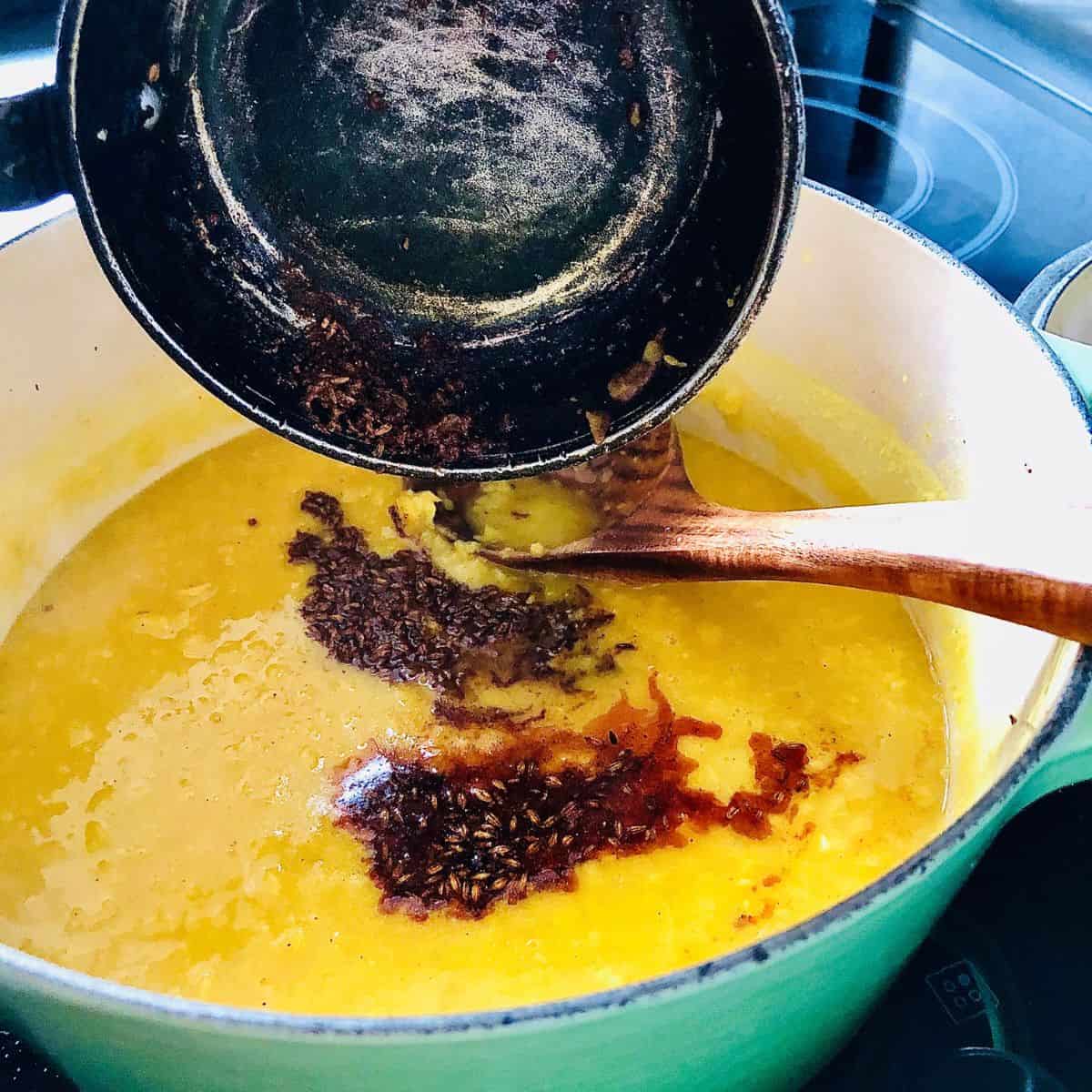 Pour the tadka over the daal and serve.
Substitutions
You can replace the split pigeon peas with red lentils, yellow moong daal or chana daal (split yellow lentils.)
Traditionally, the spices are tempered in ghee. You can use ghee instead of extra virgin olive oil if you are not vegan.
Variations
Look at the other lentil recipes in my blog for different ways you can flavour daal. Try my luxuriant kaali daal, my flavourful Bengali chana daal, my breakfast-worthy moth daal, and my simple, one-pot aubergine daal.
Storage
Cooked Daal can be kept in the fridge in an airtight container for up to three days; make sure to reheat thoroughly. When stored in the refrigerator, the dal tends to thicken; add some water to thin it down when reheating.
Top tip
Soaking and rinsing dal is essential. Don't compromise on that. Removing the scum or foam that forms on top of the boiling lentils is also very important for flavour and to reduce bloating. Make sure you remove it in the first boil.
FAQ
Is Daal healthy?

Yes! Daal is a good source of protein and fibre, so it is good for a vegetarian or vegan diet. Ahar daal in this recipe has relatively high amounts of potassium, iron, magnesium and B vitamins. It also has high levels of folic acid - which is good for pregnant women.



Why is it important to soak lentils overnight?
The purpose of soaking the daal the night before or at least a couple of hours before cooking is to increase the mineral absorption rate in the body. Chemical changes happen in the daal when soaked, making the nutrient absorption process much easier. Also, soaking the daal helps to break down complex starch making the daal easier to digest and reducing bloating and gas problems. On a more practical level, soaking daal reduces the cooking time.

What is tadka?
Tadka is the name of a spice mix that has been briefly roasted in hot oil to release its flavour and fragrance. It also refers to the process of roasting spices in hot oil, known as tempering in English. Traditionally ghee is used, but extra virgin olive oil or coconut oil can be used in vegan diets. The process is very quick, perhaps as quick as thirty seconds. Heat the oil and let the spices sizzle, then add the spices and oil to the daal.
📖 Recipe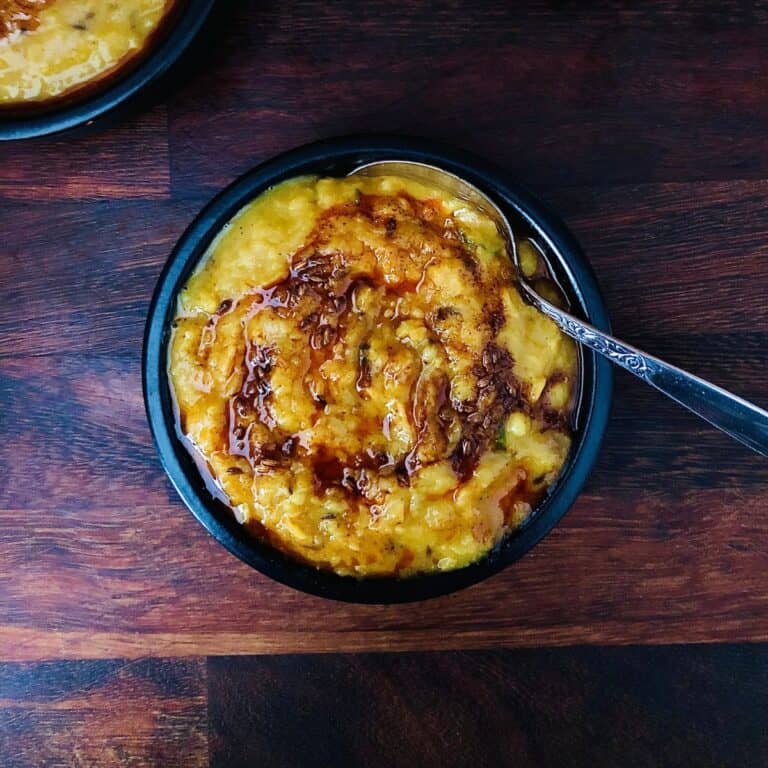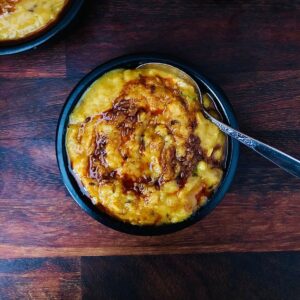 How To Make a Basic Daal: Arhar Daal
Easy step by step guide to cook a basic indian home style daal, topped with a spicy tadka
Ingredients
Daal
200

g

Arhar Daal/Toor Daal/Split Pigeon peas

30

g

Ginger

1

teaspoon

Salt

½

teaspoon

Turmeric powder

1

Green chilli

optional

800

ml

Water
Tadka/Tempering
1

teaspoon

Cumin seeds

½

teaspoon

Asafoetida

¼

teaspoon

Chilli powder
Instructions
Soak the lentils overnight or for at least for 4-6 hours. After soaking, rinse the lentils in running water until the water runs clear.

Peel and finely chop the ginger.

Drain all of the water from the lentils and transfer into a heavy bottom pot. Add 800 ml water and bring to a boil. Remove the scum/foamy bits from the top. Reduce the heat to simmer.

Add the turmeric, ginger and salt. Cover and cook for

20 minutes

or until the lentils are soft and mushy.
Tadka/Tempering
Heat the oil in a small pot or pan. Add the cumin seeds, followed by asafoetida and chilli powder. The process of tempering takes less than a minute, so be quick and be careful not to burn the spices.

Add the tadka to the daal, give it a stir and serve.
Nutrition
Calories:
185
kcal
(9%)
Carbohydrates:
34
g
(11%)
Protein:
12
g
(24%)
Fat:
1
g
(2%)
Saturated Fat:
0.1
g
(1%)
Polyunsaturated Fat:
0.05
g
Monounsaturated Fat:
0.1
g
Sodium:
684
mg
(30%)
Potassium:
51
mg
(1%)
Fiber:
9
g
(38%)
Sugar:
2
g
(2%)
Vitamin A:
45
IU
(1%)
Vitamin C:
2
mg
(2%)
Calcium:
43
mg
(4%)
Iron:
2
mg
(11%)
NOTES
The nutritional values are for guidance only, generated by the Spoonacular API.
Food Safety
In a professional kitchen, food hygiene and safety are top priorities, and from the beginning of my training, I practised good habits and routines. Of course, practising good food hygiene and safety at home is also essential. Here are some fundamental practices to adopt in the kitchen.
Wash your hands regularly while preparing, handling and cooking food.
Wipe down countertops and high-contact points regularly.
If you cook meat and fish, do not use the same utensils on cooked food that previously touched raw meat. Use separate chopping boards for meat and fish. Wash your chopping boards immediately after use.
Thoroughly cook food to a minimum temperature of 165 °F (74 °C).
Don't leave food at room temperature for extended periods (more than 2 hours).
For more details regarding food hygiene and safety in the home, visit the UK Government's Food Standards Agency webpage.