If you are bored of tomato-based pasta sauce like me, this recipe is for you - creamy courgette pasta sauce but without any cream. How can it be creamy? You may ask. The answer is slow-cooking the courgettes and then blending them into a puree. Throw in some oven-dried cherry tomatoes and top with a generous helping of grated Parmesan cheese, and you have a delicious, quick meal option.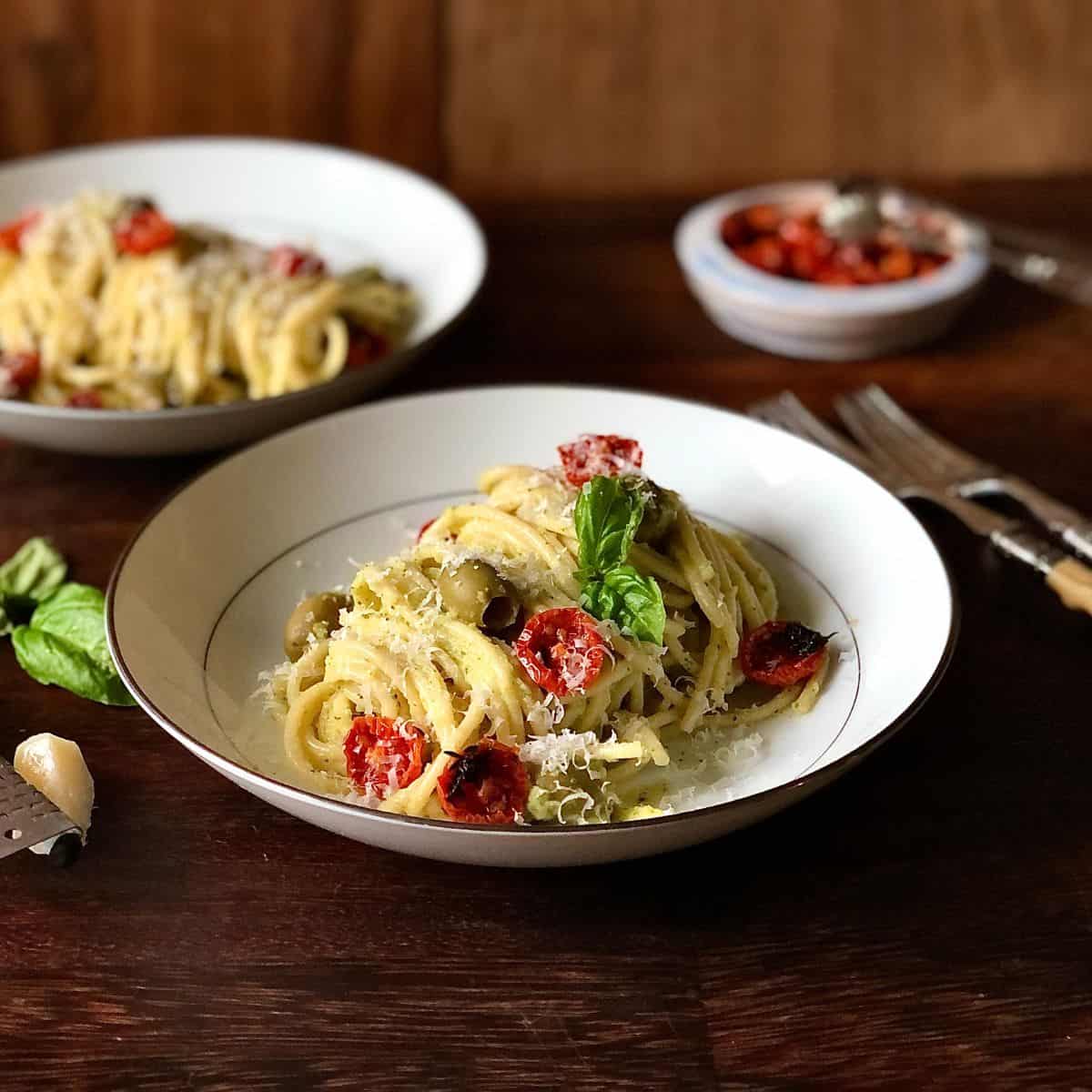 Like pasta dishes? Then try my aloo olio-inspired recipe.
Jump to:
Ingredients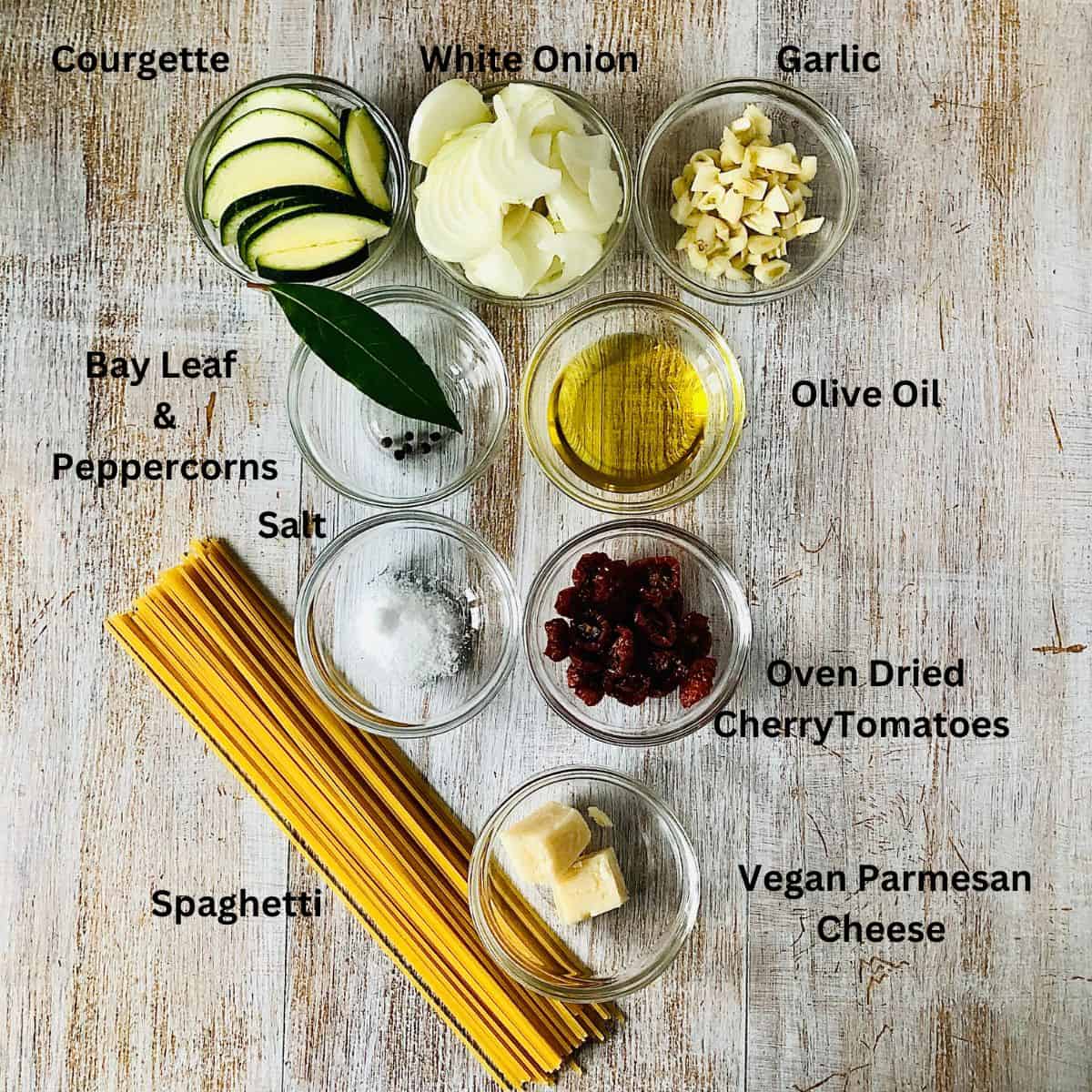 Courgette
White onion
Garlic
Vegan parmesan cheese
Olive oil
Bay leaf
Peppercorns
Salt
Spaghetti
See the recipe card for quantities.
Instructions
First, prepare the ingredients. Cut the onion and the courgette in half and slice each half, producing even-sized slices.
Peel and chop the garlic.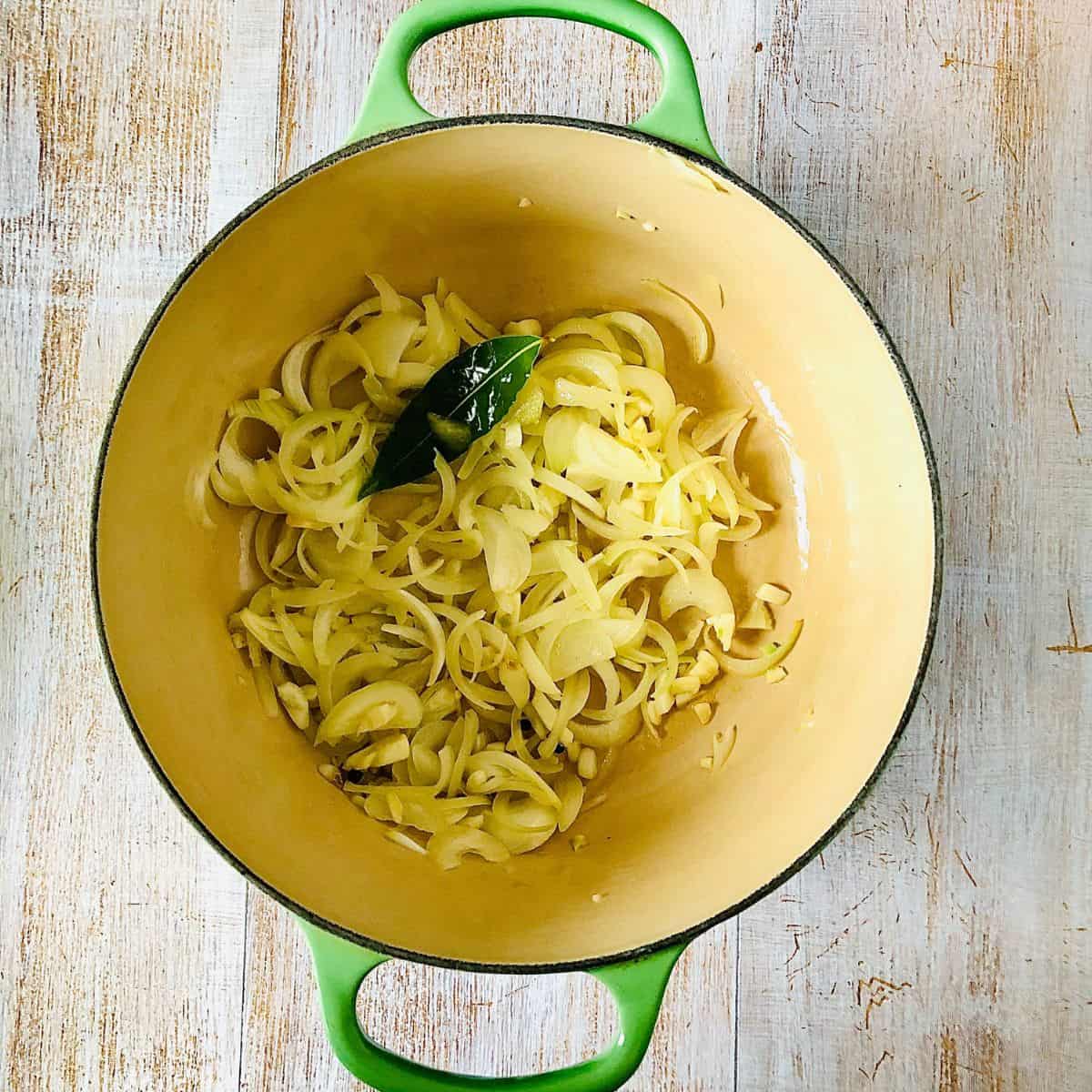 In a saucepan, heat the oil and add the bay leaf and peppercorns. Add the onions and garlic. Fry until the onions are soft.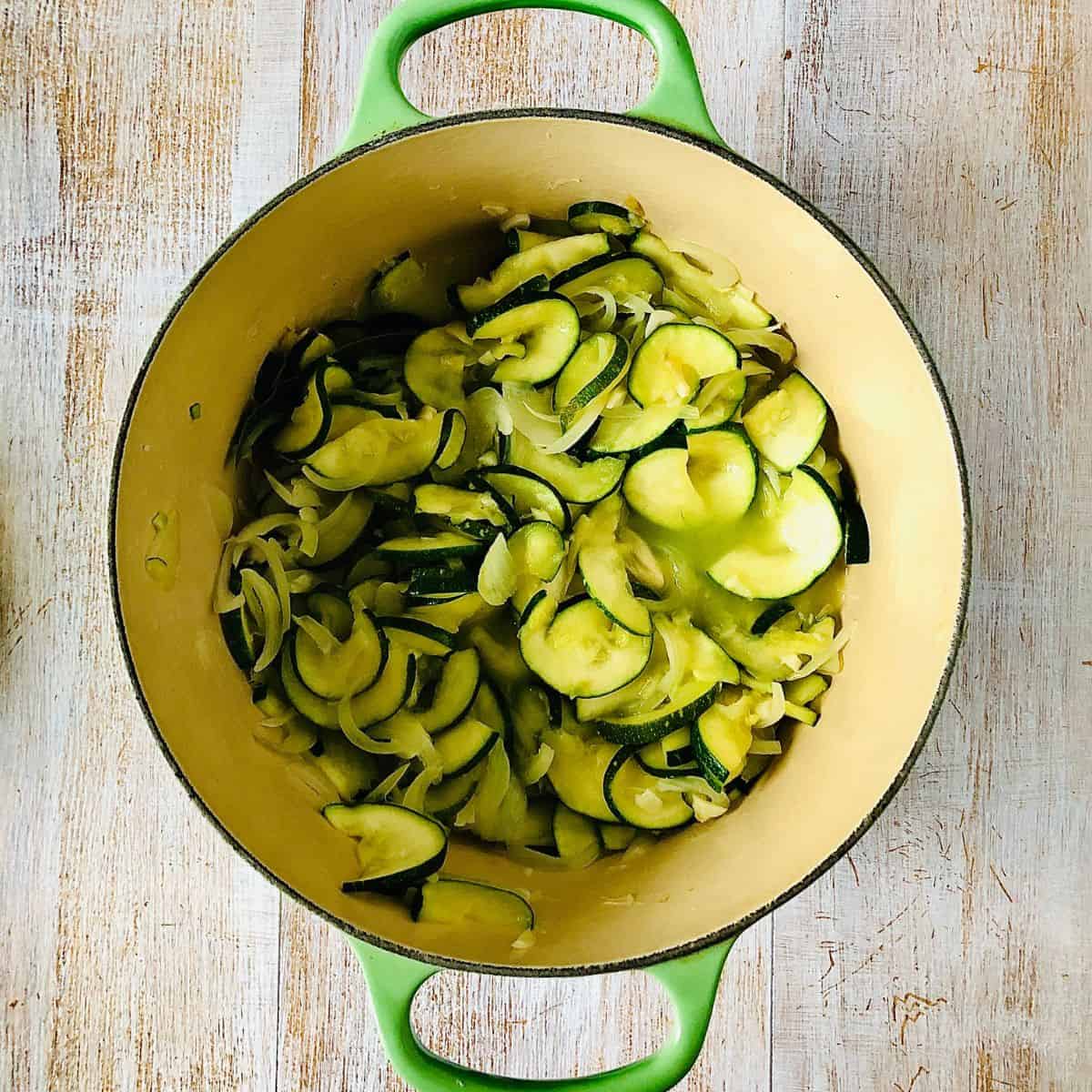 Once the onions are soft, add the courgettes, season with salt, and cook until the courgettes are soft. The courgettes will release water while cooking.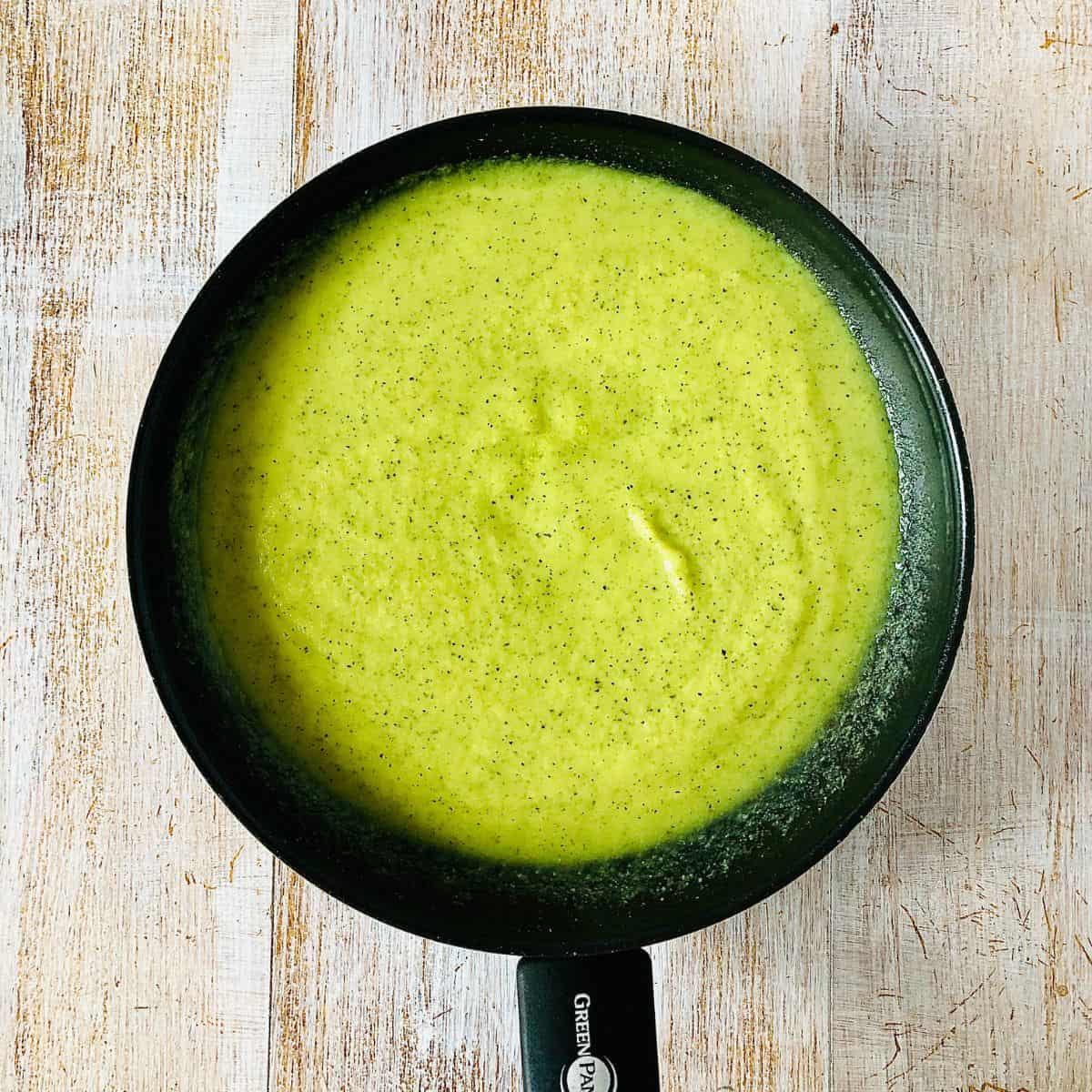 Transfer the contents of the pot to a blender and blend to a smooth puree. Pour the courgette puree into a pan.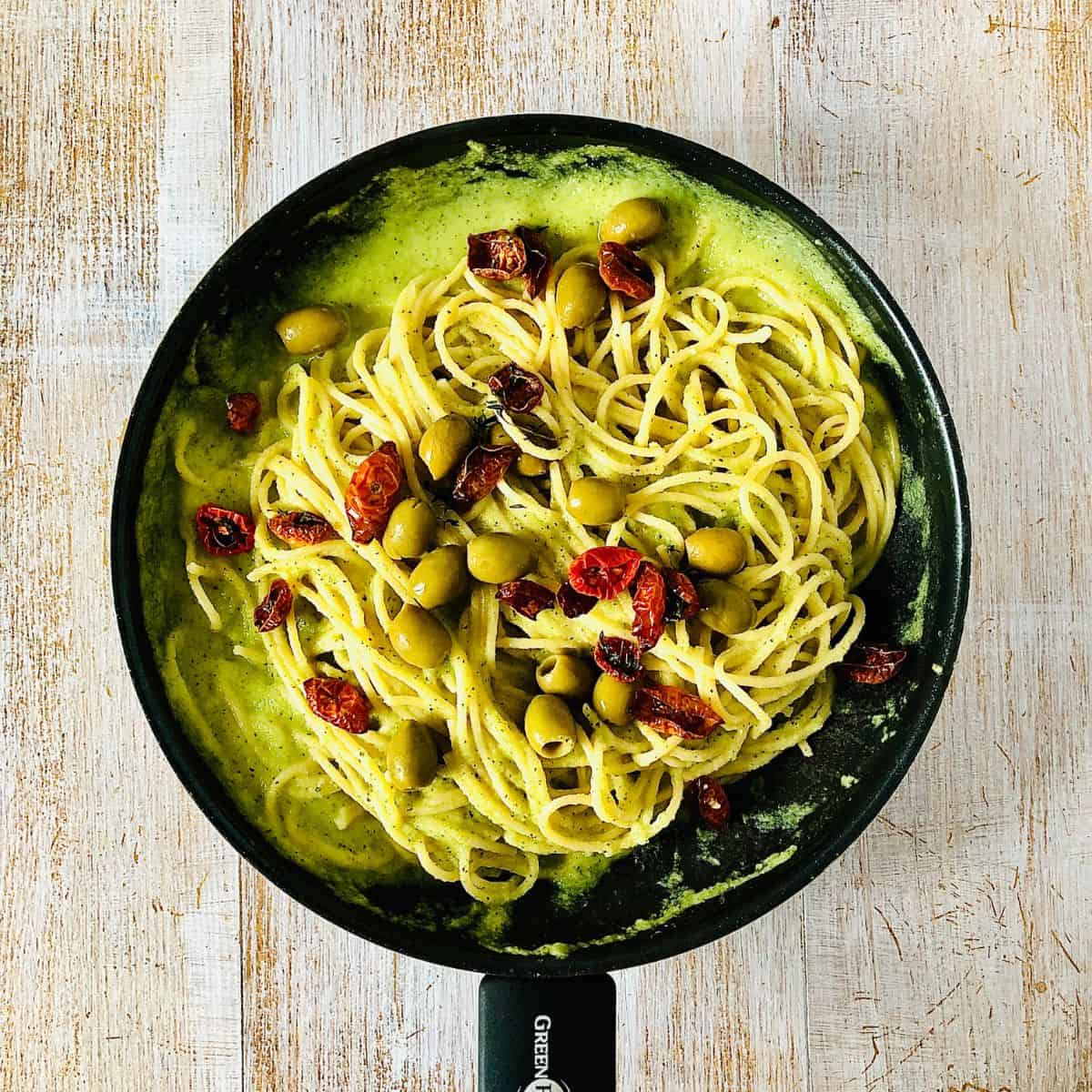 Cook the spaghetti to al dente.
Add 100 ml or so of the pasta water to the courgette sauce, and then add the cooked spaghetti. Mix well.
Add the oven-dried cherry tomatoes and perhaps some olives and mix. Top with some grated vegan parmesan cheese.
Serve hot.
Substitutions
If not vegan, you can use dairy parmesan cheese instead.
Variations
This courgette pasta sauce is delicious with any pasta, although spaghetti or linguine are my favourites.
Equipment
A good quality blender helps with a smooth puree.
Storage
You can store this courgette pasta sauce in an air-tight container for up to three days in the fridge.
This sauce can be frozen for up to three months in an airtight container. I find it easier to freeze in zip-lock silicone bags with the exact amount I use for each portion. In that way, I only defrost what I need.
FAQ's
What does al dente mean?
Al dente is an Italian word that means "to the tooth". It describes the texture of cooked pasta that is firm when bitten into and has a slight chew. A way to know when al dente constancy is achieved is to see when the pasta centre's white disappears when cooked. The key is not overcooking to the point where the pasta is mushy.
📖 Recipe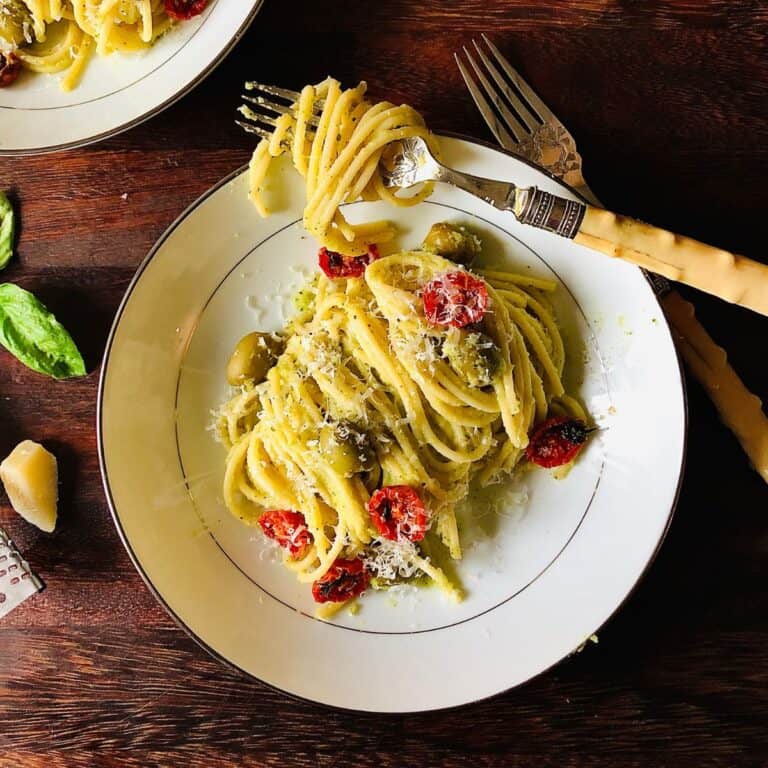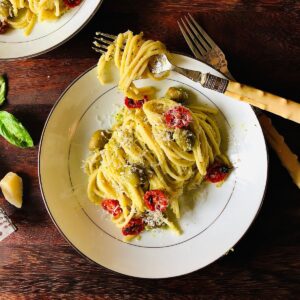 Creamy Courgette Pasta Sauce
Simple and easy to make pasta sauce for a no-fuss meal.
Equipment
Digital scales

Blender or Food processor
Ingredients
650

g

Courgettes

100

g

White onion

25

g

Garlic

2

tablespoon

Olive oil

1

Bay leaf

1

tsp

Salt

6

Peppercorns

200

g

Spaghetti

20

g

Vegan parmesan

30

g

Oven-dried cherry tomatoes.
Instructions
Cut in half and then slice the onions and courgette with slices of even thickness.

Peel and slice the garlic.

In a pan, heat the oil and add the bay leaf and peppercorns.

Add the onions and garlic, and fry over medium heat; we want the onions and garlic to soften without changing colour.

Once the onions are soft, add the courgettes, season with salt, and cook until the courgettes are soft.

Remove from the heat and transfer to a blender (along with the water released from the courgettes during cooking) and blend to a smooth puree.

Cook the pasta to al dente.

Over medium heat, bring back the courgette puree to the pan, and add a bit of the pasta water.

Add the pasta and mix—season as desired.

Add olives/oven-dried tomatoes or whatever else you wish to add and mix well.

Serve hot garnished with more tomatoes and vegan parmesan cheese.
Nutrition
Calories:
136
kcal
(7%)
Carbohydrates:
14
g
(5%)
Protein:
3
g
(6%)
Fat:
9
g
(14%)
Saturated Fat:
2
g
(13%)
Polyunsaturated Fat:
1
g
Monounsaturated Fat:
5
g
Sodium:
612
mg
(27%)
Potassium:
543
mg
(16%)
Fiber:
3
g
(13%)
Sugar:
6
g
(7%)
Vitamin A:
408
IU
(8%)
Vitamin C:
35
mg
(42%)
Calcium:
53
mg
(5%)
Iron:
1
mg
(6%)
Food Safety
In a professional kitchen, food hygiene and safety are top priorities, and from the beginning of my training, I practised good habits and routines. Of course, practising good food hygiene and safety at home is also essential. Here are some fundamental practices to adopt in the kitchen.
Wash your hands regularly while preparing, handling and cooking food.
Wipe down countertops and high-contact points regularly.
If you cook meat and fish, do not use the same utensils on cooked food that previously touched raw meat. Use separate chopping boards for meat and fish. Wash your chopping boards immediately after use.
Thoroughly cook food to a minimum temperature of 165 °F (74 °C).
Don't leave food at room temperature for extended periods (more than 2 hours).
For more details regarding food hygiene and safety in the home, visit the UK Government's Food Standards Agency webpage.