Alio Olio is one of the easiest and fastest pasta recipes to make. But if you are eating it as often as I did (it was my staple diet on my days off when I was a chef full time), then a bit of creativity with the recipe was needed. What I present here, you MUST try if you want quick, tasty comfort food. Such an easy pasta recipe to make; this should have a too-tasty warning label!
Jump to: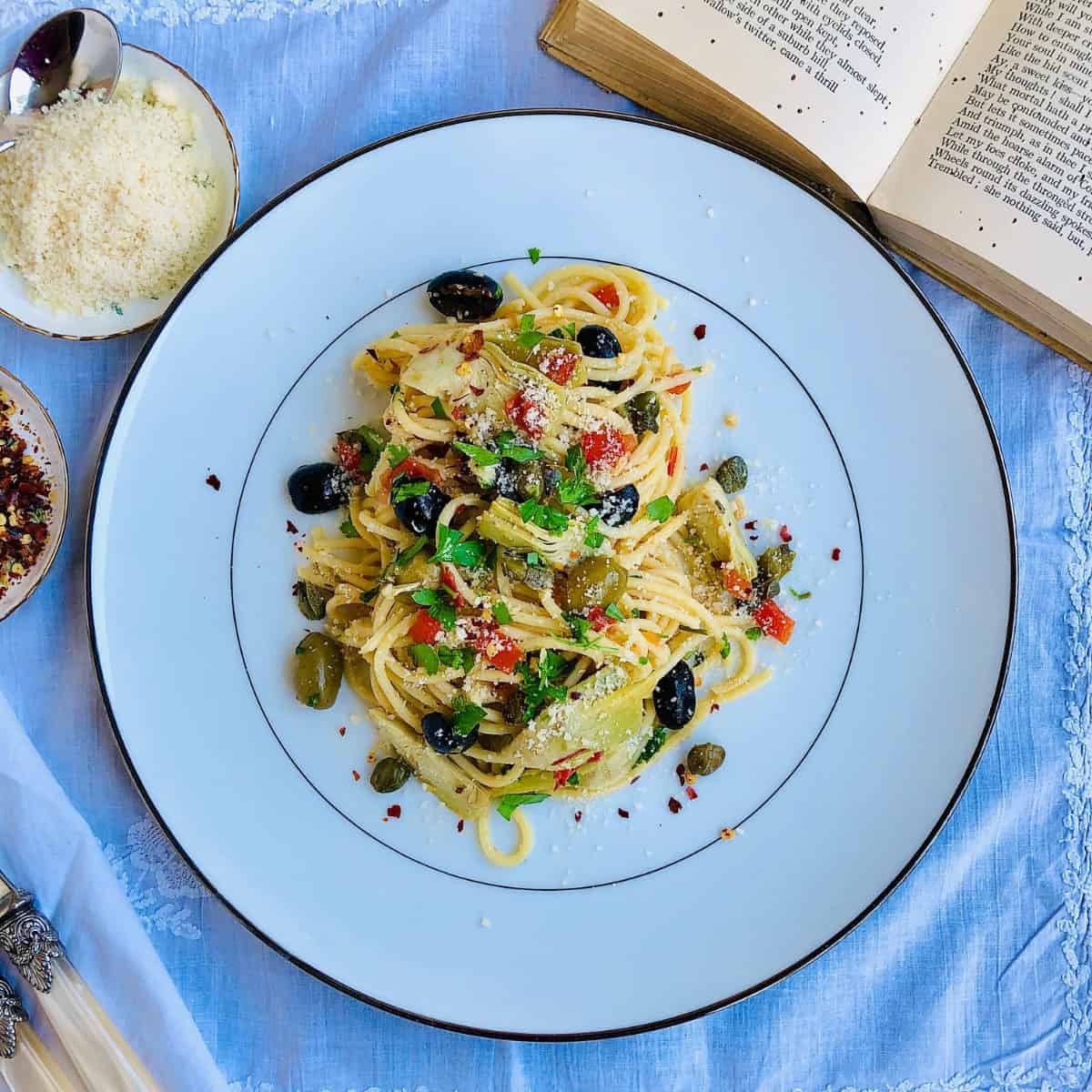 A Quick, Easy Pasta Recipe That Will Become A Favourite
I didn't even think of sharing this recipe with you because it is so simple. Simple can be deceptive, though. This indeed does tick those all-important boxes: Easy, quick and tasty. So I must share it with you. One thing I struggled with when working full-time as a chef was having fresh produce in my home kitchen. With last-minute changes to days off or last-minute plans to meet friends, it usually ended up in the bin. So I began to keep bottled and canned products that would quickly turn into a meal. I am a massive fan of fresh ingredients and use them where ever possible. However, of course, life can get in the way of that sometimes, so a quick and easy pasta recipe that is classic and tasty is sometimes needed.
This version of alio olio is a recipe inspired by an Italian chef from Sardinia I once worked with. This was over 20 years ago, but it is still a favourite, and I love cooking it. Warning though, it is highly addictive; after all, I ate it for five years every week. It is so good that even my Italian friends, who know their pasta dishes, ask me to make it for them. Second helpings are very common!
How-To Video
Here is a video guide to making your Alio Olio, an easy pasta recipe
📖 Recipe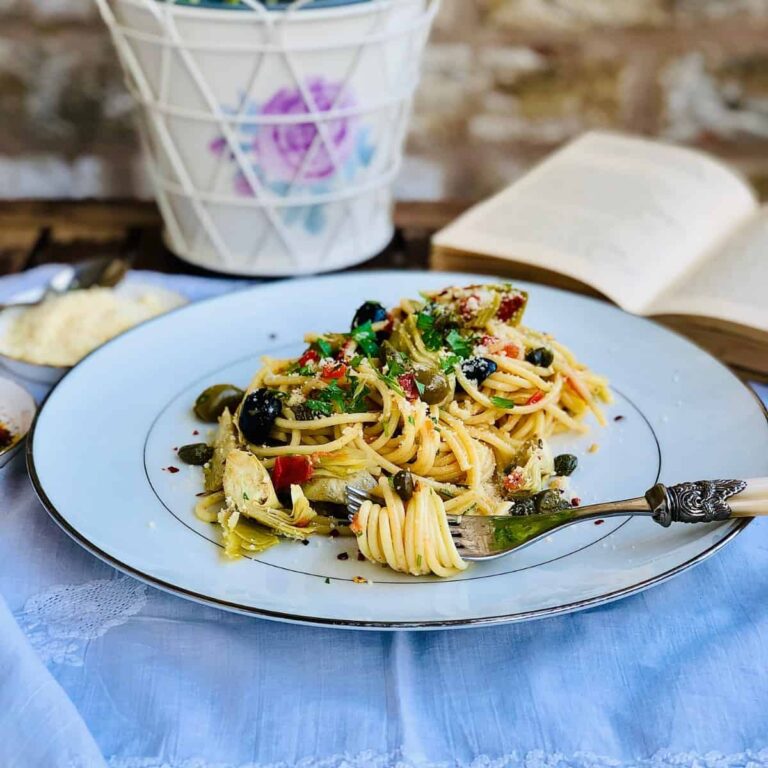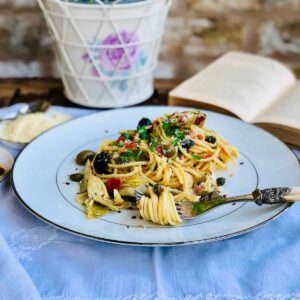 Fifteen minute Alio Oilo Recipe
Quick and easy pasta recipe. Alio olio in fifteen minutes. With Artichoke, olives and capers.
Ingredients
200

gms

Spaghetti

for mains, 160 gms for starter

14

gms

Garlic

94

gms

Artichoke

canned

220

gms

Plum tomatoes

two in numbers

35

gms

Black Olives

35

gms

Green Olives

30

gms

Capers

10

gms

Parsley

Vegan Parmesan style cheese

30

gms

Olive oil

½

teaspoon

Chilli Flakes

salt to taste
Instructions
Fill a large pot with water. Add salt and bring to a boil.

Once the water is boiling, add the spaghetti to the pot, making sure it is submerged. Cover and cook till al dente - about 2 minutes before the cooking time mentioned on the pasta packet.

While the pasta is cooking, cut the tomatoes in half. De-seed them and cut into medium sized dice.

Cut the artichokes into quarters.

In a pan over a medium heat, add the olive oil and sauté the garlic for a minute. Then add the chopped tomatoes and season with salt.

Add the artichokes and sauté for a minute.

Drain the pasta and add to the pan. (a little bit of water is alright)

Break the olives and capers between your fingers and add to the pasta.

Add chilli flakes and mix.

Turn off the heat and add the chopped parsley and grated parmesan cheese.

Mix well. Garnish with some more parsley and parmesan cheese. Serve
Alio Olio Recipe Notes
Spaghetti or Linguini works best with this easy pasta recipe.
Of course, you can replace vegan parmesan with dairy if you are not vegan.
If you like your pasta dishes, then check out my vegan mac and cheese or my creamy courgette pasta sauce recipe and indulge in more comfort food.