This vegan Mac and Cheese is feel-good comfort food, minus the dairy or nuts!
Mac & Cheese is a very popular dish in the U.S.A & U.K., but appears to have its origins elsewhere. A recipe appears in the "Liber de Coquina" or "Book of Cooking," a 13th century Italian cookbook.
This Recipe is a simple version of this classic dish. I've added texture and colour with the vivid green pea crust topping.
Jump to: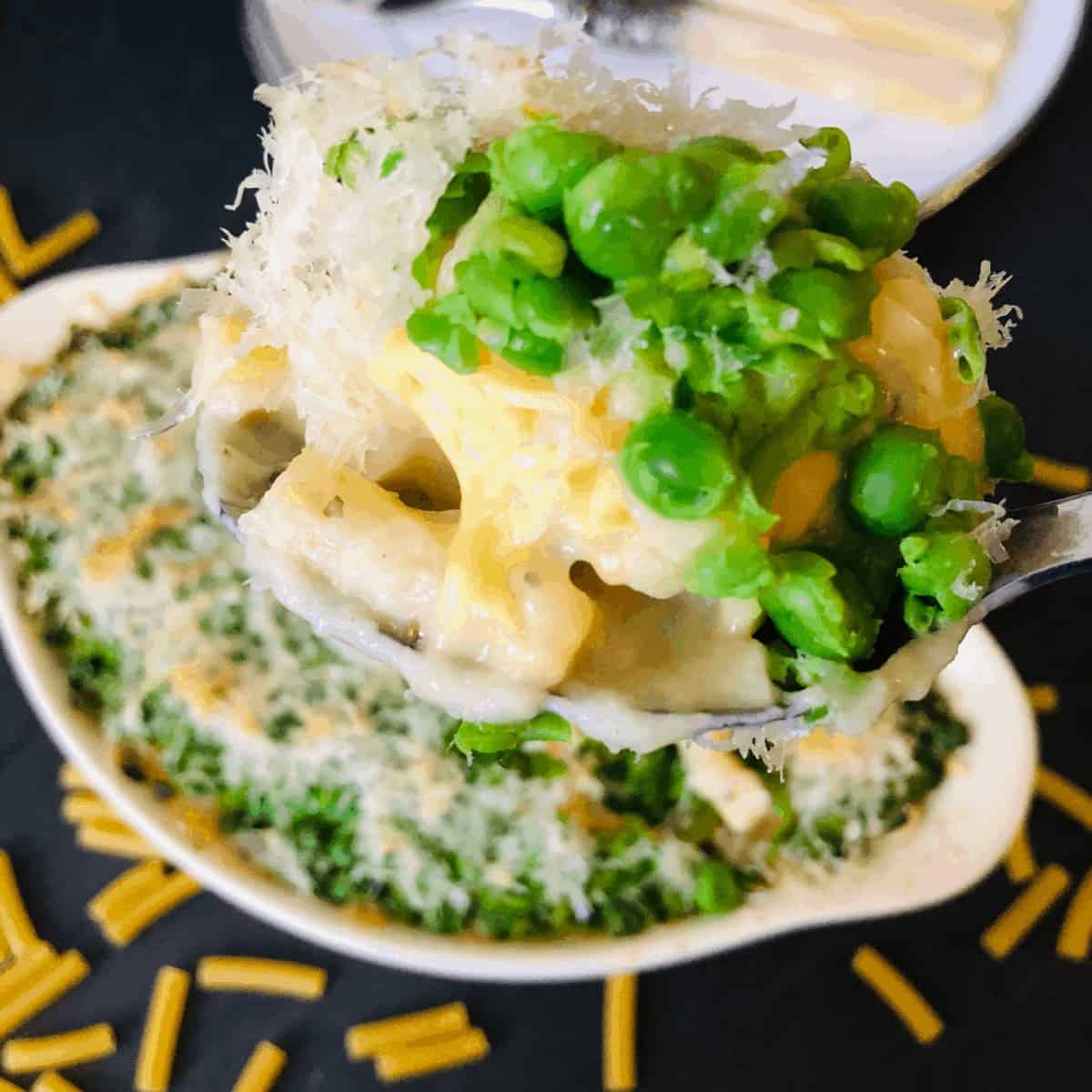 To achieve a creamy texture, a lot of vegan sauce recipes use cashew nuts. With each of my recipes I try my best to use ingredients free of allergens, so no cashews here.
In this mac and cheese recipe all that I have done is used dairy free butter and milk. You will be surprised at the creaminess and taste of the sauce. So how did I get that creamy texture, then? It"s the vegan cheddar from violife and their Prosociano, which I call the vegan parmesan.
Give it a try. Honestly, you will not miss the dairy version!
The warming Nutmeg complements the wholegrain mustard.
In the recipe card instructions you will find some terms that may be unfamiliar to you. Please see the notes below the recipe card for a little kitchen education!
📖 Recipe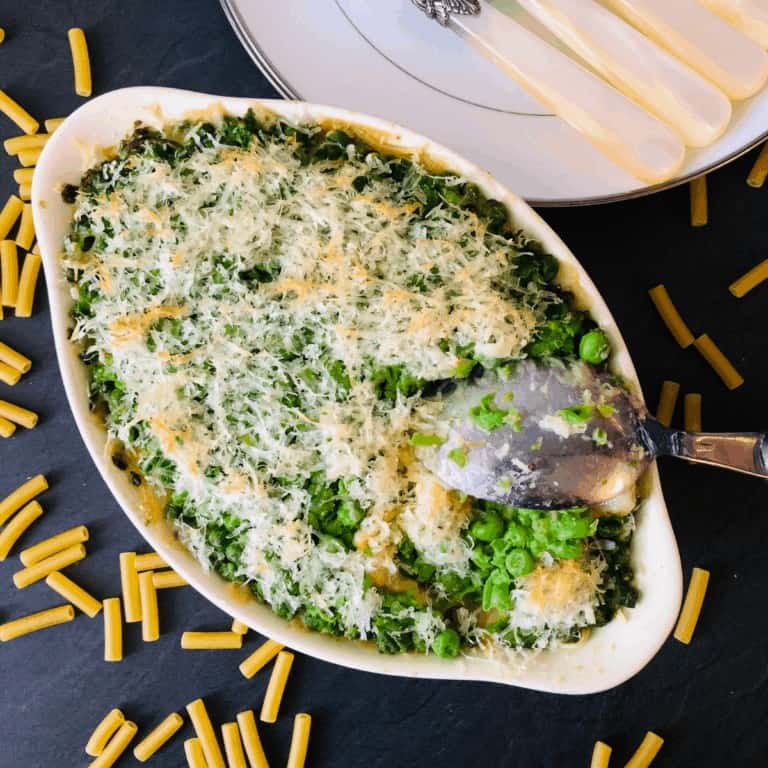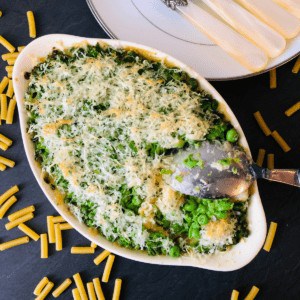 Vegan Mac and Cheese With A Pea Crust
A dairy-free alternative to a classic comfort food dish that does not compromise on taste.
Equipment
Whisk

Weighing scales

Food processor or blender
Ingredients
200

g

Macaroni

50

g

Vegan Butter (block not spreadable)

50

g

Plain Flour

500

ml

Oat Milk

at room temperature

150

g

Frozen Peas, defrosted

80

g

Vegan Cheese

Brand used: Violife

1

g

Nutmeg

10

g

Vegan Parmesan

Brand used: Violife

1

teaspoon

Wholegrain Mustard

Salt and Pepper to taste
Instructions
Melt the vegan Butter in a pan, over medium heat, once butter has melted add the flour. Using a wooden spoon, stir quite vigoroulsly to make a smooth glossy paste or a blond roux as we call it (see notes below). You will know its done when the flour-butter is a light beige colour.

Take off the heat and add the Oat milk a little at a time. Whisk constantly making sure no lumps form. By adding a little milk at a time and whisking, using a baloon whisk, you will achieve a smooth, glossy, creamy sauce.

Once all the milk has been incorporated, bring the pan back to a medium low heat and cook further for about five minutes or until the sauce has reached coating / nappe consistancy (see notes below). Whisk from time to time, to make sure nothing sticks to the bottom of the pan.

Add the mustard, nutmeg, salt & pepper and half of the vegan cheese. Set aside.

Parboil (see notes below) the Macaroni until it starts to turn soft. Drain immediately and cool with cold water. ( omit this process of cooling if you are mixing in the cheese sauce and are going to bake straight away )Set aside.

Mix the Macaroni into the cheese sauce and transfer to a baking dish and add a layer of grated cheese.

Pulse the peas in a blender so that they are a bit mushy. You dont want a puree, just crush them. Add this to the top of the Mac & cheese. Grate some vegan Parmesan over the pea crust

Heat the oven to 180ºC and bake the Mac & Cheese for 15 - 20 mins, until golden brown on top.
Notes
What is a Roux? A Roux (pronounced Roo) is a mixture of plain flour and butter used to thicken sauces and soups. There are 4 types of Roux: White, blonde, brown and dark, depending on how long the flour and butter is cooked. This recipe requires a blond Roux, so cook the flour and butter past the first white Roux stage, until it turns a blonde colour.
What is coating consistency when making a sauce? A sauce has achieved coating consistency when after dipping a spoon in it, the sauce clings to the spoon rather than running off it.
What does it mean to Parboil? To Parboil is too partly boil, or as the Italians say pasta al dente, which basically means that you don't cook the pasta fully. Simply reduce the cooking time stated on the packet. When the pasta is cut in half you will see the centre is not cooked and is white. Immediately drain the water and cool the parboiled Macaroni with cold water. For this recipe, don't fully cook the pasta because it will be cooked again during baking in the oven.