Broccoli is good for you, its health benefits are many. While a plate of blanched broccoli is the purist way to eat it, my broccoli salad I present here adds a little pizzaz to the humble vegetable. Consequently, I hope you will want to eat more!
The first time I tasted chargrilled broccoli, I experienced my vegetable epiphany. I instantly realised why I didn't enjoy vegetables growing up. I realised how delicious vegetables can simply by cooking them differently.
Jump to: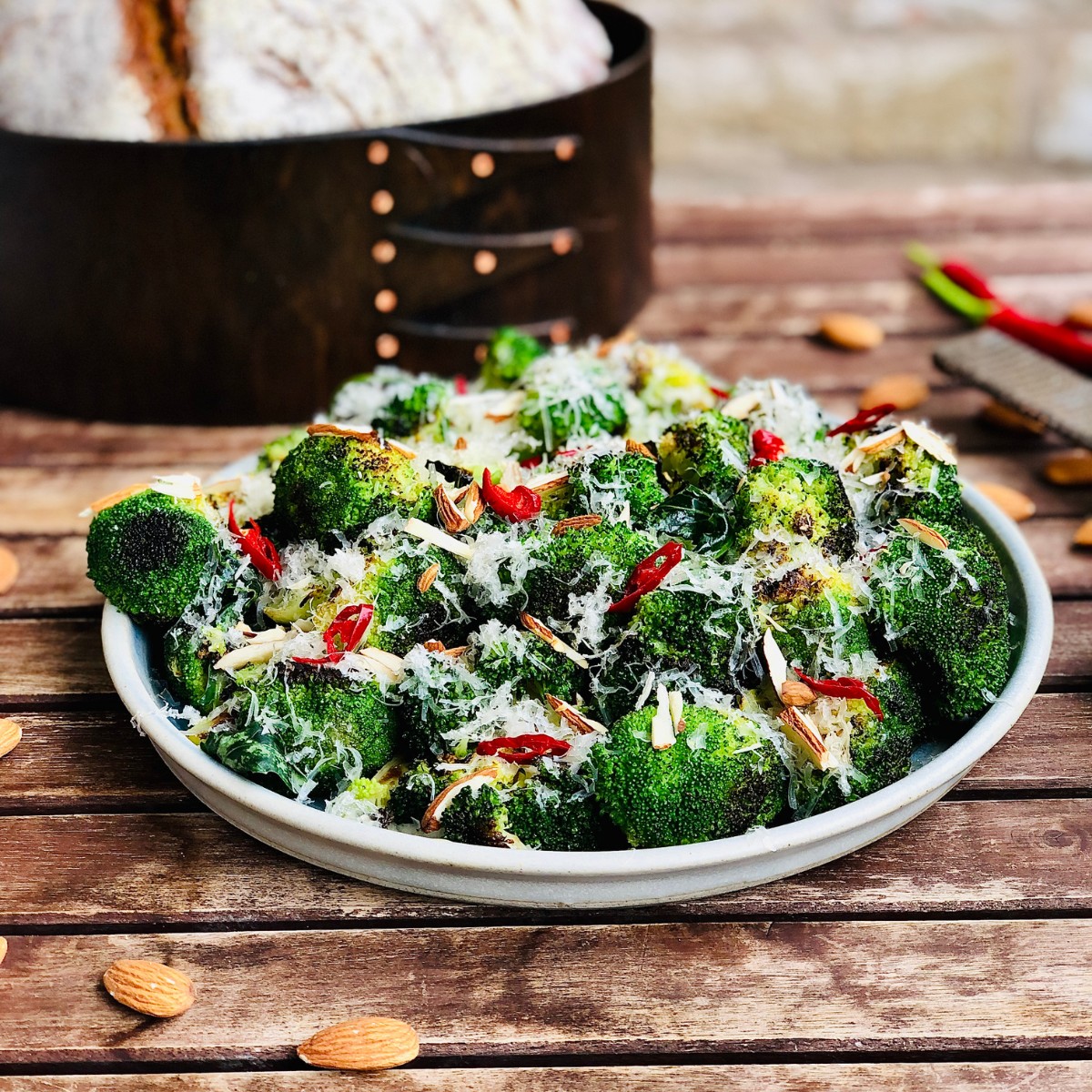 Jazzing Up A Broccoli Salad
This salad is my favourite way to eat broccoli. If I have to say what makes this salad special, it would have to be the cheesy flavour.
Chargrilling the broccoli in a pan helps retain the moisture and flavour. It brings out its sweetness and nuttiness. I blanch the broccoli briefly in boiling water. This step is crucial as it retains the bright green colour of the broccoli and prevents it from loosing too much moisture in the grilling process. I just love the roasted broccoli's charred edges along with the tender broccoli floret buds that remain un-charred all in one bite.
The vegan parmesan style cheese from violife gives this salad a decadent taste. The savoury, umami flavour makes you want to eat more and more. The chilli adds a kick and the slivered whole roasted almonds lend to the texture. Personally, a bit of texture and a bit of oomph is so important in each recipe I create. This broccoli salad is healthy but not bland.
This recipe uses the whole broccoli, even the main stalk, which is usually binned. We trim the outer hard bits of the stalk and then use the inner softer stalk. The hard outer bit I save for my vegetable stock. So this is a perfect recipe for zero waste cooking. Enjoy this salad as a meal on its own, or even a side dish.
How-To Video
Check out my video guide to making this Broccoli salad.
📖 Recipe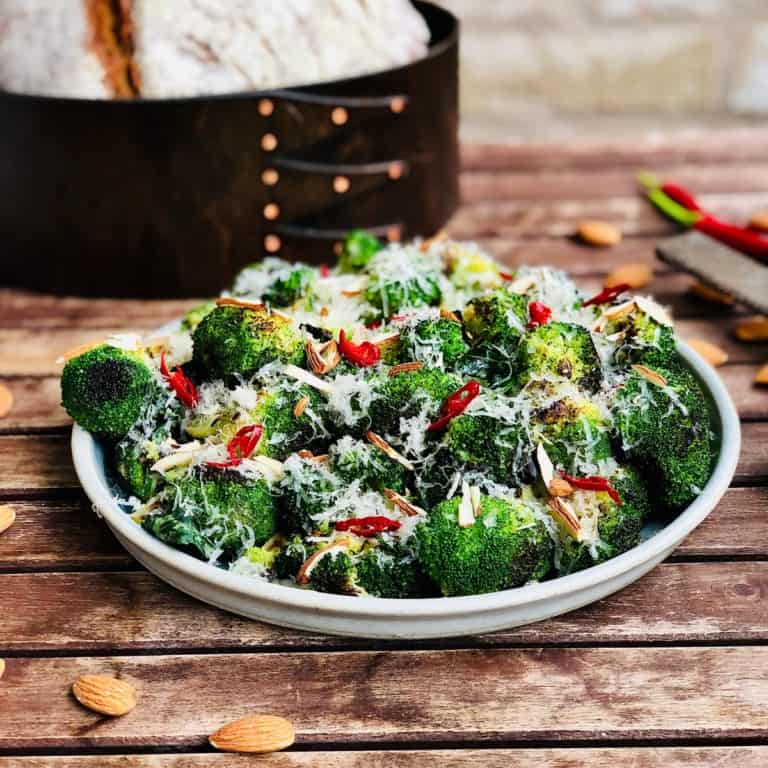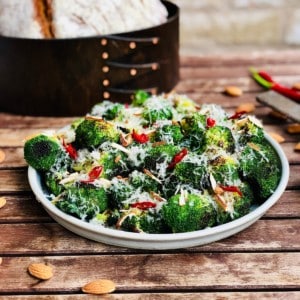 Dairy-Free Chargrilled Broccoli Salad With Cheese, Chilli and Almonds
Jazz up your Broccoli with some chargrilling, a sprinkling of parmesan cheese, and some slivers of chillies and almonds.
Ingredients
1

kg

Brocolli

2 heads

1

tablespoon

Olive oil

1

tablespoon

Apple cider vinegar

or any white wine vinegar

1

Red chilli

10

gms

Roasted Whole Almonds

with skin

10

gms

Vegan Parmesan

I used violife

Salt and Pepper to taste
Dressing
2

tablespoon

Olive oil

2

tablespoon

Apple cider vinegar

salt ( just a pinch )and pepper to taste
Instructions
Fill water in a pot, add salt and bring to the boil.

Cut the brocolli into florets and cross the bottom part of the floret stem lightly. This step helps it cook faster. With the main stem, remove the outer hard bit of the stem and cut the inner bit into batons.

Prepare a bowl with ice and cold water.

Once the water is boiling, blanch the brocolli florets for 20 seconds. Immediately transfer into bowl with cold iced water.

Drain and transfer brocolli and the stalk batons into a bowl, add salt, (remember that you did salt the brocolli while blanching, so just add a little) pepper, olive oil and vinegar

Heat a pan and chargrill the brocolli florets and stalk batons on high heat. Char each side and once done transfer to a plate to cool.

Slice the almonds carefully into slivers.

Slice whole chilli thinly and diagonally.

Add all the ingredients for the dressing into a jam jar and give it a good shake until it all mixes together.

In a bowl add the chargrilled broccoli. Pour over the dressing, and give it a toss to mix.

Assemble the brocolli on a plate. Finely grate the cheese over the broccoli and add the almond and chillies slivers.
Broccoli Salad Recipe Notes
You add salt at different stages in this broccoli salad recipe. Keep this in mind so that the total amount of salt that you add is not excessive.
You can use dairy parmesan cheese instead of the vegan parmesan cheese.
You can make this salad in advance and store it in the refrigerator for up to three days.
Like your broccoli? Then check out my Labneh with grilled broccoli and baked feta recipe.