This recipe is for those occasions when you want to impress, whether it's a date night at home or a few friends over for dinner. My Labneh with grilled broccoli and baked feta has got you covered in terms of a vegetarian starter. And did I say that you won't be slaving it in the kitchen either?
Let me show you how to make it.
Jump to: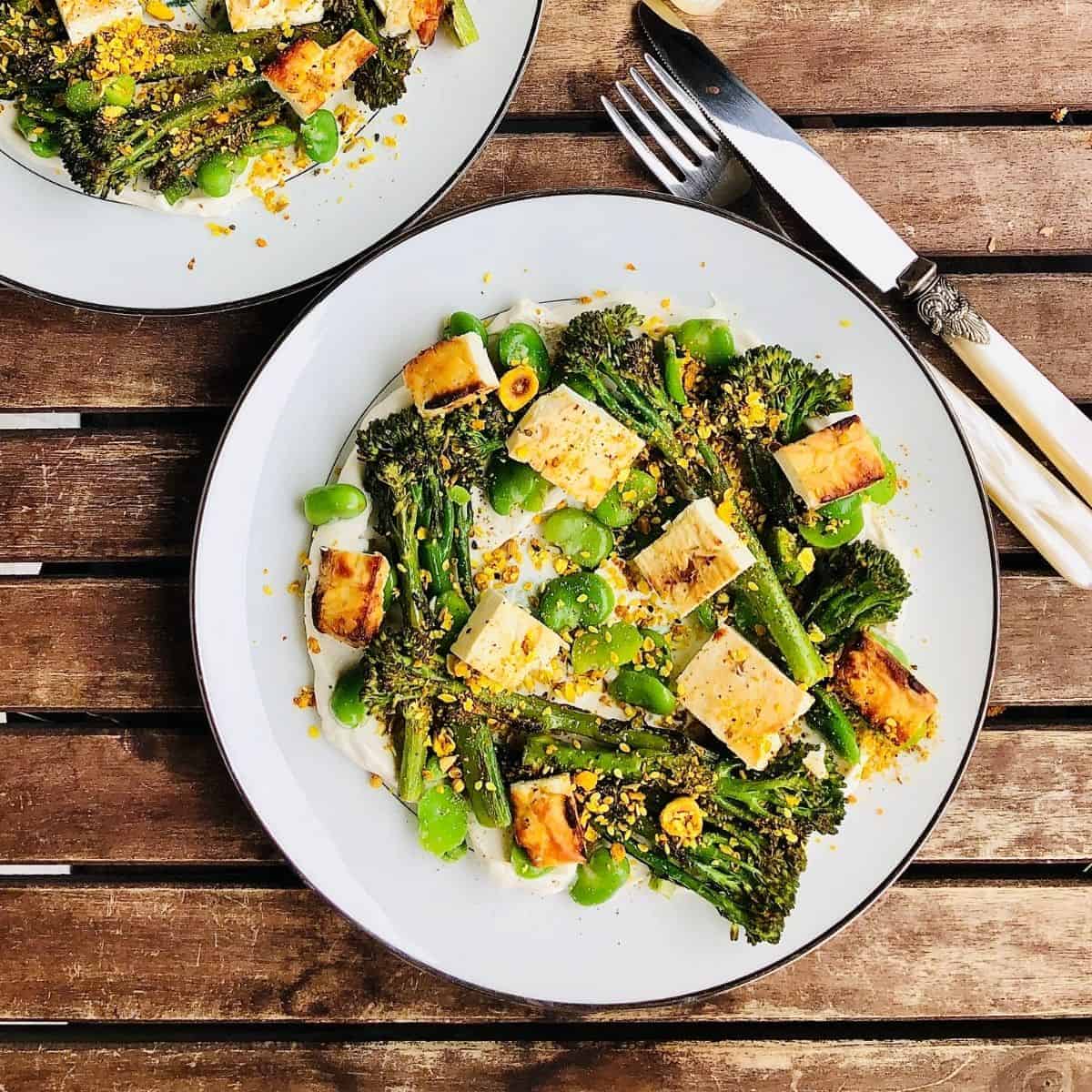 Great Vegetarian Starter Idea
Start your dinner party or date night impressively with this one. Simple ingredients come together to put up a great show.
Labneh forms the base of this vegetarian starter. You can see how to make the Labneh in my Dairy Free Labneh, baby carrot and walnut recipe. This labneh is vegan, however, if you want to make it with dairy products, the method is the same, however, you may need to hang the yogurt a bit longer though.
Grilling the stem broccoli gives it a sweet flavour while retaining the bite.
The baked feta provides a saltiness to the dish. When it comes to baked cheese most people imagine something gooey like the Camembert or the classic pizza topping, Mozzarella. However I give this baked feta the special treatment by marinating it in olive oil and lemon. Baking it in the oven makes the feta a little more flavourful with a golden caramel crust.
Broad beans are in season, so they make a good, healthy addition to the recipe. Don't throw away the pods though. Although the older ones tend to be fibrous and a bit off putting, they are edible in surprising ways.The final touch is a sprinkle of Dukkah. Dukkah is a nutty spice mix that instantly adds texture and additional flavour to literally anything.
In the professional kitchen, part of a winning recipe is the way it is presented or plated. You can practice your plating skills with this vegetarian starter recipe. See my video and follow along.
How-To video
Here is a visual guide to this vegetarian starter recipe:
📖 Recipe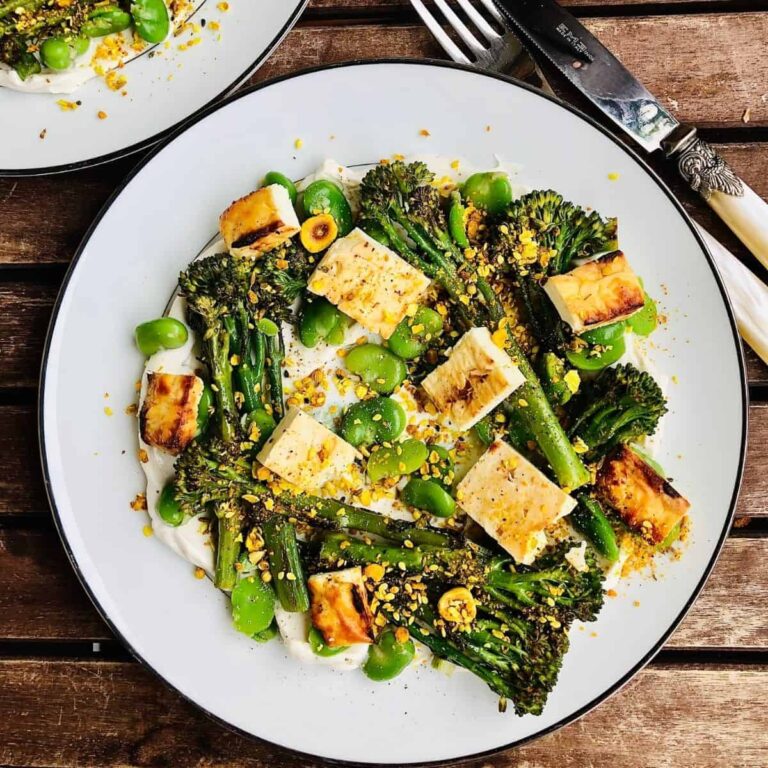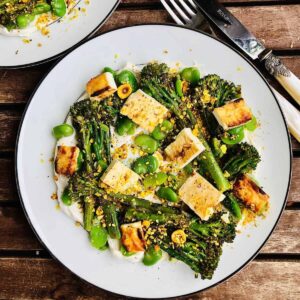 Vegetarian Starter: Labneh With Grilled Broccoli & Baked Feta
Impress your friends with this vegtarian salad starter recipe.
Ingredients
450

gms

Broad beans from pods

after peeling 150gm

150

gms

Stem broccoli

1

teaspoon

Olive oil

Salt and pepper to taste

10

gms

Dukkah
Labneh
200

gms

Greek style vegan yogurt

Oatly
Baked Feta
100

gms

Feta

¼

teaspoon

Olive oil

¼

teaspoon

Lemon juice

salt and pepper to taste
Instructions
Labneh
Place a double layered muslin cloth over a fine strainer, set over a bowl.

Transfer the yoghurt onto the center of the muslin cloth. Bring all four sides of the cloth to the center and tie the ends on top. ( not too tightly ) This prevents the air from getting in and drying the surface of the yoghurt.

Set aside the yoghurt in the fridge for a minimum of 4 hours. You can either leave it on top of the sieve with a bowl underneath or hang it in the fridge with a bowl underneath to catch the whey.

Once ready, transfer to a bowl and season with some salt.
Baked Feta
Preheat oven to 220ºC ( This temperature is for a fan assisted oven, you may need to adjust the temperature if your oven is not fan assisted )

Marinate the Feta in olive oil, lemon juice, salt and pepper. Bear in mind that the Feta is already salty, so not too much salt.

Transfer the Feta to an oven proof tray, lined with either a silicon mat or parchment paper. If your baking tray is non stick, then you dont need to line with anything.

Bake the Feta in the oven for about 20 to 30 minutes. Its ready when the colour is golden brown. Set aside to cool

Once cool to touch, cut feta into squares and set aside.
Broccoli & Broad Beans
Trim the Broccoli and remove the broad beans from the pod. After removing the beans you should have about 150 gms of broad beans.

In a pot set water to boil and season with salt.

In a bowl add ice and pour in some cold water.

Once the water is boiling in the pot, blanch the stem broccoli for about a minute. Remove and immediately transfer to iced water to stop it from cooking any further. Once cooled drain and set aside.

Note: You will know the tenderstem broccoli is cooked when it turns bright green.

Use the same boiling water to blanch the broad beans, cook for about 1 minute and transfer to a bowl with iced cold water to stop them from cooking further. Once cooled, drain.

Remove the outer skin of the broadbeans and set aside

Add oil and salt and pepper to the stem brocolli. Heat a grill pan if you have one, otherwise an ordinary pan will do. Once the pan is smoking hot, char grill the stem brocolli on each side. This is mainly for the colour and charred flavour. Once ready set aside to cool.
Plating
Now we are ready for plating. Spoon and spread Labneh onto a plate. Do this step three times. We are aiming for a circle.

Now add the tenderstem brocolli on top. Scatter broadbeans. Add the feta squares

Sprinkle some ground pepper and finish with a sprinkle of dukkah.
Recipe Notes
The total time for this recipe seems to be long. This is so the yogurt can be hung to produce the Labneh. Its not a difficult process though. The prep time also includes the plating time.
Can I use dairy yogurt? Yes, Greek yogurt works best. The hanging time will be longer. Best to leave it overnight in the fridge.
Can I use vegan feta cheese? Yes, however you can't bake it as vegan cheese will melt when heated. Having said that it will not make a massive difference in the flavour.
Can I use something else instead of dukkah? Yes. The addition of dukkah is mainly for texture, although it does lend flavour as well. Perhaps you can replace it with a seed mix or toasted nuts and seeds.