Sloes berries are small dark blue/purple fruit from the blackthorn bush. They are from the same family as damsons plums and cherries. A popular use of sloe berries is to make Sloe Gin . A less know use of the sloe berries is to make a balsamic vinegar reduction. The sloe fruit is tart and not really something you eat like a plum or a cherry, however, this tartness makes it perfect to create a balsamic vinegar reduction.
Jump to: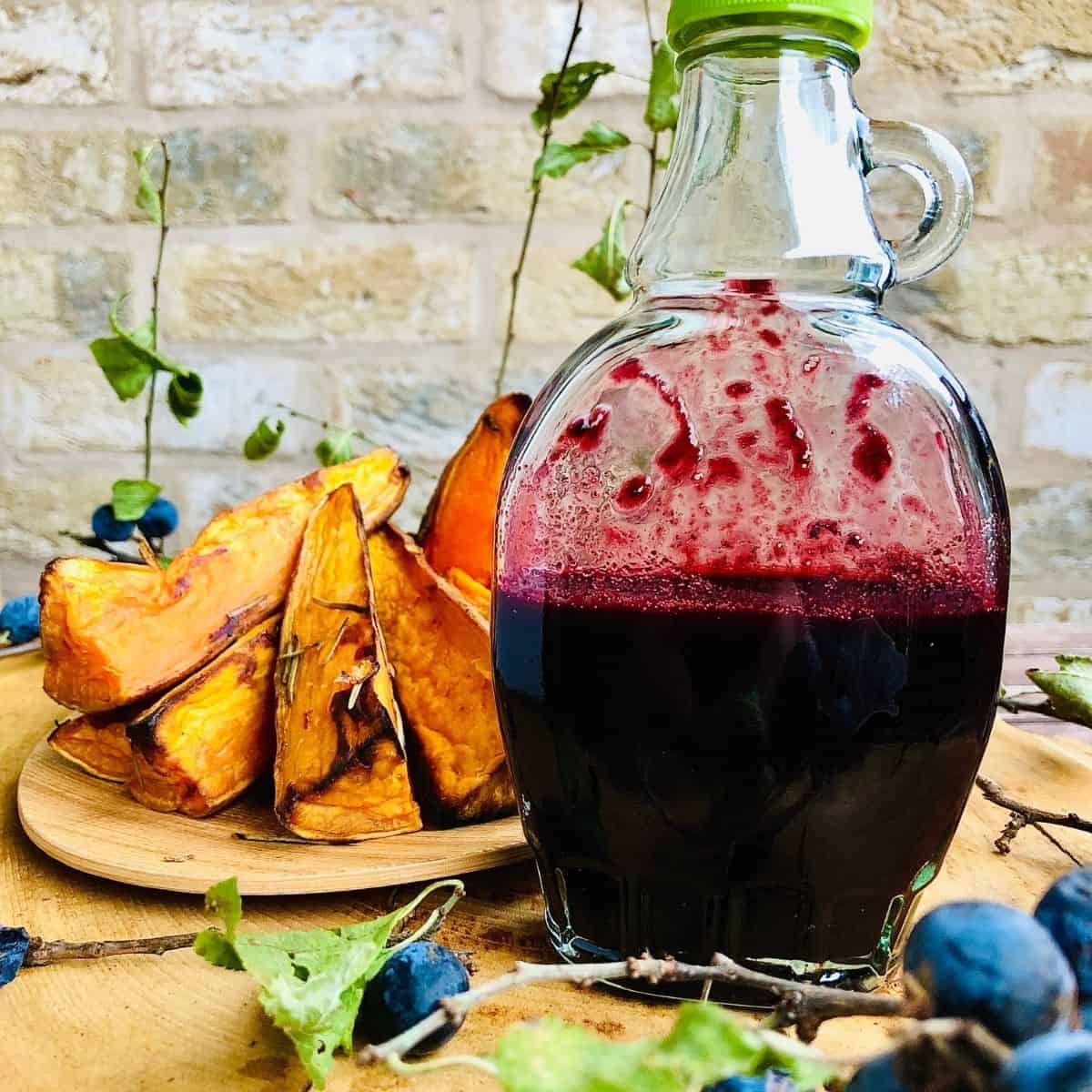 When cooked, sloe berries give an intense plum flavour to what ever they are added to. Combined with an already slightly sweet, richly flavoured balsamic vinegar and sugar, they produce an incredible tart, fruity and sweet balsamic vinegar reduction. The flavour is very distinctive for a vinegar, and perfect to use to dress your salads, roast veggies or even chips. With this recipe, we are all about bold, punchy flavours.
The perfect time to harvest sloe berries is after the first frost when the fruits have split. More time on the bush, more flavour. Of course, you can be picked before the first frost when they are a deep purple / blue colour and ripe. Just pop them in the freezer to mimic the frost.
The recipe for this sloe flavoured balsamic vinegar reduction is very easy to follow. I highly recommend trying it out, thus adding an unusual flavour to your everyday meals.
So go gather your sloes and lets cook!
How-To video
Here is a video guide to making sloe berry flavoured balsamic vinegar
📖 Recipe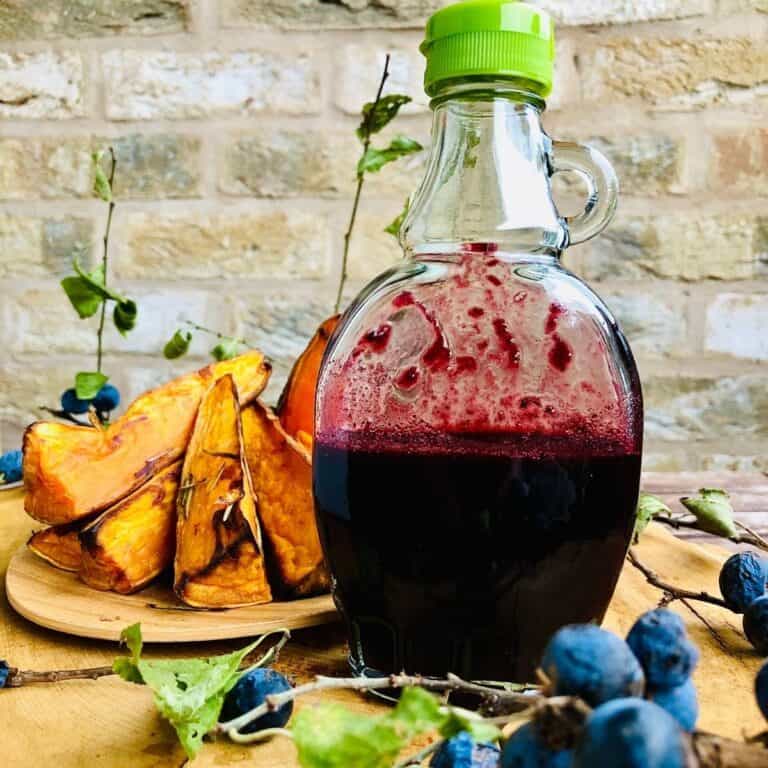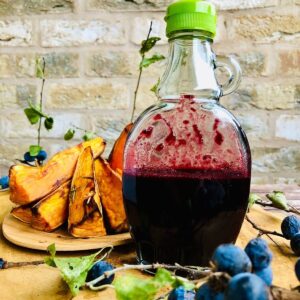 Sloe Berry Flavoured Balsamic Vinegar Reduction Recipe
Create an intense, distinctive vinegar reduction with foraged sloe berries.
Equipment
Digital scales

200 ml Glass bottle
Ingredients
250

gms

Sloe berries

300

ml

Water

50

gms

Balsamic vinegar

50

gms

Sugar
Instructions
In a pot add the sloe berries and water and bring to a boil. Then simmer over a medium heat for about 10 minutes.

Once the sloe berries are soft and pulpy, remove from the heat and pass through a sieve. Gently press down to extract the juice. Do not press down too much as we only want the juice and not the pulp.

Set aside the pulp for another recipe (check out my sloe berry brownie recipe.)

Bring the juice back into a pot. Add the sugar and balsamic and bring to a quick boil. Then simmer for about 5 to 10 minutes till the liquid is a syrup. We want the syrup to form a drop at the end of the spoon and not just roll off. Check the video.

Transfer the sloe balsamic into a sterilised bottle and allow to cool before refrigerating.

Use as desired, to add flavour to roast vegetables or salads.
Sloe Flavoured Balsamic Vinegar Reduction Recipe Notes
This balsamic vinegar reduction can be stored for upto a year. Just make sure the bottle you pour the vinegar into is sterilised. An easy way to sterilise a bottle is to wash it with hot water and put it in the oven at 100ºC for at least 30 minutes.
Have a look at this Woodland Trust's post with regard to ID'ing sloe berries. Make sure you have the right berries, there are a few berries which look similar. Sloe berries are a dark purplish blue. As with any foraging, you should be very confident about your ID'ing before you consume anything.