In October and November in the UK, the hedgerows are full of hawthorn, rosehips and sloes. All are on my foraging tick list. In this post we'll be focusing of the sloes. Sloes are small dark purple / blue fruits from the Blackthorn bush. They are from the same family as damsons, plums and cherries. However they are very tart and not really a fruit that one can bite into and eat like a plum or cherry, unless you like very tarte tastes. However, they are perfect for making gin, jam and jellies. I have a few recipes with sloes up my sleeve, so keep checking back on my blog. Right now though, let me show you how to make sloe gin!
Jump to: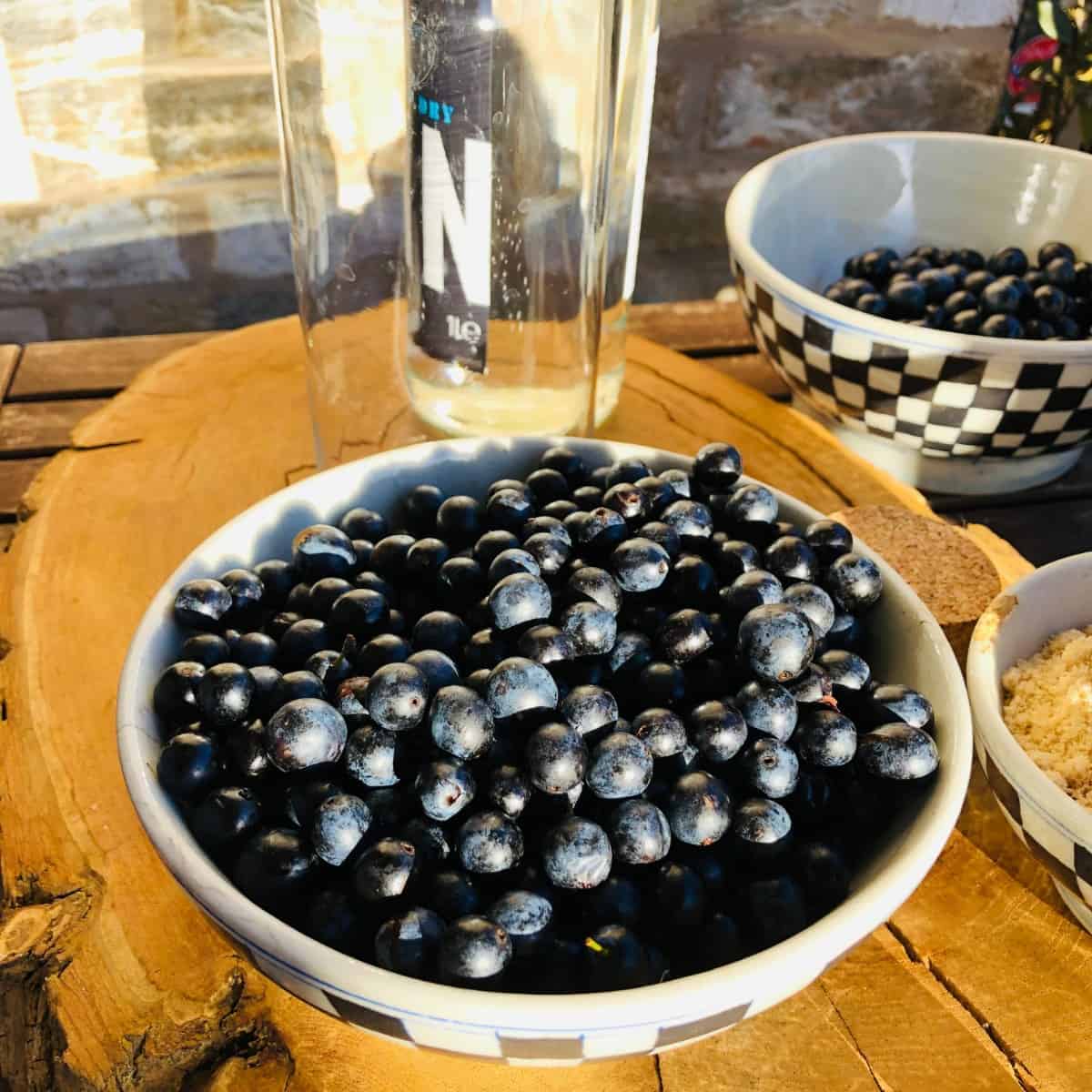 Sloe gin is a traditional British liqueur . It is fruity, sweet and smooth. A few sips and it envelops you in its warmth. Its a perfect warming drink for the cold winter months. It can be a great little Christmas present, made with your own fair hands, although it is a bit of a race to have it ready by Christmas! Gather enough sloes though and you can make enough sloe gin to last until next years harvest.
Sloe gin is actually made by infusion. The preparation is easy. All you need is a bit of patience. Very simply, sloes and sugar are submerged in gin for a few months to allow the infusion to take place. After about three months, the sloes are strained off and you are left with this fruity, sweet liqueur.
It's amazing how with just three ingredients you can create a beautiful warming drink.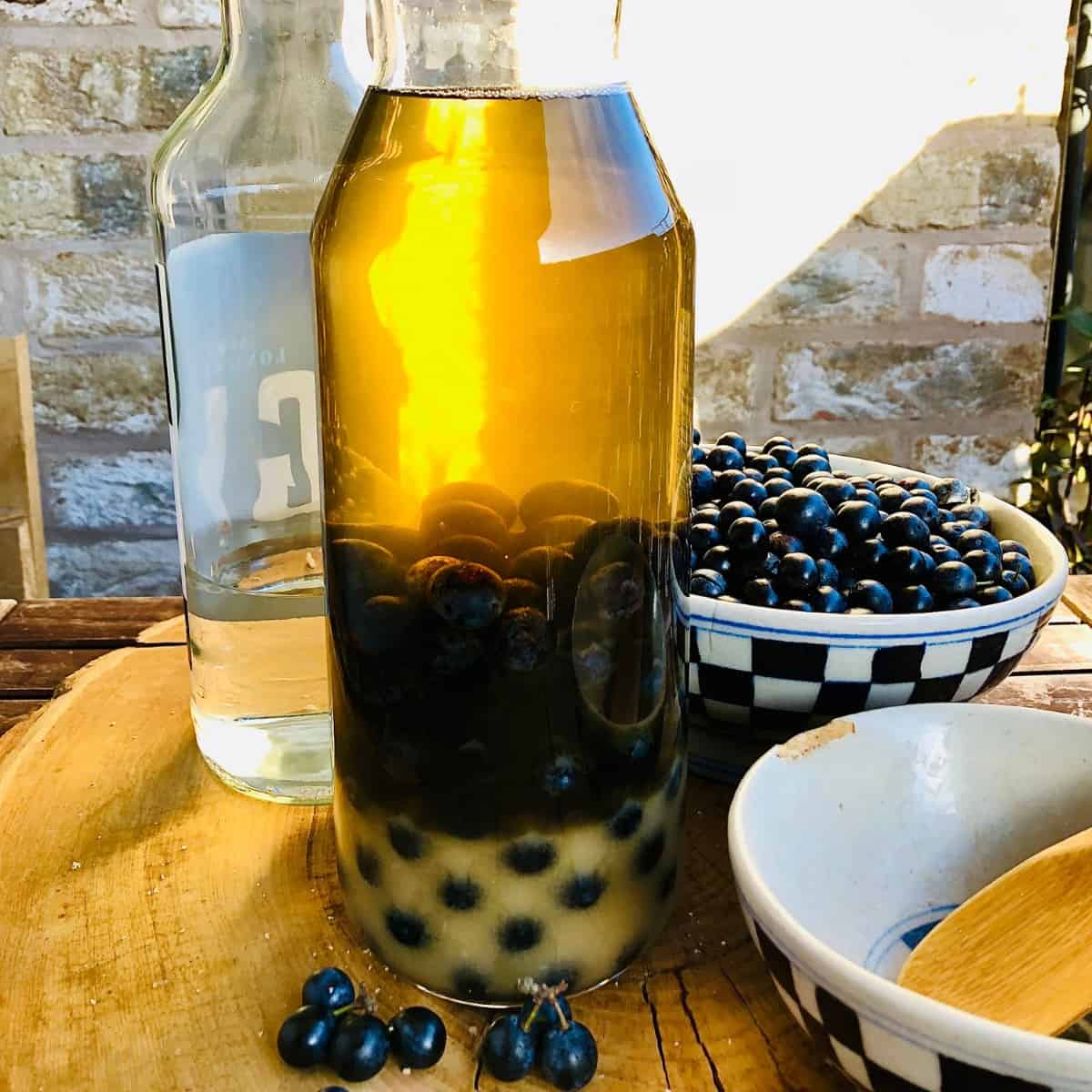 How To Make Sloe Gin Video
📖 Recipe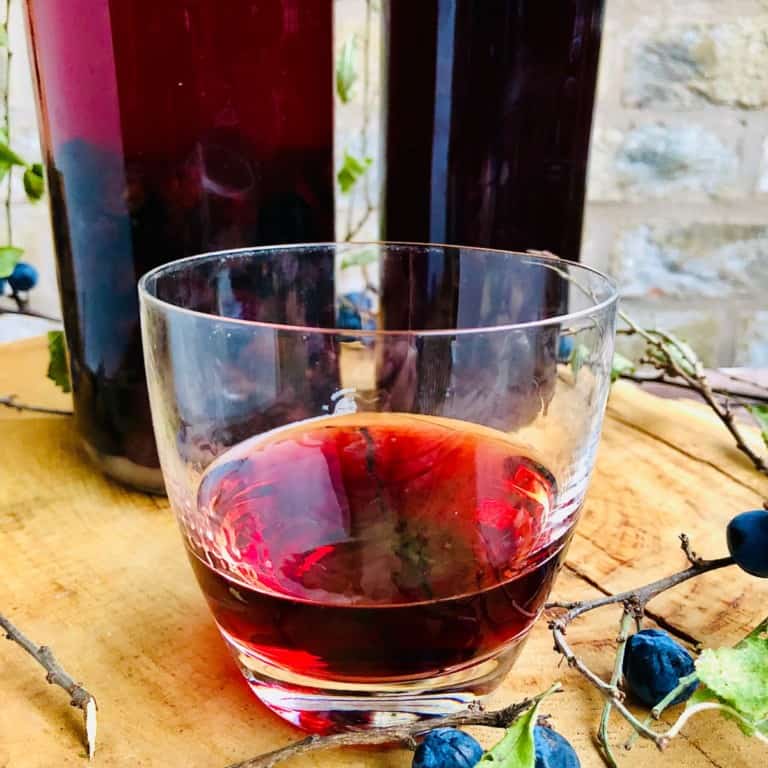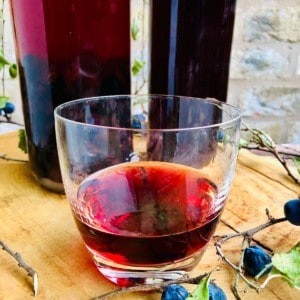 Sloe Gin Recipe
A fruity, sweet liqueur made with sloe berries.
Equipment
Digital scales

1 litre capacity, large mouthed Glass bottle with lid
Ingredients
350

gms

Sloe berries

750

ml

Gin

150

gms

Light brown soft sugar
Instructions
Wash and pat dry the sloes.

Prick the sloes with a toothpick. This process can be omitted if you have picked the sloes after the first frost or you have frozen them in your freezer (causing the skins to split)

Pack the sloes into the bottle.

Add the sugar on top of the sloes.

Pour in the gin. Leave a bit of space on the top as it will increase in volume a bit as the juice from the sloes is released.

Close the lid. Label the bottle and store in a cool dark place for about three months. For the first week shake the bottle everyday to distribute the sugar.

After three months or so, strain the gin using a fine mesh sieve lined with a muslin cloth.

Decant back into the gin bottle. Seal and label.

With the passage of time, the sloe gin will mature even more. Enjoy.
Recipe Notes.
You can use any brand of Gin, it doesn't alter the flavour in anyway.
If you like to make your own spirits, then please do head on over to my Umeshu plum wine.
I have also used sloe berries in my vegan carob and sloe berry brownies.
If you collect your Sloes before the frost, I recommend you freeze them for a day before using. Freezing them splits the skin, and this helps the juice from fruit to spill into the gin easily. Of course you can wait for the first frost, then the skin has split on the plant. However I must mention some sloes may have not split, so then we prick them with a toothpick.