Umeshu is a Japanese plum wine made by steeping Ume plums in a base spirit and Sugar. It produces a sweet liqueur like drink. My first introduction to it was about a decade ago while working for Zuma, a Japanese restaurant in London. I was celebrating my mothers birthday, when the sake sommelier (wine waiter) suggested I try it with some ice. That was the beginning of the love affair.
Jump to:
Homemade Plum Wine (Umeshu) Experiments
With each trip I subsequently made to Japan, I made sure a bottle-or-two made it into my suitcase. During my last trip to Japan, just before the pandemic, a friend of mine shared how she makes her own umeshu. Until that point it hadn't occurred to me that this was something you could make at home. Excited to try, I had to find an alternative to the ume plum here in the UK
I started wild food foraging in 2019 and that year we had a bumper harvest of damsons at my workplace. As a stoned fruit, similar to a plum, this seemed a good candidate for my experimentation. So I gave it a go. Upon tasting a year later, I was pleasantly surprised to discover how much it reminded me of umeshu. This gave me a bit of confidence to experiment further. My mind went to my mother-in-laws garden and her greengage tree. Plums, gages and damsons are basically the same type of stoned fruits but with different tastes. Thus, this ready supply of greengages was too good an opportunity to pass up for my next batch of umeshu plum wine.
The experiments were very successful and the process easy. So I wanted to share with you how to make plum wine. It is literally as simple as placing greengages (or damsons, or plums) in the alcohol in the bottle with a few ingredients and leaving it alone to do its thing.
All you need is time and patience. For the best flavour you will have to leave the umeshu to mature for a year. Good things come to those who wait....
📖 Recipe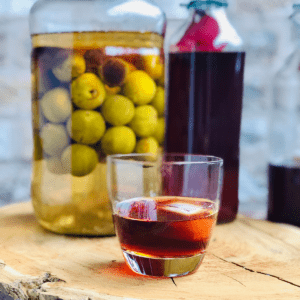 Greengage Umeshu (Plum Wine)
Try my homemade version of Umeshu, the Japanese plum wine, using greengages.
Equipment
Digital kitchen scales

A large, wide mouthed 2 litre glass jar with lid
Ingredients
1

kg

Unripe Greengages

450

gms

Yellow rock sugar

1

litre

Vodka
Instructions
Preheat the oven to 100ºC.

Wash the jar and lid in hot soapy water.

Sterlise the jar in the oven for a minimum of 30 mins. Place the lid in the oven with the jar five minutes before the sterlisation is due to complete.

Once the bottle and lid is sterlised, leave to cool.

Wash and pat dry the greengages, discard any that are discoloured or split open.

Remove the stem completely, use a toothpick if required so as to not damage the fruit.

Break down the rock sugar into smaller pieces if it is too chunky.

Once the bottle is cooled down, add a layer of the plums in the bottom and then a layer of sugar. Make sure the plums are tight, be careful not to bruise them though.

Repeat this process till until all the plums and sugar is used up. You should have reached about ¾ of the capacity of the jar.

Check if the top layer of plums is secure and nicely packed.

Pour over the Vodka, completely submerging the greengages. It should be at least an iNch or two above the top layer of plums. At the same time there should be some empty space in the jar. The plums will release their juice and you dont want it to overflow!

Close the lid on the jar and place the jar in a cool, dry, dark place.

Give the Jar a shake once in a while to help the sugar assimalate with the alcohol.

After 4 months, you can have a taste. At this point you can remove the greengages or leave them. If I decide to make a cake or have a use for the greengages, then remove them. If not, I leave them in for when I am ready to use them.

If you do decide to remove the green gage. Use a sterlised spoon, or one that has been washed in hot soapy water to remove the greengages from the Jar. Transfer the umeshu into bottles. Store the bottles in cool, dark and dry place.

After two more months it is ready to be consumed. Umeshu mellows with age, so I prefer to leave it for longer. Its best to start drinking it after a year.

After another 6 months ( if you choose to wait ) enjoy your umeshu either neat (as I do) or with ice.
How-To Video
Here is a video guide to making your Homemade plum wine
Homemade Plum Wine Recipe Notes
Regardless of the fruit you use, a key requirement is to use fruit that is firm on touch, just before ripening.
You cannot replace rock sugar with any other sugar because the rock sugar dissolves slowly and flavours the alcohol evenly over time.
Traditional Japanese Umeshu uses, Sochu a potato spirit, as the spirit base. I didn't have access to that in the middle of the pandemic, so I used vodka from the supermarket. Ideally vodka that is 40% proof is the best. In this recipe I use a vodka 37.5% proof that is made with grains. Use any flavourless vodka.
When the plum wine is ready, don't throw the fruit away. Use it in other recipes. I used mine in a Christmas cake. I also made loaf cakes. Once you remove them from the alcohol, their colour will change to a darker brown. Rest assured though that they are still very much edible and in fact quite delicious, if not very boozy! Hic!