Food can be a love language, and Christmas is a perfect opportunity to pour goodwill and love into our cooking. Our nearest and dearest feel it. In this post, I will show you my favourite Christmas treat, my Calcutta Christmas cake recipe. It requires some forward preparation, but everyone loves the finished product. Indeed, this is my big hug on a plate!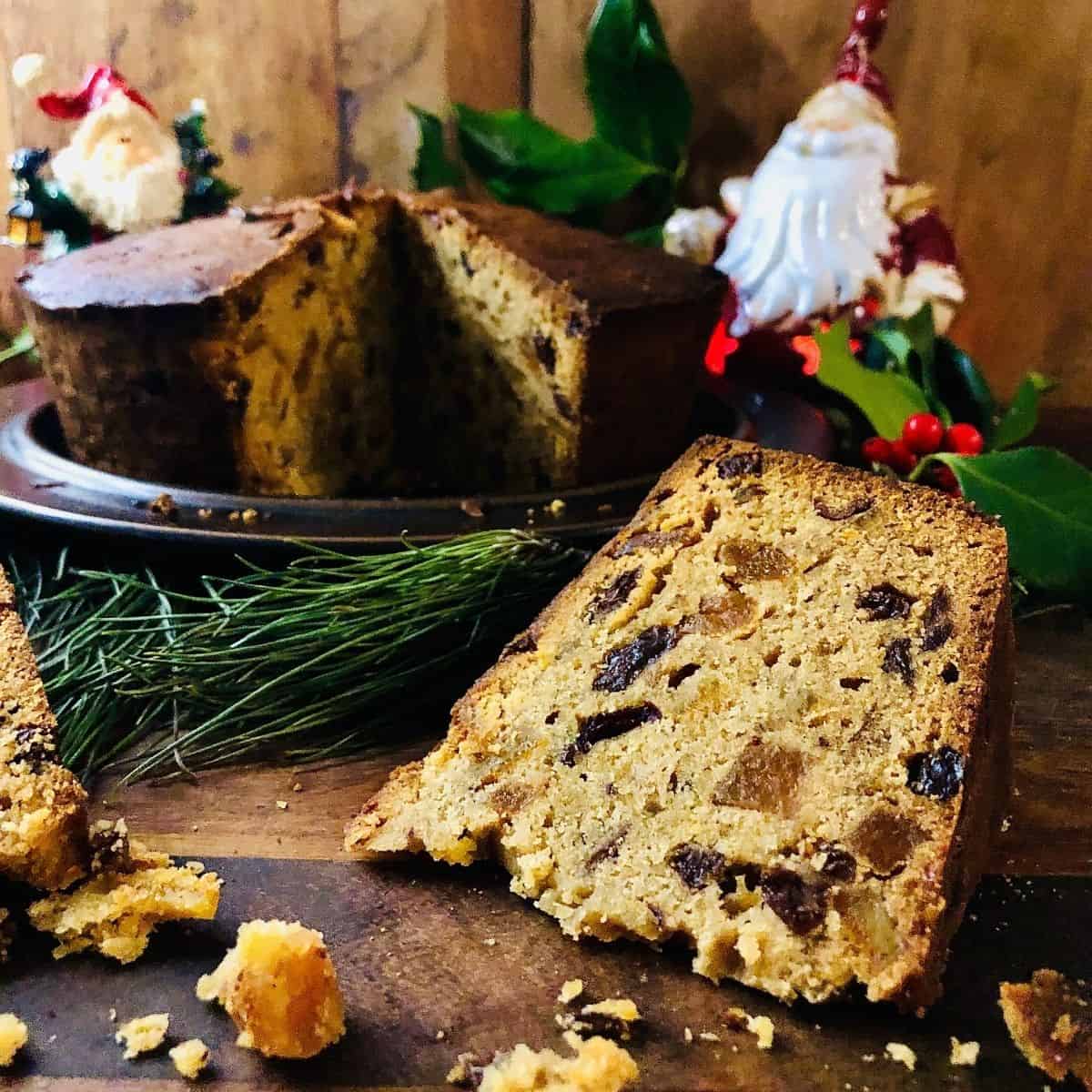 Christmas Cake, Calcutta Style
Christmas is one of those times that create memorable food memories. The Christmas dinner table is the source of much merriment and fun, all centred around delicious food and drink.
The UK is my home now, but Christmas here always brings back fond memories of Christmases in Calcutta, India, where I grew up. Christmas was always a big affair there. The weather was perfect, lots of Christmas parties happening, and, of course, great food. One very fond food memory I have is the Christmas cake served to us at the Calcutta Club.
Fast track to the adult me, doing my chef training in one of the best hotels in India. We participated in a September tradition of mixing dry fruits with alcohol to prepare Christmas cakes. This months-in-advance preparation was the love and attention given to this classic.
Once I moved to the UK, I missed this Christmas cake and tried various cakes from practically every bakery I could find. However, none could live up to the Calcutta Christmas cake imprinted in my memory. So I trawled through my recipe books to find this old recipe of mine.
I have altered my original recipe a little to make this cake vegan because I want to pass my food love on to as many of you as possible.
First thing first, though, you will need to soak your fruits in alcohol before making the cake. Another thing you will need to do is make some candied orange peel. It is not difficult. Follow the link to the recipe.
Ready? Let's bake a cake!
How-To Video
Here is a video guide to making a delicious Calcutta Christmas cake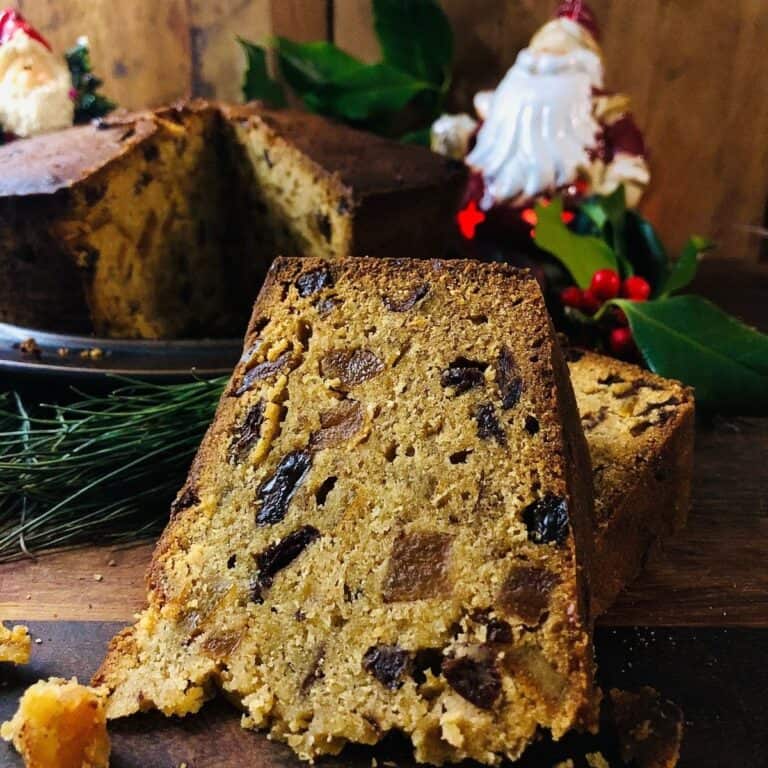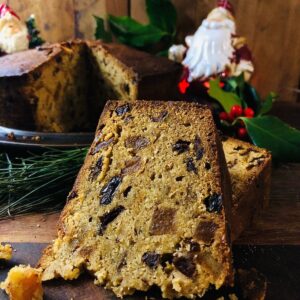 Calcutta Christmas Cake
Equipment
Whisk

Digital scales

8 inch Cake Tin

Measuring Jug

1 litre glass Jar with a lid
Ingredients
Alcohol Soaked Fruits
100

gms

Sultanas

100

gms

Apricots

100

gms

Cranberries

100

gms

Dates

100

ml

Whisky

100

ml

Sloe Gin

100

ml

Limoncello

100

ml

Vodka
Cake
275

gms

Vegan butter

275

gms

Soft brown sugar

275

gms

Plain flour

75

gms

Ground almond

5

tablespoon

Flax meal

5

tablespoon

Water

1

Orange

8

Cloves

10

All spice berries

½

teaspoon

Cinnamon powder

¼

teaspoon

Nutmeg powder

500

gms

Alcohol soaked fruits

100

gms

Candied orange peels

100

ml

Alcohol (optional)

For feeding cake. Dark rum is the best
Instructions
Alcohol Soaked Fruits (prepare one week to three months in advance)
Chop the dates and apricots into the smaller dices, similar to the size of a sultana.

Add all the dry fruits into the sterilised glass jar and pour in all the alcohol.

Ensure all the fruits are covered in the alcohol. Close the lid and store in a cool, dark place.

Give the jar a shake every other day to ensure that the fruits are always covered in alcohol.
The Cake
Prepare the cake tin by first coating it with butter and then lining the sides and bottom with parchment paper. Ensure the paper on the sides is at least half an inch higher than the height of the tin. (see photo)

Add warm water to the flax meal and mix to create flax egg. Set aside.

Chop the candied orange peels.

Pre heat the oven to 150ºC (fan assisted oven)

In a bowl, add soft vegan butter and cream the butter until light and fluffy.

Add the sugar and continue to whisk, until combined.

Add in the flax egg, ground almond, spices, and the zest of one orange. Whisk to combine.

Add the sifted flour and baking powder. Fold to combine.

Add the soaked alcohol fruits and chopped orange peels and mix to combine. Be careful not to over mix.

Transfer the mix to the pre-prepared tin, spreading to all corners.

Wet a spatula and smooth the top of the cake.

Gently tap the tin on the counter top to remove any trapped air.

Bake in the oven for two hours.

An hour into baking, turn the tin around to ensure even colour.

After two hours, insert a skewer into the cake to check if its ready. If it comes out clean, it should be ready. If not then leave in for another 15 minutes.

Once ready, remove from the oven and leave to cool completely.

If you wish to feed the cake, poke holes onto the surface using a skewer. Brush in your choice of alcohol. Feed the cake everyday until you are ready to serve. Don't feed on the day of serving.
Calcutta Christmas Cake Recipe Notes
Give enough time to soak the fruits in the alcohol. At least a week, but anywhere up to three months. The choice of dry fruits and alcohol is up to you.
You can use store-bought candied orange peels; however, homemade candied orange peels and best, and you know exactly how much sugar is in them. They can be made up to a month in advance. However, be warned, they might just disappear from the jar before you get around to using them in your cake. They are very yummy as a snack!
If you want to make the cake alcohol-free, then on the day you wish to make the cake, boil the fruits till soft, drain and use. It will alter the taste of the cake, and it will not stay as long.
Ideally, try to make the cake at least a week in advance so that you have time to feed it with alcohol (dark rum is the best, but I fed mine with sloe gin) which helps to make it deliciously moist. Feeding the cake involves brushing alcohol onto the surface, so it soaks into the cake. This is, however, optional. Remember not to feed it on the day you serve it.
If stored in an airtight container and a cool dark place, the cake will stay moist for more than a month.
If you want more cake ideas, perhaps try my vegan mango-flavour crepe cake.