This homemade Carob brownie with sloe berries is dangerously fudgy and tangy. It reminds me of a morello cherry brownie my pastry chef friend would make. The best part of this vegan brownie recipe is that the sloe berries are the waste from making a sloe flavoured balsamic vinegar reduction. Carob replaces chocolate in this recipe.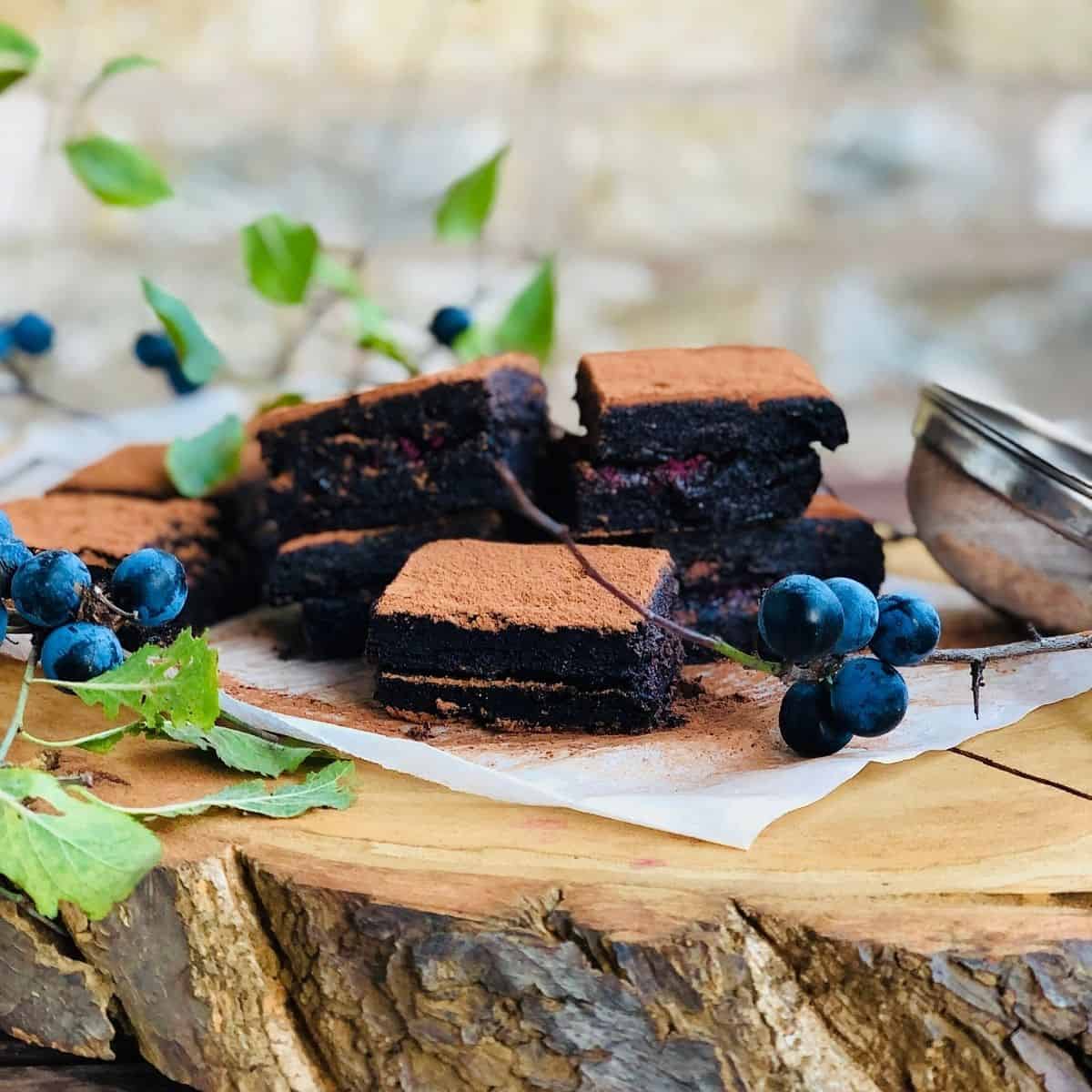 I love foraging and then thinking of ways to use wild food in my recipes. Sloe berries are the fruit of the blackthorn tree. Around November / December, ideally after the first frosts, they are ready to pick. In the UK the blackthorn is common and all I have to do is find a good hedgerow and pick my share (but only what I know I can use, leaving sloe berries for other foragers and wildlife to also enjoy). Gin, jams and jellies are popular recipes for sloe berries, but what to do you with the left over sloe pulp? The one thing that I absolutely detest is food waste #starvethebin! So I just had to find a way to use up the sloe pulp from sloe flavoured balsamic vinegar.
Much to my surprise the sloes, when cooked, almost have a plum flavour (well they belong to the same family.) I used carob instead of chocolate in this vegan brownie recipe. Granted, many, many people have a love affair with chocolate, however, carob is a very decent alternative.
Carob does not contain the caffeine that chocolate does. It is high in fibre and contains antioxidants. Carob is naturally sweet but has a low glycaemic index (GI). This makes if a good alternative to chocolate for diabetics.
How-To Video
Here is a video guide to making your vegan brownie recipe.
📖 Recipe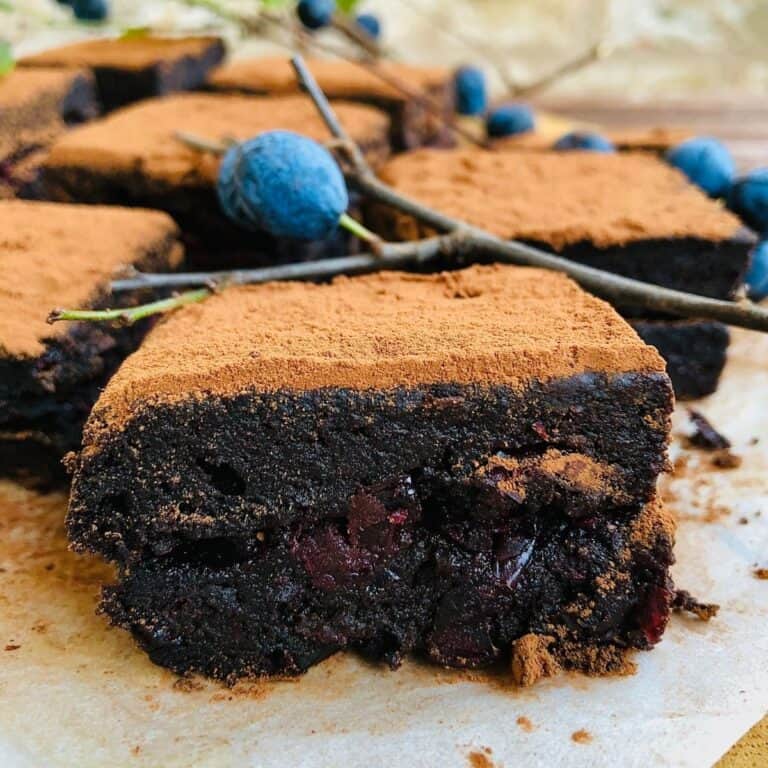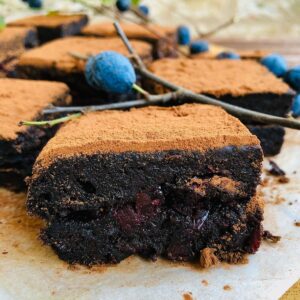 Carob and Sloe Berry Brownie
Vegan Brownie recipe. Made with Sloe berries and Carob
Equipment
Digital scales

Sieve

8x8 Baking tray
Ingredients
Sloe Syrup
300

gms

Sloe berries

300

ml

Water

100

gms

Soft brown sugar
Sloe Berry Carob Brownie
100

gms

Flour

50

gms

Sugar

40

gms

Carob powder

100

gms

Olive oil

¼

teaspoon

Salt

2

teaspoon

Flax meal

5

tbsp

Warm water

1

teaspoon

Vanilla extract

100

gms

Sloe Syrup

200

gms

Sloe berry pulp
Instructions
Sloe Syrup
Wash the sloe berries and remove the stems.

Transfer the berries into a pot with water and bring to a rapid boil. Then simmer for 15 minutes or until the berries are soft and pulpy.

Transfer the berries onto a sieve with a bowl underneath to catch the juice.

Using the back of a ladle press down onto the sloes to extract all the juice.

Transfer the juice along with the sugar into a pot and bring to a rapid boil and simmer for 5 to 10 minutes until of syrup consistency.

Remove the seeds from the sloe pulp and set aside to use in the brownies.

Once the syrup is ready, transfer to a sterilised bottle.
Carob Sloe Brownie
Preheat the oven to 175ºC

Mix warm water with the flax meal to create a flax egg and set aside.

Line the baking tray with parchment paper, ensuring both the bottom of the tray and the sides are well covered.

In a bowl, add the flour, sugar, carob powder, vanilla extract, olive oil and flax egg. Mix to combine.

Add the sloe syrup and sloe berry pulp and mix well.

Transfer to a baking tray and spread the mix evenly, going right into the corners of the tray.

Bake in the oven for minutes 25 to 30 minutes.

Once cooked, leave to cool.

Once the brownie has cooled completely, turn over onto a chopping board and cut into half.

Soak both the sides is the sloe syrup.

Layer in the sloe pulp and stack the other half on top.

Dust with cocoa powder and cut into nine equal portions.
Vegan Brownie Recipe Notes
If you don't have access to Sloes, you can replace the sloe with blackcherry, the ones that come in a can, they will give a similar flavour.
If not vegan you can replace the flax eggs with two whole eggs beaten. This should be added at the same step as the flax eggs in the recipe card.
This brownie tastes even better the following day and can be kept at room temperature for up to three days or for up to five days in the refrigerator.