Since I have been in London (a decade and half) I have worked for some of the best Japanese and Pan Asian restaurants. One thing that I love about my job is every morning walking into the kitchen and being greeted by a cacophony of smells from various sauces, curry pastes etc cooking away, and the air fragrant with herbs and spices. This roast pumpkin soup is a reminder of those times in the kitchens, the flavours and smells. It was one of my most requested soups, and as I take you through it, you will see that it is so easy to make.
Jump to:
This soup is infused with flavours of Asia. Lemongrass, sweet coconut milk and ginger are what make this soup so delicious. A kick is provided with red chilli. Great tasting recipes don't have to include loads of ingredients. As my first boss used to say to me, Tripti always remember K.I.S.S. - keep it simple stupid!
Right, lets cook!
How-To Video
Here is a video guide to making your roast pumpkin soup
📖 Recipe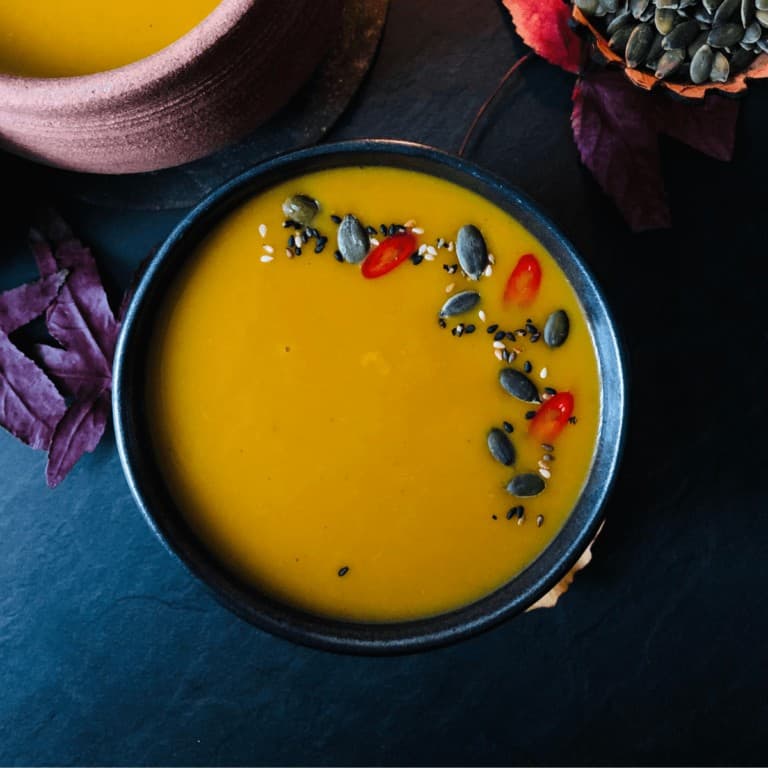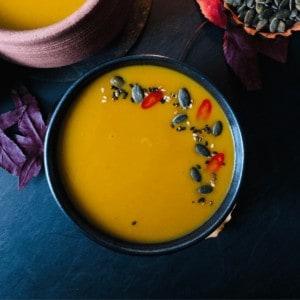 Asian style roasted pumpkin soup
Asian style roast pumpkin soup with coconut milk, lemongrass and ginger.
Equipment
Digital scales

Food processor or blender
Ingredients
1

kg

Musquee de Provance Pumpkin

200

gms

Red onions

20

gms

Garlic

20

gms

Ginger

2

stick

Lemongrass

1

litre

Vegetable stock

2

Red chilli

1

Bay leaf

10

Peppercorns

400

ml

Coconut milk

10

gms

Olive oil

5

gms

Roasted pumkin seeds

optional
Instructions
Peel and roughly chop the onions, garlic and ginger.

Peel and slice pumpkin into even slices not too thick or thin (see the video.) This is so they cook evenly.

Remove the outer leaves of the lemongrass and set aside. Finely chop the softer inside part.

Cut one whole red chilli into large dices, retaining the seeds. Save the other for garnish.

Heat the oil in a large pot over a medium high heat. Add the bay leaf and peppercorns.

Add the onions and garlic and sauté until the onions soften.

Add the pumpkin slices and cook until they start to caramelise (this means that they will be a bit charred and look roasted)

Add lemon grass and chilli and sauté for another 5 minutes.

Add the outer leaves of the lemon grass and pour in the vegetable stock and bring to boil.

Skim the froth from the top and simmer for 15 to 20 minutes, till pumpkin is soft.

Cool down and remove the outer leaves of lemon grass and discard.

Remove bay leaves and discard.

Puree the soup in a blender.

Bring the puree back to the pot and heat it up, add coconut milk and mix.

Serve hot garnished with roasted pumpkin seeds and thinly sliced chillies without seeds.
Roast Pumpkin Soup Recipe Notes
You can use dried lemon grass to flavour the soup, however the flavour will alter. Fresh is best. Although, frozen lemon grass works just as well.
For this roast pumpkin soup I have used Musquee de Provance pumpkin. It is a heritage pumpkin variety. They are sweet and perfect for soups. Since each pumpkin is different, it will impart its own level of sweetness and flavour. If you do not have access to this pumpkin variety, then I recommend crown prince pumpkin. If that is not available as well, feel free to use any large pumpkin that you have can get.
This soup can be made in bulk and frozen. As always, the best practice is to defrost overnight in the fridge and bring it to a boil before consuming.
Make your own vegetable stock by following my guide in the soups category.