Soups are a great source of nutrition and hydration and are easy to prepare. This simple vegan soup uses just three ingredients: Garlic, onions and cauliflower. Cauliflower, I hear you say. Stay with me!
Cauliflower is good for you! It is relatively high in fibre and a source of antioxidants. You can also use it as a low-carb replacement in recipes - grated as a rice replacement, for instance.
Want a gluten-free soup? My recipe ticks that box.
The key to this gorgeous cauliflower soup is slow, gentle cooking. Consequently, it requires a little time investment but pays back with flavour.
If you are a fan of the humble cauliflower, then take a look at my Cauliflower salad, tandoori style.
Jump to: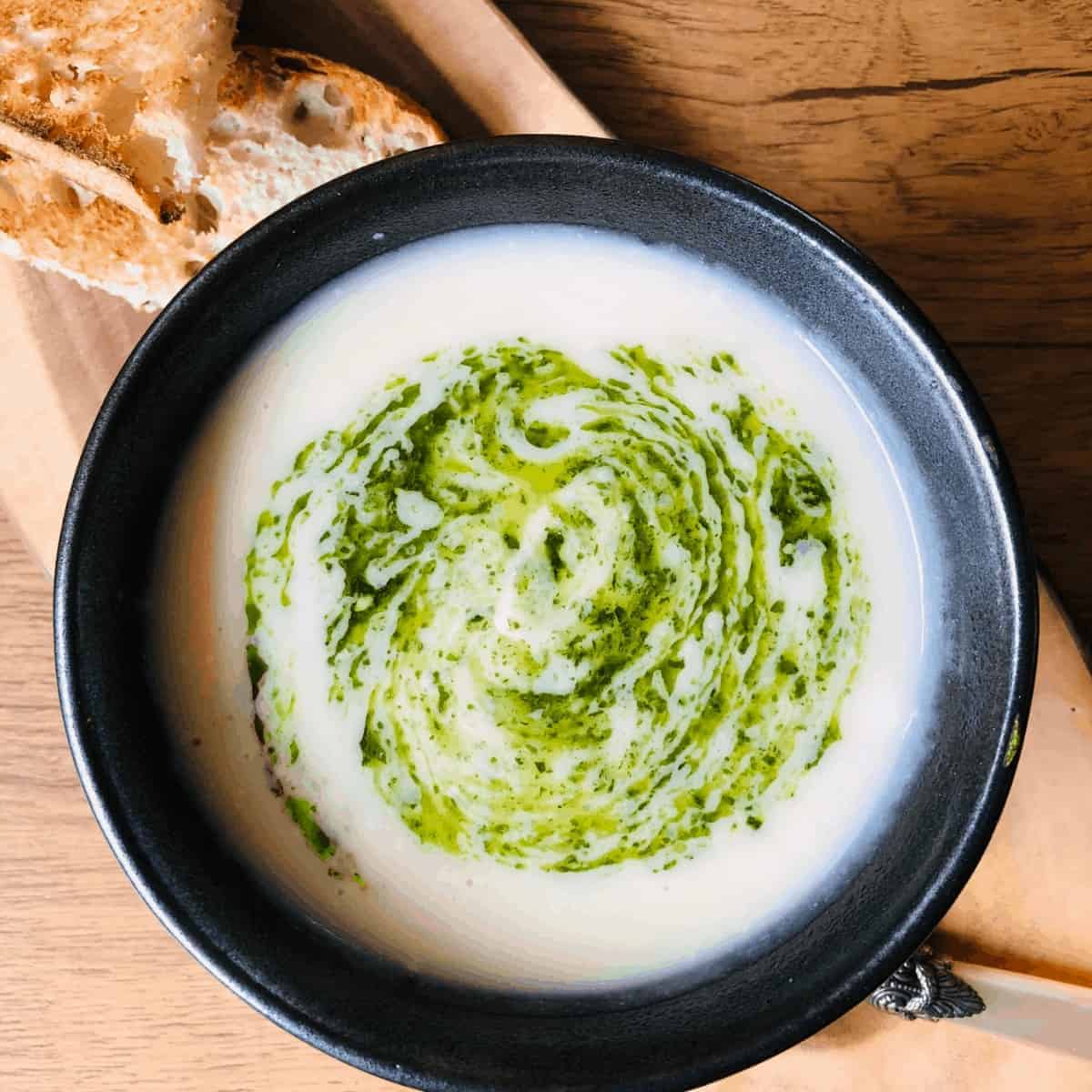 Cauliflower Soup Recipe Notes
Slow cooking this soup avoids caramelising the vegetables. Food caramelises when the sugars in them are exposed to high heat. As a result, this alters the flavour and colour of the sugars. For example, most of us have encountered caramelised onions at a BBQ with their distinct colour and sweetness.
This particular cauliflower soup recipe aims to achieve a vivid cream colour and avoid too much sweetness in the flavour. Therefore, you should gently cook it.
When preparing the onions and cauliflower, it is good to slice them evenly so that they cook through evenly.
Instructional Video
Please take a look at this video tutorial for my cauliflower soup recipe.
📖 Recipe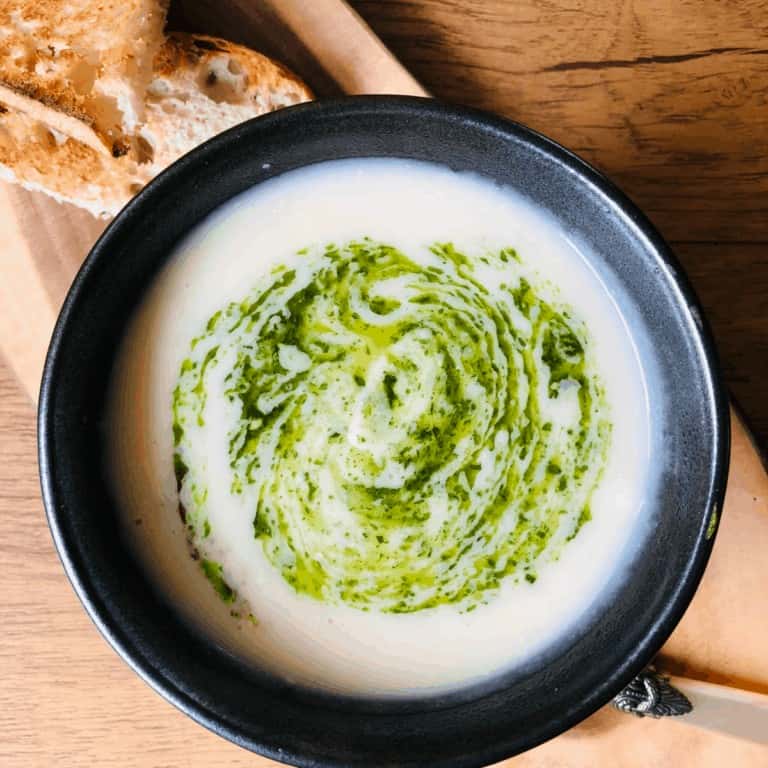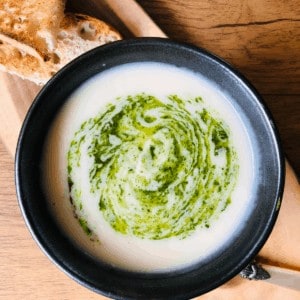 Creamy Vegan Cauliflower Soup
Just three ingredients and so creamy. You wont even realise its vegan
Ingredients
800

g

Cauliflower

1 head

150

g

White onion, chopped

20

g

Garlic, chopped

10

g

Olive oil

1.25

ltr

Vegetable stock

1

Bay leaf

6

Peppercorns

254

g

Dairy-free cream
Instructions
Slice the onion evenly about 2-3mm thick. Slice the Garlic. Remove the leaves from the Cauliflower (save for stir fry or stock) and cut the Cauliflower head into quarters, including the stem. Then slice each quarter 3-4mm thick

Heat the oil in a medium-size pot over medium-low heat. Add the bay leaf and peppercorns, and then add the onions and gently cook for around 10 minutes, ensuring they do not brown or caramelise.

Once the onion is soft and translucent, add the cauliflower and continue to cook on a medium heat for about 15 to 20 minutes, stirring often, again ensuring they do not brown or caramelise.

Add the vegetable stock and bring to a boil. Turn down the heat and simmer for 20 minutes until the cauliflower has cooked (when it is soft).

Let it cool down a little and puree in a blender until smooth. Transfer back to the pot and stir in the cream.

Garnish with the pesto and serve.
Cauliflower Soup Recipe Ingredient Substitutions
This recipe is vegan. However, you can, of course, use single dairy cream if you wish.
No time to make homemade vegetable stock? Then stock cubes are OK. Dissolve 2-3 stock cubes in the required amount of water mentioned in the recipe. Remember to make sure the stock cubes are gluten-free if you are aiming for a gluten-free soup.
Vegan Basil Pesto Recipe
I love the contrast of the vivid green basil pesto against the cream coloured soup. Also, it provides an intense flavour kick. Here is the recipe:
Ingredients
50g fresh basil leaves
25g sunflower seeds or 25g Violife Prosiciano wedge, grated
Half of a Garlic clove, peeled
1 teaspoon Fresh lemon juice
5 tablespoon Extra virgin olive oil
Half a teaspoon of flaked sea salt
Method
Place all ingredients into a food processor/blender and blend until it forms a vibrant green paste with a bit of crunch. Adjust the seasoning to taste.
You can store the pesto in the refrigerator for up to a week.