Hummus is probably that one dip no one can have enough of. Indeed, it is a staple in our house. It is healthy and a great source of protein for plant based, vegetarian or vegan diets. Hummus is very easy to make at home as well. As with all homemade food, the great benefit is knowing exactly what one is putting into the body. In this recipe, I offer you a variation on the classic chick pea hummus by replacing the chickpeas with black eyed peas. I think you'll appreciate the variation. Also I hope the legend surrounding them that they bring good fortune and prosperity is true for you!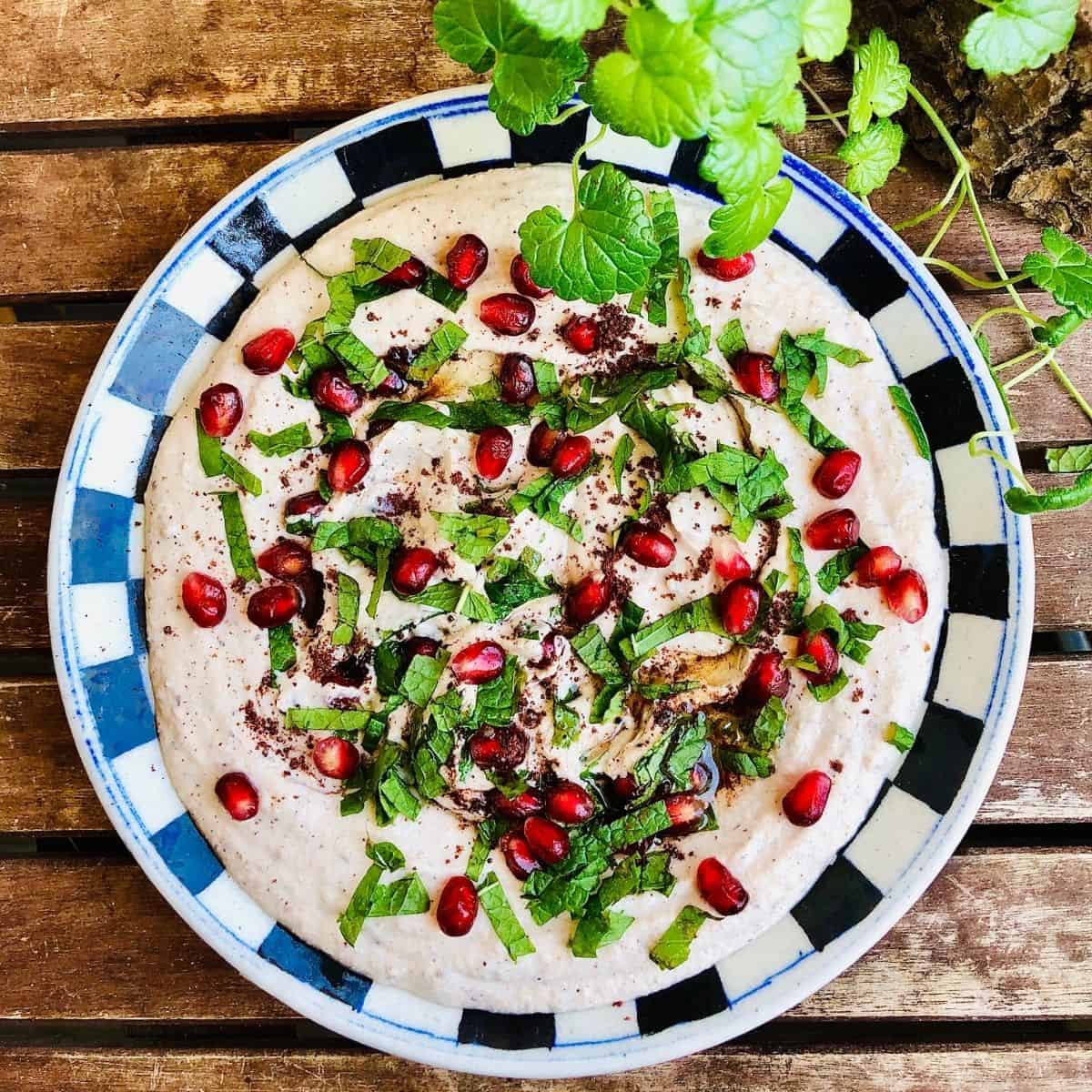 Black Eye Peas - A Healthy Chickpea Alternative
Besides the good fortune legend, black eyed peas are very nutritious and healthy. Actually a bean, not a pea, they are a member of the legume family (both peas and beans are legumes, coming from a pod). Put chickpeas and black-eyed peas head-to-head in a nutrition contest then black eyed peas nudge it. They have less calories, less fat, more dietary fibre and more protein. I'm championing black eyed peas in this post, however, they are both very welcome on my plate.
Here's a bad joke for you. Black eyed peas can sing us a song, but chickpeas can only hummus one.......OK, I'll stick to the cooking!
Now, you will need something to scoop up this delicious hummus. Why not make some of my buckwheat seeded crackers? Then you will have the most amazingly healthy complete snack. Enjoy!
Jump to:
Ingredients
Black eyed peas
Tahini
Olive oil
lemon juice
Salt
Garlic
Mint
Sumac
Pomegranate seeds
Instructions
On the night before you intend to make your black eyed pea hummus, soak them in a bowl of water overnight. This will reduce the cooking time substantially. Boil the peas in a saucepan of water for 20 minutes. They will be ready when they are soft and mushy and you can crush one between your fingers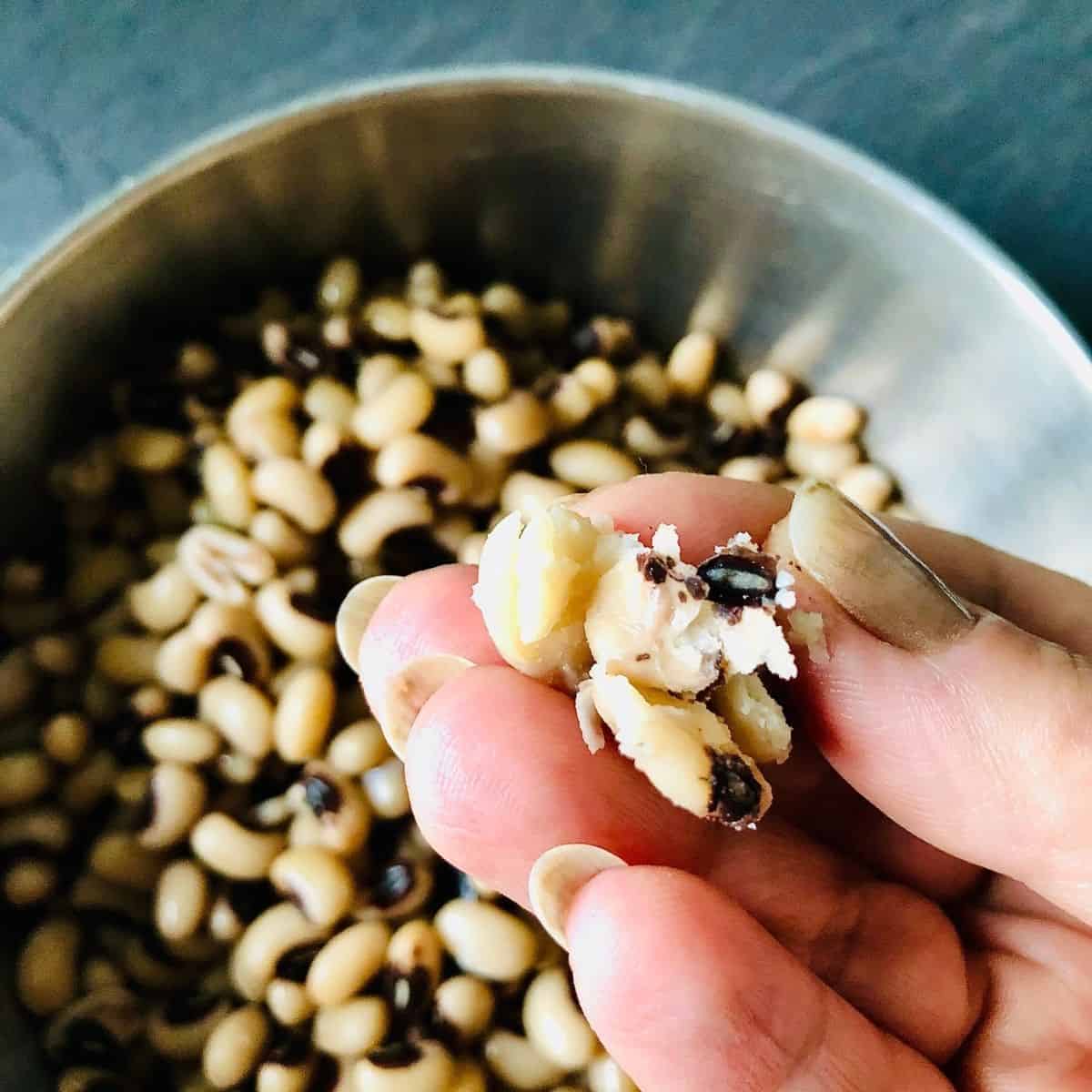 When the black eyed peas are cooked, allow them to cool and then drain the water. Put them into a blender and add peeled and roughly chopped garlic, tahini, lemon juice, salt and olive oil.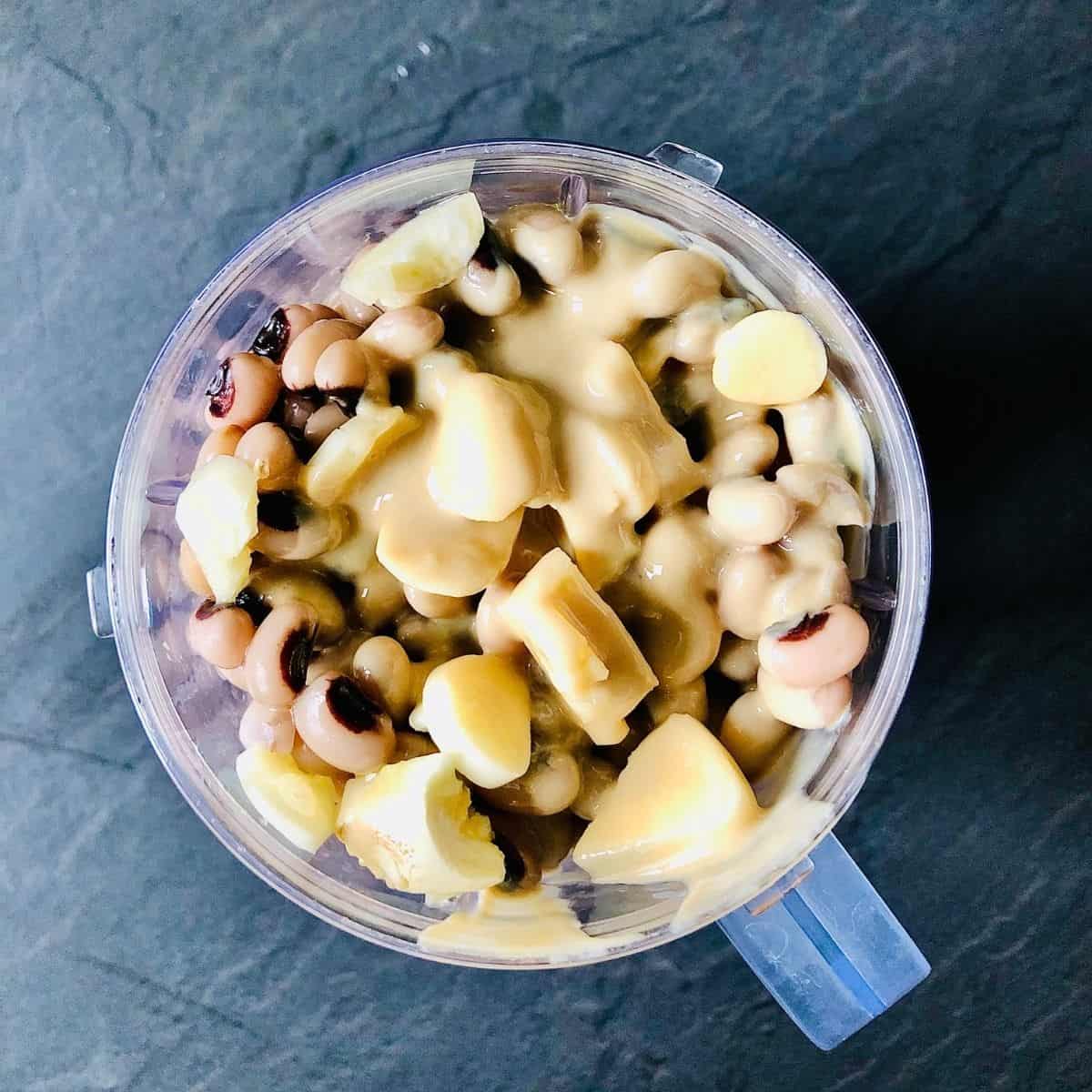 Blend all these ingredients thoroughly together to a smooth puree. In order to do this, add water as necessary while blending. Taste test the hummus and season to your taste.
To garnish the hummus, drizzle over olive oil and sprinkle on the sumac powder, chopped mint and pomegranate seeds.
Substitutions
Instead of olive oil, you can use grapeseed oil or any oil without a strong smell or flavour.
Variations
You can spice up your black eyed pea hummus with some chilli powder.
Make classic hummus by replacing the black eyed peas with chickpeas.
Equipment
Digital scales
Food processor or Blender
Storage
You can store this hummus up to three days in the refrigerator in an airtight container.
Top tip
Soaking the black eyed peas overnight, reduces the cooking time, especially if you don't have a pressure cooker.
Make sure that the black eyed peas are over cooked (that is, they crush between the fingers), this results in a smooth hummus.
📖 Recipe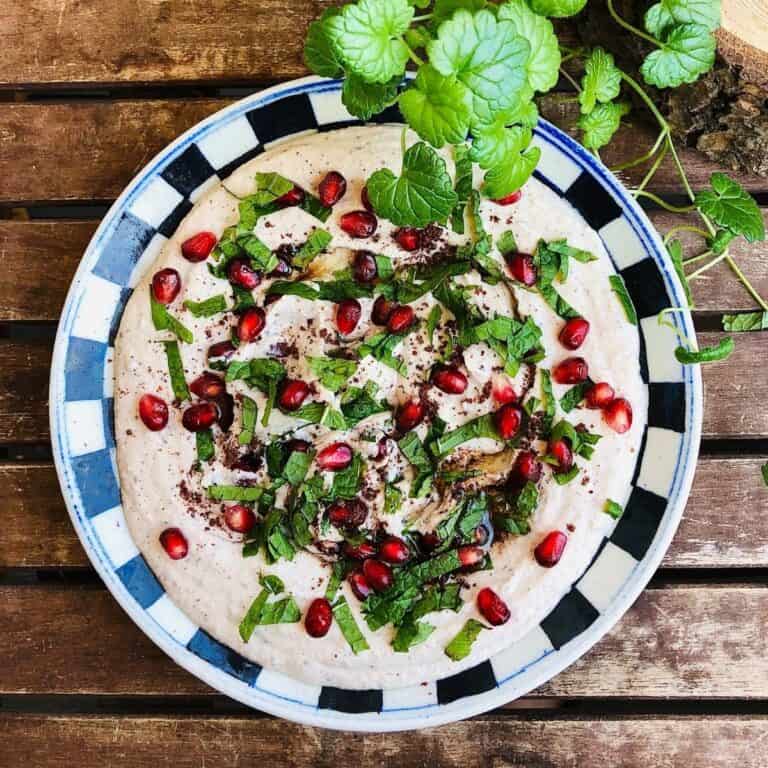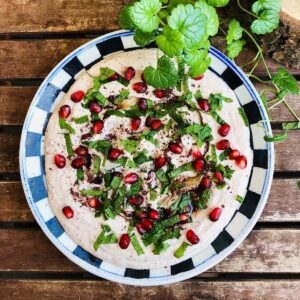 Black Eyed Pea Hummus
Easy to make black eyed pea hummus.
Equipment
Digital scales

Blender or Food processor
Ingredients
200

gms

Dried black eyed peas

60

gms

Tahini

20

gms

Garlic

1&½

Lemon

65

ml

Olive oil

1

teaspoon

Salt

100

ml

Water

20

gms

Pomegranate seeds

½

teaspoon

Sumac powder

5

gms

Mint leaves
Instructions
Soak the black eyed peas in water overnight. This helps the peas to cook faster.

Boil the peas for about 20 minutes over a medium heat until they are soft and mushy when pressed between your fingers.

Drain and discard the water and allow the beans to cool.

Peel and roughly chop the garlic.

Transfer the beans to a blender or food processor. Add peeled and roughly chopped garlic. Add the tahini, lemon juice, salt, and 60 ml olive oil (save the 5 ml for garnish.) Blend to a puree. Add water as needed to enable blending to a smooth puree.

Check the seasoning and adjust as required.

Serve garnished with a drizzle of olive oil, sumac, chopped mint and pomegranate seeds.
Food safety
In a professional kitchen, food hygiene and safety is a top priority and from the very beginning of training I practiced good habits and routines. Of course, it is also very, very important to practice good food hygiene and safety at home. Here are some fundamental practices to adopt in the kitchen.
Wash your hands regularly while preparing, handling and cooking food
Wipe down counter tops and high contact points regularly
If you cook meat and fish, do not use the same utensils on cooked food, that previously touched raw meat. Use separate chopping boards for meat and fish. Wash your chopping boards immediately after use.
Thoroughly cook food to a minimum temperature of 165 °F (74 °C)
Don't leave food sitting out at room temperature for extended periods (more than 2 hours)
For more details of food hygiene and safety in the home, visit the UK Government's Food Standards Agency webpage.