These gluten-free vegan seeded crackers disappear fast in my home. I have to make them almost every week! Packed with goodness, they are snacks you will not feel so guilty about diving into. And, of course, they are easy to make too.
Want something to dip your buckwheat crackers into? Have a look at my black eye pea hummus. or my borlotti bean pate.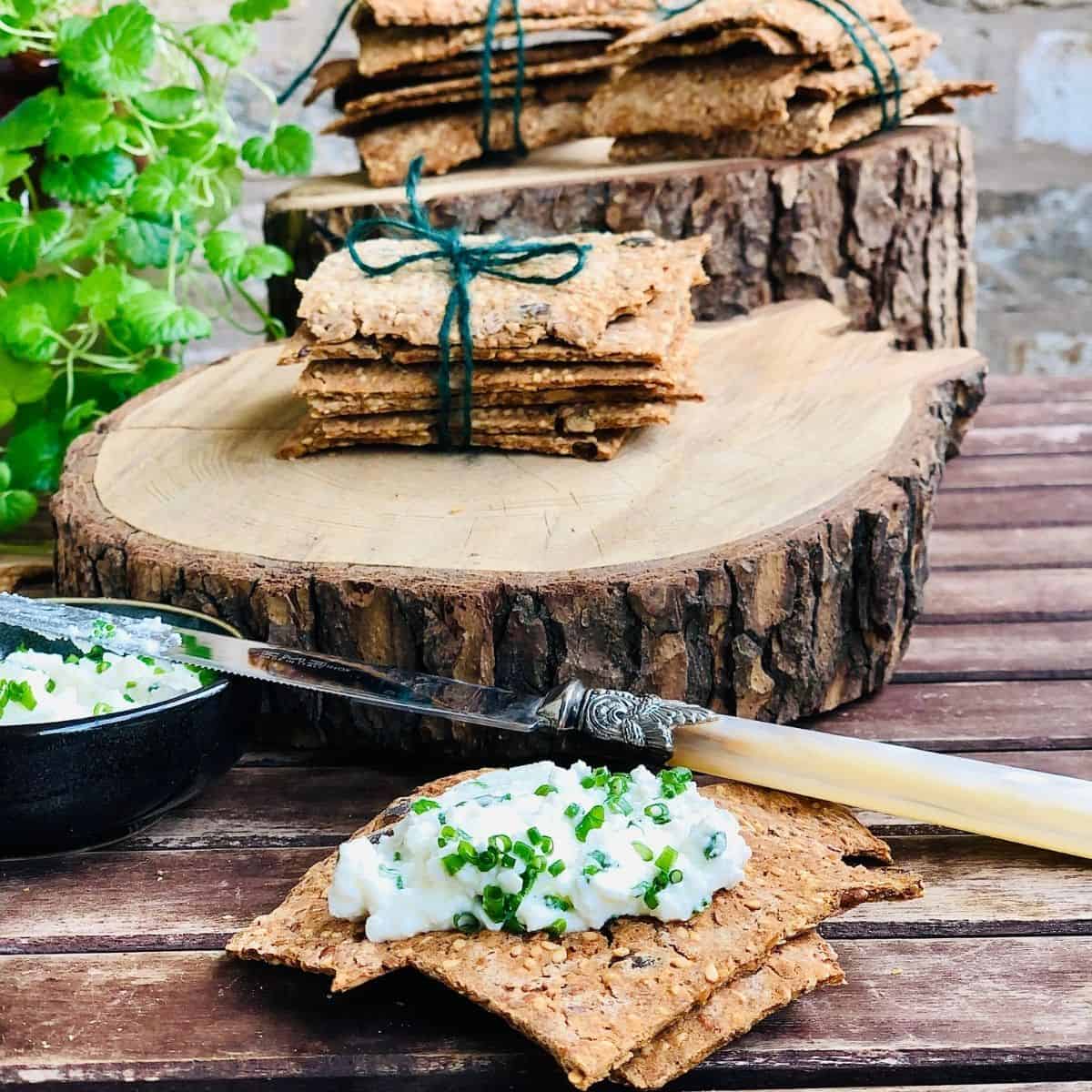 Health Benefits
I love crackers, but gluten content can be a concern, so one great thing about buckwheat flour is that it is gluten-free. Another health benefit is its fibre content. Coupled with the fibre contained in the seeds, it makes these crackers a fibre powerhouse, which is a key component of digestive health.
If you are a buckwheat fan, then why not try my buckwheat pancakes with a vegan and yuzu cream cheese filling.
Linseeds, sunflower seeds, pumpkin seeds and sesame seeds also supply a wide range of goodness for the body and mind. They contain "good" fats and a range of vitamins and minerals. These include vitamin E and B6, potassium, magnesium, iron and zinc and calcium.
What about kala namak? This is also known as black salt. I use it primarily because of the flavour, however, it does tend to have less sodium than table salt.
Jump to:
Ingredients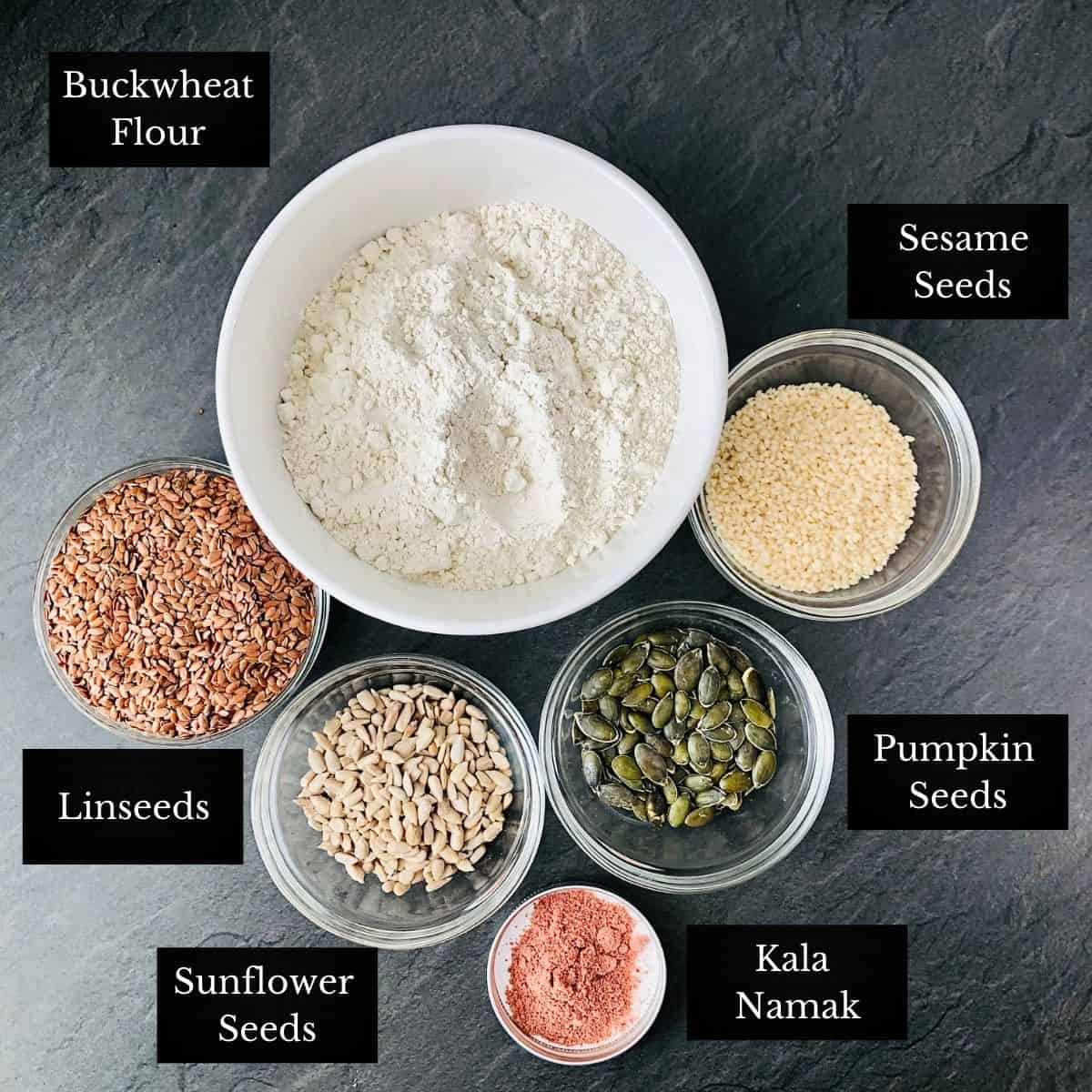 Buckwheat flour
Linseeds
Sunflower seeds
Pumpkin seeds
White Sesame seeds
Water
Kala Namak
Instructions
To begin, pre heat your oven to 160ºC (fan assisted) and then measure out your dry ingredients into a bowl. Slowly mix in the water.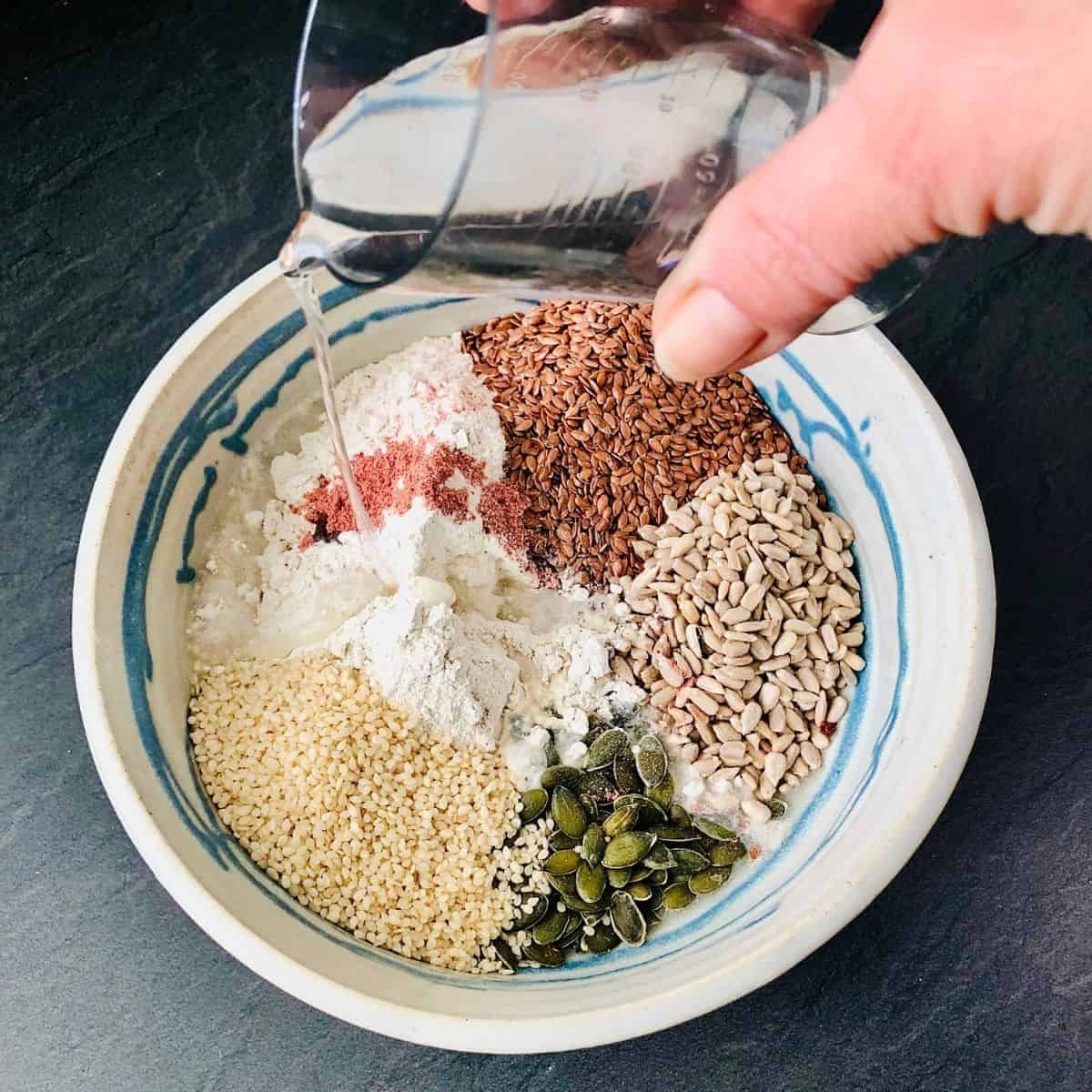 Mix well. The dough should be quite wet. Look at the video below to see the consistency of the dough to aim for.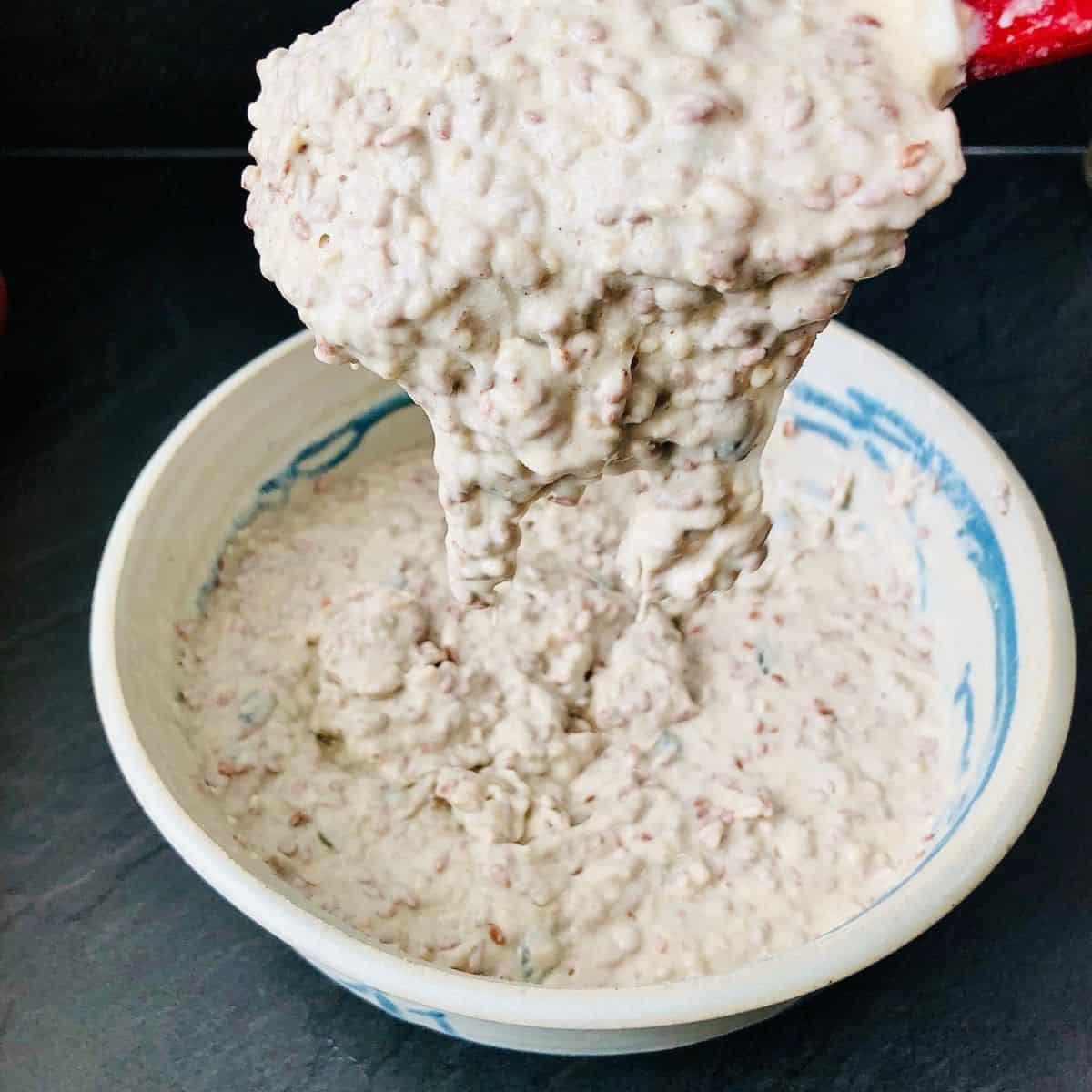 When you have the right consistency, transfer half the dough onto a silicone mat. Spread out the dough with a wetted spatula into a rectangular shape roughly to the thickness of a coin. Repeat this process with a second silicone mat.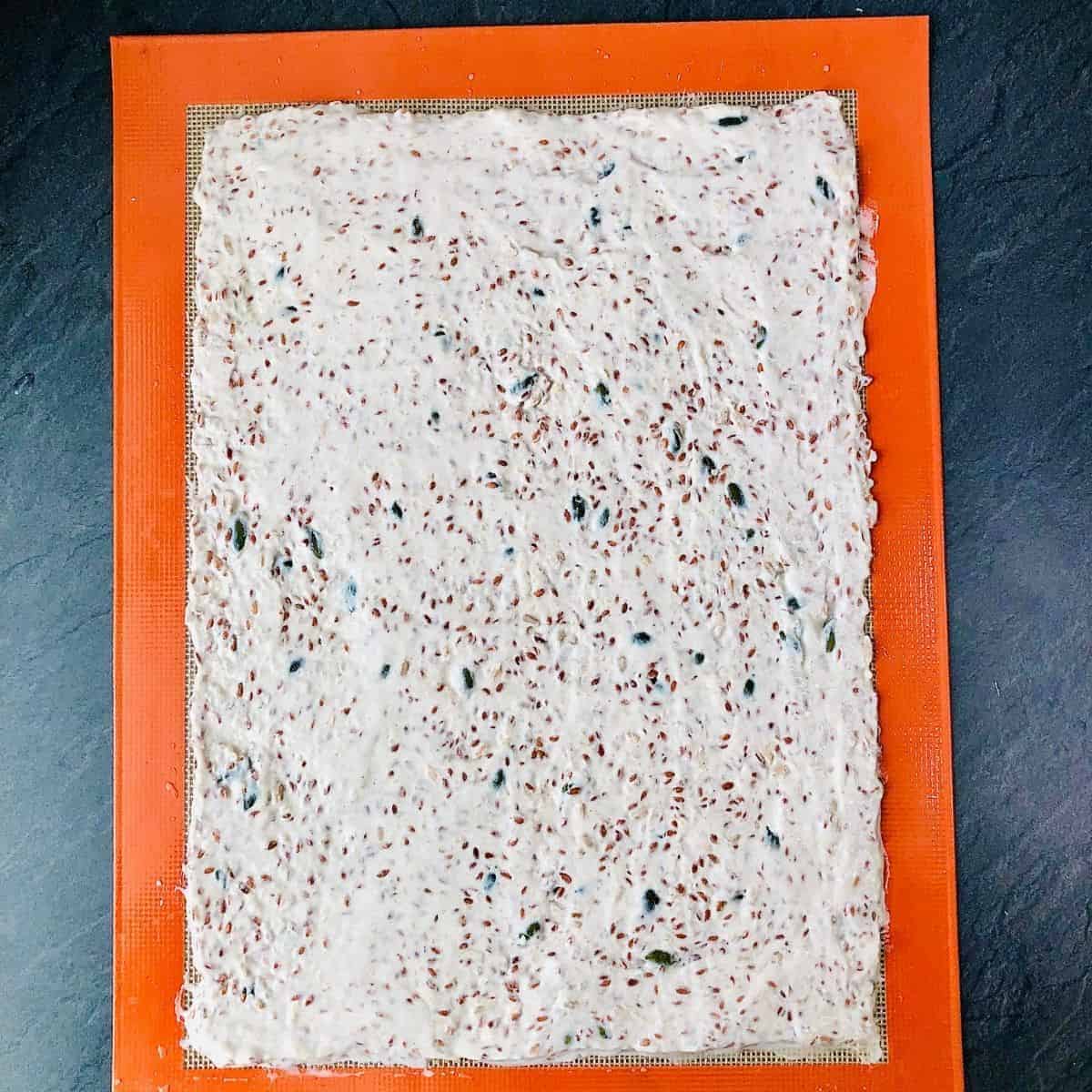 Place the silicone mats onto the back to two baking trays and place them into the oven. Cook for 15 minutes. Remove the half cooked dough from the oven and score the surface into cracker-sized rectangles or squares. Be carefully not to cut right through the dough. By scoring the dough at this point, when the crackers are fully cooked, they will be able easier to break apart neatly. Don't worry if the dough has some cracks in it. These are rustic crackers!
Place the trays back into the oven and cook for a further 10 to 15 minutes until the crackers are fully cooked through and dry. Remove from the oven and break them along the score lines made earlier.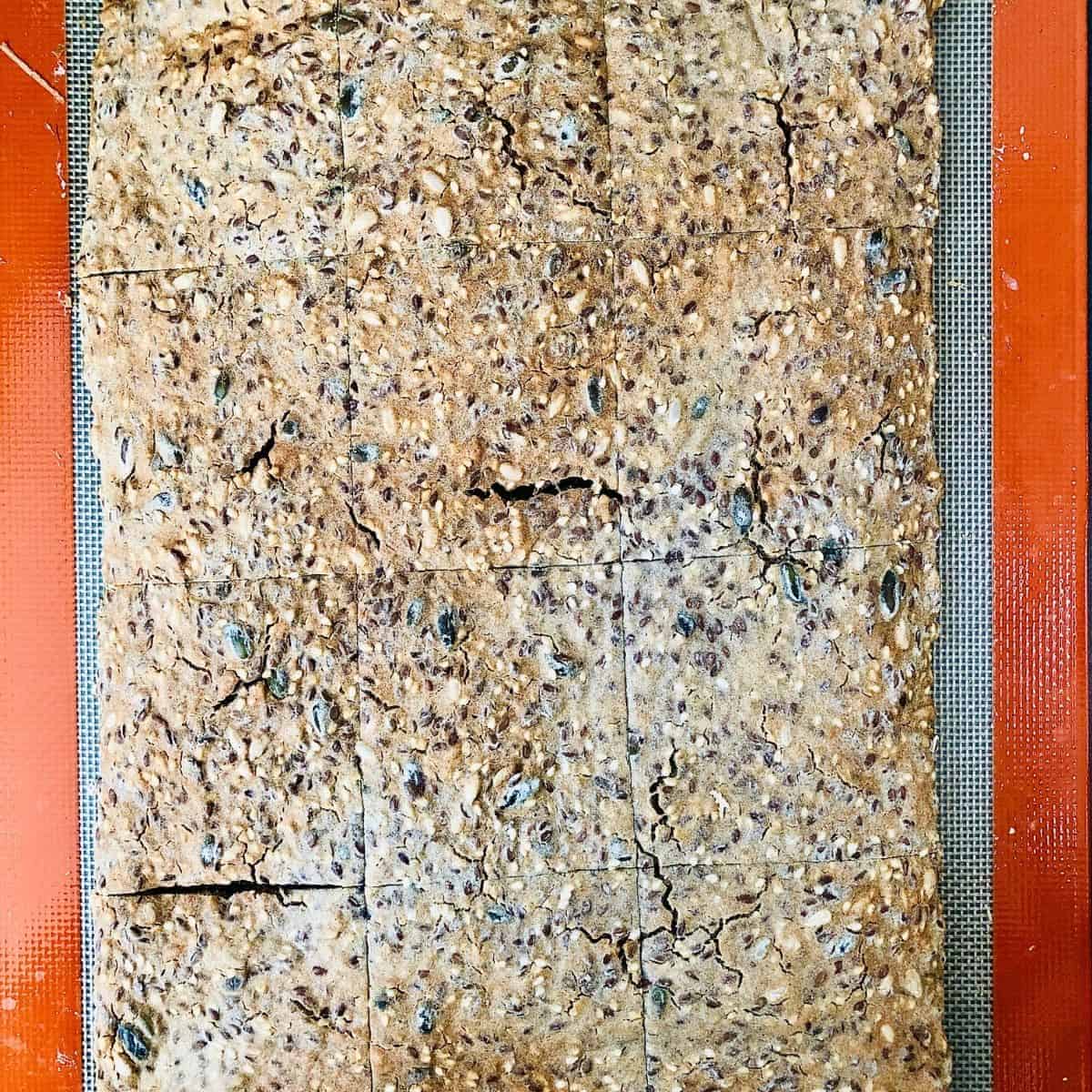 Substitutions
You can replace the seeds i suggest with seeds of your choice. I usually make it with whatever seeds I have in the cupboard. If the quantity of seeds you use is less than what is mentioned on the recipe card, then add water slowly and reduce the amount of water as required.
Variations
As long as you follow the basic ratio of buckwheat flour to water, you can give this cracker your own stamp. Perhaps ingredients like dried herbs, garlic powder and even spices. Get the hang of the basics and then experiment!
Equipment
I highly recommend that you invest in digital scales. They are far more accurate than cups and correct weighing of ingredients can make or break a recipe, especially when it comes to baking.
You can use parchment paper for this recipe. I prefer to use silicone mats though because they are reusable and, if maintained, can last for years, so good for the planet. Paper absorbs oils and fluids, whereas silicon mats are far easier when you need to spread something like a dough or make special garnishes.
A palette knife or a morris / rubber spatula makes my life so much easier in the kitchen. I highly recommend you having one. Its so much easier to spread things evenly with either.
Storage
These crackers can be stored in an airtight container for a week or more.
Top tip
The easiest way to spread the dough on the mat / parchment paper is to wet the spatula or palette knife. If the dough gets stuck, then clean it and wet again before spreading the dough out.
When adding water, always add it slowly. Flours vary from brand to brand and country to country. Some flours may need more water, than others.
How To Video
Here is a video guide to making buckwheat seeded crackers.
📖 Recipe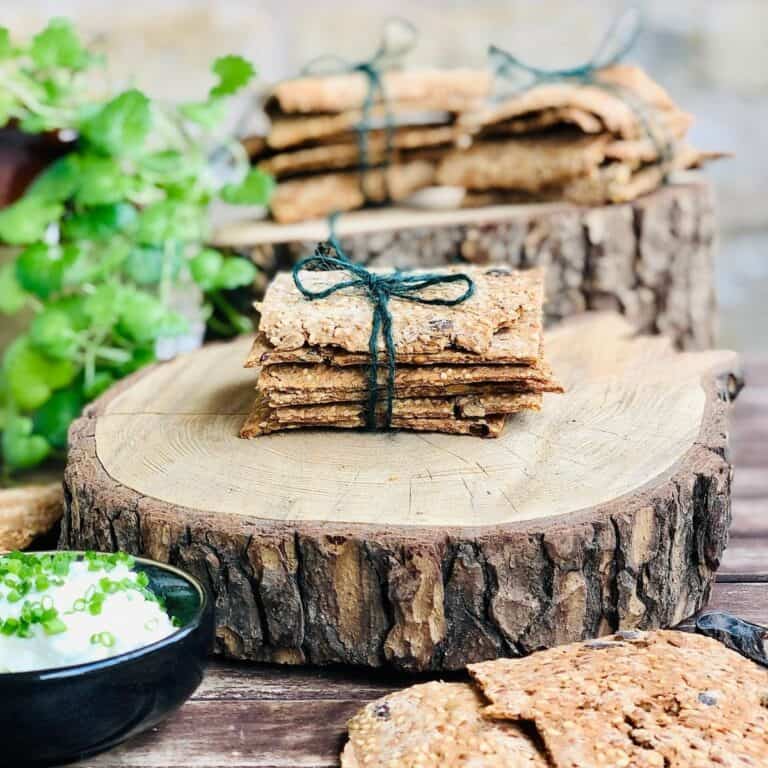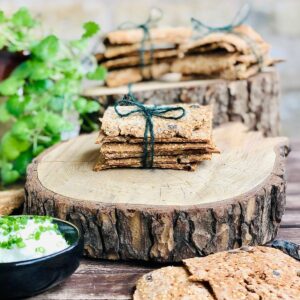 Gluten Free Crackers Made With Buckwheat Flour
Gluten free vegan buckwheat crackers with linseeds, sunflower seeds, pumpkin seeds and sesame seeds.
Equipment
Digital scales

2 Silicon mat

2 Baking trays
Ingredients
200

gms

Buckwheat flour

100

gms

Linseeds

50

gms

White sesame seeds

not toasted

25

gms

Sunflower seeds

25

gms

Pumpkin seeds

½

teaspoon

Kala namak

200

gms

Water
Instructions
Pre hea thet oven to 160ºC (fan assisted oven)

In a bowl add all the seeds, kala namak and buckwheat flour.

Add the water slowly and mix to combine. The dough should be quite wet. If the dough is still too dry, add more water (see video)

Tranfer half the mix onto a silicone mat. Using a wet spatula, press down and spread evenly onto the mat into a rectangular shape. The dough should be about the thickness of a pound coin or less.

Repeat the same for the other silicone mat with the remaining dough.

Place the mats on the back of a baking tray and transfer into the preheated oven and cook for 15 minutes.

After 15 minutes, remove from the oven. Using a knife, mark out squares or rectangular on the warm dough, but don't cut through the dough completely. Just score the surface. This process makes it easier to separate them into even crackers once cooked.

Put the crackers back in the oven and cook for 10 to 15 minutes more, until they are cooked through and dry.

Remove from the oven. Snap them along the score lines, into the smaller cracker sized pieces.

Once cooled, store in an airtight container.
Food safety
In a professional kitchen, food hygiene and safety is a top priority and from the very beginning of training I practiced good habits and routines. Of course, it is also very, very important to practice good food hygiene and safety at home. Here are some fundamental practices to adopt in the kitchen.
Wash your hands regularly while preparing, handling and cooking food
Wipe down counter tops and high contact points regularly
If you cook meat and fish, do not use the same utensils on cooked food, that previously touched raw meat. Use separate chopping boards for meat and fish. Wash your chopping boards immediately after use.
Thoroughly cook food to a minimum temperature of 165 °F (74 °C)
Don't leave food sitting out at room temperature for extended periods (more than 2 hours)
For more details of food hygiene and safety in the home, visit the UK Government's Food Standards Agency webpage.