Summer is here, so salad season is upon us. Why not give this little plate of sunshine a go? It is my version of a Panzanella salad, made from fresh tomatoes and toasted stale bread. Panzanella salad is from the Tuscany region of Italy.
Tomatoes are in season at the moment and I'm a great believer in eating seasonal. This is because seasonal produce is naturally at its best. Full of flavour and goodness, as nature intended.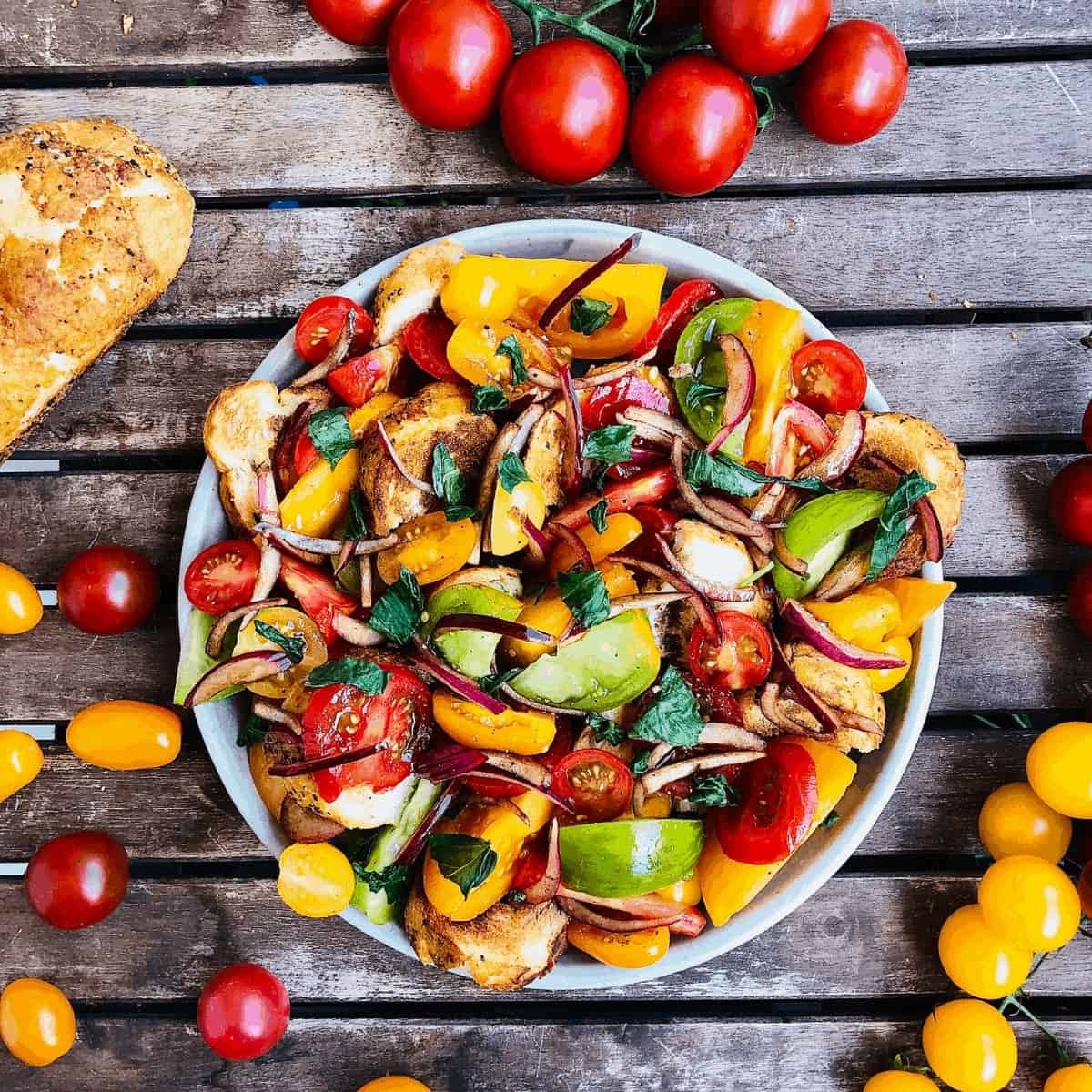 Jump to:
Isle of Wight Heirloom Tomatoes
This particular Panzanella salad is made with Isle of Wight heirloom tomatoes. What are heirloom tomatoes I hear you ask? With heirloom tomatoes, the seeds are the crucial thing. The seeds of the best tomatoes are passed down season-to-season. The tomatoes are non-hybrid so their colour is not as uniform as hybrid tomatoes, and they tend to have a sweeter taste.
This is my homage to Isle of Wight heritage tomatoes. That is why I haven't added any other ingredients. I wanted to let their taste and colour shine!
I sourced these tomatoes from my local farmers market. The producers from the Isle of Wight grow their tomatoes sustainably with real consideration for the environment. For me, knowing where my ingredients are coming from is of prime importance. After all, food nourishes our body and mind. Although this may not be possible all the time, I am taking baby steps towards a more sustainable and holistic way-of-life.
The traditional Tuscan Panzanella salad may have cucumber, olives, peppers, mozzarella, and even anchovies added for flavour. Why complicate things though. Sometimes keeping it simple is best.
Give this a go, I am certain you will fall in love, its not only a feast for the eyes, the flavours from the tomatoes are like an explosion in your mouth.
You may also like to try my pan con tomate recipe, an heirloom tomato version of the famous Catalonian snack.
Instructional Video
Here is a video guide for the Panzanella salad.
📖 Recipe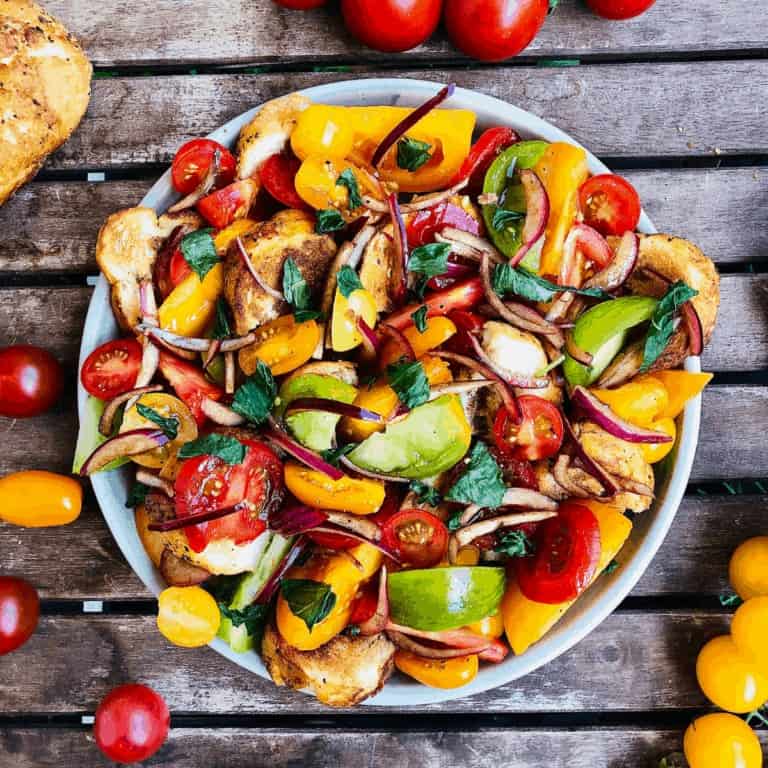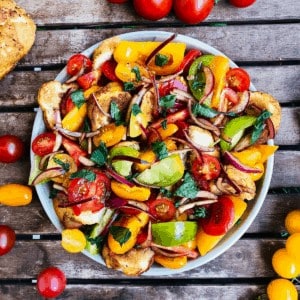 Heirloom Tomato Panzanella Salad
A simple Tuscan style, Heirloom Tomato salad that is packed with flavour
Ingredients
500

gms

Heritage Tomatoes

Mixed, including cherry or baby plum tomatoes

25

gms

Red Onion

75

gms

Bread

Stale bread

10

gms

Olive OIl

10

gms

Balsamic Vinegar

Salt and pepper to taste

A few sprigs of Basil
Instructions
Wash, dry and cut tomatoes into wedges and halves, bite sized pieces. season with salt and pepper.

Slice and toast the bread.

Thinly slice red onions and mix into a bowl along with olive oil and balsamic vinegar.

Transfer the tomatoes onto a plate, add in the toasted bread and pour over the dressing, including the red onions.

Garnish with hand torn basil leaves.

Let the salad sit for fifteen minutes or more before eating. This step lets allows all the flavour to be absorbed by the tomatoes.
Recipe Notes
Toasting the stale bread is important for many reasons. Number one for me, as a chef, is to insure that there is no mould hanging about on it. The second is texture. The Panzanella salad will have a lot of juice from the tomatoes, you wouldn't want the bread to go too soggy!
You can use any bread. Here, I used a baguette.
Of course, feel free to use any type of tomatoes if Heirloom ones are difficult for you to find. I'm sure we will be using the tomatoes growing on our balcony to re-visit this recipe when they are ready.
Storage
Store in an airtight container minus the bread for a day in the refrigerator, in fact it tastes even better after the tomatoes have had a longer time soaked in the dressing and their juices. Add the bread when ready to eat.