If you are a fussy eater like me, your vegetables tend to need a flavour upgrade. This Cavalo Nero with fennel and garlic is a side dish, but it will not be hiding in the corner. Once you try this recipe, you will fall in love with cavalo nero or Tuscan kale. Not only is it an easy side dish recipe, but you may also turn to this as a quick snack on its own - it's that good. Also, did I say it's good for you too?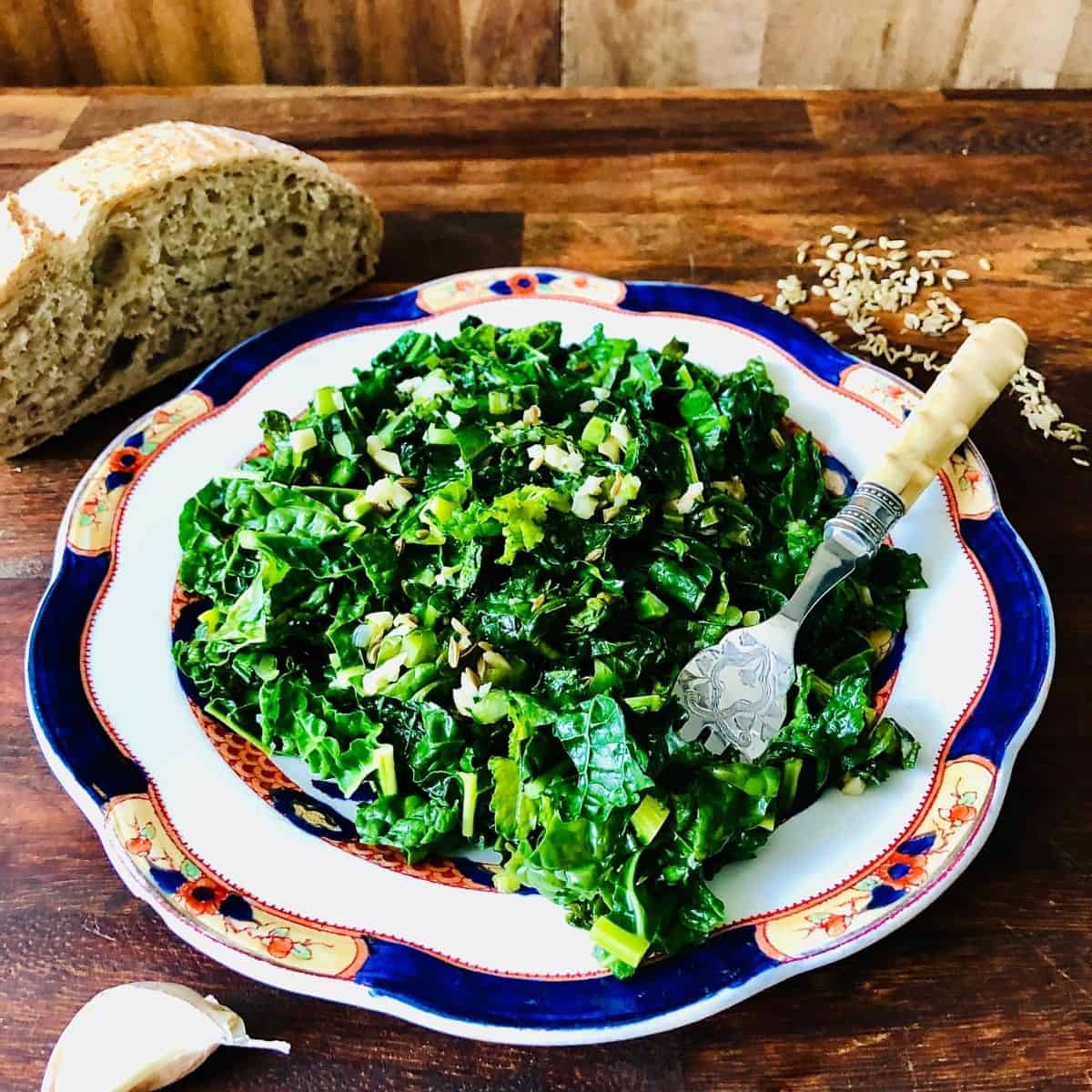 Cavalo Nero or Tuscan kale originates from Tuscany, Italy. It is dark coloured and is thus sometimes referred to as black cabbage. It belongs to the brassica family, including cabbage, cauliflower and kale, so it is in good company; what's more, cavalo nero is packed with vitamins and iron. It can seem quite broody and challenging sitting on the supermarket shelf or vegetable market stall but trust me, after making this easy side dish recipe, you will fall in love with it.
We add two flavours to the slightly sweet cavalo nero - garlic and fennel seeds - and then saute.
Voila! The tastiest side dish ever.
Let's cook!
Jump to:
Ingredients
Cavalo nero
Garlic
Fennel seeds
See the recipe card for quantities.
Instructions
This easy side dish recipe is minimum effort and maximum taste!
First, roughly chop the garlic.
Then prepare the cavalo nero. Thinly shred the leaves and finely chop the stems. The stems are used in the recipe, so don't throw them away! Keep the chopped stems separate from the leaves because they go into the pan at different times.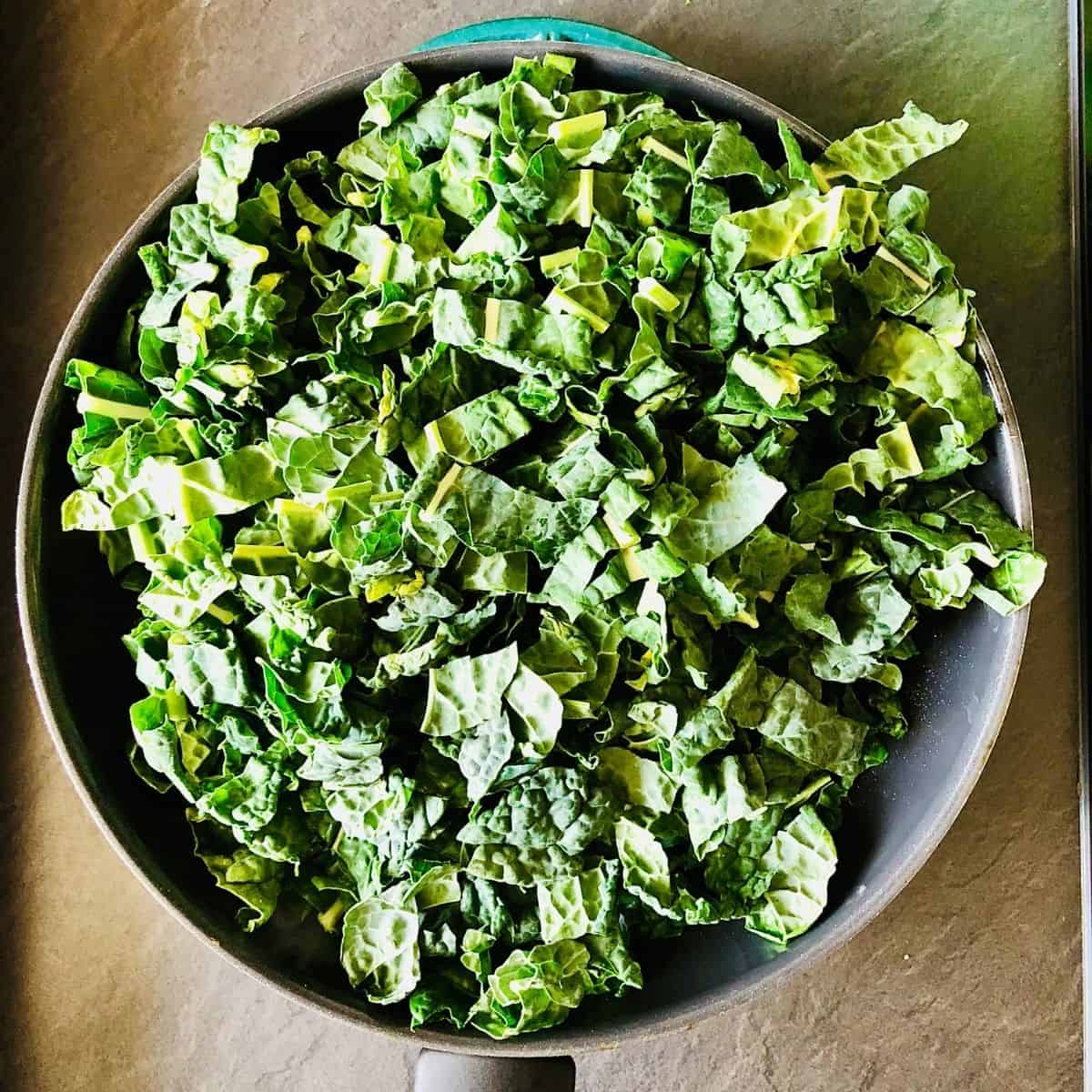 Heat the oil in a pan over medium heat and fry the garlic and fennel seeds for one minute.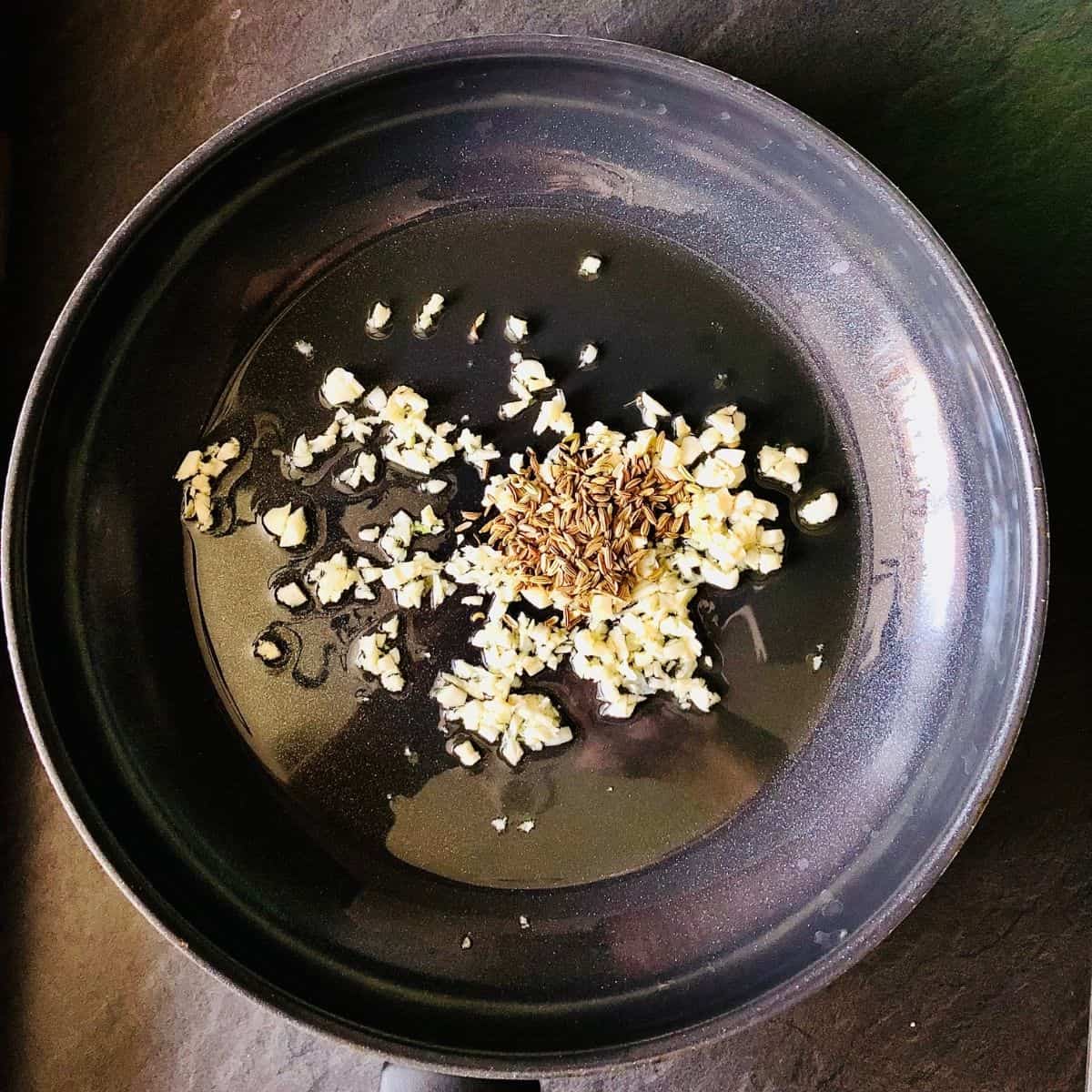 Next, add the finely chopped kale stems and fry for one more minute.
Now add the shredded kale leaves and 50ml of water—season with salt.
Cover with a lid and cook for five to seven minutes over medium heat. Once cooked, mix everything well and serve.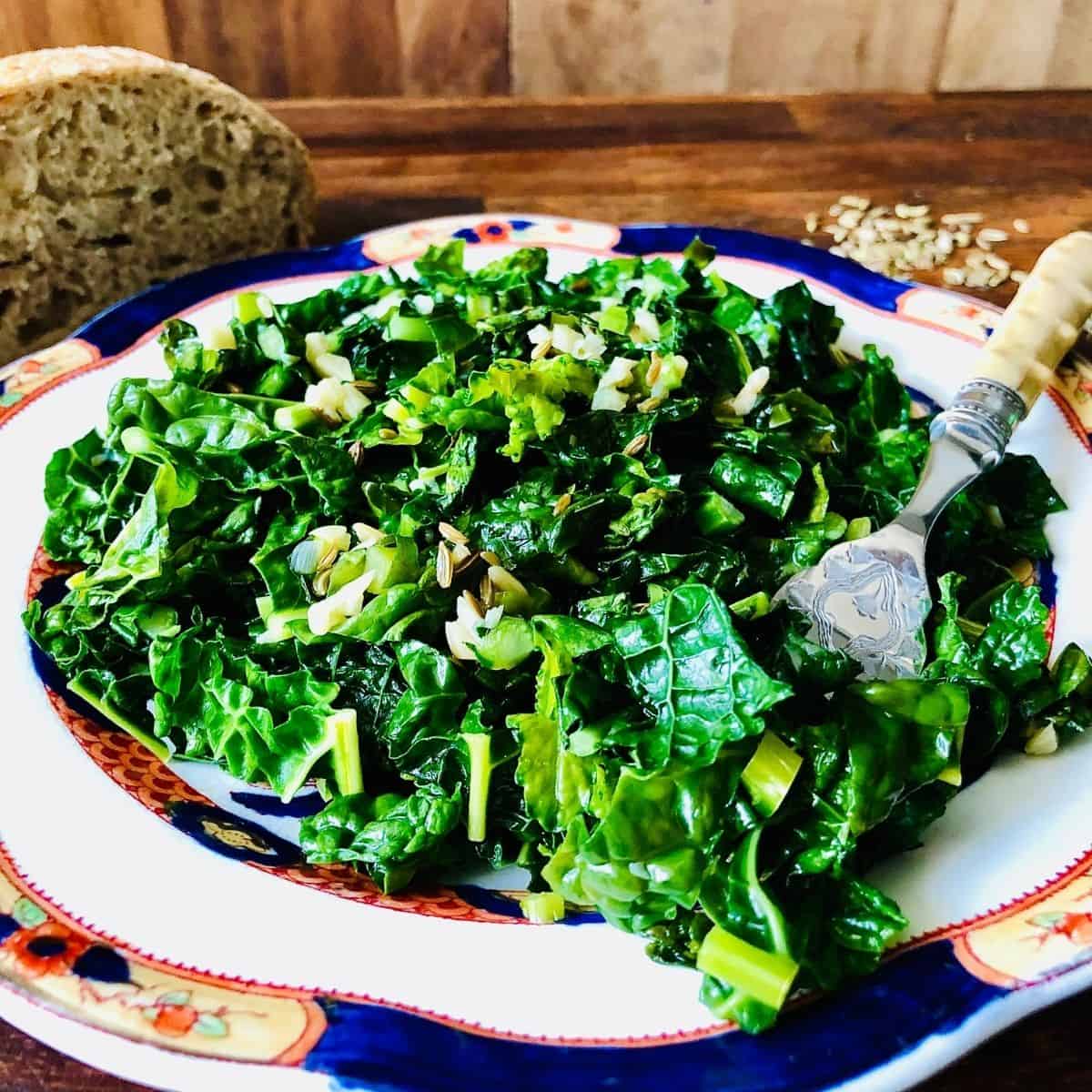 How To Video
Here is a video guide to making cavalo nero with fennel and garlic easy side dish recipe.
Variations
You can try this combination of garlic and fennel with curly kale or even hispi cabbage.
Storage
Store in an airtight container for up to three days.
Top tip
Don't be tempted to fry your garlic too much; it will continue to cook with the cavalo Nero.
📖 Recipe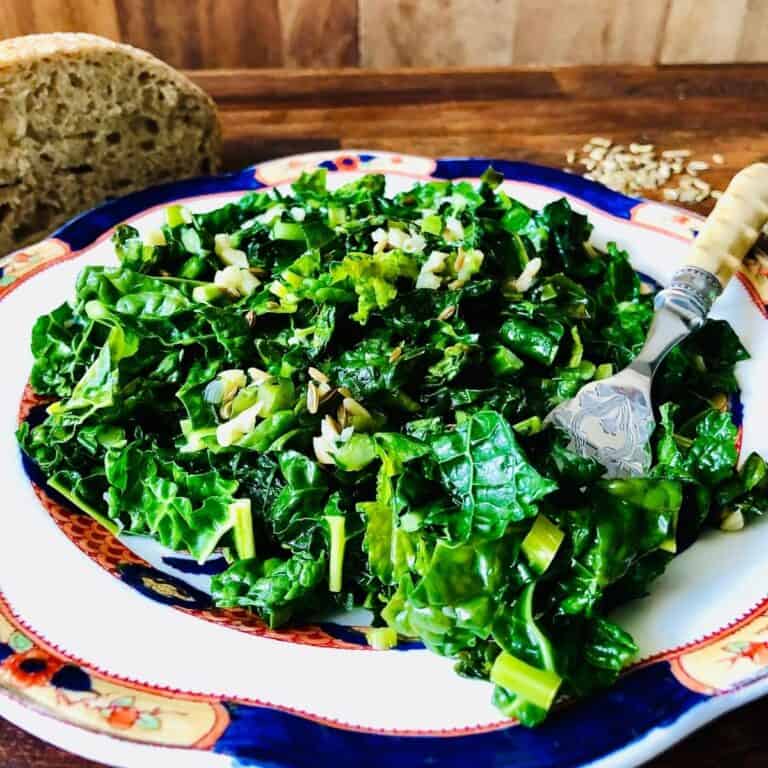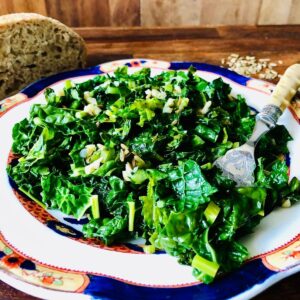 Cavalo Nero With Fennel And Garlic
Sauteed cavalo nero with fennel seeds and garlic
Ingredients
300

gms

Cavalo nero

2 bunches

10

gms

Garlic

1

teaspoon

Fennel seeds

1

tablespoon

Olive oil

1

teaspoon

Sea salt flakes
Instructions
Wash and pat dry the cavalo nero leaves.

Thinly shred the cavalo nero leaves and finely chop the stems. Keep the stems separate as the cooking time will be different.

Heat the olive oil in a pot or a pan over medium heat. Add the garlic and fennel seeds and fry for a minute.

Now add the finely chopped stems of the cavalo nero and saute for a minute before adding the leaves.

Season with salt and add 50 ml of water and cover. Cook for 5 to 7 minutes.

Once cooked give it a good mix and serve hot or cold.
Food Safety
In a professional kitchen, food hygiene and safety are a top priority, and from the very beginning of training, I practised good habits and routines. Of course, it is also very, very important to practice good food hygiene and safety at home. Here are some fundamental practices to adopt in the kitchen.
Wash your hands regularly while preparing, handling and cooking food
Wipe down counter tops and high contact points regularly
If you cook meat and fish, do not use the same utensils on cooked food, that previously touched raw meat. Use separate chopping boards for meat and fish. Wash your chopping boards immediately after use.
Thoroughly cook food to a minimum temperature of 165 °F (74 °C)
Don't leave food sitting out at room temperature for extended periods (more than 2 hours)
For more details on food hygiene and safety in the home, visit the UK Government's Food Standards Agency webpage.