Laccha paratha is a popular north Indian flat bread. It is an unleavened (no raising agent) flatbread made with simple ingredients. As an accompaniment it is ideal for many dishes, particularly those with which you need something to scoop it up. It goes really well with my keema matter or aubergine daal. This is the second Indian flat bread that I have posted on my blog. Why not check out my Tikda flat bread.
Jump to:
A Beginners Guide To Indian Flat Breads
There are many types of Indian flat breads, over 30, so before we focus on Laccha Paratha first let's indulge in a little bit of Indian flatbread education with a beginners guide to the more common varieties.
Chapati: Households in India use this flatbread on a daily basis, making it one of the most popular. The meaning of chapati in Hindi is slap. To make the chapati, one slaps the dough between the hands, forming a flat disk. For most of us though, a rolling pin is fine!
Roti: Made with whole wheat and unleavened. If you want a light flatbread, roti is a good choice, as opposed to the leavened, heavier naan. Cooking is usually on a flat griddle.
Parotta: Basically, this is the south Indian version of laccha paratha. Indeed,they look the same and both are flaky.
Naan: Yoghurt and milk are key ingredients in this unleavened flatbread. This makes it softer and heavier than others. The traditional way of cooking it is in a tandoor by slapping it in the sides of this clay, charcoal heated oven.
Puri: Made with wholewheat, it is unleavened and deep fried. This cooking process releases steam, making the dough puff up, giving it is characteristic shape. It is a popular bread for breakfasts, snacks and light meals.
Bhatura: This is a leavened, deep fried flat bread. Similar to Puri, it puffs up when cooked. Classically served with chickpea curry.
Now for the star of this show......
Introducing Laccha Paratha
Of course, it is easy to buy laccha paratha in the frozen food section of the supermarket, however, it is much more fun and satisfying to make it, and more healthy too.
A feature of this flatbread is its crispy flakiness. Folding and pleating the dough as illustrated in the video creates this characteristic.
This flatbread is often made with plain, all purpose flour. However, I like to make mine with chapati flour because it is whole wheat and contains healthy fibre. I like to support small sustainable businesses, so a shout out to Shipton Mill where I buy my flour.
Laccha Paratha origins are in 12th century India. Specifically, the Punjab and North India are the main regions associated with it. However you will find various versions across the sub continent, indeed you find it beyond india - in China as scallion pancakes, or Malaysia as roti canai, for instance. It is an extremely popular flatbread and very versatile. Sometimes it is eaten at breakfast with....... as well as being enjoyed with curries, dals, raitas, pickles.
How-To Video
Here is a video guide to making your laccha paratha.
📖 Recipe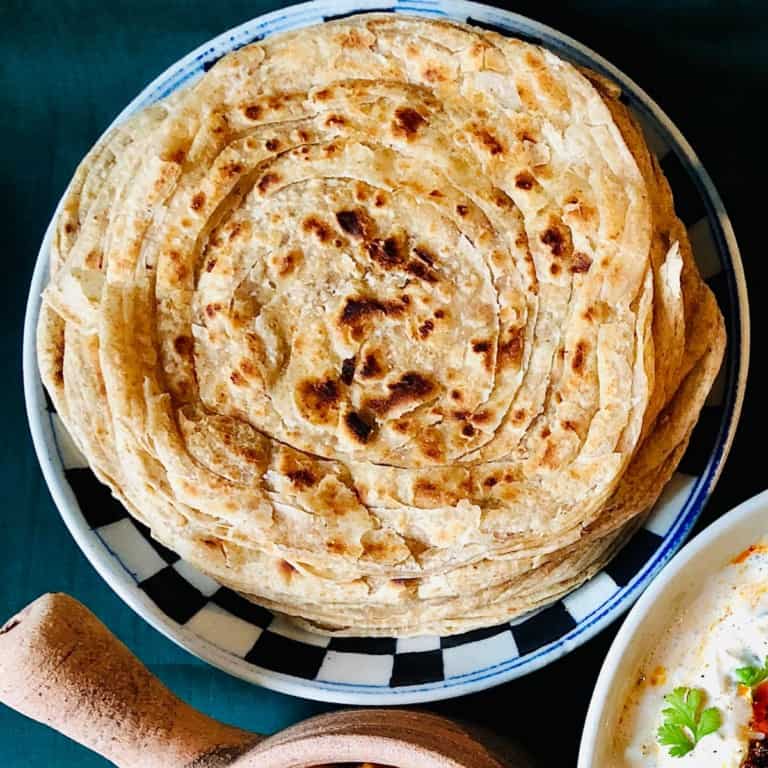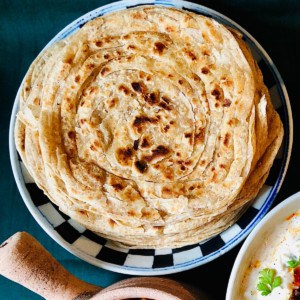 Laccha Paratha Flat Bread Recipe
Learn how to make this flaky flat bread, ideal to accompany curries and similar dishes.
Ingredients
500

gms

Chapati flour

300

ml

Water

1

tablespoon

Olive oil

40

gms

Vegan butter

From a Block
Instructions
In a bowl add the chapati flour and olive oil.

Add water and mix to form a dough making sure there is no dry bits of flour.

Transfer to a counter top and briefly knead.

Put the dough back into the bowl and set aside to rest.

Separate the dough into eight equal portions.

Dust the counter top with chapati flour and roll out each ball thin and as circular as possible.

Using a brush coat the surface with vegan butter.

Fold from the top, making pleats like a fan, right till the other end.

Bring it all together and roll from end to the other forming a spiral as you go. Tuck the end bit under the roll. ( please watch the video for how to )

Repeat this with all the other balls and set aside.

Dust the counter top with some chapati flour and press down the prepared roll.

Start from the centre and using your fingers press outwards.

Using a rolling pin, roll the paratha into a disk. At this point we don't press it down too much and not roll it too thin. If you roll too thin the layers will be lost. If the dough gets too sticky while rolling, dust it or the rolling pin with flour.

Repeat this with all the other portions.

Heat a frying pan over a medium high heat.

Transfer the rolled out paratha to the hot pan and cook each side. The colour will change and you will have a few brown spots.

Then brush with oil and continue cooking both sides until done.

Remove from the pan and brush with vegan butter and fold from the outside in to reveal the layers.
Laccha Paratha Recipe Notes
You can freeze your laccha paratha if you want to make a big batch. After rolling it out the second time after folding, put the paratha between parchment paper, the put in a freezer safe container or reusable zip lock bag and freeze. When you want to use it, cook straight from frozen over medium heat.
Please watch the video to a visual demonstration regarding working the dough.
Chapati flour is best for this parantha as it has fibre. You can use all purpose flour / plain flour, however, you may need to adjust the water content. My suggestion is to add water slowly and add more if required to bring the dough together.
I prefer not to add salt to the flatbread, but, of course, feel free to add a bit of salt if you wish to your taste.