Be it in the home or in commercial kitchens, food waste is a big problem. I am very passionate about reducing food waste. In fact, I even created a hashtag #starvethebin! At a recent job I was on, a whole bunch of carrot tops were heading for the bin. I rescued them from that fate and used them to create this saag daal recipe .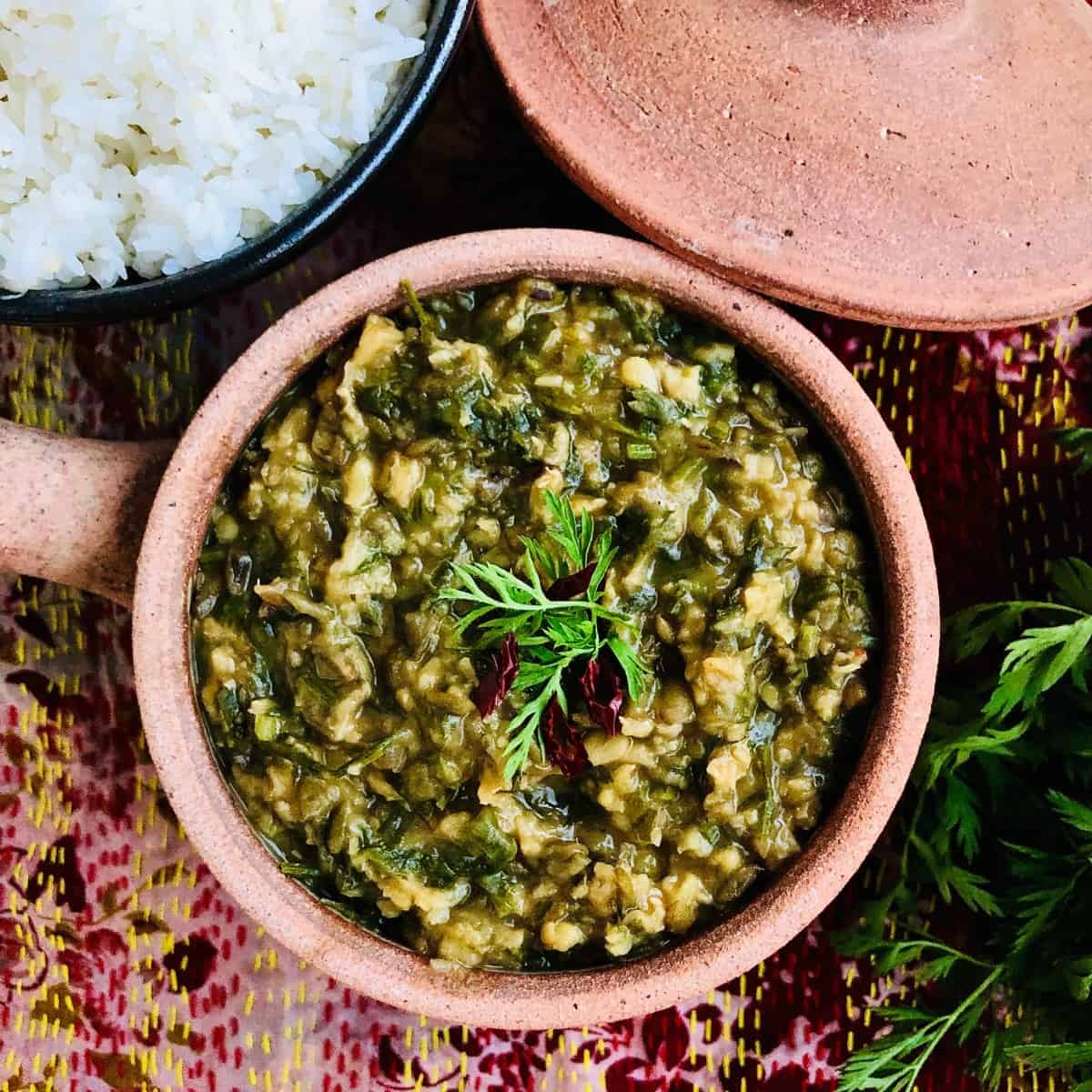 Carrot Tops - A Zero Food Waste Ingredient.
When choosing ingredients for recipes, carrots tops are not the first thing people think about. However, they are edible and nutritious. You may find some arguments on the internet regarding their suitability for consumption due to alkaloid content. Many of the common foods we eat contain alkaloids, but you would need to eat an enormous amount to register any side effects. I am not suggesting using them as a staple, daily food. However, when you end up with them, I hope this zero-food waste-inspired recipe can motivate you to use them so they end up in your tummy and not the bin.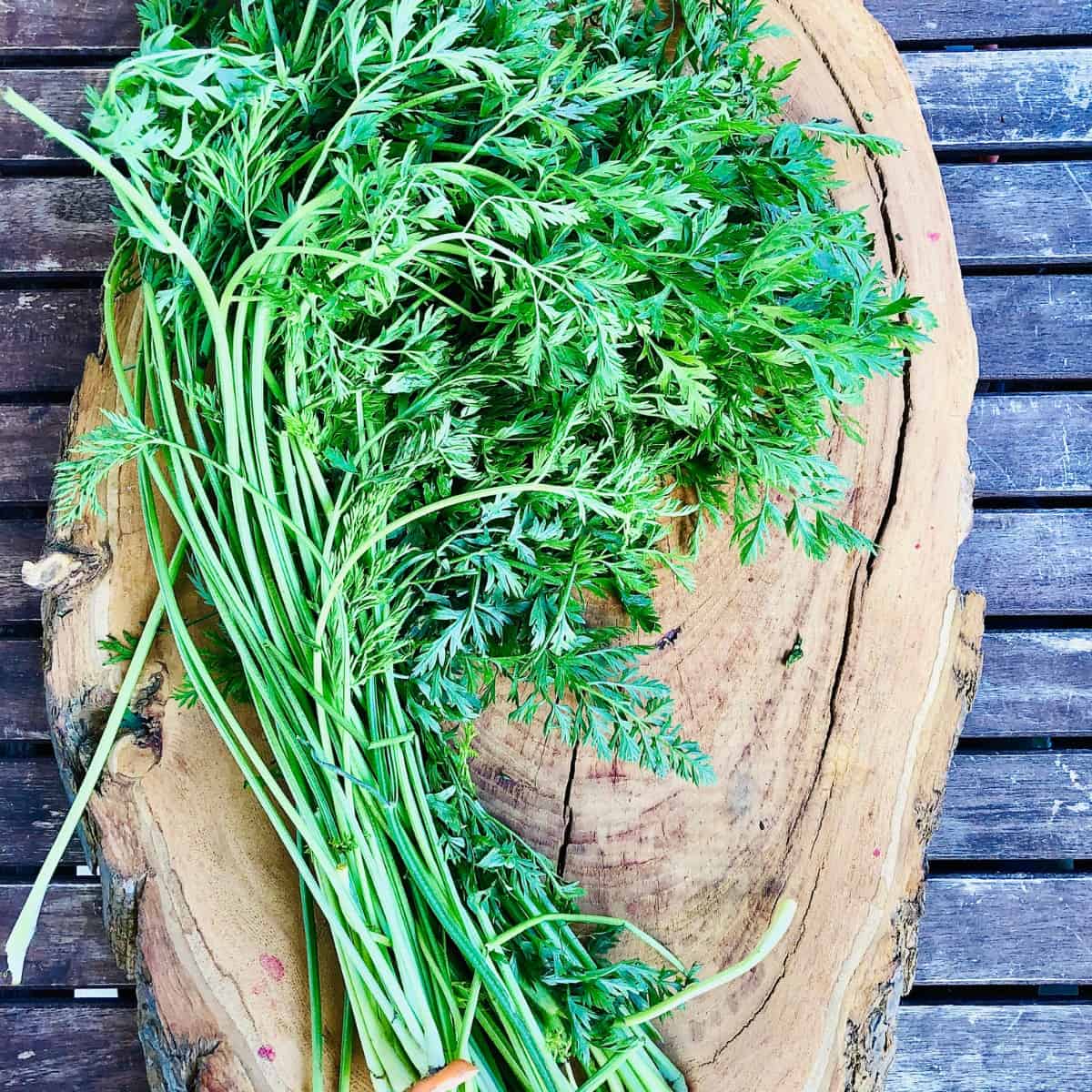 There are so many recipes out there for carrot greens, from pesto to fritters. This saag dal recipe is simple, nutritious and does not require too much effort and ticks that all important zero food waste box.
The Indian diet has a big vegetarian element to it, with lentils being a significant source of protein. Dal or lentils is an everyday lunch affair in India, so to keep it interesting we change it up all the time. Usually we use spinach for this saag dal recipe, however, carrot greens make a great replacement and go a little way to help reduce food waste. They add a texture and a herb flavour to this dal. I have also added my own touch to it by using red thai curry paste instead of the usual Indian spices.
For this Dal we use split green Moong beans. These beans are very easy to digest, being high in fibre and low in carbohydrates. In fact they are so good for you that when someone is sick in India we make a light meal with moong beans and rice, called kitchari.
How-To Video
Here is a video guide to making your zero food waste saag dal recipe. Turn the sound up if you like ASMR.
📖 Recipe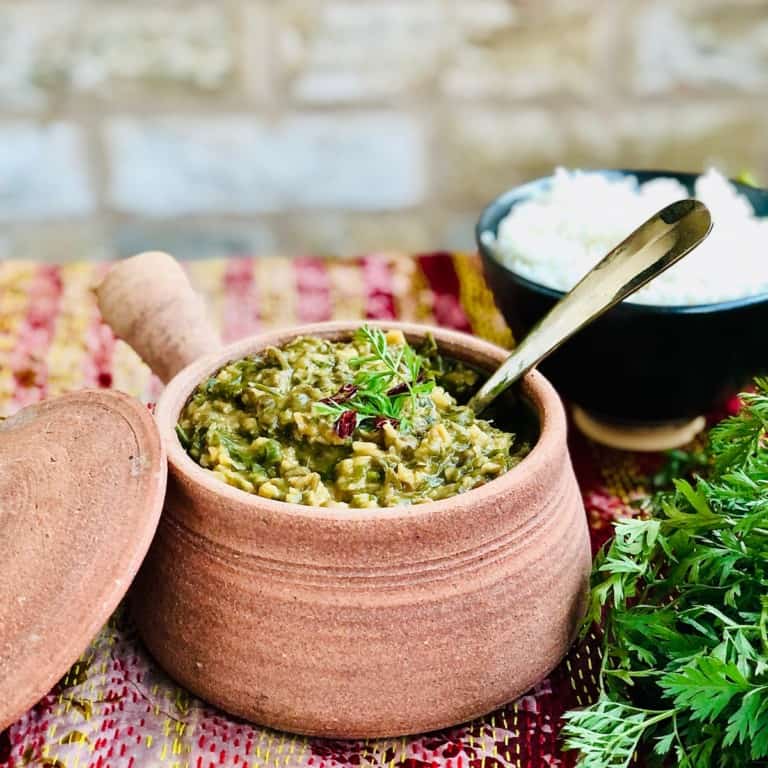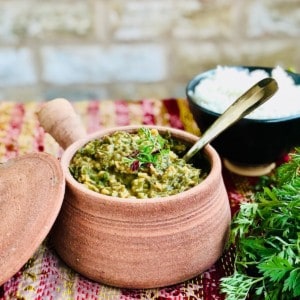 Saag Dal With Carrot Greens
Split moong bean dal with carrot greens cooked in thai curry paste
Ingredients
300

gms

Split moong beans

Soaked overnight

150

gms

Carrot greens

1

tablespoon

oil

40

gms

Red Thai curry paste

1

litre

water

1

teaspoon

Kala namak
Instructions
Wash and soak the split green moong beans overnight.

In a pot, heat the oil and fry the Thai curry paste for about five minutes over a medium heat. This process will release the fragrance from the herbs and spices and will add depth of flavour.

Drain all of the water from the moong beans and add them to the pot.

Pour in the water. Increase the heat and bring to a rapid boil.

Once the dal has come to a boil, reduce the heat and allow to simmer.

If there is any foam building on top of the dal, gently skim it off.

Cover and cook for 20 minutes.

Wash and roughly chop the carrot greens and set aside.

Once the dal is almost cooked, (it would have broken down and will be creamy) season with salt.

Add the carrot greens and stir to mix.

Cook further until the carrot greens have wilted.

Taste and adjust seasoning if required.

Serve hot with rice or flat bread.
Recipe Notes
Check out my homemade apple cider vinegar for another zero food waste idea.
Although this recipe works best with split green moong beans, you can replace them with practically any other lentil. Please bear in mind the cooking time may change depending on the lentil used.
Red thai curry paste is used in this zero food waste saag dal recipe for flavour and kick. If you choose not to use it, I would recommend using a tadka or tempering at the end of cooking this dal. Tadka is oil infused with cooked spices. Also, it refers to the technique of cooking spices in oil in order to enhance their flavour by releasing their essential oils. The most common tadka is of cumin seeds, asafoetida and either whole or powdered chilli.
Washing and soaking lentils is a very important step. Washing removes the impurities and soaking helps them to cook faster. It also helps to reduce bloating. If you don't soak your lentils and beans I highly recommend it. It's not just an old wife's tale!
Keep checking back to my blog for other zero food waste inspiration