Food waste is a big problem. About one third of all food is wasted. As with many modern-day problems we face, the solutions are not simple. However, we can definitely be a part of the solution at home. A mantra of mine is "starve the bin." One way to do this is love your leftovers! Here I present to you a way of using your apple cores and peel to produce homemade apple cider vinegar.
Jump to: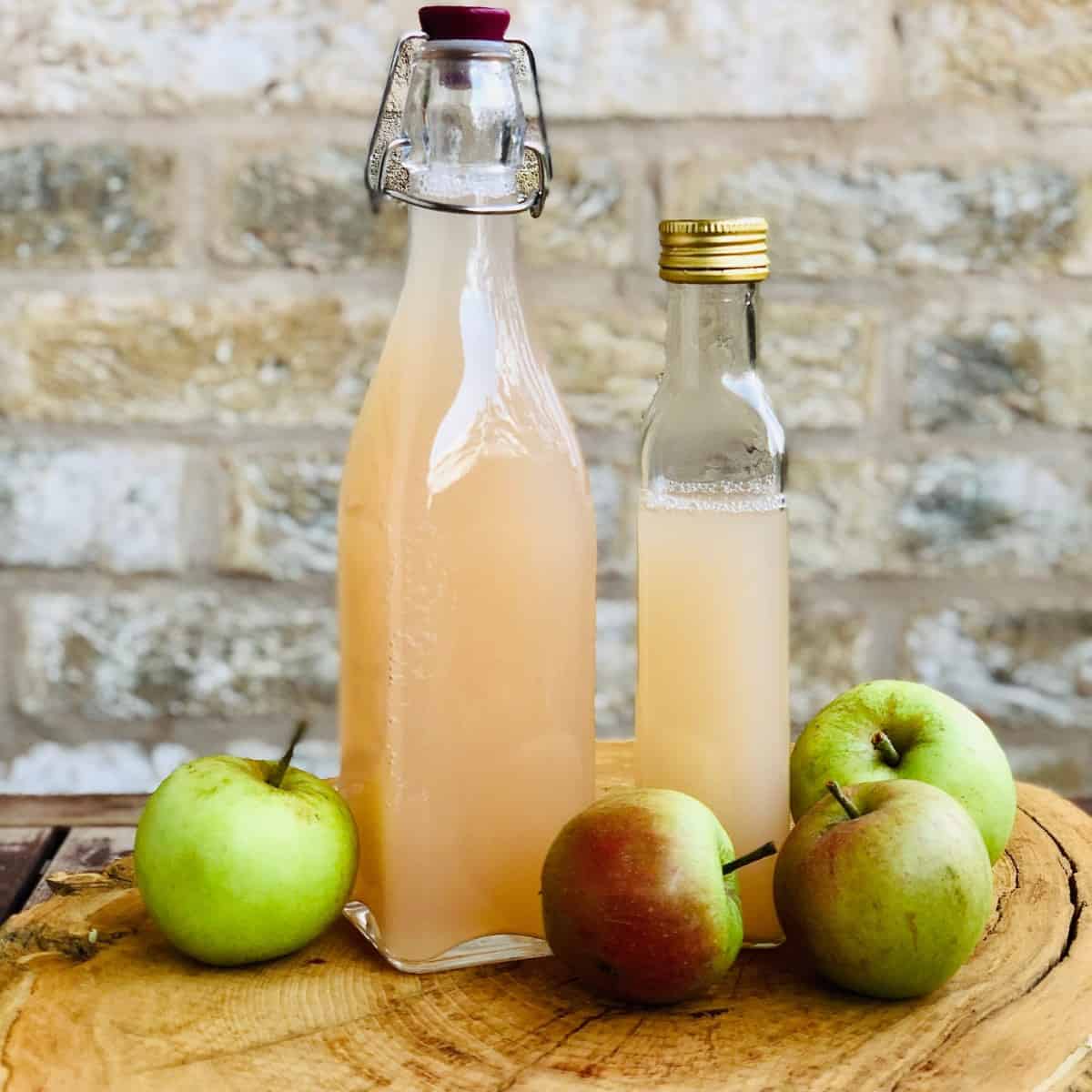 Starve The Bin And Love Your Leftovers - Make Apple Cider Vinegar
My mother was a zero food waste champion. There was nothing that she couldn't turn into a delicious meal. She nurtured in me a habit to starve the bin of left overs. Also, my time as a chef further reinforced the principles of zero waste. I was fortunate to work under head chef's who were very conscious about reducing food waste.
The heart and spirit of my blog is conscious cooking and holistic living, so as you can imagine, I'm passionate about this aspect of cooking.
During apple season, we enjoy making apple chutneys, jams, tarts and crumbles. However we end up with unused parts of the apple - the peels and cores. They can be repurposed for this easy to make apple cider vinegar recipe. The result? A great salad dressing. Try my beetroot and peach salad, or grilled fennel with red pepper salad which use apple cider vinegar. Use it as a flavour aid when roasting vegetables. You can even use it as a natural household cleaner. The internet is also full of the potential heath benefits of apple cider vinegar. After the apple cider vinegar is made, the circle can be completed by composting the scraps.
This time, the bin goes hungry!
I have a few apple based recipes for you to try. A delicious topping for your porridge or breakfast cereal could by my crab apple butter. Or perhaps you want to say "I love you" to your sweetheart by making my edible apple roses.
How-To Video
Here is a video guide to making your own apple cider vinegar.
📖 Recipe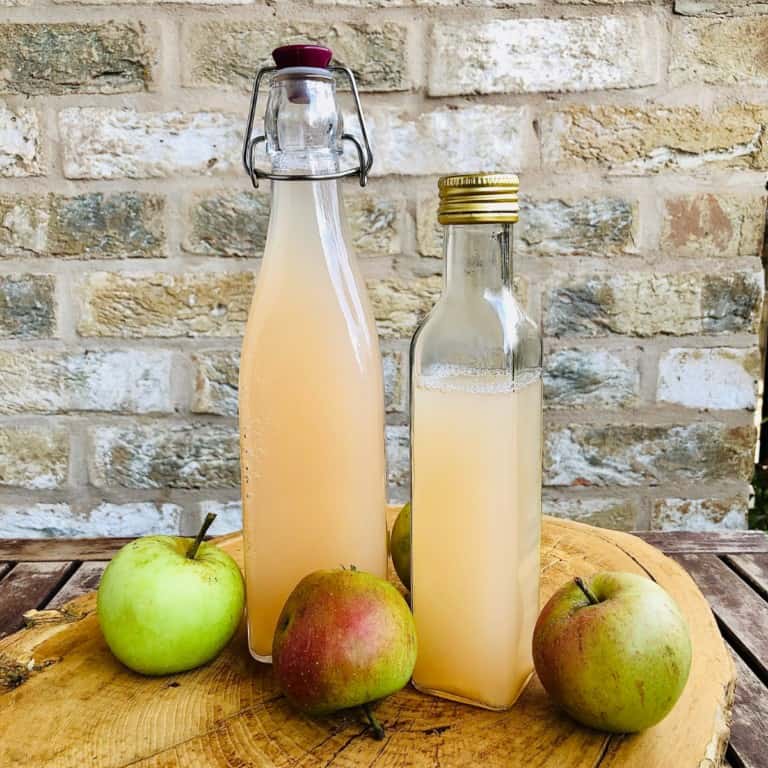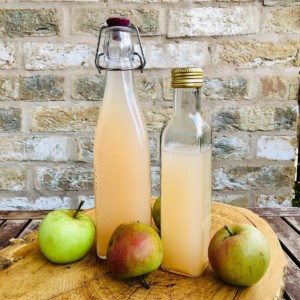 Apple Cider Vinegar
Utilise your unused apple cores and peels by making this easy apple cider vinegar. Love your leftovers!
Equipment
1.5 Litre glass jar

A small glass jam jar that fits into the mouth of the large jar

Muslin cloth
Ingredients
1

kg

Apple scraps

25

gms

Raw Cane sugar

1

Ltr

Water
Instructions
Wash the jars with hot soapy water and sterilise in the oven for 30 minutes

Boil 1 litre of water and set aside to cool.

Once the jars have sterilised cool to the touch.

Fill apple scraps and cores tightly into the jar. Pack them well so that they don't float up when the water is added. The cores and scraps should not go beyond ¾ of the jar.

Now pour in the water. At this point, if there are any bits floating, remove them.

Press down the smaller jar on top of the apple scraps to insure that nothing is floating up. If there are scraps floating, remove them, otherwise they will get mouldy and spoil all the vinegar.

Cover with the muslin cloth and use a rubber band or string to keep it in place.

Set aside the jar in a cool, dry and dark place for three weeks.

After three weeks, remove the apple scraps and transfer the vinegar into a sterilised glass bottle with with a stopper or screw cap.

Set aside for three weeks.

After three weeks, check the vinegar and taste. It should be ready to use.
Notes
Some people are a little worried about using the apple cores because of the pips, that contain toxins if eaten. You can remove them if it eases your mind, however, you will not be eating or crunching on / crushing the pips and they will be strained out during the straining process. Also, you would need to eat a large amount of pips to get ill. If you are overly concerned you can use a muslin cloth. I personally don't use muslin as I don't want to lose the mother. 
This Apple Cider Vinegar is unpasteurised, it is with the mother. If you havent tried unpasteurised vinegar, I recommend you try small quantity to start with.
You can save some of your mother for next year, it will speed up the fermentation process  and result in a better vinegar.
The colour and flavour of the vinegar is dependent on the apples. I used crab apple this year, hence the pale rosy colour.
Tips On Reducing Food Waste
For an in-depth article on reducing food waste, check out this Friends of the Earth article - Solving the problem of food waste.
Here a a few ideas as an introduction:
Cook smaller portions to reduce wastage.
Re purpose food scraps and leftovers. Like here with apple cores and peels for apple cider vinegar. I recently used carrot tops in a dahl. Visit my blog again in the future to see how I use melon skins!
If you have a zero-waste shop nearby, why not take a container and go fill up. This is more about packaging, but that's an issue we can tackle at home too.
Compost! Create a compost heap with your scraps. We live in the city and only have a balcony, however our local recycling centre has a composting facility. Here are some helpful tips from our local authority, the Royal Borough of Kensington & Chelsea website.