Autumn is when the last fruits of the year are ready for harvest. As a forager, I like to gather the windfall apples that would otherwise rot on the ground and turn them into something yummy. If you find yourself with many cooking apples, here is a recipe to help you use them. This spiced apple chutney with red onion is a delicious addition to your daily sandwiches and perfect for Christmas dinner. Made with Bramley apples, sugar and spices, this chutney is sweet, sour and tangy, an ideal addition to something too salty. I make this spiced apple chutney every year to give homemade gifts to my family and friends for Christmas. It is straightforward to make, so give it a go.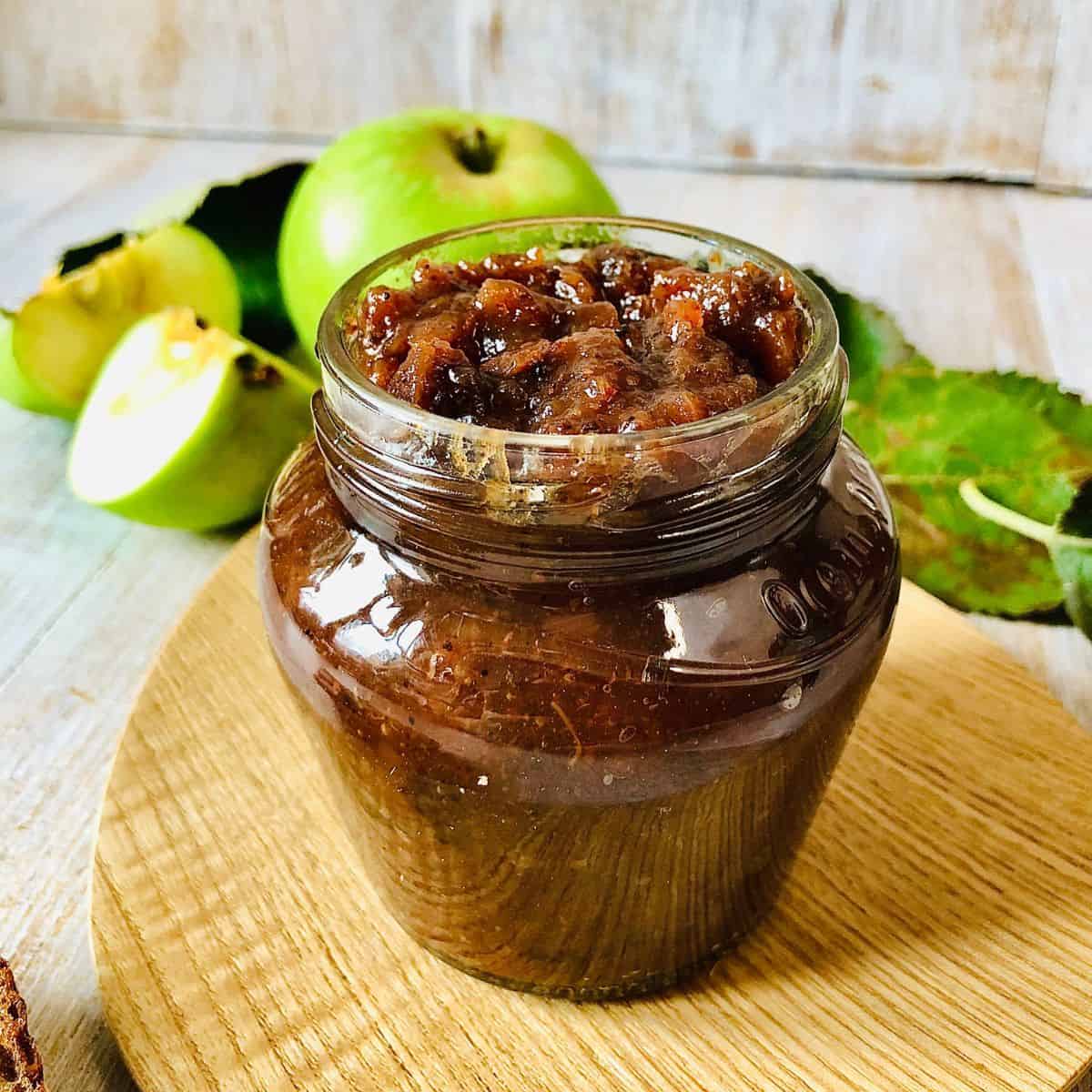 I love chutneys and pickles. I have more chutneys and pickle recipes for you to try on my blog. Perhaps you may like the classic Indian coriander and chilli chutney. Or the sweeter sonth ki chutney. Also, consider trying my pickled green plums as an alternative to olives. Do you need a quick pickled red onion recipe for a salad? Then look no further!
Jump to:
Ingredients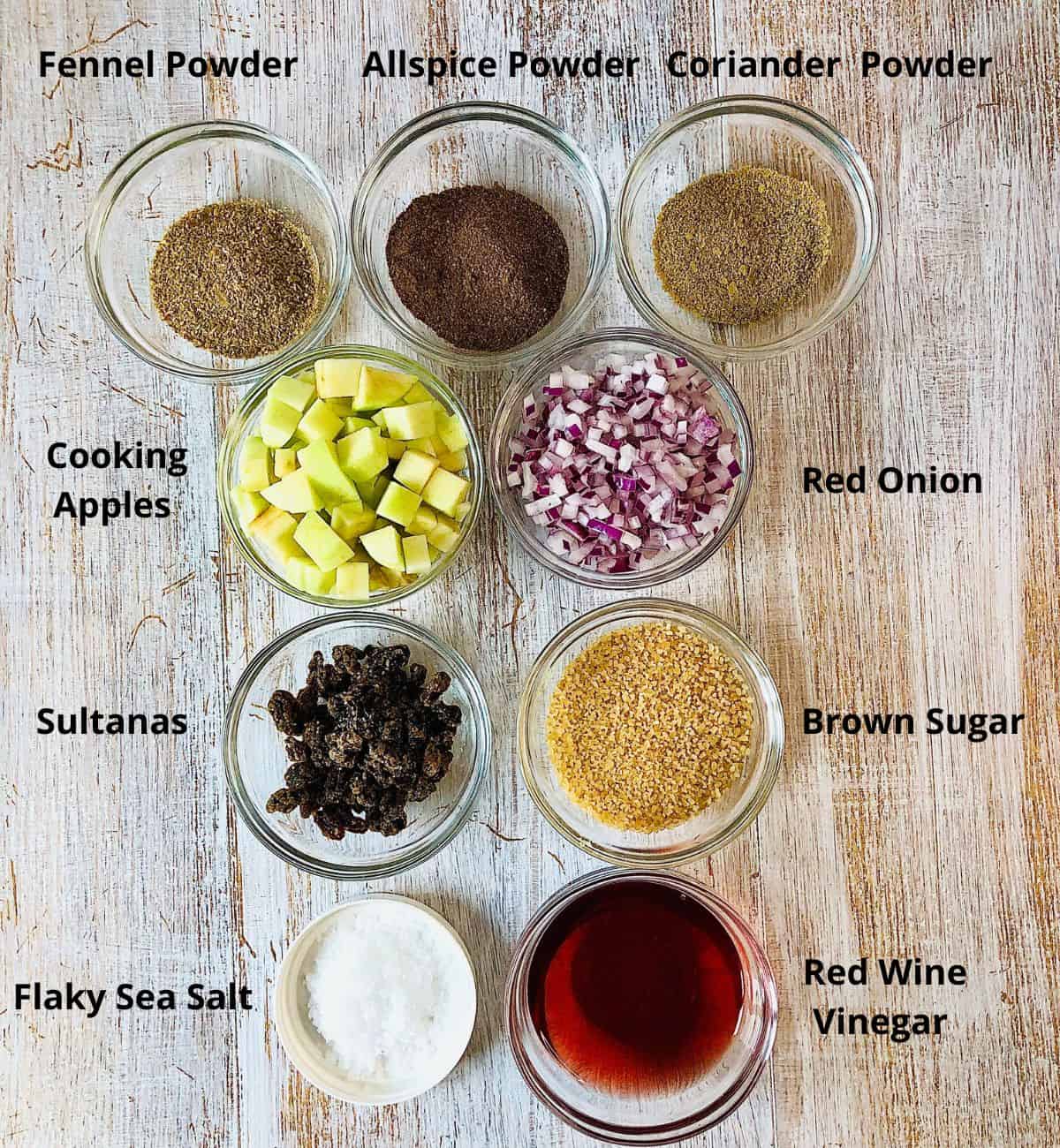 Cooking apples
Red onion
Brown sugar
Sultanas
Red wine vinegar
Fennel powder
Coriander powder
Allspice powder
Flaky sea salt
See the recipe card for quantities.
Instructions
First, sterilise the jars in which you intend to store the chutney. Please do this by washing them in warm soapy water and then placing them in the oven at 100ºC for thirty minutes.
Prepare your ingredients. Wash, peel and core the apples and chop them into small dice.
Finely chop the red onion.
Grind the allspice to a powder.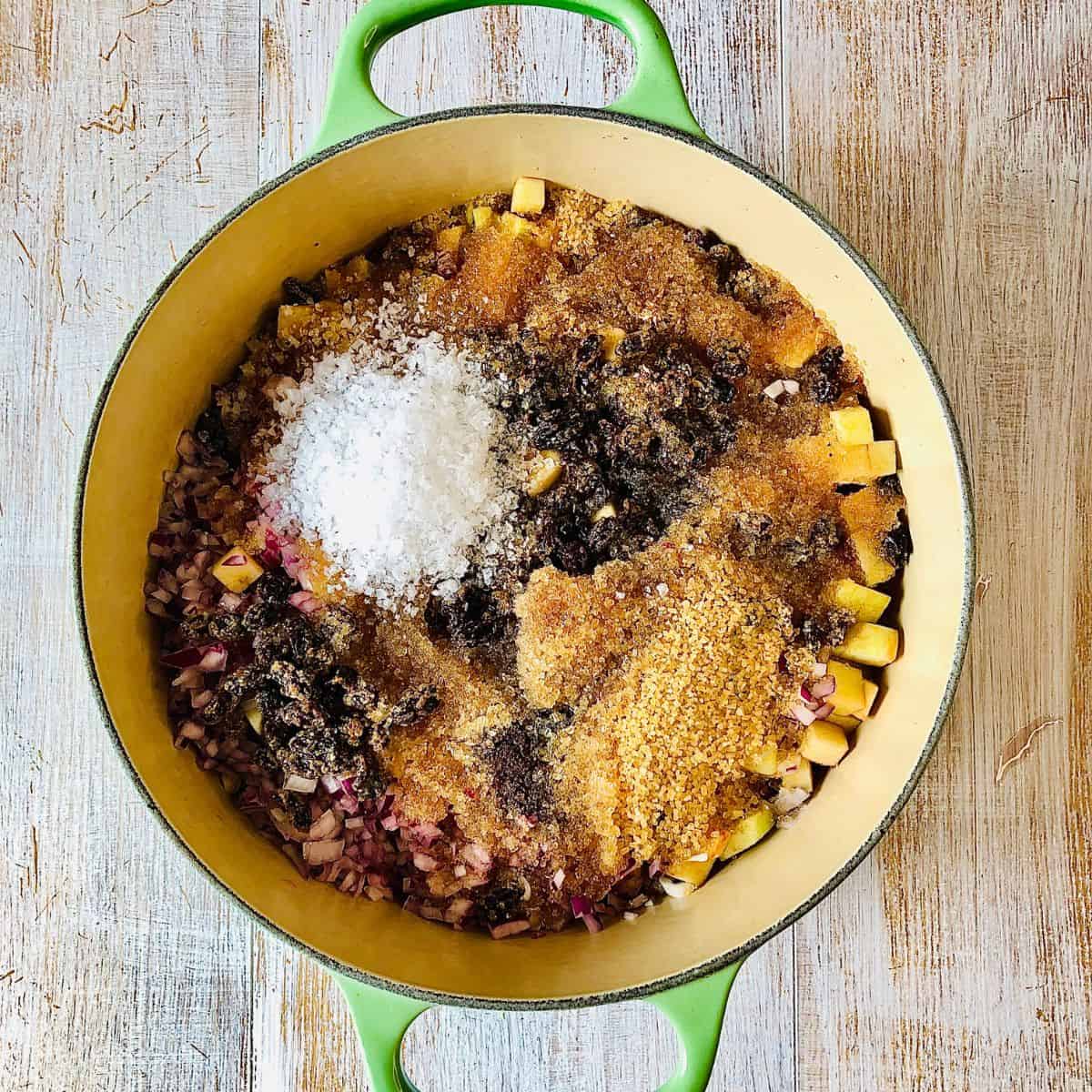 In a heavy-bottomed pot, place all the ingredients.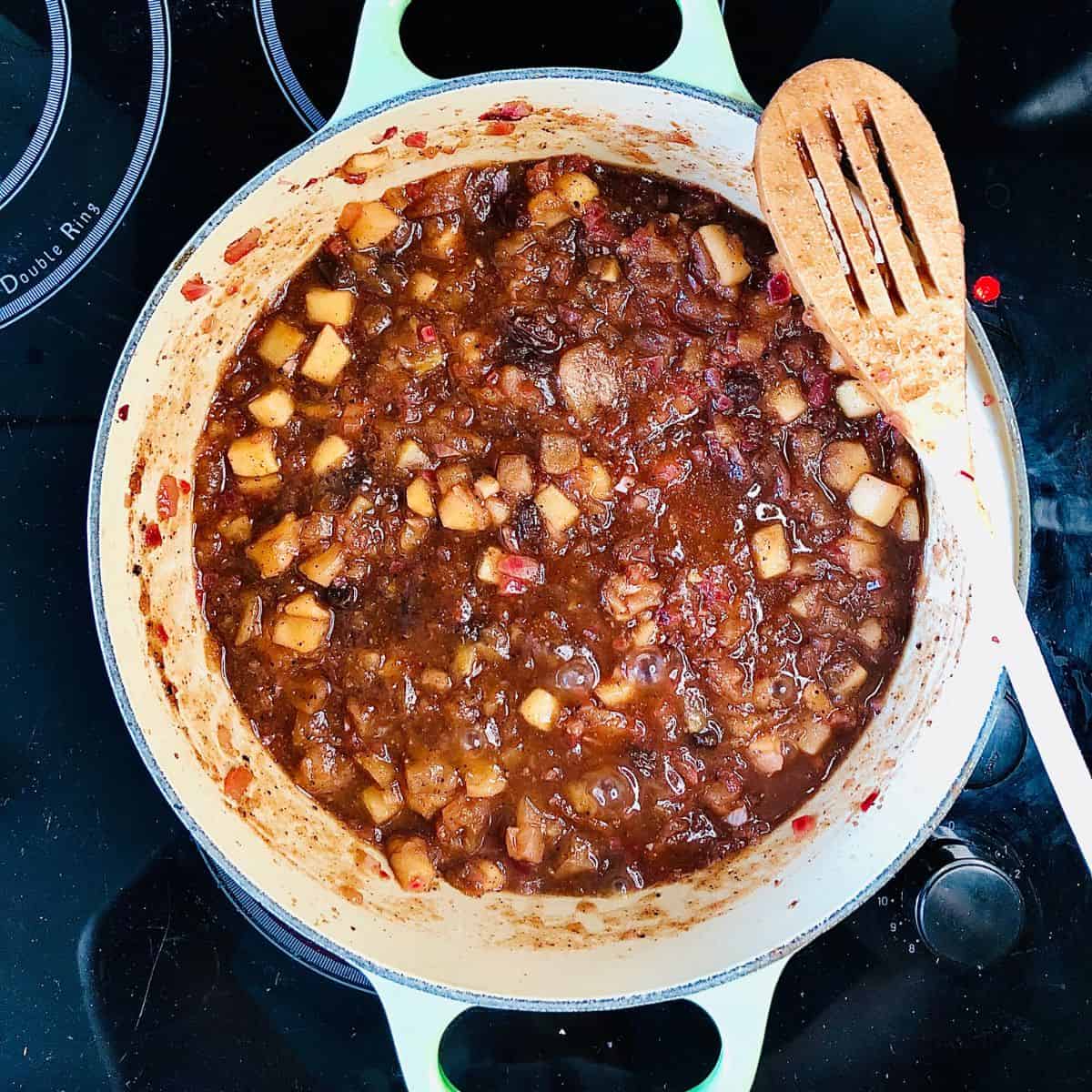 Bring to a boil and cook for about twenty minutes until all the sugar has dissolved.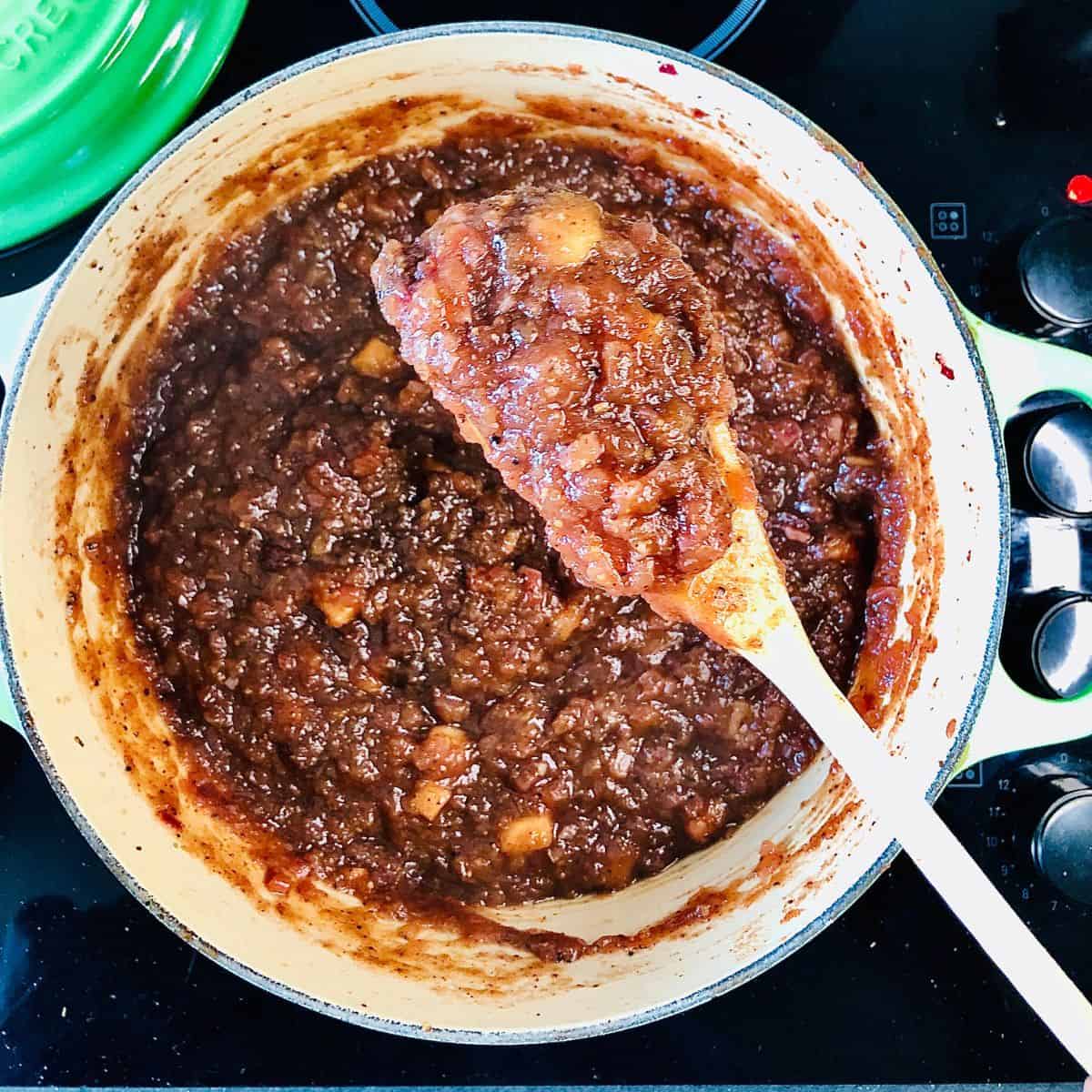 Turn down the heat and simmer for about ninety minutes, uncovered. Stir often so that the chutney does not stick to the pot. Cook until the chutney is thick.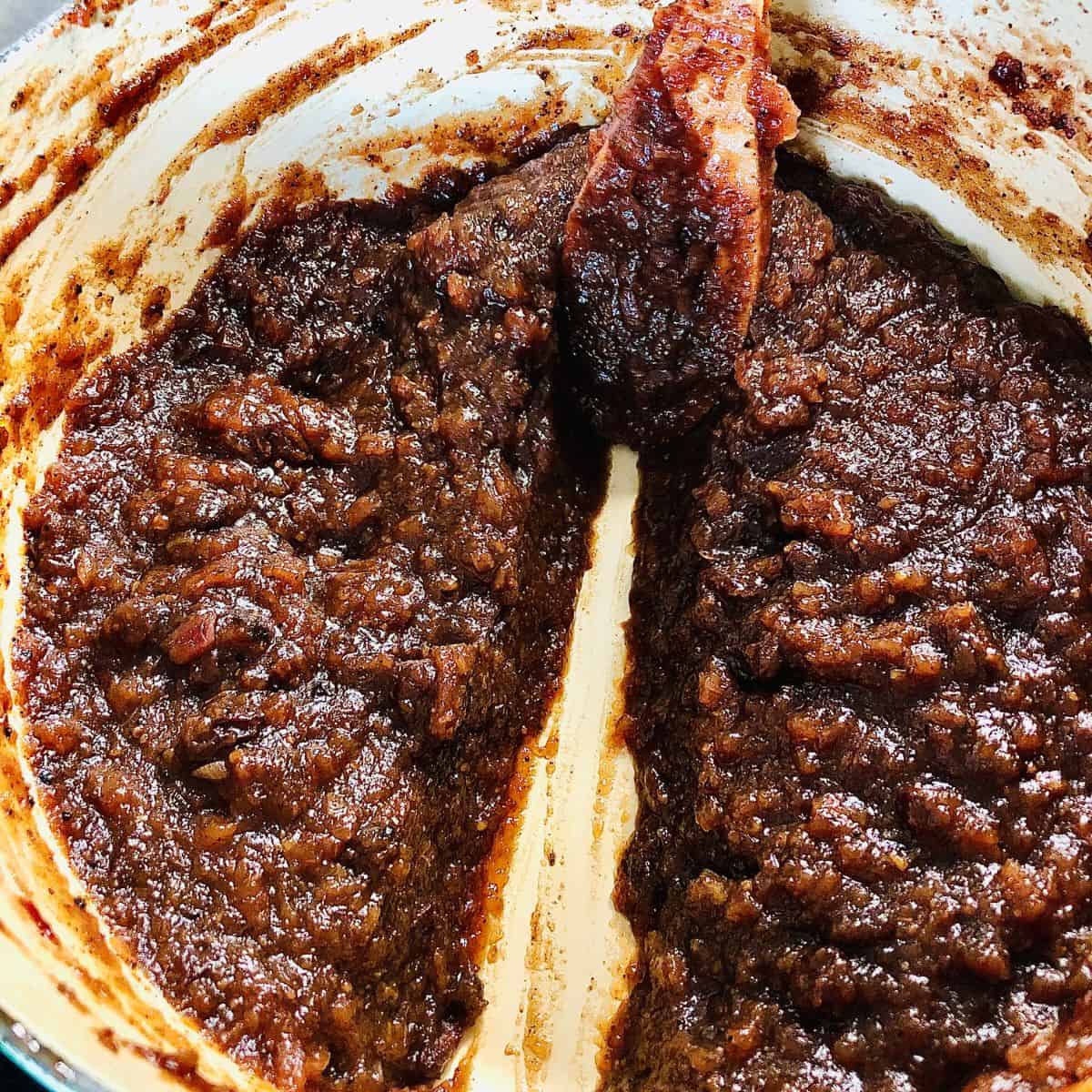 You can tell if the chutney is ready by drawing a wooden spoon across the bottom of the pot, leaving a channel. The chutney has cooked if the channel does not fill with any liquid.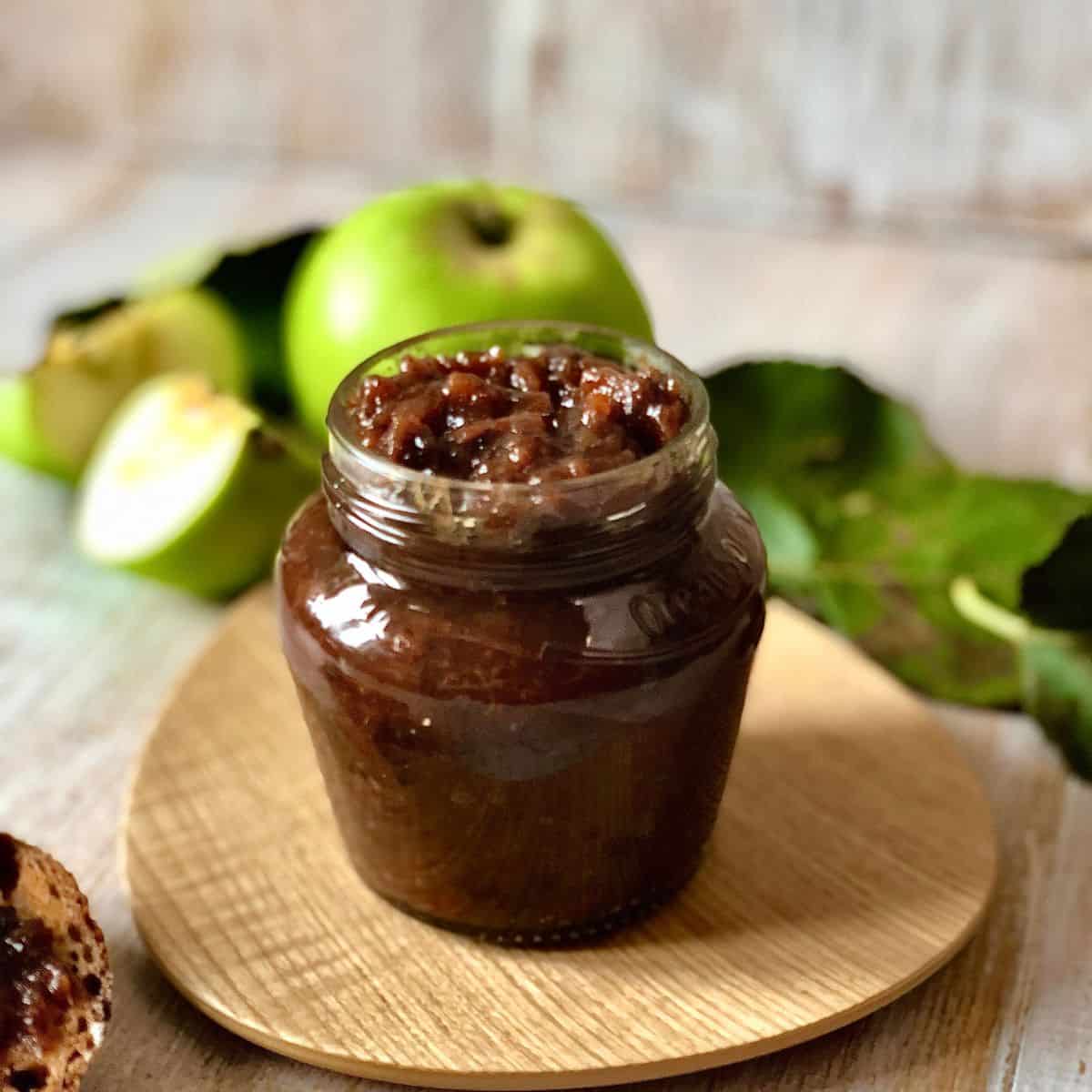 Transfer the spiced apple chutney into the sterilised jars. Ideally, please store in a cool dark place or refrigerate for two months so the chutney can mature and develop its flavour.
Substitutions
You can replace the brown sugar with castor sugar. If you want, you can use soft brown sugar as well.
Variations
You can make this chutney without red onion and spices for a milder flavour.
You can use cumin, cloves and even cinnamon as alternatives to the spices given in the recipe.
Equipment
I highly recommend using digital scales for weighing as it's more accurate.
You can use canning jars to keep your spiced apple chutney for longer. Jam jars work as well; make sure you sterilise them properly.
Storage
If you have correctly sterilised all of the equipment, sealed the jar, and stored it away from light in a cool, dry place, the chutney stays longer than six months. Once opened, store the jar in the refrigerator for up to six months.
Since this spiced apple chutney is homemade without any preservatives, please check before use to see if it has any mould. If it does, you will have to discard it. I have been making this chutney for a couple of years now, and I have found that if appropriately stored in sterilised jars, it keeps well for over a year, and the flavour matures.
You can freeze chutney. It may be watery when thawed. However, a quick stir will solve this.
Top tip
When stirring the chutney, start from the pot's bottom to ensure nothing gets stuck.
Use a heavy-bottomed pot for the chutney, decreasing the chances of getting stuck on the bottom.
📖 Recipe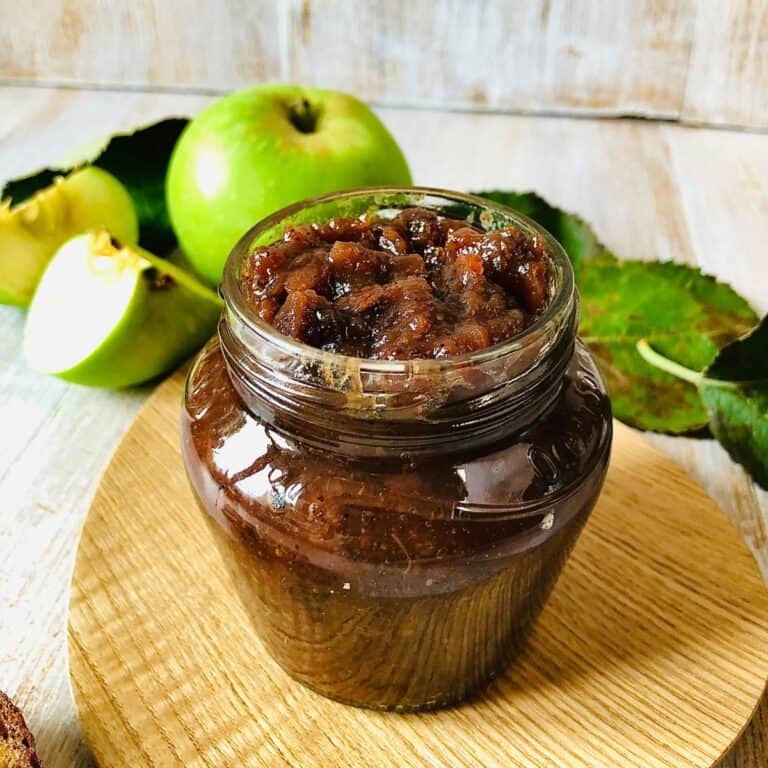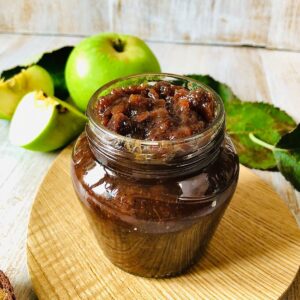 Spiced Apple And Red Onion Chutney
Spiced red onion and Bramley apple chutney
Equipment
Digital scales

5 250ml Jam jars
Ingredients
1

kg

Cooking Apples: Peeled, cored and chopped

You will need approx 1.5 kg whole apples

250

gms

Red onion

100

gms

Sultanas

1 & ½

tablespoon

Coriander powder

1

tablespoon

Fennel powder

2

tablespoon

Pimento allspice powder

2

tablespoon

Flaky sea salt

300

gms

Brown sugar

425

ml

Red wine vinegar
Instructions
Wash the jam jars with hot soapy water and sterilise in the oven at 100ºC for

30 minutes

Wash and pat dry the apples.

Peel, core and chop the apples into small dice. Save the skin and the cores to make apple cider vinegar.

Grind the allspice to a powder.

In a heavy bottom pot, add all the ingredients and bring to a boil and stir until the sugar has dissolved. It will take about

20 minutes

.

Turn down the heat and simmer for about

90 minutes

, often stirring, so that nothing gets stuck in the bottom of the pot.

Cook the chutney until it is thick, and you can draw a spoon across the pot's base with a spatula leaving a channel that does not fill with liquid, indicating the chutney is ready.

Pour into sterilised jars while it's warm, cool a bit and then seal the jar shut.

Store in a cool dark cupboard or refrigerate for two months before eating if possible.
Nutrition
Calories:
51
kcal
(3%)
Carbohydrates:
13
g
(4%)
Protein:
0.3
g
(1%)
Fat:
0.2
g
Saturated Fat:
0.02
g
Polyunsaturated Fat:
0.05
g
Monounsaturated Fat:
0.04
g
Sodium:
331
mg
(14%)
Potassium:
74
mg
(2%)
Fiber:
1
g
(4%)
Sugar:
11
g
(12%)
Vitamin A:
122
IU
(2%)
Vitamin C:
2
mg
(2%)
Calcium:
14
mg
(1%)
Iron:
0.3
mg
(2%)
NOTES
The nutritional information is a guide only and is based on the following: The yield for this recipe is approximately 1.25kg (2.75lbs) of chutney. The serving size is 28g (1 oz) or about two tablespoons.
FAQ
Can I use any apple for spiced apple chutney?
I would recommend using cooking apples, like Bramley apples, as they are more tart and don't get mushy in the cooking process. Regular eating apples are a bit sweeter and will become mushy when you cook them for a long time.
Does chutney improve with age?
You should ideally use the spiced apple chutney after two months, as it matures and mellows over that period. If left longer, the taste gets even better!
What is the difference between pickle and chutney?
With chutney, the fruit or vegetable is slow cooked with sugar and vinegar to preserve it (unless, as with chutneys from India, they are intended for consumption immediately), whereas, with pickles, the raw fruit or vegetable is sun-dried and then immersed in vinegar or oil to preserve it. Chutneys use smaller pieces of fruit or vegetable and have a smoother, almost jam-like consistency, unlike pickles that use larger chunks of whole fruit and vegetables. Pickling preserves fruit and vegetables longer than the slow cooking of chutneys.
What is the difference between jam and chutney?
Jams and chutneys have a similar loose consistency; however, jams are cooked down and preserved with sugar only, whereas chutneys are cooked down and preserved with sugar and vinegar. Jams are sweet, and chutneys are tangy and spicy and tend more towards the savoury end of the spectrum.
Is chutney Indian or British?
It is both. Chutney is an Indian word meaning "to lick". Chutneys are a prevalent part of meal time in the Indian subcontinent and many other parts of the world. This red apple chutney is an Anglo-Indian variant, more common in England than in India. The English make their chutney with tart fruit, such as an apple with sugar. When added to this vinegar gives it longer shelf life, unlike chutneys from India, which are usually eaten fresh.
Food Safety
In a professional kitchen, food hygiene and safety are top priorities, and from the beginning of my training, I practised good habits and routines. Of course, practising good food hygiene and safety at home is also essential. Here are some fundamental practices to adopt in the kitchen.
Wash your hands regularly while preparing, handling and cooking food.
Wipe down countertops and high-contact points regularly.
If you cook meat and fish, do not use the same utensils on cooked food that previously touched raw meat. Use separate chopping boards for meat and fish. Wash your chopping boards immediately after use.
Thoroughly cook food to a minimum temperature of 165 °F (74 °C).
Don't leave food at room temperature for extended periods (more than 2 hours).
For more details regarding food hygiene and safety in the home, visit the UK Government's Food Standards Agency webpage.