Dhania or coriander chutney is a staple in most Indian households. It is the perfect dipping sauce for any snack, a sandwich filling, or even fries. I love this sauce so much that my mother used to make sure it was always at hand as it would make me eat anything. I can literally have spoonfuls. Although it is very easy to make, it doesn't keep for long and the bright green colour fades very quickly once salt and lime juice is added. My hack to overcome this is to freeze the coriander chutney mix of pureed coriander and chilli as ice cubes and only mix in the lime, salt and cumin powder after the cubes defrost.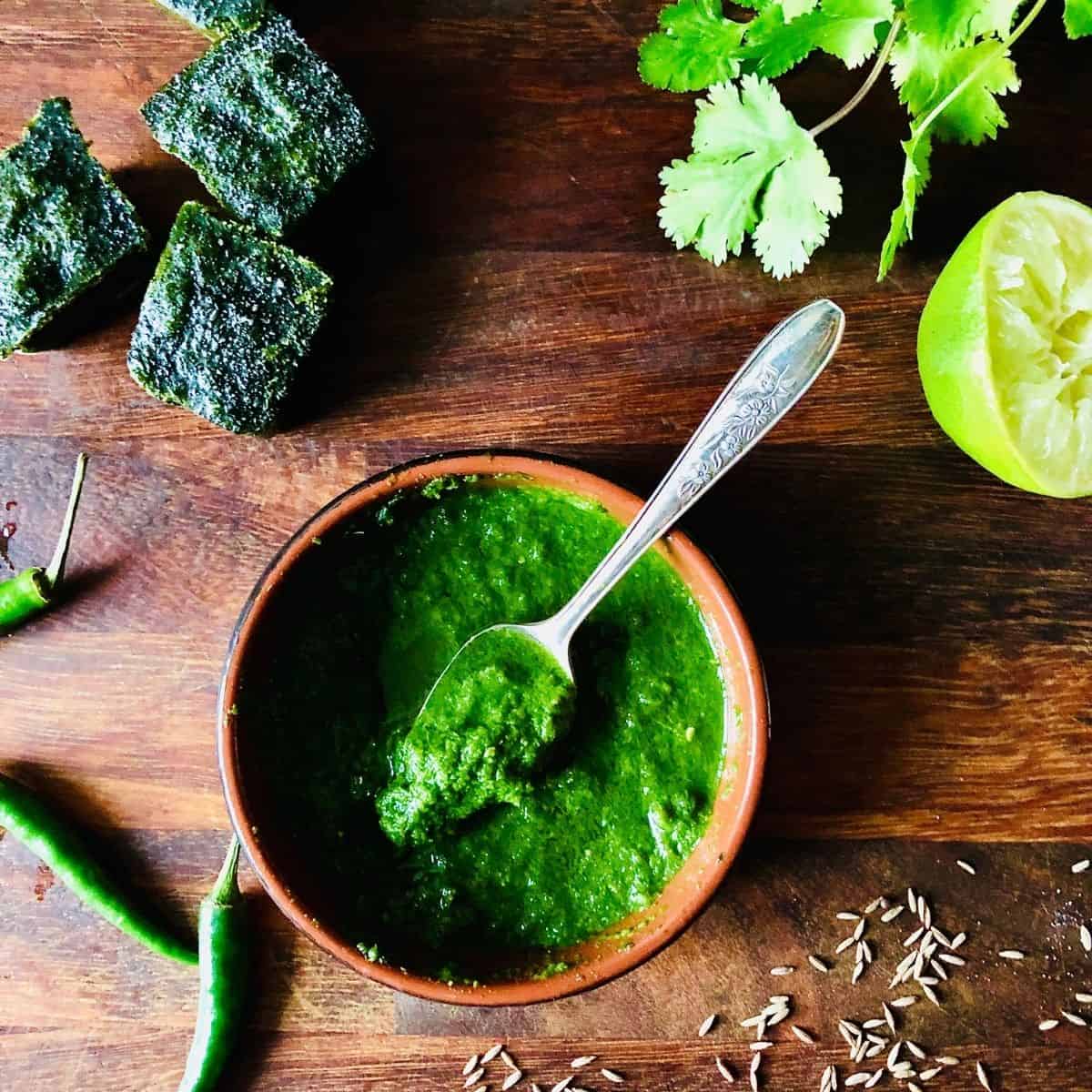 Chutneys are an excellent way to add flavour interest to your dishes. Check out my sonth ki chutney (tamarind and dry ginger).
I also have some sauces that you might like:
Try this chutney with my broccoli fritters, vegan dahi ke kebab patties and my pinwheel samosa.
Jump to:
Ingredients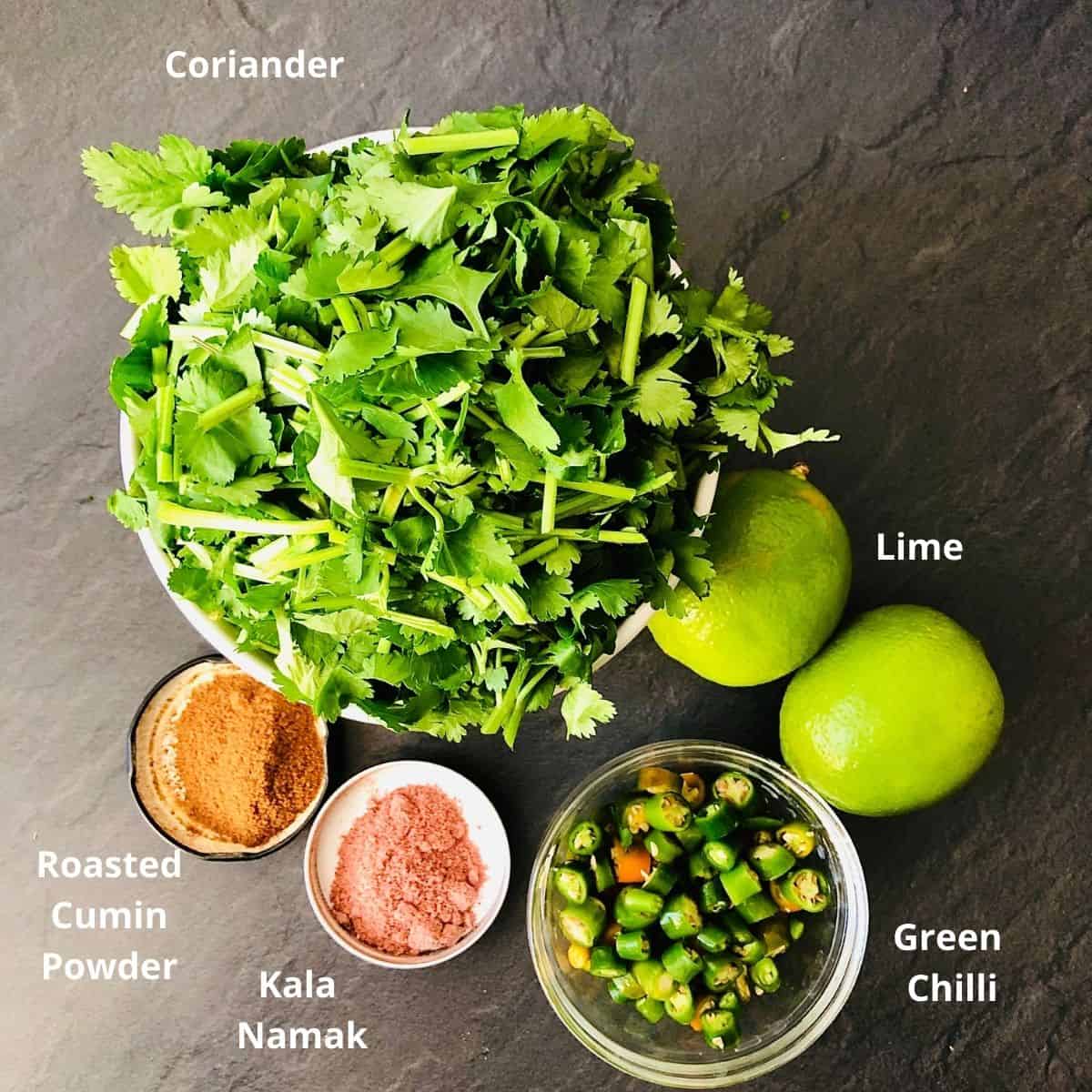 Coriander
Lime
Green Chilli
Kala Namak
Roasted Cumin Powder
See the recipe card for quantities.
In this recipe, I use roasted cumin powder.You only need to dry roast the cumin seeds for a couple of minutes maximum. It is roasted enough when you get the distinct aroma of cumin, and the colour of the seeds will turn slightly darker. That will happen quite quickly. Be careful not to burn the cumin seeds. Please put them in a spice grinder and grind them to a powder once roasted and cooled.
Instructions
To begin, prepare your ingredients.
Roughly chop the coriander (including the stems) and the green chilli.
Place the chopped coriander and green chilli into a blender with 200 ml of water and blend to a smooth puree.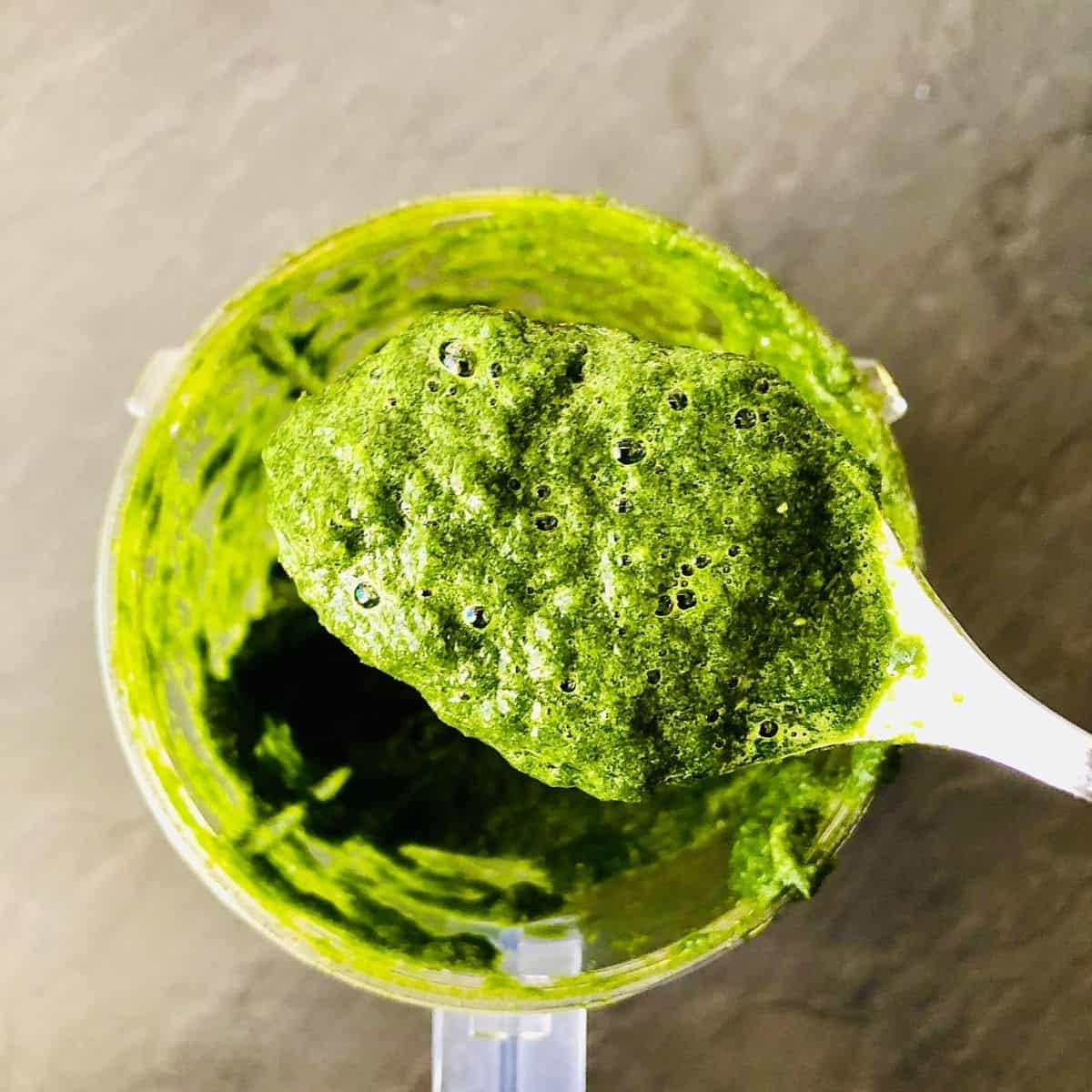 Transfer the puree into ice cube trays and freeze.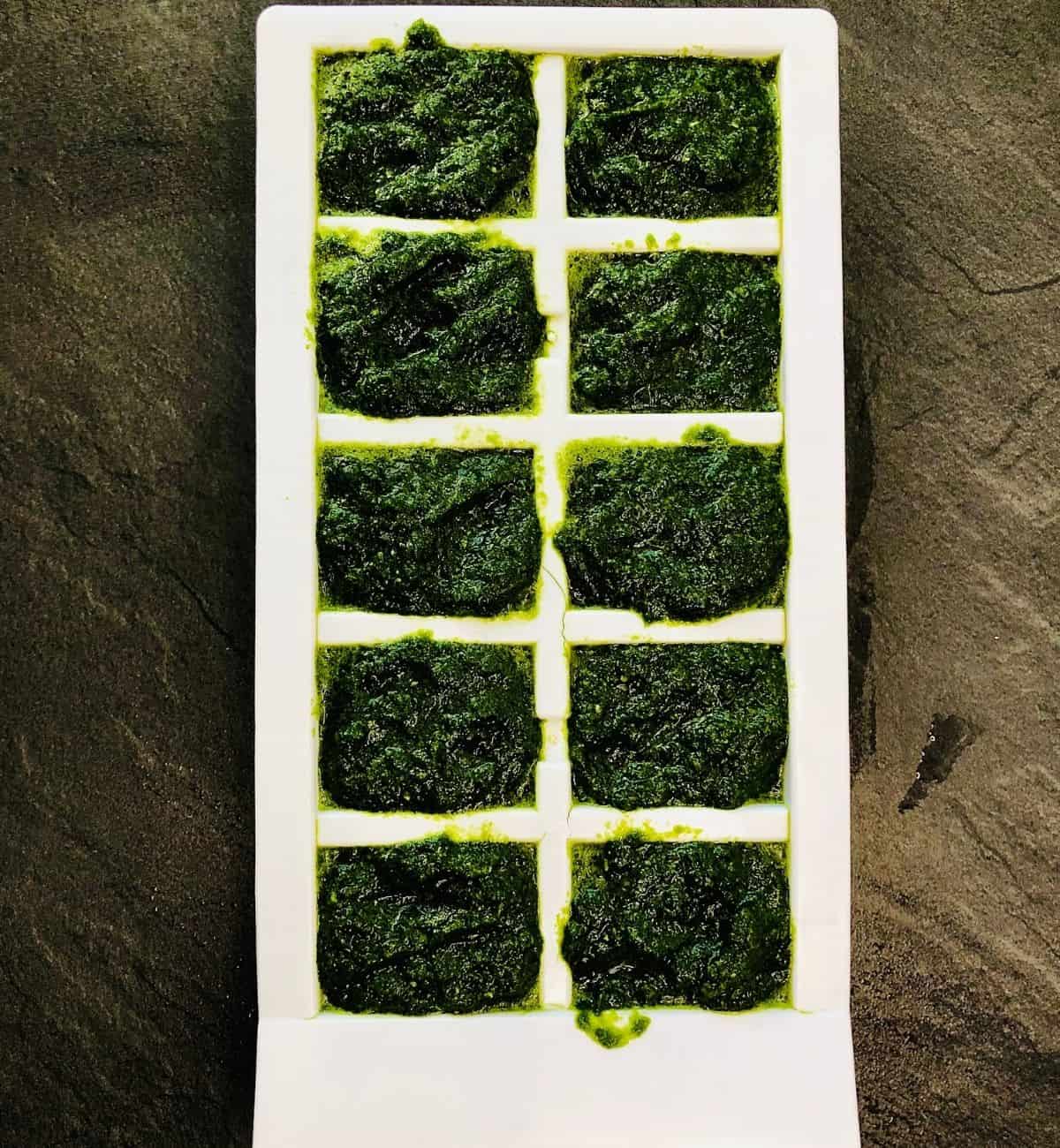 The shelf life is very short for this chutney, which is why I make it in bulk and freeze it, taking out only as much as I need and then finishing it off with the lime juice, salt and cumin powder. You can add all these ingredients before and freeze, however, I find that the chutney loses colour when the salt and lime juice are added.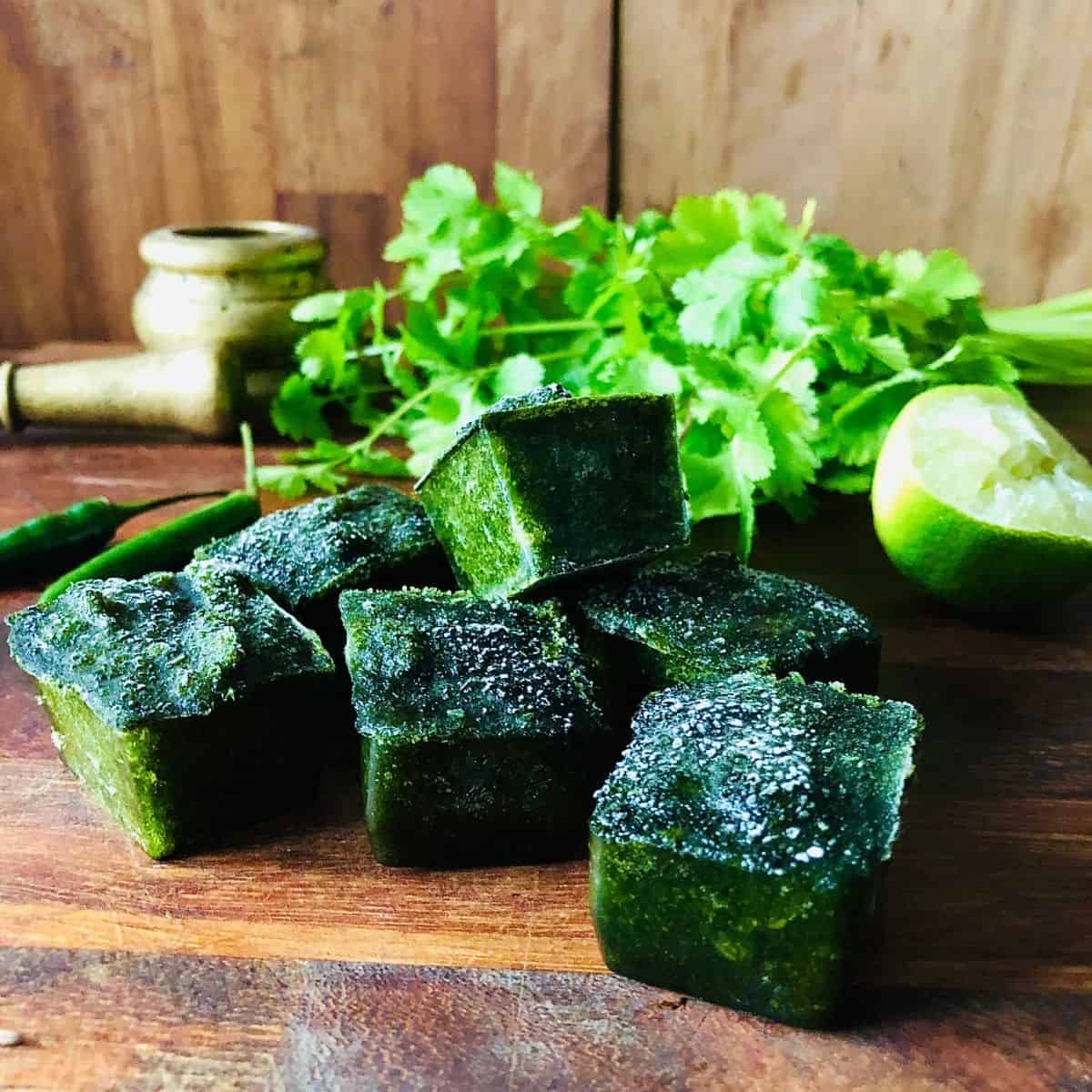 When you are ready to use the chutney, remove the ice trays from the fridge and thaw as much as you need.
When thawed, add the kala namak, cumin powder and lime juice and mix well. For approximately 50 gms or two cubes of chutney puree, you will need about ¼ teaspoon of salt, a pinch of cumin powder, and a quarter of a lime's juice.
Have a taste and adjust the seasoning to your taste.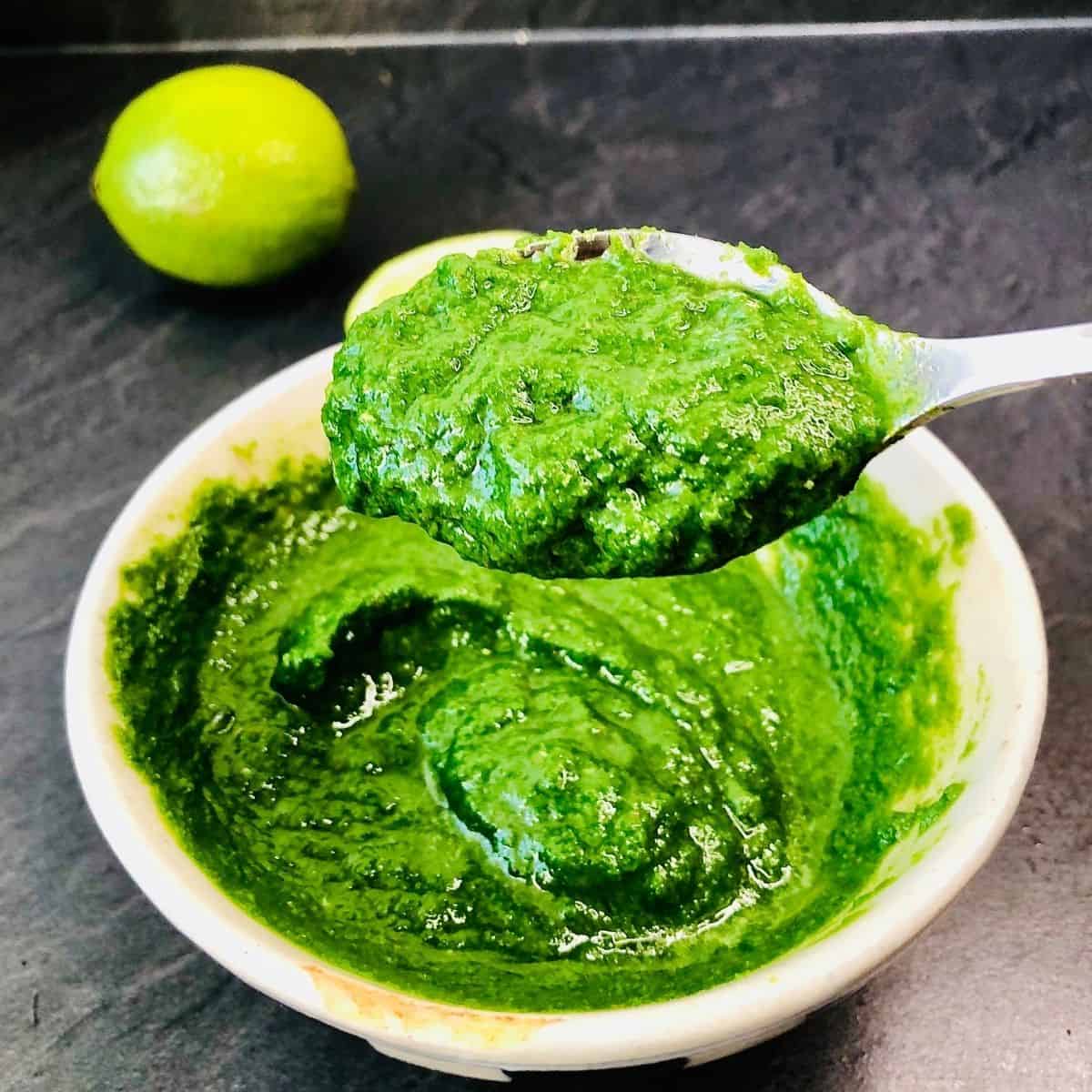 How-To Video
Here is a video guide to making coriander and chilli chutney.
Substitutions
Instead of kala namak, you can use any salt of your choice.
Instead of lime you can use lemon juice as well.
Variations
This chutney can be made in many ways. You can add half mint and half coriander, or only mint. Also, you can use chillies with less heat or even omit the chillies completely.
Equipment
A good blender will ensure that the colour of the coriander and chillies stays bright; if the blender blade is poor quality, the colour may end up much darker and less bright.
Storage
Once the chutney is frozen, it can be kept in an airtight container for over three months. Before using, defrost in the fridge overnight, or at least a couple of hours before using.
Top tip
Roughly chopping the coriander and chillies before blending helps to puree faster, which helps retain the bright colour.
📖 Recipe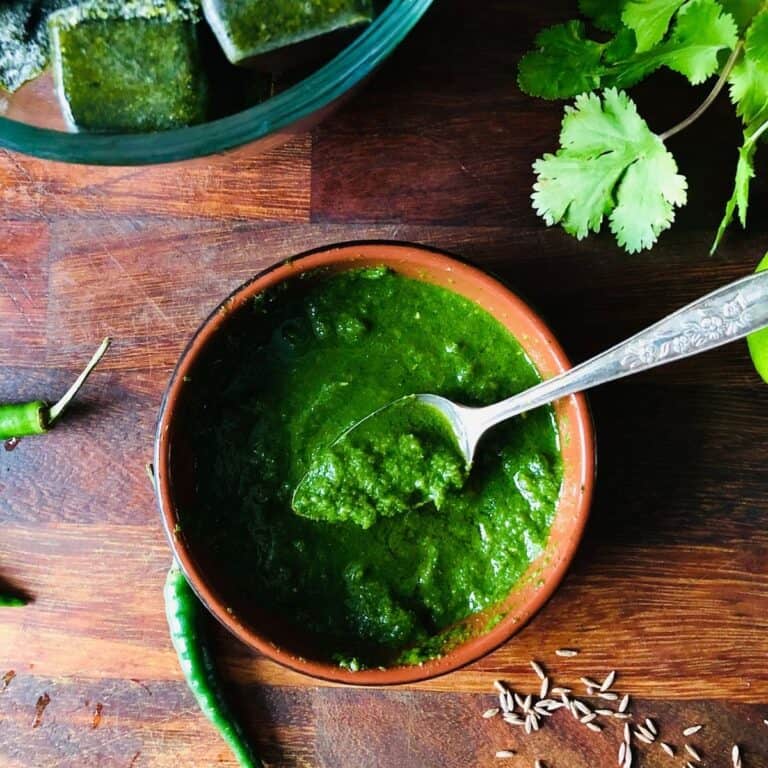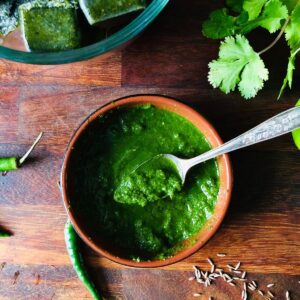 Coriander and Chilli Chutney
Fresh coriander and chilli chutney, also known as dhania ki chutney
Ingredients
200

gms

Fresh coriander

36

gms

Fresh green rocket chillies

3-4

nos

Limes

Juice

Kala namak

to taste

1

teaspoon

Roasted cumin powder

200

ml

Water
Instructions
Wash and pat dry the coriander and the chillies.

Roughly chop the coriander leaves and stems and also the green chillies.

Add the coriander, chilli and water to a blender and blend till you have a fine puree.

Transfer the puree to ice trays and freeze.

When you are ready to use, simply defrost either the night before or a couple of hours before use.

Once defrosted, add lime juice, kala namak, and cumin powder and mix well. Adjust seasoning if required and serve.

For about 50 gms or two cubes of chutney puree, you will need about ¼ teaspoon of salt, a pinch of cumin powder and the juice of half a lime.

Give it a good mix and your chutney is ready.
Food Safety
In a professional kitchen, food hygiene and safety are top priorities, and from the beginning of my training, I practised good habits and routines. Of course, practising good food hygiene and safety at home is also essential. Here are some fundamental practices to adopt in the kitchen.
Wash your hands regularly while preparing, handling and cooking food.
Wipe down countertops and high-contact points regularly.
If you cook meat and fish, do not use the same utensils on cooked food that previously touched raw meat. Use separate chopping boards for meat and fish. Wash your chopping boards immediately after use.
Thoroughly cook food to a minimum temperature of 165 °F (74 °C).
Don't leave food at room temperature for extended periods (more than 2 hours).
For more details regarding food hygiene and safety in the home, visit the UK Government's Food Standards Agency webpage.