Wild garlic season means lots of wild garlic recipes in one go. The season is short, so if you want to enjoy the flavour way past the growing season, you need to make this sauce. This wild garlic chilli sauce recipe is one of those minimum effort / maximum taste recipes, so there is little not to like here. This recipe is a take on my mother's garlic sauce recipe. It would be best if you had wild garlic, green chillies, apple cider vinegar, and a blender.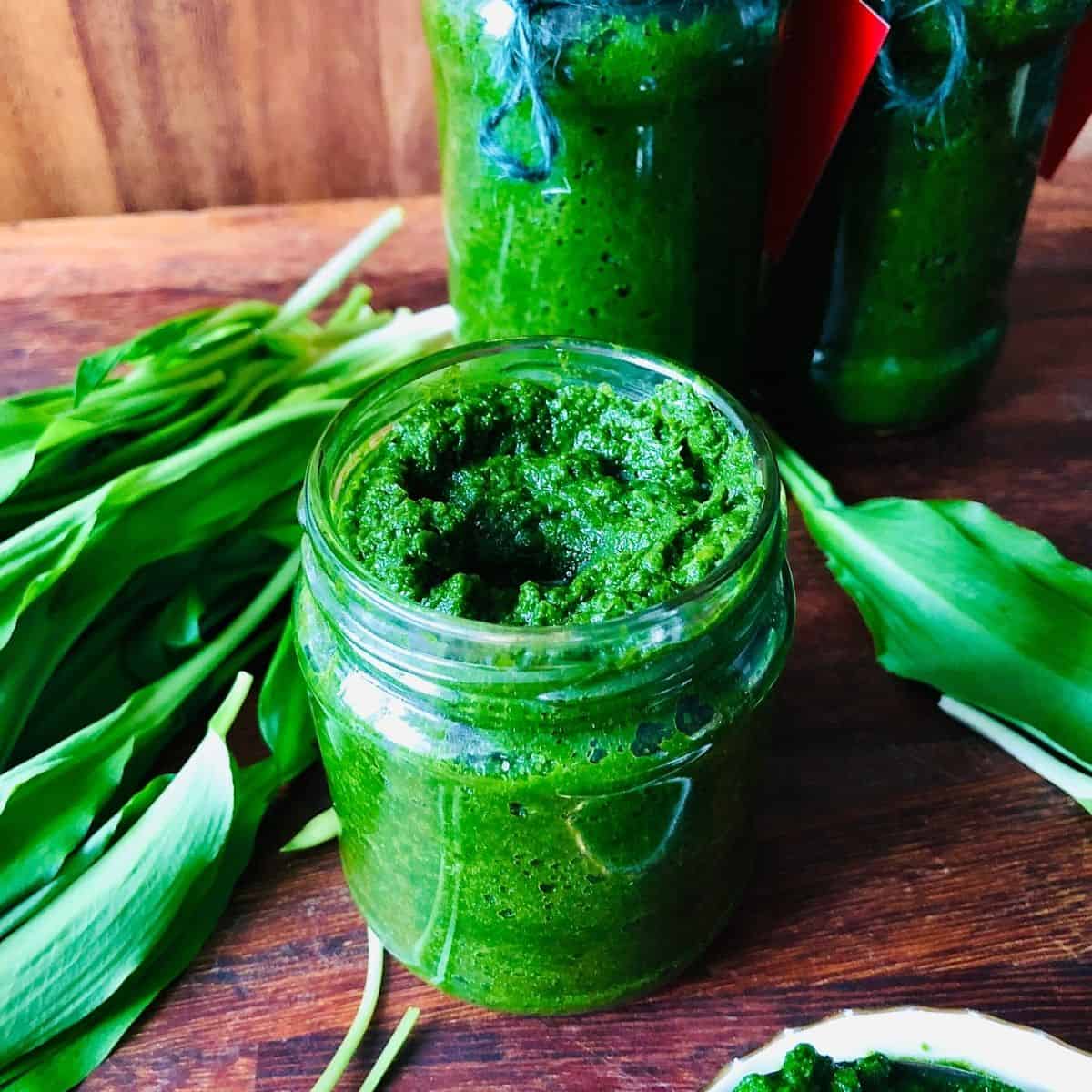 This sauce is a versatile sauce that can be spread on toast or added to pasta, put in your stew.
The wild garlic growing season will end soon (mid-May time), so be sure to get out there and gather as quickly as possible. To learn more about wild garlic, visit my noodle soup with a foraged wild greens recipe.
Do you like this sauce? Take a look at my salsa verde made with foraged greens. My wild garlic chilli oil is another great flavour enhancer for your favourite dishes
Jump to:
Ingredients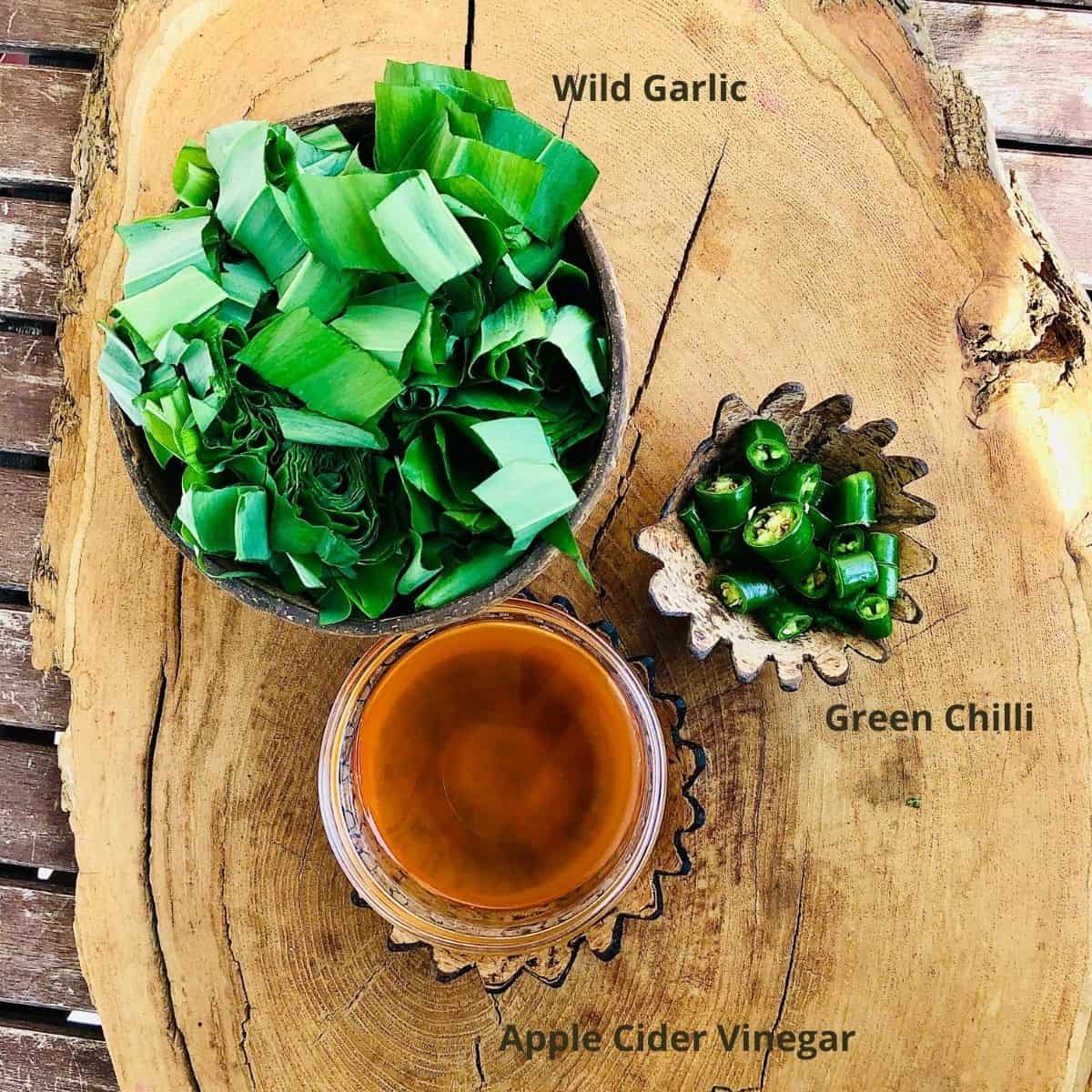 Wild Garlic
Serrano Green chilli
Salt
See the recipe card for quantities.
Instructions
Before you make this wild garlic chilli sauce, sterilise the jar you will store it in. I use old jam jars. Preheat your oven to 100ºC. Wash the jars in hot soapy water and then place them in the oven for at least thirty minutes. This processs will help stop the sauce from going mouldy too quickly.
Prepare your ingredients. Wash and pat dry the wild garlic. Then roughly chop it.
Also, roughly chop the green chilli, seeds included.
Then put the chopped wild garlic and green chillies into a blender and the salt and apple cider vinegar.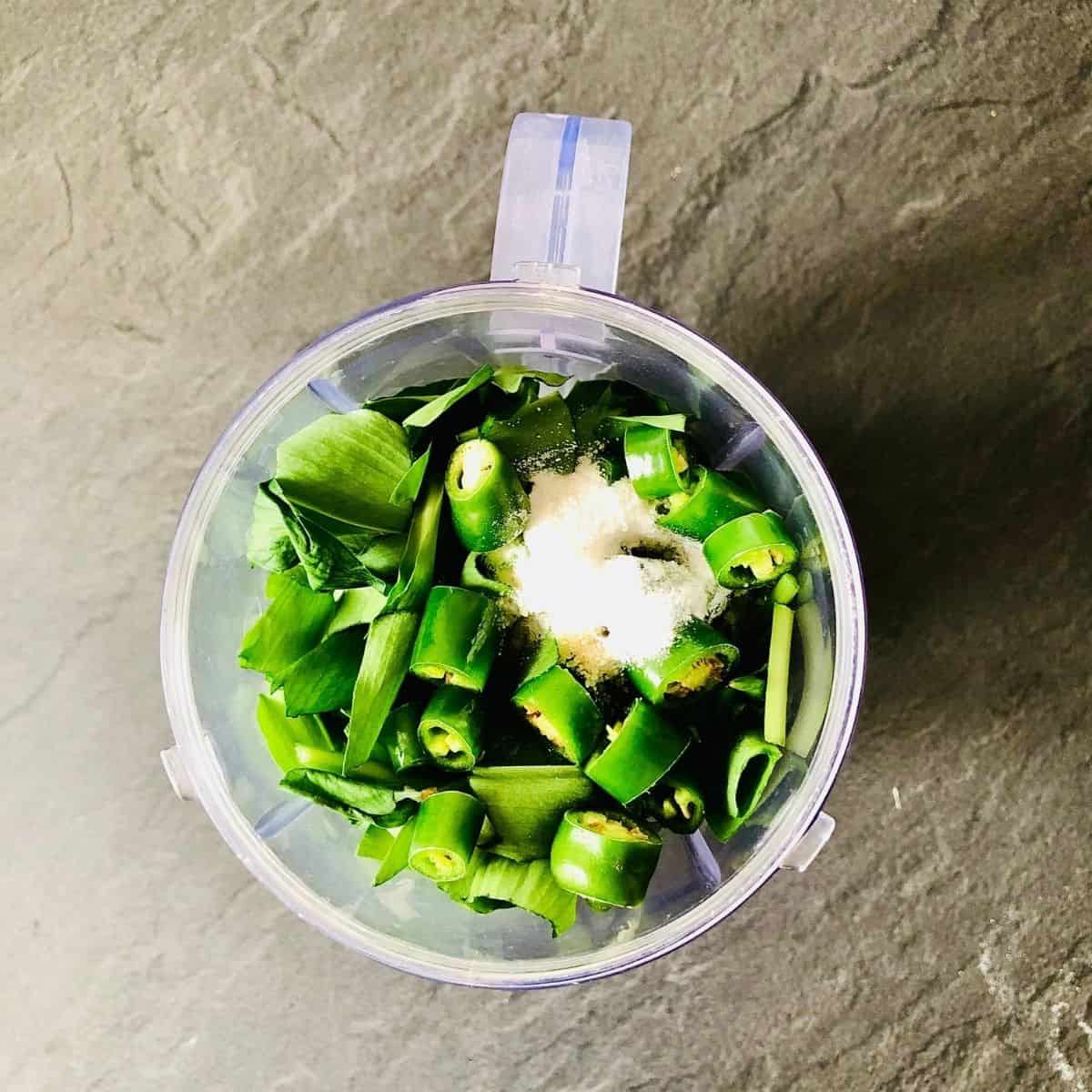 Then blend.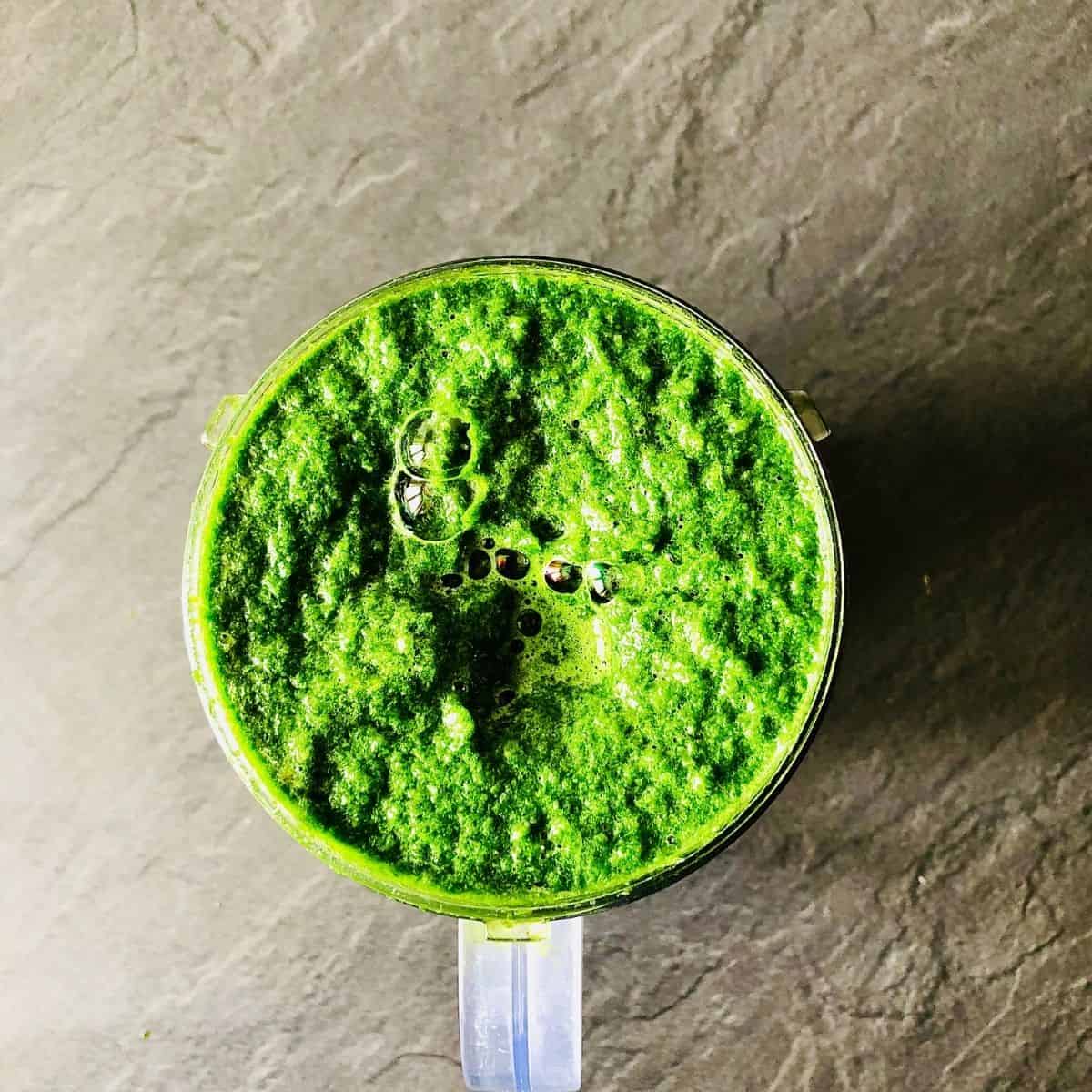 It's as simple as that! Transfer the sauce into the sterilised jars to store.
How To Video
Here is a video guide to making wild garlic chilli sauce.
Substitutions
Instead of apple cider vinegar, you can use white wine vinegar or white vinegar.
If you like your sauce hot, you can use half the amount of finger green chillies and half serrano chillies.
Equipment
Having a good blender is essential to making this sauce.
Storage
If the bottles are correctly sterilised, you can store this sauce for a year. Just make sure you use a clean dry spoon every time you use some of the sauce.
Top tip
Don't ignore the sterilisation process of your jars. If you place the sauce into unsterilised jars, there is a real danger of quickly forming mould.
📖 Recipe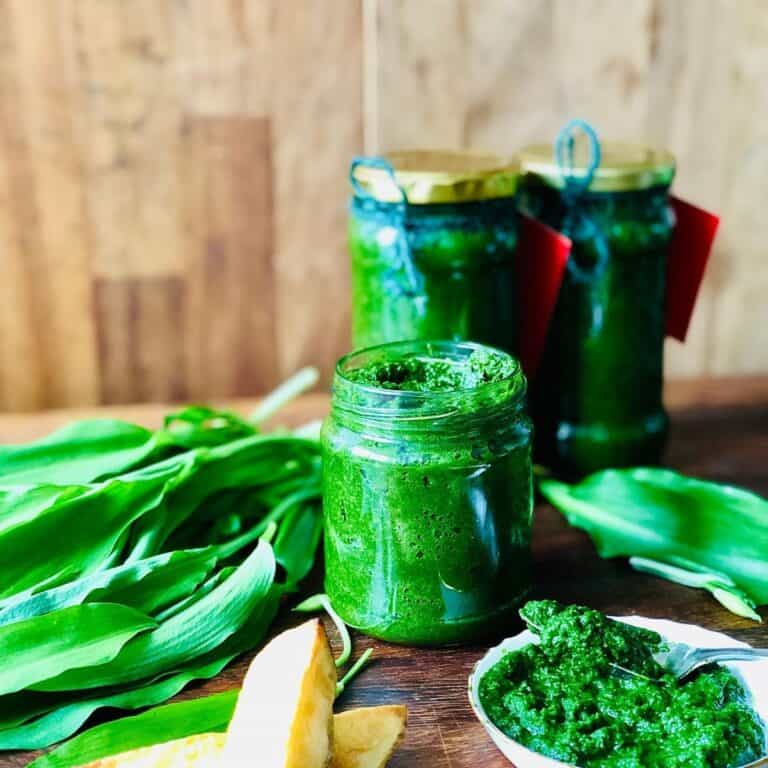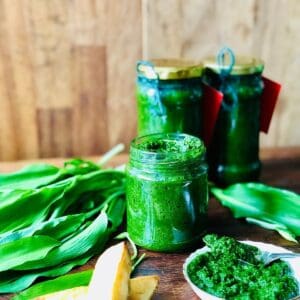 Wild Garlic Chilli Sauce
A very simple sauce made with three main ingredients. Wild garlic, green chilli and apple cider vinegar.
Equipment
Blender or Food processor
Ingredients
330

gms

Wild garlic

135

gms

Serrano green chilli

Usually sold in supermarkets as the green chilli with no name

150

ml

Apple cider vinegar

2

teaspoon

Salt
Instructions
Wash two 300 ml glass jars and lids in hot soapy water. Place the bottles in an oven for at least 30 minutes to sterilise.

Wash and pat dry the wild garlic and roughly chop.

Wash and pat dry the green chillies and roughly chop with the seeds.

Add the wild garlic, chillies, salt and apple cider vinegar to a blender and blend till you have a smooth puree.

Once the bottles have been sterilised and cooled, transfer the sauce into the bottles and refrigerate.
Food Safety
In a professional kitchen, food hygiene and safety are top priorities, and from the beginning of my training, I practised good habits and routines. Of course, practising good food hygiene and safety at home is also essential. Here are some fundamental practices to adopt in the kitchen.
Wash your hands regularly while preparing, handling and cooking food.
Wipe down countertops and high-contact points regularly.
If you cook meat and fish, do not use the same utensils on cooked food that previously touched raw meat. Use separate chopping boards for meat and fish. Wash your chopping boards immediately after use.
Thoroughly cook food to a minimum temperature of 165 °F (74 °C).
Don't leave food at room temperature for extended periods (more than 2 hours).
For more details regarding food hygiene and safety in the home, visit the UK Government's Food Standards Agency webpage.