Chutneys are an integral part of Indian food, providing many flavour options to accompany dishes and are usually freshly prepared with no preservatives. The word chutney derives from the Hindi "chatna", which means to lick. Chutneys are a burst of flavour and are undoubtedly lip-smacking! Many different types of chutneys exist. Chutney is often associated with fruit; however, its diversity goes far beyond this. Sonth ki chutney, or sweet tamarind chutney recipe with dry ginger and spices, is one of the most popular dipping sauces in Indian cuisine. It's tangy, full of flavour, and a must-have with samosas, chaat, and even sandwiches. It's straightforward to make, and the best part is if kept in a sterilised bottle, it can last over a year.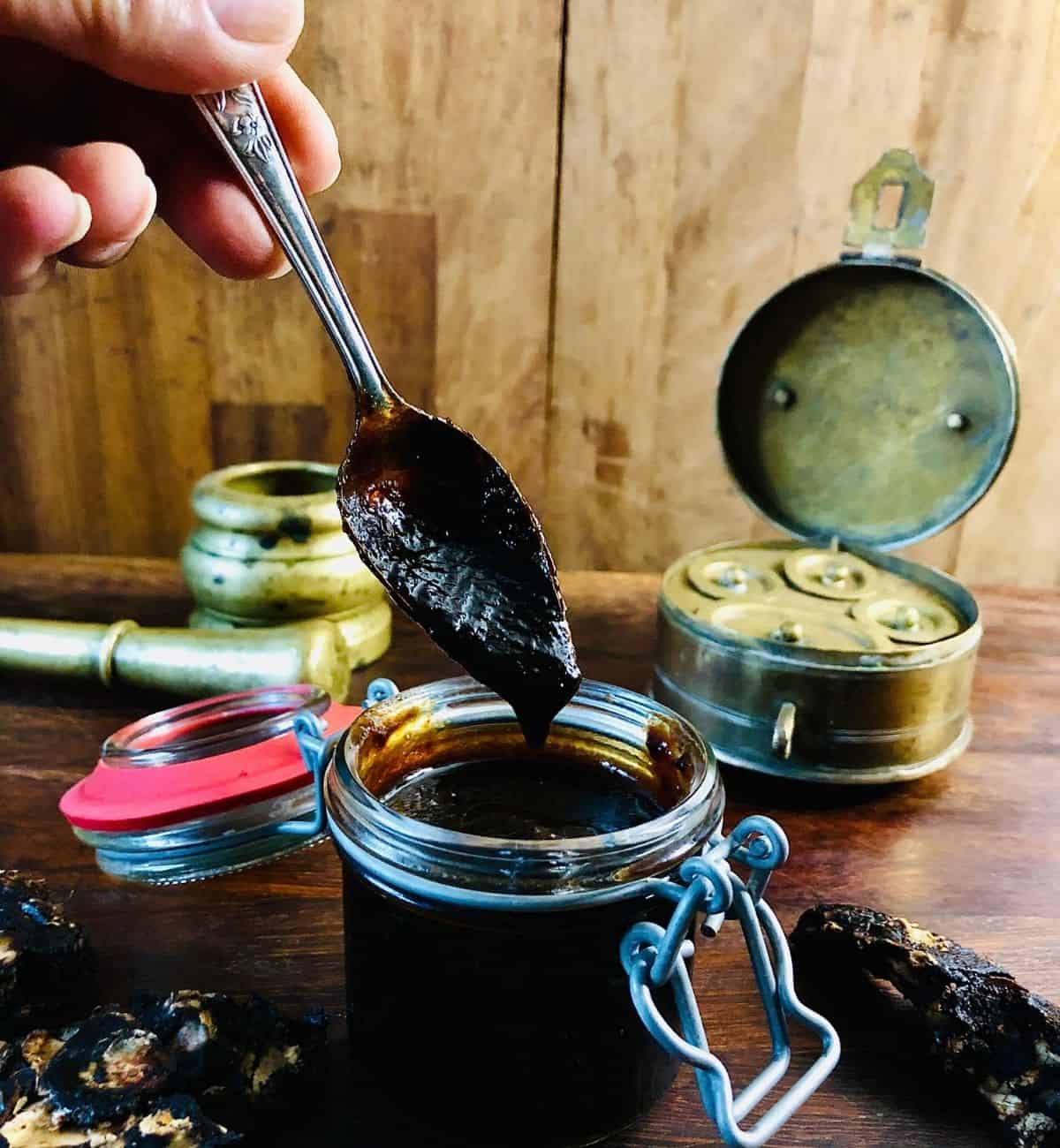 If you are keen to build up a range of sauces to have to hand, then try the following recipes:
This chutney is a great addition to my broccoli fritters and pinwheel samosa.
Jump to:
Ingredients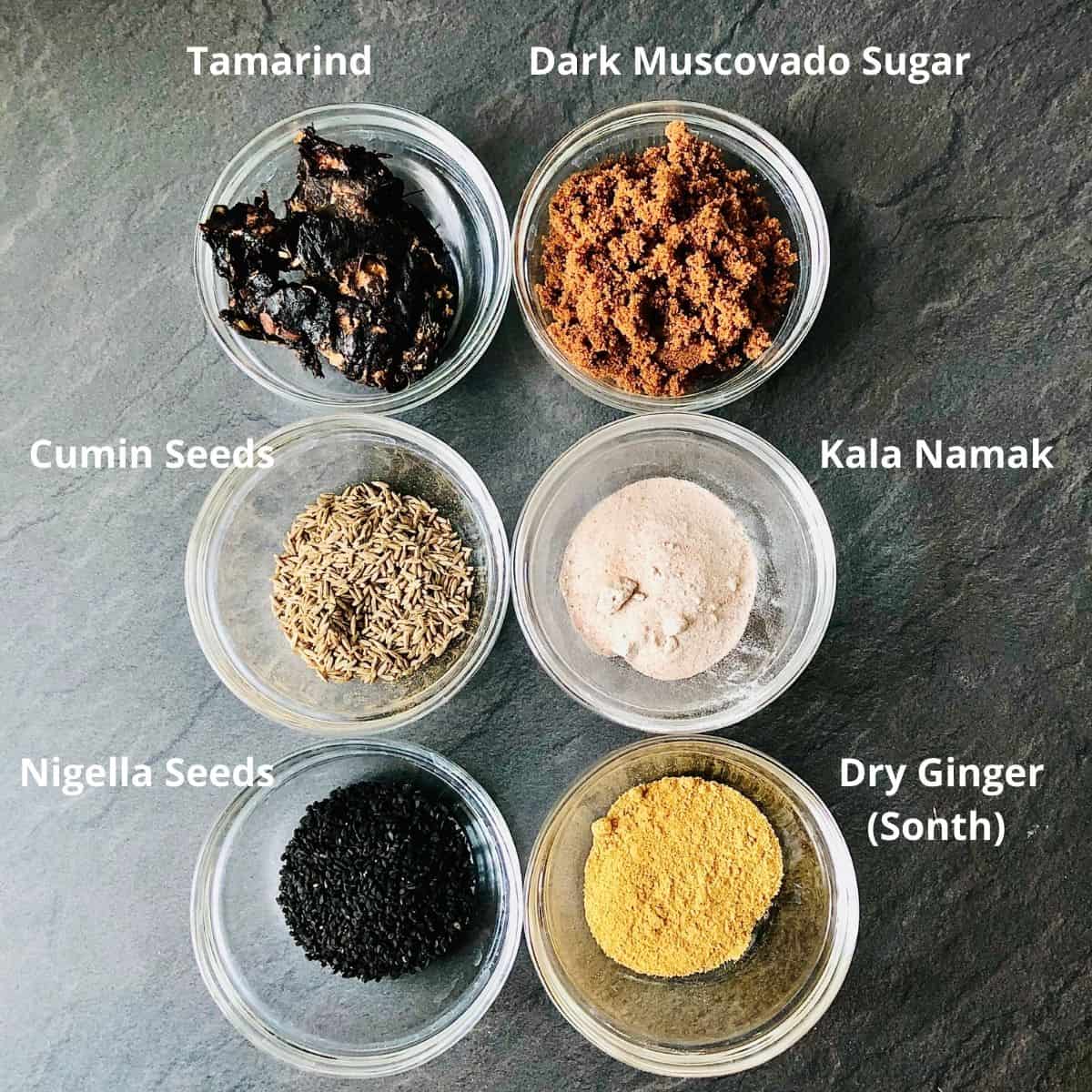 Dried Tamarind
Dark muscovado sugar
Kala namak
Dry ginger powder (sonth)
Nigella seeds
Cumin seeds
See the recipe card for quantities.
Sonth is dry ginger powder. Pieces of ginger are dried in the sun for a week and then ground to a powder. Of course, you don't need to go to this trouble for this chutney recipe. You can find dried ginger powder in a shop.
Tamarind is a popular ingredient in Asian cuisine. It is the seed pod of the tamarind tree, and the pulp from the pod provides a sweet and sour flavour to a dish.
Instructions.
Sterilise the glass containers in which you intend to store the tamarind: Wash them in warm soapy water and then place them in the oven at 100ºC for thirty minutes.
The tamarind will need to be soaked for a couple of minutes to soften it. Add it to a bowl, pour over 100ml of building water, and set aside.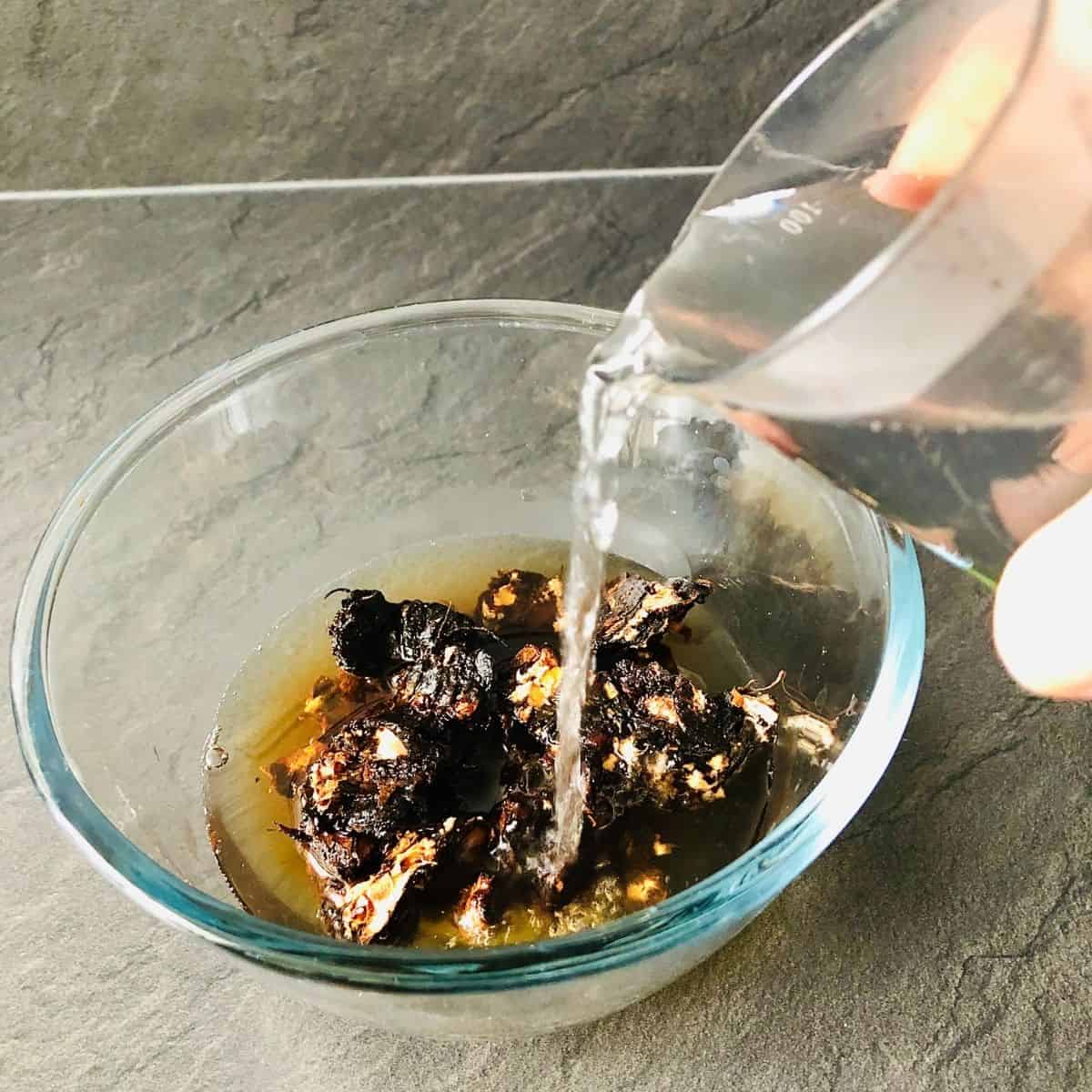 Strain the tamarind liquid with a sieve and squeeze the pulp to extract as much liquid as possible.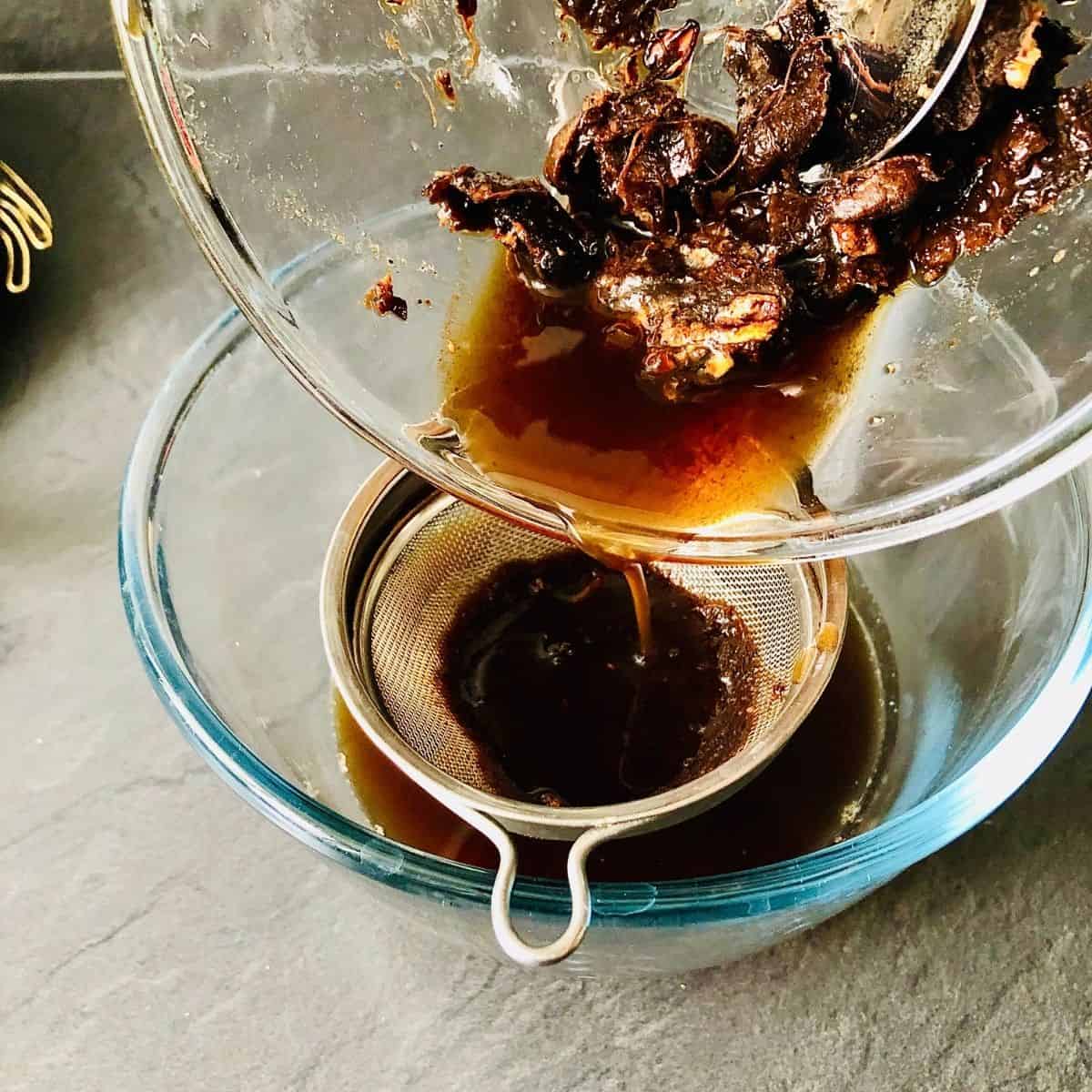 Place the pulp into the bowl again and add a further 100ml of boiling water. Mix well and pass through a sieve and again, squeeze out as much juice as possible.
Repeat this process two more times. Discard the pulp when complete.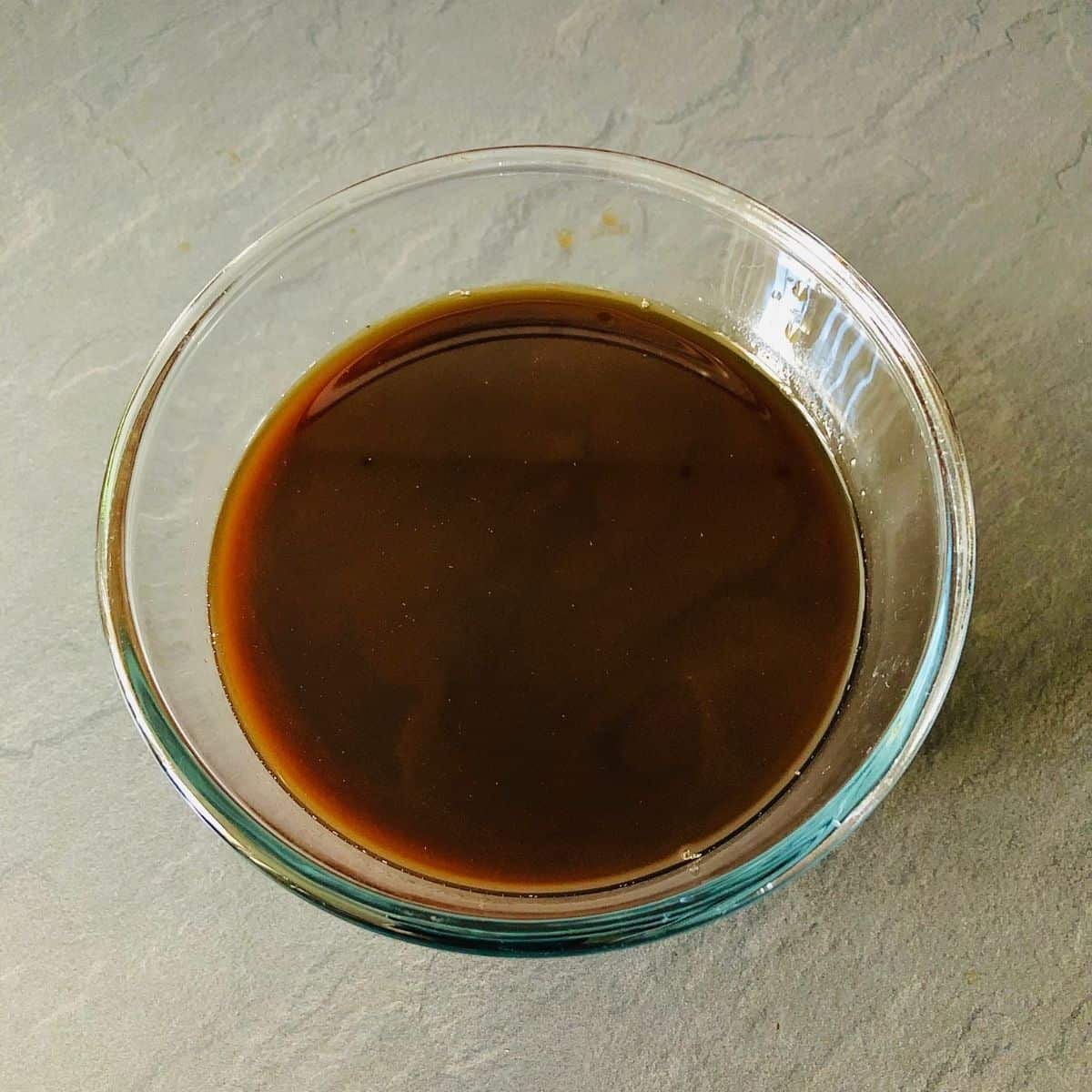 Add the collected tamarind liquid to a pan and bring it to a rapid boil.
Add the sugar, mix, and turn the heat down to a simmer. Reduce the tamarind juice for about five minutes.
Add the kala namak and the dried ginger (sonth) and continue to simmer and reduce further until you achieve a syrup consistency.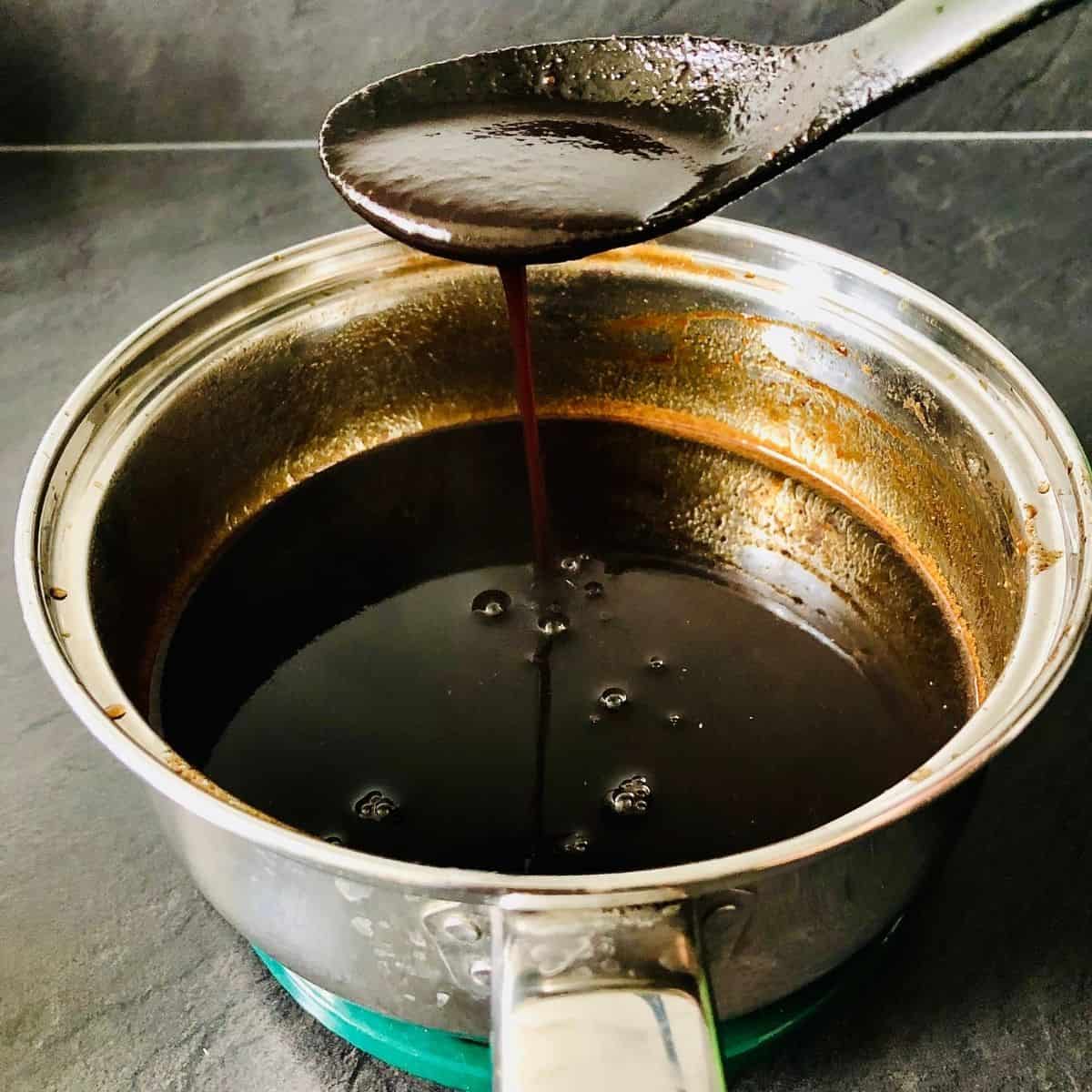 Now add the spices. First, you need to bloom them so that they release their fragrance. In a small pan, heat the oil over high heat. Add the cumin seeds and the nigella seeds and cook until they pop and change colour - only about thirty seconds. Please be careful not to burn the seeds.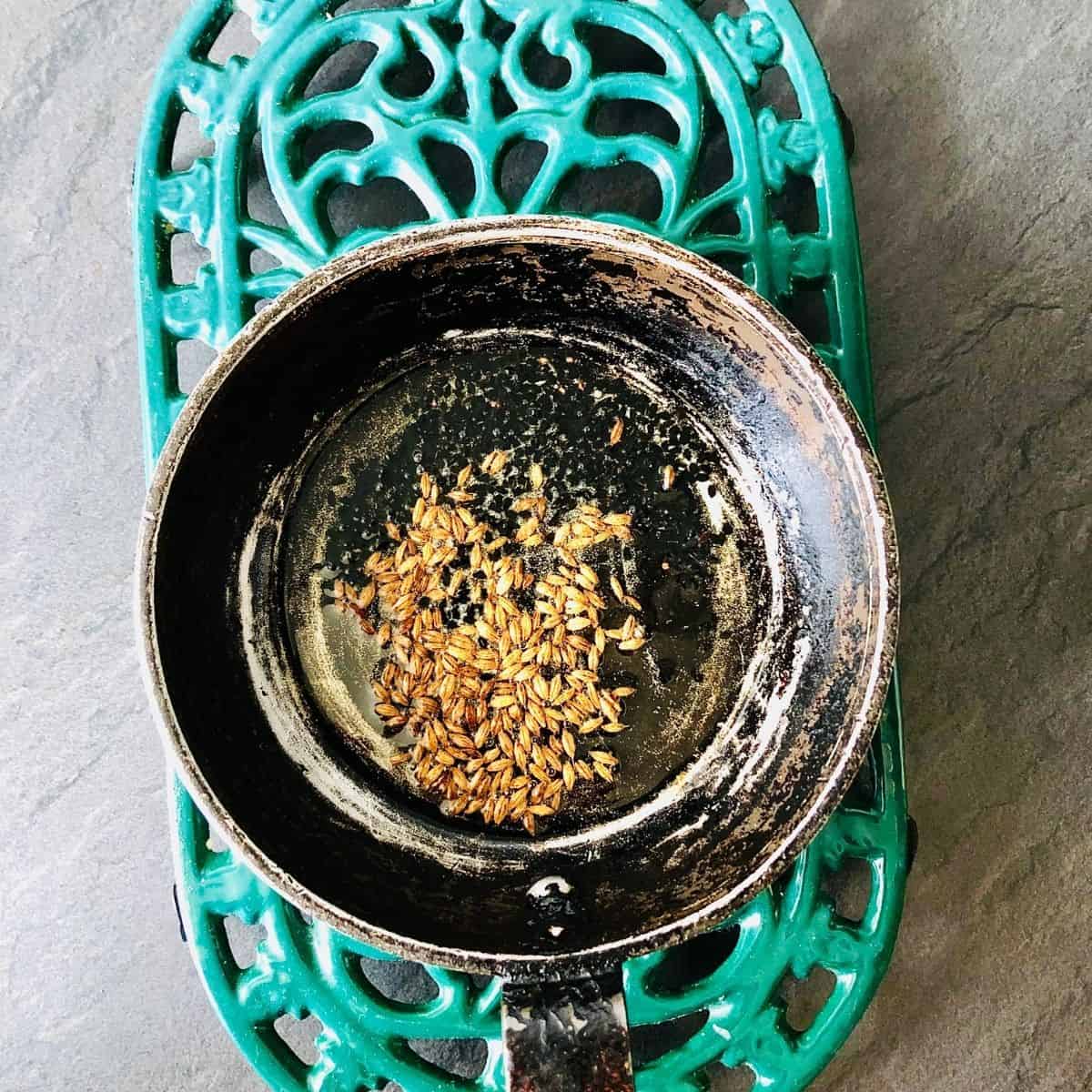 Remove from the heat and then add to the tamarind syrup. Mix well.
Transfer to the sterilised containers.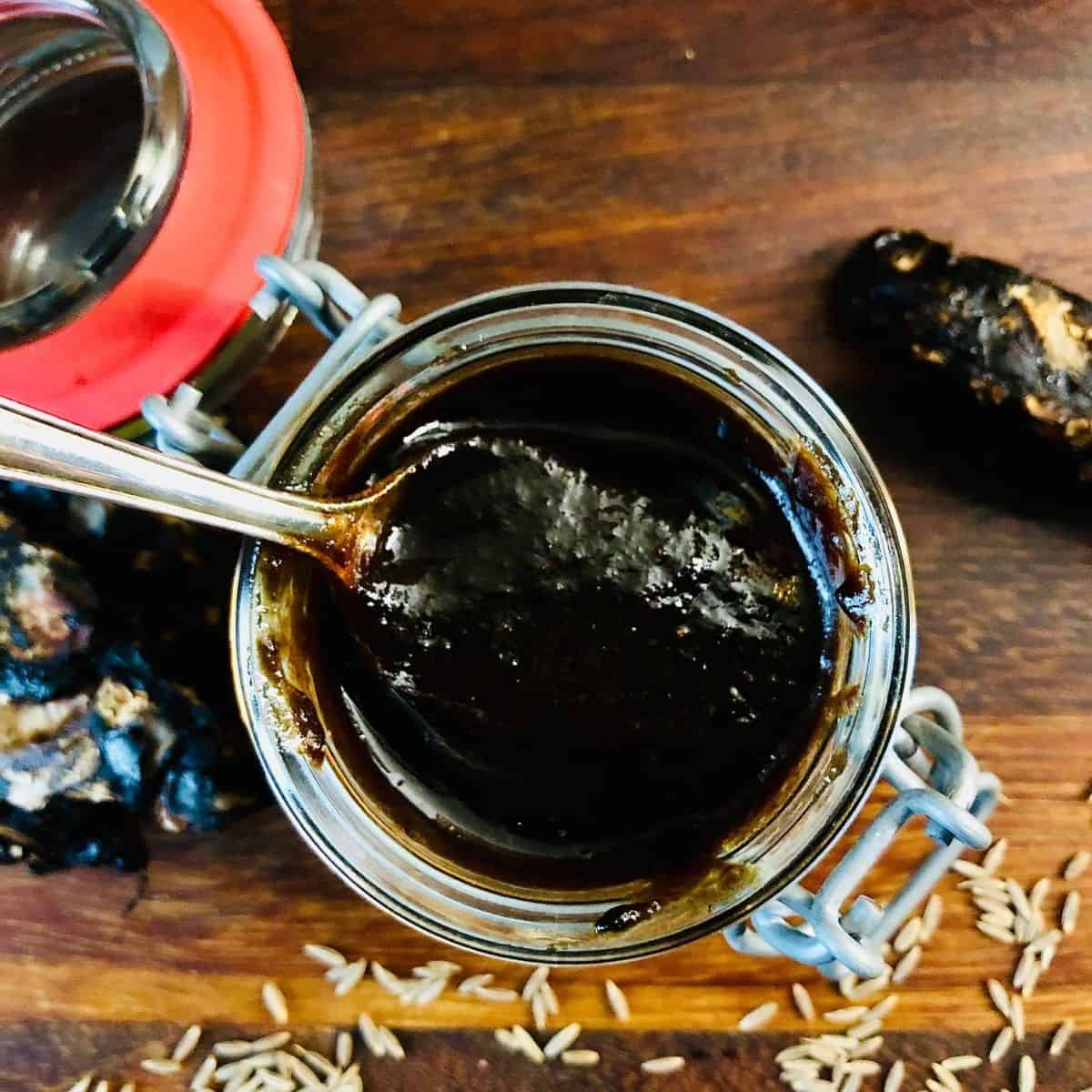 How-To Video
Here is a video guide to making this Sonth ki chutney recipe.
Substitutions
The sweetener can be to your choice and availability. You can use palm sugar, jaggery, demerara or castor sugar instead of muscovado sugar. You may need to adjust the amount depending on what you plan to use.
Tamarind pulp can be used instead of dry tamarind; add a small amount of water. You will not need to boil it or simmer it for long as the tamarind pulp or paste is quite thick.
Variations
If you don't like the flavour of ginger, You can make this chutney without it. Then it will be imli or tamarind chutney instead.
Equipment
I always recommend a digital scale for measurements as it's 100% accurate.
Storage
Please make sure you sterilise the container before pouring the chutney into it. Using a clean spoon each time will help ensure that this chutney will keep in the fridge for about a year.
Top tip
When tempering the spices, have everything to hand because the process is rapid, and any delay may result in the spices burning.
📖 Recipe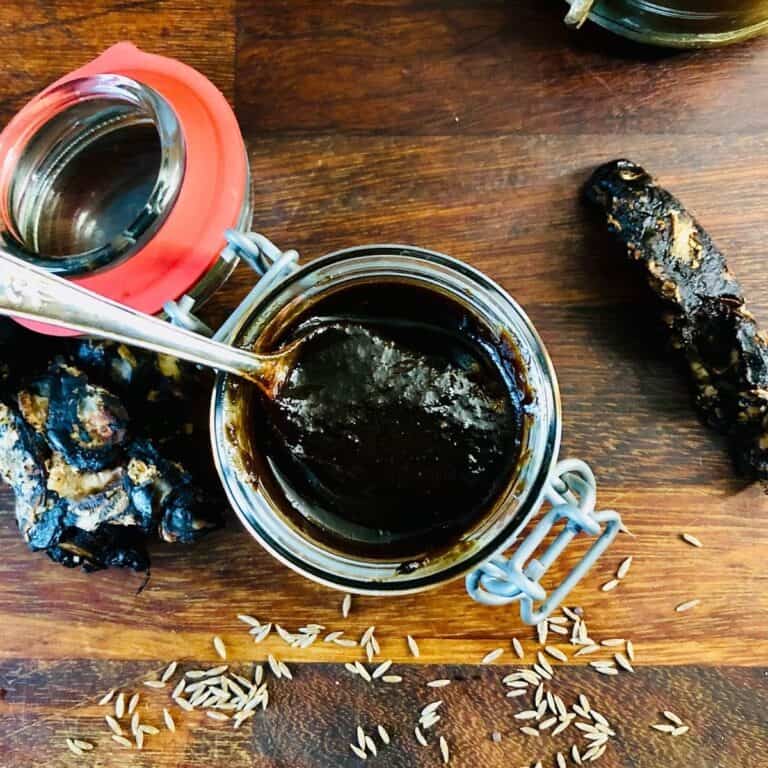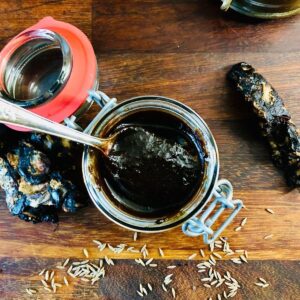 Sweet Tamarind and Dry Ginger Chutney
Sonth ki chutney: Tamarind and dry ginger. A sweet and tangy chutney
Equipment
Digital scales

Measuring spoons
Ingredients
60

gms

Tamarind

Dry

400

ml

Water

60

gms

Dark muscovado sugar

½

teaspoon

Kala namak

¼

teaspoon

Nigella seeds

¼

teaspoon

Cumin seeds

1

teaspoon

Dry ginger powder

1

tsp

Oil
Instructions
In a bowl add tamarind and pour over 100 ml of boiling water. Set aside for a couple of minutes to soften.

Strain the tamarind liquid and press the pulp to extract as much liquid as possible.

Put the tamarind pulp back into the bowl and add another 100 ml of hot water. Mix and again, pass through the sieve to separate the liquid, and squeeze the pulp to extract more liquid

Repeat this process two more times using 100 ml of water each time. Then discard the remaining seeds and pulp.

Add the tamarind liquid into a pan and bring to a rapid boil.

Add the sugar and reduce to the heat to a simmer and allow the tamarind liquid to reduce for about five minutes.

Add the dry ginger powder and kala namak and continue to simmer and reduced to a syrup consistency.

Remove from heat and set aside.

In a small pan heat the oil over a high heat. When the oil is hot, add the cumin seeds and the nigella seeds. Once theY crackle and change colour (usually no longer than thirty seconds), remove from heat and add to the tamarind syrup. Mix well.

Transfer into sterilised bottles. The chutney is ready for use.
Food Safety
In a professional kitchen, food hygiene and safety are top priorities, and from the beginning of my training, I practised good habits and routines. Of course, practising good food hygiene and safety at home is also essential. Here are some fundamental practices to adopt in the kitchen.
Wash your hands regularly while preparing, handling and cooking food.
Wipe down countertops and high-contact points regularly.
If you cook meat and fish, do not use the same utensils on cooked food that previously touched raw meat. Use separate chopping boards for meat and fish. Wash your chopping boards immediately after use.
Thoroughly cook food to a minimum temperature of 165 °F (74 °C).
Don't leave food at room temperature for extended periods (more than 2 hours).
For more details regarding food hygiene and safety in the home, visit the UK Government's Food Standards Agency webpage.