When nature gives you roses, make rose harissa! The rose plant offers so much when it comes to kitchen ingredients. Summertime roses are in full bloom. Not only are they beautiful to look at and nourish our hearts, but they can also nourish our bodies too. It's been on my mind to create a rose harissa recipe for a while. I hope you agree my efforts paid off!
Harissa is a North African red chilli paste. Originally from Tunisia, like many traditional recipes, harissa will have variations, household to household. In Arabic, harissa means to crush or pound. Fortunately, we live in a modern world where we have the option not to pound by hand but use a blender! Although I do think it would taste better if we did pound it by hand, let's leave that for another time!
From working with various chefs from North Africa and the Middle East down the years, this rose harissa recipe is inspired by what I learned from them. My variation is the addition of rose petals. It is easy to prepare at home.
Jump to: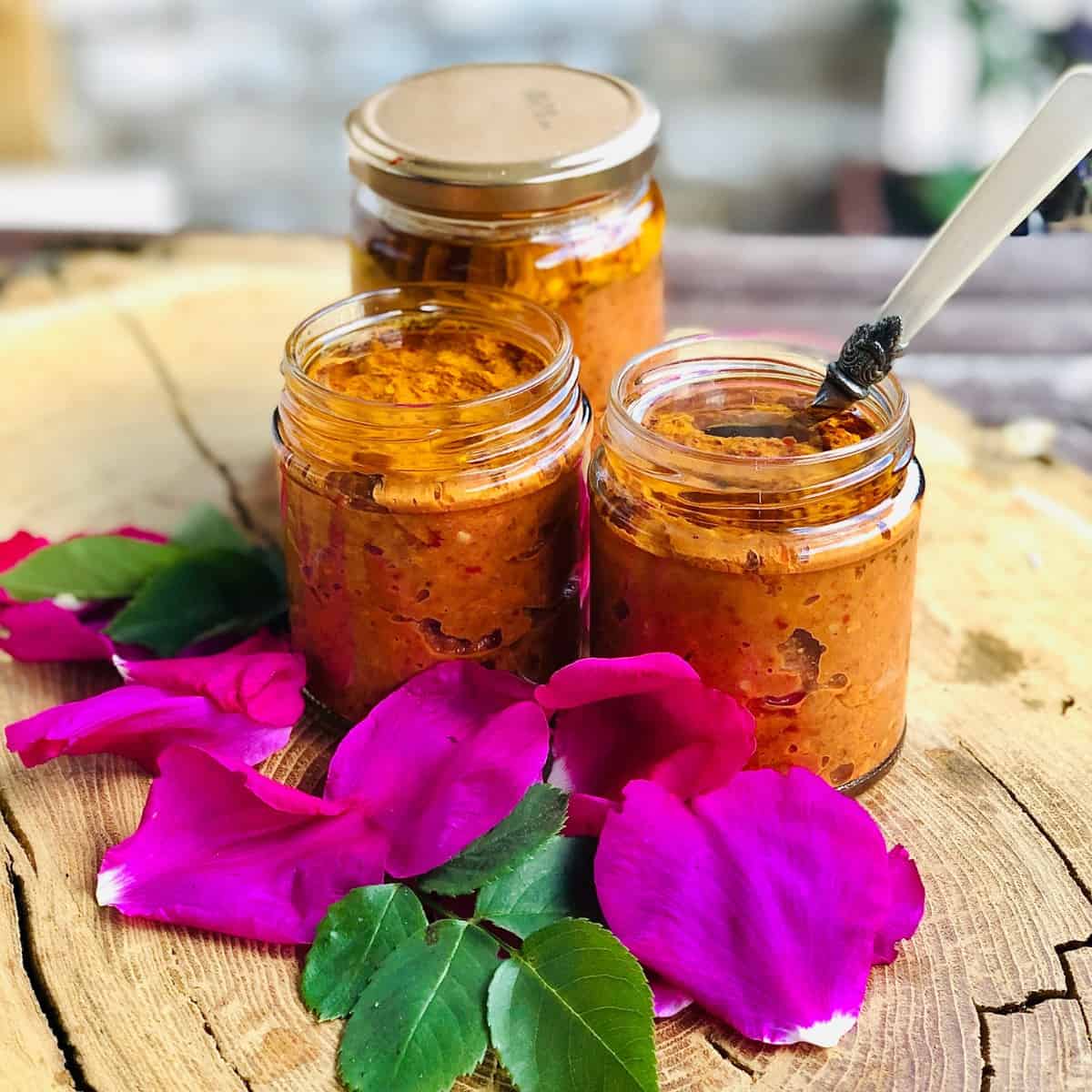 Roses: A Culinary Delight
All roses are edible. The petals and the fruit (known as rosehips) are potential ingredients in dishes. Ideally, in this harissa recipe, I would have liked to use the rosehips as an alternative to roasted tomatoes. However, rosehips come after the petals have fallen. So in this harissa recipe, I am using only the rose petals. The addition of rose petals to this fiery chilli paste takes off the heat a little bit and adds texture.
I am surprised at how easy it is to make homemade harissa. Harissa is easily obtainable from the supermarket; however, there is always a certain satisfaction from making one's own and a reassurance from knowing what's in the finished product.
For this recipe, I foraged the wild roses that grow along hedgerows, and the majority of the petals I gathered were pale pink. Consequently, my harissa is quite a pale colour. My wish was to find more vividly coloured rose rugosa, but I didn't see enough for my recipe. Maybe next year!
Harissa has such a beautiful flavour and kick to it. I use it to flavour stews, soups, curries and even mayo. It makes a great sandwich spread as well.
Why not give my gluten-free and vegan savoury tomato and rose harissa tart recipe a go?
On a completely different note, I have used foraged wild roses to make rose water.
How-To Video
A video guide to making your rose harissa
📖 Recipe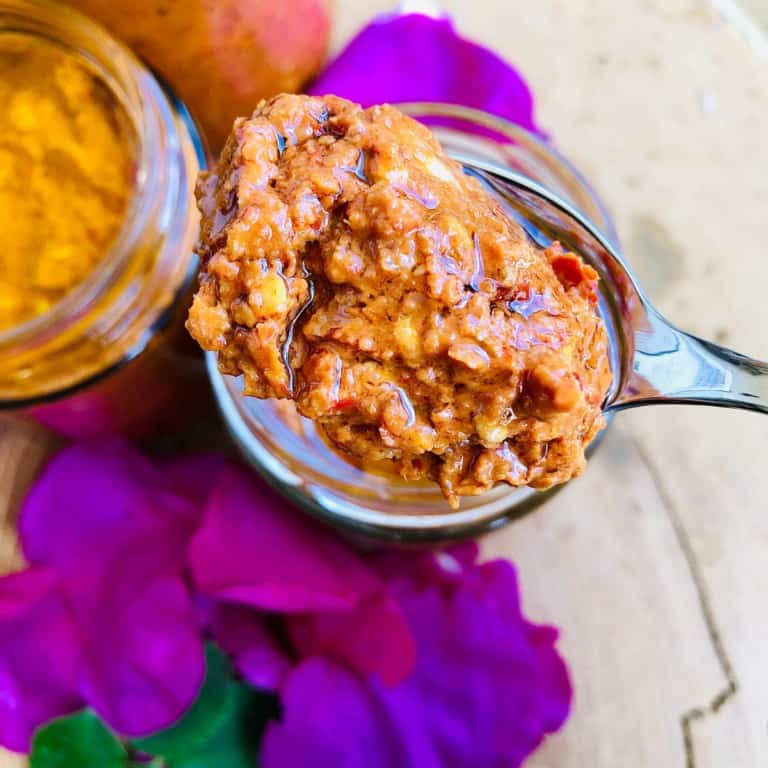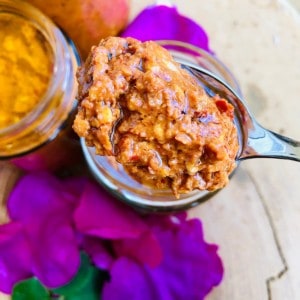 Homemade Harissa With Foraged Rose Petals
Inspired by the classic North African paste, this recipe uses foraged rose petals
Equipment
Digital scales

Jam Jars with lids
Ingredients
450

gms

Plum Tomatoes

25

gms

Garlic

unpeeled

100

gms

Rose Petals

65

gms

Kasmiri Chillies

5

gms

Cumin seeds

10

gms

Coriander seeds

8

gms

Castor Sugar

20

gms

Lemon juice

10

gms

Rose water

40

gms

Apple Cider Vinegar

60

gms

Olive oil

20

gms

Sea Salt
Instructions
Pre heat the oven to 150ºC (fan assisted)

Halve the plum tomatoes and place them on a roasting tray along with the unpeeled garlic. Drizzle a little olive oil on top of the tomatoes and roast in the oven for an hour.

Wash the rose petals to insure there are no bugs, leaves or stems and pat dry. Set aside.

In a pan over a medium heat, roast the cumin and coriander seeds for a few minutes. You will know when they are done when you smell the fragrance of the spices. Once done, immediately transfer to a plate to cool.

In the same pan over a medium heat, roast the red chillies for a few minutes. You will know when they are done when the colour changes to a deeper red and a bit brownish (see the how-to video) Once ready, transfer immediately into a bowl. Pour boiling water over the chillies and cover to hydrate. Set aside for 10 minutes.

Grind the cumin and coriander.

Once the chillies are soft, put on some gloves and remove stems and cut into half or into three. Remove some or all of the seeds if you dont want the harissa to be too hot.

Wash the jam jars with hot soapy water and leave to drain.

Once the tomatoes are ready, turn the oven down to 100ºC. Sterlise the jam jars and lids for a minimum of half an hour.

In a blender or food processor add the chillies, tomatoes, peeled garlic, salt and sugar and blend to a rough paste.

Add the rose petals, 40 gms olive oil, lemon juice, rose water and apple cider vinegar and blend to a rough paste.

Spoon into sterilised bottles, cover with a layer of olive oil and seal with the lid.
Rose Harissa Recipe Notes
You can use rose petals from your garden; make sure you haven't sprayed them with chemicals. If foraging for wild roses, as with any foraged ingredients, be mindful of the environment from which you are picking. Roadside or adjacent to sprayed fields is not ideal.
The chillies are pretty fiery, so feel free to remove the seeds as much as you want to tame the harissa. Ensure you wear gloves because the heat from the chilli can cause discomfort on the skin or if you rub your eyes!
You can use any white vinegar instead of apple cider vinegar.
You can use pre-ground spices; however, it will change the flavour. If you use pre-ground spices, do roast them for a few minutes in a pan over medium heat to allow them to release their flavour. I always like to grind my spices from the seeds, fresh.
Each time you use your harissa, be sure to use a clean, dry spoon to avoid contamination and the encouragement of mould growth. Also, make sure you cover the surface with olive oil before storing again. This one step ensures your harissa will remain mould free.
You can store your harissa for up to three months. I have kept harissa in the fridge for longer than three months, although I don't recommend doing so.
Glass jars are always better for storing preserves as they do not leach. I don't recommend plastic or Tupperware. My mother-in-law keeps me well supplied with old glass jam jars!