I first encountered bloody mary ketchup in a restaurant I once worked in. I'm a convert. I've been waiting for hawthorn berry season to arrive to test this homemade ketchup recipe.
last year I used hawthorn berries to make hawthorn ketchup and hawsin sauce and I really loved them. Following on from this, bloody mary style moves my homemade ketchup to the next level.
Jump to: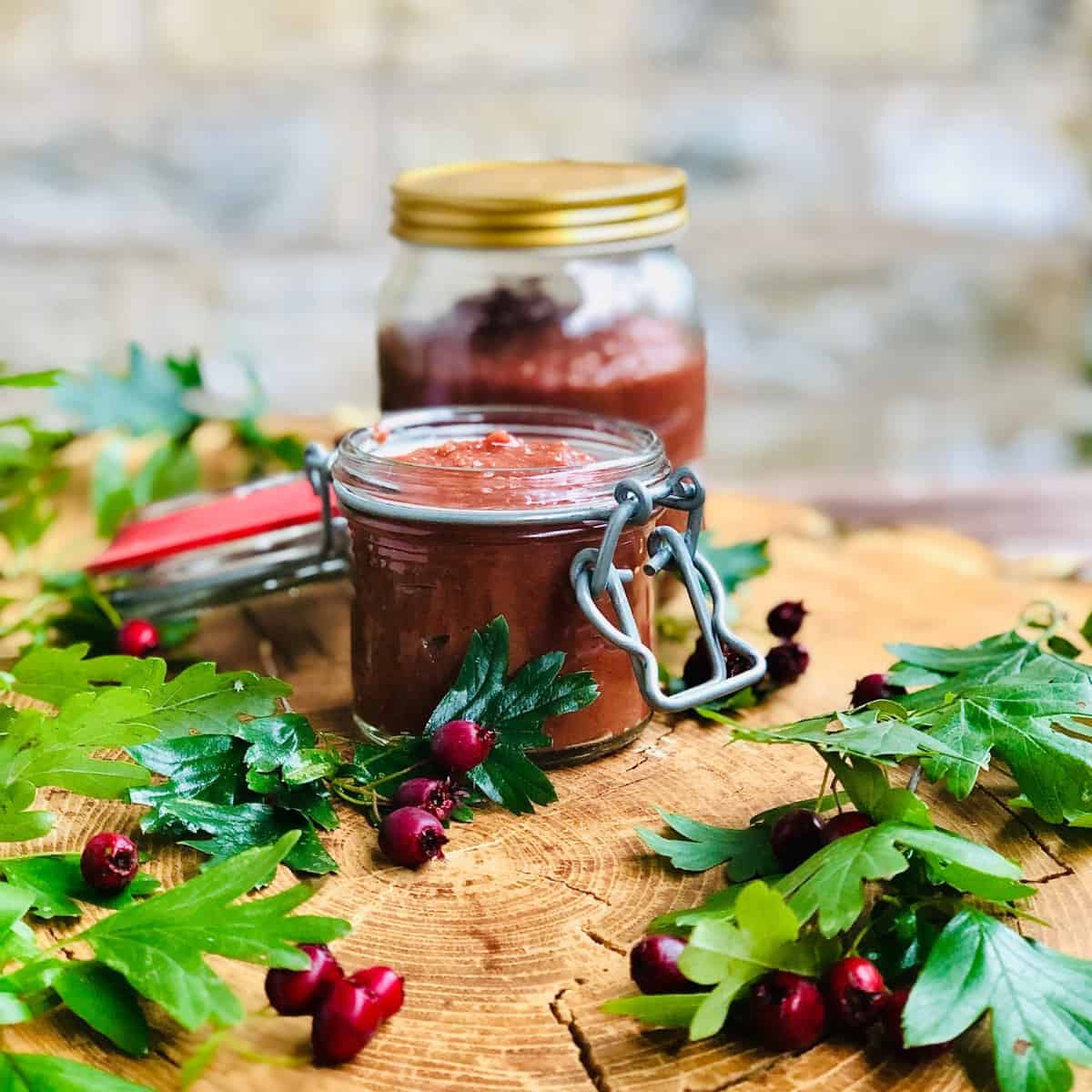 Hawthorn Berries: Good For your Heart.
Before we move to the homemade ketchup, a little bit about the virtues of hawthorn berries. These vivid red berries look like tiny apples. They are the fruit of the Hawthorn shrub / tree. Pretty, elegant flowers prelude the appearance of the berries. All-in-all, the hawthorn is a feast for the eye.
Hawthorn berries have medicinal qualities. They are famed for their benefits to the heart, and have been used for heart health across cultures and history. From native american indians to the ancient Greeks. Here is a Scientific paper researching the heart health benefit of hawthorn.
It's not surprising that that the Hawthorn has deep symbolism and meaning in folklore.
Last year my blood pressure was a bit high. So in an effort to combat this I did a bit of research and came across multiple articles about hawthorn berries ability to help heal the physical and emotional heart.
Using them in a tea, I was successful in bringing my blood pressure back to normal. Of course, one should do research before trying out wild food and never neglect seeking the help of a skilled physician. However, it is also good to discover ways to support and boost ones health and all the better if the discovery is natural and proven.
However, a little bit of indulgence is OK now and then in small helpings, so now we move to the homemade ketchup.
An Unusual Homemade Ketchup
Hawthorn berries have a subtle flavour. When cooked, the flavour becomes kind of smoky. They work perfectly as a base for a homemade ketchup or a barbecue sauce.
This homemade ketchup with hawthorn berries is a yummy change from tomato ketchup for your fries. Perhaps you may like to try them with my polenta chips or masala style sweet potato wedges. Also, you can even add it to casseroles. Its a great culinary treat, especially if you want to add unusual flavours to your cooking.
So grab your basket and off you go foraging. As always with foraging, do not ingest anything until you are very confident about its ID. Quite a few plants with red berries are out there, some of which are inedible and even poisonous to humans.
How-To Video
Here is a video guide to making your homemade ketchup
📖 Recipe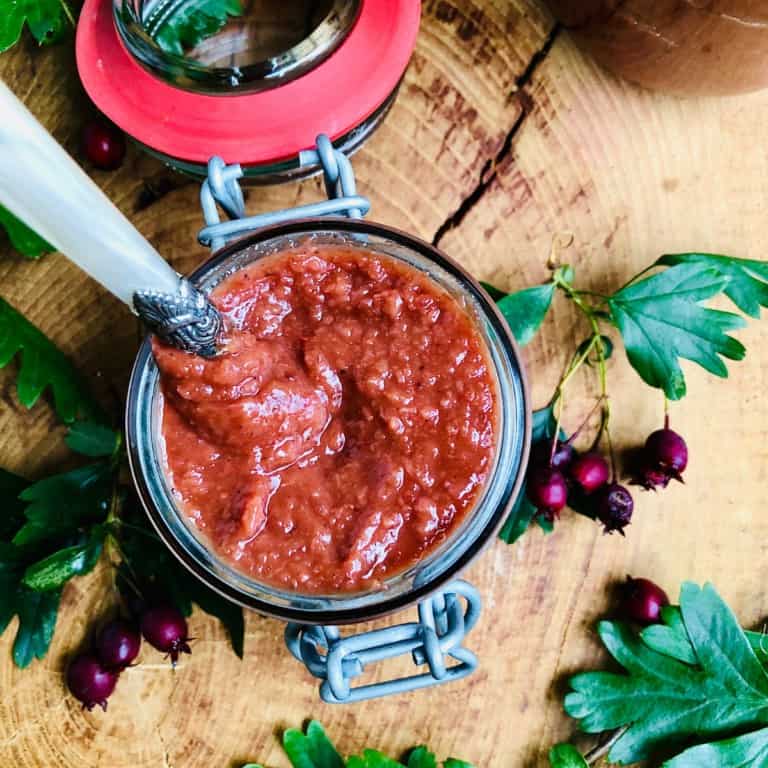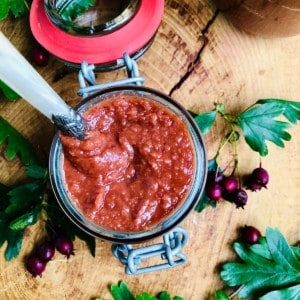 Bloody Mary Hawthorn Berry Ketchup
Want a change from tomato ketchup? Try this unusual bloody mary hawthorn berry ketchup.
Ingredients
Hawthorn Puree
500

gms

Hawthorn berries

750

ml

Water
Bloody Mary Hawthorn Ketchup
415

gms

Hawthorn berry puree

220

gms

Celery

5

gms

Garlic

3

tablespoon

Worcestershire sauce

3

teaspoon

Tabasco

2

teaspoon

Salt

5

tablespoon

Sugar

3

tablespoon

Vodka

1

tablespoon

Olive oil

1

tablespoon

Red wine vinegar

1

teaspoon

Black pepper
Instructions
Hawthorn Puree
Wash and remove the stems from berries.

Transfer the berries to a pot together with the water and bring to rapid boil.

Simmer until the berries are cooked and pulpy. They will turn a dull brown and the skins will split.

Tip the cooked berries into a colander over a clean pan and rub the berries through with a spoon, leaving the pips and skin behind.

Discard seeds and skin and set the puree aside.
Bloody Mary Hawthorn Ketchup
Sterilise two 300 ml jam jars in the oven at 100ºC for 30 minutes.

Finely chop the celery and garlic.

In a pot add the oil and sweat down celery and garlic till softened.

Add the Hawthorn berry puree and mix together.

Add the Worcestershire sauce, red wine vinegar, salt, sugar, tabasco and black pepper and cook on low heat for about 10 minutes, stirring often to prevent the mixture from sticking to the bottom.

Add the vodka and cook for a further 5 minutes or so.

Taste and adjust the seasoning and spice levels to your taste.

Blend in a blender until you have a nice chunky consistency.

Pour into the sterilised jar and store in the refrigerator.
Recipe Notes For Your Homemade Ketchup
Store this homemade ketchup in the fridge for up to a month.
If you want a homemade tomato ketchup, just replace the hawthorn berries with tomatoes and omit the berry cooking process. Add the tomatoes after the sweating of the celery and garlic.