Want a heathy snack? Then why not try my masala spiced sweet potato wedges.
Enjoy them on their own, or as a side dish to accompany a main dish. Which ever way you choose, savour their spicy sweetness as they melt in your mouth.
Sweet potatoes are a good source of fibre, vitamin C, Vitamin A, carbohydrate and antioxidants, thus they are a healthy alternative to the common potato. To keep these sweet potato wedges as healthy as possible, I use only a small amount of oil for the roasting. I also have a loaded sweet potato recipe for you to try.
By the way, the sweet potato is only a distant relative of the common potato. In fact, they are part of the bindweed family, the sweet potato being the tuberous root.
Jump to: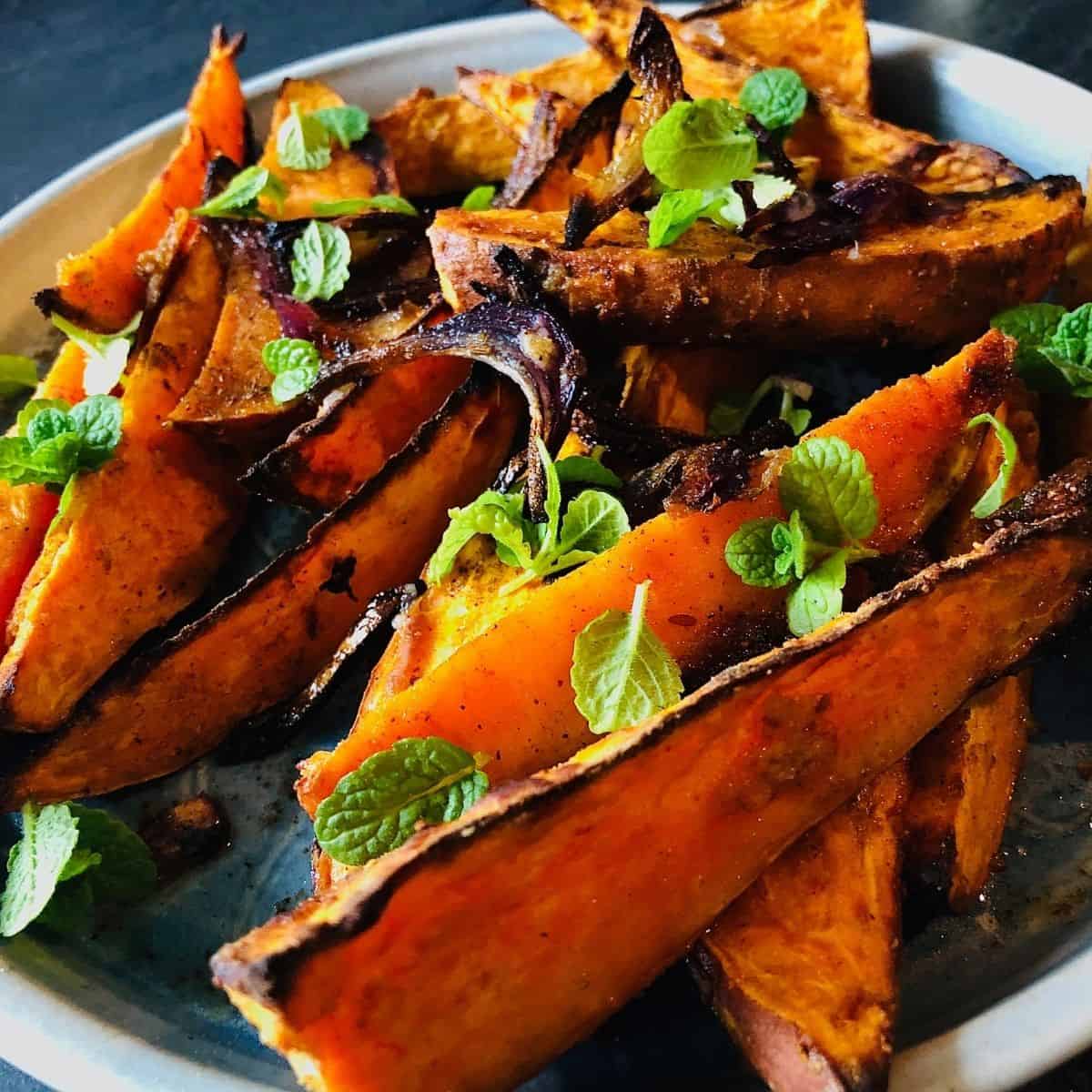 Need another snack idea? Why not try my lotus root crisps!
Spiced Sweet Potato Wedges Recipe Inspiration
I have fond memories of holiday visits to my cousins in Old Delhi. When wandering through the narrow cobbled streets, the tempting aromas from street food vendors often proved too much. We would often head for the vendor selling hot sweet potatoes with spices and lime juice.
The sweet potatoes were roasted in a mini mobile clay pot filled with hot charcoal. As a result, the sweet potatoes had a wonderful earthy flavour. To try and reproduced these earthy flavours in my recipe I use Kala namak (a rock salt), Chaat masala and mint.
Kala namak is believed to have potential health benefits such as being a digestive aid and heartburn.
This spice has the savoury umami taste. Together with sweet, salty, sour and bitter, umami is one of the five tastes, often referred to as the fifth taste.
Chaat masala spice mix is one of my favourite flavour boosters. Indeed, I call it my tangy "oomph" powder.
Typically, it contains dried mango (Amchoor), cumin, coriander, dried ginger, black pepper, asafoetida and chilli powder. roducing a tangy powder that is often added at the end when making a dish.
📖 Recipe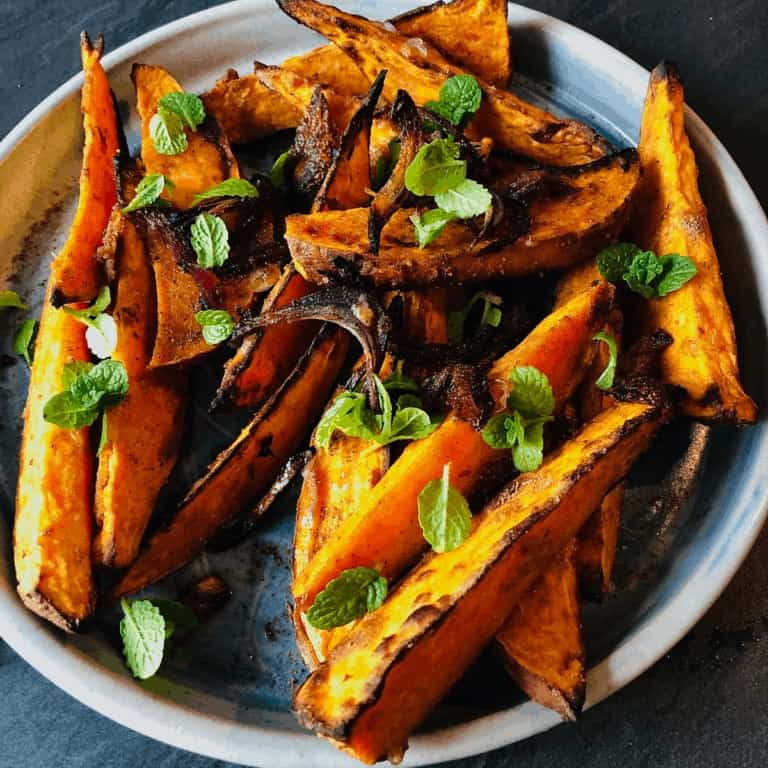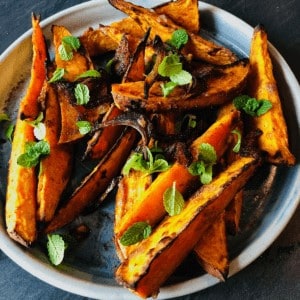 Masala Spiced Roasted Sweet Potato Wedges
Inspired by street food from Delhi, India. Perfect as a side dish for a main meal, or snack on its own.
Ingredients
700

g

Sweet potato

50

g

Red onion

1

teaspoon

Olive oil

10

g

Garlic

1

teaspoon

Cumin powder

0.5

teaspoon

Chaat masala

Juice of half a Lime

A few sprigs of Mint
Instructions
Wash and dry the sweet potato. Cut into wedges

Slice the Red onion into even size, not too thin

In a bowl, grate the Garlic and add the Kala namak, cumin powder, olive oil and sliced red onion

Add the sweet potato wedges and give it a toss, making sure the wedges are well covered

Roast the the wedges for about 20 minutes

Remove from the oven and sprinkle with with Chaat masala

Squeeze the lime juice over the wedges and garnish with mint leaves if desired
How-to Video
Click on my Youtube video below for a sweet potato wedges tutorial:
Substitutions
If you are not a sweet potato fan, you can substitute them with "real" potatoes. Remember to leave the skins on. That is where the all the flavour is.