Let's face it, we all need a quick snack now and then to get us to meal time when our stomach starts to rumble, or to enjoy when watching a movie or travelling somewhere. I have some tasty snack recipes on my blog, both savoury and sweet. Check out my savoury snacks: Patti ki chaat with nettle leaves and broccoli fritters, or my sweet snacks: stuffed dates and thandai bliss balls. In this post, I present another, unusual snack idea: Lotus root crisps. Not the most obvious choice, but please do give them a go. You may be pleasantly surprised! It is a simple recipe requiring just the lotus root vegetable, a lemon and some oil.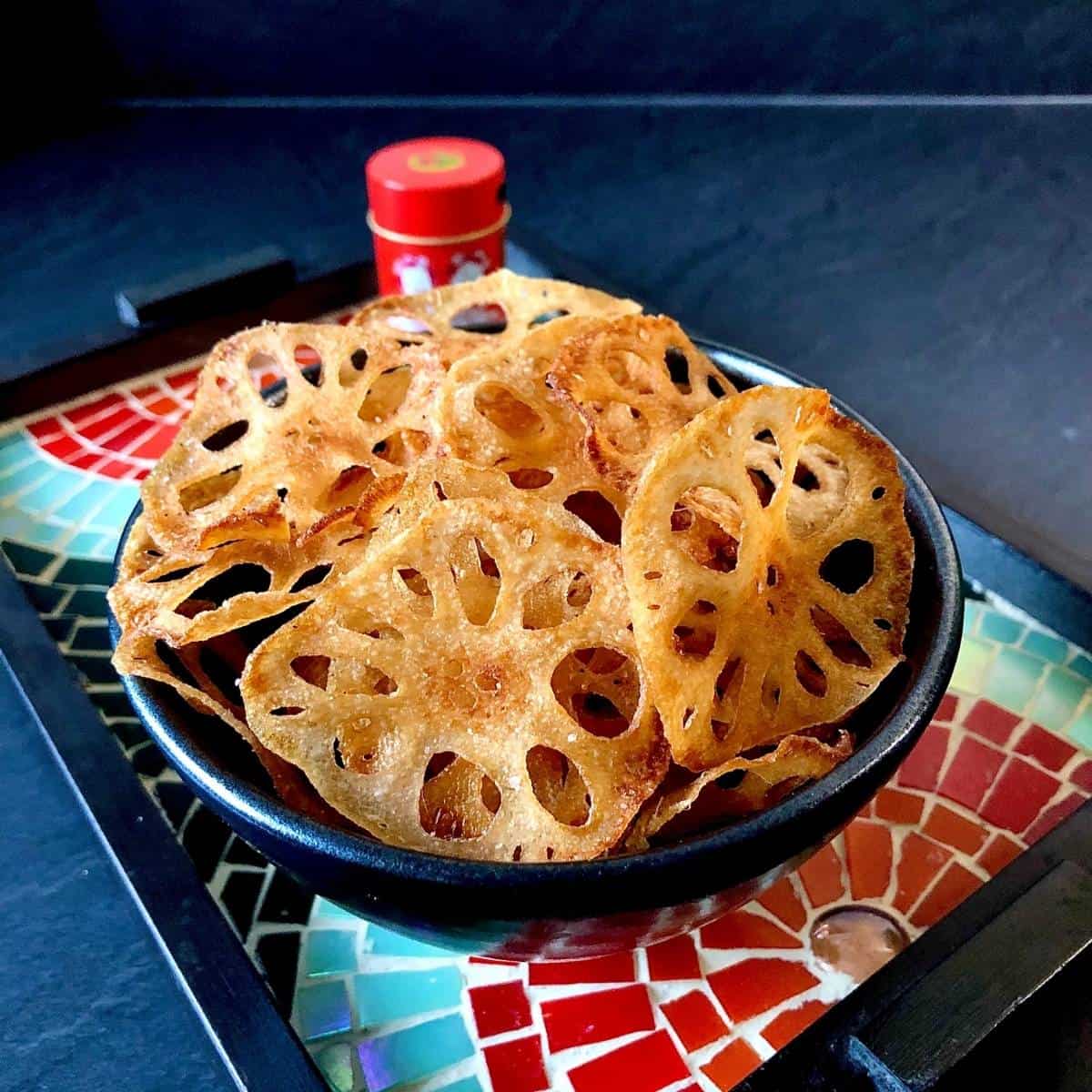 Jump to:
The Lotus: A Sacred Flower & Versatile Ingredients
Legend has it that everywhere the Buddha stepped, a Lotus flower bloomed. The beautiful, pure lotus flower sits on top of the water whilst its root grows in the mud at the bottom of the pond. The lotus growing in the muddy pond symbolises the enlightened aspect of our lives blooming from the "muddy pond" of our reality.
The Lotus is an aquatic plant native to Asia, Australia, New Guinea and some areas of the Middle East, and has been used as a food for over 7000 years. All parts of the lotus flower are edible: Its leaves, flowers, seeds, stem and root, adding various potential health benefits to recipes.
This recipe will be using the Lotus root. The lotus flower grows in shallow ponds and the root develops in the mud at the bottom of the ponds. The root is cylindrical and brown. Lotus root has a mild, sweet flavour and retains its pleasant crunchiness when cooked.
We will be frying the lotus root to produce crisps.
Lemon juice in water is used to prevent the lotus root from going brown, which can happen quickly when it is cut.
Extra flavour is added with salt and shichimi pepper. Shichimi pepper is a Japanese spice mix containing seven ingredients: coarsely ground red chilli pepper, roasted orange peel, black sesame seeds, white sesame seeds, hemp seeds, ground ginger, nori (seaweed) and poppy seeds. It is available in Asian food shops.
Ingredients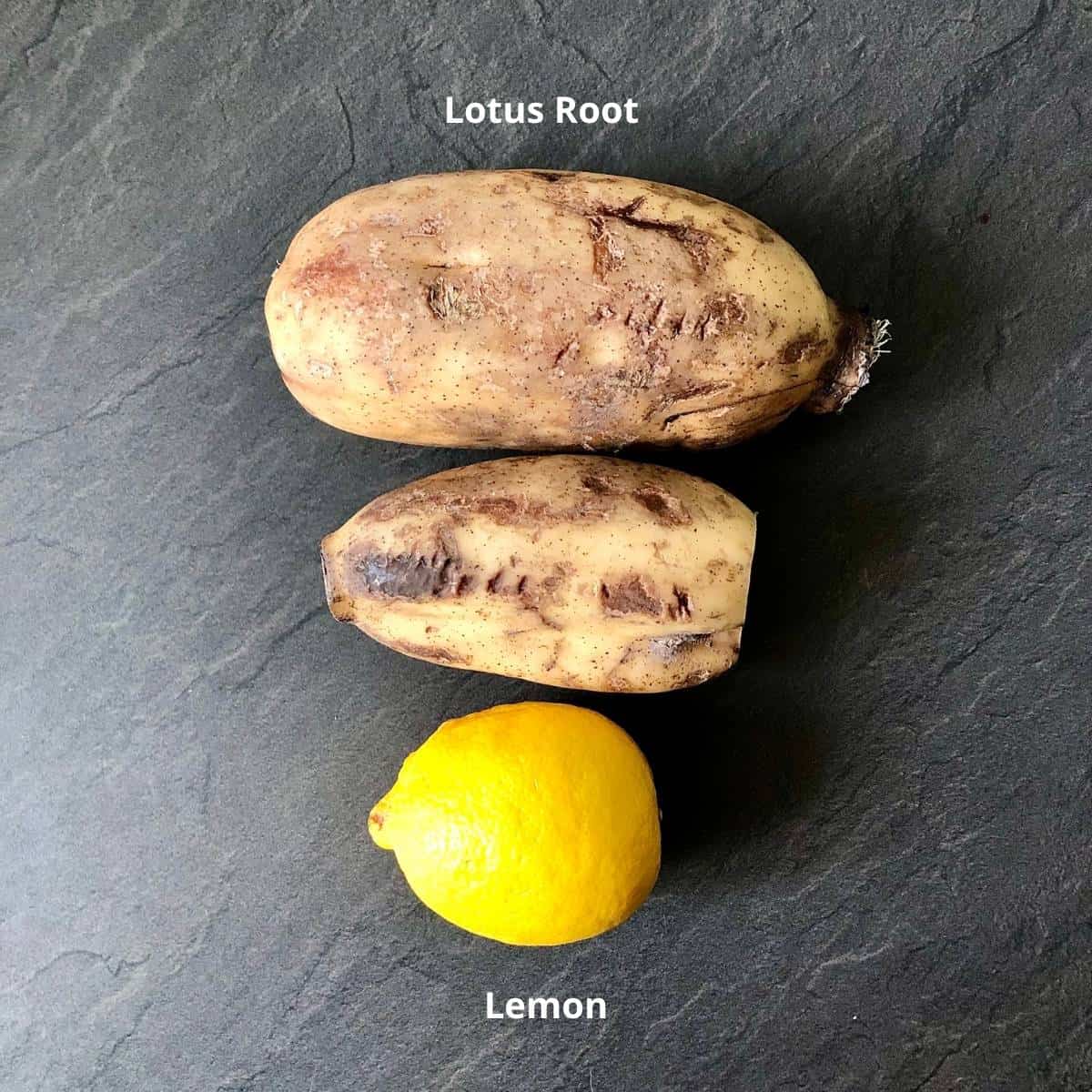 See the recipe card for quantities.
Instructions
To begin, fill a dish with water and add lemon juice squeezed from one lemon. Putting the freshly sliced lotus root into the lemon water will prevent it from browning.
Peel the lotus root.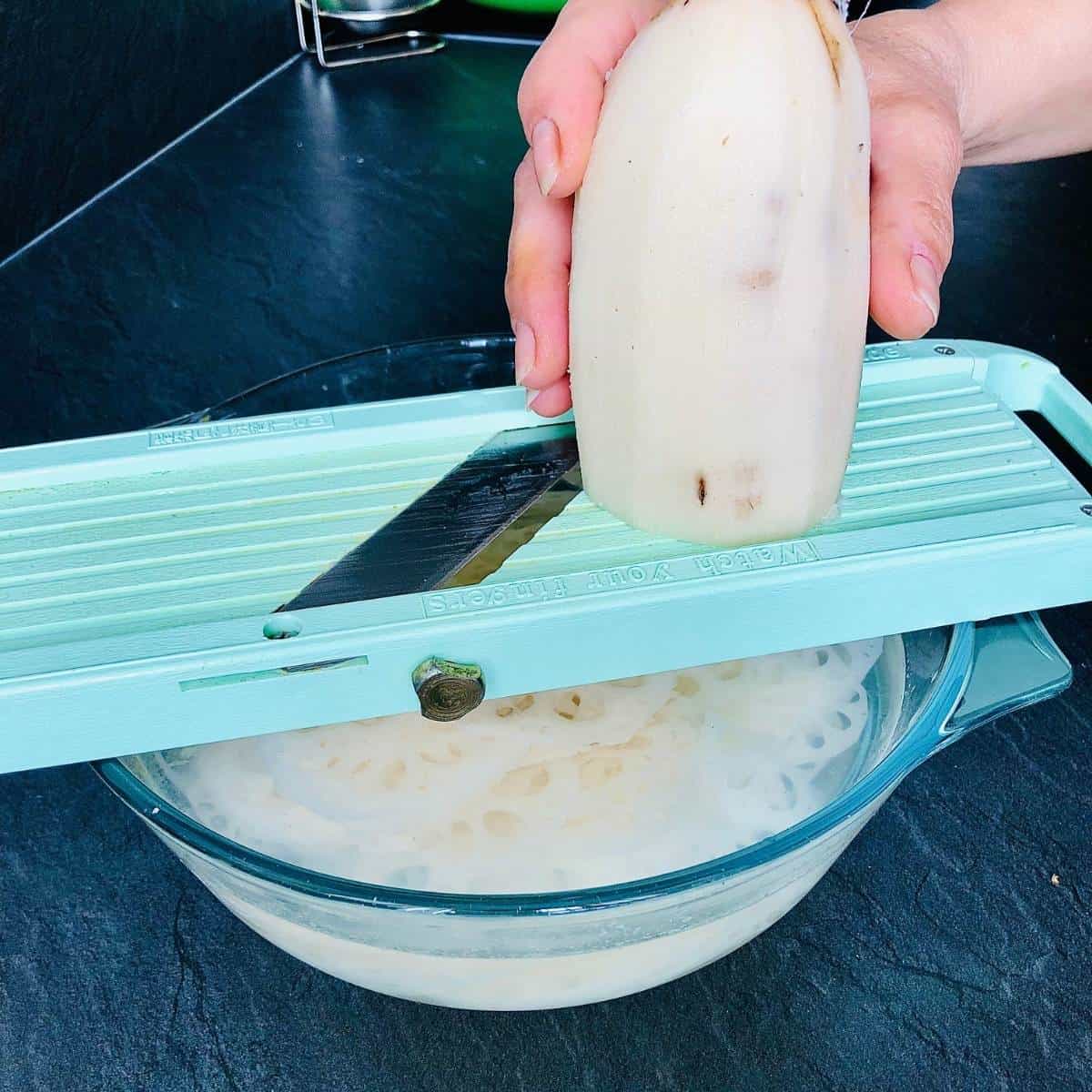 Place the mandoline slicer onto the dish containing the water with lemon juice. You can even add to pieces of paper towel on either side to secure it and stop it from moving. Take the lotus root and run it over the slicer to produce thin slices. They will fall into the water. Please be VERY careful when slicing.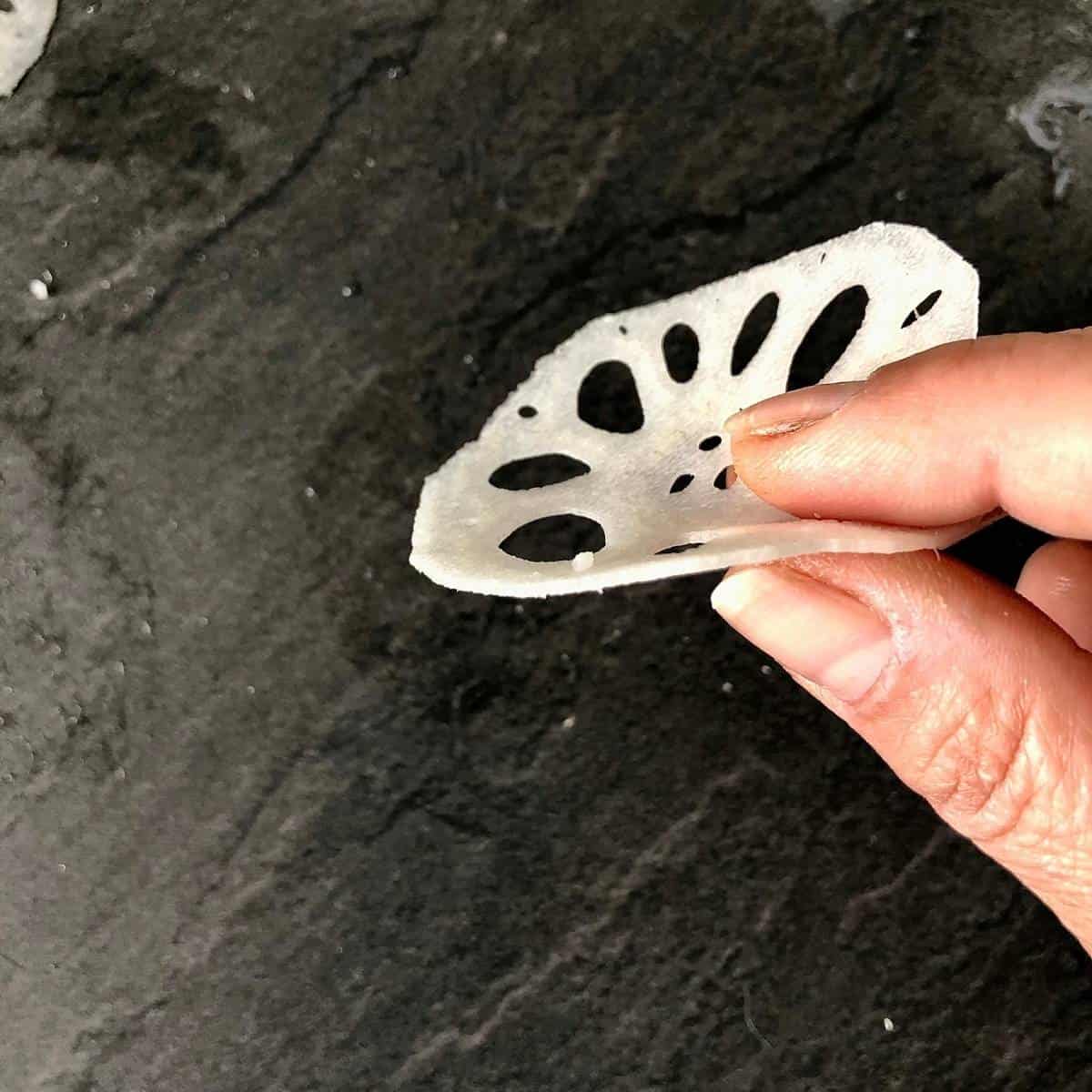 Ensure that the slices are as thin as possible and even all around.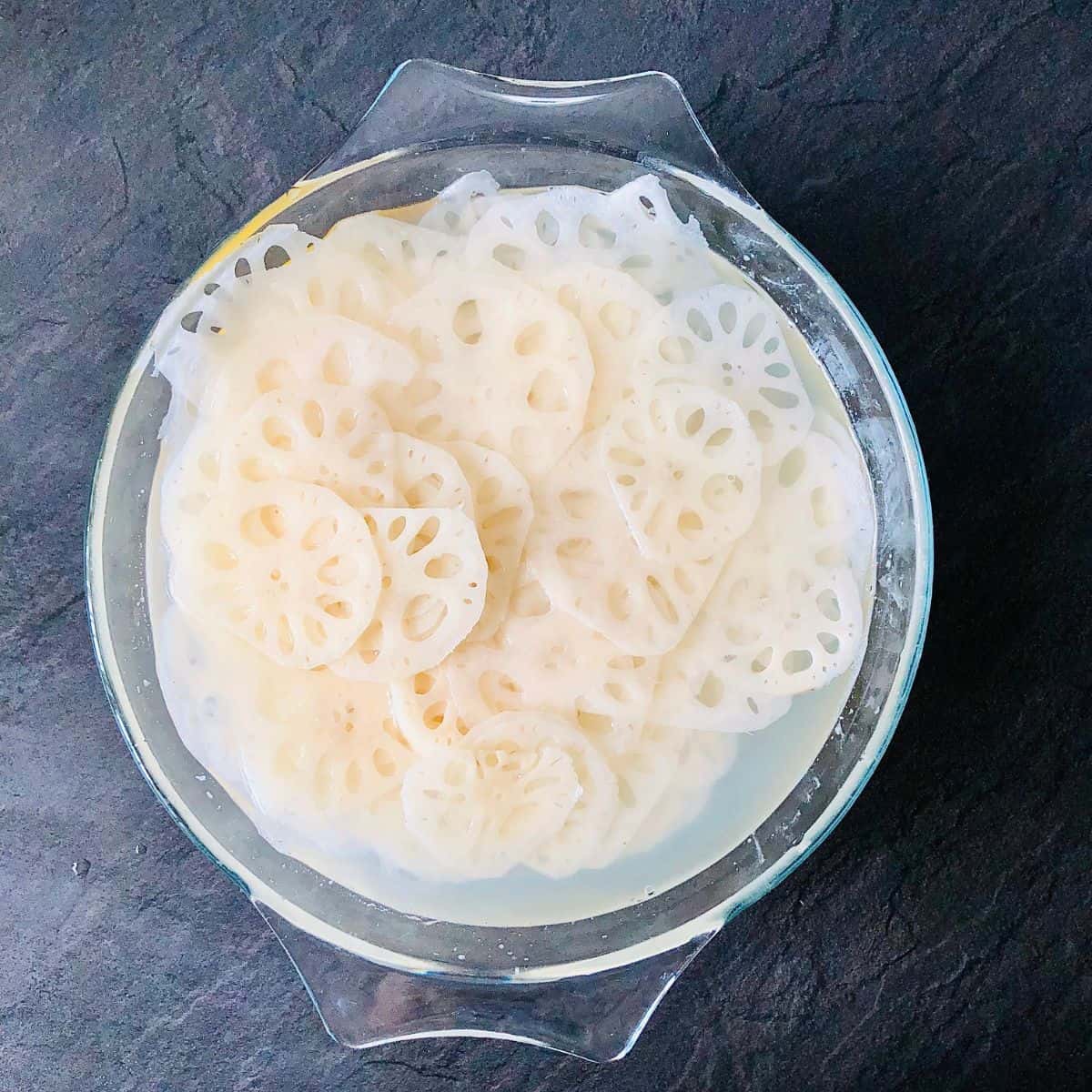 Keep the slices in the water with lemon juice until ready to fry.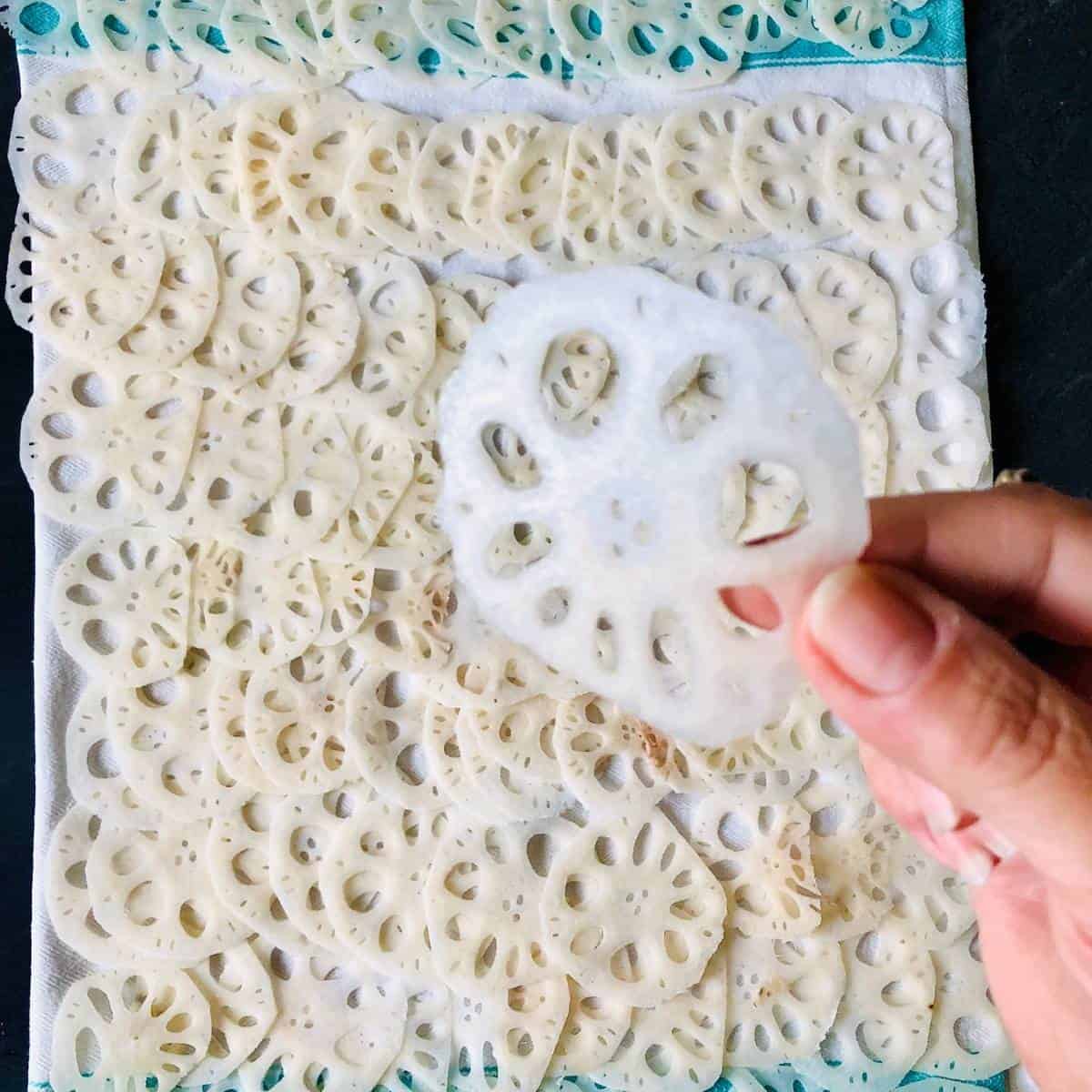 Once all of the slices are ready, drain the water and place the slices onto a tea towel and pat them dry.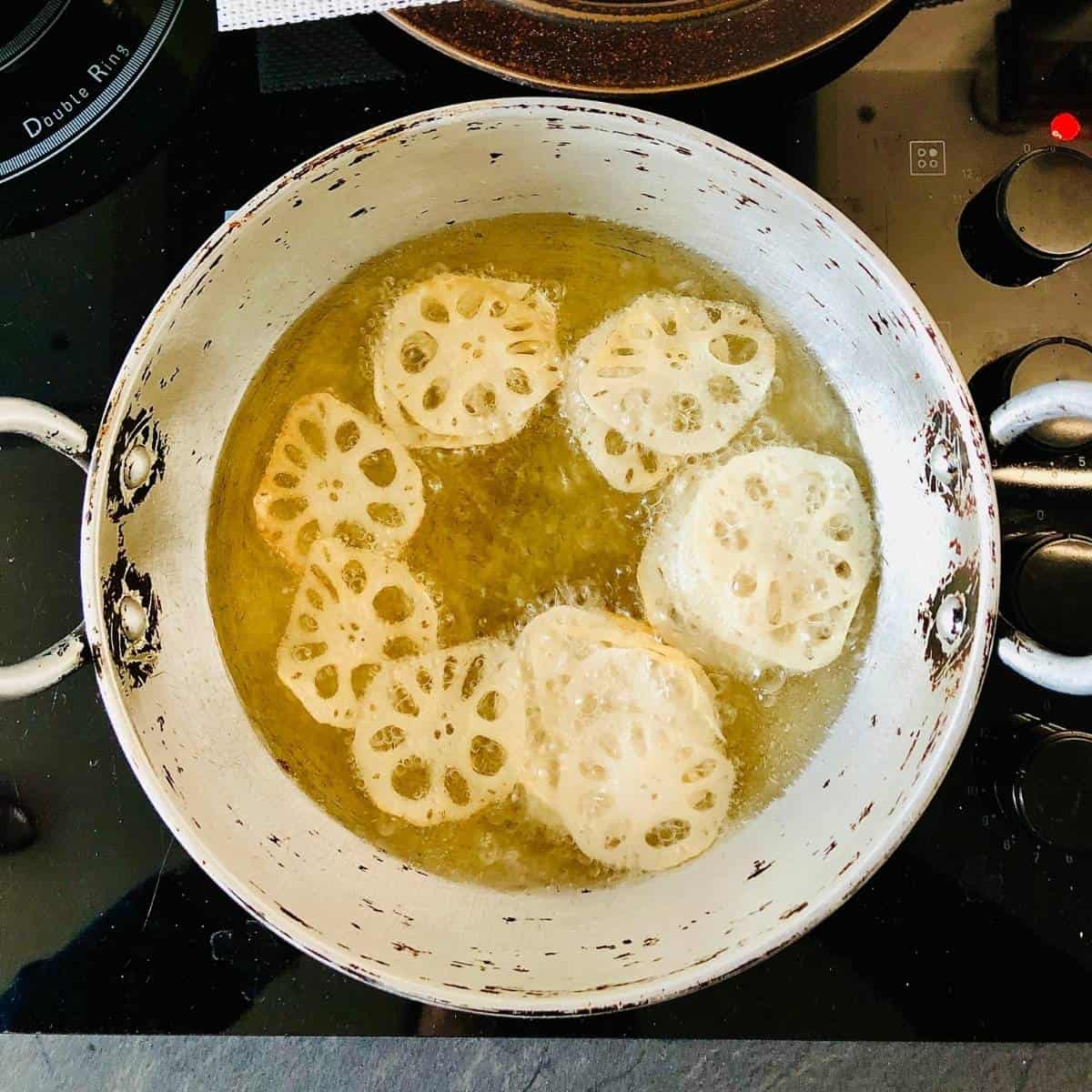 Heat the oil in a pan to 170ºC. Test the oil is hot enough with one slice. If it bubbles around the edge of the slice and starts to brown, then the oil is hot enough. Take a handful of the lotus root slices and fry until golden brown. Turn the for even cooking.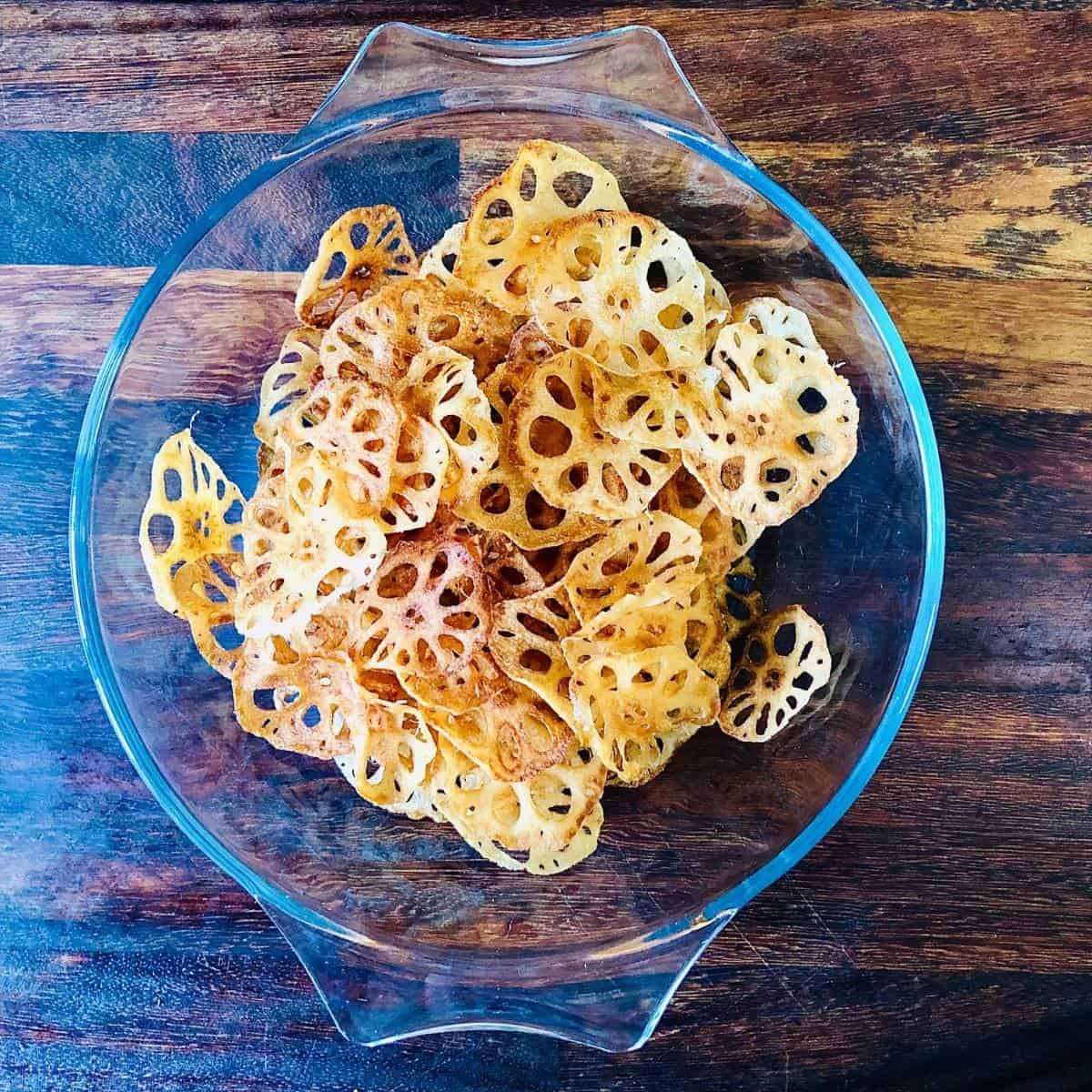 Once fried, remove from the hot oil with a slotted spoon and place on a tea towel to drain off the excess oil. Transfer to a bowl and sprinkle with salt and Shichimi pepper.
How-To Video
Here is a video guide to making lotus root crisps.
Substitutions
You can use spice or herbs to flavour the crisps.
Variations
You can use a knife to cut the lotus root as well. You may not be able to achieve the super thin and even slices. If you do use a knife and the slices are not thin and even, then turn down the temperature of the oil. This will insure that the crisp cooks evenly right through without getting burnt.
Equipment
In order to achieve the thin, even slices, use a mandoline slicer. This has a blade set into a flat surface that you run a vegetable over to produce slice. Please be very careful when using this equipment as it is very easy to cut yourself, particularly when you reach the end of the vegetable you are slicing. Using a mandoline slicer is more straightforward than cutting the slices with a knife.
Use a slotted spoon in order to remove the fried lotus root from the hot oil so that the oil easily drains away.
Storage
The crisps can be stored in an airtight container for about a month.
Top tip
If you can't find lotus root in a supermarket, you will almost certainly find it in an Asian food store.
If you don't have a temperature probe, the best way to test if the oil is hot enough is to fry one slice and check if comes out evenly cooked, crispy and golden brown.
Allow the oil to return to the right temperature between frying. This means give it a minute or two before frying the next handful of lotus root slices.
When slicing on a mandoline, support the vegetable right in the centre, not leaning in on either side. This will result in even slices all round. Be extra careful when using a mandoline slicer. If you decide to place it on top of a bowl, use two pieces of kitchen paper towel where it is in contact with the bowl rim in order to stop it slipping.
📖 Recipe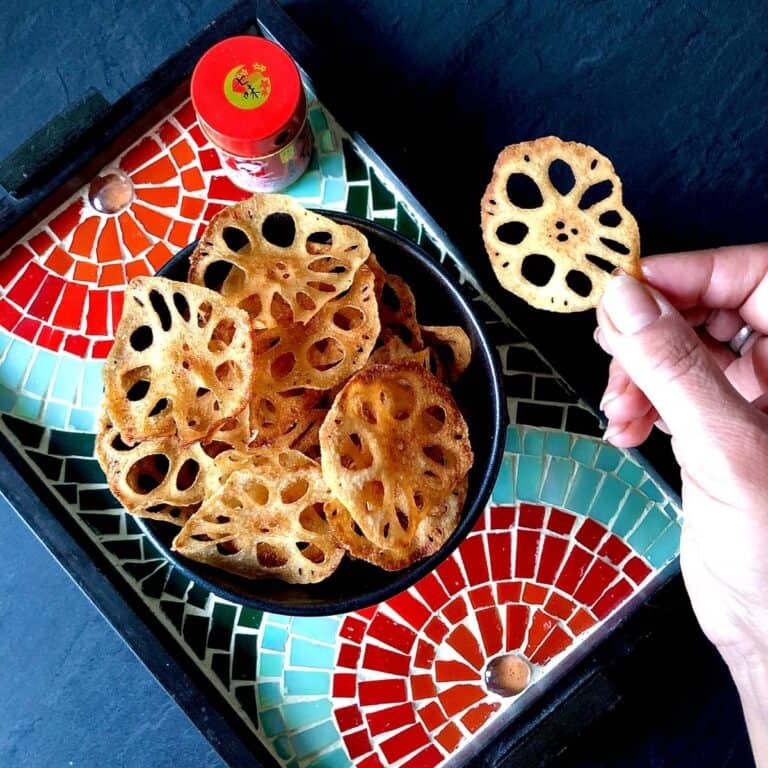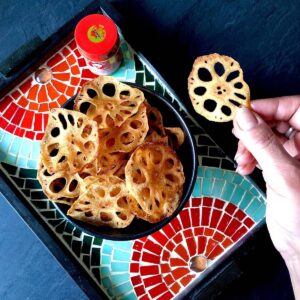 Lotus Crisps
A savoury snack made from frying thin slices of lotus root and flavoured with Shichimi pepper.
Equipment
Mandoline slicer

Slotted spoon
Ingredients
500

gms

Lotus root

500

ml

Oil for frying

1

Lemon
Instructions
Wash and peel the Lotus root.

In a bowl add water and squeeze the lemon juice into the water.

Set up the mandolin cutter on a bowl. Ensure it is stable and does not easily move.

Slice the lotus roots as thin as possible, making sure that the slices are even all around. Let the slices fall into the bowl of water with lemon juice. This will prevent the slices from browning.

Once all the roots are sliced, drain the water and transfer the lotus root slices onto a tea towel and pat dry.

Heat the oil to 170ºC and test one lotus root to check it is hot enough. You will know that the oil is ready when the lotus root slice starts to bubble around the edges and starts to turn golden brown. Add a handful of lotus root slices each time and fry, turning them over for an even colour.

Deep fry all of the slices until golden brown. Remove from the oil with a slotted spoon and transfer onto a tea towel to remove excess oil.

Once all of the slices are done, transfer them into a bowl and sprinkle with salt and shichimi pepper and mix.

Transfer to an airtight container for storage in necessary.
Food Safety
In a professional kitchen, food hygiene and safety are top priorities, and from the beginning of my training, I practised good habits and routines. Of course, practising good food hygiene and safety at home is also essential. Here are some fundamental practices to adopt in the kitchen.
Wash your hands regularly while preparing, handling and cooking food.
Wipe down countertops and high-contact points regularly.
If you cook meat and fish, do not use the same utensils on cooked food that previously touched raw meat. Use separate chopping boards for meat and fish. Wash your chopping boards immediately after use.
Thoroughly cook food to a minimum temperature of 165 °F (74 °C).
Don't leave food at room temperature for extended periods (more than 2 hours).
For more details regarding food hygiene and safety in the home, visit the UK Government's Food Standards Agency webpage.