My mother was the queen of zero waste for vegetable peels or vegetables past their best and destined for the bin. She passed this vital lesson to me, not to waste anything. One of my mottos is #starvethebin, and this recipe lives up to that. Sometimes we end up with vegetables that have been in the fridge for a while - have you ever reached for your broccoli only to find that they have started to turn yellow and decided to throw them away? We will turn that yellowing broccoli into delicious, healthy fritters with this recipe.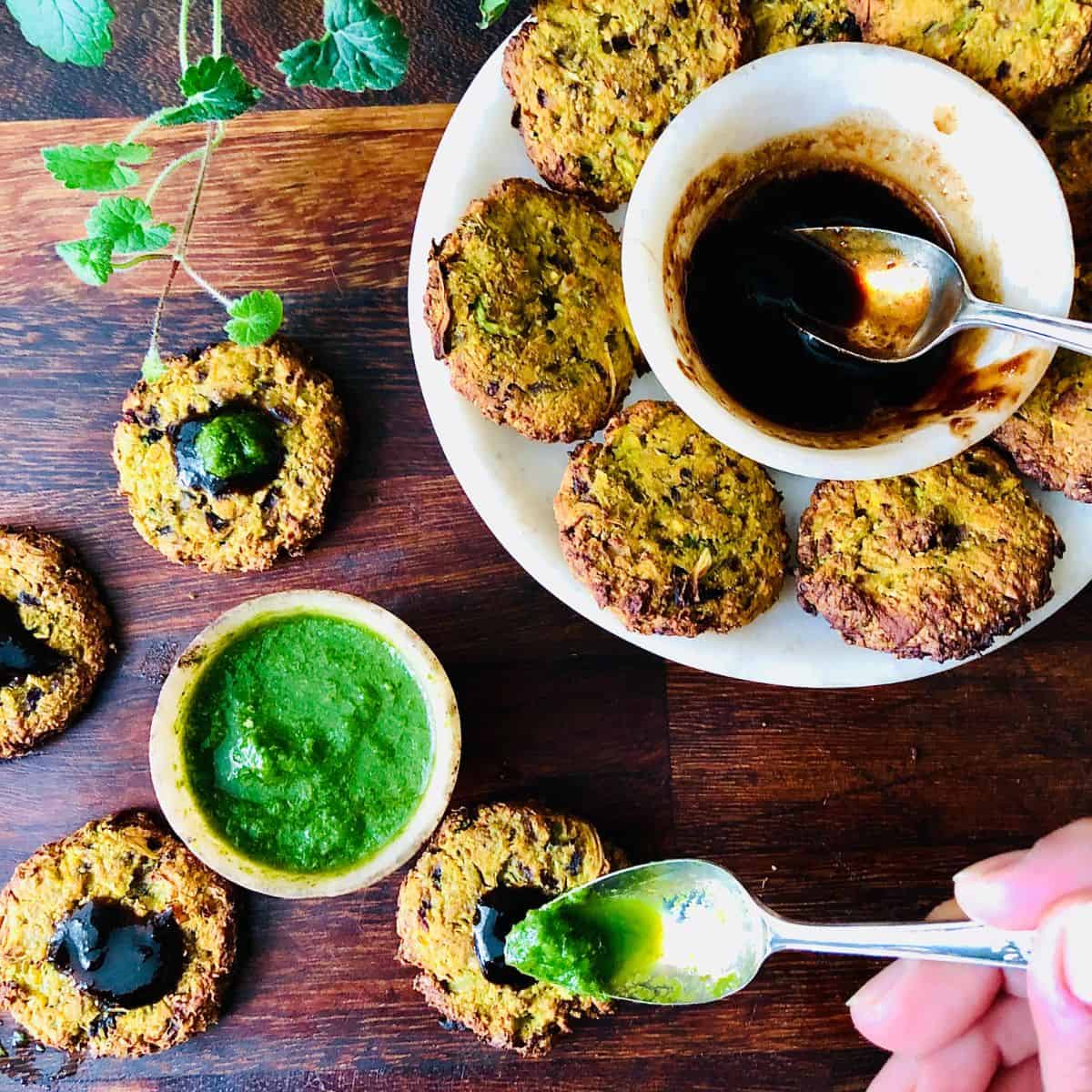 Perfect as a snack or for the lunch box. It's so delicious that you will forget how it looked earlier. Carom seeds boost the taste with an oregano-ish flavour. The gram flour acts as a binding agent for the fritters. Of course, you can make these with freshly bought broccoli; however, I just wanted to show that there is still life in your yellowing broccoli. This snack is vegan, gluten-free and oven-baked, so it does well on the healthy snack scale!
These broccoli fritters go well with my sonth ki chutney or my green coriander chutney. You may also like to try vegan fritters, dahi ke kabab.
Jump to:
Ingredients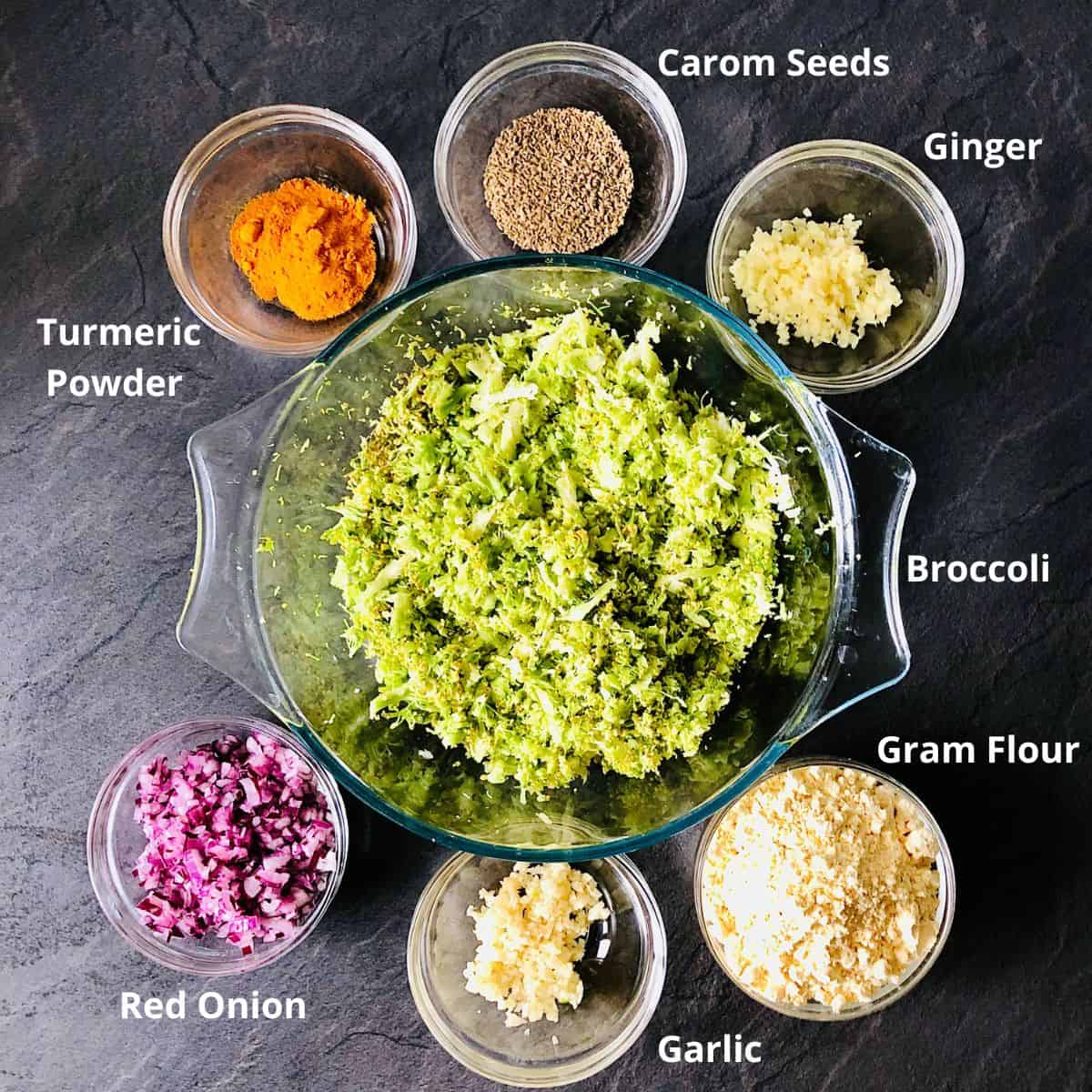 Broccoli
Red onion
Ginger
Garlic
Turmeric powder
Carom seeds
Gram flour
See the recipe card for quantities.
Instructions
To begin, prepare your ingredients.
Grate the broccoli, including the stem, into a bowl and set aside.
Finely chop the onion, garlic and ginger.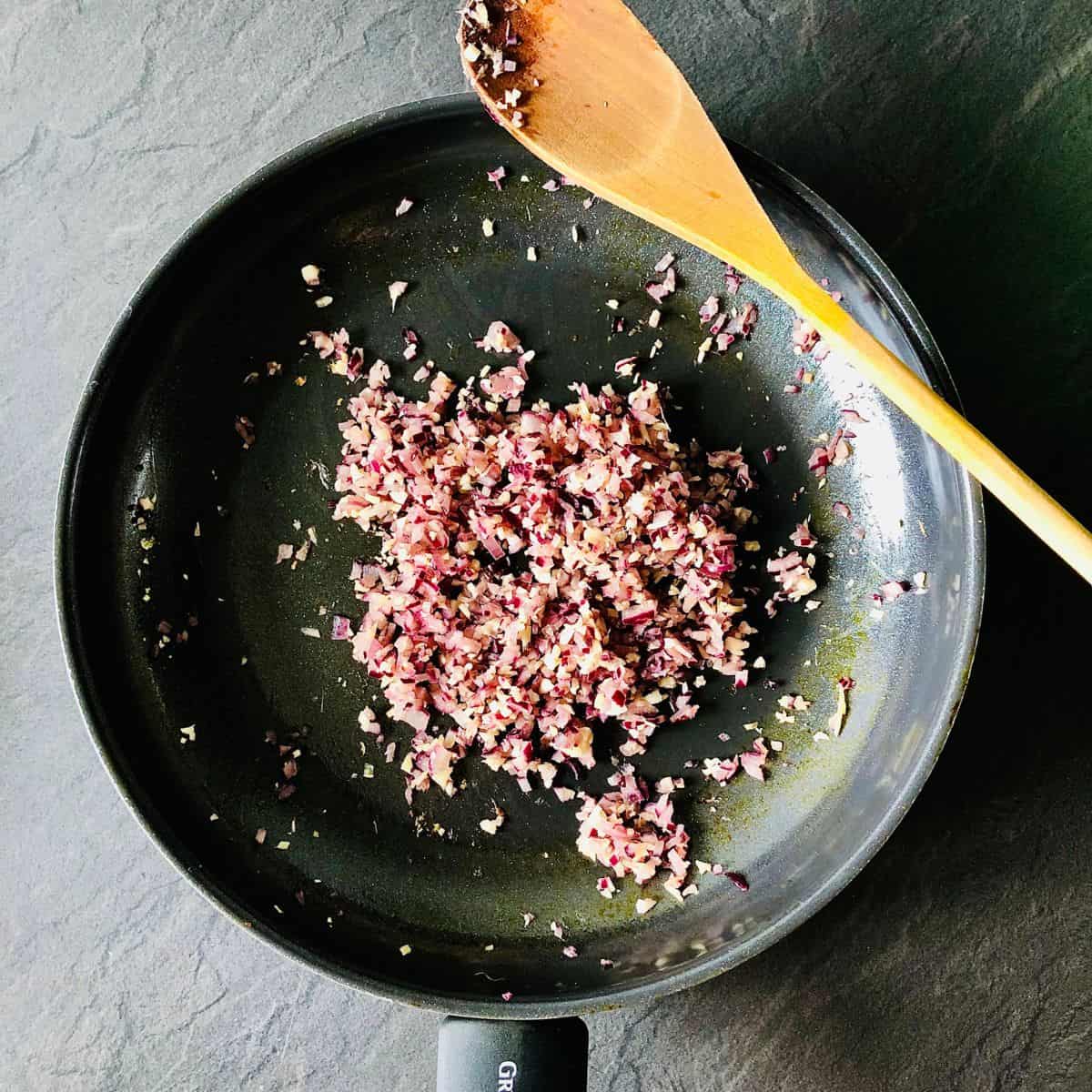 If a frying pan, heat the oil over medium-high heat and fry the red onion, garlic and ginger until soft and translucent (no more than five minutes ) Set aside to cool.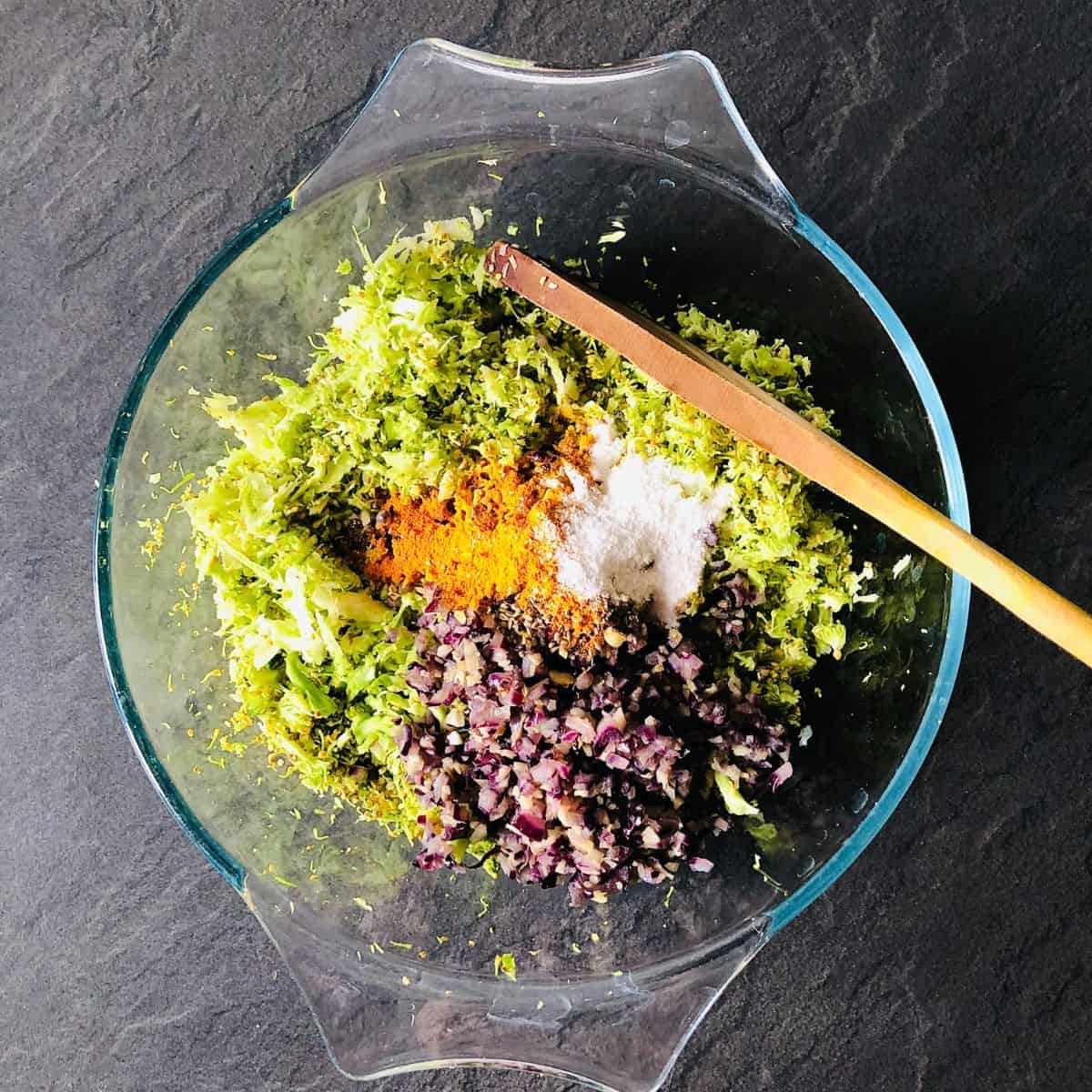 Add the fried red onion, garlic and ginger into the bowl of grated broccoli. Add the carom seeds, turmeric powder and salt.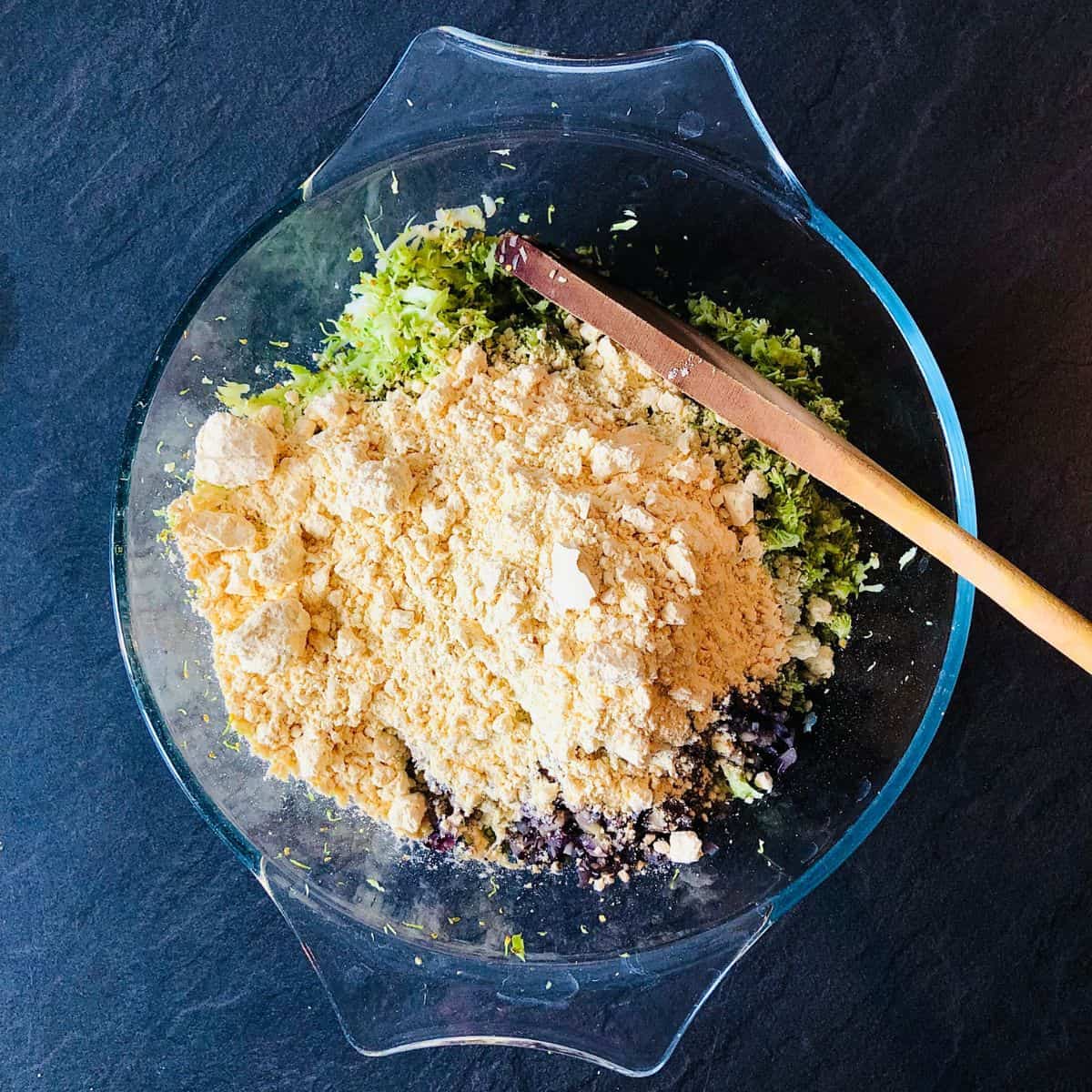 Finally, add the gram flour. Mix the contents of the bowl thoroughly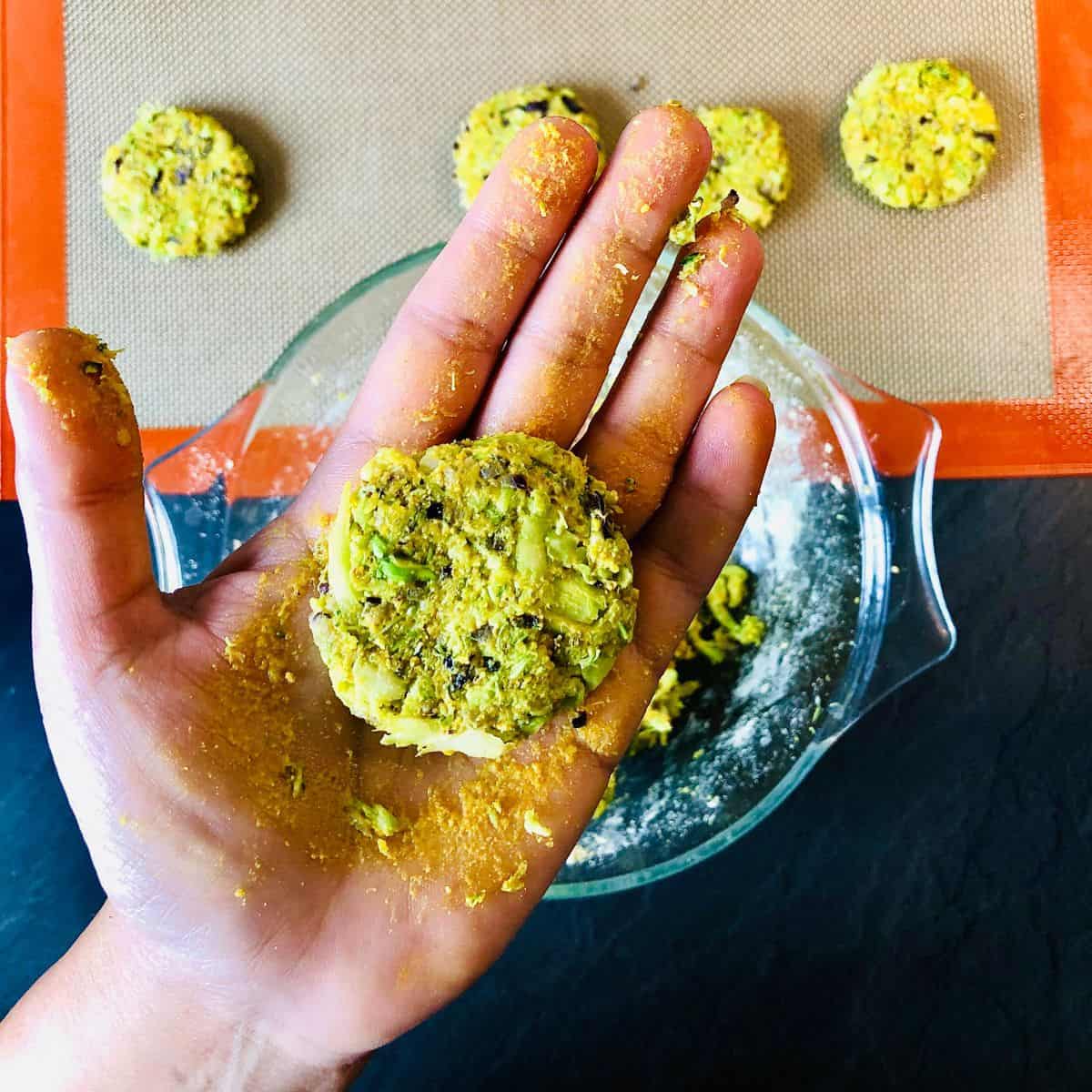 When thoroughly mixed, roll a ball of the mixture between your palms about one inch in diameter. Then flatten it between your palms into a fritter.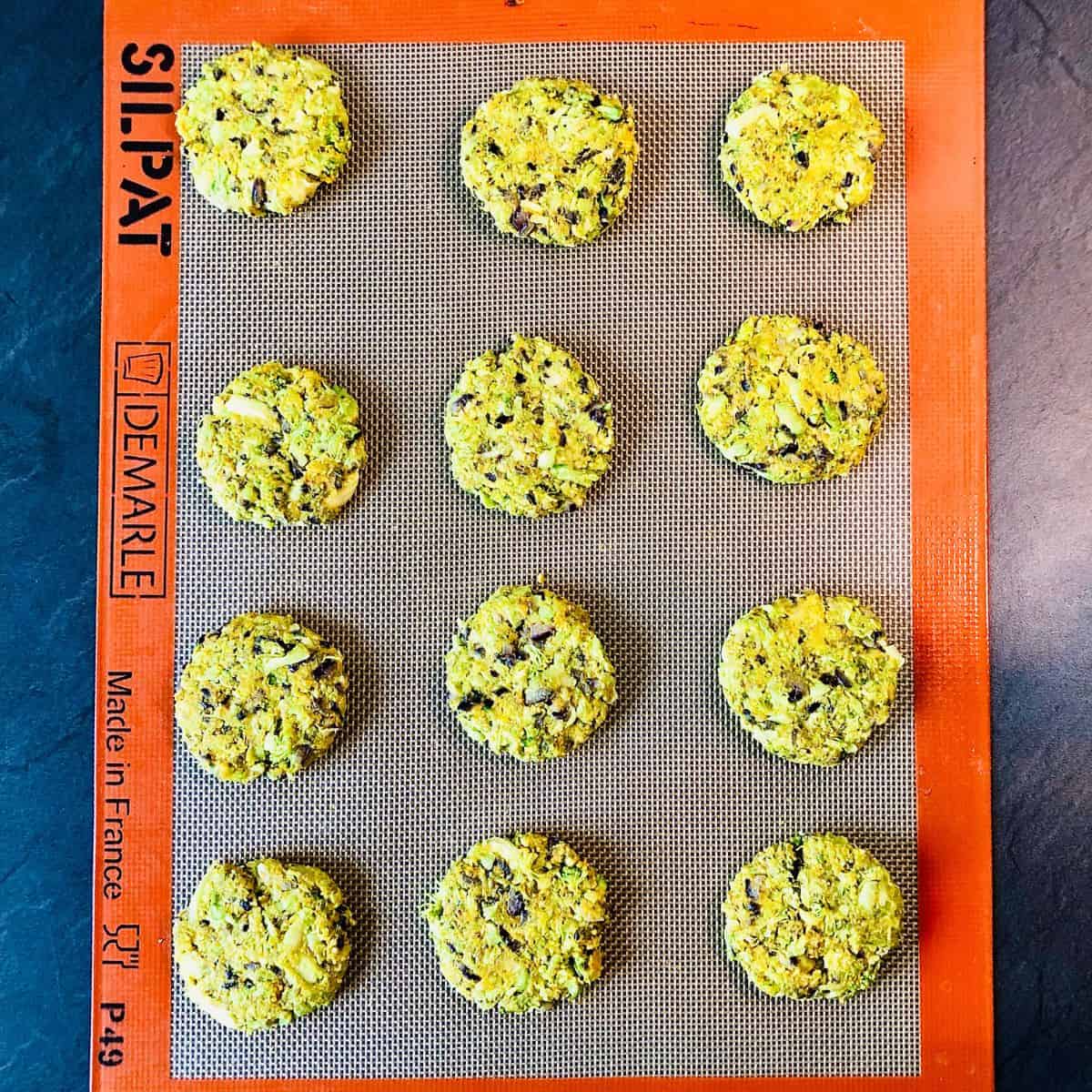 Repeat the process above to create more fritters. Place them on a silicone mat or parchment paper inside a baking tray and cook them in the oven at 180ºC for 20-25 minutes. Turn halfway through cooking to ensure even cooking. You will end up with approximately twelve fritters.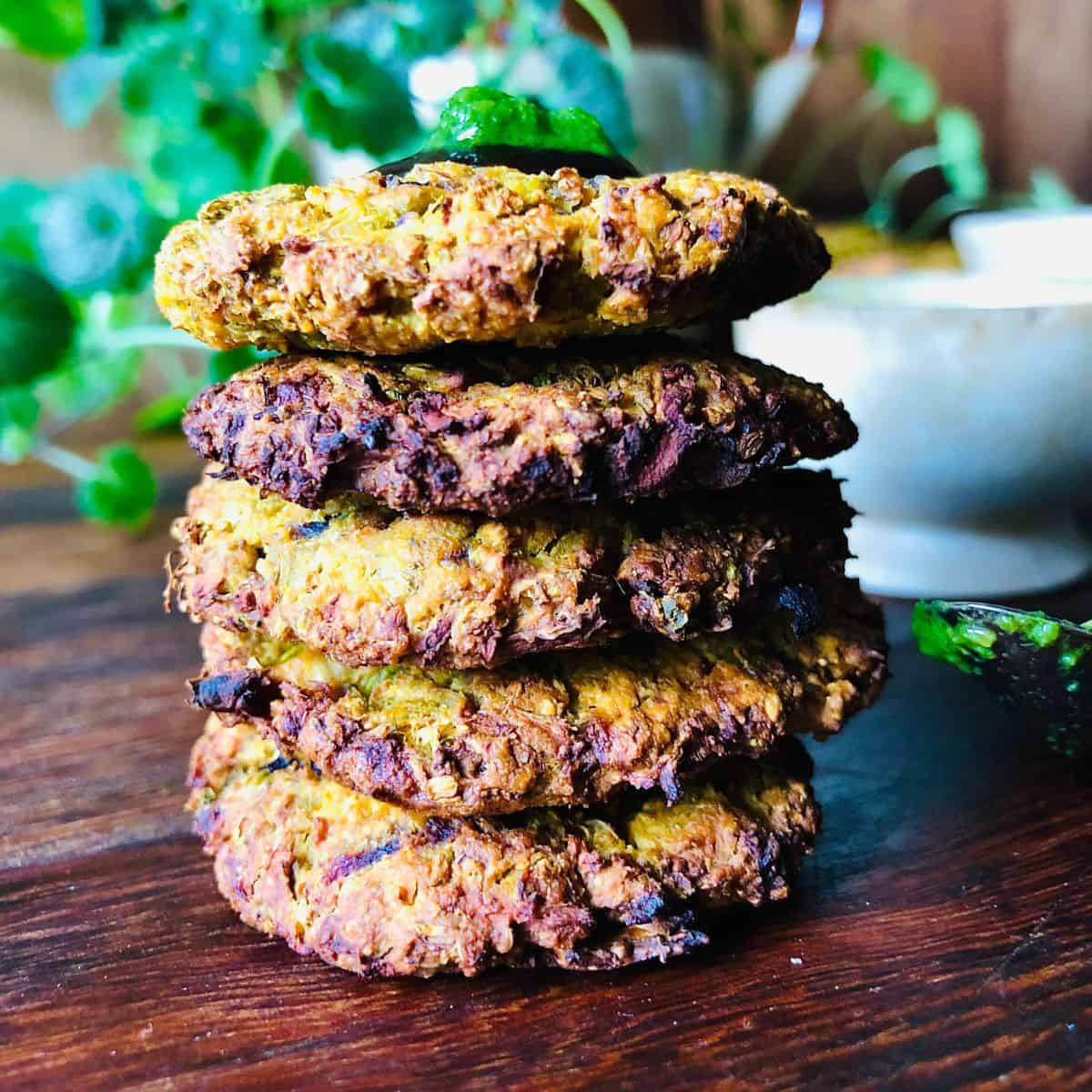 Serve hot topped with your favourite chutney. You can also eat the fritters cold. Perfect for the lunch box!
How-To Video
Here is a video guide to making your zero-waste, vegan & gluten-free broccoli fritters.
Substitutions
If you don't have carom seeds, you can replace them with cumin seeds/powder.
Variations
This recipe is all about using up broccoli that would have ended up in the bin. In terms of flavour choices, you can add fresh herbs instead of spices.
Instead of making small fritters, you can make burger-sized patties and use them as vegetable burgers.
Equipment
I always recommend digital scales for weighing as it's the most accurate.
I highly recommend using a silicone mat instead of parchment paper. With a silicone mat, there is less chance of the fritters sticking, and the best part is that it's reusable.
Storage
The cooked fritters can be stored in the fridge for up to three days in an airtight container. Have it cold, or reheat in the oven or a frying pan.
I haven't tried freezing the fritters as they get eaten up pretty quickly in my house. However, there is no reason why you cant freeze them. Place the cooked fritters in an airtight container with parchment paper separating the layers and reheat thoroughly before use. Use within three months.
Top tip
Use a silicone mat instead of parchment to avoid the fritters getting stuck. Also, a silicone mat is reusable.
📖 Recipe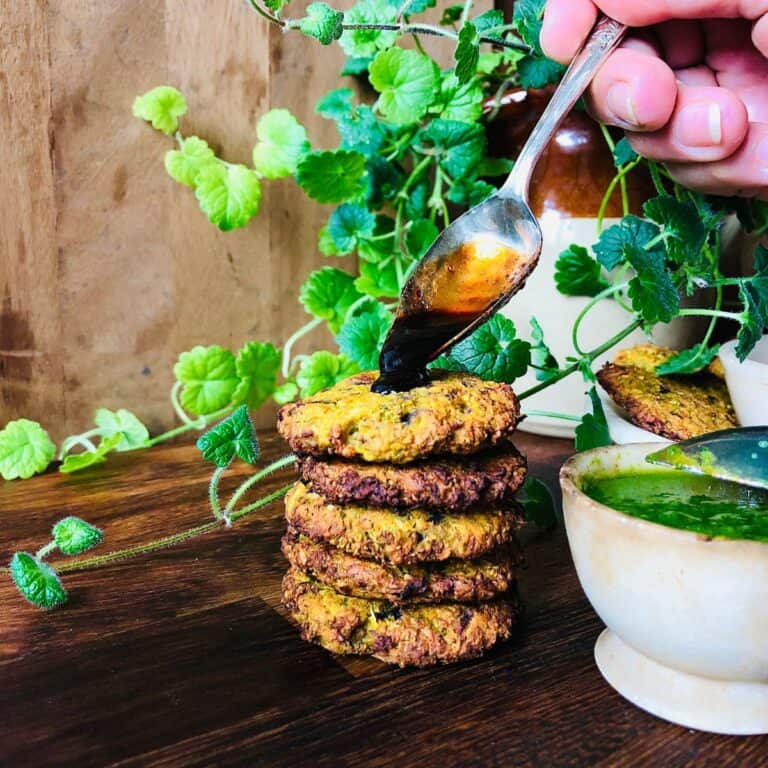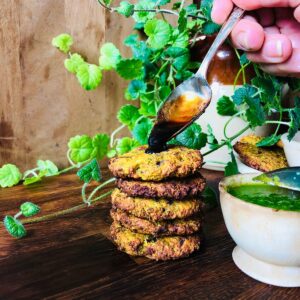 Oven Baked Vegan & Gluten-free Broccoli Fritters
A healthy, quick-to-make broccoli snack with spices.
Ingredients
220

gms

Brocolli

One head

50

gms

Red onion

10

gms

Garlic

10

gms

Ginger

½

teaspoon

Turmeric powder

80

gms

Gram flour

½

teaspoon

Carom seeds

1

teaspoon

Salt

1

tsp

Olive oil
Instructions
Grate the broccoli, including the stems and set it aside.

Finely chop the red onions, garlic and ginger.

Heat the oil in a pan and gently fry red onions, garlic and ginger until soft and translucent (no more than five minutes). Take off the heat and allow it to cool.

Add the red onion, ginger and garlic to the grated broccoli. Then add the gram flour, salt, carom seeds and turmeric powder. Mix thoroughly to combine.

Preheat the oven to 180ºC.

On a baking tray place either a silicone mat or parchment paper and set aside.

Shape the mixture into small balls about one-inch diameter and flatten them into a disc shape. Place on the silicone mat/parchment paper in the baking tray. You should have about 12 numbers.

Bake in the oven for 20-25 minutes, turning halfway through for an even colour.

Once cooked, serve hot with chutney or a dip.
Food Safety
In a professional kitchen, food hygiene and safety are top priorities, and from the beginning of my training, I practised good habits and routines. Of course, practising good food hygiene and safety at home is also essential. Here are some fundamental practices to adopt in the kitchen.
Wash your hands regularly while preparing, handling and cooking food.
Wipe down countertops and high-contact points regularly.
If you cook meat and fish, do not use the same utensils on cooked food that previously touched raw meat. Use separate chopping boards for meat and fish. Wash your chopping boards immediately after use.
Thoroughly cook food to a minimum temperature of 165 °F (74 °C).
Don't leave food at room temperature for extended periods (more than 2 hours).
For more details regarding food hygiene and safety in the home, visit the UK Government's Food Standards Agency webpage.