Patte ki Chaat is popular street food from northern India and is prevalent in Old Delhi. Its core ingredient is spinach leaves. However, I have used nettle leaves instead for this Indian snack recipe - a wild food ingredient, widely available and free of charge! This Patte ki Chaat is a delicious, crunchy, tangy snack. Nettle leaves have an earthy flavour, and they look so pretty when batter fried. It is one of the best ways to use nettle, even someone who hasn't tried nettle before will fall in love with it.
This chaat is gluten-free and vegan.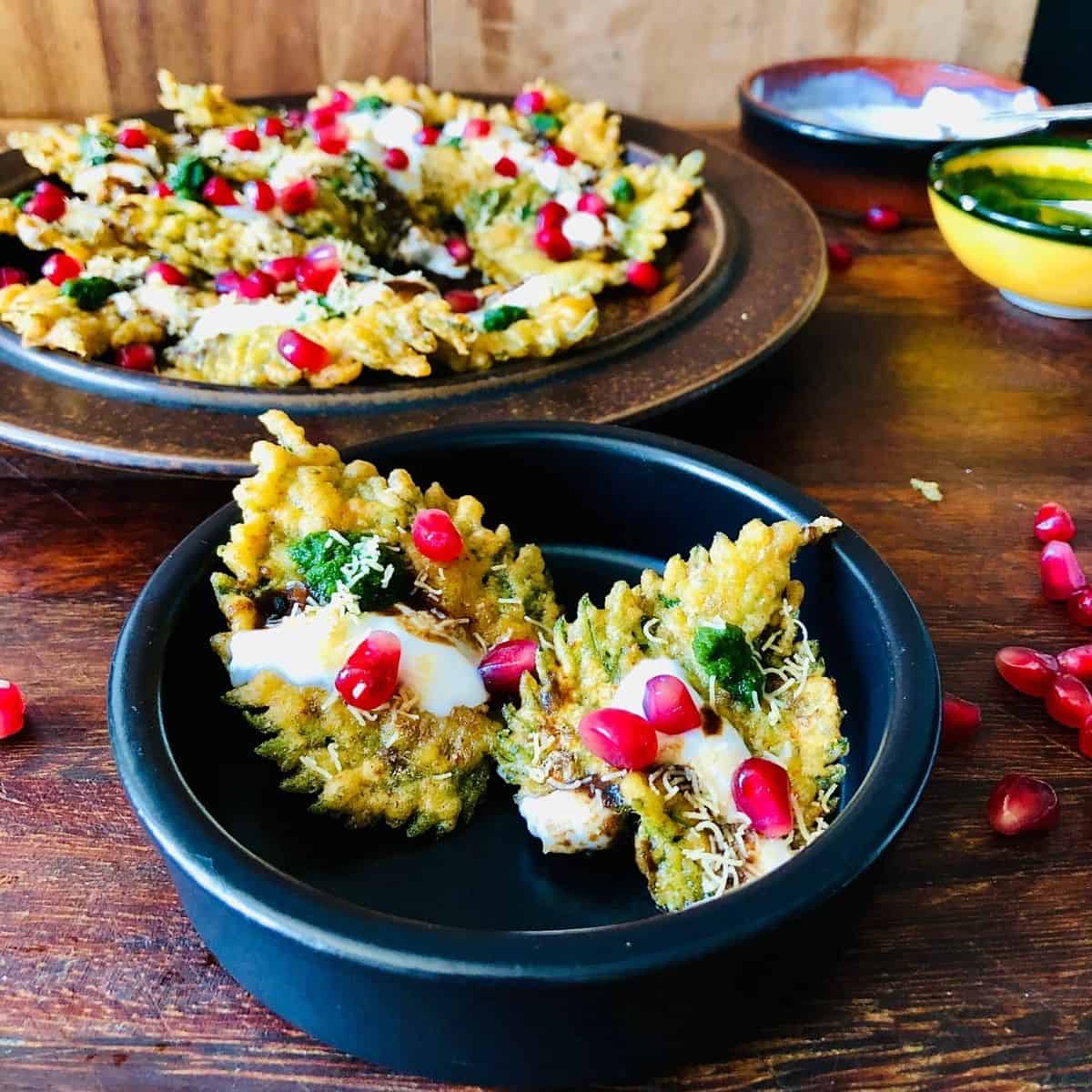 Chaat is a savoury snack usually sold by roadside vendors. With its aromatic spices, tangy sauces and flavours, chaat is an entire category of Indian food. Each region has their type of chaat, for which they are famous. It's traditionally eaten in the evenings as a snack, although itit often replaces the main meal.
Here in the UK, nettle is an abundant wild plant. For many, it is notorious for its stinging qualities. It's called stinging nettle for a reason! However, it is a nutrient-packed superfood that can replace spinach in recipes. I love it!
Please visit my post "Eat the weeds: Food for free" to learn more about nettle and identify it.
For other recipes that use nettle leaves, please take a look at my saag aloo and Kadhi recipes
Jump to:
Ingredients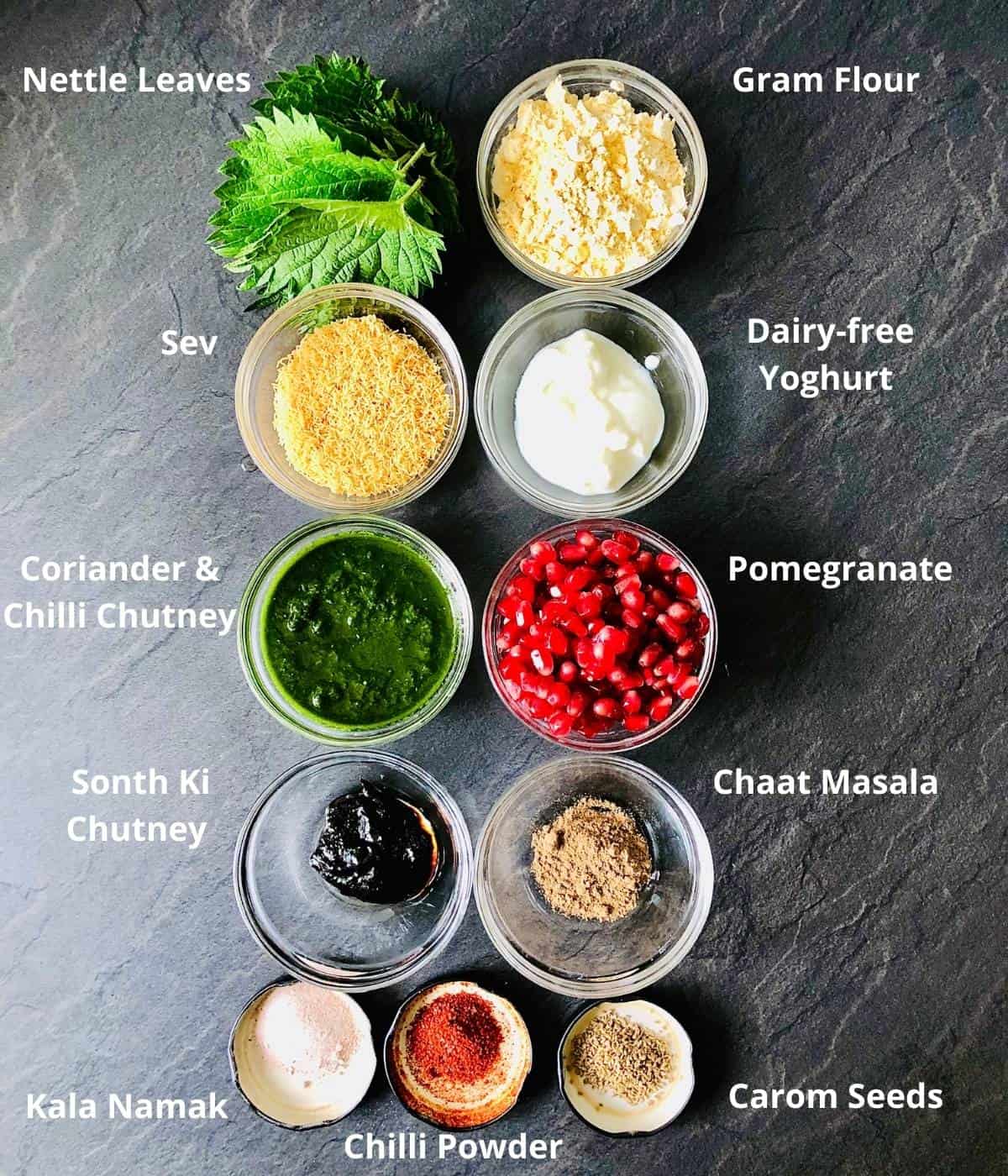 See the recipe card for quantities.
Chaat masala: This is a powdered spice mix made with amchoor (dried mango powder), cumin, coriander, ginger powder, kala namak, asafoetida and black pepper. You can buy this ready-made.
Sev: An Indian snack of small crunchy noodles made from chickpea flour seasoned with spices.
Instructions
First, go out and forage for your nettle leaves! Wear gloves; otherwise, you will get stung. Don't worry, though; cooking the nettle leaves dissolves the stinging hairs on the nettle leaves.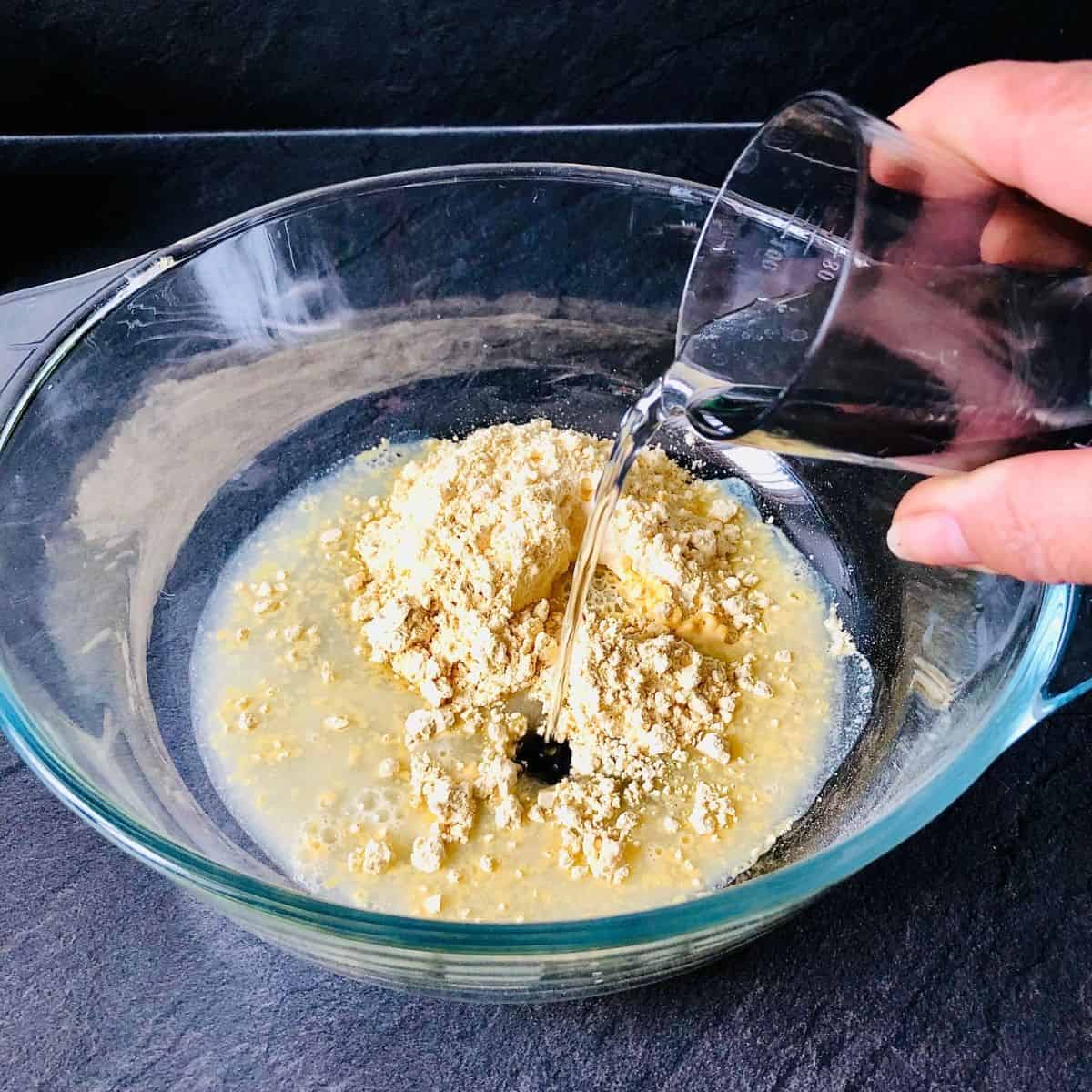 Place the gram flour into a bowl and add the water to make a batter. Ensure no lumps form. If they do, pass through a fine sieve.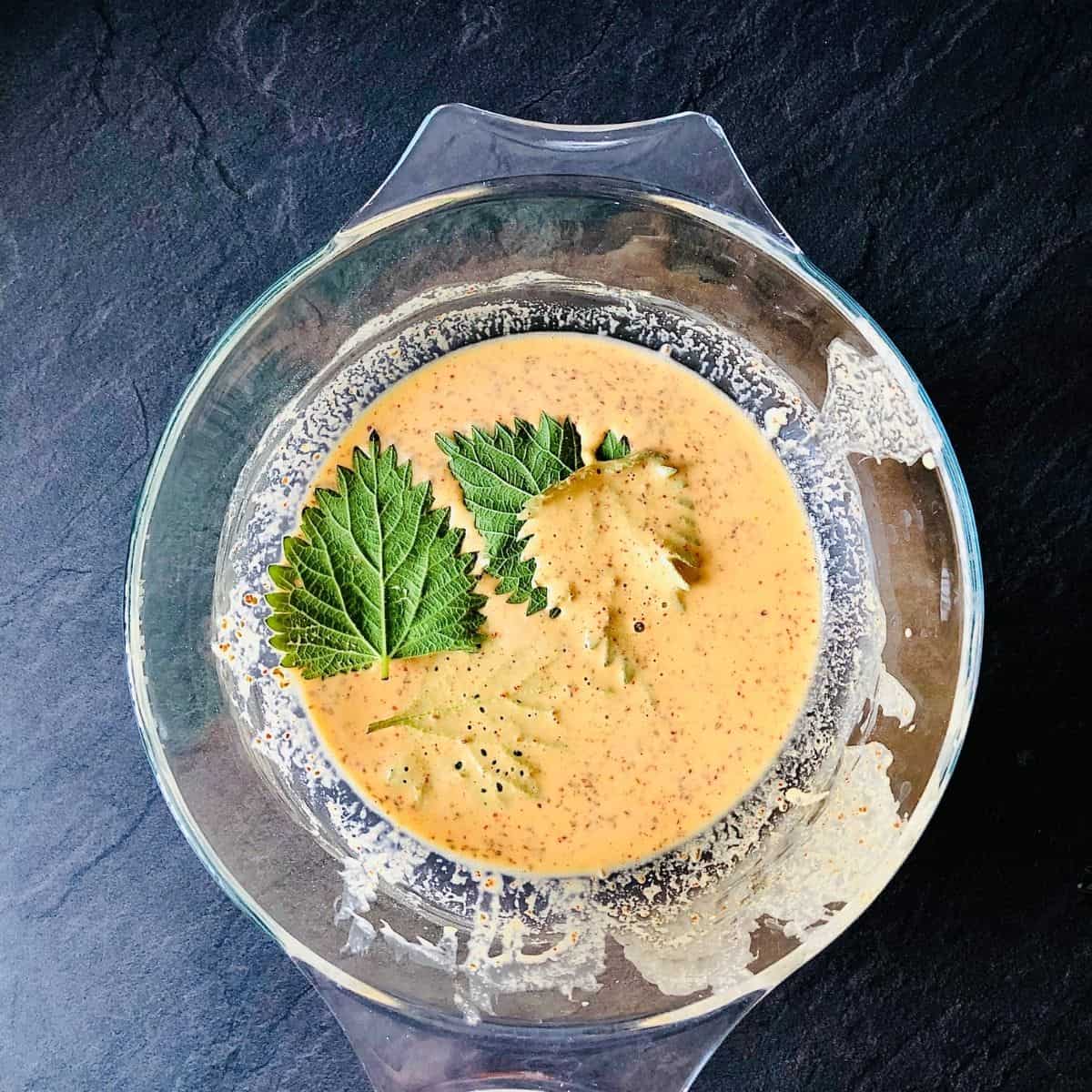 Add the carom seeds, chilli powder and kala namak to the batter and mix well.
Take a nettle leaf and coat both sides in the batter. Repeat with the remaining nettle leaves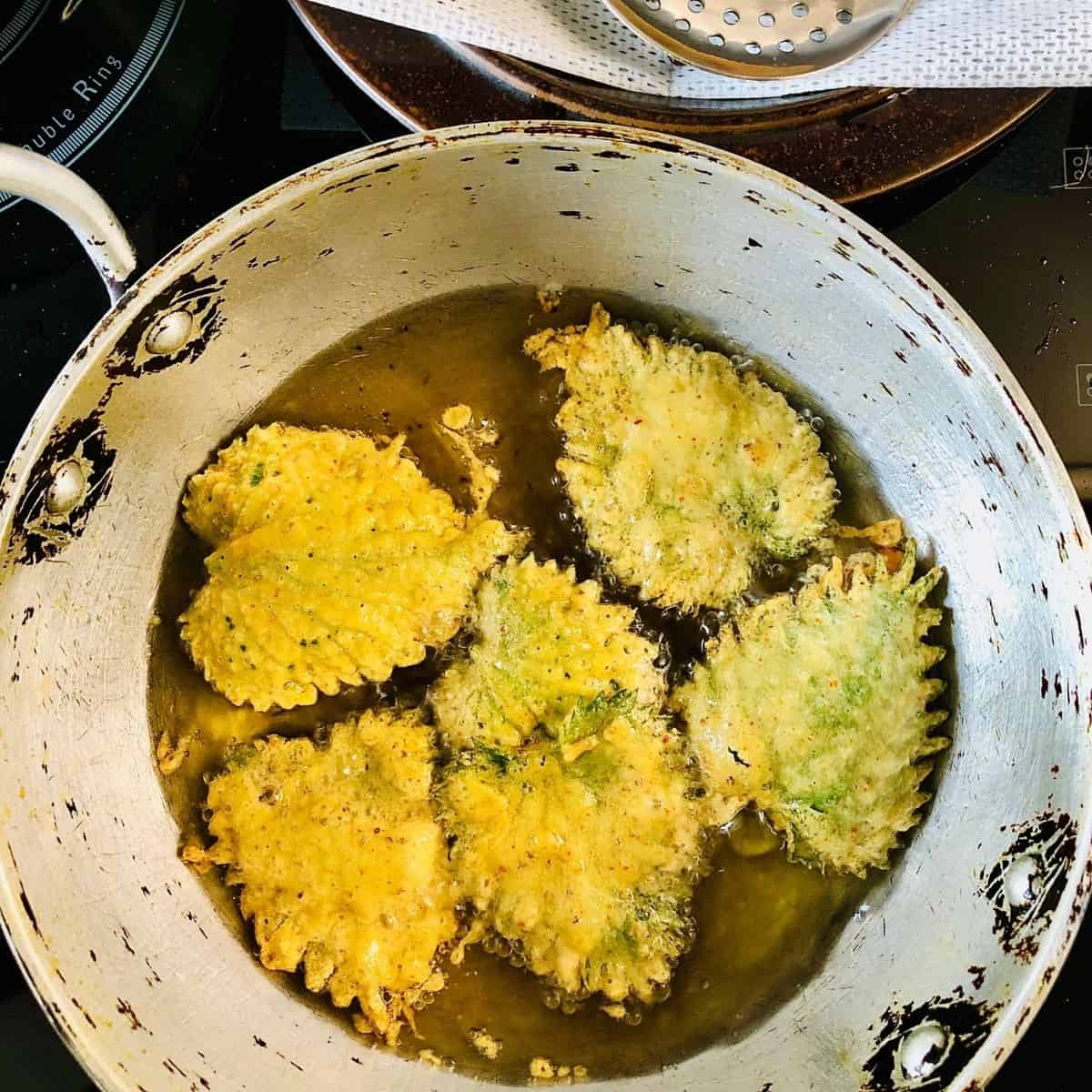 Heat the oil in a frying pan. I use sunflower oil. Fry each coated nettle leaf on both sides until golden brown when the oil is hot.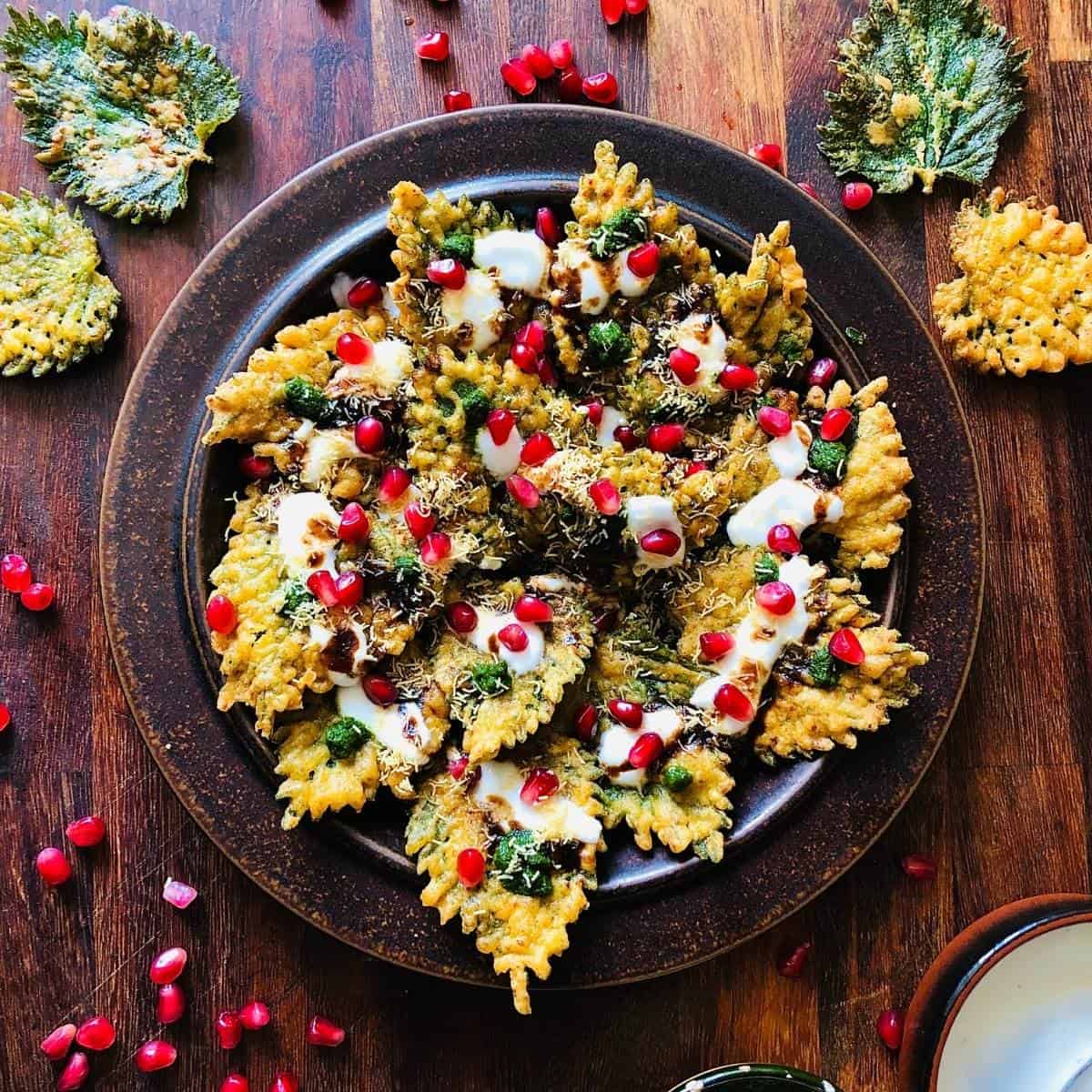 Now to assemble the chaat. Arrange the battered nettle leaves on a plate. Then sprinkle the chaat masala over the leaves. Add two tablespoons of water to the yoghurt to thin it down, and then drizzle over the leaves. Follow this with a drizzle of sonth ki chutney and coriander and chilli chutney. Top off with the sev and the pomegranate seeds
How-To Video
Here is a video guide to making nettle patte ki chaat Indian snack.
Substitutions
If you do not have access to nettle leaves, you can make this Indian snack with spinach leaves.
You can replace sev with Bhujia or even aloo bhujia, both are Indian snacks.
Equipment
I always recommend using digital scales for measurements as it is 100 % accurate.
Storage
You can store the batter-fried nettle leaves in an airtight container for about two days.
Once you have assembled the chaat, this Indian snack should be served immediately as the sauces and yoghurt will make it soggy if stored.
📖 Recipe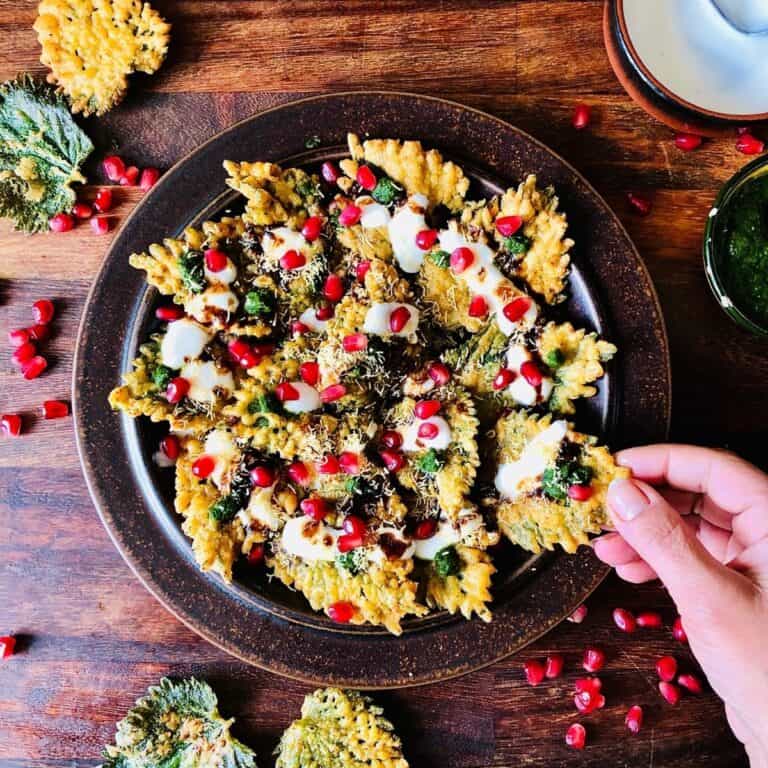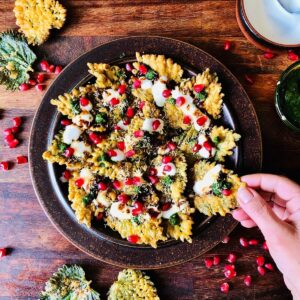 Patte ki Chaat
Batter fried nettle leaves with tangy sauce, spices and yoghurt
Ingredients
20

nos

Nettle leaves

50

gms

Gram flour

90

ml

Water

½

teaspoon

Kala Namak

½

teaspoon

Chilli powder

½

teaspoon

Carom seeds

50

gms

Pomegranate

40

gms

Dairy-free yoghurt

10

gms

Sev

1

tablespoon

Coriander-chilli chutney

1

tablespoon

Sonth ki chutney

1

teaspoon

Chaat masala

500

ml

Oil for frying
Instructions
Wash and pat dry nettle leaves.

Make a thin batter by mixing gram flour and water. Insure there are no lumps, if you have lumps, then pass through a sieve.

Add kala namak, carom seeds and chilli powder to batter and mix well.

Heat oil in a pot or pan for frying. You will need about 500 ml of oil.

Coat each nettle leaf in gram flour batter and fry both sides till golden grown.

To assemble chaat. Arrange batter-fried nettle leaves on a plate.

Add 2 tablespoon water to yoghurt to thin it down. Drizzle yoghurt on the nettle leaves. Followed by coriander and sonth chutney.

Sprinkle sev and pomegranate.
Food Safety
In a professional kitchen, food hygiene and safety are top priorities, and from the beginning of my training, I practised good habits and routines. Of course, practising good food hygiene and safety at home is also essential. Here are some fundamental practices to adopt in the kitchen.
Wash your hands regularly while preparing, handling and cooking food.
Wipe down countertops and high-contact points regularly.
If you cook meat and fish, do not use the same utensils on cooked food that previously touched raw meat. Use separate chopping boards for meat and fish. Wash your chopping boards immediately after use.
Thoroughly cook food to a minimum temperature of 165 °F (74 °C).
Don't leave food at room temperature for extended periods (more than 2 hours).
For more details regarding food hygiene and safety in the home, visit the UK Government's Food Standards Agency webpage.