Yes, you read that correctly; eat the weeds! The word "weed" is loaded with negative imagery and meaning. Indeed, to most people, weeds are something to control and even destroy. In this post, though, I want to open up a whole new world of wild food for you and completely shift your perspective.
Free food and medicine are abundant, completely natural, and fresh from nature's kitchen or your own garden. Nature gives us what our body needs at that particular time, so instead of pulling out the invasive weeds, let's use them to nourish ourselves. Wild food foraging provides a source of nourishment for not only our body but also a tonic for our minds, enabling us to slow down and re-connect and immerse ourselves in the web of life.
Let me introduce you to four "weeds" that are edible and full of goodness: Dandelion, nettle, ground ivy and garlic mustard.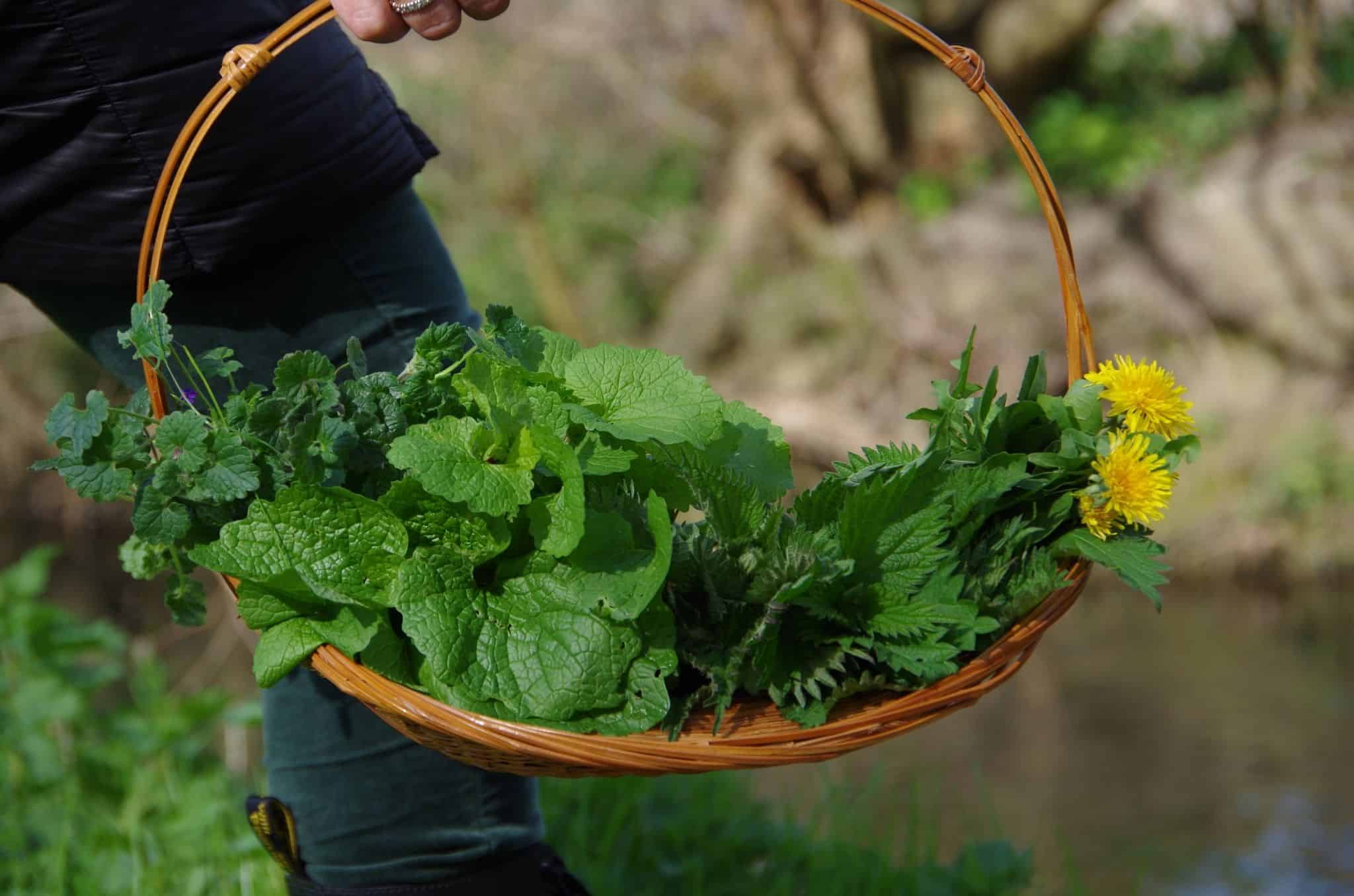 Dandelion
Dandelion is a very common and well-known perennial plant that grows in many habitats such as open, grassy places, woodlands, waste ground and gardens. Surprisingly, there are hundreds of species in the UK.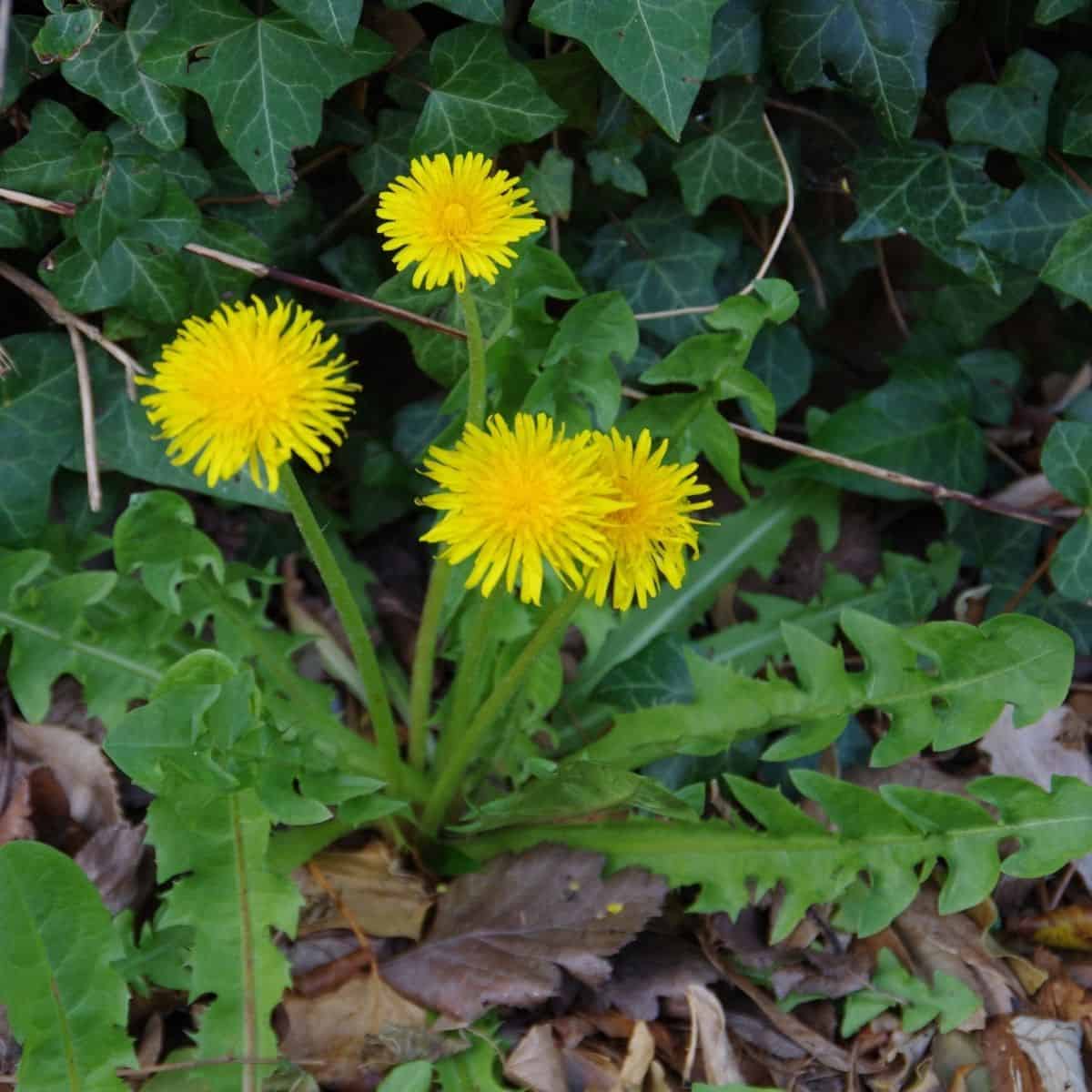 Uses: All parts of the plant are edible as wild food: the flowers, leaves and roots. Leaves taste bitter and are an acquired taste, but can be used in salads, soups and even stir fry. The root, when dried, and ground to a powder, give a taste similar to coffee. Flowers can be used in salads and even to garnish cakes.
Identification: In late spring, you can't miss their bright yellow flowers with many thin petals. The flowers grow atop a hollow stem that grows from a rosette of leaves at the base of the plant. When cut, the stem and leaves secrete a milky juice.
Health Benefits: Mothers would often tell their children not to touch dandelions or else they would wet the bed. This old wives' tale probably originates from the fact that dandelion acts as a diuretic. This has benefits kidney and liver function.
The leaves are a good source of vitamins (A, C amongst others) and also minerals such as iron and potassium. Dandelions are also packed with antioxidants that help counteract harmful free radicals in the body. A very beneficial wild food.
Dandelion may also help reduce blood pressure, regulate blood sugar levels and have anti-inflammatory properties, however, this needs much more research.
Garlic Mustard
Also known as jack-by-the-hedge. This plant can be found in open woodland, hedges, paths and road verge. It is a shade lover.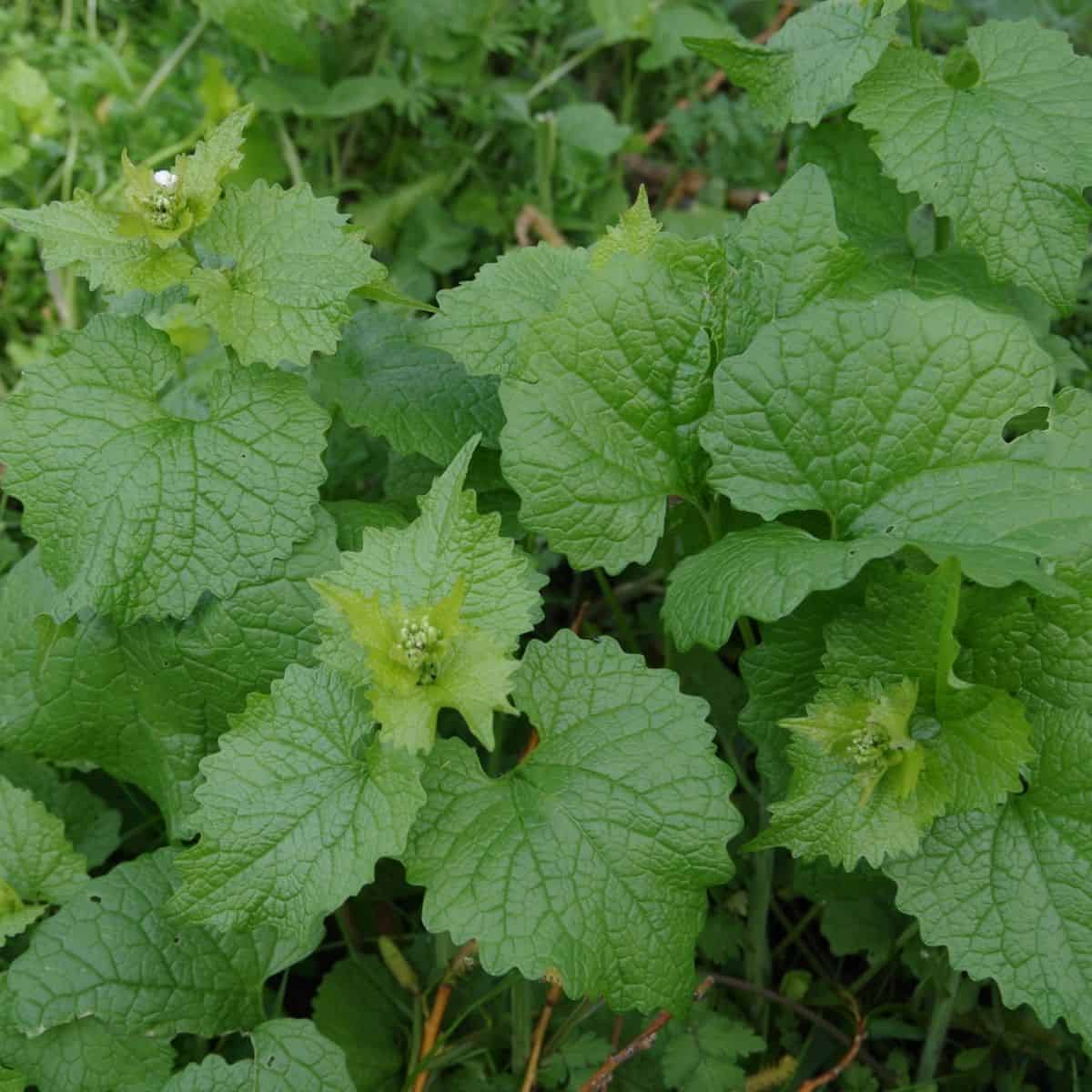 Uses: This has got to be one of my favourite wild food. here in the UK, it is quite invasive and can be found in parks, woodlands and even growing by the roadside. The smell and flavour are quite garlicky, but not as intense as garlic. I use them to make pestos, and sauces, add them in stir fry and stews, and in place of spinach as well. Want a more subtle garlic-like taste? then this is your weed.
Identification: Garlic mustard has smooth, vivid green heart-shaped leaves with round toothed edges in its first year of growth. In its second year of growth, the leaves become more arrow-shaped with sharper-edged teeth on the edges of the leaves. When rubbed between the fingers, garlic mustard has a garlic smell, hence its name. Garlic mustard produces white, four petaled flowers.
Health Benefits: Garlic mustard is part of the mustard family and contains chemicals that may help to prevent cancer. Due to the oils that it contains, it has been traditionally used to treat asthma, and as an antiseptic for skin irritations and ulcers.
Ground Ivy
Ground ivy is a fragrant, creeping plant that grows in woodlands, grasslands, and farmlands among others. It is also known as creeping charlie, field balm and run-away-robin.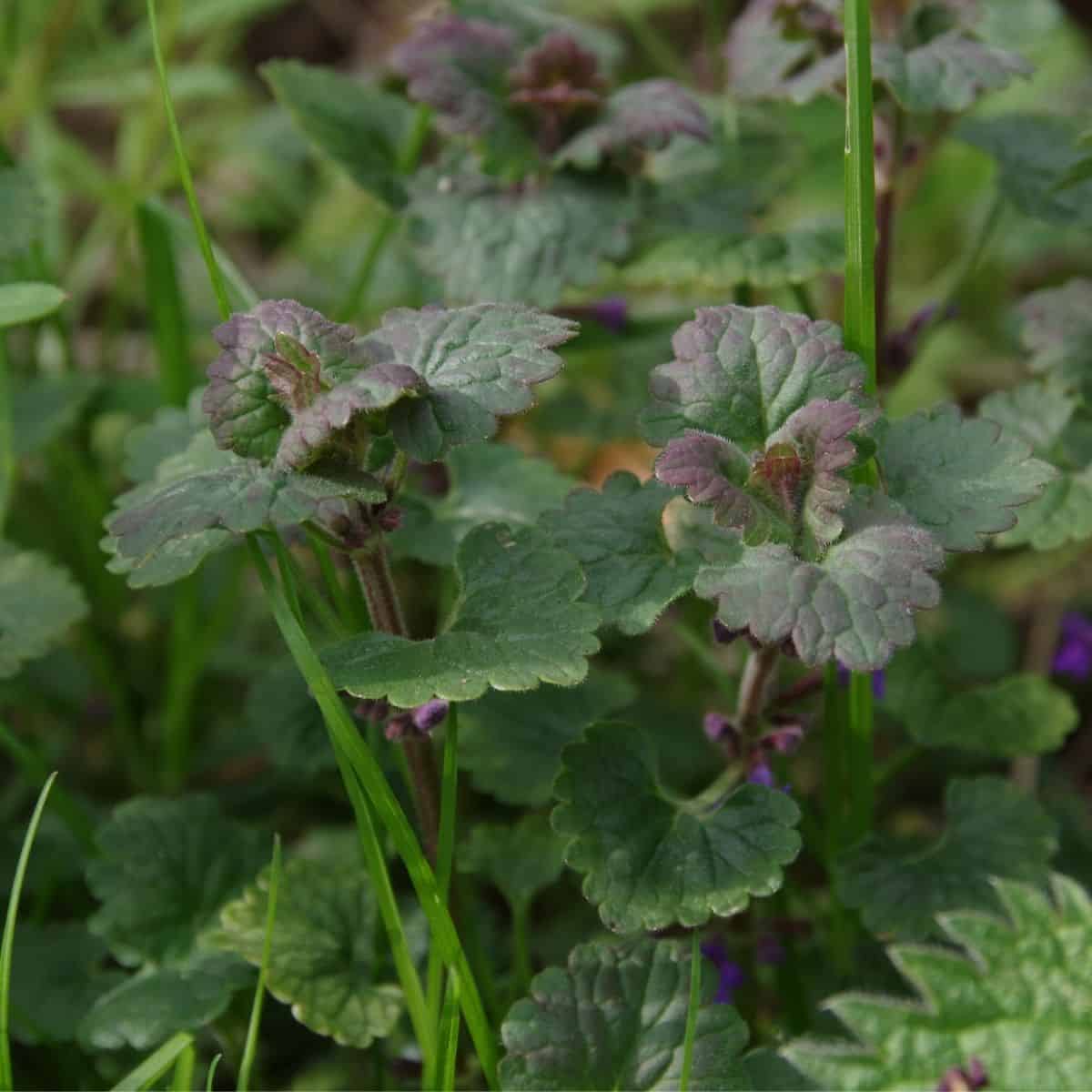 Uses: Ground ivy as a wild food has a unique, sage and mint-like flavour. I often use it in salads, sometimes as a garnish, in pestos and sauces and in stews. Ground ivy leaves can be steeped in hot water for tea.
Identification: Ground ivy has kidney-shaped leaves two to three centimetres in diameter, that are round-toothed at the edges. It produces small purple flowers that grow in clusters of two or three. Due to its creeping nature, it quickly forms carpets of ground ivy.
Health Benefits: Ground ivy has been used as wild food and in traditional medicine for thousands of years. It is high in vitamin C. It contains chemicals that supposedly help with the relieving of cold and flu symptoms.
Nettle
A very common plant found in woodlands, cultivated ground and hedgerows. This is a very underrated wild superfood.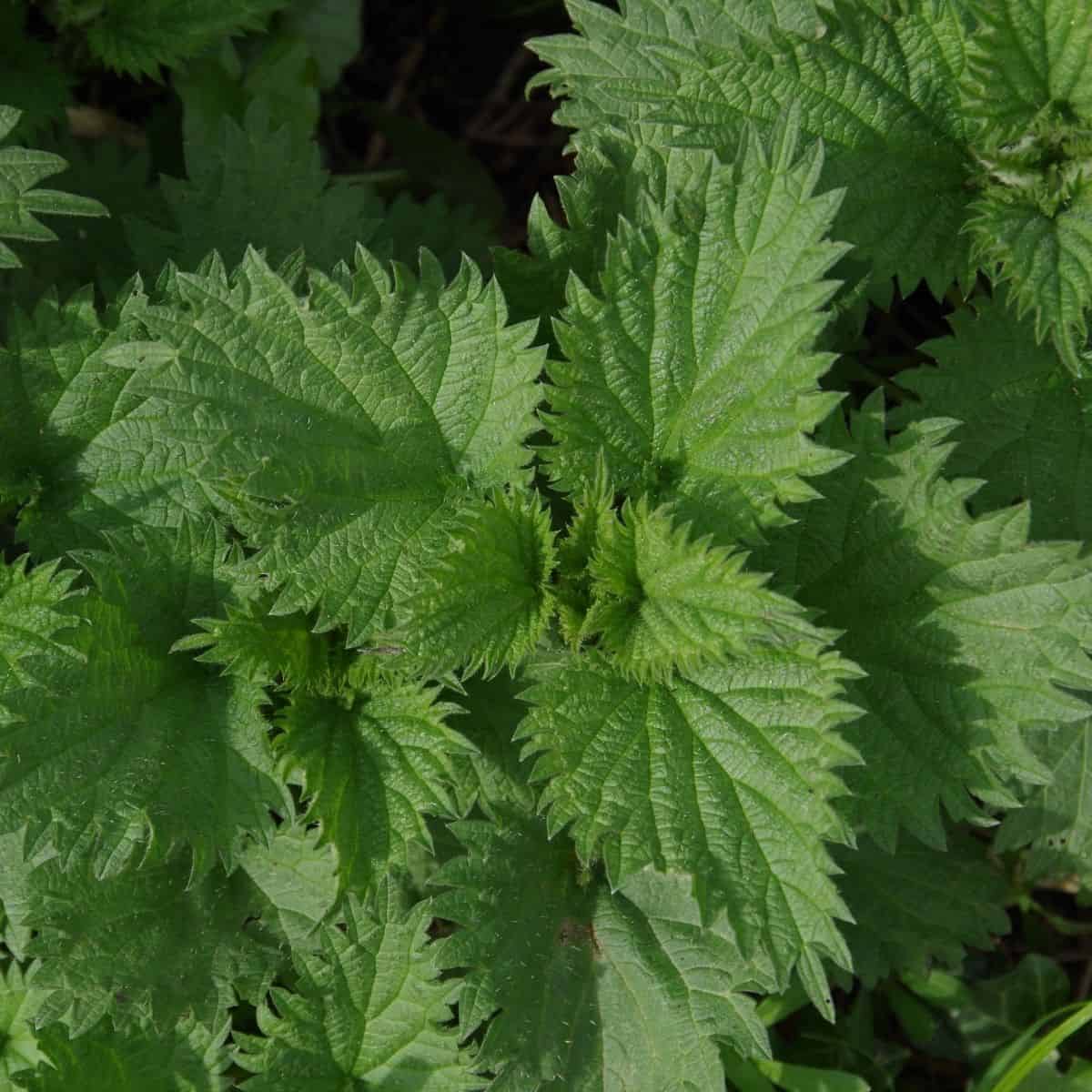 Uses: Out of all the weeds presented here, nettle is my absolute favourite wild food. Personally, I find it even better than spinach. You can use nettle in any recipe where you use spinach. The main difference is that you can't eat nettle raw, because of the sting. Nettles leaves can be steeped in hot water for nettle tea.
Lightly blanch and add it to your stews and soups, and make pasta with it or even muffins. Use only young nettle or the tops of larger nettle plants for cooking. Later in the year, nettle produces flowers and during that time we don't collect nettle leaves as the plant is using all its energy to reproduce, or after because then it produces certain chemicals that are not good for the kidneys.
However, nettle seeds can be harvested later, dried and used as tea. I prefer to use them on my porridge, salads and soups. Check out my sweet treat: Stuffed dates covered in dark chocolate and nettle seeds.
Identification: Nettles have heart-shaped leaves with serrated edges. The plants have fine, stinging hairs. When gathering nettles, please wear gloves or else it will be a painful experience! The sting is not harmful, just uncomfortable.
Health Benefits: Nettle is packed with vitamins A, C and K as well as minerals such as iron, zinc and magnesium and antioxidants to fight free radicals in the body.
Nettle has been used to treat inflammatory conditions like arthritis both topically as creams and internally as food.
Nettle has been used to treat prostate problems and urinary tract infections.
Another plant often seen as a nuisance is cleavers or goosegrass. Please take a look at my post showing how to make cleaver water, a detoxifying water infusion.
Recipe Ideas
Here are some recipes you can try out:
Wild Food Foraging Notes
It is good to remember that foraging wild food is always about reconnecting with nature and living in balance and harmony. Foraging is a gentle, meditative activity that encourages and allows connection to the web of life.
Only take what you need. We share this wild food with other animals and insects and other foragers. We need to support keeping biodiversity in balance.
Always seek permission to forage where necessary. Both from the landowner, and the plant in your heart.
Know your wild food. Proper identification is vital and you should never ingest anything unless you are absolutely confident with your identification. There are many books out there. I use "Food For Free" and "The Foragers Calendar" and an app called "Picture This"
Do not rely on just one idenification feature, use many. With the app, it is generally accurate but still prone to the odd mis-identification so do not put your whole trust in it.
Be concious about the environment you are foraging in. For instance, avoid foraging near to fields sprayed with chemicals, or along roadsides with heavy motor vehicle traffic.
Do not forage rare species.