Here in the UK, we have entered the first days of spring. Mother nature has awoken from her winter slumber; plants and trees are growing and blossoming. These signs of life can only mean one thing to us wild food lovers: More foraging trips! At the top of my foraging list, one very abundant plant is cleaver or goosegrass. It is relatively easy to identify and forage and needs little preparation. Considered a weed and thus something to remove by many, you may be surprised that cleavers can upgrade your water to detox water.
Look at my nutritious noodle soup recipe where I have used more wild food ingredients, often considered weeds: Dandelion leaves, ground ivy and garlic mustard.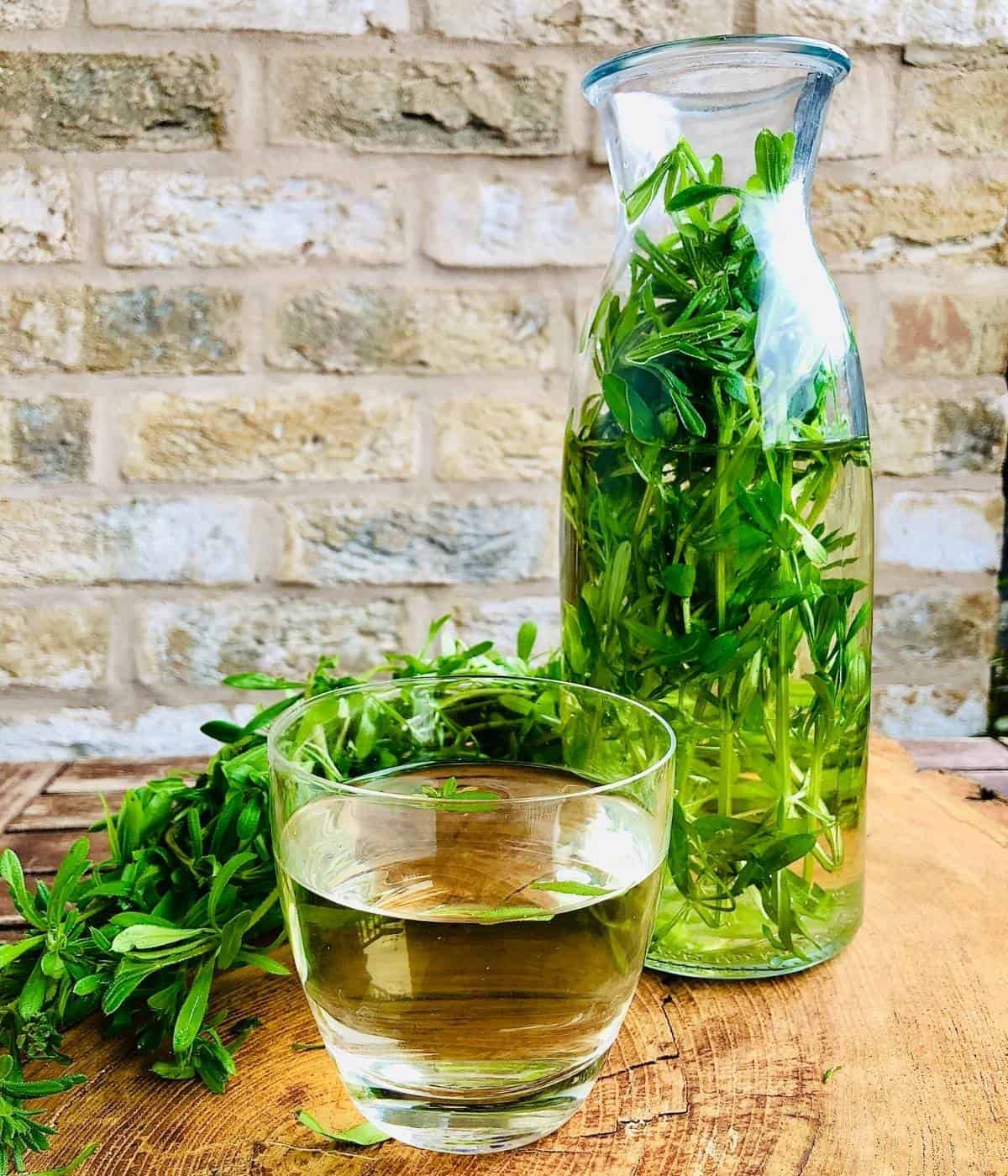 Where To Find Cleaver
Cleaver is widespread across the globe. It is native to many parts of Europe and North Africa and found in the USA, Canada, Central America, South America, Australia and New Zealand, amongst other countries.
In the UK, you will find it in woodlands, hedges, and cultivated grounds. As a creeping plant, it can quickly overwhelm areas and other flora. You can forage cleavers from springtime through summer and even into autumn and winter. So your detox water supply can last most of the year!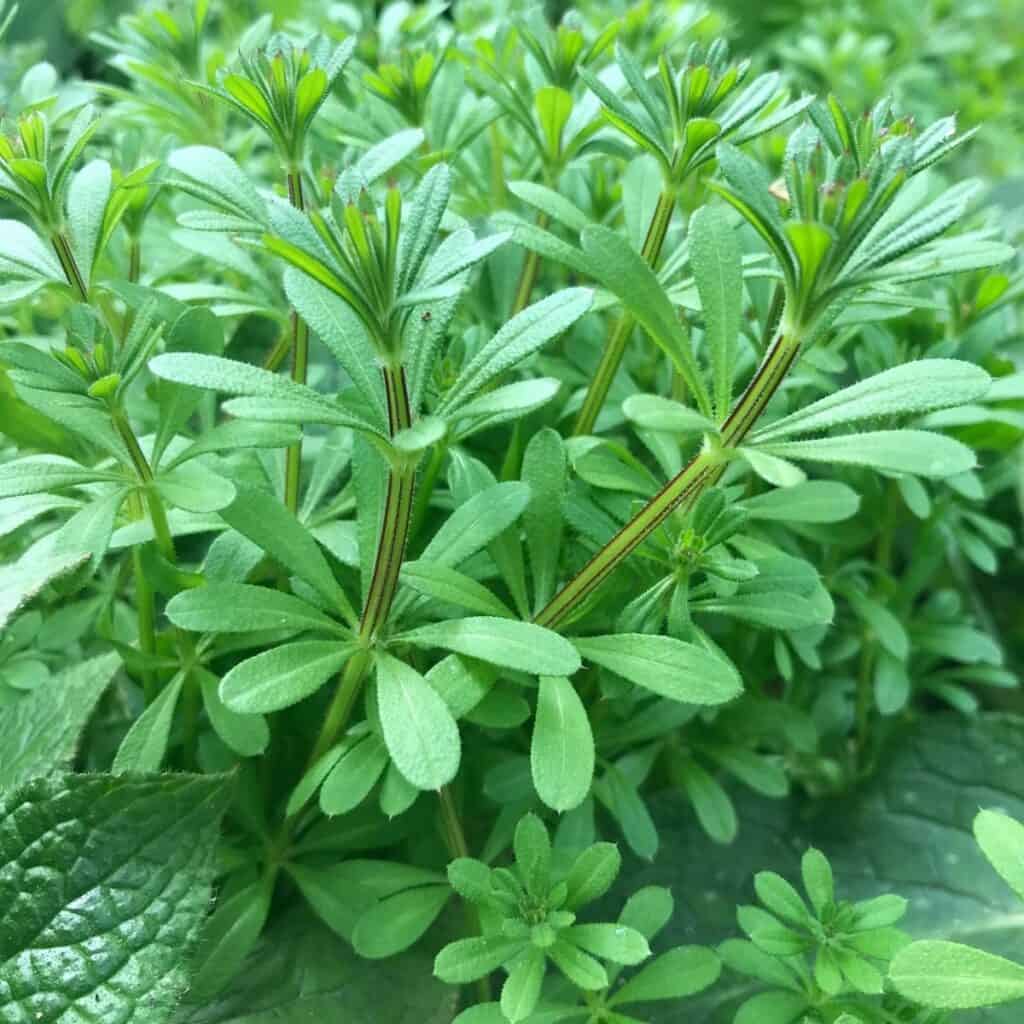 How To Identify Cleaver
You must be confident with your identification before ingesting wild ingredients. Don't just rely on one identification feature. Use as many as possible.
Cleavers is also known as goosegrass because it is a favourite food of geese. It also has many nicknames like sticky willies and gripgrass. Tiny hairs on the leaves make them stick to clothes and fur. It is a natural plaything for kids chasing their friends, trying to stick it on their clothes, and an annoyance for pet owners!
Some identification features:
Cleaver leaves, which are narrow and pointed, grow in a circle of six to eight leaves around the central stem. The leaf circles are about one to two inches apart; however, this spacing increases towards the base of the stem.
As said, the leaves contain tiny hairs that make the plant "sticky".
Cleavers produce tiny white flowers that are about 2mm across and star-shaped.
Cleavers have a square stem.
How To Make Cleaver Detox Water
Making your detox water is very simple. Gather your cleavers and give them a good wash under the tap. Then place the whole stems and leaves into your water bottle and let it infuse the water for a couple of hours at least. Aim to drink two to three glasses a day. The longer it infuses, the stronger the taste, so see what is to your liking. I refill the pitcher for a second infusion with the same bunch of cleavers.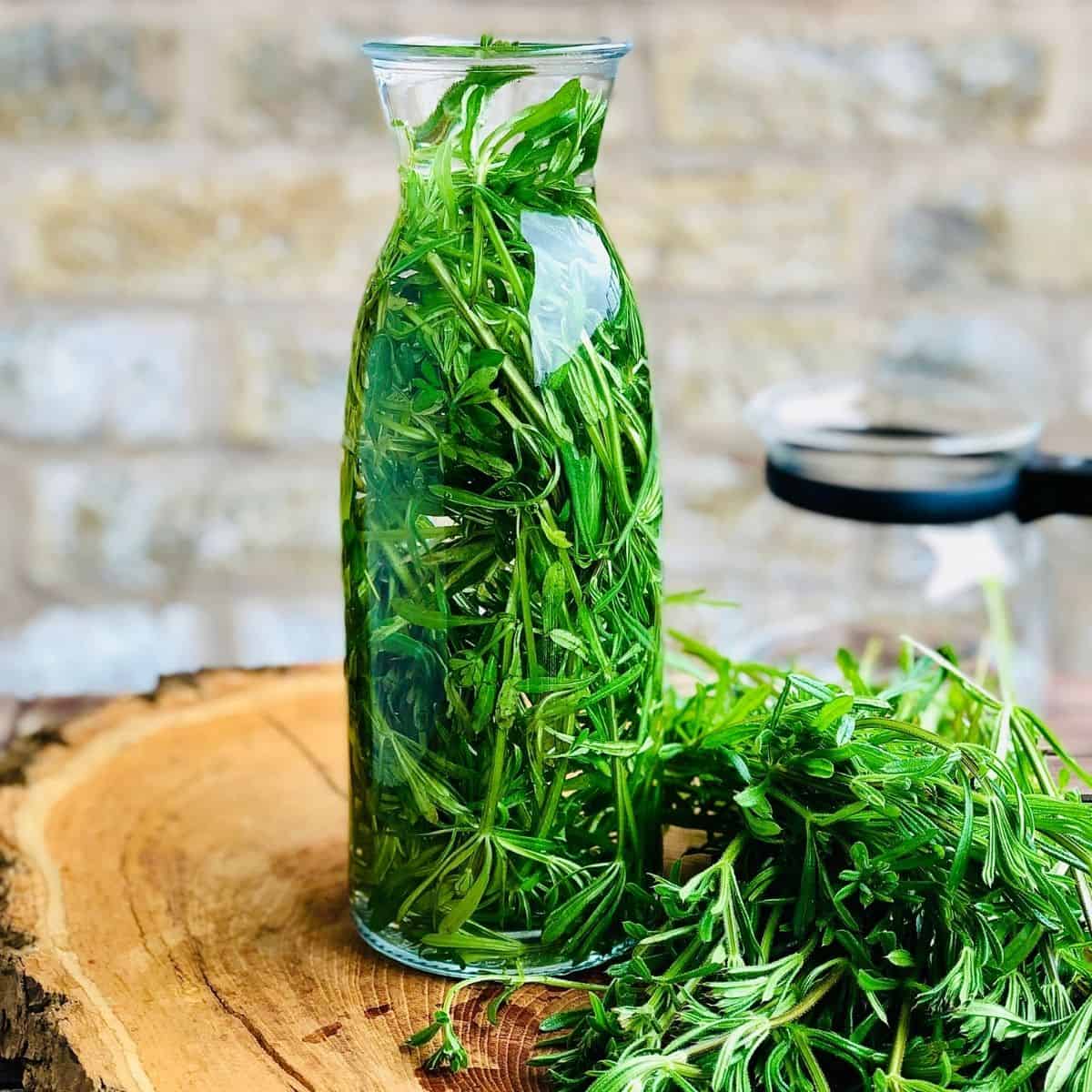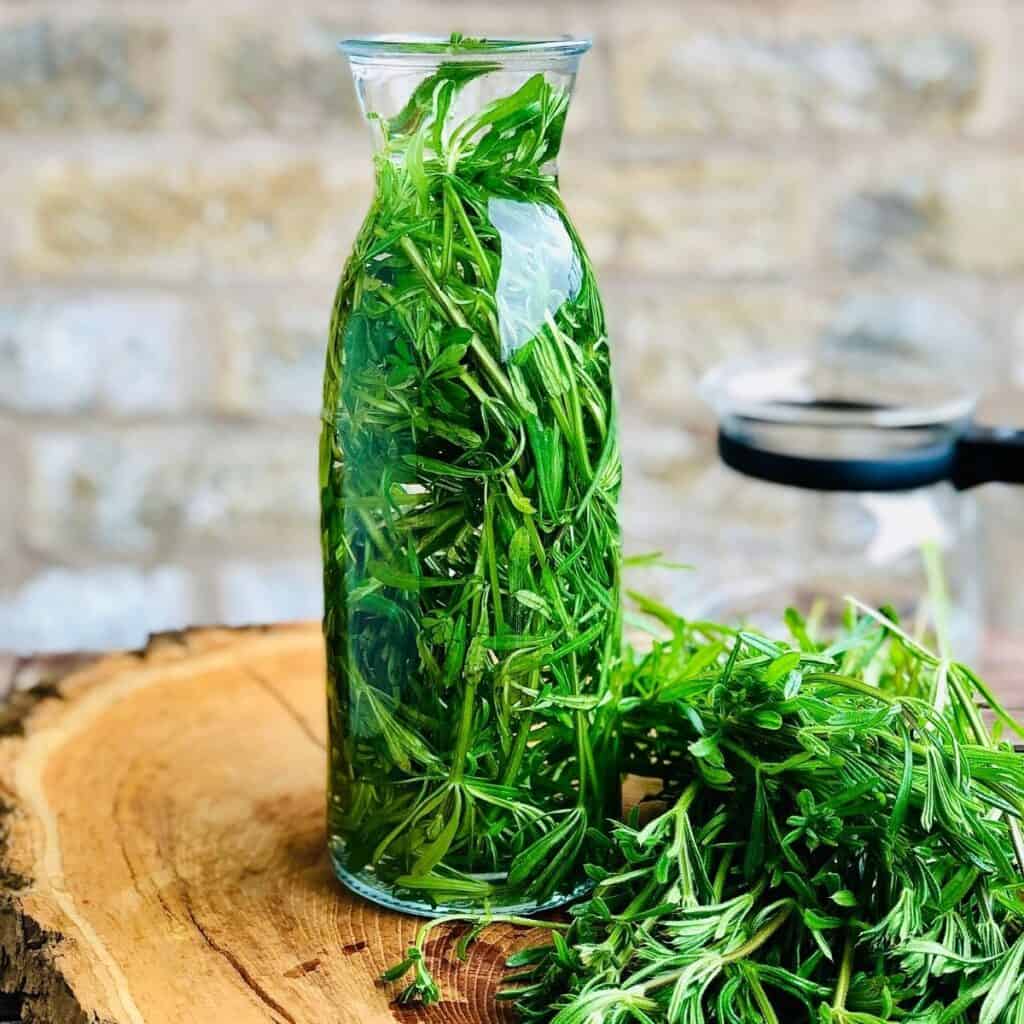 Of course, the taste is all-important. It has a very refreshing taste, reminiscent of cucumber water.
If you are going to eat the cleavers, it is best to harvest early in the growing season, or else they become intolerably stringy. You can use them in salads and soups. Boil them in water for a few minutes, and the fine hairs "melt" away.
How To Video
Here is a video guide to making your cleaver detox water.
Heath Benefits Of Cleaver Detox Water
When we feel under the weather, a trip to the pharmacy is usually in order. However, nature provides a gigantic pharmacy of natural and free remedies. As a folk medicine, the cleaver has many benefits, both as an infused detox water and as a food item:
Lymphatic system: The lymphatic system in our bodies helps us fight infection. It is part of our immune system. Lymph fluid passes through the lymph nodes throughout our bodies. Cleavers aid the functioning of this lymphatic system.
Kidneys: Cleavers are a diuretic; that is, it helps stimulate the passing of fluid. Thus can act as an effective flush for the kidneys.
Urinary tract: Cleavers can help ease urinary tract infections such as cystitis.
Lower blood pressure: Through a thinning effect on the blood, cleaver can help lower blood pressure.
These are just a few of the medicinal benefits of cleavers. There are many articles on the web with comprehensive guides.
Foraging Resources
I can't stress enough the importance of being confident with identifying wild food before you ingest anything. Otherwise, there is a real risk of poisoning and becoming ill.
An excellent way to learn is to go on a course with an expert forager.
I always take a few books with me to help with identification. "The Foragers Calendar" details what can be foraged month by month. "Food For Free" is a classic. It is pocket-sized, so convenient when outdoors.
I also use an app called "Picture This". The app scans your photo with the phone camera and identifies the plant. It is like having a botanist by your side! I have found it to be accurate.
The golden rule is: If in doubt, do not eat!