There are so many versions of salsa verde out there, but my salsa verde recipe stands out from the crowd. Usually, Salsa Verde, the Italian version, is made with parsley and is very garlicky. My version of salsa verde uses wild garlic, garlic mustard, ground ivy and wild garlic capers. When I made this salsa verde for the first time, it blew my mind; I was very proud. It takes salsa verde to another level. Slather it on a piece of bread, or add spoonfuls to your spaghetti, it'll elevate anything. If you need an excuse to go out and forage, this is your sign; you need to make this!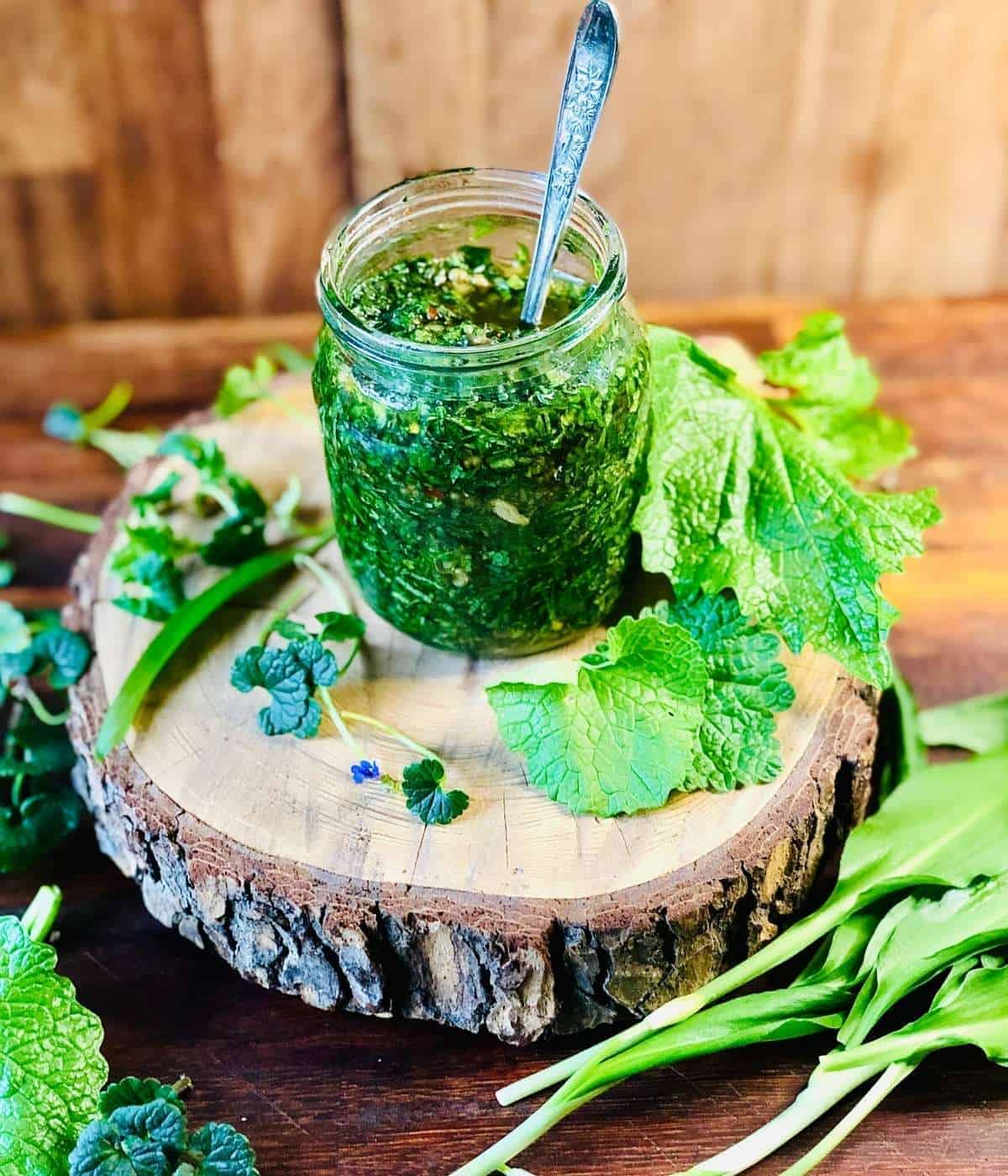 Salsa Verde, which means "green sauce", is a famous spicy sauce in Europe and Latin America. An Italian salsa verde recipe uses garlic, onion, anchovies, olive oil, parsley, vinegar and caper sauce. A Mexican salsa verde recipe uses cooked tomatillos.
I hope you like my take on these classic sauces using foraged wild food!
Why not try my wild garlic chilli sauce as well?
I have also used some of the ingredients in my noodle soup recipe.
Jump to:
Ingredients
Before you intend to make this salsa verde recipe, go out and forage for the wild greens.
You will find information regarding the ground ivy and garlic mustard in my post "Food For Free: Eat The Weeds" and more about wild garlic: "Easy One-Pot Miso Tahini Noodle Soup With Wild Greens."
A note on the wild garlic capers: After the wild garlic leaves are fully grown, the plant produces flowers and, after that, the seeds. These seeds are packed with flavour too. After the flower petals have fallen, I pick the seeds and pickle them in apple cider vinegar to use later in the year. The ones in this recipe are from last year's batch.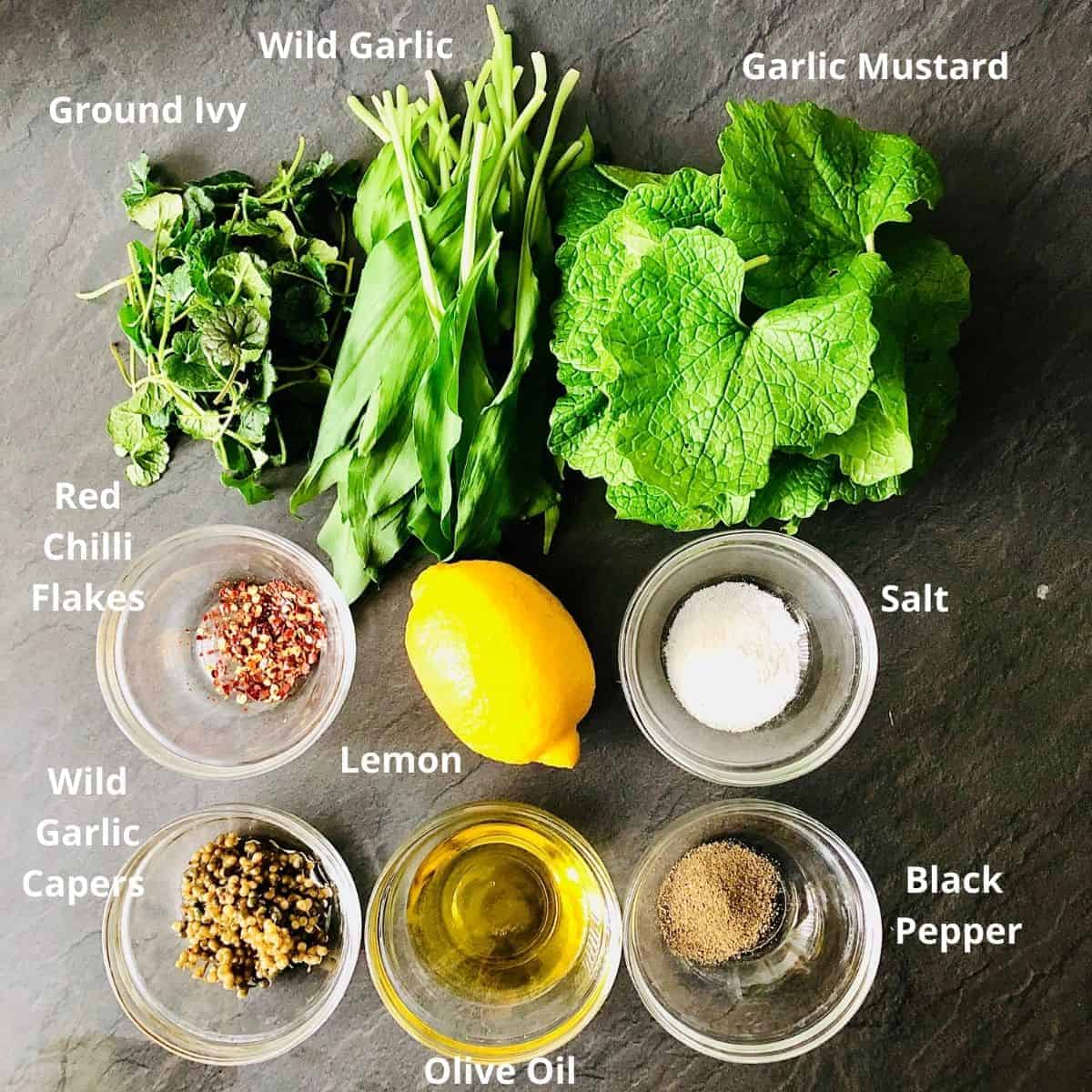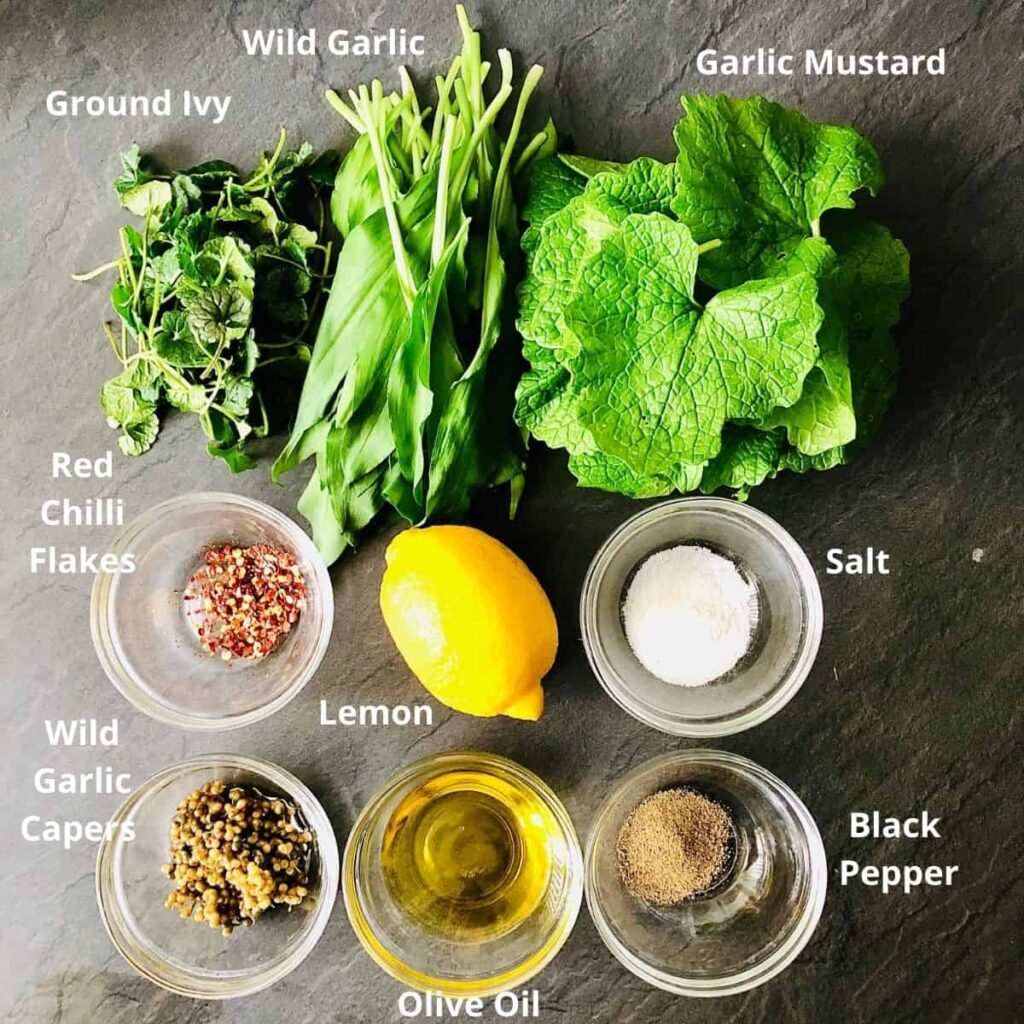 Ground ivy
Wild garlic
Garlic mustard
Salt
Black pepper
Olive oil
Lemon juice
Wild garlic capers
Red chillli flakes
See the recipe card for quantities.
Instructions
First, thoroughly wash the ground ivy, wild garlic and garlic mustard and pat them dry.
Then finely chop the greens and set them aside.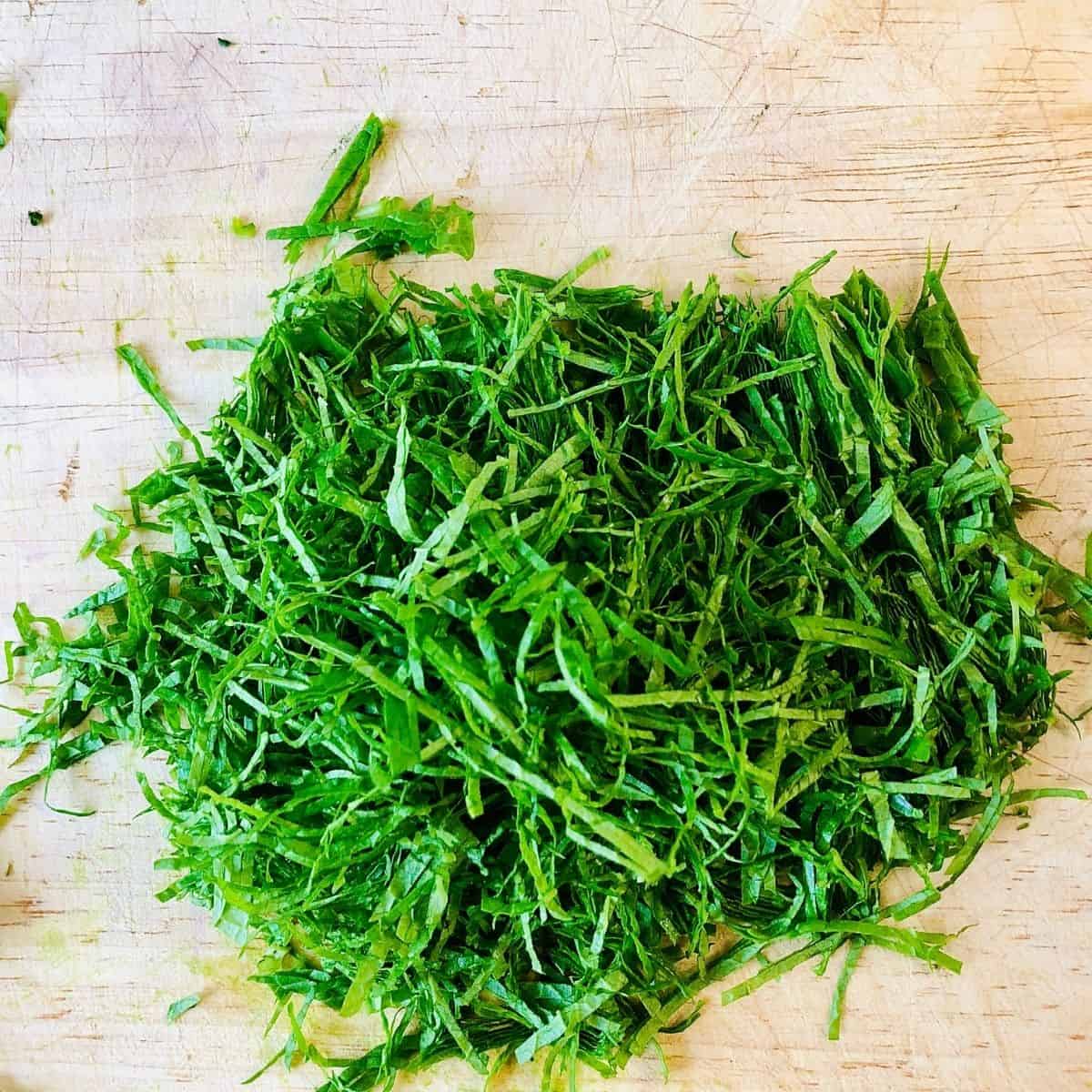 Then, add the salt, pepper, and red chilli flakes to a bowl.
Zest and juice the lemon and add to the bowl. Then add the olive oil slowly while whisking to emulsify the contents of the bowl.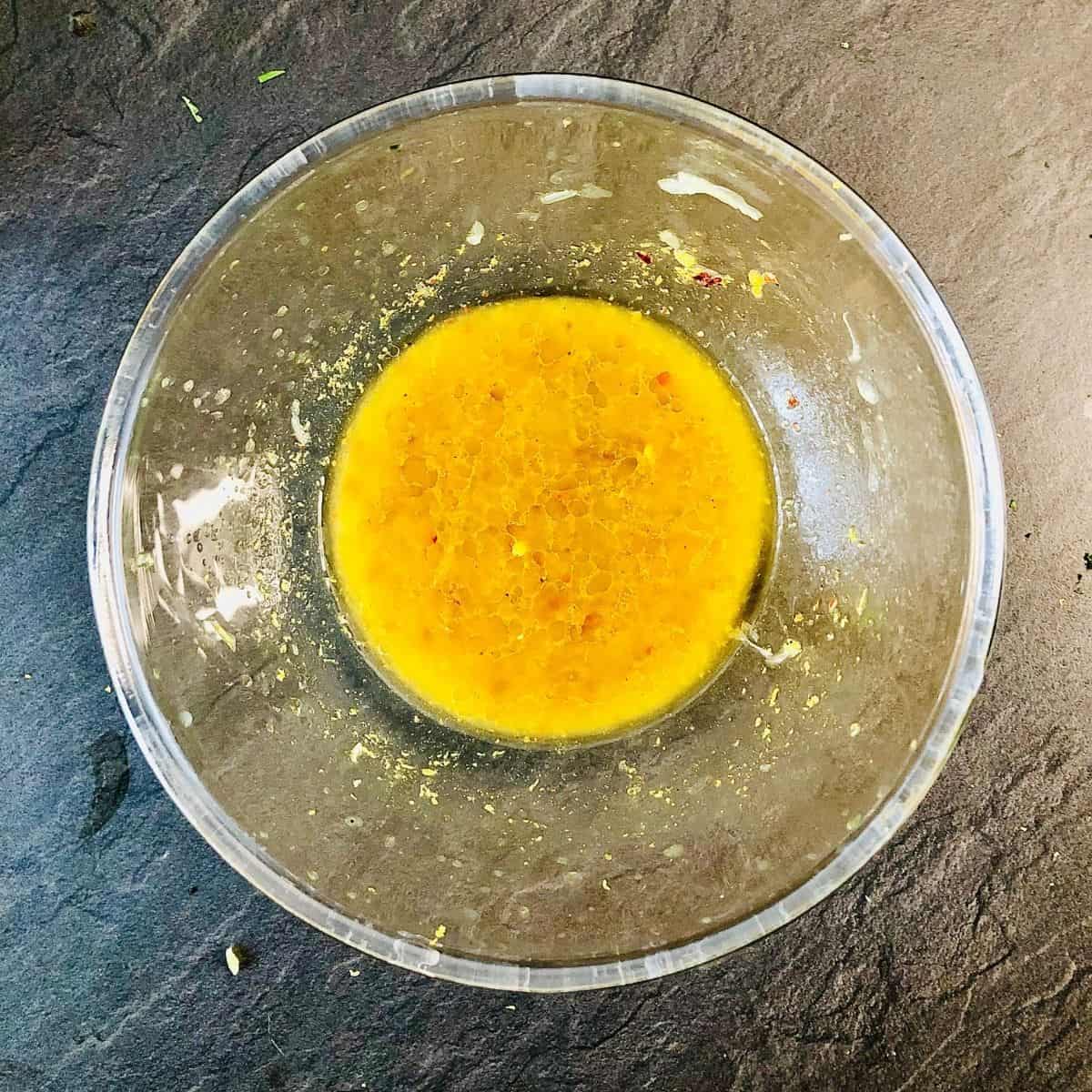 Now add the finely chopped wild garlic, garlic mustard, ground ivy, and then the wild garlic capers. Mix thoroughly to combine.
Transfer the finished salsa verde into sterilised jars or another preferred receptacle.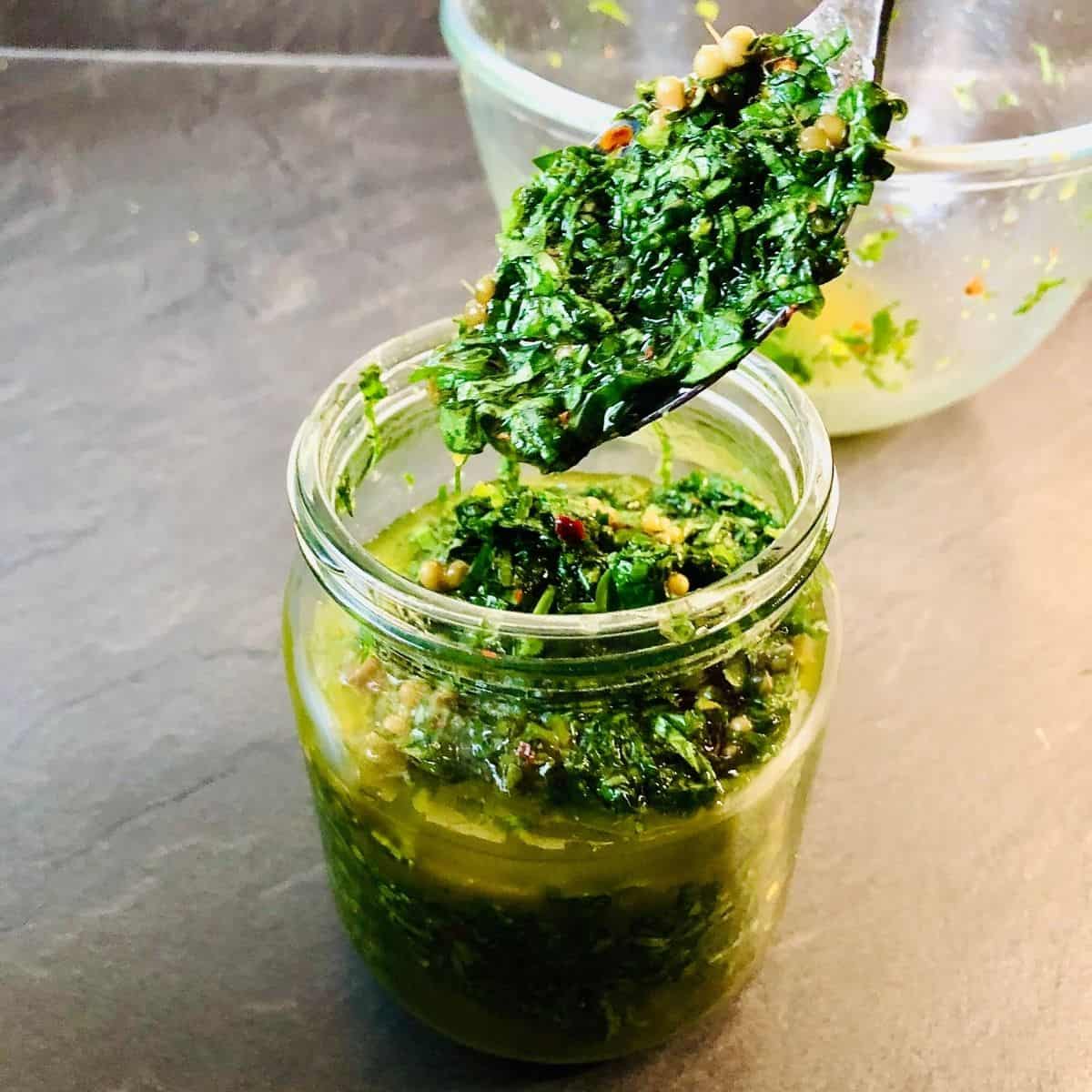 How To Video
Here is a video guide to making salsa verde with foraged wild greens.
Substitutions
If you don't have wild garlic capers, you can replace it with store-bought capers.
Variations
My recipe is a plant-based version of a wild salsa verde. However, you can add anchovies if you are not vegan.
Equipment
I use my old jam jars for all my preserves and sauces. The easiest way to sterilise them at home without any special equipment is to give the bottles and lids (metal) a wash with hot soapy water and leave them in the oven for at least 30 mins at 100ºC.
Storage
This sauce is best consumed within a week, as the greens rapidly lose colour. The flavour stays intact for a week. I cannot say if it will stay good for longer than two weeks as mine doesn't last that long because I love it so much.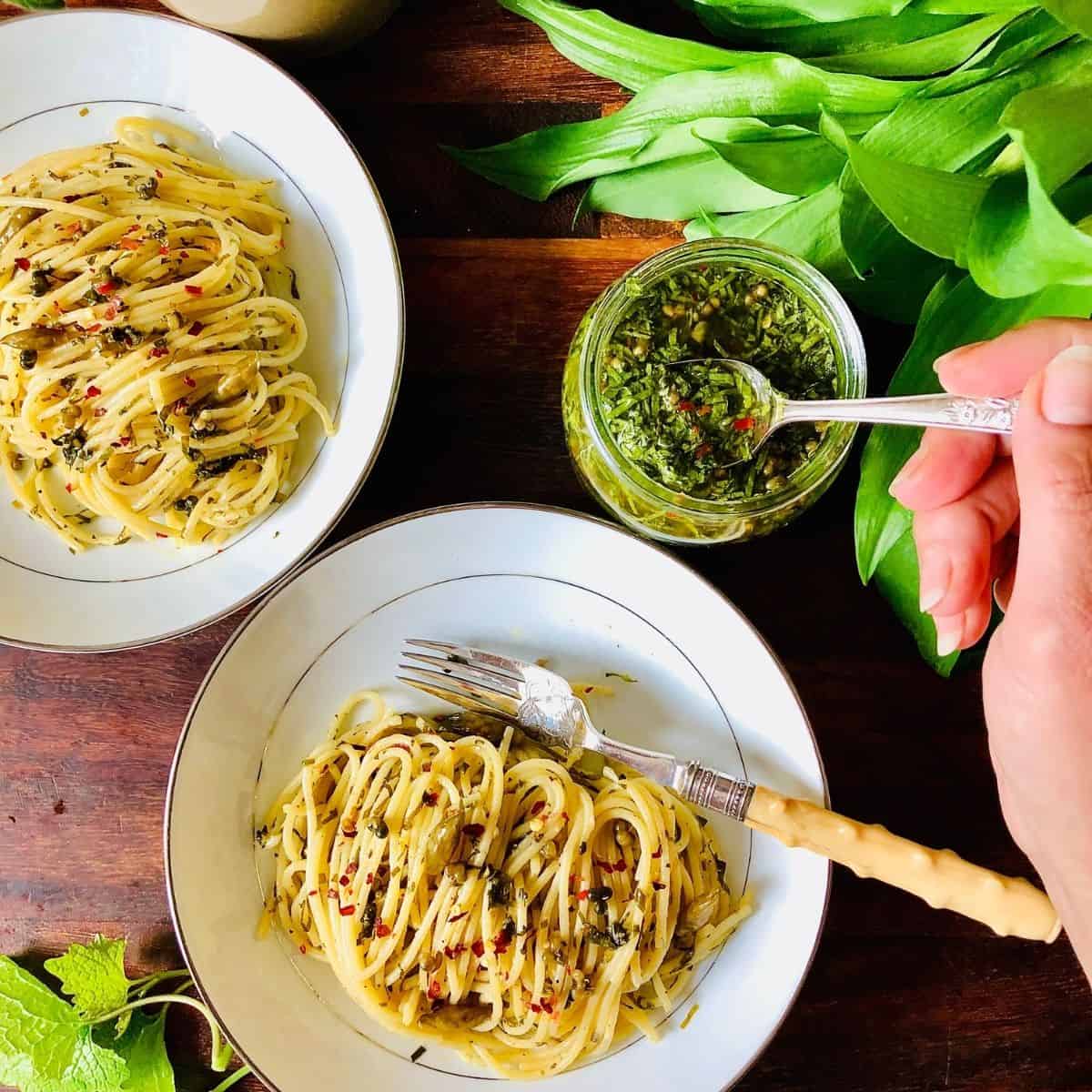 📖 Recipe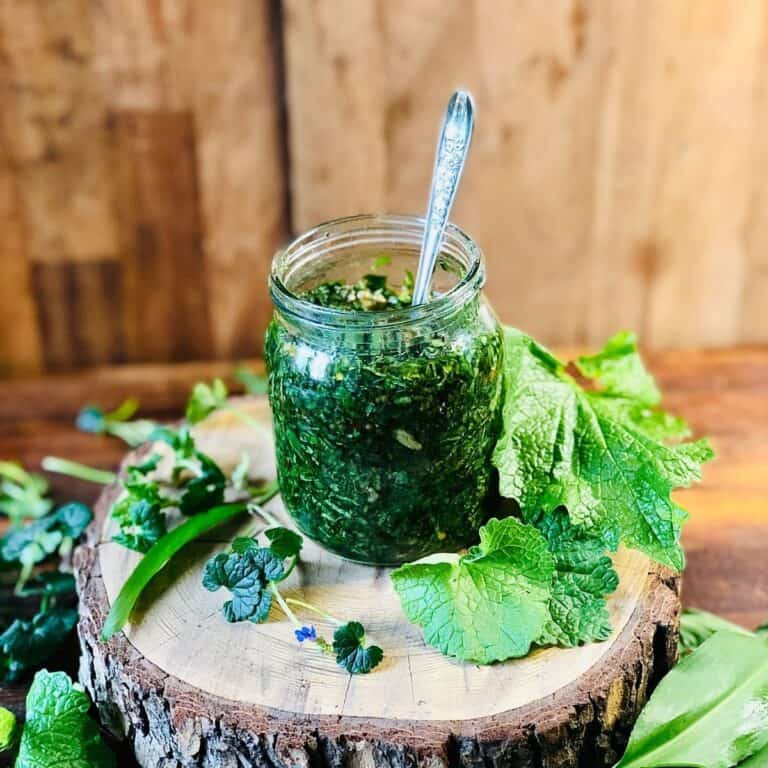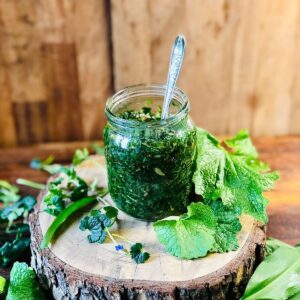 Salsa Verde With Foraged Wild Greens
Vegan Salsa Verde with wild garlic, garlic mustard and ground ivy.
Ingredients
42

gms

Wild garlic

50 leaves approx

35

gms

Garlic mustard

20 large leaves approx

11

gms

Ground ivy

100 small leaves approx

1

Lemon zest and juice

200

ml

Olive oil

2

tablespoon

Wild garlic capers

1

teaspoon

Salt

½

teaspoon

Black pepper

1

teaspoon

Chilli flakes
Instructions
Wash and pat dry the wild garlic, garlic mustard and ground ivy.

Finely chop the wild garlic and garlic mustard leaves and roughly chop the ground ivy leaves.

In a bowl add the salt, pepper and chilli flakes.

Zest the lemon and add the zest to the bowl with the salt, pepper and chilli flakes

Squeeze the lemon juice into the bowl.

Add the olive oil slowly and whisk to emulsify.

Add the chopped wild greens into the bowl and mix to combine.

Finally, add the wild garlic capers and mix.

Transfer into a sterilised jar and use as desired.
Food Safety
In a professional kitchen, food hygiene and safety are top priorities, and from the beginning of my training, I practised good habits and routines. Of course, practising good food hygiene and safety at home is also essential. Here are some fundamental practices to adopt in the kitchen.
Wash your hands regularly while preparing, handling and cooking food.
Wipe down countertops and high-contact points regularly.
If you cook meat and fish, do not use the same utensils on cooked food that previously touched raw meat. Use separate chopping boards for meat and fish. Wash your chopping boards immediately after use.
Thoroughly cook food to a minimum temperature of 165 °F (74 °C).
Don't leave food at room temperature for extended periods (more than 2 hours).
For more details regarding food hygiene and safety in the home, visit the UK Government's Food Standards Agency webpage.