Had a busy day? No time to cook, or do you want something quick, nourishing and tasty? Then this Kadhi recipe will only take fifteen minutes to make, and you will end up with a delicious concoction of spiced yoghurt and gram flour.
Kadhi is a light Indian comfort-food dish with many regional variations. However, the core ingredients in a Kadhi recipe are Gram flour, yoghurt and tempered spices.
It is pronounced Ka-Rhi, but should not be confused with curry. It is not a curry!
This version is quick and easy, and you can utilise those leftover vegetables you have in the fridge.
Traditionally it is accompanied by rice, but you can also enjoy it on its own.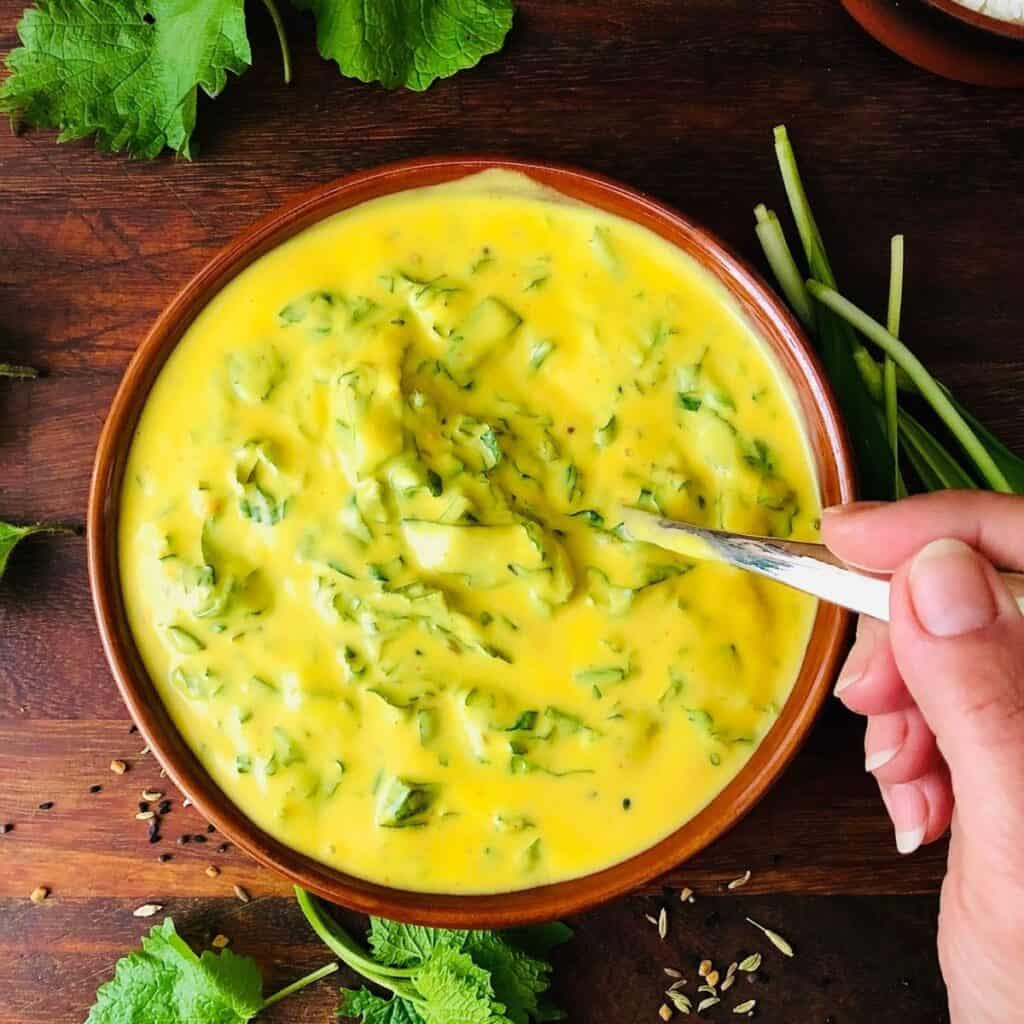 Gram flour, also known as besan, is made from milled yellow split peas. Consequently, it is a naturally gluten-free core ingredient. Make it a stock item for your cupboards because it is versatile and an excellent go-to for various quick meals.
This version of Kadhi is different from the Kadhi of my childhood. The Punjabi Kadhi I enjoyed as a child was similar but contained other spices and Pakora (spiced fritters). However, when I moved to the UK, I wanted a version that I could make quickly and easily. So my mother kindly taught me this one, replacing the Pakoras with spinach for a healthy twist. Although, if spinach is not your thing, don't be afraid to replace it with other vegetables.
I am from Bengal in India. A traditional spice mix from this region that has made its way into this version of Kadhi is Panchphoran (literally, "five spices"). Panchphoran contains Fenugreek seeds, nigella seeds, cumin seeds, black mustard seeds and fennel seeds in equal proportion. Whole seeds are used, as opposed to ground down seeds. They are tempered in hot oil to release their flavours. Check out my Instagram tutorial video.
Jump to:
Ingredients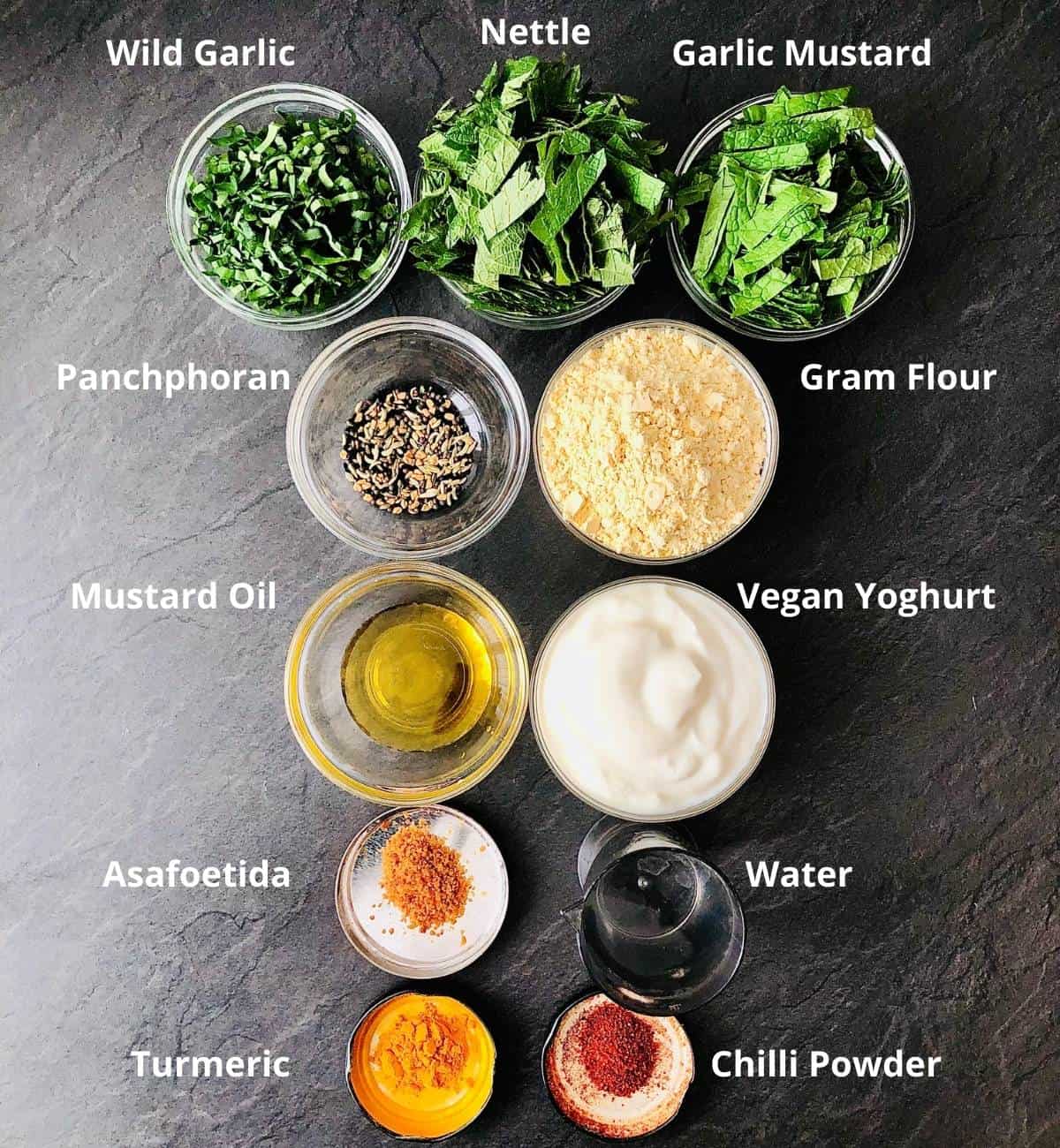 Wild Garlic
Nettle
Garlic mustard
Gram flour
Vegan yoghurt
Water
Chilli powder
Turmeric
Asafoetida
Mustard Oil
Panchphoran
Wild garlic, nettle and garlic mustard are foraged wild food. You can replace it with spinach.
Instructions
Whisk the gram flour and the vegan yoghurt into a smooth batter in a bowl.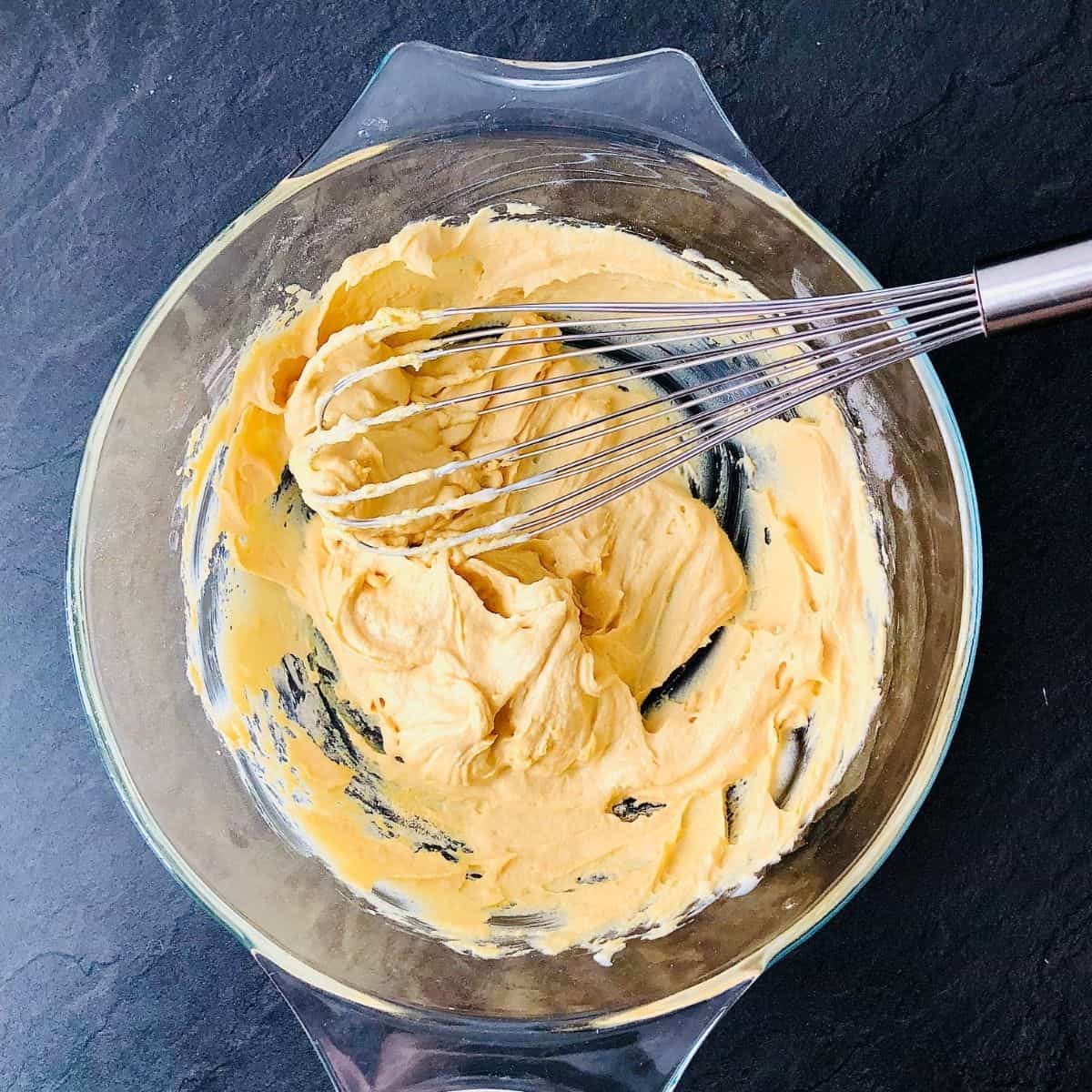 Now slowly add the water and whisk to thin down the batter. If lumps form, don't worry; pass through a fine sieve to break them down. Set aside.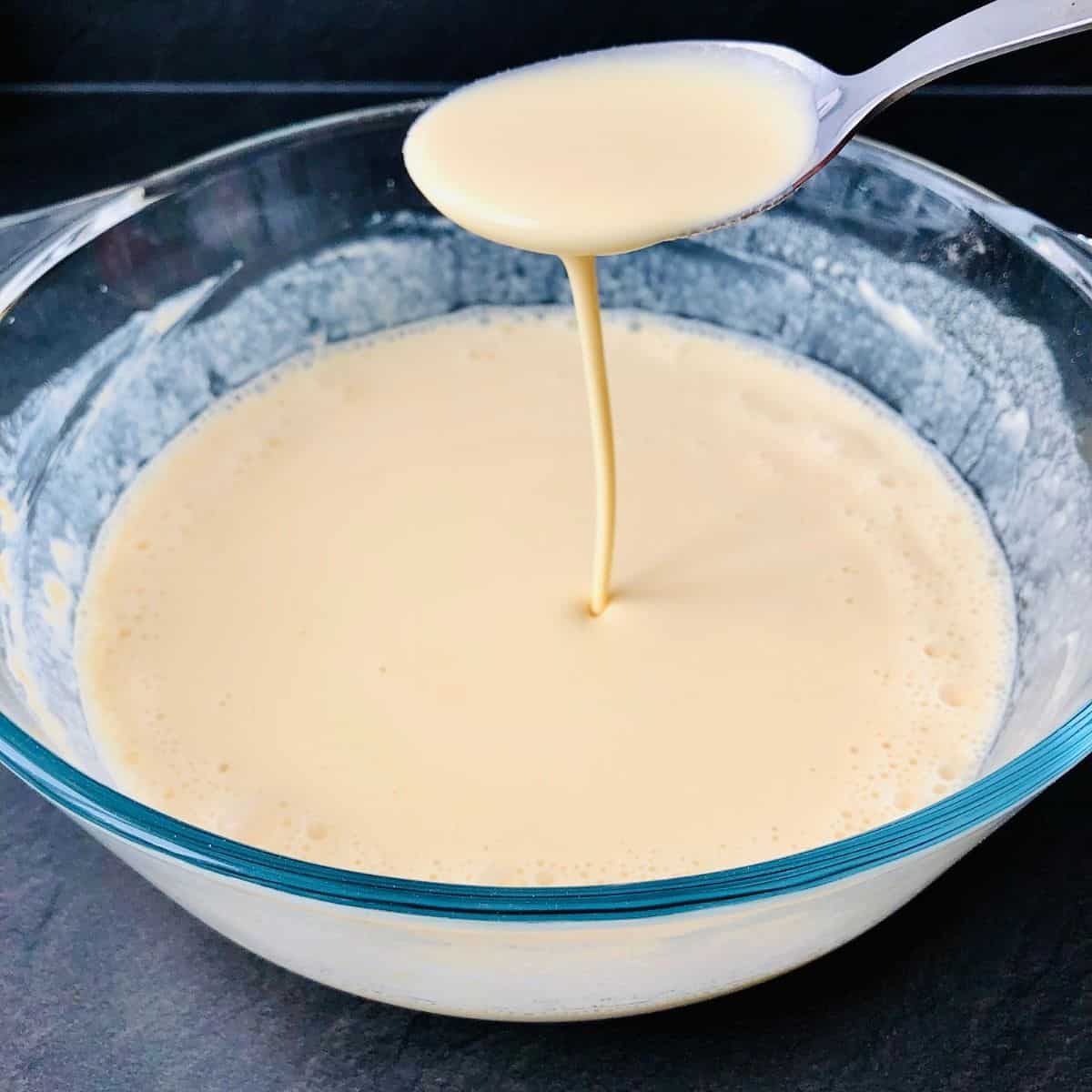 Heat the mustard oil over medium heat in a small pan and temper the panchphoran and Asafoetida. Be careful not to burn the spice. Tempering spices is the process of "blooming" spices to release their flavour; achieved by adding the spices to hot oil.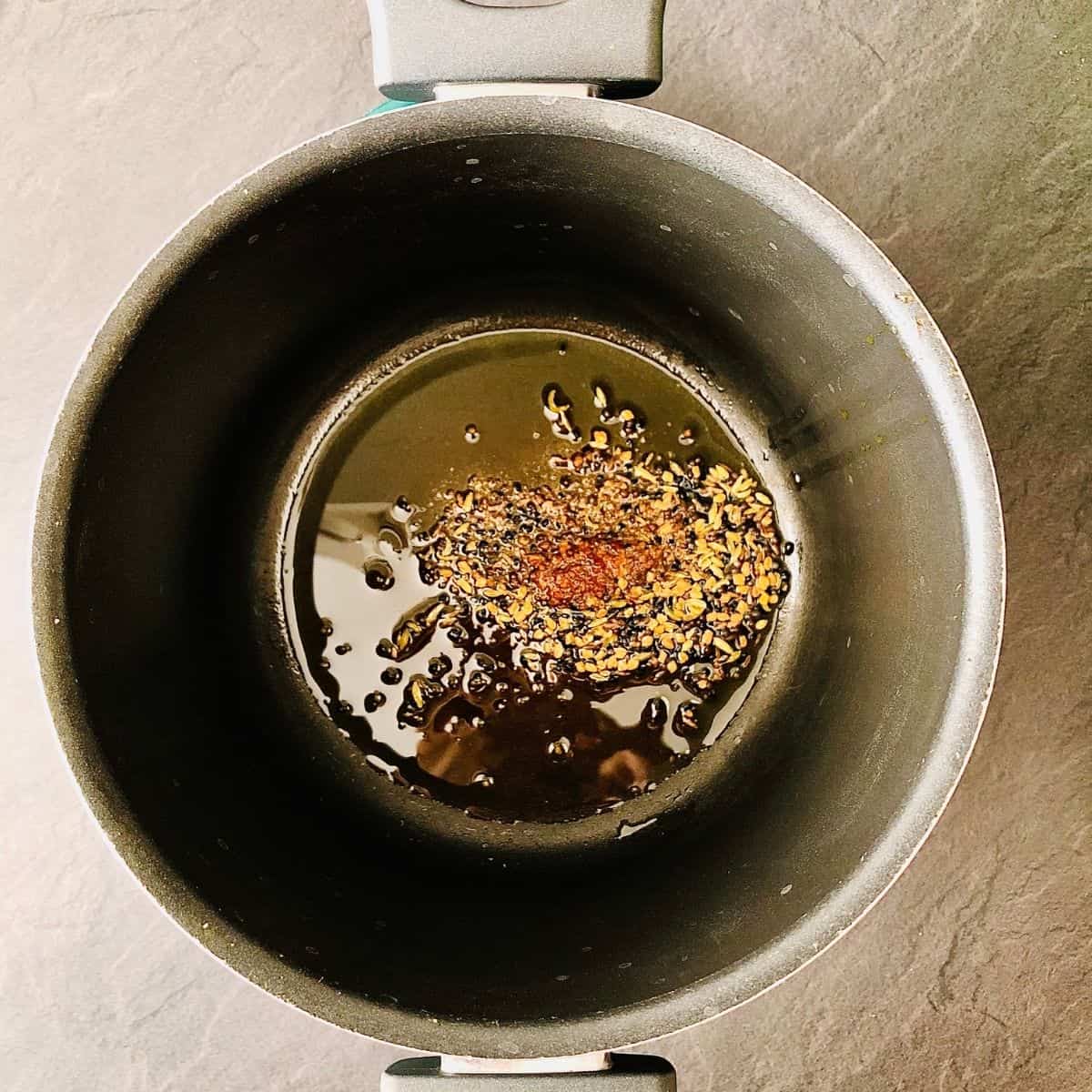 Next, add the gram flour/yoghurt batter, turmeric and chilli powder and mix until the contents thicken. Make sure that you constantly stir to prevent lumps from forming and stop the mixture from sticking to the bottom of the pan. Have a look at the video to see the consistency.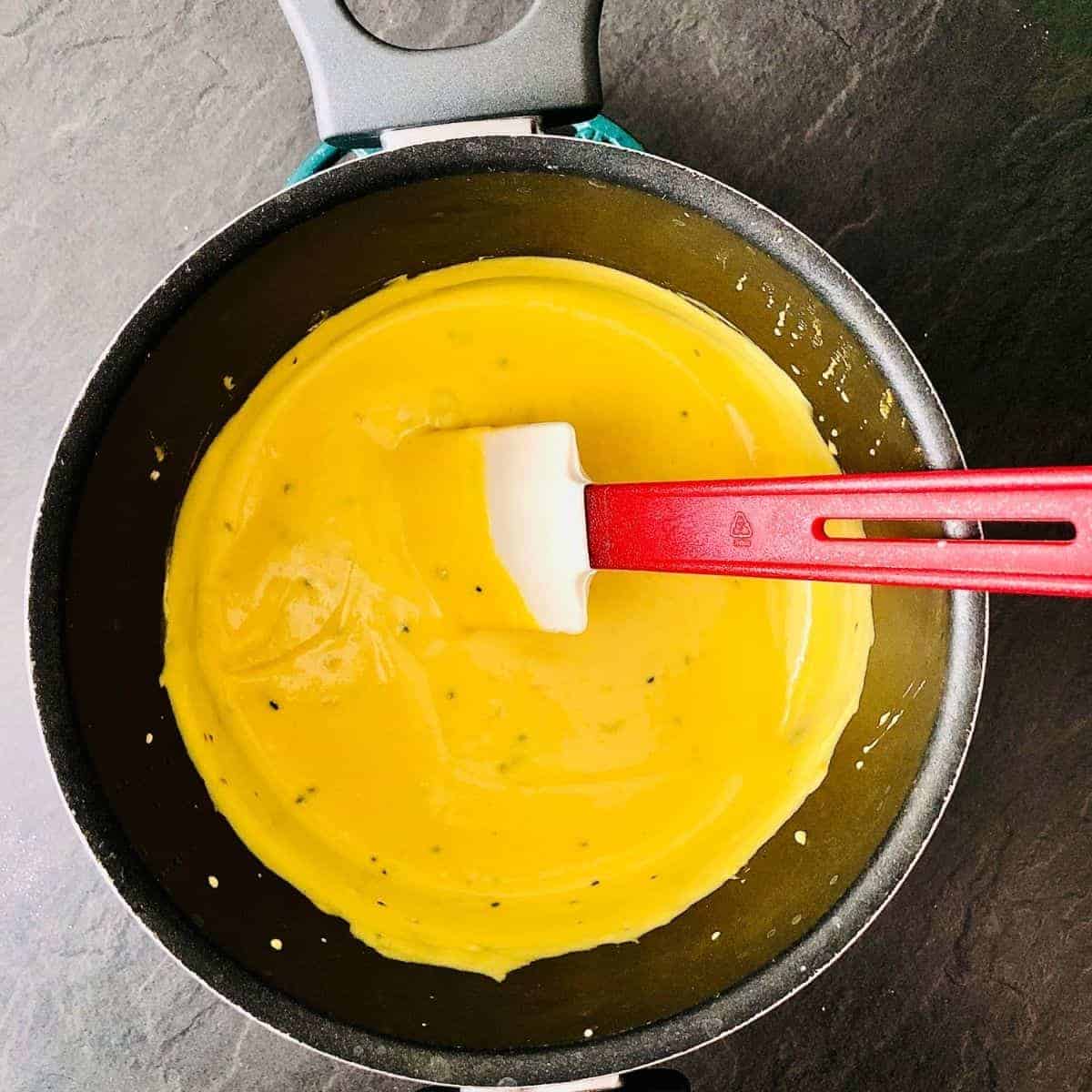 Finally, add your greens and cook for a minute or two. If you are using spinach, you will see the spinach wilt after a few minutes.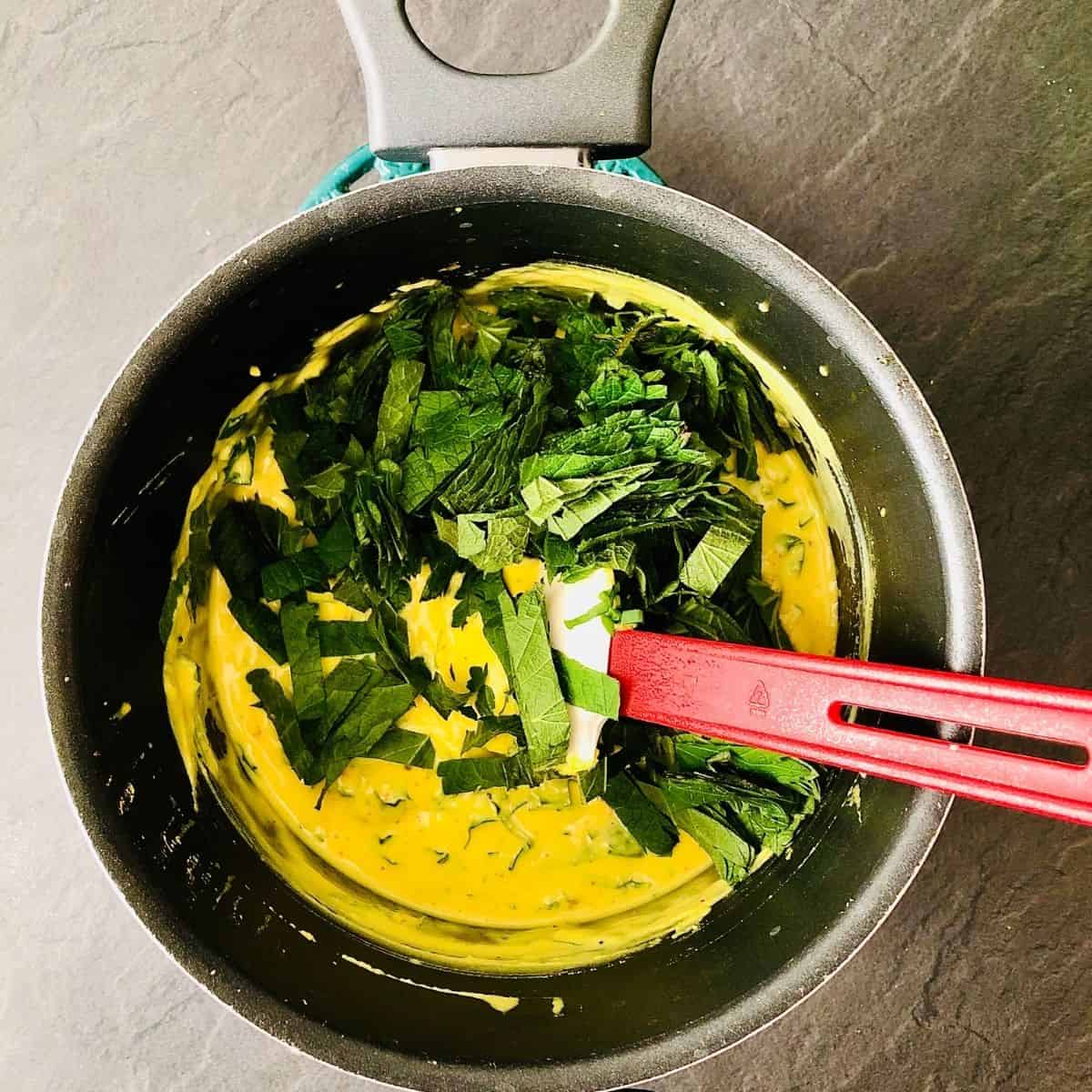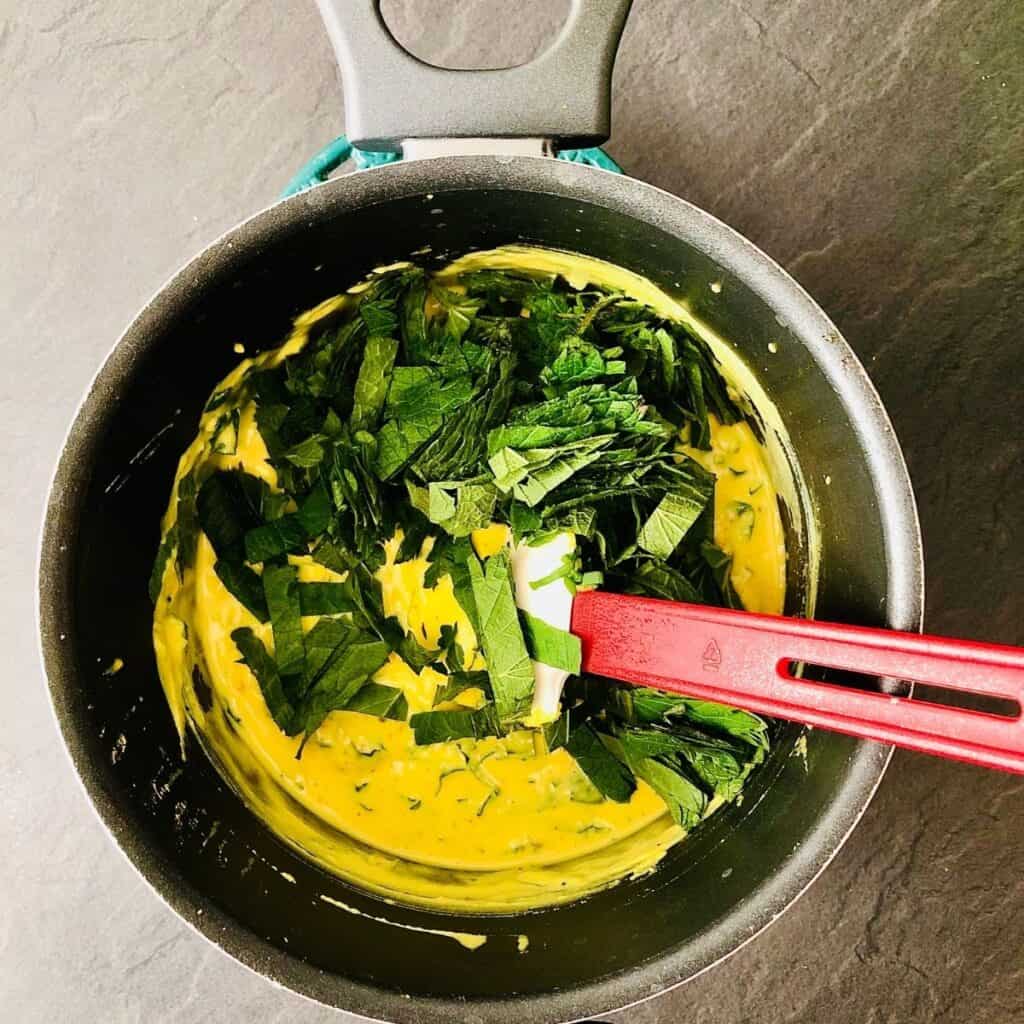 Serve the kadhi with rice or a flatbread like roti.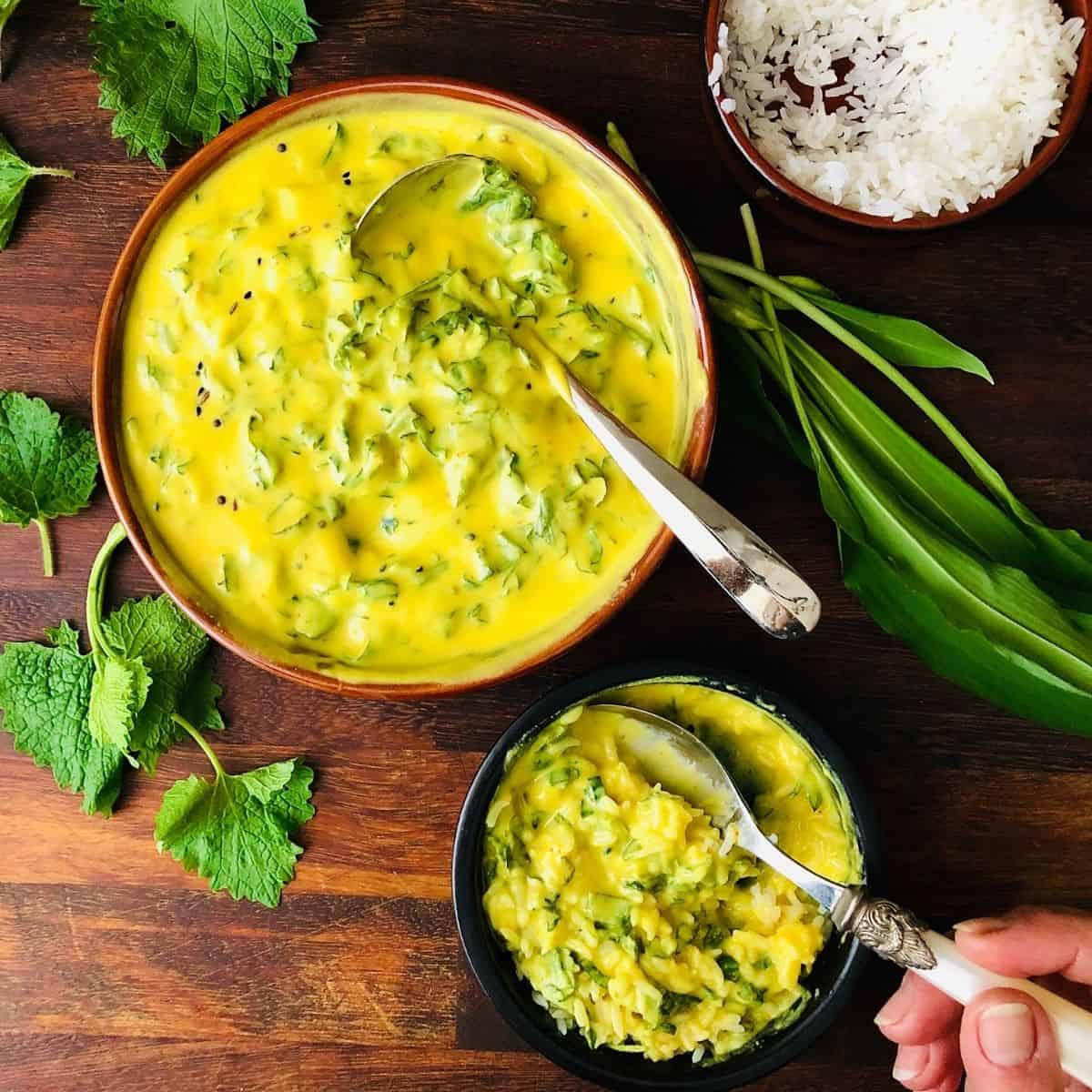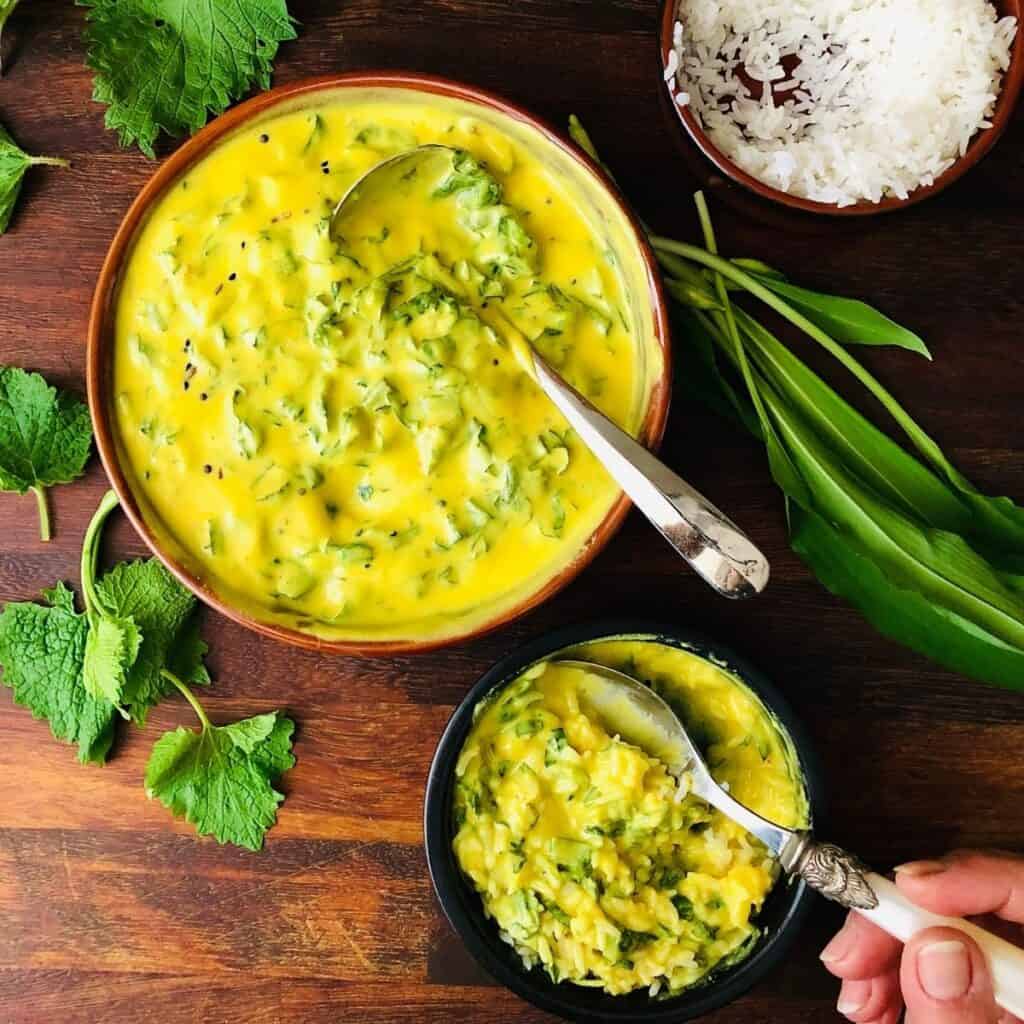 How To Video
Here is a video guide to making gluten-free vegan kadhi.
Substitutions
Yoghurt: I have tested this Kadhi recipe with oat, coconut and soy yoghurt and all worked well.
Replace it with dairy yoghurt for a non-vegan version of this Kadhi recipe. You could even give your gut a boost with some probiotic yoghurt.
Greens: I love to forage for wild food ingredients, so I used wild garlic, garlic mustard, and nettle in this kadhi recipe. You can replace these with spinach if you don't want to use foraged ingredients.
Not keen on your greens? Replace with a variety of different vegetables. Try cauliflower, carrot or broccoli. Blanch these vegetables to partially cook them before adding them to the kadhi.
A note about the asafoetida used in the recipe: Asafoetida is a spice made from gum resin from fennel. It is often used as a garlic and onion substitute in Indian cooking. For a completely gluten-free dish, make sure you purchase asafoetida made with rice flour, not wheat flour.
Top Tips
Stirring the batter once cooking is essential as it will start to thicken almost immediately. Use a whisk or a spatula to mix going right into the cormers of the pot as well.
While cooking, the Kadhi will thicken, so add water if you wish to reach your desired consistency. It may thicken as it cools too. Again, add water to achieve your desired consistency.
Storage
You can store kadhi in the fridge for up to three days.
Kadhi can also be frozen. Defrost it in the fridge overnight and bring it back to the boil again before eating. Again adjust the consistency with water if required.
📖 Recipe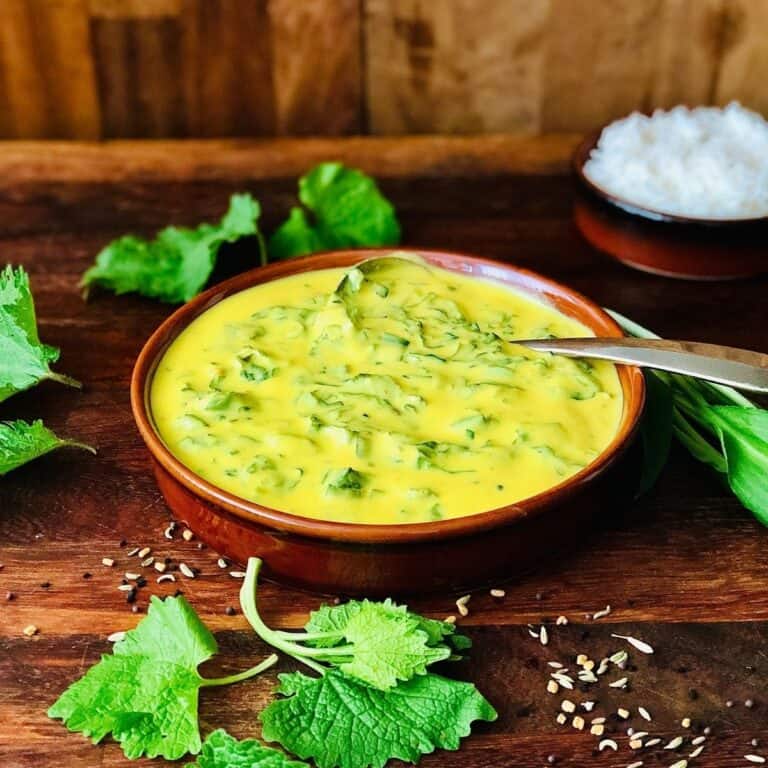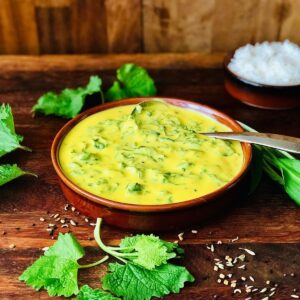 Kadhi Recipe
A quick and super easy vegan, gluten-free and nourishing comforting meal
Equipment
Whisk

Weighing scales

Sieve
Ingredients
85

g

Gram Flour

170

g

Yoghurt

250

ml

Water

0.5

teaspoon

Turmeric

5

g

Mustard oil

Olive / Sunflower oil ok too

1

teaspoon

Panchphoran

0.5

teaspoon

Asafoetida

55

g

Spinach

I used wild picked Nettle / Wild Garlic / Garlic Mustard

0.25

teaspoon

Chilli powder ( optional )

or to taste
Instructions
In a bowl, mix the yoghurt and gram flour together and whisk into a smooth batter.

Add the water and whisk together. If lumps form at this stage, pass through a sieve

Heat the oil in a pan over a medium heat and temper the panchphoran and asafoetida. Be careful not to burn the spices. Tempering is the process of cooking spices in hot oil briefly to release their flavours.

Add the gram flour batter, tumeric, chilli powder and stir until it thickens a little. It will start to thicken almost immediately. Add a little water if it becomes too thick. Look at the video for the consistency to aim for. Constant stiring is important to ensure no lumps form and it does not stick to the bottom of the pan.

Add your greens and cook for a few more minutes. If you are using spinach you will see it wilt in a couple of minutes

Serve with rice or roti (flat bread)
Food Safety
In a professional kitchen, food hygiene and safety are top priorities, and from the beginning of my training, I practised good habits and routines. Of course, practising good food hygiene and safety at home is also essential. Here are some fundamental practices to adopt in the kitchen.
Wash your hands regularly while preparing, handling and cooking food.
Wipe down countertops and high-contact points regularly.
If you cook meat and fish, do not use the same utensils on cooked food that previously touched raw meat. Use separate chopping boards for meat and fish. Wash your chopping boards immediately after use.
Thoroughly cook food to a minimum temperature of 165 °F (74 °C).
Don't leave food at room temperature for extended periods (more than 2 hours).
For more details regarding food hygiene and safety in the home, visit the UK Government's Food Standards Agency webpage.