Saag aloo is one of those dishes which is a favourite on a British Indian menu. It's classic comfort food. Funnily enough, though, I had never heard of saag aloo back in India. Saag is leafy green vegetables, and yes, we eat a lot of dishes with saag back in India, such as saag paneer or palak paneer.
I have used nettle leaves instead of spinach for this saag aloo. Nettle has an earthy flavour, and in terms of taste and health benefits, it rivals, if not surpasses, spinach. This saag aloo recipe is straightforward, with minimum cooking time and little washing up after.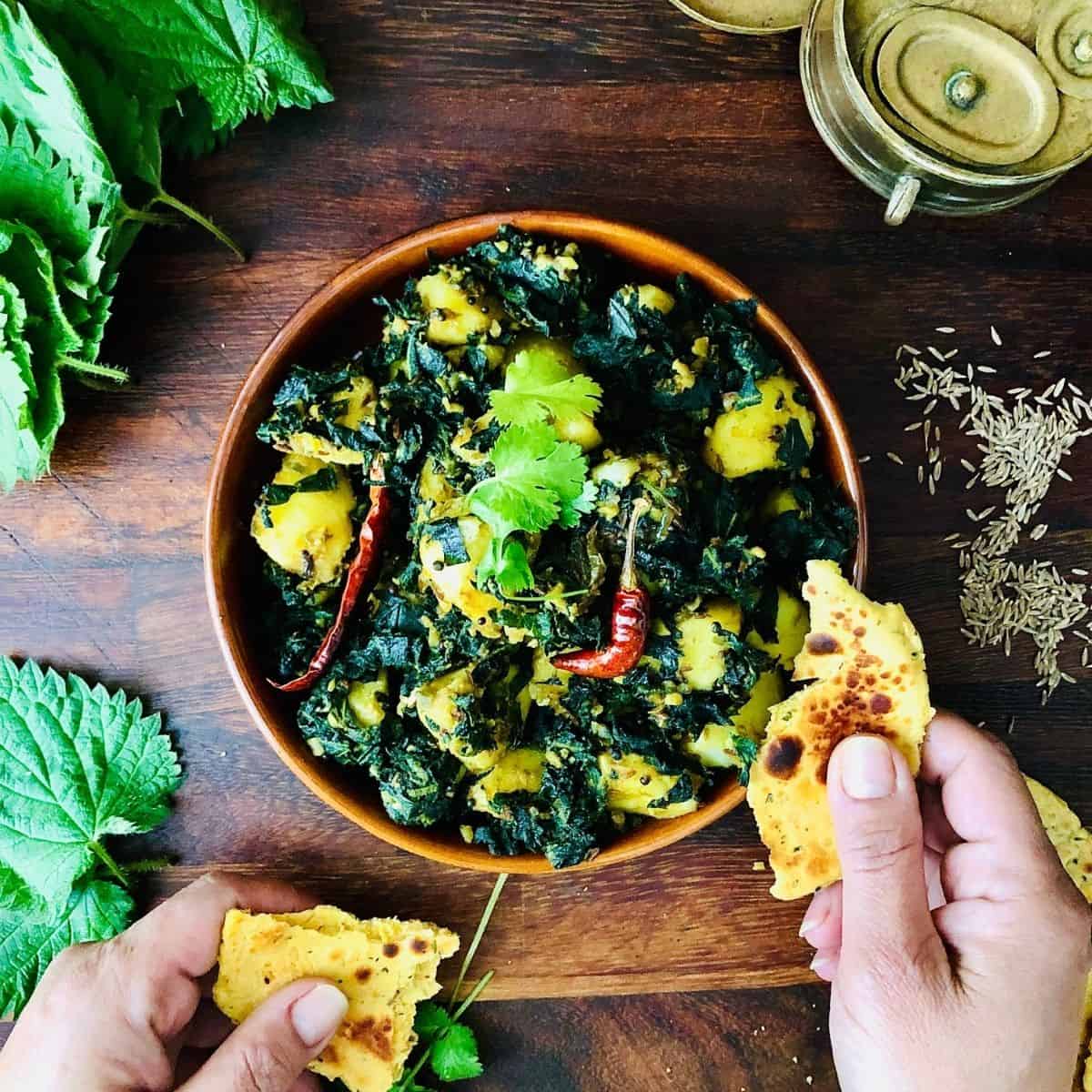 I have gathered nettle for recipes for a few years now. It costs nothing apart from your time to pick, and it is a very versatile ingredient. Aside from this nettle saag aloo, I have a few other nettle recipes you might like to try:
As with all foraged food, ensure you are confident with your identification before consuming it. Nettle also has stinging hairs (after cooking, they lose these stinging hairs), so take a pair of gloves with you. Please look at my post "Food For Free: Eat the Weeds" for more information about nettle.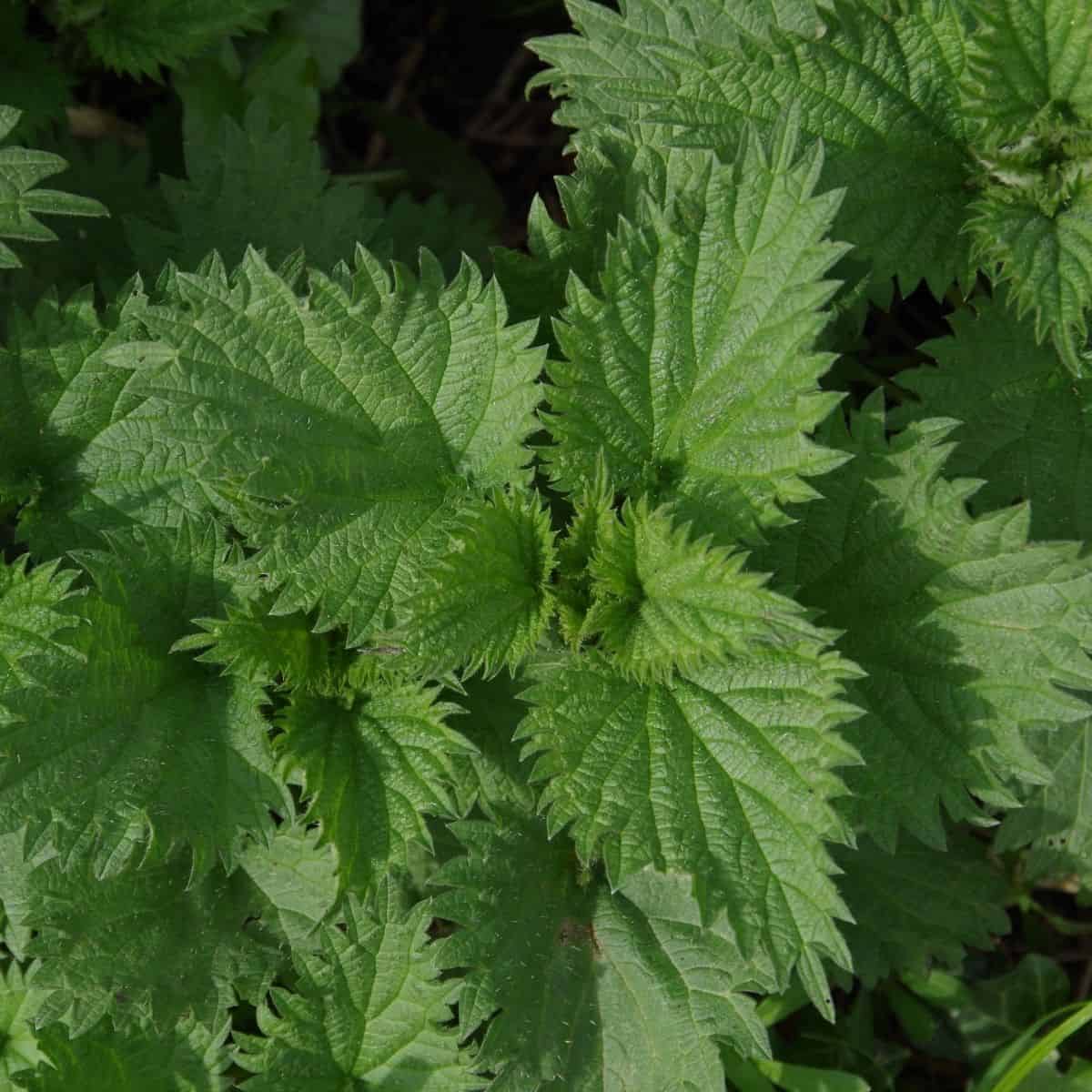 Jump to:
Ingredients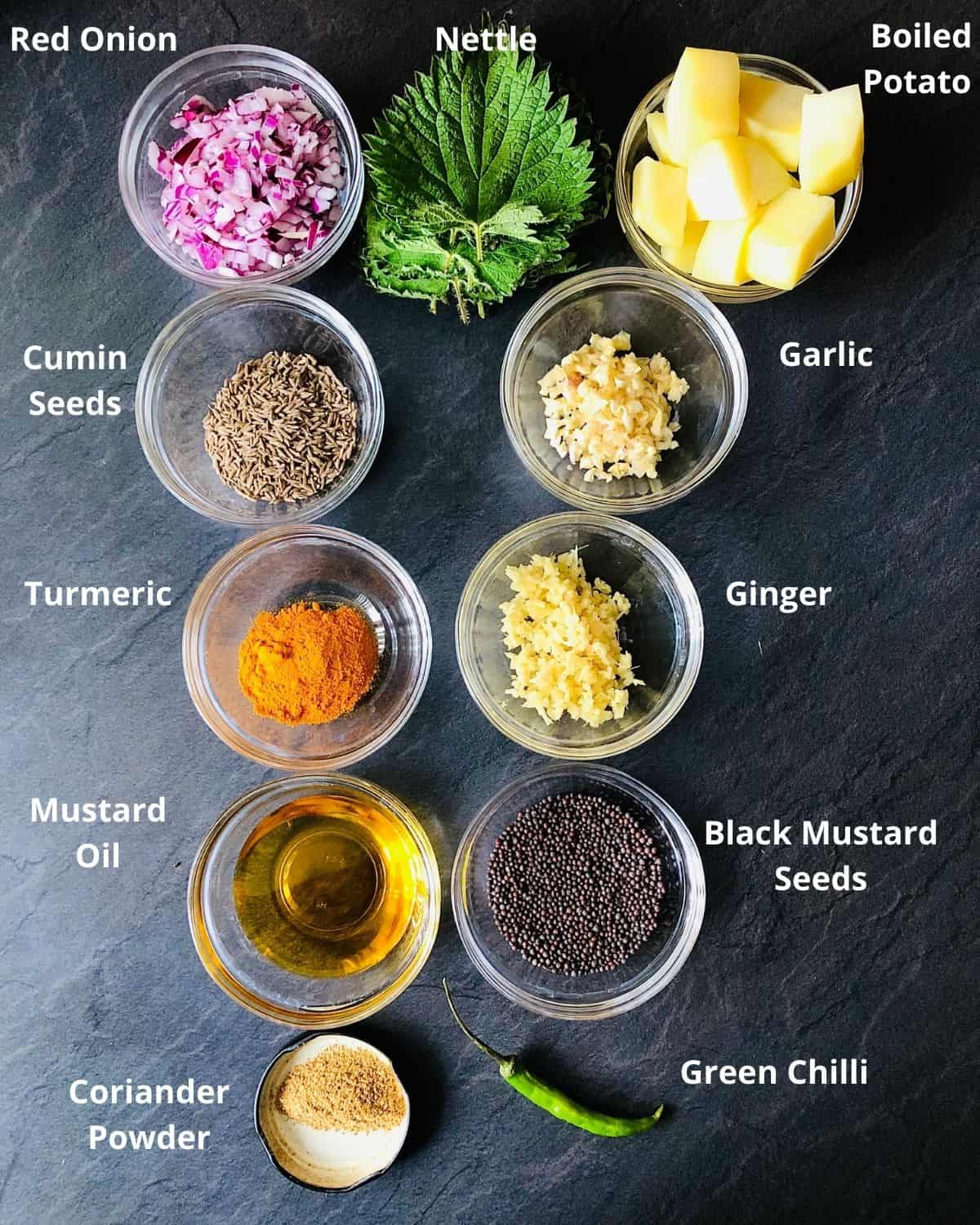 Nettle
Boiled potato
Garlic
Ginger
Black mustard seeds
Green chilli
Coriander powder
Mustard oil
Turmeric powder
Cumin seeds
Red onion
See the recipe card for quantities.
Instructions
To begin, prepare your ingredients. Wash and pat dry the nettle leaves. Be careful; they can still sting at this point - when cooked, they will no longer sting.
Finely chop the red onion, garlic and ginger.
Dice the potatoes into one-inch dice and then par-boil them. We par-boil them because they need to cook further later in the recipe.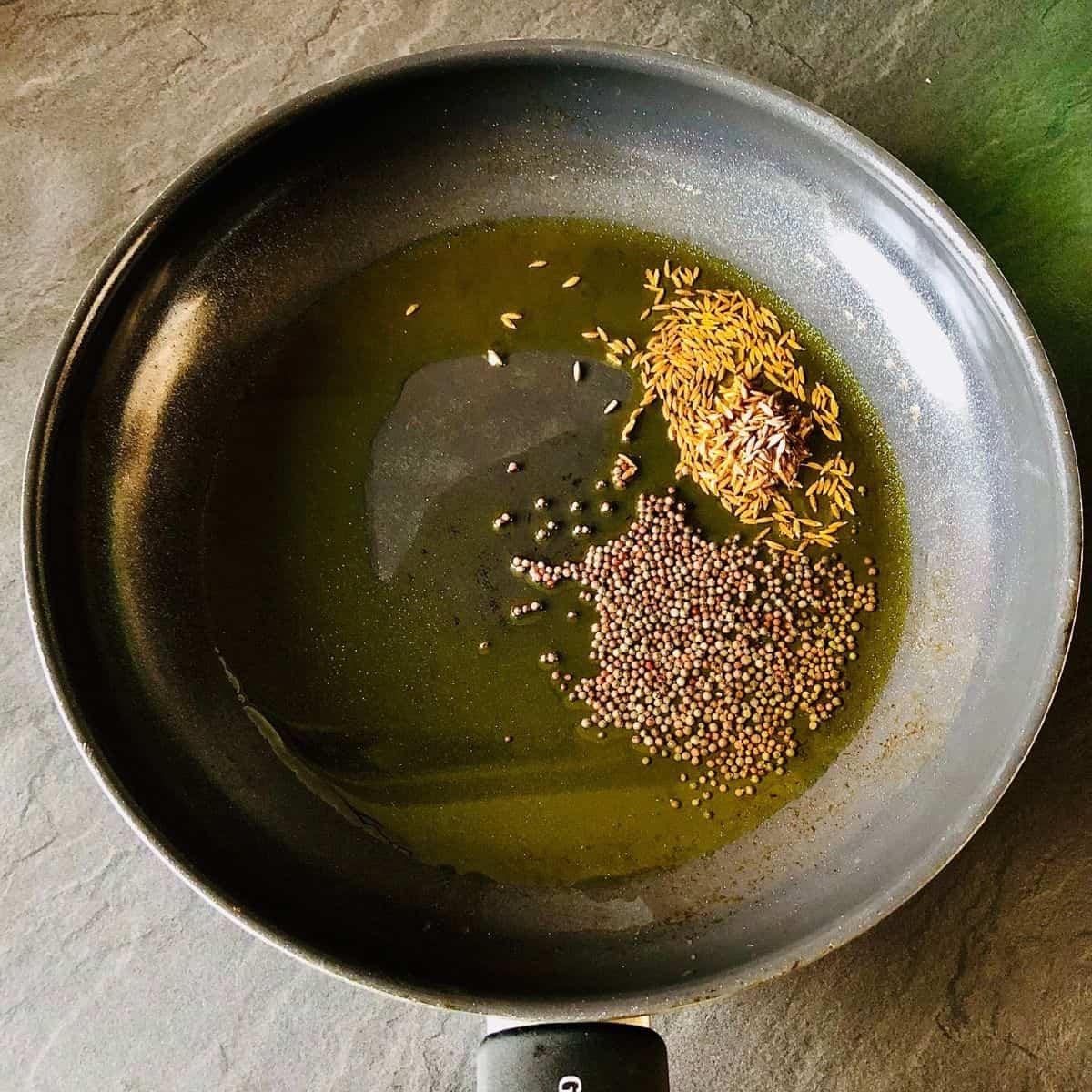 In a frying pan, heat the mustard oil and add the cumin seeds and mustard seeds.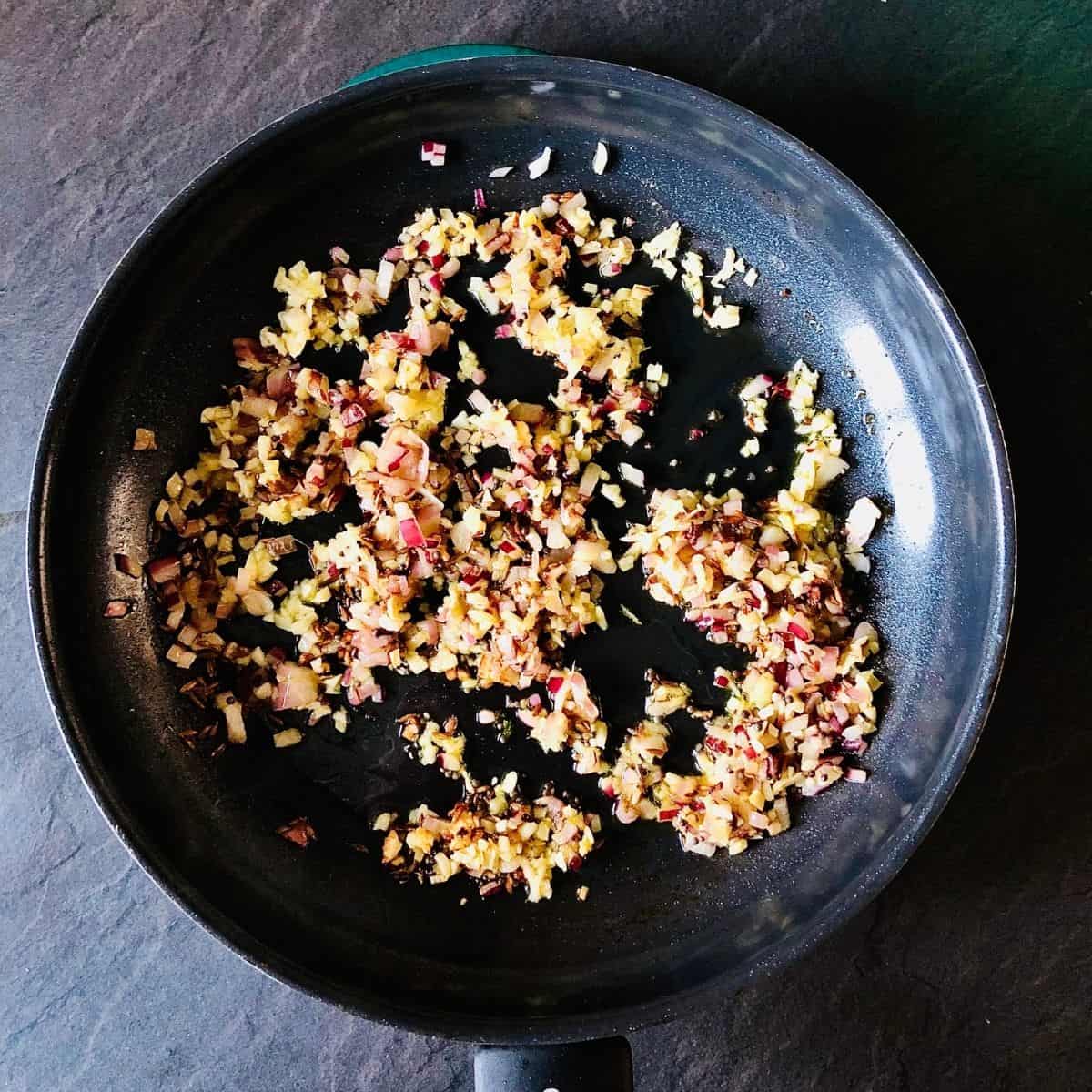 Once the mustard seeds start popping, add the red onion and cook until golden brown. Then add the garlic and ginger and cook for a further two minutes.
Add the par-boiled potatoes, turmeric, salt and a tablespoon of water—cover and cook for about five minutes, or until potatoes are soft.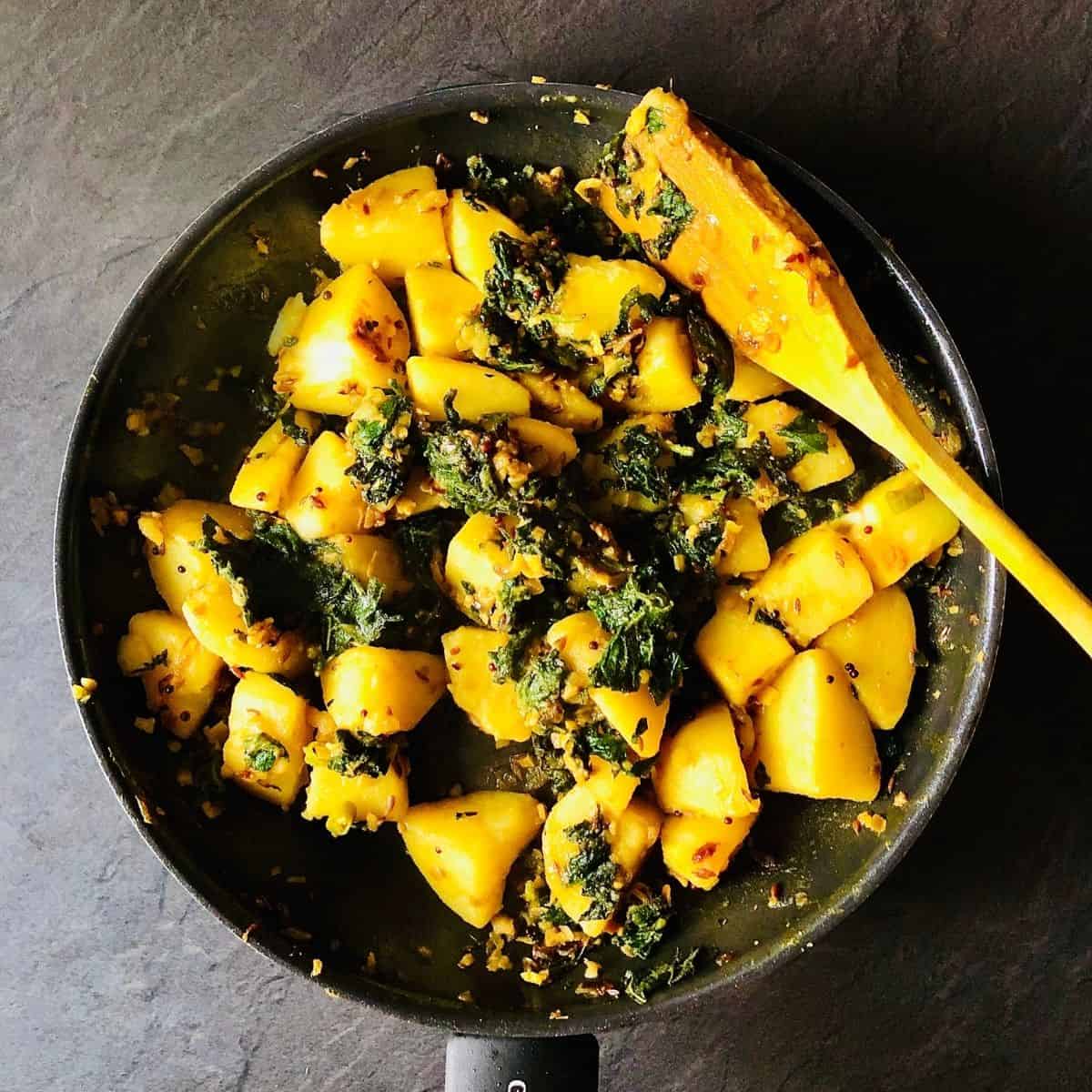 Now add the nettle leaves and another tablespoon of water, cover and cook for two minutes. Finally, add the coriander powder and mix well—Cook for two minutes. Serve hot.
How-To video
Here is a video guide to making saag aloo with nettle leaves.
Substitutions
If you do not have access to nettle leaves for this saag aloo, you can use spinach leaves or any other leafy green vegetables.
If you prefer not to use mustard oil, substitute it with olive oil.
I like to use kala namak, or black salt, in my Indian cooking for its flavour and relative health benefits. However, you can use any salt.
Equipment
I always recommend using digital scales and measuring spoons when trying a recipe for the first time. These measurements are accurate, and therefore, the recipe will turn out as intended.
Storage
Nettle saag aloo can keep in the fridge for three days.
I do not recommend freezing as the leaves will be mushy when defrosted.
Top Tip
When washing nettle leaves, use a pair of cooking tongs or a ladle with a hole to prevent stinging.
When chopping nettles, to avoid being stung, first place the nettle leaves one on top of the other picking them from the tip of the leaf. When chopping, cut in half and then use the tongs or a spoon to hold them down while chopping.
📖 Recipe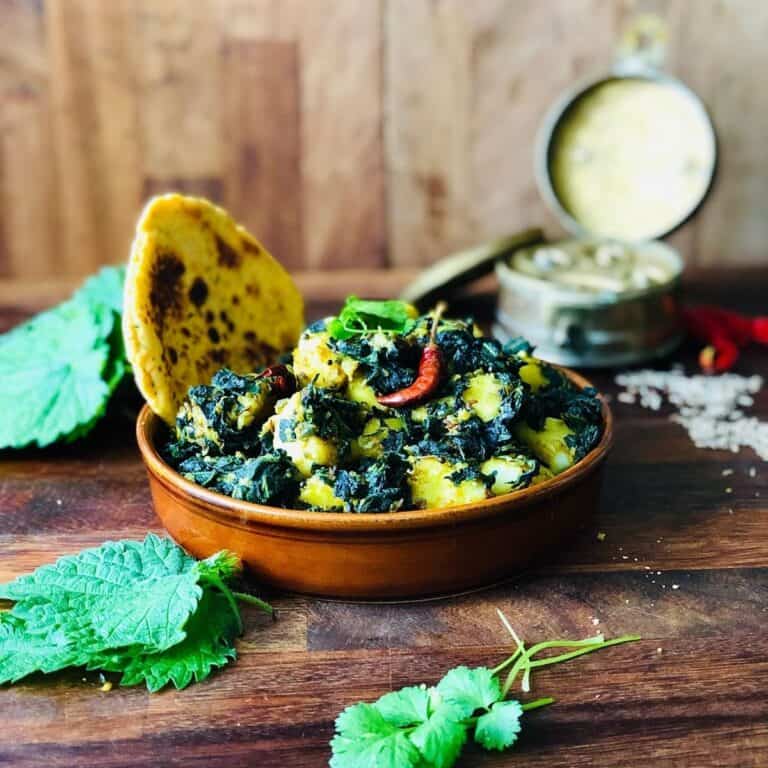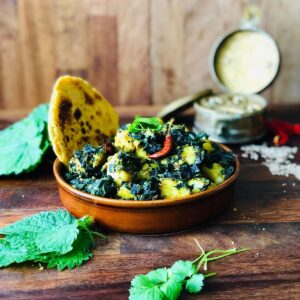 Nettle Saag Aloo
Potato and nettle leaves cooked with spices
Equipment
Digital scales

Measuring spoons
Ingredients
550

gms

Boiled potatoes

50

Nettle leaves

55

gms

Red onion

20

gms

Garlic

15

gms

Ginger

2

tablespoon

Mustard oil

1

teaspoon

Black mustard seeds

1

teaspoon

Cumin seeds

1

teaspoon

Coriander powder

½

teaspoon

Turmeric powder

1

teaspoon

Salt
Instructions
Wash and pat dry the nettle leaves and roughly chop.

Finely chop the red onion, ginger and garlic.

Dice the potatoes into one inch cubes.

In a pan, heat the mustard oil and add the mustard seeds and cumin seeds.

Once the mustard seeds start popping (less than a minute) add the chopped red onions and fry for a couple of minutes until golden brown.

Then add the finely chopped garlic and ginger and fry for about two minutes.

Add the boiled potatoes, turmeric powder and salt. Then add a dash of water and cover, and cook for about five minutes until the potatoes are soft.

Now add the chopped nettle leaves and a dash of water—cover and cook for a couple of minutes.

Add the coriander powder and mix well when the nettle leaves have wilted. Cook for two minutes more and serve hot. You may also finish with amchur powder (⅓ teaspoon); it's optional but highly recommended.
Food Safety
In a professional kitchen, food hygiene and safety are top priorities, and from the beginning of my training, I practised good habits and routines. Of course, practising good food hygiene and safety at home is also essential. Here are some fundamental practices to adopt in the kitchen.
Wash your hands regularly while preparing, handling and cooking food.
Wipe down countertops and high-contact points regularly.
If you cook meat and fish, do not use the same utensils on cooked food that previously touched raw meat. Use separate chopping boards for meat and fish. Wash your chopping boards immediately after use.
Thoroughly cook food to a minimum temperature of 165 °F (74 °C).
Don't leave food at room temperature for extended periods (more than 2 hours).
For more details regarding food hygiene and safety in the home, visit the UK Government's Food Standards Agency webpage.