These delicious Polenta chips are an interesting alternative to potato and sweet potato chips. Like your common chip, they are crispy and crunchy on the outside and soft and creamy on the inside. However, they are baked, not fried. Perfect as a movie night snack, or finger food at a party. Definitely something to consider for the upcoming holiday season.
Jump to:
A Healthy Alternative For A Classic Snack
Polenta originates from northern Italy. Made with cornmeal, it only requires the addition of a few ingredients: stock, butter and salt. This versatile food is a blank canvas that you can flavour to your taste. We will be going with cheese and herb for these polenta chips.
I'm not going to lie, it does take a bit of effort and stirring to cook the polenta. It needs to be constantly stirred so that it thickens up to its characteristic porridge consistency. Left to cool, it solidifies, and it is this solidified polenta that makes a great chip, as you can see in the photographs. All the effort pays off the moment you bite into these little herby, cheesy delights.
The best part about these polenta chips is that they are gluten-free and vegan. Moreover, Polenta is a source of fiber and protein and complex carbohydrates, and is low in fat too. You can always reduce the amount of butter if you want to keep the fat content of the chips down. It is also low in calories so can be a good choice for those looking for less calorie-dense foods.
Just like rice the nutritional value of the conrmeal used can differ depending on the type you buy. If you want the most nutitious cornmeal, opt for a stone ground variety.
Why not try them with my bloody mary hawthorne ketchup. And if these polenta chips rocked your boat, then try my baked polenta, confit tomatoes and feta. Its a delicious pizza-like snack, but with all the goodness of polenta.
Polenta Chips How-To Video
Here is a video guide to making your baked polenta chips.
📖 Recipe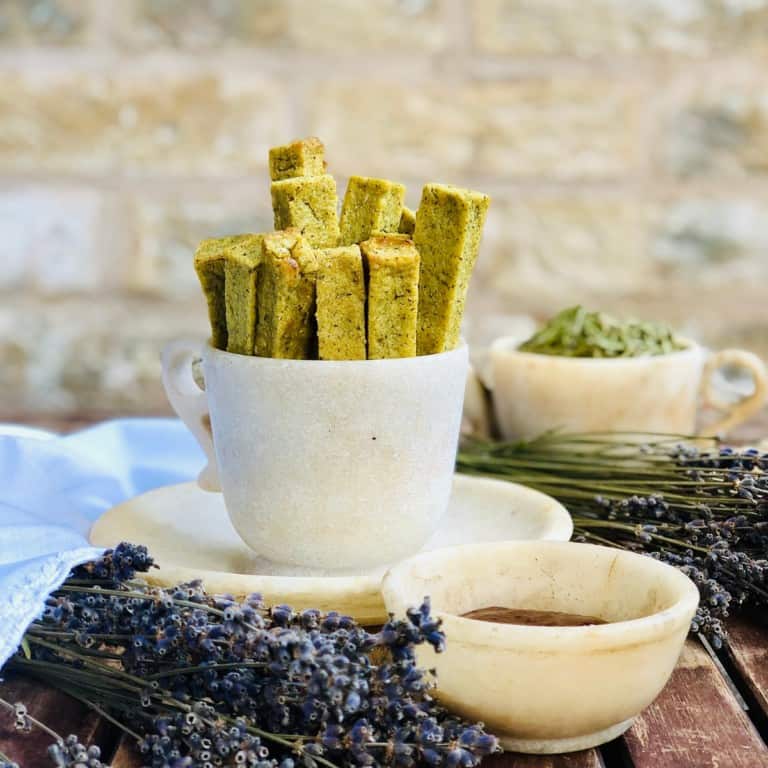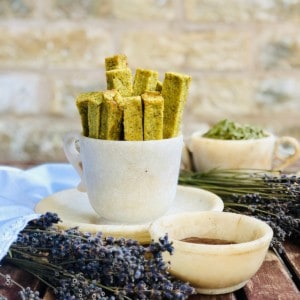 Crispy Baked Polenta Fries
Crispy, herby, cheesy baked polenta fries. A great alternative to potato chips
Ingredients
100

gms

Polenta

600

gms

Vegetable stock

2

tsp

Dried herbs

1

tsp

Salt

30

gms

Vegan parmesan cheese

30

gms

Vegan butter
Instructions
Grease a baking tray with oil and set aside.

Bring the vegetable stock to the boil in a pot.

Add the polenta and cook over medium heat for 5 minutes, stirring often, or until all the stock has been absorbed by the polenta and the polenta is creamy.

Add the salt, cubes of butter and stir. Then add the grated cheese and continue stirring.

Add the dried herbs and continue stirring till the polenta is nice and creamy and is coming off the sides of the pot.

Transfer to the greased tray and spread evenly and to the thickness desired for the chips. I keep the thickness to no more than ½ of an inch.

Leave to cool and set for about an hour or so.

Once the polenta slab is set, carefully flip the baking sheet on a chopping board to release the polenta slab.

Slice the polenta half lengthwise and then cut into 14 equal chip shaped portions.

Brush each chip with oil.

Transfer the uncooked chips back to the baking tray and bake in the oven for 20 minutes. turning them over halfway through so all sides crisp up.

Serve with bloody mary hawthorne ketchup (see my recipe) or your choice of sauce.