You have got to try this rose harissa baked polenta recipe with confit tomatoes and feta. Its vegan and gluten free and a perfect alternative to flatbreads or pizza. It is for those days when you want to have a pizza but don't want the carbs. Its not a pizza though, it's so much better.
Jump to: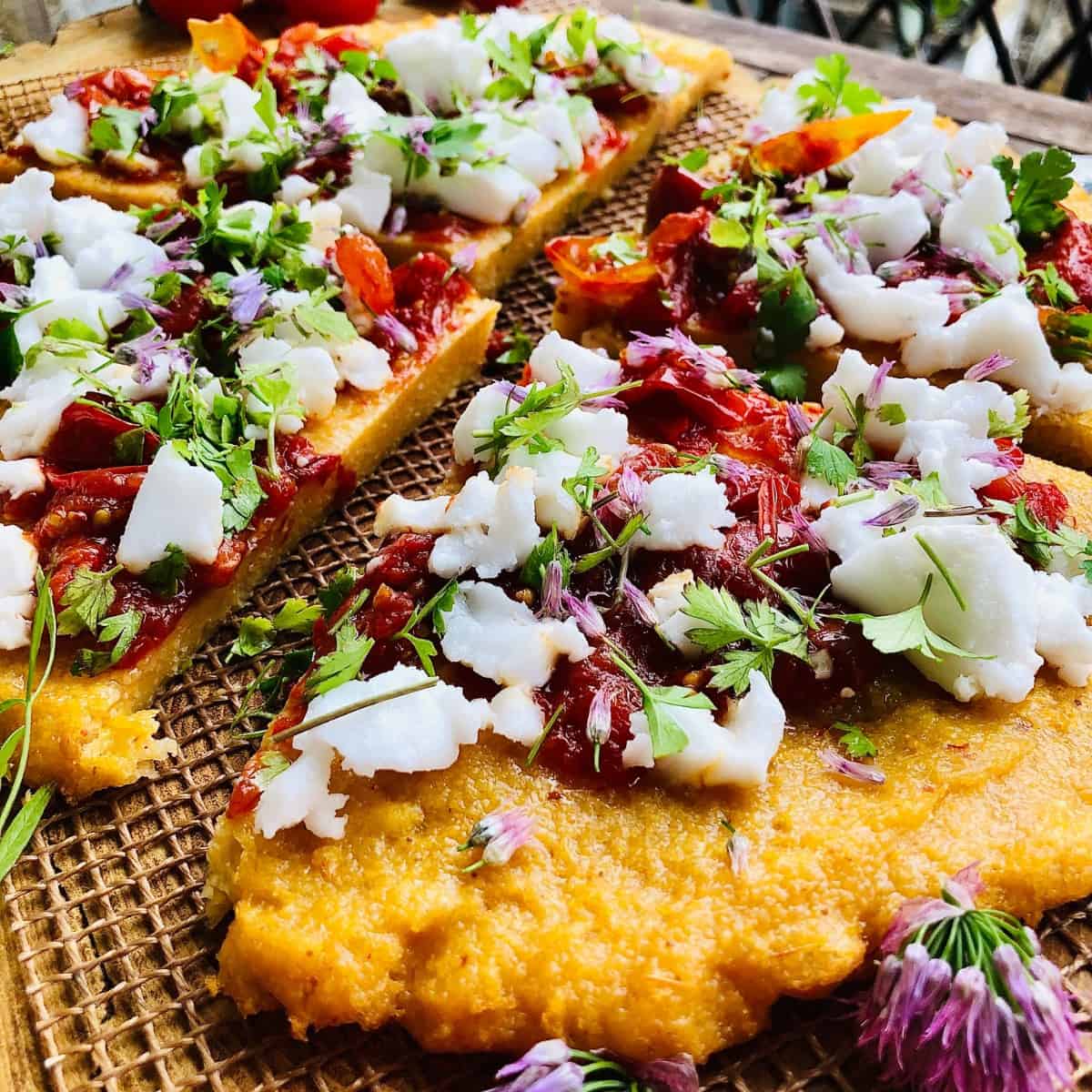 A Great Pizza Or Flatbread Alternative
I decided to bake it to see if the excess moisture would dry off, but, alas, the texture still did not work. Throwing this polenta away was not an option, so I was keen to find a way to use it up. The baking formed a crust but the inside remained spongy. Consequently, I had an idea that with the addition of some tasty toppings, I might have something here.
This baked polenta recipe has just the right amount of heat from the rose harissa, and the feta and jammy confit tomatoes gives it the pizza vibe. It definitely qualifies as a delicious movie night snack. Give this a go and I am certain that it will end up as a household favourite.
Polenta has its origins in Italy, and is made from ground yellow cornmeal.
It is a versatile ingredient. Eat it creamy and soft as a soft porridge, also as a loaf if it has been left to cool.
If you are like my partner, who was very sceptical about the polenta, this recipe is one that will win you over. As a professional chef and a super fussy eater, the one thing I have learnt is that its not so much the ingredients that we like or dislike, usually its the way they have been cooked. With a few tweaks and some new flavour additions you can work magic!
How-To Video
Here is a video guide to making your baked polenta with confit tomatoes and feta.
📖 Recipe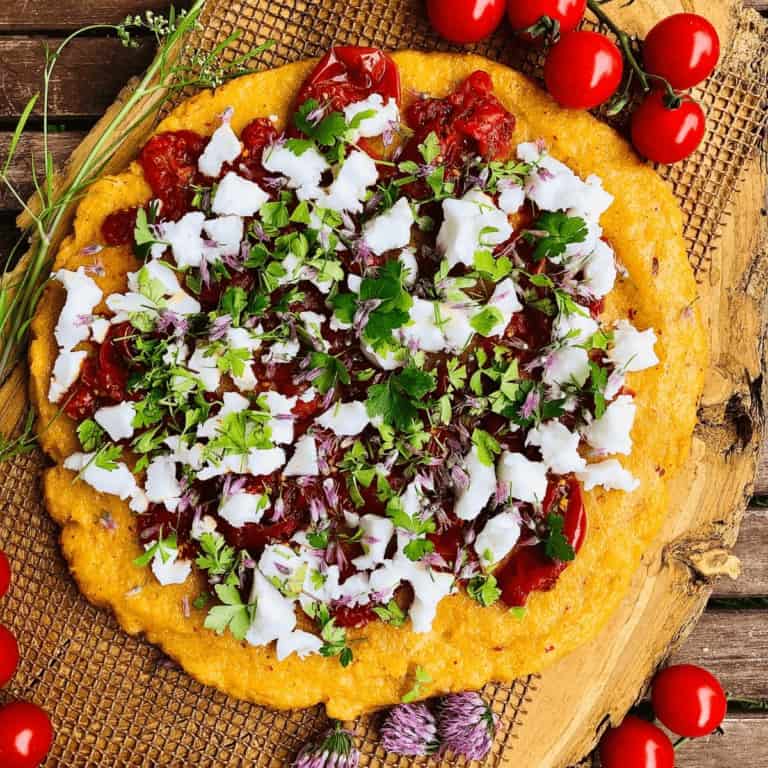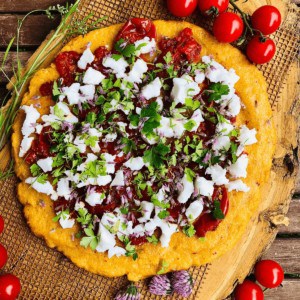 Baked Polenta With Confit Tomatoes And Feta
This baked polenta is the best guilt free meal, when you want comfort food, but not the carbs
Ingredients
Polenta Base
150

gms

Polenta

25

gms

Dairy free Butter

825

ml

Vegetable Stock

10

gms

Rose Harissa paste

10

gms

Sea Salt
Garnish
250

gms

Confit tomatoes

200

gms

Dairy free Feta

10

gms

Parsley or Basil
Instructions
Baked Polenta
Pre heat the oven to 180ºC (fan assisted oven)

Prepare either a silicon mat or a lightly greased baking tray to pour in the polenta once ready.

In a pot bring the vegetable stock to a simmer.

Add the Polenta in and stir continuously over a medium heat for 10 minutes using a whisk.

Add the salt and continue to stir. Change over to a wooden spoon.

Add the butter and incorporate, while continuing to stir.

Add the rose Harissa in and continue to stir.

Now the polenta should be leaving the sides the pan as you stir.

Transfer the Polenta over to the baking tray or silicon mat.

Using a spatula, very quickly spread the polenta to your desired shape - rectangular or circle.

Allow it to cool and set for a few minutes.

Bake the Polenta in the oven for 15 minutes.
Garnish
Once the polenta is baked, garnish it with confit tomatoes, feta cheese and chopped basil or parsley.
Baked Polenta Recipe Notes
Substitute the non-dairy butter and Feta if you wish. Use the same amount mentioned in the recipe.
You can use any other garnish you wish, although I highly recommend using confit tomatoes or some form of tomatoes such as sun-dried tomatoes. The confit tomatoes and the rose Harissa are homemade.
The baked polenta base will store for three days, refrigerated. Cook it a day or two in advance if required and set it on a mat or baking tray. On the day you wish to use it, simply remove from fridge and transfer into the oven to bake.