What does it mean to confit? This is the process of slow cooking something in order to preserve it. However, you can also use it as a method of cooking without the intention of preserving. Confit tomatoes is the process of poaching tomatoes over a medium low heat. This retains both the flavour and the shape of the tomato
Many ingredients can be cooked by this method: Confit garlic is very popular, as is confit potatoes.
Jump to:
Confit: A Way To Extend The Life Of Your Tomatoes And Maintain And Enhance Their Flavour
Foraging and growing my own vegetables has nurtured a belief within me that vegetables, fruits and herbs that are in season are what we need to really nourish our bodies.
With relatively rapid global transportation we are able to find produce in our supermarkets from all over the world, all-year-round. Thus, it is easy eat produce out of season. So that vegetables and fruit look good on the shelves and survive the journeys they make they make, they may actually be picked unripened. Consequently they don't fully develop all the flavours and health benefits they would by naturally ripening on their parent plant.
I do find that fruits and vegetables, when not locally grown or in-season, tend to lack the desired flavour. Tomatoes can be a case in point.
As I prefer to eat tomatoes in season, by making confit tomatoes, I am able to extend their use for a couple of weeks or a month.
The thing I love about this confit tomatoes recipe is that the cooking process creates a jammy texture. The addition of the garlic and herb flavours give it a wonderfully decadent taste.
You can use confit tomatoes in so many ways. My favourite, of course, is a serious amount on a slice of homemade Einkorn sourdough.
For this recipe I have used heirloom cherry tomatoes from the Isle of Wight
How-To Video
Here is a video guide to making your comfit tomatoes.
📖 Recipe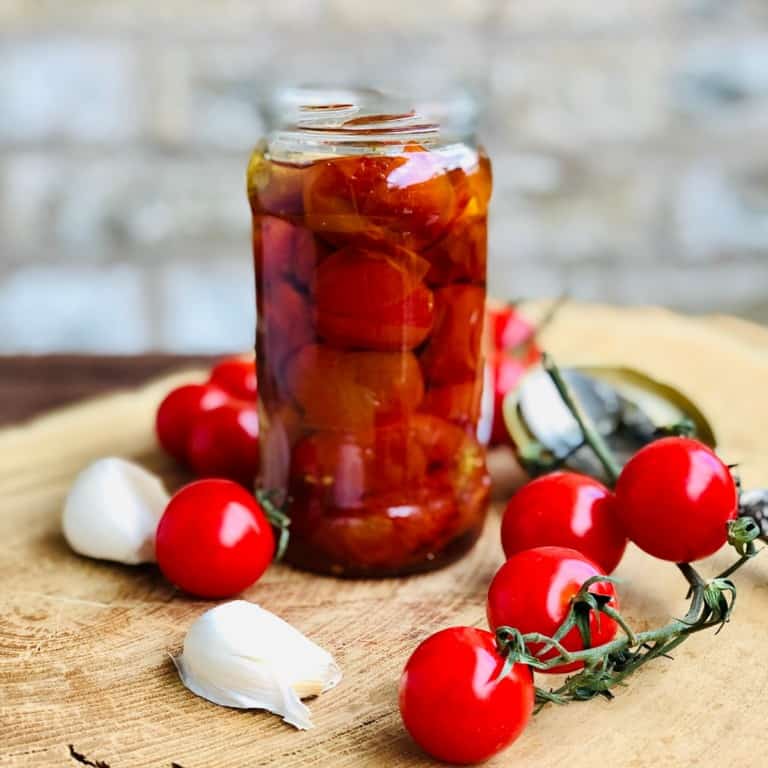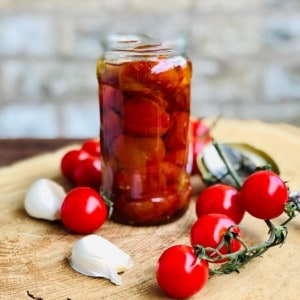 Confit Tomatoes
Extend the life of your tomatoes and enhance their flavour by confit cooking them.
Ingredients
250

gms

Cherry tomatoes

10

gms

Garlic

peeled

200

ml

Olive oi

2

gms

Sea Salt

2

gms

Thyme
Instructions
Preheat the oven to 100ºC (fan assisted)

Remove the tomatoes from the vine. Wash and dry.

In a heat proof dish, add the tomatoes, garlic, salt and thyme.

Pour the olive oil to cover the surface of the tomatoes.

Cook in the oven for one and half hours to begin with, at this point if the tomatoes have begun to burst and blister, while still holding their shape, they are ready. If not give them another 15-20 minutes.

Wash the jam jar in hot soapy water and put it in the oven to sterilise for half an hour minimum.

Remove the sterilised jar and set aside.

Once the tomatoes are soft and cooked, remove them from the oven and set aside to cool for 10 minutes or so.

Transfer the cooked tomatoes into the sterilised jar and seal shut.

Let it sit on the kitchen counter to cool, then transfer to the refrigerator.
Comfit Tomatoes Recipe Notes
You can use regular cherry tomatoes or baby plum tomatoes for this recipe.
If you have olive oil left over, you can use it for salad dressings, pasta or just for regular cooking etc
The confit tomatoes keep in the fridge for about a month.