The confit method of cooking is the process of slow cooking something to preserve it. However, you can also use it as a cooking method without the intention of preserving something. Confit tomatoes are the process of poaching tomatoes in oil over medium-low heat. This poaching retains both the flavour and the shape of the tomato.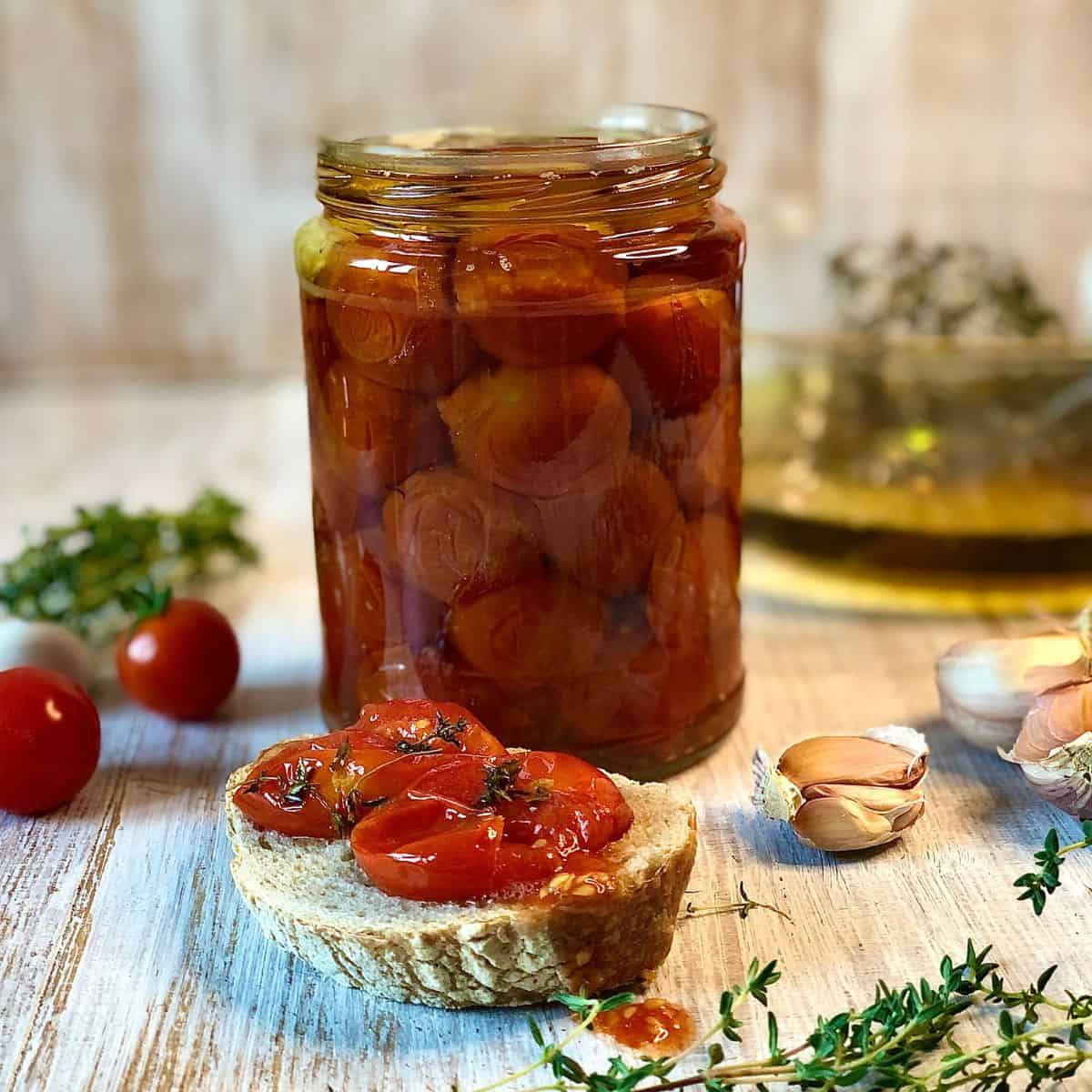 Jump to:
I prefer to eat tomatoes when in season. I can extend their life by using the confit cooking method.
The thing I love about this confit tomato recipe is that the cooking process creates a jammy texture. Adding garlic and herb flavours gives it a wonderfully decadent, earthy taste.
You can use confit tomatoes in so many ways. My favourite, of course, is a hefty serving on a slice of homemade Einkorn sourdough!
I have used heirloom cherry tomatoes from the Isle of Wight for this recipe. I find that heirloom tomatoes have a superior taste. The seeds of the best heirloom tomatoes are retained by the farmers and sown from season to season to produce the best fruit.
I use my confit tomatoes in my no-carb pizza alternative - baked polenta with feta and confit tomatoes. Give it a try!
Ingredients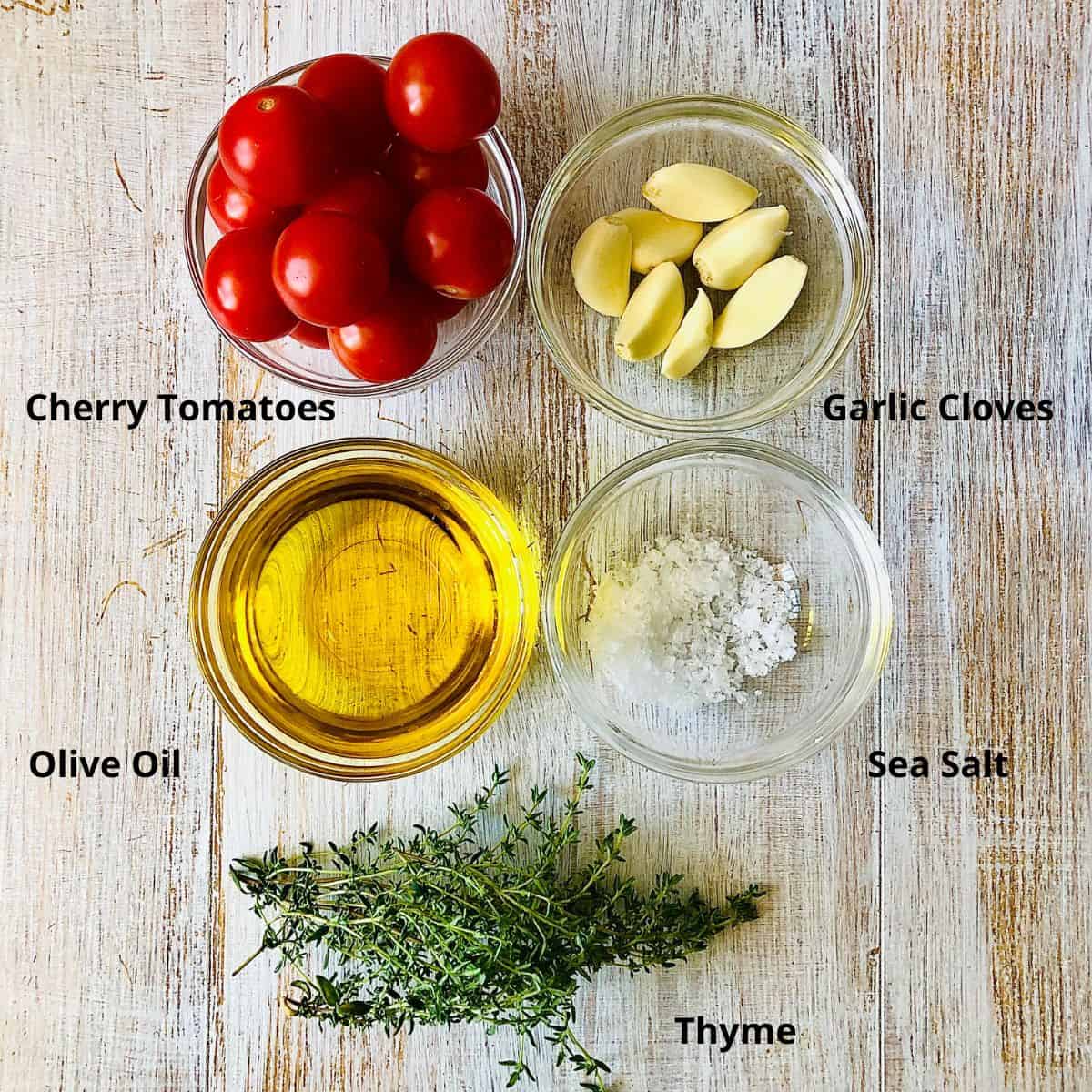 Cherry tomatoes
Garlic
Olive oil
Sea salt
Thyme
Instructions
Preheat your oven to 100ºC.
Remove the tomatoes from the vine and wash and pat dry.
Peel the garlic.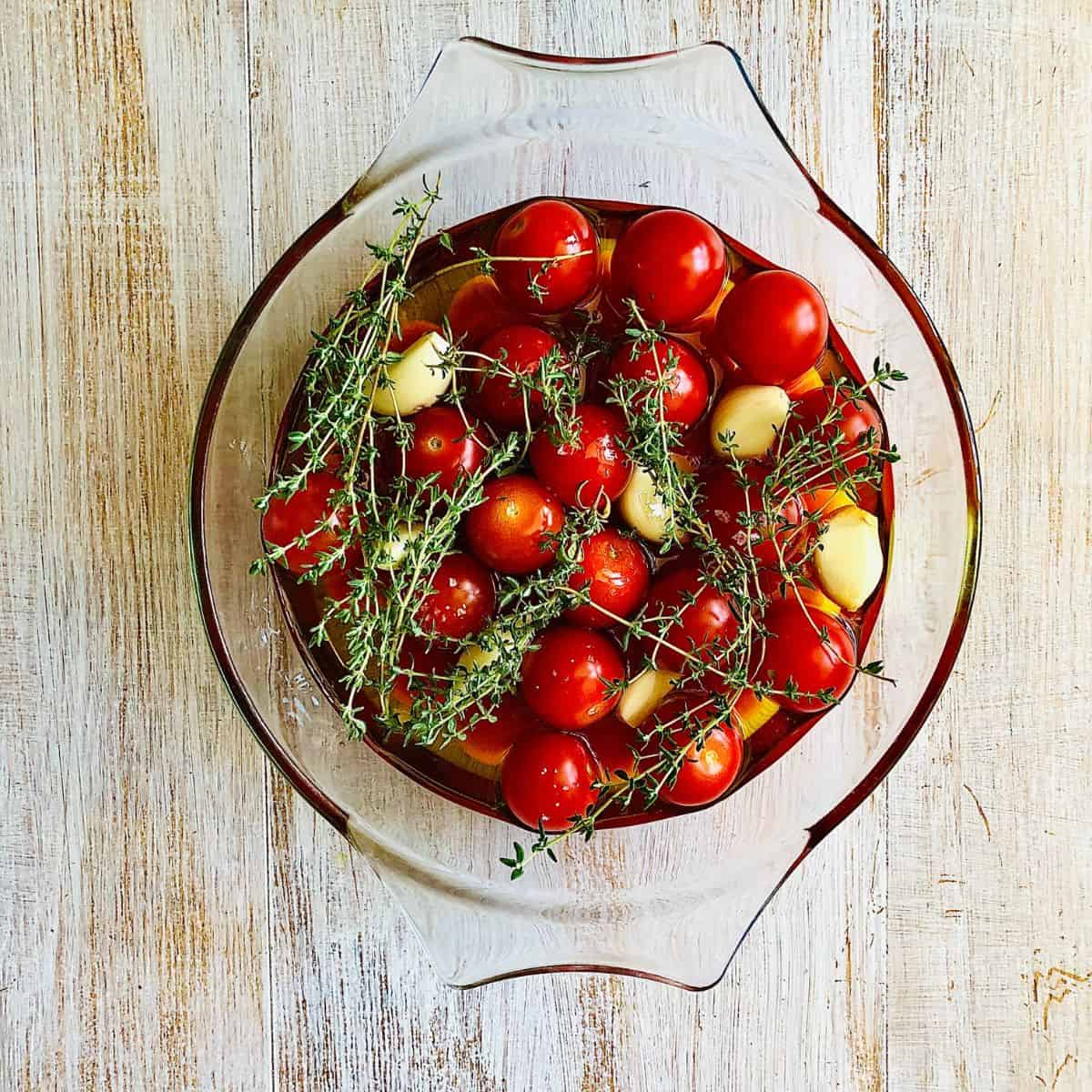 In a heatproof bowl, add the tomatoes, garlic, salt and thyme. Pour over the olive oil to cover the tomatoes.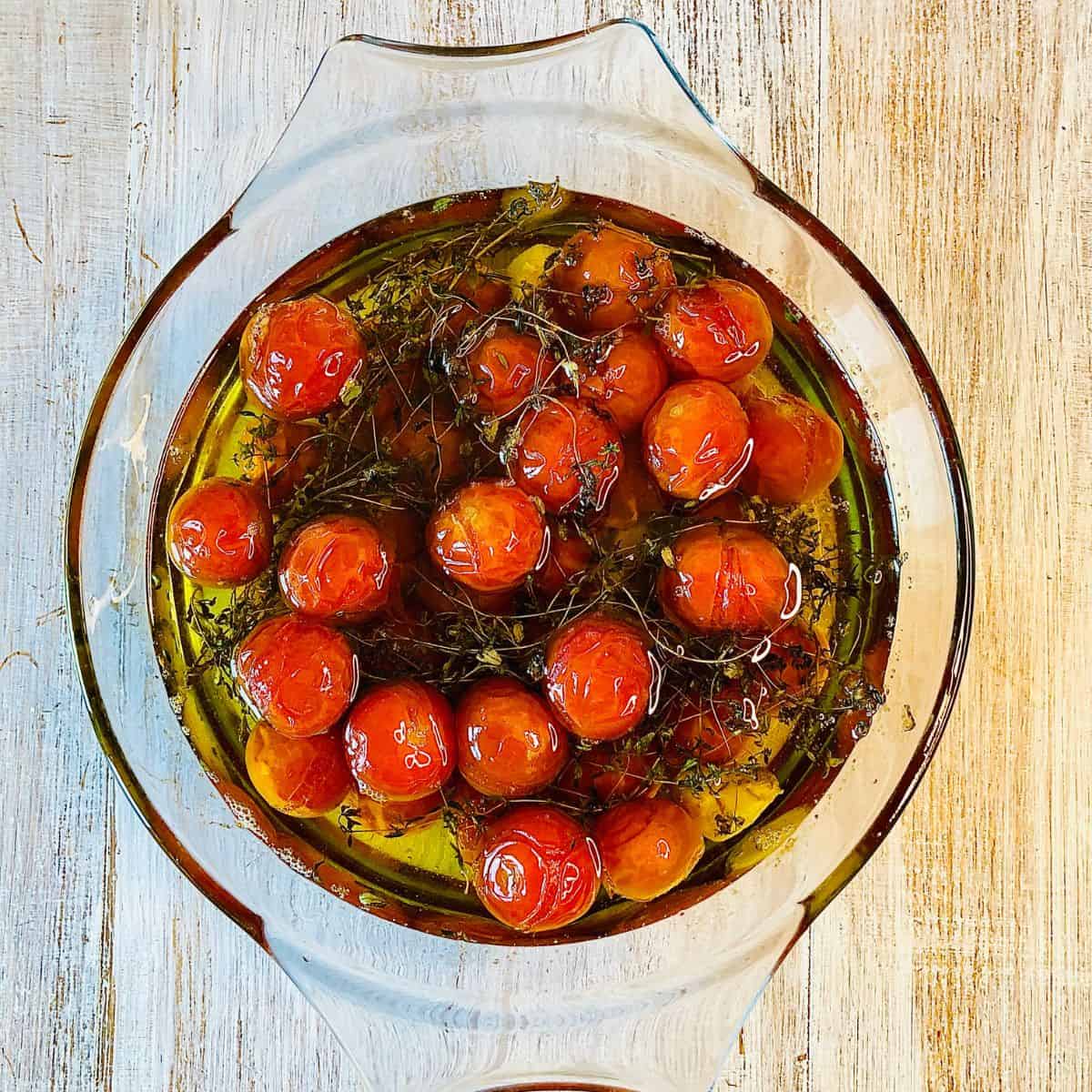 Cook in the oven for one and a half hours. After this time, if the tomatoes begin to burst and blister while still holding their shape, they are ready. If not, give them another 20 minutes, approximately.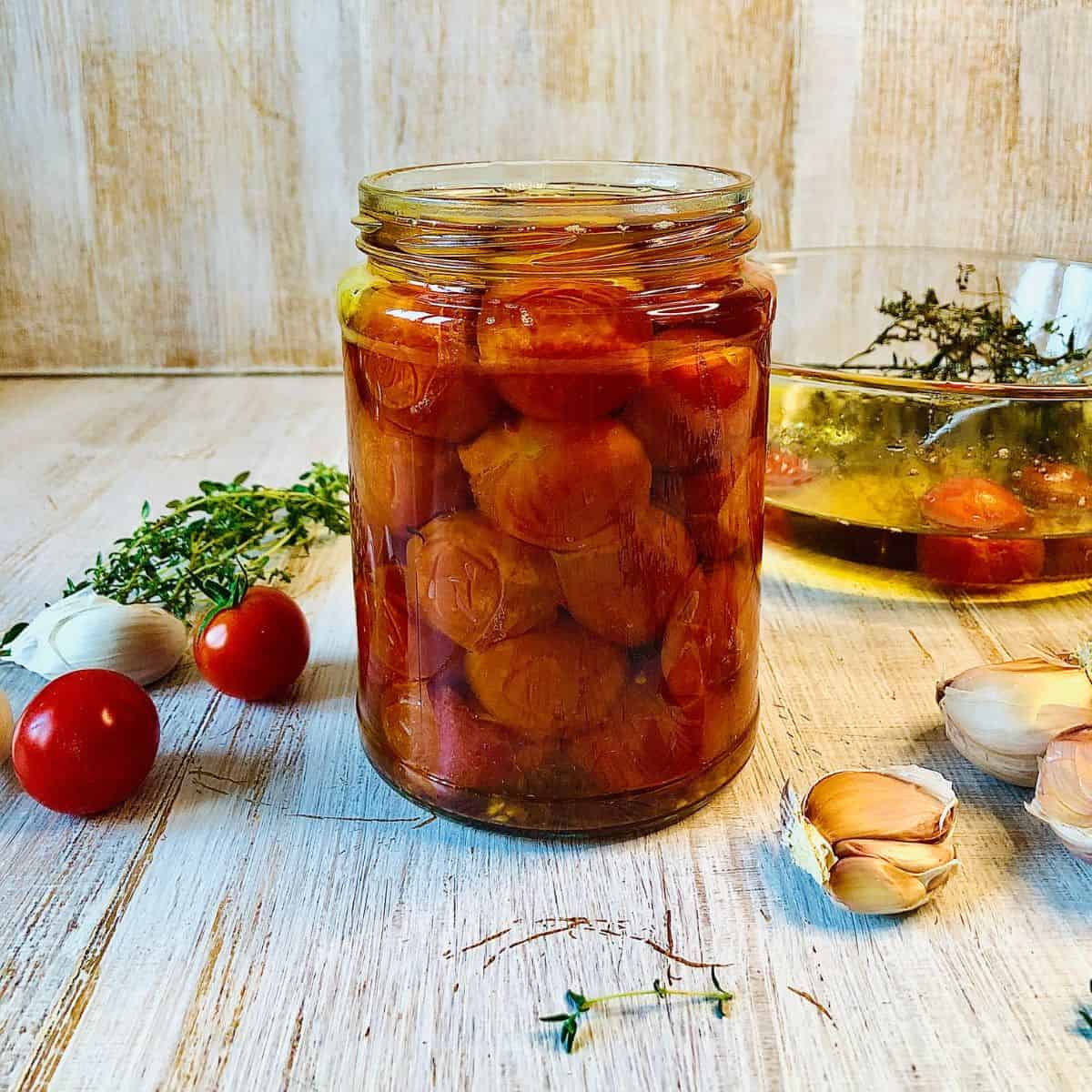 When cooked, let the tomatoes cool down for 10 minutes and then transfer them into a sterilised jar. Let the jar contents cool further before refrigerating.
📖 Recipe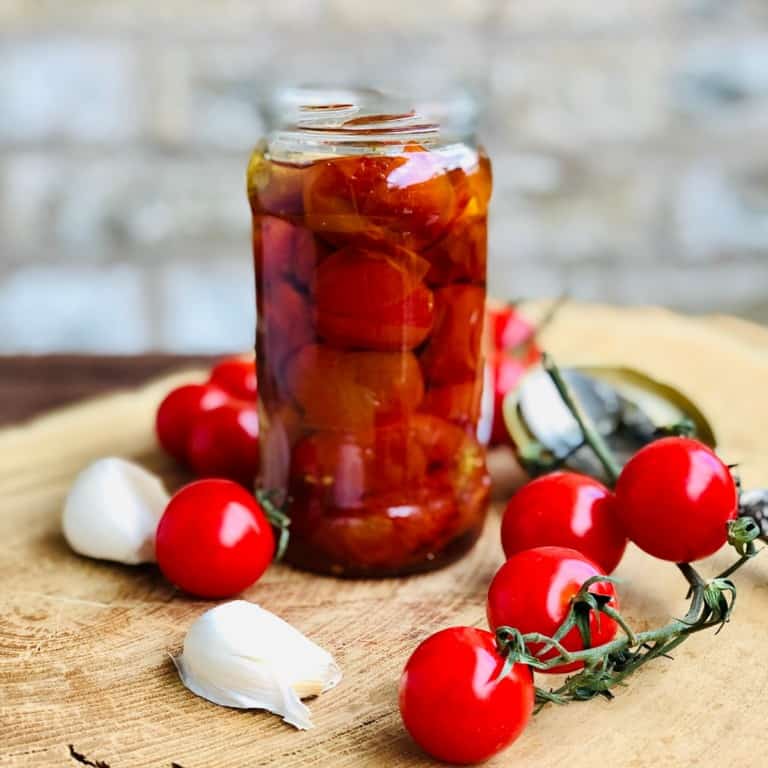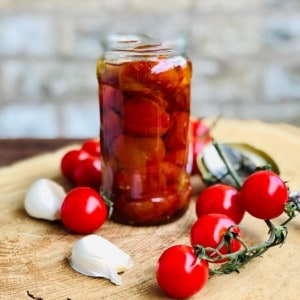 Confit Tomatoes
Extend the life of your tomatoes and enhance their flavour by confit cooking them.
Equipment
Digital scales

300 ml Jam jar with lid
Ingredients
250

gms

Cherry tomatoes

10

gms

Garlic

peeled

200

ml

Olive oil

2

gms

Sea Salt

2

gms

Thyme
Instructions
Preheat the oven to 100ºC (fan assisted)

Remove the tomatoes from the vine. Wash and dry.

Add tomatoes, garlic, salt, and thyme to a heat-proof dish.

Pour the olive oil to cover the surface of the tomatoes.

Cook in the oven for

90 minutes

to begin with; at this point, if the tomatoes have begun to burst and blister while still holding their shape, they are ready. If not, give them another

20 minutes

, approximately.

Wash the jam jar in hot soapy water and put it in the oven to sterilise for

30 minutes

.

Remove the sterilised jar and set it aside.

Once the tomatoes are soft and cooked, remove them from the oven and set them aside to cool for

10 minutes

.

Transfer the cooked tomatoes into the sterilised jar and seal shut.

Let it sit on the kitchen counter to cool, then transfer to the refrigerator.
Nutrition
Calories:
1676
kcal
(84%)
Carbohydrates:
14
g
(5%)
Protein:
3
g
(6%)
Fat:
183
g
(282%)
Saturated Fat:
25
g
(156%)
Polyunsaturated Fat:
19
g
Monounsaturated Fat:
133
g
Sodium:
808
mg
(35%)
Potassium:
599
mg
(17%)
Fiber:
2
g
(8%)
Sugar:
6
g
(7%)
Vitamin A:
1318
IU
(26%)
Vitamin C:
63
mg
(76%)
Calcium:
56
mg
(6%)
Iron:
3
mg
(17%)
NOTES
The nutritional information is for one complete 300ml jar of confit tomatoes. The number of servings per jar has not been given, as this will depend on how the confit tomatoes are used.
FAQ
What does confit mean in French?
Confit (pronounced con-fee) means "to preserve." It is a way of slow cooking used to preserve food. Meat can also be cooked and preserved in its fats using the confit method.
Can I use vegetable oils for confit tomatoes?
Yes, you can; however, you will lose the flavour benefits of olive oil. Apart from extending the life of tomatoes, part of the joy of confit tomato is to enjoy the earthly, herby flavour and jammy texture!
Can I reuse confit olive oil?
The answer is yes! Olive oil remains stable for reuse. I have read that it can be reused up to five times. This is not only money-saving but A sustainable use of food. Filter the oil after every use to remove residues. You can use the filtered oil for cooking, salad dressings, or drizzle over hummus.
You may find that some of the oil may contain the juice from the tomatoes. Make sure you separate the clear oil from the juice. You can also use the oil with the tomato juice for cooking; it just won't keep for longer than two days.
Substitutions
If you don't want to use heirloom tomatoes, you can use regular cherry tomatoes or baby plum tomatoes for this recipe.
I have used thyme to perfume the oil in my recipe; however, why not throw in some dried chilli, whole cumin seeds or peppercorns?
Variations
You can cook many vegetables with this confit method. A classic is confit garlic. You can even try vegetables like carrots and parsnips. The process is the same (cut large vegetables into bite-sized chunks). Slow cook in the oven. Due to the varying hardness of the vegetables, cooking times will vary. They will be done when the vegetables are soft and caramelised. I also have a confit shallots recipe for you to try.
Storage
Please make sure that you sterilise the jars that you intend to store the confit tomatoes in. Sterilise the jars by washing them in warm soapy water and then placing them in the oven at 100ºC for 30 minutes.
The confit tomatoes keep in the fridge for about a month, submerged in the olive oil. Make sure it's always covered with oil, and use a clean, dry spoon each time.
You can also freeze confit tomatoes. Drain from the olive oil, put in a single piece of parchment paper, and freeze. Use within three months.
Food Safety
In a professional kitchen, food hygiene and safety are top priorities, and from the beginning of my training, I practised good habits and routines. Of course, practising good food hygiene and safety at home is also essential. Here are some fundamental practices to adopt in the kitchen.
Wash your hands regularly while preparing, handling and cooking food.
Wipe down countertops and high-contact points regularly.
If you cook meat and fish, do not use the same utensils on cooked food that previously touched raw meat. Use separate chopping boards for meat and fish. Wash your chopping boards immediately after use.
Thoroughly cook food to a minimum temperature of 165 °F (74 °C).
Don't leave food at room temperature for extended periods (more than 2 hours).
For more details regarding food hygiene and safety in the home, visit the UK Government's Food Standards Agency webpage.