If you like North Indian food, then you need this kitchen hack. I am all about fresh food cooked from scratch; however, I also know that not everyone can cook fresh food every day and for every meal. This hack will take the effort out of making an Indian sauce base every time. By making a big batch of this gravy base and then freezing them into cubes, you have an instant supply of the gravy base at hand. Then all you need to do is add your chosen protein or veggies.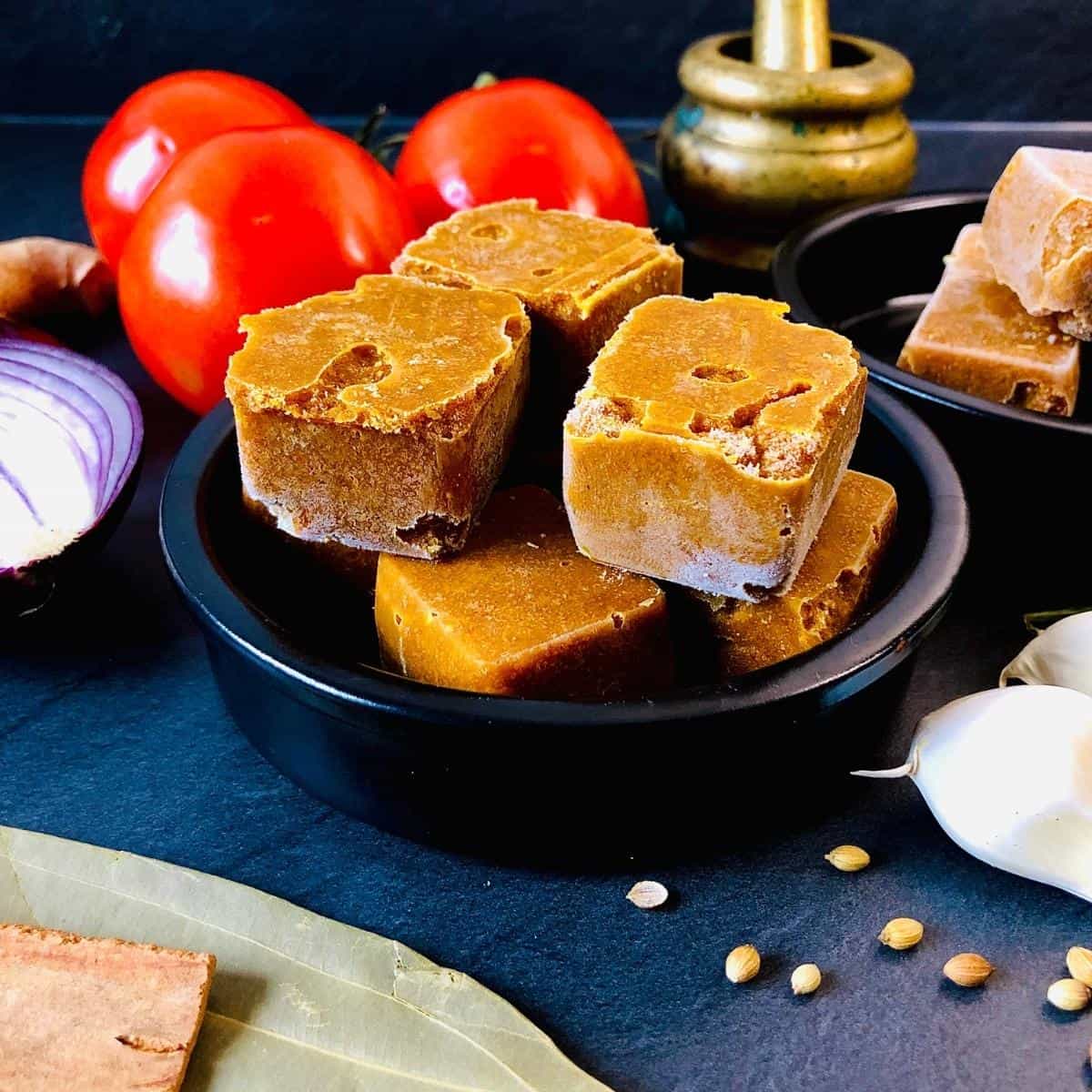 I like to call these my little flavour bombs! The ingredients in this sauce base are usually the base for many north Indian dishes. So when you fancy a dish with Indian inspired flavours, all you need to do is grab a cube or two (or three) from the freezer, depending on the portions you want to cook. Prepare your choice of vegetables/Protein or whatever else you fancy, heat the sauce, add all other ingredients and voila! A quick meal. North Indian food in under 10 minutes.
Jump to:
Ingredients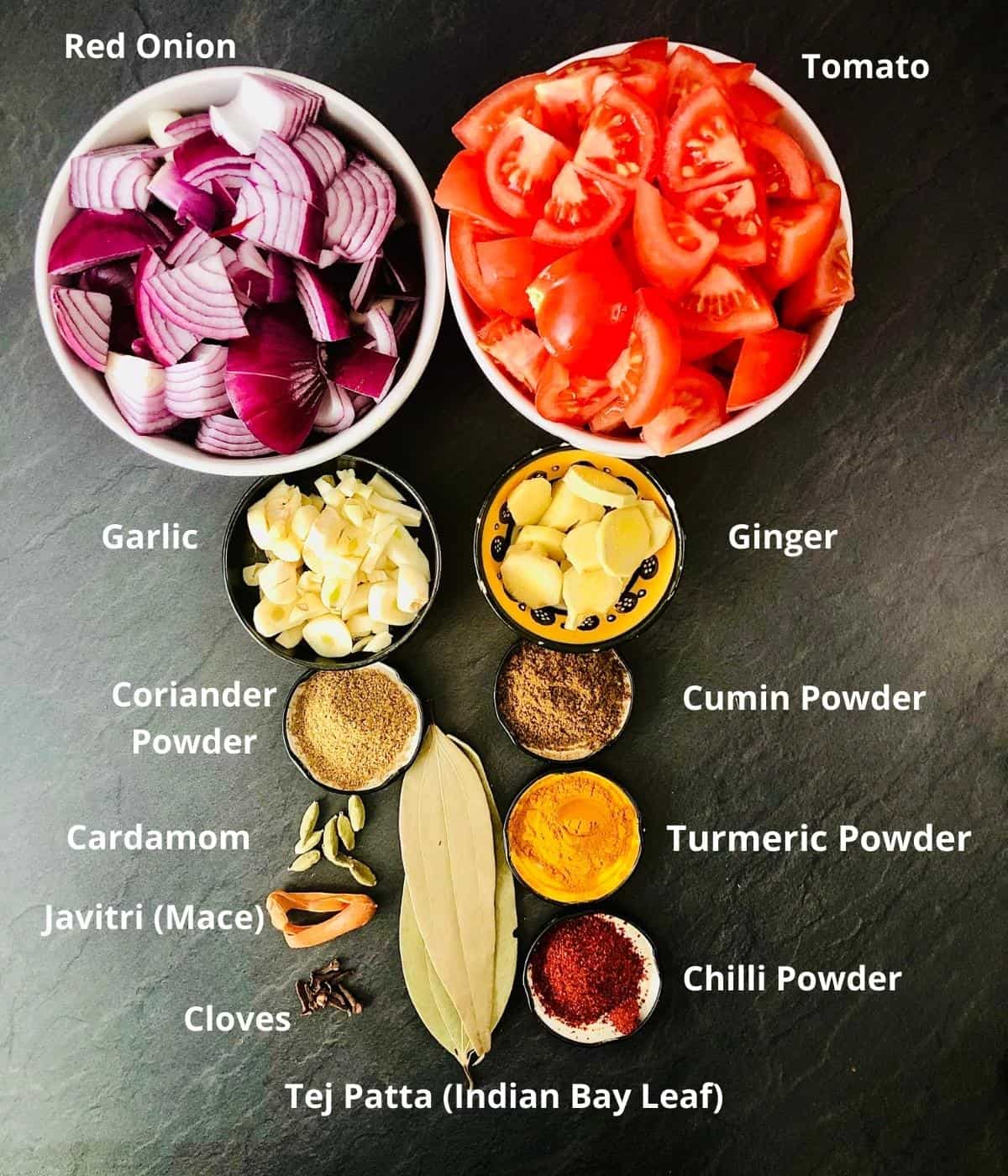 Red onion
Garlic
Ginger
Tomato
Cassia bark (Indian cinnamon)
Tej patta (Indian bay leaf)
Cloves
Javitri (Mace)
Green cardamom
Coriander powder
Cumin powder
Turmeric powder
Red chilli powder
See the recipe card for quantities.
Instructions
This Indian sauce recipe requires two purees for the primary cooking so let's prepare these first.
Roughly chop the red onion, garlic and ginger and place them into a blender cup.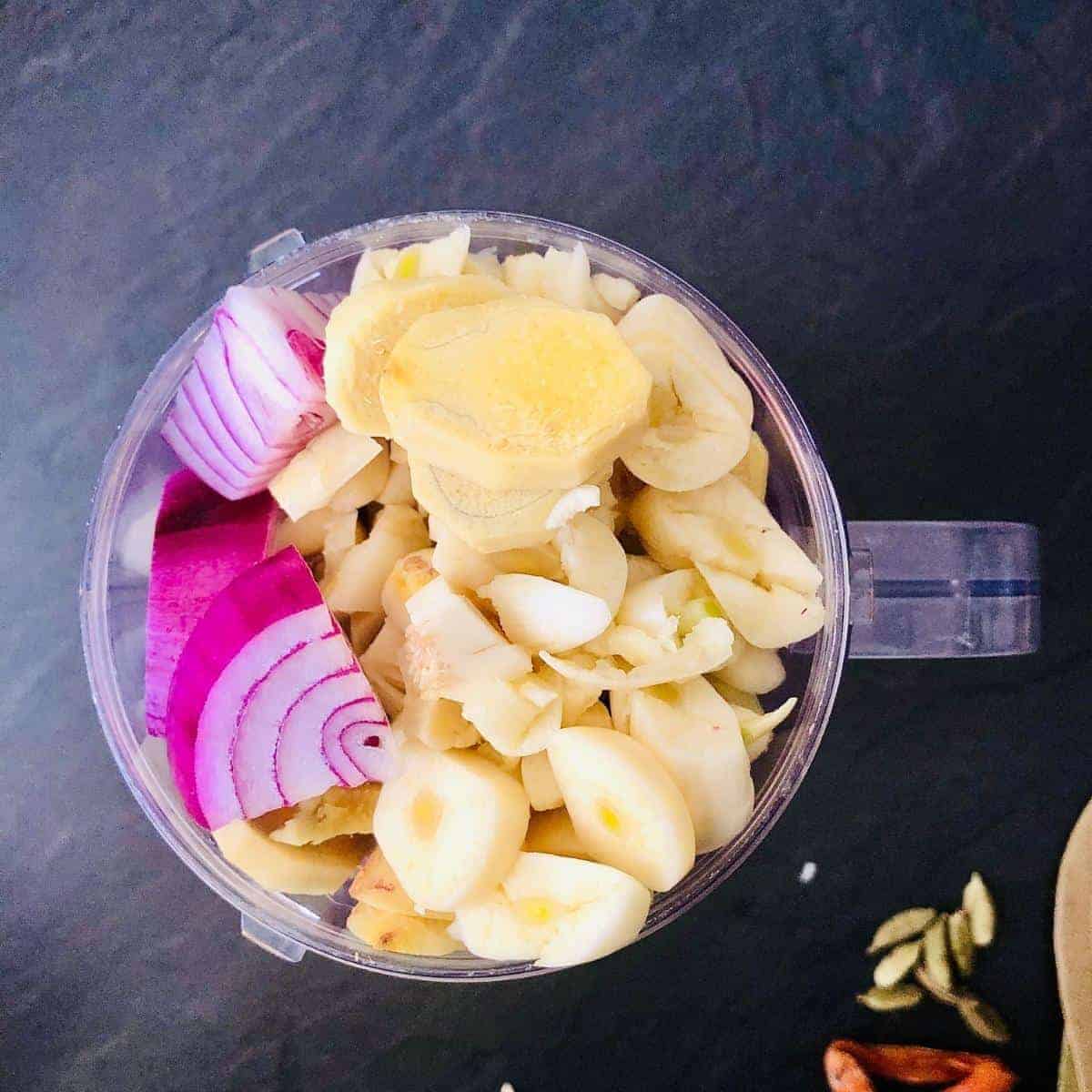 Blend the red onion, ginger and garlic to a rough paste.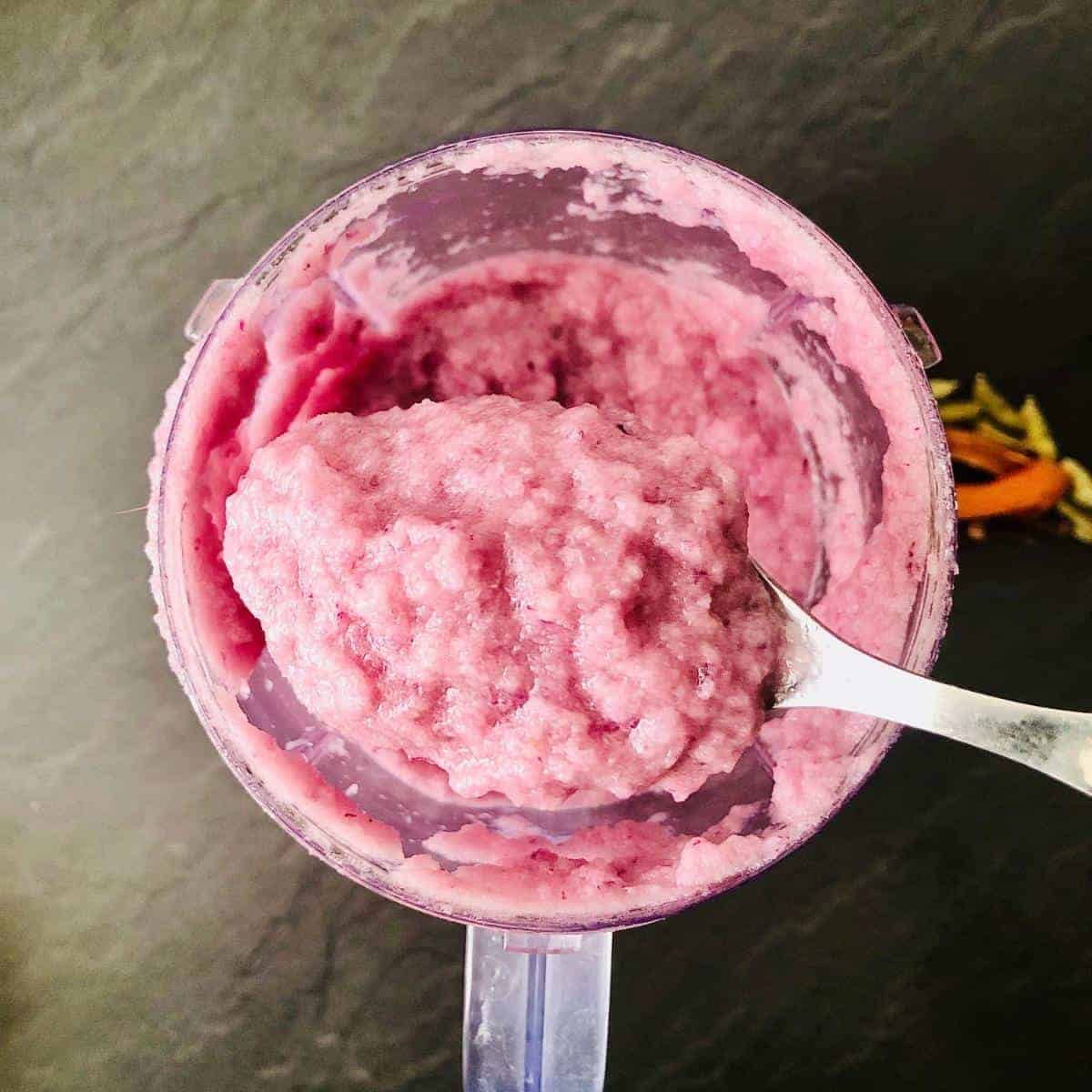 Roughly chop the tomatoes and blend these into a smooth puree.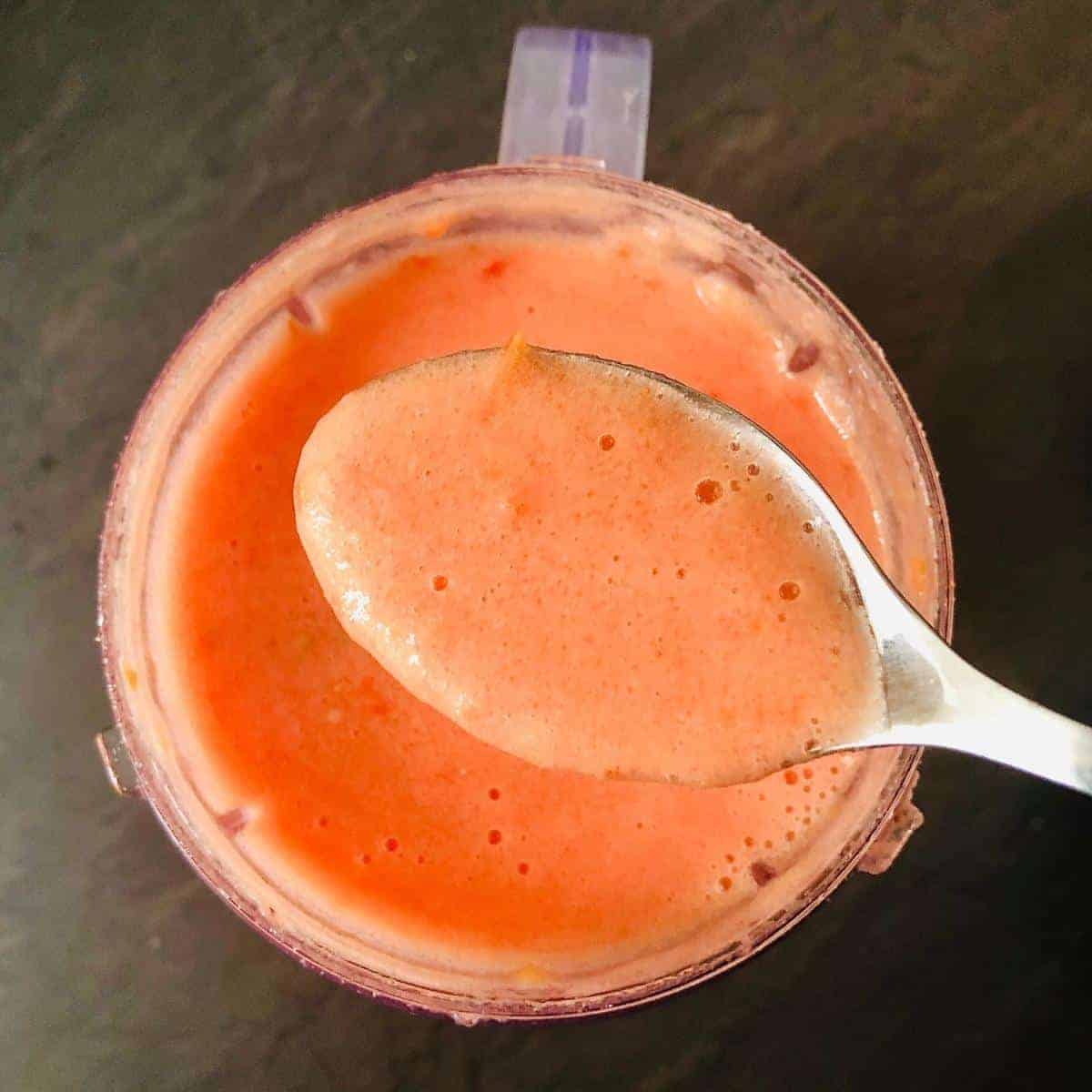 Set your purees aside.
Heat the oil in a pan over medium/high heat. Add your whole spices: Tej patta, mace, cloves, cardamom, and cassia bark. If you don't have mace, don't worry, omit it—Bloom the whole spices for a minute or two. Cooking the spices in the oil like this helps release their flavours.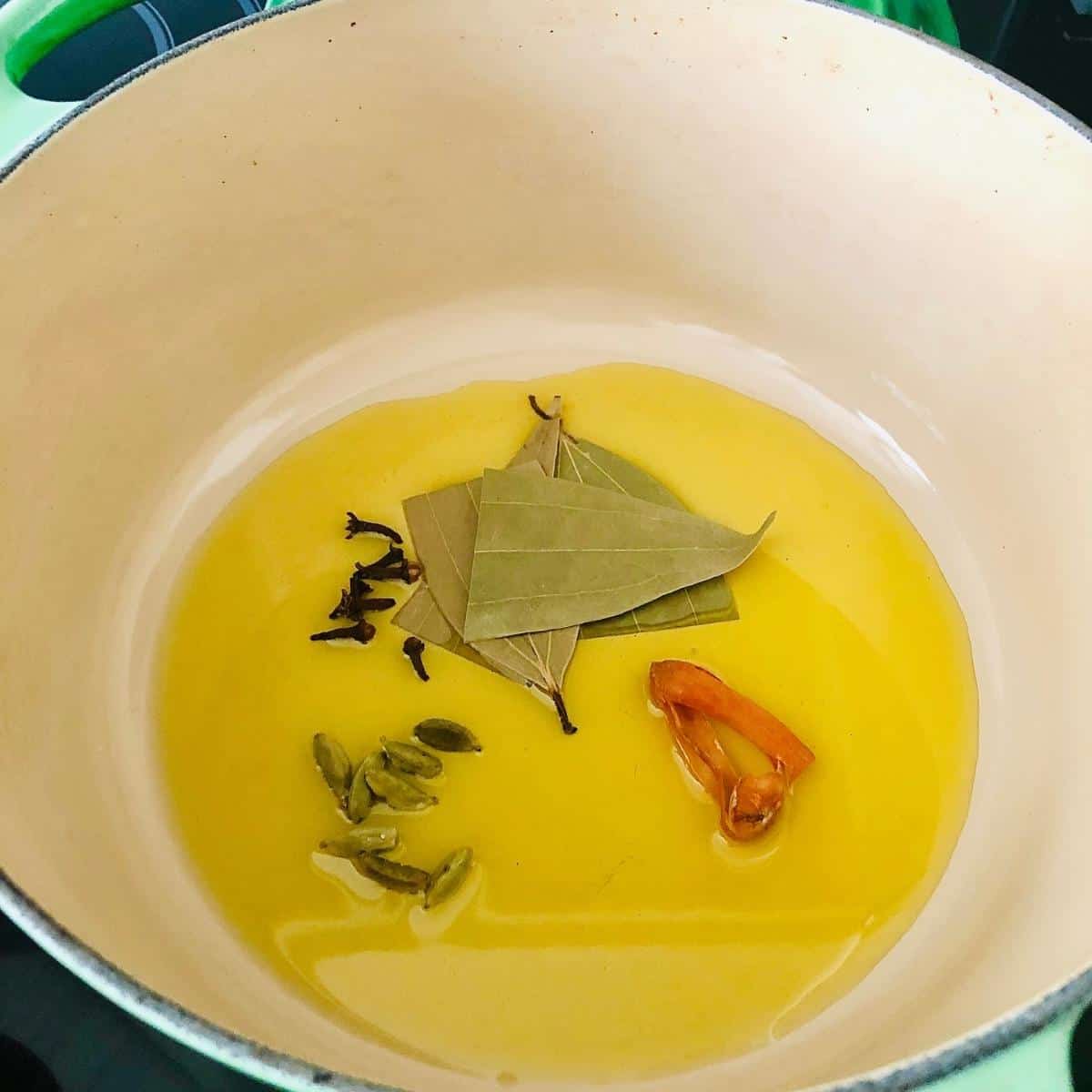 Turn the heat down to medium and add the pureed red onion, ginger and garlic.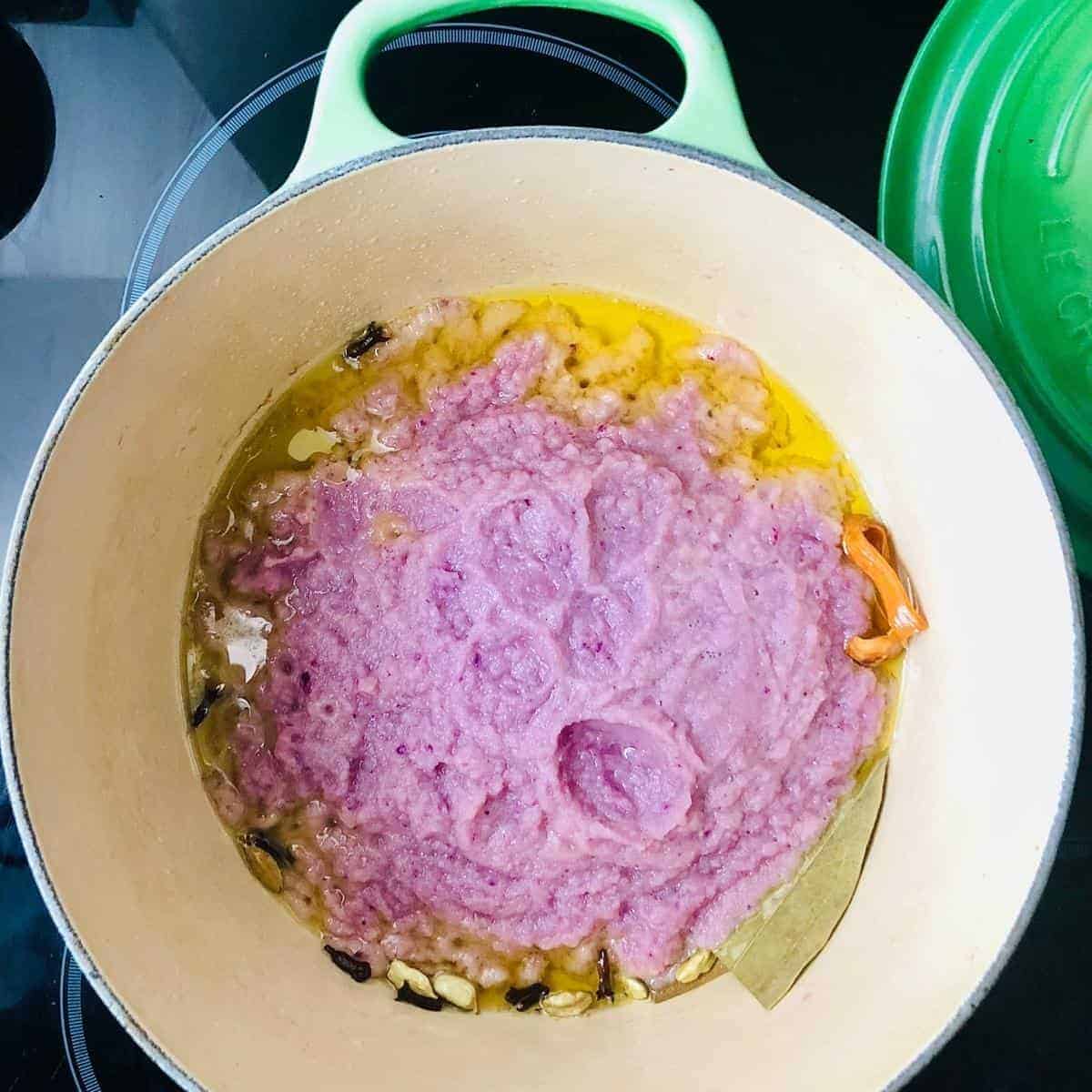 Cook for ten to fifteen minutes. Stir the contents of the pan often to help prevent sticking.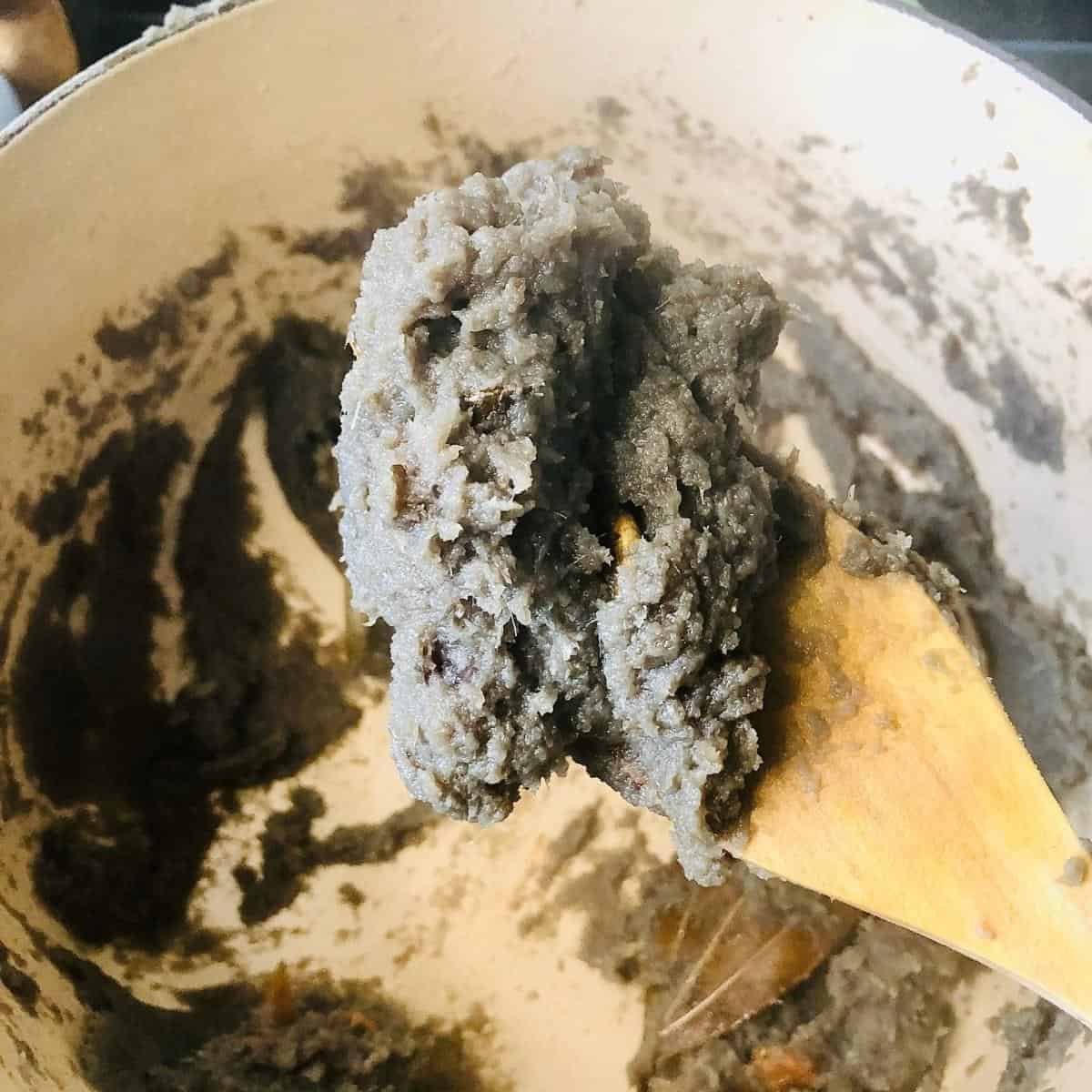 Then add the turmeric, cumin, coriander powder, and fry for two to three minutes.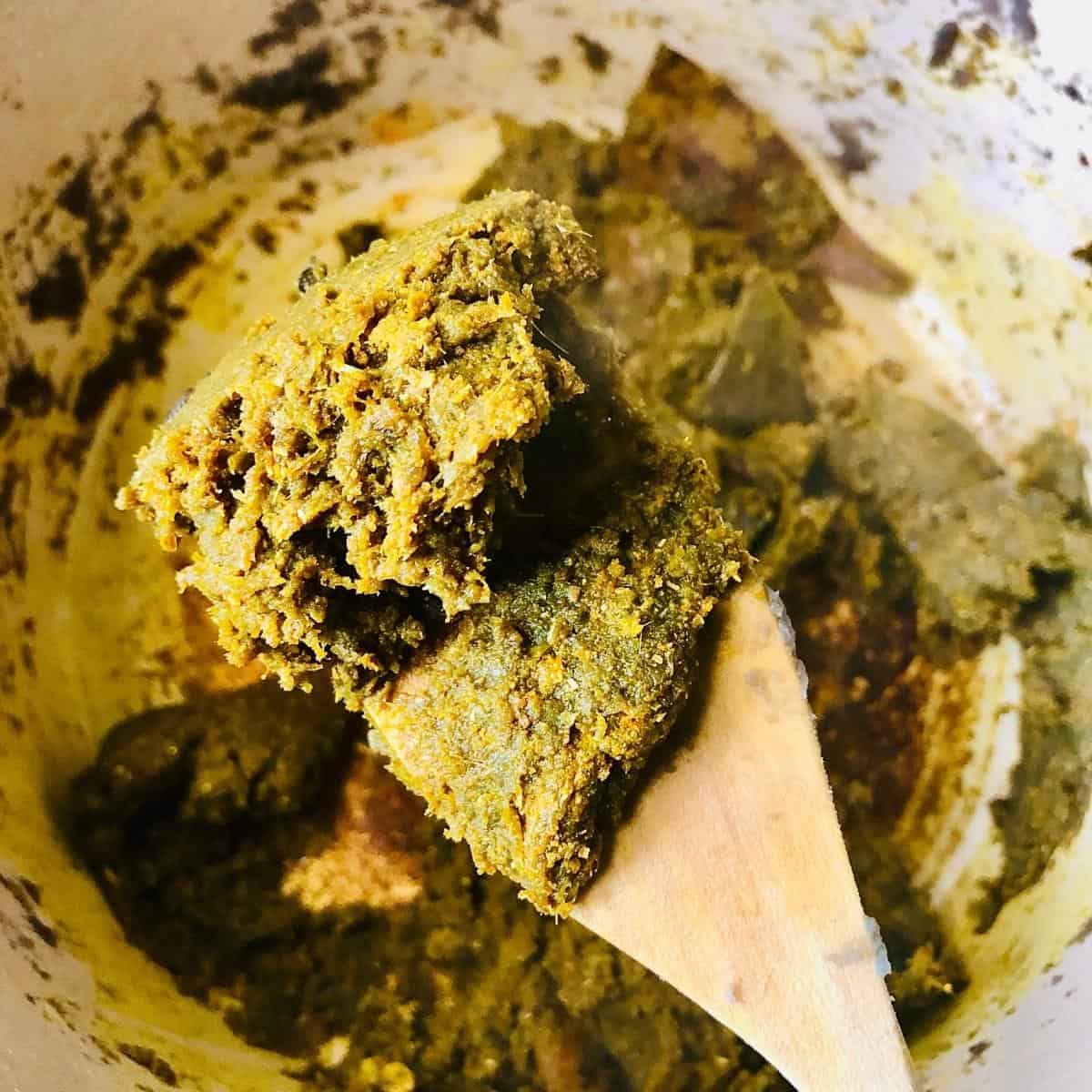 Now add the tomato puree.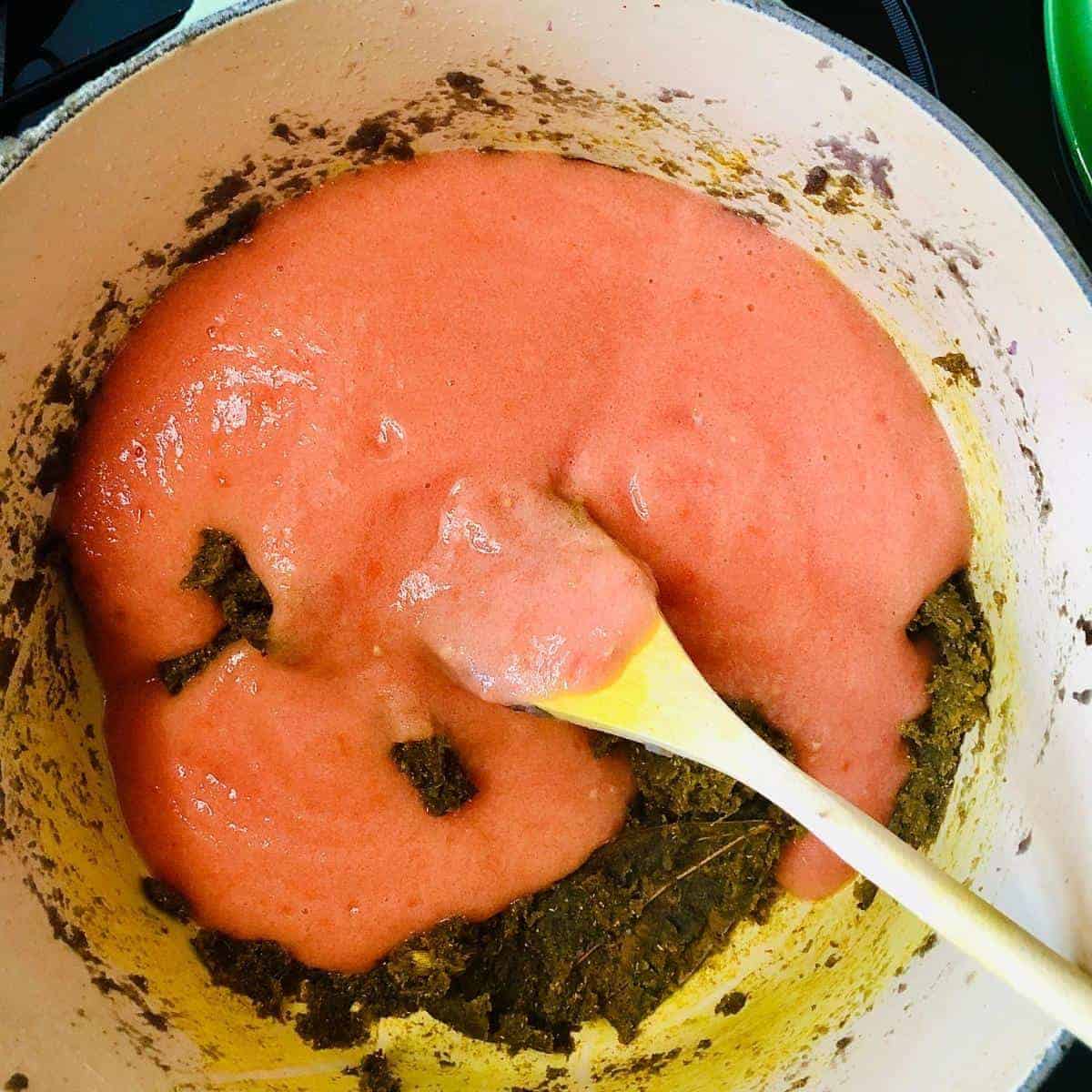 Mix it in well, scraping the bottom of the pot to deal with anything stuck there. Continue to cook over medium heat for ten to fifteen minutes. After this time, add the chilli powder and continue to cook for another five minutes, stirring often. The sauce mix will become a brownish colour.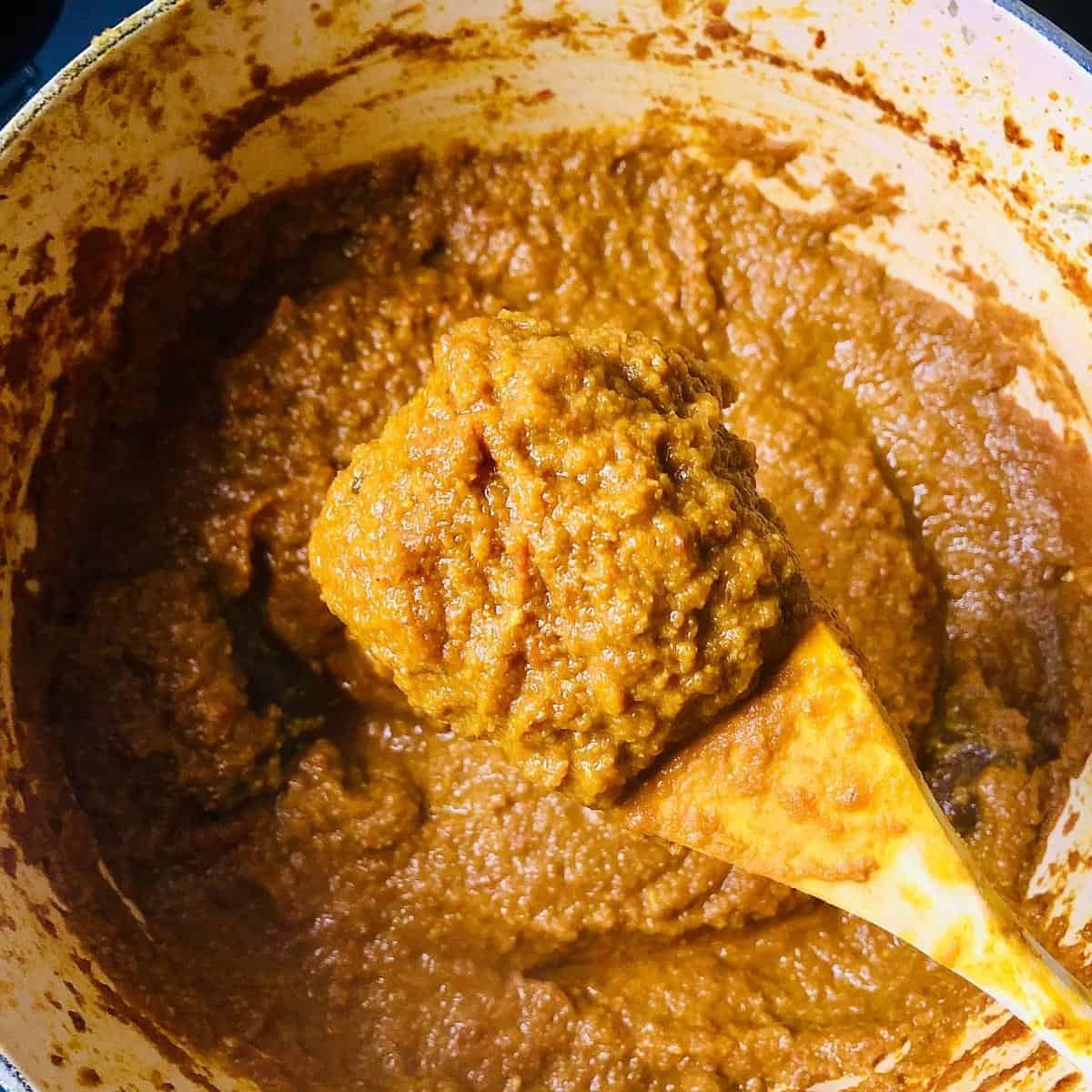 Once cooked, set the pan aside for the contents to cool down. Once cool, transfer to ice cube trays and refrigerate until frozen.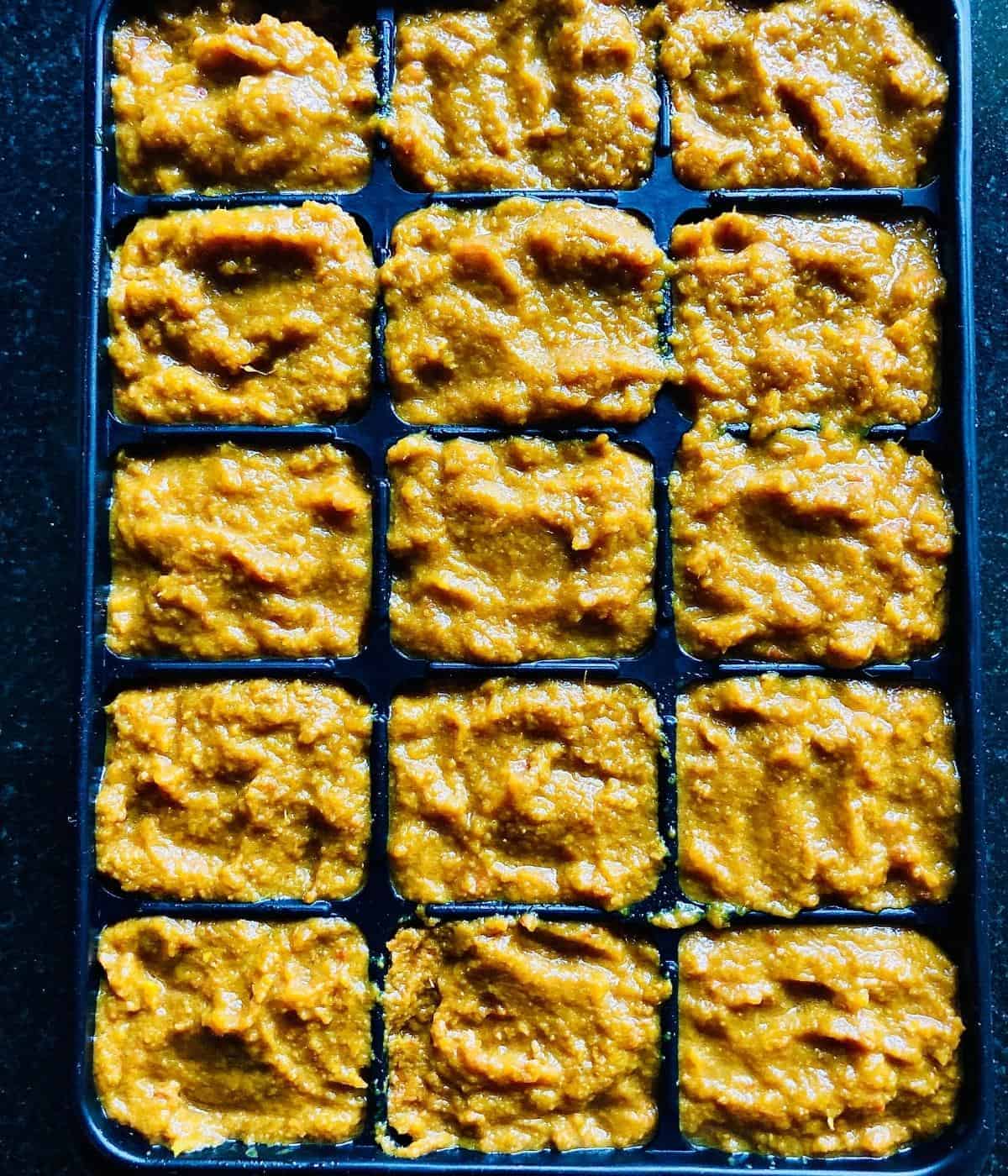 With my ice cube tray, the yield is sauce cubes of 25g each. According to my tests, about two to three cubes are sufficient for one portion. Add approx 50ml of water.
How To Video
Here is a video guide to making your Indian sauce cubes.
Substitutions
I usually use fresh tomatoes for all my recipes; however, you can use tinned chopped tomatoes or plum tomatoes. Replace the fresh tomatoes with the same quantity of tinned tomatoes and puree them.
You can leave it out if you don't have Javitri (mace). As for Cassia bark, replace it with a cinnamon stick and Tej patta with a bay leaf if necessary.
Variations
This Indian sauce base is the base for a lot of Indian recipes. Make it a foundation, and you can build on it when you come to use it. For instance, add coconut milk or cream for a flavour variation.
Storage
You can keep this Indian sauce base unfrozen for up to three days in the refrigerator in an airtight container.
You can keep the frozen cubes for up to three months. There is no expiry date, but they will lose their flavour over a long period. Before use, defrost the cubes overnight in the fridge or give yourself at least a couple of hours to defrost on the day of cooking.
Make sure you heat it thoroughly before adding your veggies or proteins.
Top tip
Since this India sauce base is thick, add water to thin it down when heating it.
A common mistake when cooking Indian food is not to caramelise the onions enough. In India, we use the word 'Bhuna', which essentially means to fry, but more like roasting in a pot. During the cooking of the red onion, garlic and ginger puree, you may find that it is sticking and appears to be burning. Don't worry too much about this; keep stirring and incorporating this caramelised puree. It'll be adding nicely to the flavour.
The other thing that may go wrong is burning the whole spices when adding them to the oil. The oil needs to be hot enough for the spices to bloom. So when they bloom (you will see tiny little bubbles around the spices), turn down the heat immediately and add the onion puree. The blooming process is quick!
When adding powdered spices, be careful that they don't burn. The best way to ensure that does not happen is to mix them with the onion-garlic-ginger puree when frying quickly. You need to fry for a couple of minutes and then add the tomatoes puree.
When cooking the tomatoes, take your time (ten to fifteen minutes). You don't want the raw flavour of the tomatoes. Achieve this by this slow cooking over medium heat and stirring often. As it cooks, it will splatter. Mixing it from the bottom of the pot will stop that.
If you have forgotten to defrost the gravy cubes and need them in a hurry, remove them from the freezer and leave it on the counter while prepping other ingredients. Then using the back of a spoon, try to press it down to break into smaller pieces.
📖 Recipe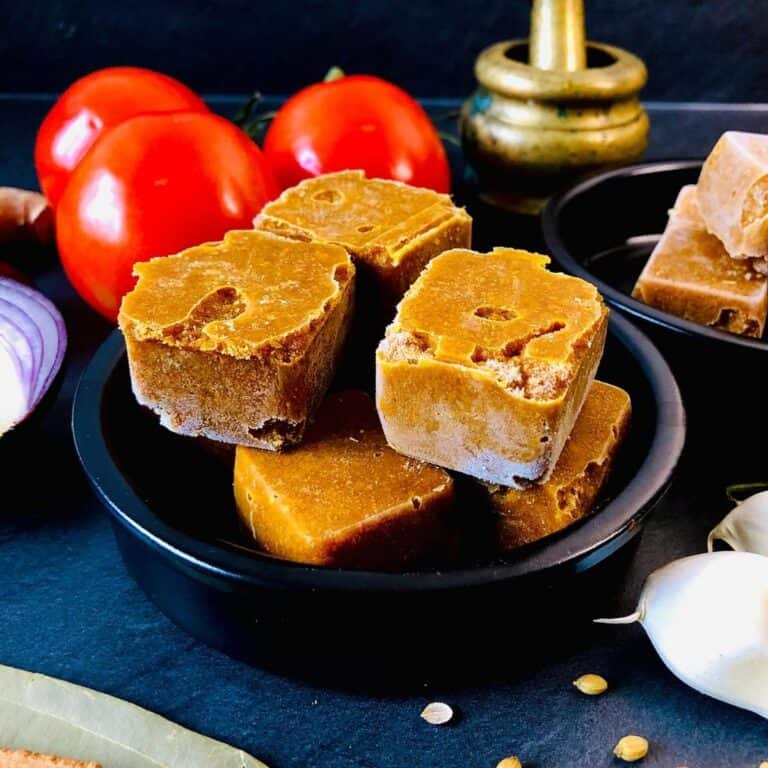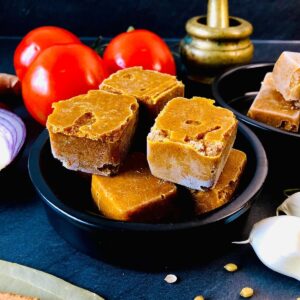 Indian Gravy Cubes
A neat little kitchen hack. Frozen Indian gravy cubes packed with the flavours of north and central India.
Equipment
Digital scales

Silicon ice cube mould
Ingredients
400

gms

Red onion

40

gms

Garlic

40

gms

Ginger

800

gms

Tomatoes

2

Tej patta (Indian bay leaf)

1

Javitri (Mace)

1

stick

Cassia bark (Indian cinnamon)

8

Cloves

8

nos

Green cardamom

4

teaspoon

Coriander powder

4

teaspoon

Cumin powder

1

teaspoon

Turmeric powder

1

teaspoon

Red chilli powder

8

tablespoon

Oil
Instructions
Peel and roughly chop the onions, garlic and ginger. Blend into a rough paste.

Roughly chop the tomatoes and blend them into a puree.

Heat the oil in a large pan over medium-high heat. Add the whole spices and allow them to bloom.

Lower the heat to medium and add the onion, garlic and ginger puree—Fry for about 10 to 15 minutes. Stir often from the bottom as it may get stuck to the bottom of the pan.

Add the cumin, coriander and turmeric powder and fry for about 2 minutes. At this stage, you may see that the onion paste is getting stuck to the bottom of the pan. Don't worry too much about it as long as it's not getting black and burnt.

Add the tomato puree and stir, especially scraping the bottom of the pan to ensure nothing is stuck. Continue stirring and cooking for about 10 to 15 minutes. You will notice the colour is becoming more brownish.

Add the chilli powder and continue stirring. At this point, as the tomato is getting cooked, it may splatter. Keep stirring to stop this. Cook for another 5 minutes.

Remove from the heat and cool before transferring it into an ice cube tray.

Two to three cubes give one portion of sauce. Add approximately 50ml of water per portion.
Food Safety
In a professional kitchen, food hygiene and safety is a top priority, and from the very beginning of training, I practised good habits and routines. Of course, it is also very, very important to practice good food hygiene and safety at home. Here are some fundamental practices to adopt in the kitchen.
Wash your hands regularly while preparing, handling and cooking food
Wipe down counter tops and high contact points regularly
If you cook meat and fish, do not use the same utensils on cooked food, that previously touched raw meat. Use separate chopping boards for meat and fish. Wash your chopping boards immediately after use.
Thoroughly cook food to a minimum temperature of 165 °F (74 °C)
Don't leave food sitting out at room temperature for extended periods (more than 2 hours)
For more details of food hygiene and safety in the home, visit the UK Government's Food Standards Agency webpage.