One of my childhood favourite recipes is Keema mattar. Keema is a mince, and usually refers to minced goat meat. Mattar is peas. Growing up in my ancestral home in India, it was quite rare for us to eat meat. So we mostly ate a vegetarian diet. This recipe provides a vegan mince version of keema mattar.
Jump to: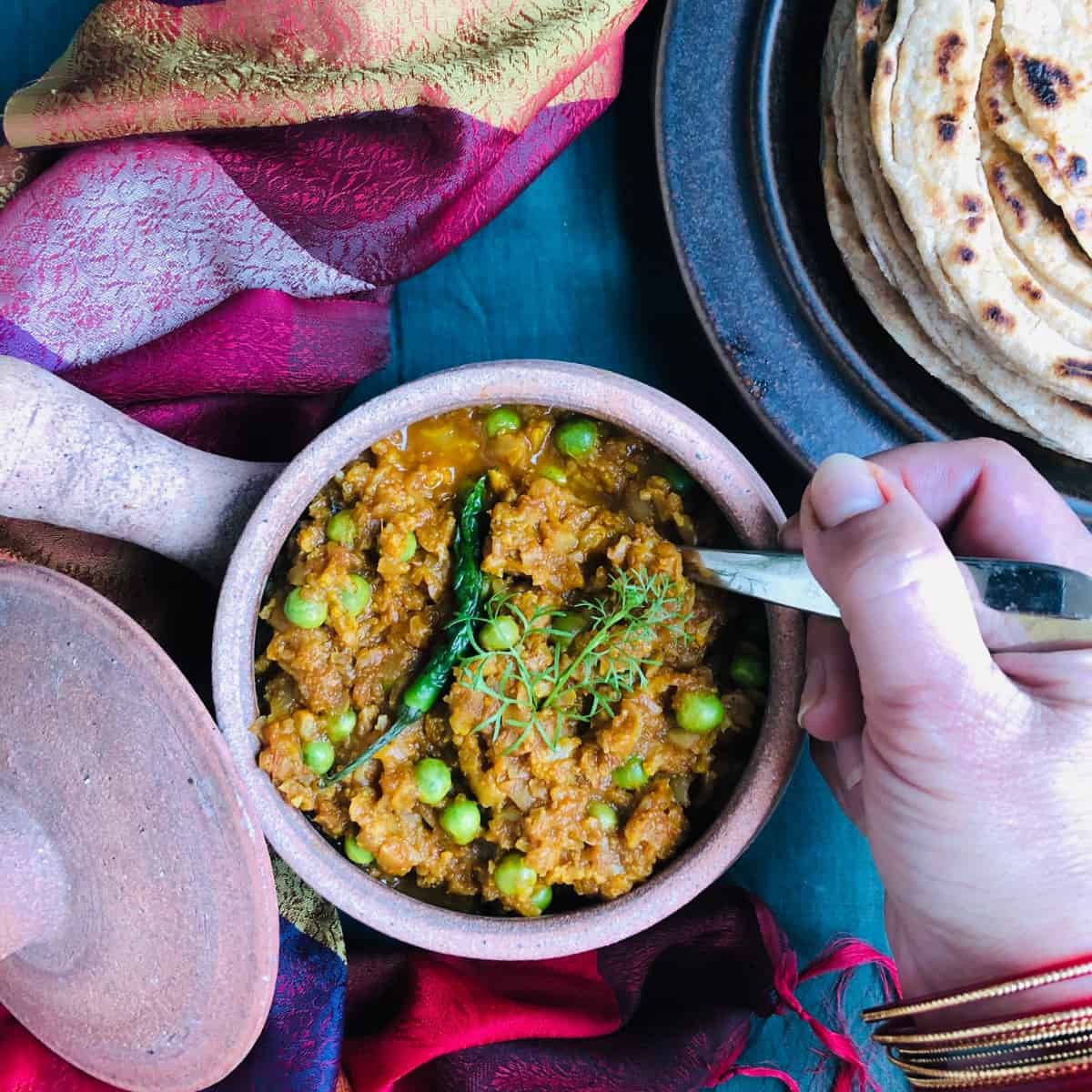 Cauliflower Vegan Mince. A Very Effective Alternative To Minced Meat
My mother developed this recipe of cauliflower keema mattar way before grated cauliflower became popular. She always found cunning ways to get me to eat veggies as I was a very fussy eater. She won me over with this cauliflower mince.
Another popular vegan mince is soya mince. However, I find it a bit spongy and do not really enjoy the texture. This cauliflower keema's taste and texture is much more interesting, I think.
This dish has become a Diwali tradition for my family here in London. It is easy to prepare and you can make it days in advance and store in the fridge. Then you can relax on Diwali day knowing that you have nailed the main course.
Keema mattar tastes best when it is slow cooked. So whether it is minced meat or cauliflower vegan mince, it is best to cook it on low heat over a longer period of time to let the spices and flavours develop. Indeed, it is even tastier eaten the following day after it has matured a little. I know I always recommend eating food cooked fresh daily, but lets say this is one of the rare exceptions.
Many spices are used in this recipe, some whole and some powdered. Each spice, adds another layer of flavour. I promise when you try this, it will be difficult to know whether it is meat or not. So any meat eaters out there, don't be afraid to give it a go! The Cauliflower makes a very convincing vegan mince.
Enjoyed keema mattar with a simple boiled rice. However, I recommend trying it with Laccha Parantha.
Convinced? Let's cook!
How-To Video
Here is a video guide to making your vegan mince cauliflower keema mattar
📖 Recipe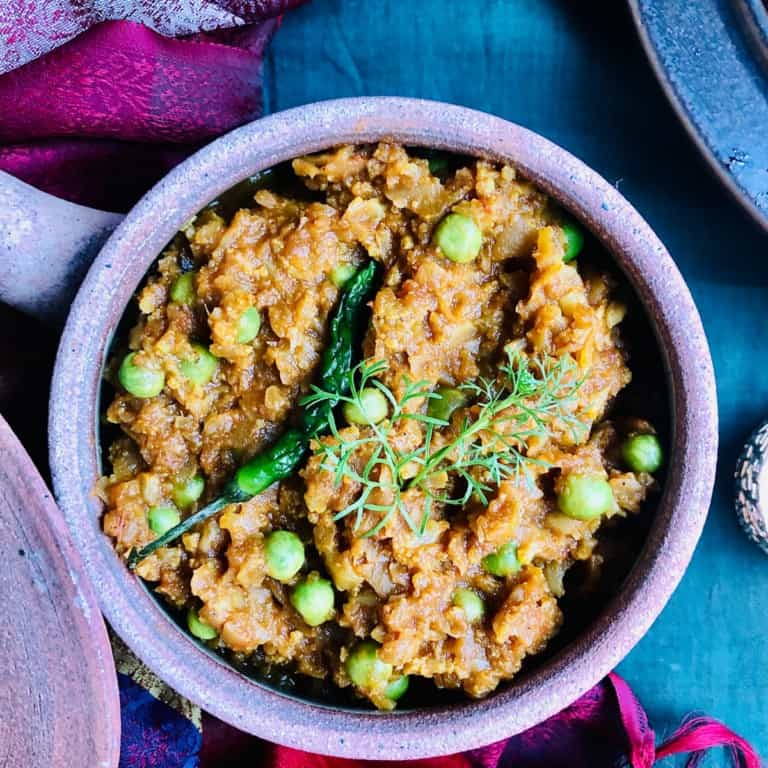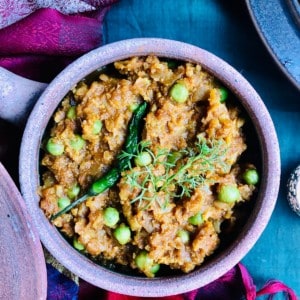 Vegan Mince Cauliflower Keema Mattar
Simple Plantbased minced cauliflower and peas cooked in spices and tomatoes.
Ingredients
700

gms

Cauliflower

One Head

180

gms

Red onions

25

gms

Garlic

25

gms

Ginger

380

gms

Tomatoes

100

gms

Green peas

50

gms

Tomato paste

4

Green cardamom

1

Tej patta or indian bay leaf

6

Cloves

1

Cassia bark

1

Mace

1

teaspoon

Coriander powder

1

teaspoon

Cumin powder

1

teaspoon

Turmeric powder

1

teaspoon

Garam masala

2

tablespoon

Salt

10

gms

Tamarind

Dried

20

gms

Olive oil

10

gms

Fresh Coriander leaves
Instructions
Remove the outer leaves from cauliflower and grate.

Roughly chop the onions, ginger and garlic and blend into a paste, adding a bit of water if required to blend into a smooth paste.

Chop the tomatoes into quarters and puree.

Heat the oil in a large pot over a medium heat and add the whole spices: Cardamom, tej patta, cassia bark, cloves and mace.

Add the onion, garlic and ginger paste and fry until caramelised. During this process stir it often to ensure it doesn't get stuck to the bottom of the pot or get burnt.

Once the onion mix has nicely browned, add the cumin and coriander powder and cook for a minute, stirring often. Add the turmeric and stir.

Add the tomato puree and stir to mix. Cook for for 5 minutes, then add the tomato paste and cook until the colour has changed to a rusty brownish colour (about 10 minutes)

Now add in the grated cauliflower and water and mix well. Cover and cook for 30 minutes. Check in from time to time and stir if required.

Add the dried tamarind to a cup. Pour boiling water to cover and set aside to bloom for 5 minutes. Press and strain the tamarind to extract the juice.

Add the tamarind juice and garam masala to the cauliflower mince and cook for a further 10 minutes. If you wish to cook for longer then turn down the heat and cook for a further 30 minutes. This is optional, however the longer you cook the more the flavour develops.

Once ready, add the peas and stir to mix.

Garnish with chopped coriander.

Serve with Laccha parantha or rice.
If you do not have mace, you can leave it out, it will to alter the flavour to be noticeable. The same with cassia bark and tej patta, replace with cinnamon and bay leaf.
Yes you can use canned tomatoes instead of fresh, just use the plum tomatoes and puree it.
If you have a food processor you can grate cauliflower in that and save time.