This easy vegan omelette is a worthy alternative to an egg omelette. I have seen besan (gram flour) chilla touted as a vegan omelette or encountered recipes with a long list of ingredients that you may not find in your local store, like egg replacements, for instance.
Only three ingredients are required: Moong bean, kala namak and vegan cheese. If you like unprocessed, simple food, then this is your recipe.
Just as some people prefer eggs scrambled, you may like to try my Akuri style scrambled tofu.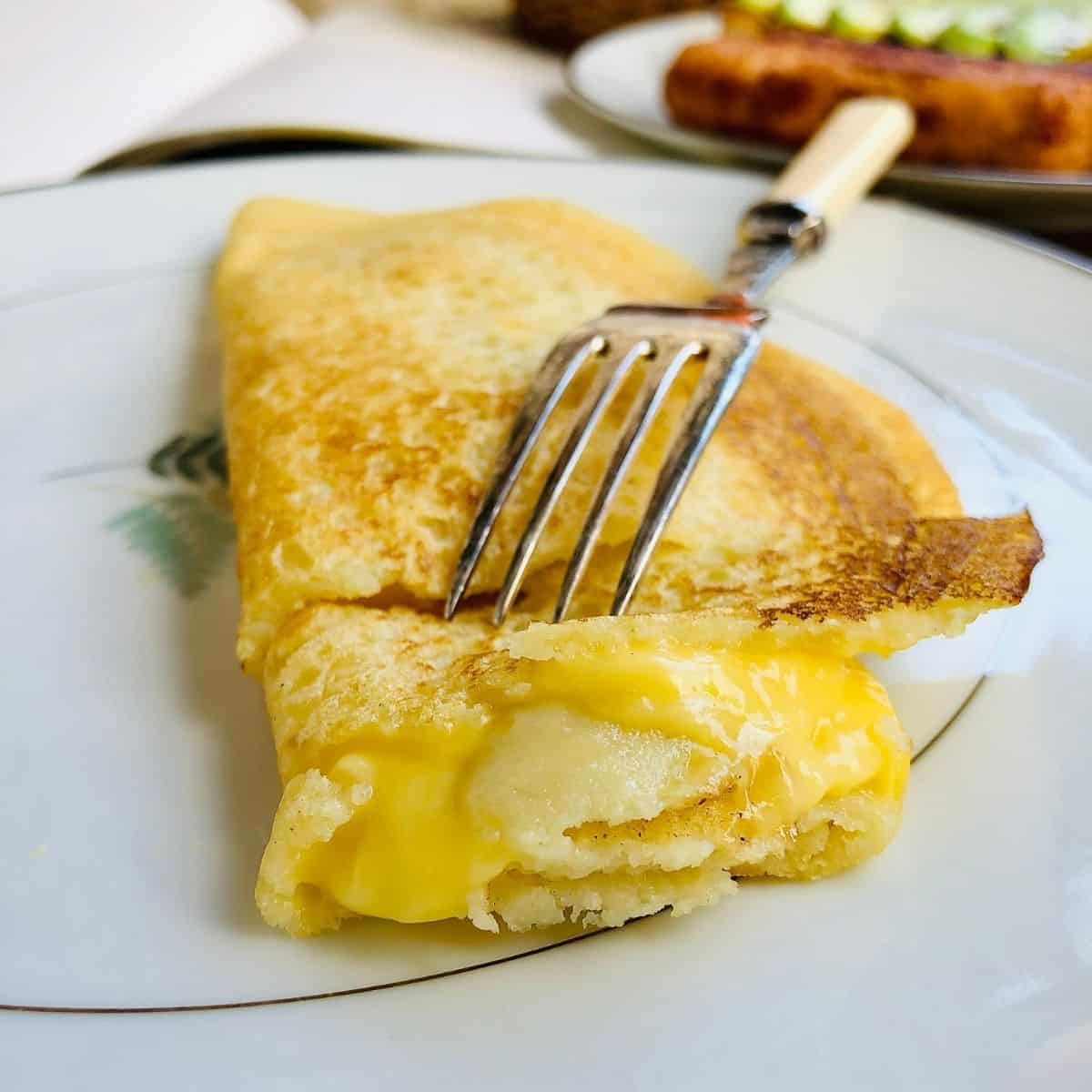 Moong bean is the secret ingredient for this vegan omelette. In India, we eat either gram flour or moong bean chilla as a snack. My inspiration for this recipe comes from my childhood favourite chilla. The texture provided by the moong bean batter gives this omelette its fluffiness and the Kala namak an eggy taste.
Right then, let's cook!
Jump to:
Ingredients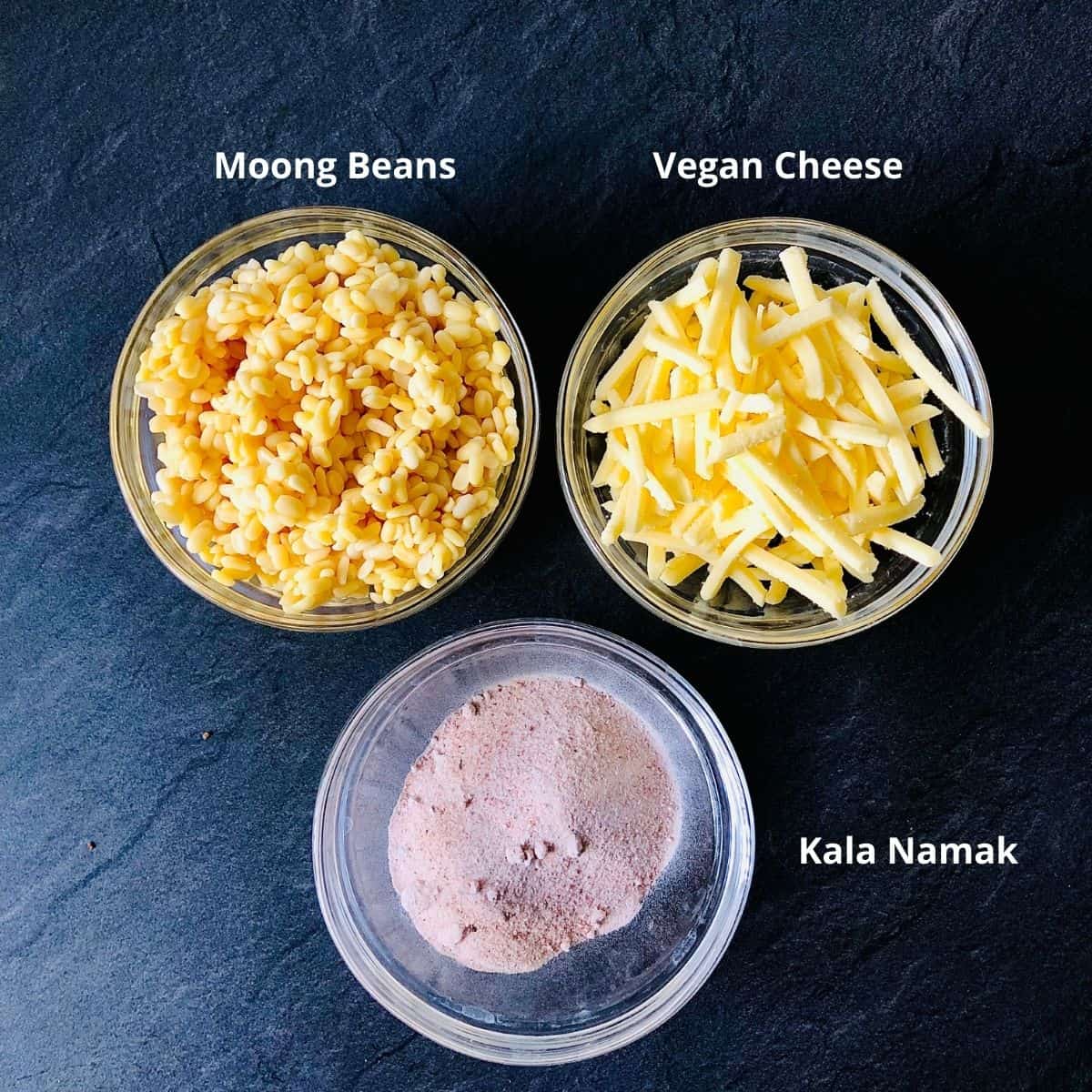 Moong beans
Vegan cheese
Kala namak
See the recipe card for quantities.
Instructions
This vegan omelette is even easier than an egg omelette to make!
For ease of cooking, soak the moong beans overnight in a bowl full of water. After they have soaked, drain the water and rinse the soaked moong beans until the water runs clear.
Add the 300ml of clean water and the moong beans to a blender and whizz to a smooth puree.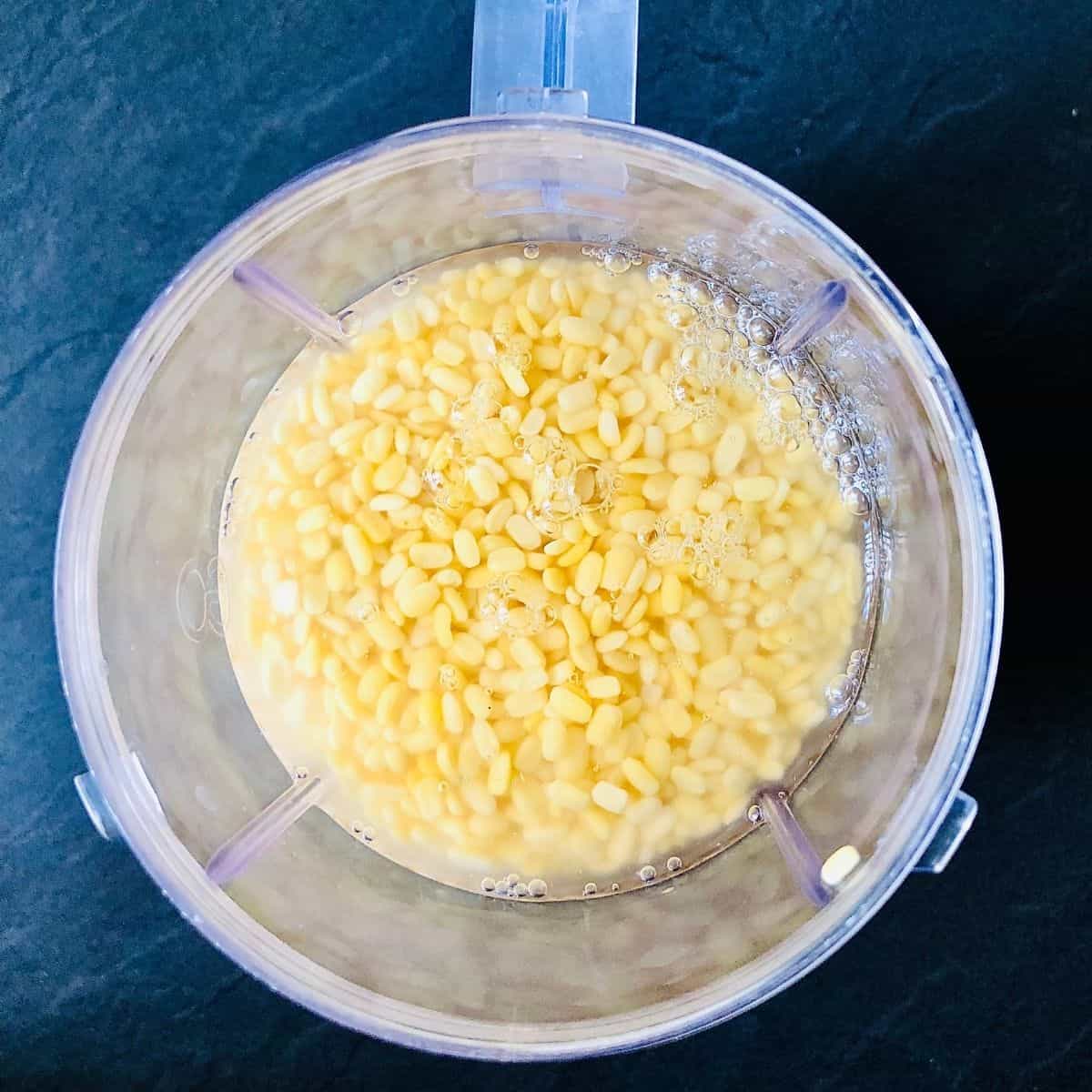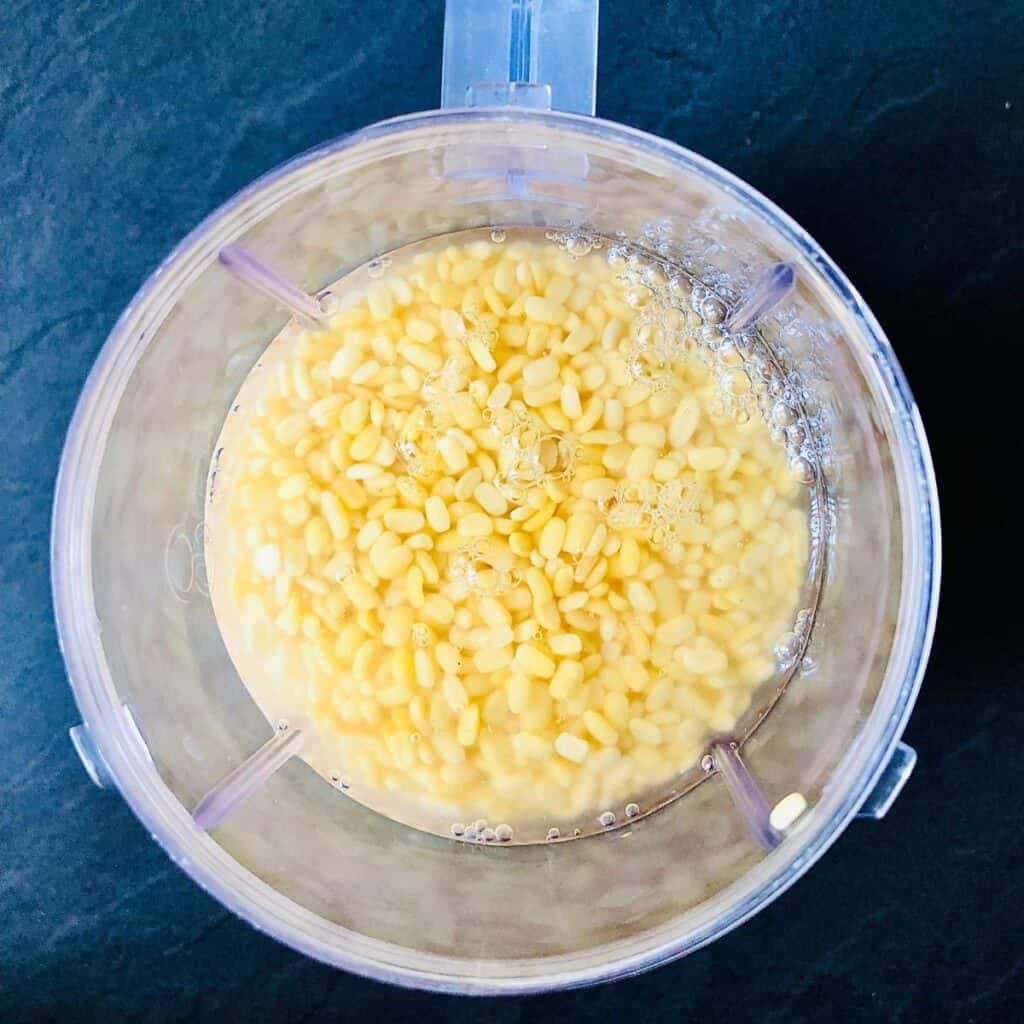 Pour the moong bean batter into a bowl, add the Kala namak and mix well.
Now brush a frying pan with oil and set over medium heat. Take a ladle of the batter (about 100gms) and pour it into the centre of the frying pan. Quickly encourage the batter to the edges of the frying pan.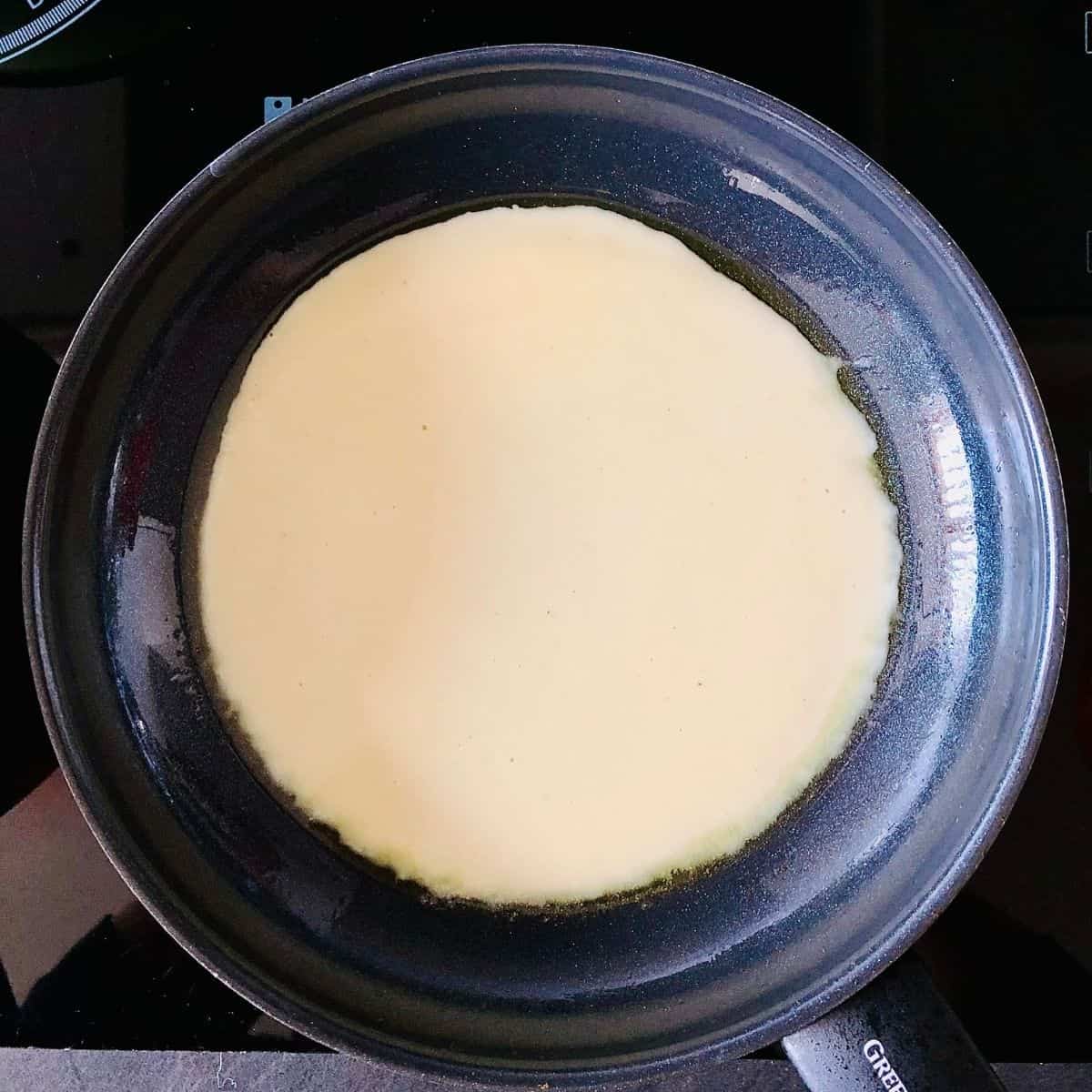 Cook for one minute and then add the grated vegan cheese.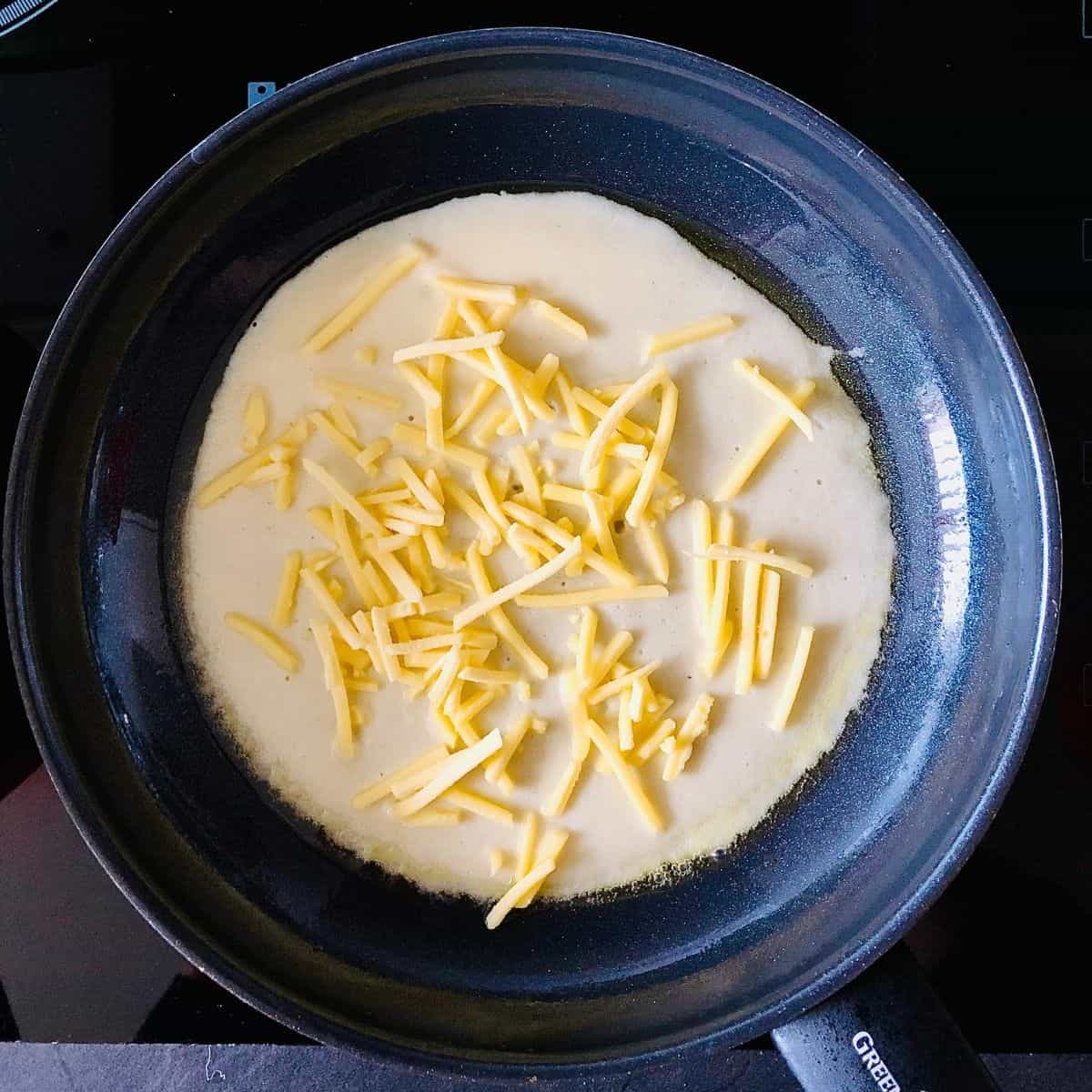 Cook the omelette for one more minute.
Now it's time to fold the omelette. Please look at the video along with these written instructions.
Using a spatula, gently fold one side to the centre. Then fold in the corners about one inch. Fold again halfway to the top. Then flip over, and you will have a half-moon shape.
How To Video
Here is a video guide to making a vegan moong bean omelette.
Variations
This omelette recipe is a blank canvas; you can add your choice of flavours and other veggies. In India, we make masala omelette with red onions, chillies and coriander. Or add sauteed mushrooms.
Equipment
You will need a good non-stick pan to make this omelette. Alternatively, non-stick your cast iron or steel pan, heating it to high temperature, then reduce the temperature and brush with oil.
Storage
You can refrigerate the moong bean batter in an airtight container for three days.
Top tip
A good non-stick pan is a must for a perfect vegan omelette and lots of practice. Don't worry if you can't get the folding right; fold it in half!
📖 Recipe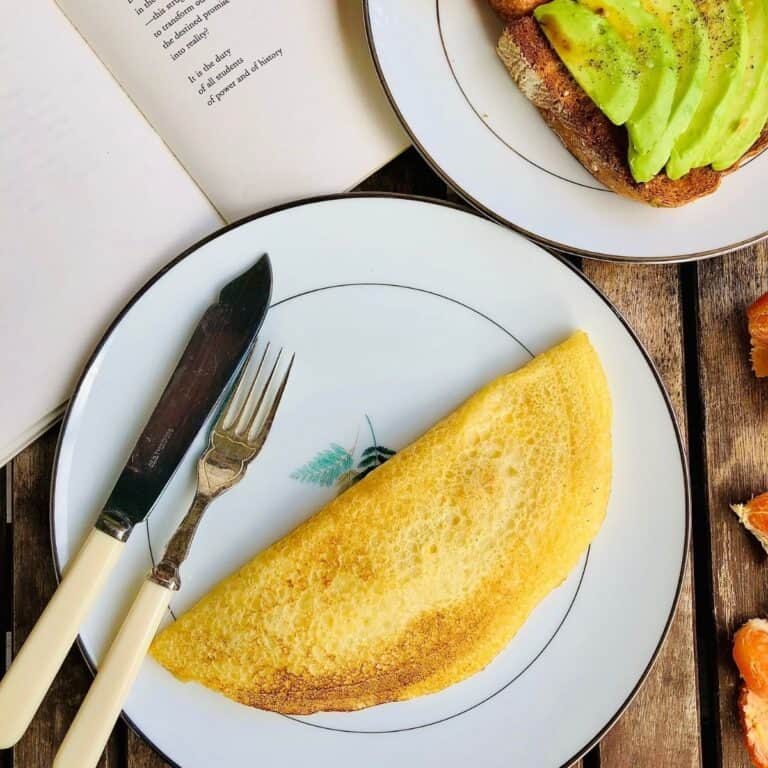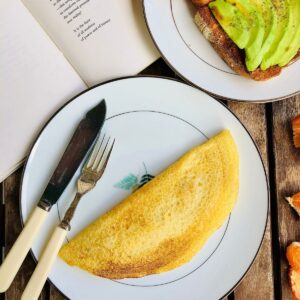 Vegan Omelette
Vegan yellow moong bean omelette with vegan cheese
Equipment
Digital scales

Blender or Food processor
Ingredients
200

gms

Yellow moong beans

300

ml

Water

2

teaspoon

Kala namak

150

gms

Vegan cheddar cheese

2

tablespoon

Olive oil
Instructions
Soak the moong beans overnight in a bowl of water.

The following morning, discard the water and rinse the moong beans several times until the water runs clear. Three to four times approximately.

Transfer the drained moong beans into a blender. Puree the moong beans along with the 300ml of water into a smooth puree.

Transfer the puree into a bowl and add kala namak. Mix together.

Heat a non-stick frying pan over medium heat and brush with oil.

Pour a ladle of the moong bean puree (approx 100 gms) into the centre of the pan and quickly spread into a circle to the edges of the frying pan. Cook for a minute.

Add the grated cheddar cheese to the centre of the omelette. Cook for another minute.

Using a spatula, gently remove the omelette from the sides and then fold by bringing one side to the centre. Then fold the corners in two inches. Fold halfway again. Finally, flip it over and you will have a half-moon shape, similar to a french omelette.

Transfer onto a plate and serve immediately.
Food Safety
In a professional kitchen, food hygiene and safety is a top priority, and from the very beginning of training, I practised good habits and routines. Of course, it is also very, very important to practice good food hygiene and safety at home. Here are some fundamental practices to adopt in the kitchen.
Wash your hands regularly while preparing, handling and cooking food
Wipe down counter tops and high contact points regularly
If you cook meat and fish, do not use the same utensils on cooked food, that previously touched raw meat. Use separate chopping boards for meat and fish. Wash your chopping boards immediately after use.
Thoroughly cook food to a minimum temperature of 165 °F (74 °C)
Don't leave food sitting out at room temperature for extended periods (more than 2 hours)
For more details of food hygiene and safety in the home, visit the UK Government's Food Standards Agency webpage.