Akuri is Parsi style scrambled eggs with personality. We are making the vegan version of Akuri using silken tofu. This version of Akuri with tofu isn't just a substitute recipe; I think it holds its own against scrambled eggs. Tofu is cooked together with ginger, garlic and chilli along with spices. Kala namak gives it an eggy flavour. Akuri style scrambled tofu for breakfast is a perfect way to start your day, or for a lazy weekend brunch.
Just as some people prefer an omelette to scrambled eggs, I also have a vegan omelette recipe for you to try.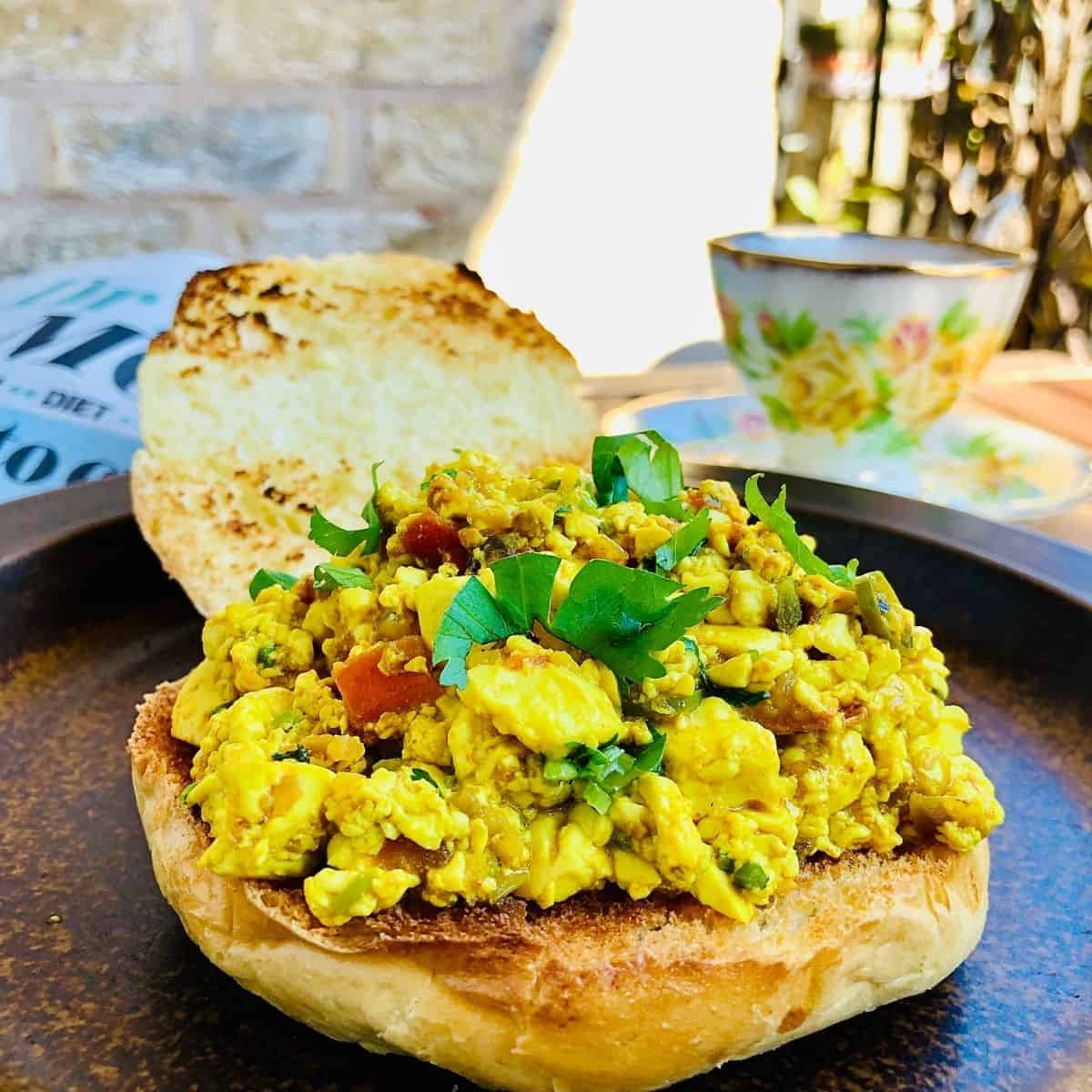 Akuri, or the Parsi style soft scrambled eggs, is how the Parsi eat their scrambled eggs. In Mumbai, you will also find them in Iranian cafes. Adding a masala is a popular way to eat eggs in India. Usually, red onions, finger chillies and tomatoes are added too. Akuri goes to another level by adding garlic, ginger, and turmeric. My scrambled tofu gets this delicious akuri treatment.
Right then, let's cook!
Jump to:
Ingredients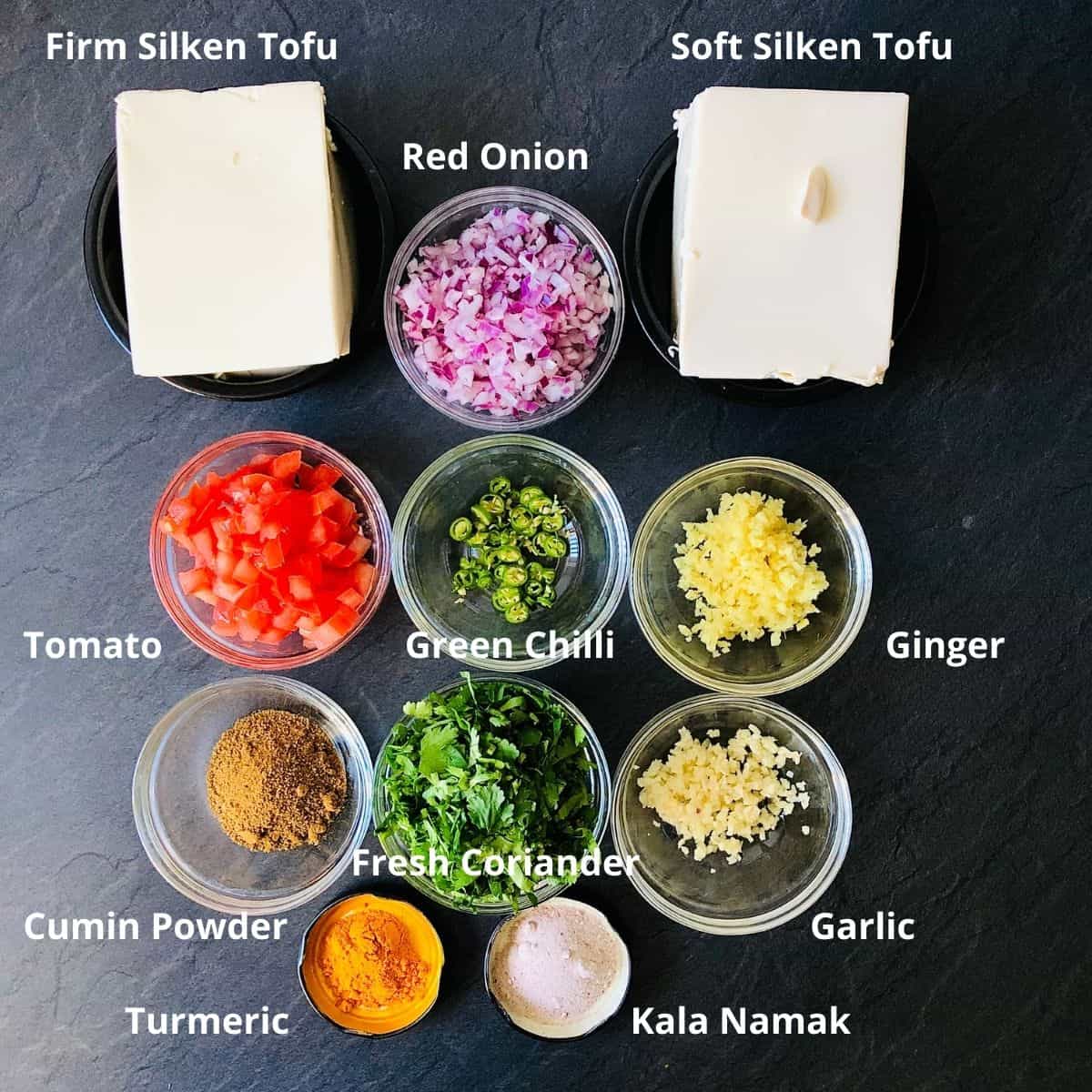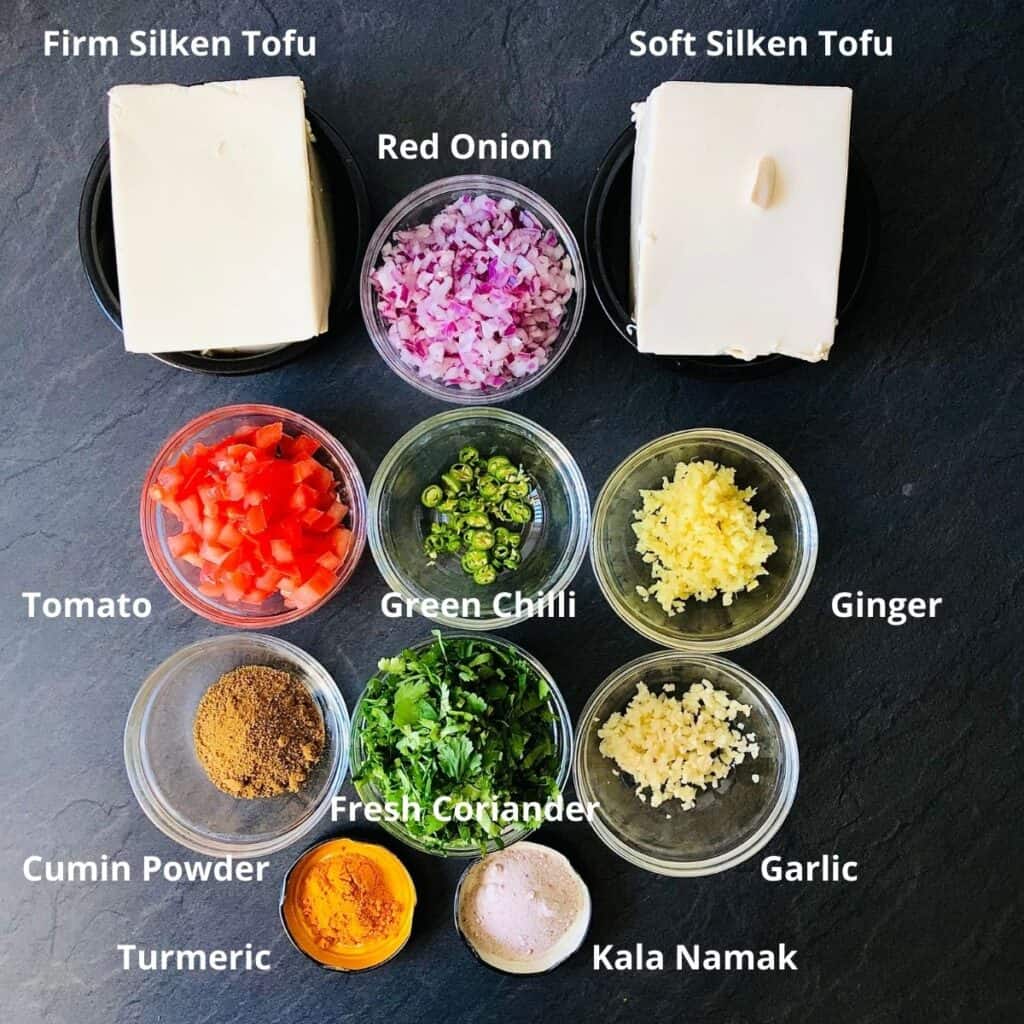 Firm silken tofu
Soft silken tofu
Red onion
Tomato
Finger green chilli
Ginger
Garlic
Fresh coriander
Cumin powder
Turmeric powder
Kala namak
See the recipe card for quantities.
Instructions
To begin, prepare the ingredients.
Remove both the firm and soft silken tofu from their packaging and leave to drain.
Finely chop the red onion, garlic, ginger and green chilli. Roughly chop the fresh coriander, including the stems. Dice the tomatoes.
Heat the oil in a frying pan over medium heat and fry the onions for about five minutes until soft, translucent, and slightly caramelised (start to turn a golden brown), thus making them sweeter.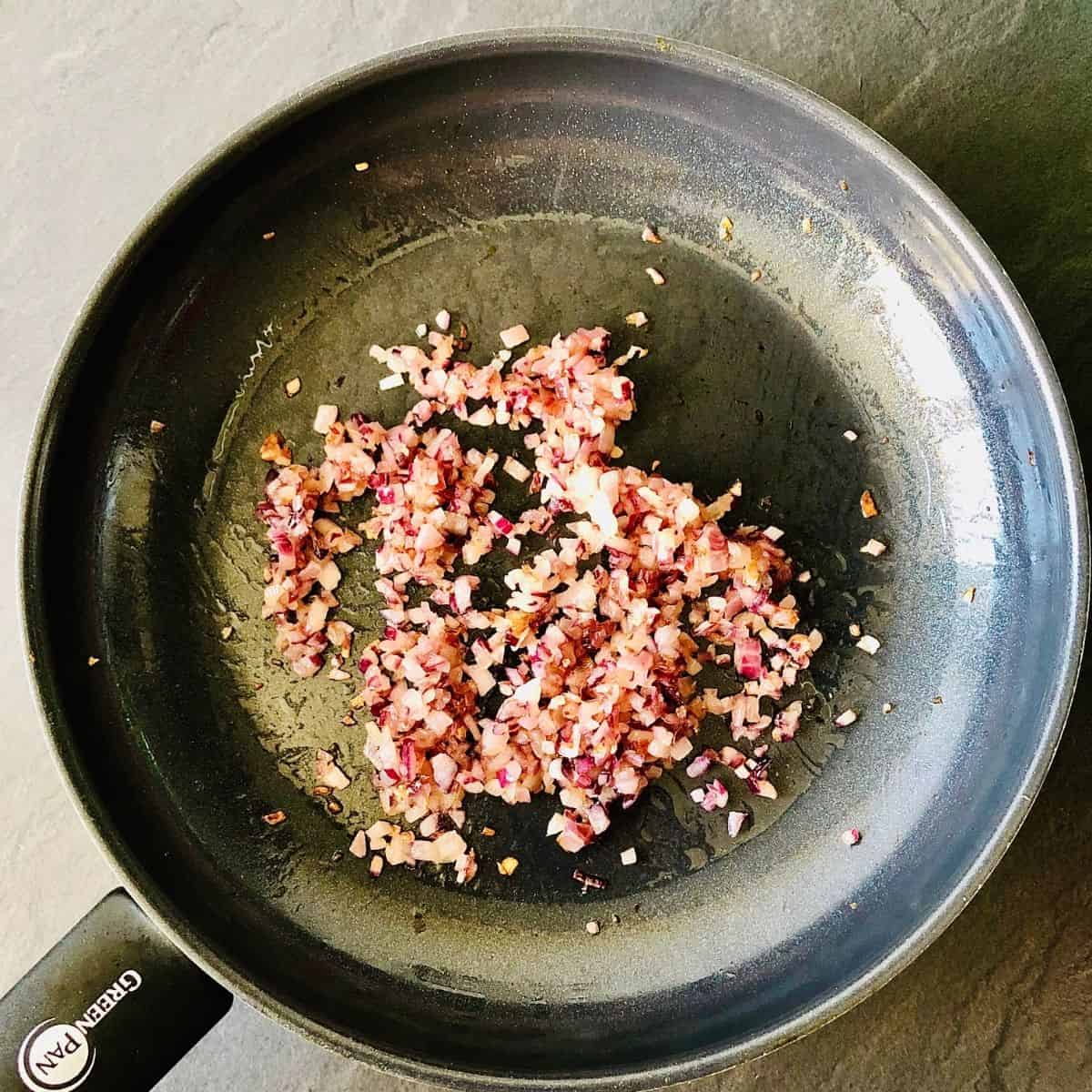 Next, add the garlic and ginger and fry for two more minutes.
Follow this with the cumin powder and fry for a few minutes until you get the fragrance of the cumin. Then add the green chilli and tomato and cook for two minutes until they soften.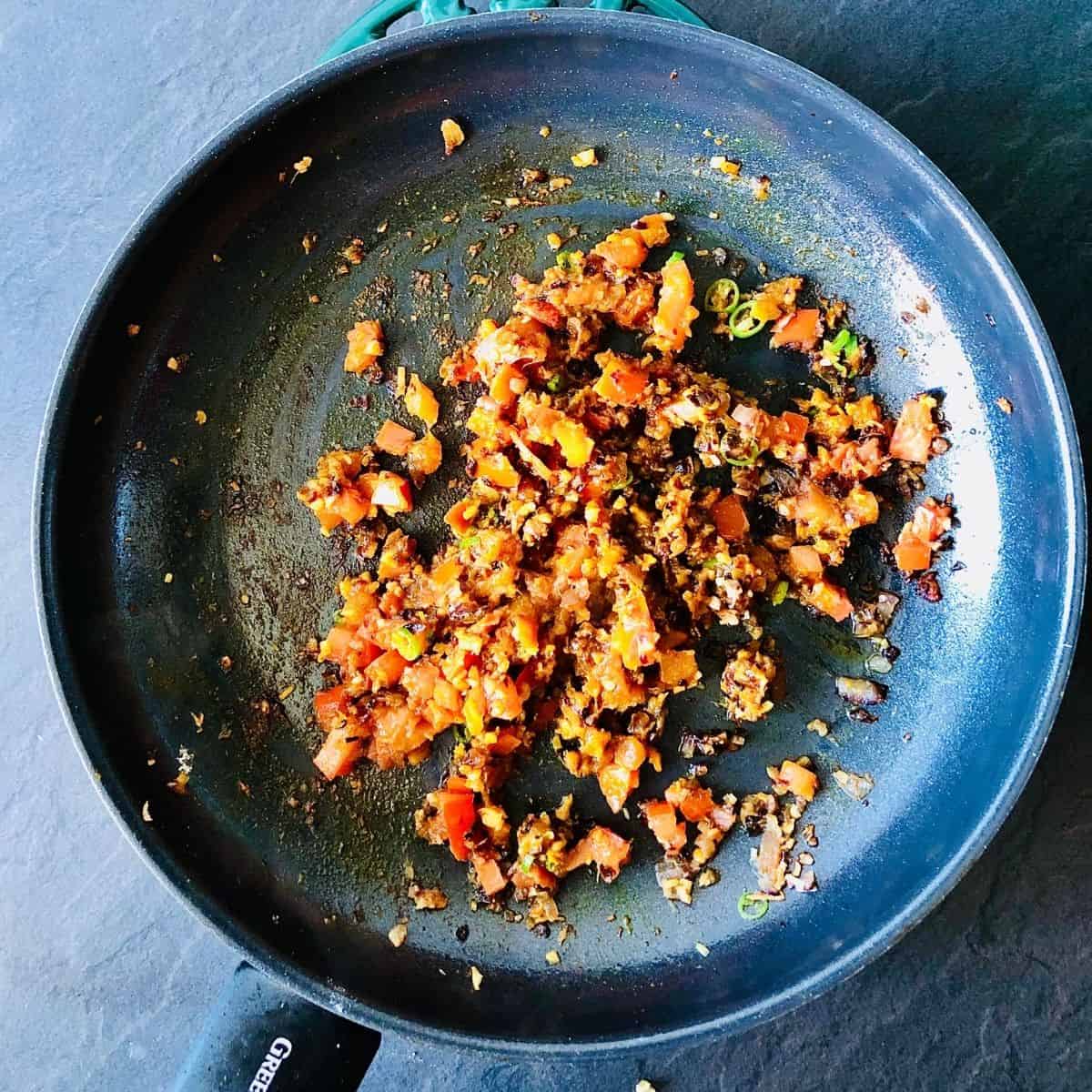 Add the turmeric powder and the kala namak and mix.
Gently crumble into the pan, firstly the firm tofu and then the soft tofu.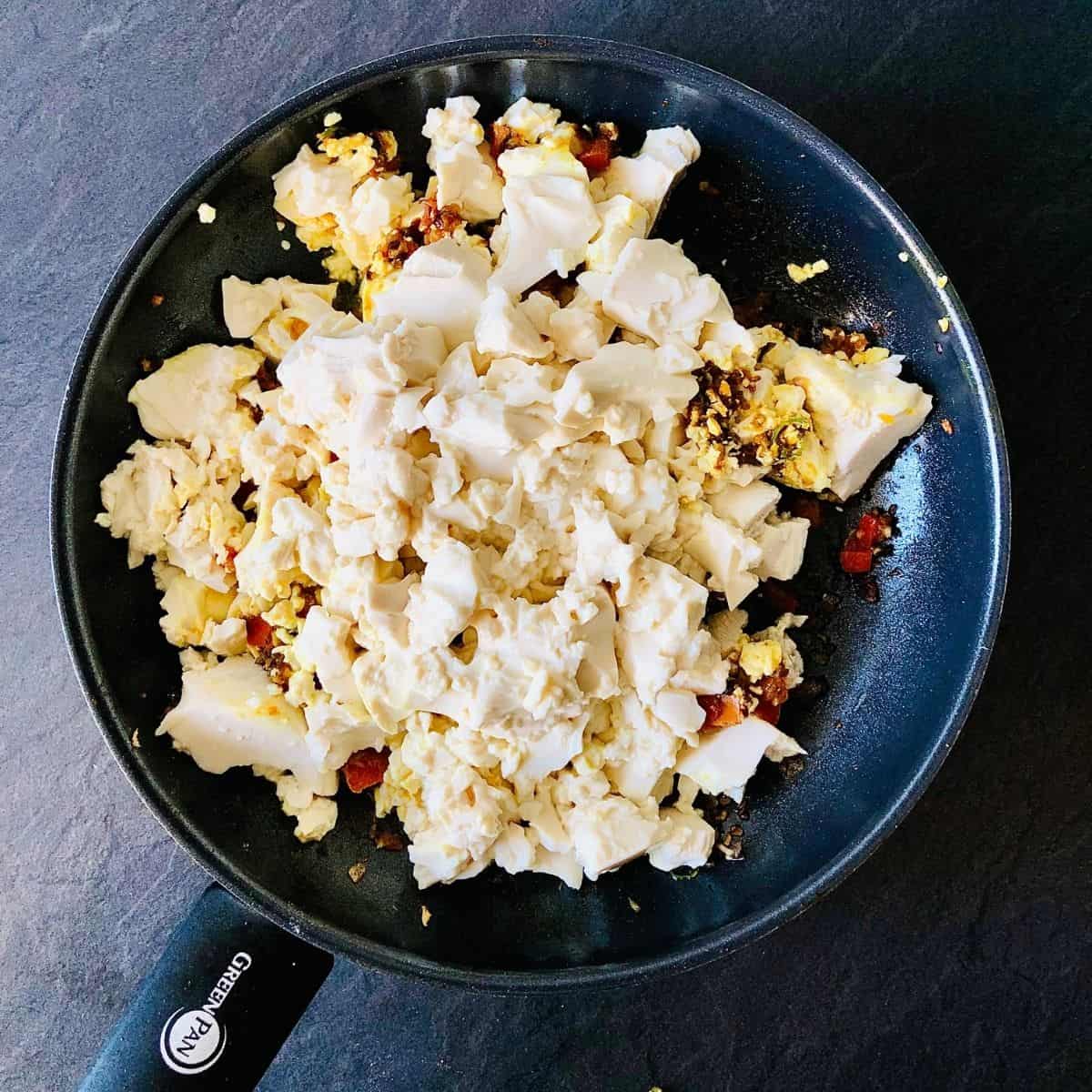 Mix it into the other ingredients well and cook until the tofu is hot. The tofu will break down to a scrambled egg consistency as you mix.
Add the chopped coriander and mix well.
Serve with a brioche bun or a bread of your choice.
How To Video
Here is a video guide to making akuri style scrambled tofu.
Substitutions
If you don't have access to silken tofu, you can use the tofu you have available. The texture will differ, not the taste. If the only tofu you have access to is the firm variety, add a bit of plant-based milk and break the tofu into small chunks and mix well before adding it to the masala
Variations
The original Akuri is with eggs. If you eat eggs, replace tofu with six eggs.
Storage
Once cooked with tofu, you can keep the scrambled tofu in the fridge for three days.
The masala without the tofu can keep in the fridge for up to five days.
The masala without the tofu can also be frozen in an airtight container. Just defrost overnight in the fridge before use.
Top tip
Drain the tofu on a clean kitchen cloth for at least 10 minutes before use to remove the excess water.
📖 Recipe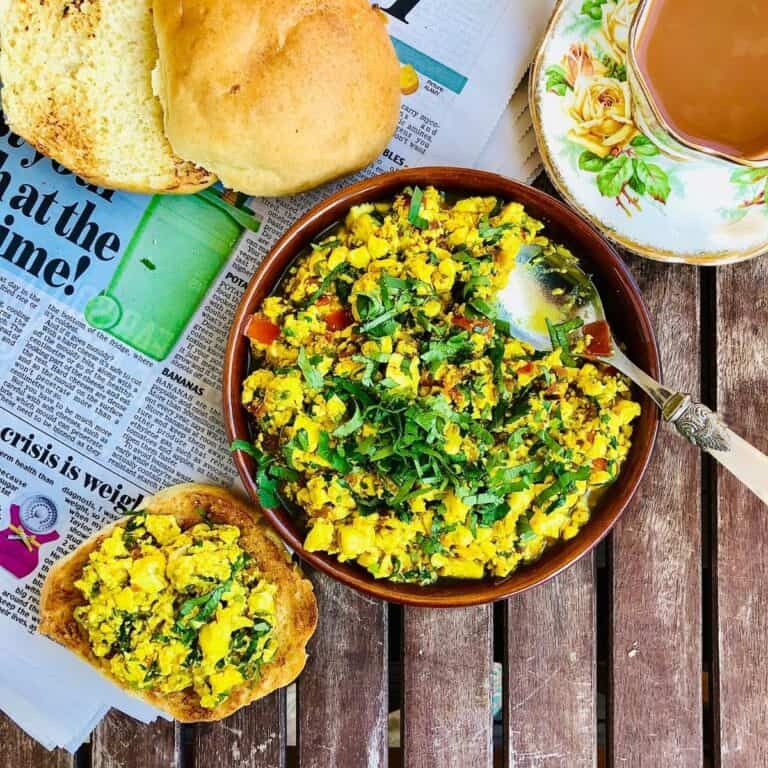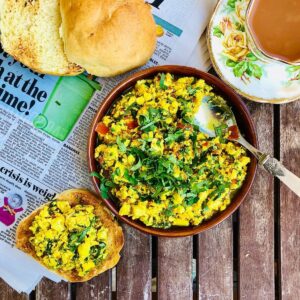 Vegan Akuri Style Scrambled Tofu
Soft scrambled tofu cooked with a masala of spices, onion, garlic and ginger.
Ingredients
340

gms

Soft silken tofu

349

gms

Firm silken tofu

70

gms

Red onion

8

gms

Garlic

1 large clove

20

gms

Ginger

1 inch piece

85

gms

Tomato

1 medium sized

20

gms

Fresh coriander

1

Finger green chilli

3-4 gms

1

teaspoon

Kala namak

1

teaspoon

Turmeric powder

1

teaspoon

Cumin powder

2

tablespoon

Olive oil

4

Brioche buns
Instructions
Remove the tofu from the packaging and leave it to drain on a plate lined with a clean kitchen towel for about ten minutes

Finely chop the red onion, garlic, ginger and chilli.

Roughly chop the coriander - stems and leaves.

Dice the tomatoes along with the seeds.

Heat the oil in a pan over medium heat and gently fry the red onions for about five minutes until soft, light golden brown and sweet.

Add the ginger and garlic and fry for two minutes.

Add the cumin powder and fry for a minute until you can smell the fragrance of cumin.

Add the diced tomatoes and green chilli and fry for two minutes until the tomatoes soften.

Now add the turmeric powder and Kala namak and mix.

Gently break the firm tofu between your fingers into the pan, followed by the silken tofu and stir to mix. Cook for a couple of minutes until the tofu is hot.

Finish with the chopped coriander and mix well. Remove from the heat.

Serve hot with toasted brioche buns or a bread of your choice.
Food Safety
In a professional kitchen, food hygiene and safety is a top priority, and from the very beginning of training, I practised good habits and routines. Of course, it is also very, very important to practice good food hygiene and safety at home. Here are some fundamental practices to adopt in the kitchen.
Wash your hands regularly while preparing, handling and cooking food
Wipe down counter tops and high contact points regularly
If you cook meat and fish, do not use the same utensils on cooked food, that previously touched raw meat. Use separate chopping boards for meat and fish. Wash your chopping boards immediately after use.
Thoroughly cook food to a minimum temperature of 165 °F (74 °C)
Don't leave food sitting out at room temperature for extended periods (more than 2 hours)
For more details of food hygiene and safety in the home, visit the UK Government's Food Standards Agency webpage.