Ghugni is a popular breakfast dish, but it can also be served as a snack, side or even a main dish. This dish is typical of Calcutta, where I grew up. It is a popular street food cooked with soaked dried white/yellow peas in a mildly spiced broth-like gravy with very few spices. My recipe is slightly different from the usual Bengali style ghugni, which is brothy and uses potatoes to thicken the sauce.
If you like hot savoury breakfasts like this ghugni, try my smoky beans, dalia upma or bread pakora.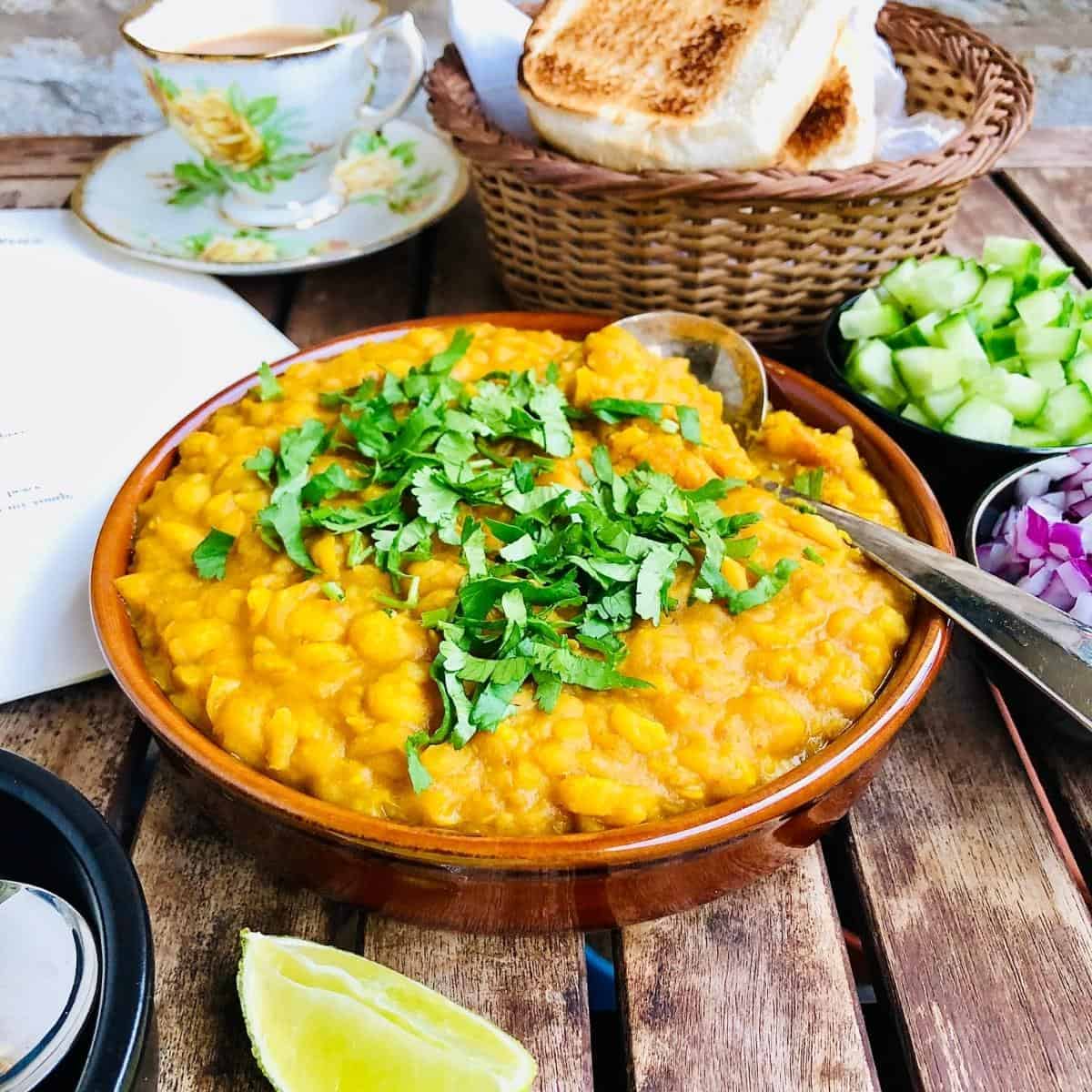 The origins of my recipe are from my food memory. This ghugni was a treat that my father and I would share when I was a child. A local street vendor would sell ghugni, boiled eggs, and a potato dish. He would go from door-to-door every evening, with a loud voice announcing his arrival saying, "Ghugni, Ghugni!" His ghugni was the best and, together with the boiled eggs, was a real treat we looked forward to having. He would put a spoon of the Ghugni on a Sal leaf and make a scooping spoon with another sal leaf and hand it to us.
After my father passed away in my early teens, we never came across this vendor again, but the memory of his Ghughni lingers in my mind. I wanted to recreate the taste of this ghugni as I remember it; however, it has taken a lot of recipe testing. I want to share a bit of my childhood food nostalgia with you in this post.
Ghugni is a prevalent dish in eastern India. As often happens in India, the same dish will have many recipe variations. For instance, in some places, chickpeas replace white peas. Some recipes even use mutton. The spices are usually the same; however, some people use tamarind instead of tomatoes. Mustard oil is also a preferred oil versus any other oil. In this recipe, I use olive oil. You can use cucumber and red onion or puffed rice as a topping.
Jump to:
Ingredients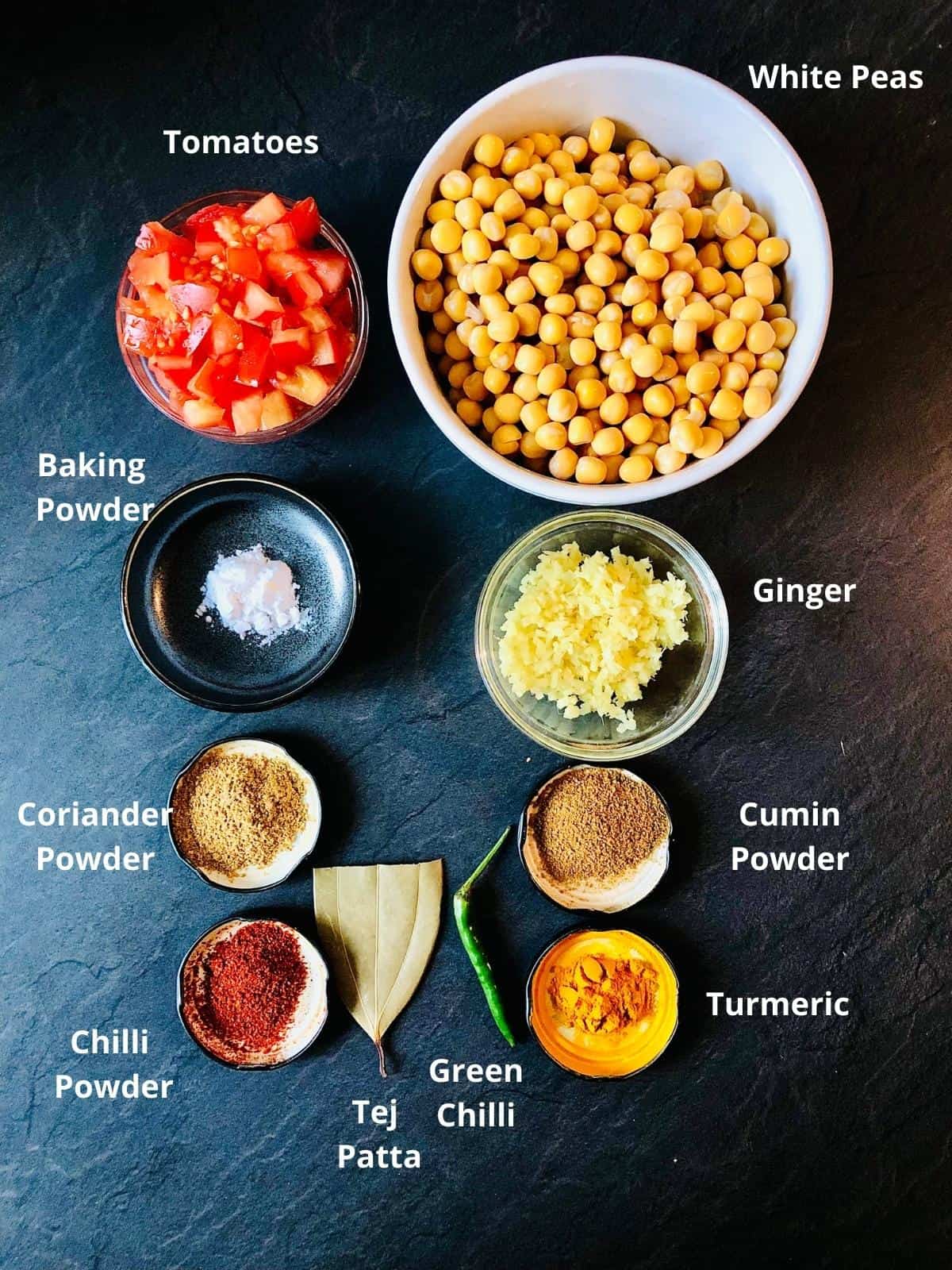 Dried white peas
Ginger
Tomato
Cumin powder
Corainder powder
Tej patta (Indian bay leaf)
Turmeric powder
Red chilli powder
Olive oil
Kala namak
Baking soda
See the recipe card for quantities.
Instructions
For this recipe, you will need to soak the dry white peas. Place the peas in a bowl of water and leave overnight.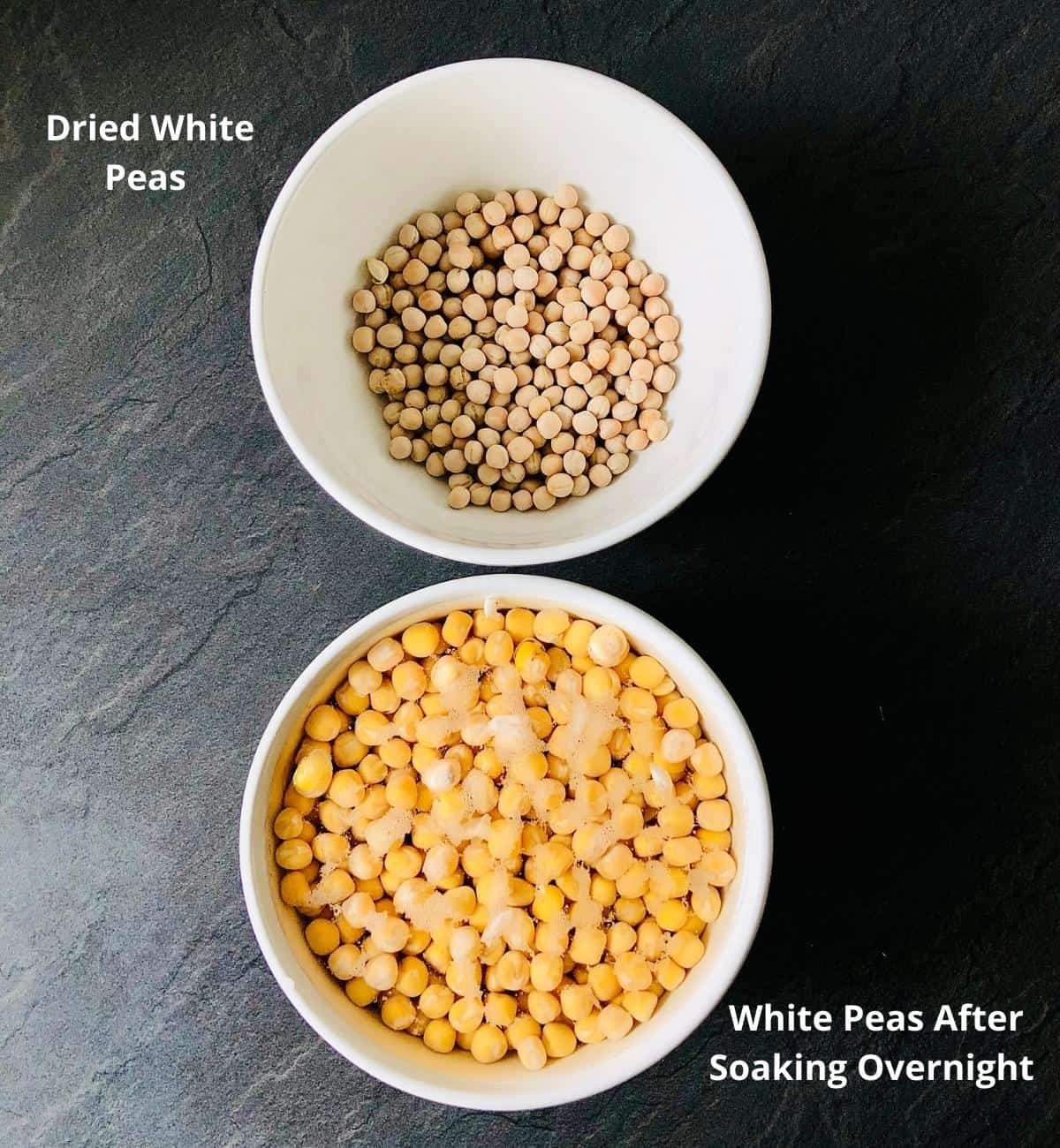 After soaking overnight, drain the peas and add them to a saucepan with fresh water. Add the baking soda and bring to a boil and cook for about ten minutes. Remove any scum that forms on the water with a spoon or ladle.
While the peas are boiling, prepare the other ingredients.
Finely chop the ginger.
Slit the green chilli down the middle, but don't cut it in half.
Roughly chop the tomatoes.
Heat the oil in a saucepan and add the tej patta, green chilli and ginger. Saute them for two minutes.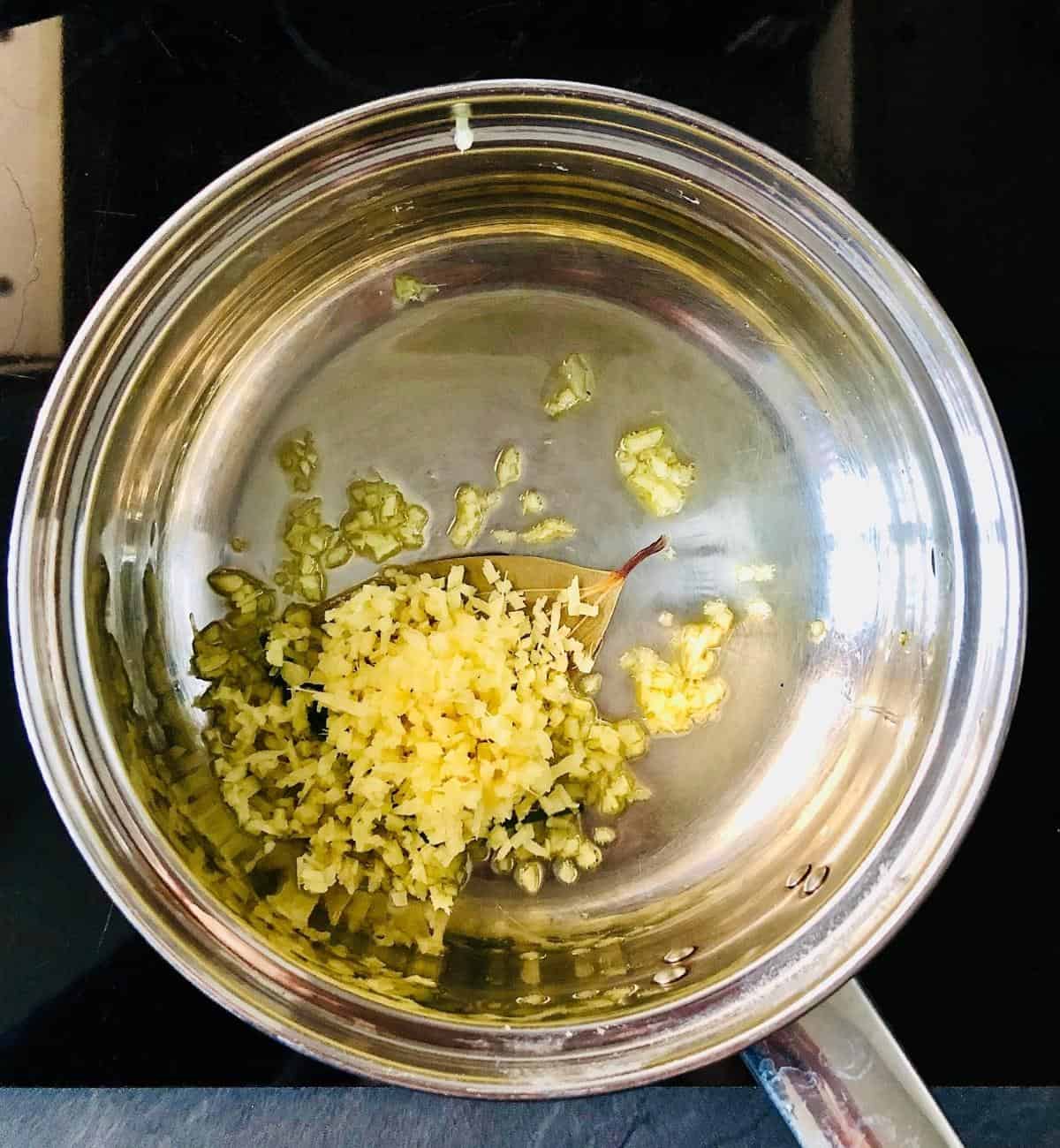 Next, add the cumin powder and coriander powder and fry for about one minute so that the spices can release their flavours.
Add the chopped tomatoes and saute for two minutes; follow this turmeric and chilli powder and continue to cook for two minutes more until the tomatoes soften.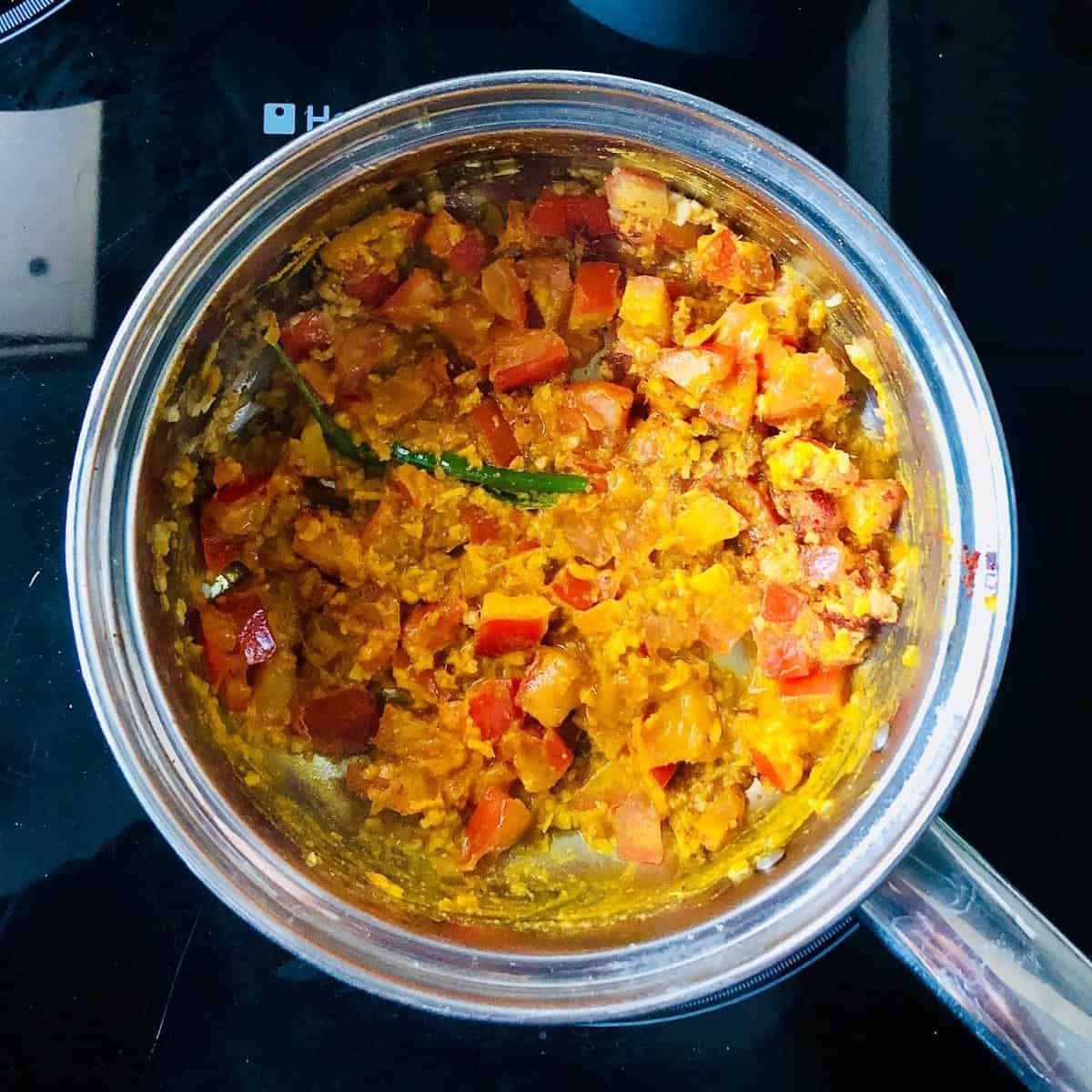 Add the boiled white peas, water and Kala namak. Bring to a rapid boil and then reduce the heat and simmer for twenty minutes. The peas will become soft. Using the back of a spoon, crush half of the peas against the side of the pan and give the contents a good mix. Crushing half the peas will thicken the sauce.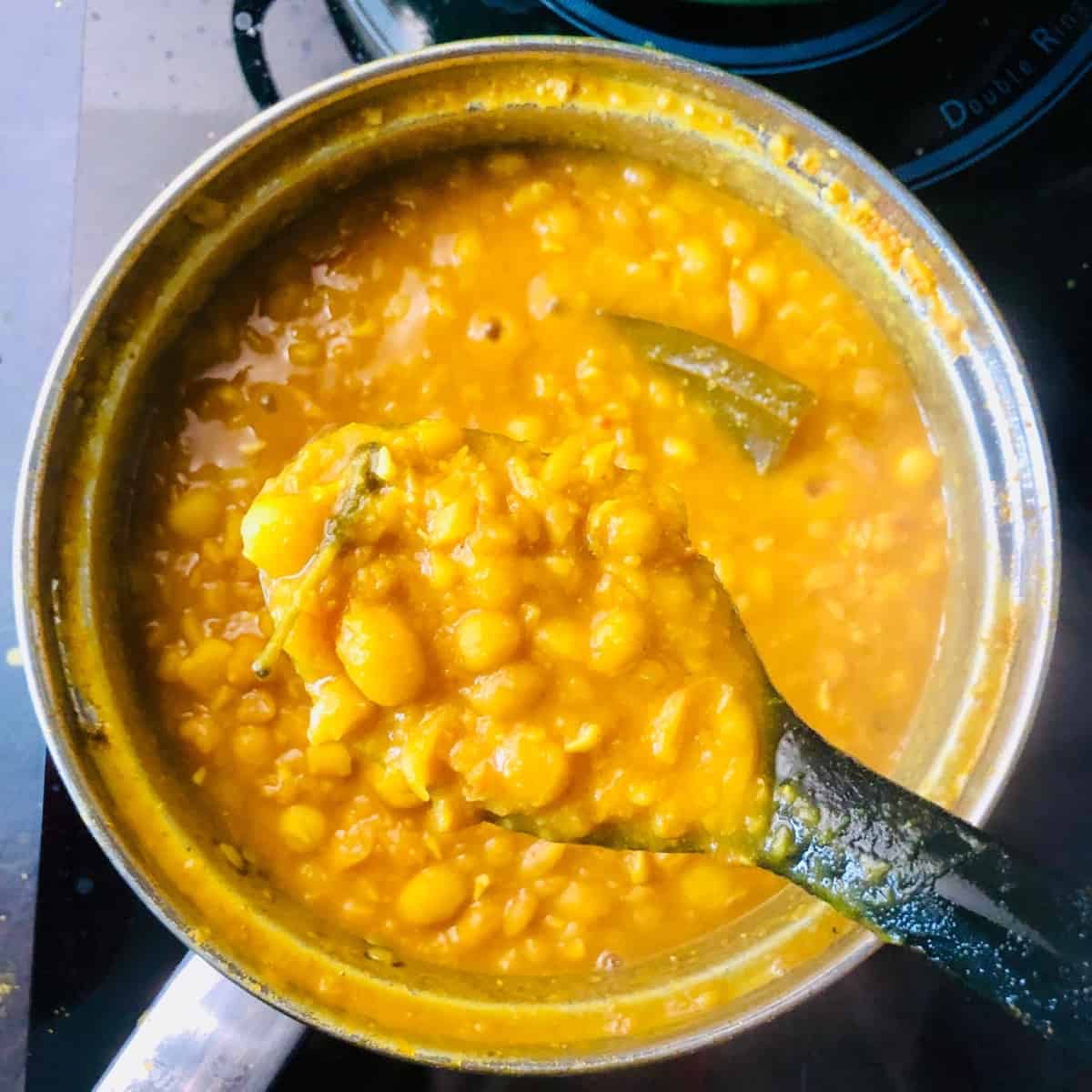 Garnish with chopped coriander.
A delicious breakfast is this ghugni served with a toasted burger bun or brioche.
How To Video
Here is a video guide to making ghugni.
Substitutions
You can replace the white peas with chickpeas if you don't have access to white peas. Cooking times will be similar; however, you may omit the baking soda. If using canned chickpeas no need to pre-boil.
Replace tej patta with a bay leaf if necessary
You can use tinned chopped tomatoes instead of fresh ones. Use the same quantity.
Variations
There are many variations to this recipe; as I always say with most recipes, be bold and give it your stamp. It is common for some people to add lamb, goat meat, or even potatoes.
Instead of brioche buns, you can even enjoy this ghugni with a paratha.
Equipment
If you have a pressure cooker or an instant pot, you can reduce the cooking time. I tailor my recipes, bearing in mind that everyone may not have access to specialist equipment.
Storage
Store ghugni in an airtight container in the fridge for three days.
You may also portion the ghugni and freeze for up to three months. Defrost it in the fridge overnight and reheat thoroughly before consuming. You may need to add some water while reheating if reheating in a pan.
Top tip
When cooking the ghugni, make sure you have everything ready at hand; the cooking process is fast; any delay may result in ingredients getting burnt.
📖 Recipe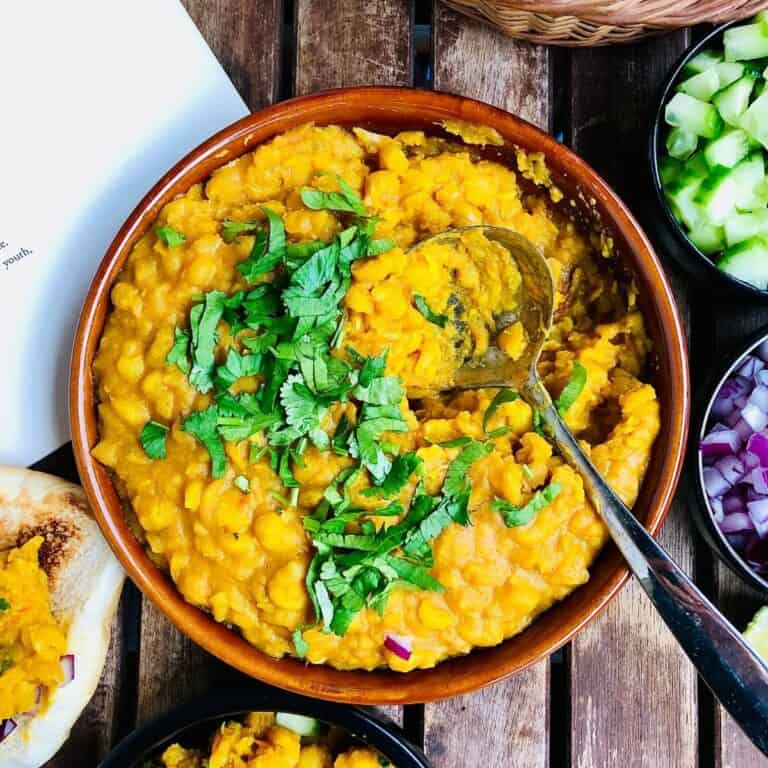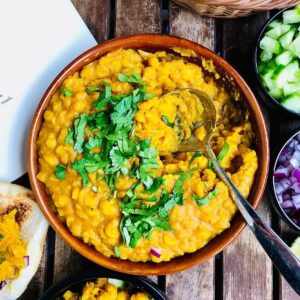 Ghugni
Ghugni. Spiced mushy white peas. Popular street food from east India
Ingredients
200

gms

Dried white peas

160

gms

Plum tomatoes

25

gms

Ginger

1

Green chilli

optional

1

Tej patta

½

teaspoon

Turmeric powder

½

teaspoon

Red chilli powder

1

teaspoon

Coriander powder

1

teaspoon

Cumin powder

1

tsp

Kala namak

1

tablespoon

Olive Oil

350

ml

Water

1

teaspoon

Baking soda

4

Brioche or burger buns

½

Cucumber ( diced )

optional

50

gms

Red onion ( diced )

optional
Instructions
Soak the white peas overnight or atleast for a minimum of six hours. This process reduces cooking time and also reduces bloating.

The following day, drain and rinse the soaked white peas. Transfer to a pot of fresh water, add the baking soda, and bring to a rapid boil. Reduce the heat and boil for about 10 minutes. Remove any scum that forms with a ladle or spoon. This also helps to reduce bloating.

While the beans are boiling, peel and finely chop the ginger and slit the green chilli lengthwise.

Roughly chop the tomatoes with the seeds.

Heat the oil in a pot over medium heat and add the tej patta, green chilli and chopped ginger and saute for 2 minutes.

Add the cumin and coriander powder—Fry for about one minute to allow the fragrance of the spices to release.

Now add the chopped tomato and saute for two minutes. Then add the turmeric and chilli powder and cook for another two minutes until the tomatoes are soft.

Add the boiled white peas, water and kala namak. Cover and bring to a rapid boil, then reduce the heat and simmer for 20 minutes.

When the peas are soft, crush half the peas with the back of a spoon by pressing them against the side of the pot. This will thicken the gravy. Give it a mix.

Once the peas are ready, serve hot, garnished with chopped coriander along with brioche or burger buns.
Food safety
In a professional kitchen, food hygiene and safety is a top priority, and from the very beginning of training, I practised good habits and routines. Of course, it is also very, very important to practice good food hygiene and safety at home. Here are some fundamental practices to adopt in the kitchen
Wash your hands regularly while preparing, handling and cooking food
Wipe down counter tops and high contact points regularly
If you cook meat and fish, do not use the same utensils on cooked food, that previously touched raw meat. Use separate chopping boards for meat and fish. Wash your chopping boards immediately after use.
Thoroughly cook food to a minimum temperature of 165 °F (74 °C)
Don't leave food sitting out at room temperature for extended periods (more than 2 hours)
For more details of food hygiene and safety in the home, visit the UK Government's Food Standards Agency webpage.