Quick and easy to make, this Dalia Upma is a healthy breakfast recipe idea and a great way to kick-start your day. Create a nutritious, hot breakfast in only twenty minutes with a minimum of fuss: One-pot, simple cooking and only a few things to wash up! Now that's what you want first thing in the morning.
This healthy breakfast recipe certainly reflects one of my food mantras: Simple yet oh so tasty!
Of course, you don't have to limit this to breakfast time. It often goes into my partner's tiffin lunch box.
If you are fond of savoury breakfasts, try my buckwheat pancakes with vegan cream cheese and avocado or my bread pakora recipe.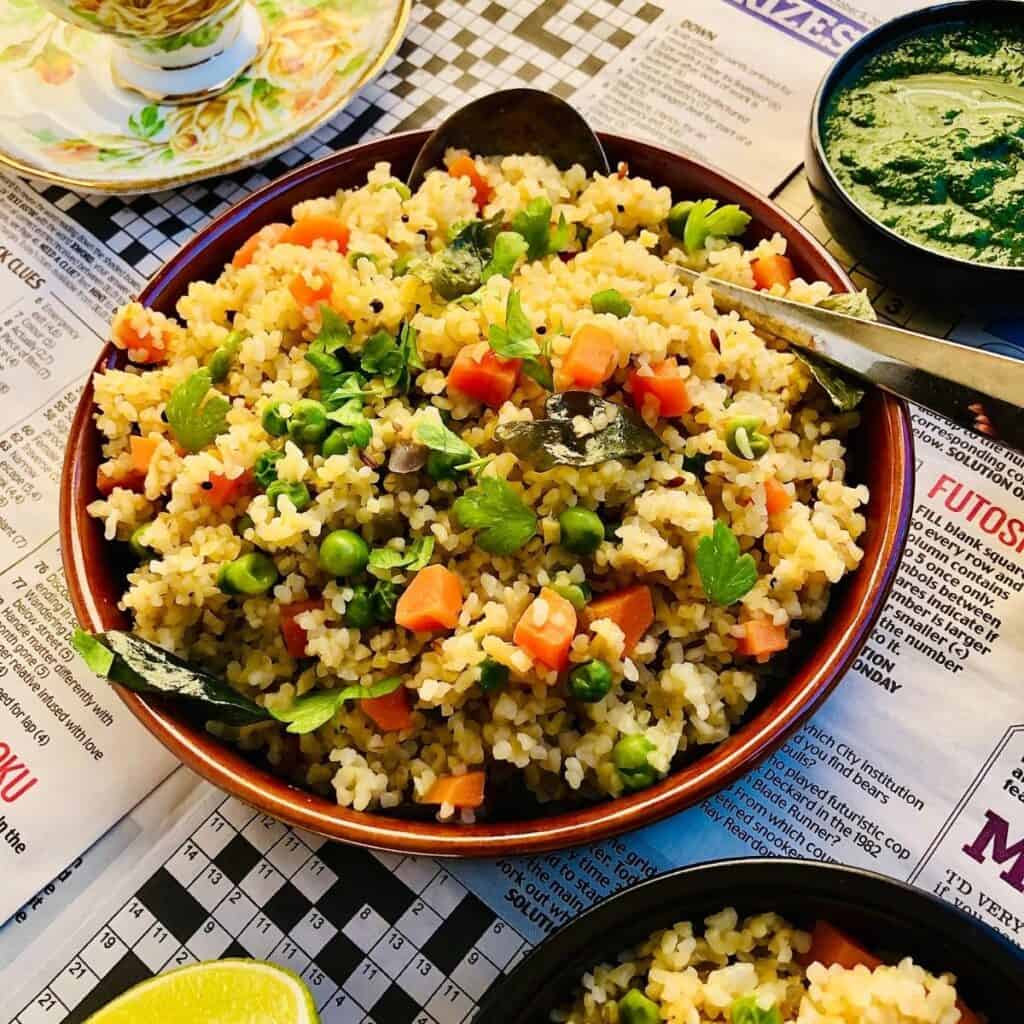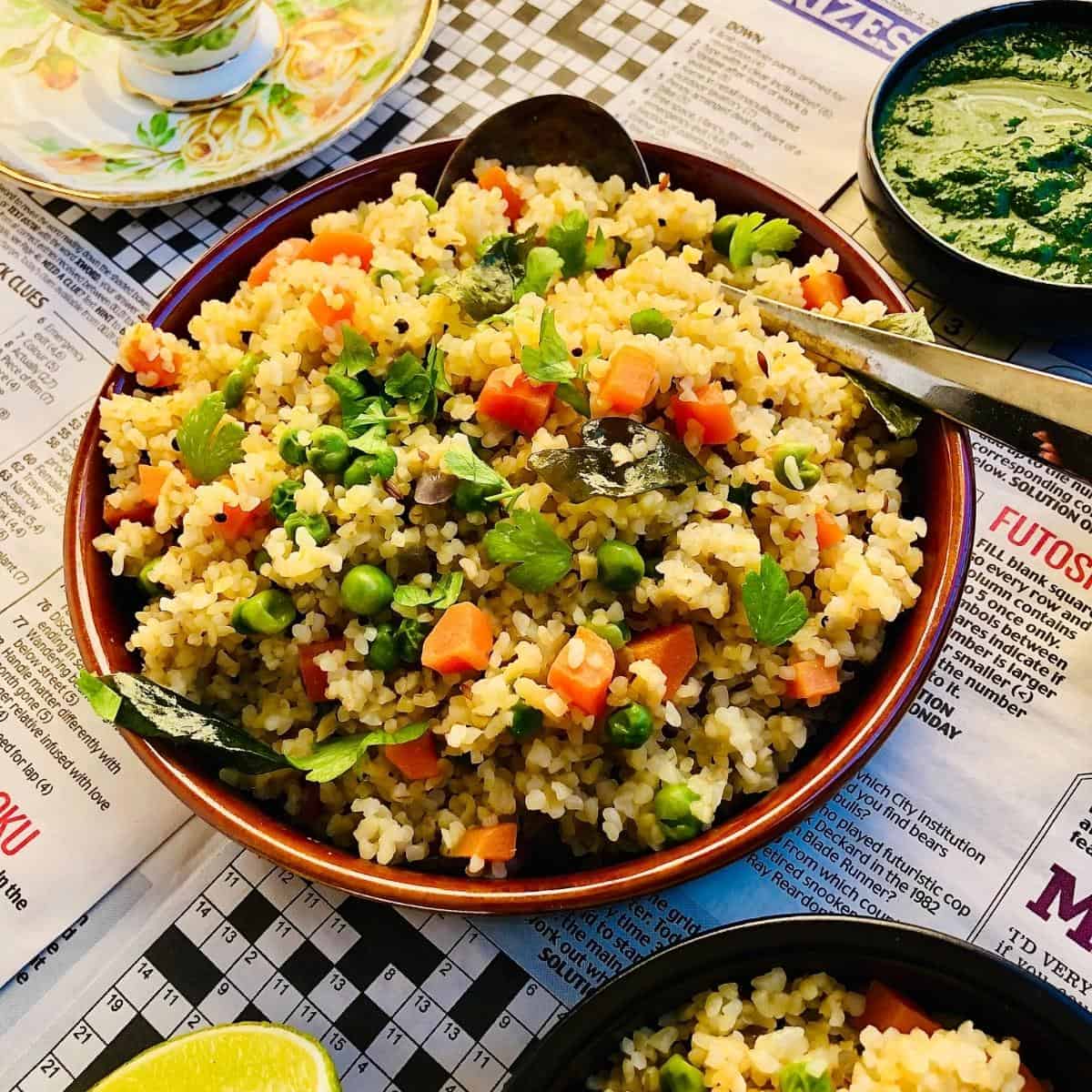 Dali Upma: A Healthy Breakfast
What is Upma? Essentially, upma is a thick, porridge-like breakfast dish usually made from coarse semolina that is first dry roasted. It's a prevalent breakfast dish in India and is prepared in numerous ways, depending on preference. Spices and vegetables to flavour an upma are unique to each family or region. Think of it like a savoury, flavourful porridge
This healthy breakfast recipe uses Dalia or broken wheat, which is not only easier to cook, but it's also healthier, therefore making it perfect for breakfast. Dalia keeps you fuller for longer and is easy to digest.
Dalia consists of grains of whole wheat. It is an excellent alternative to refined carbohydrates. The husk in the Dalia makes it super rich in fibre. Dishes made with Dalia are ideal for weight loss and is an excellent choice for people searching for alternative carbohydrate types.
Semolina upma, if not cooked correctly, can end up lumpy; however, with this Dalia upma, there is almost zero chance of that happening.
Dalia is quite similar to bulgar wheat. Both are wheat-based grains; bulgur wheat is usually parboiled and retains a bite, whereas Dalia is soft and easy to digest, making it perfect for a healthy breakfast recipe. The dalia grain is more delicate than bulgur as well. Bulgur is also usually eaten as a part of the main meal, whereas Dalia is mainly a breakfast option.
Jump to:
Ingredients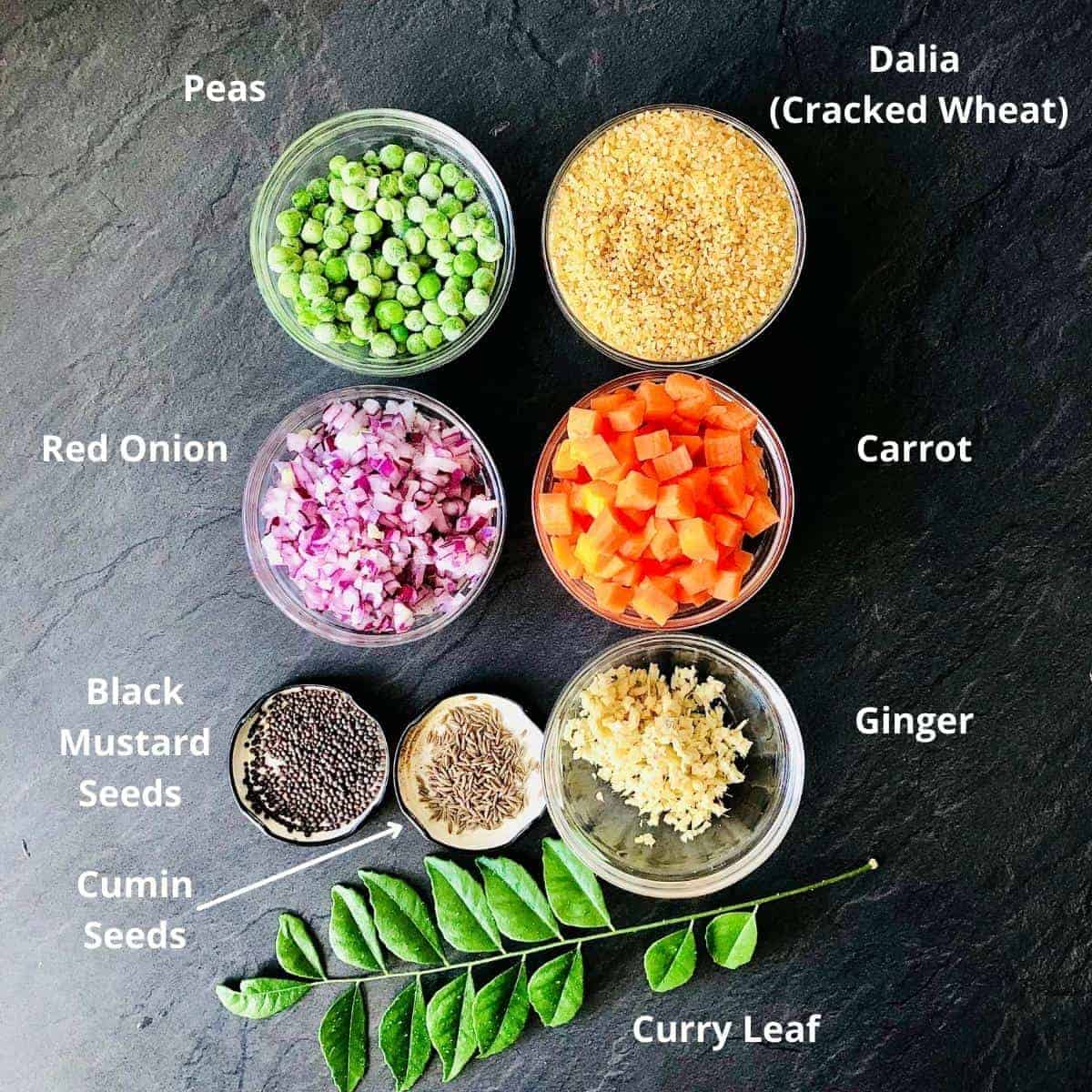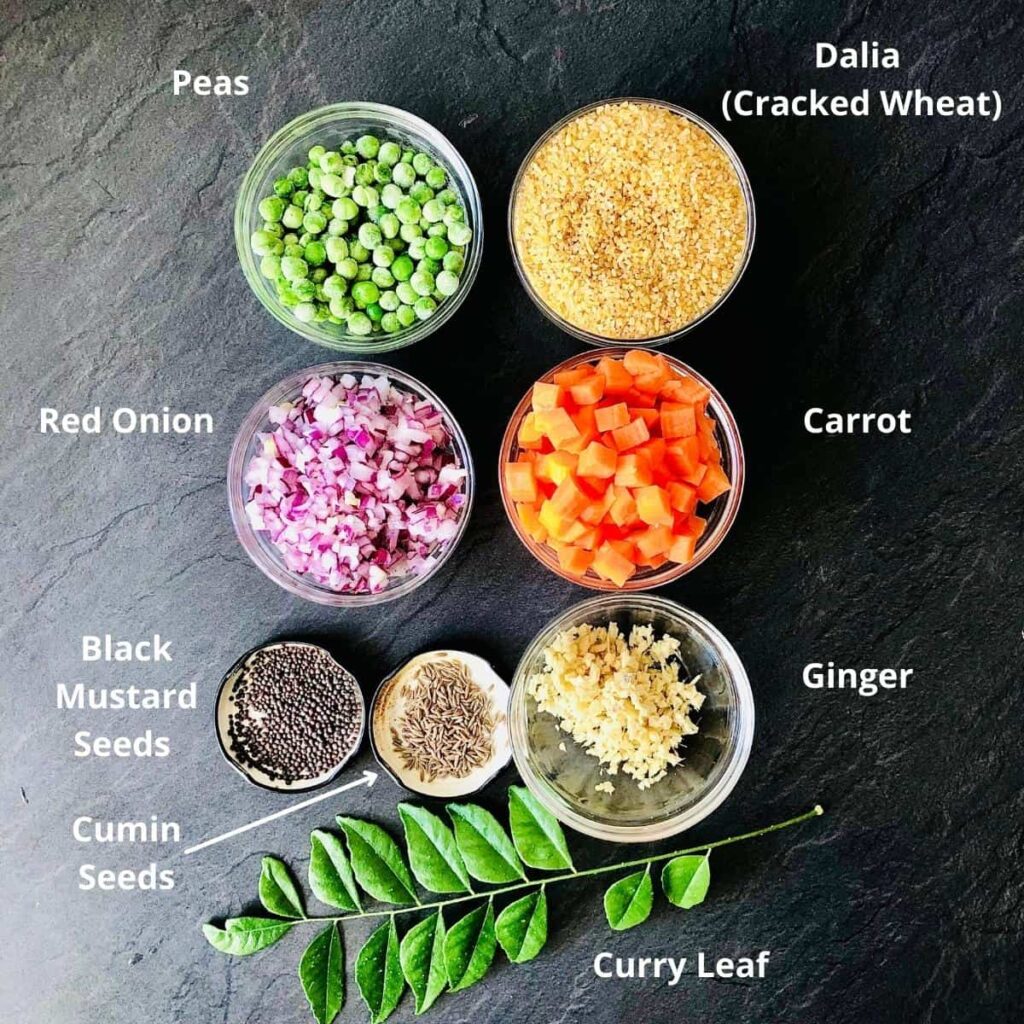 Dalia (broken wheat)
Carrots
Peas
Red onion
Ginger
Black mustard seeds
Cumin seeds
Curry leaves
Salt
Oil
See the recipe card for quantities.
Instructions
Dalia upma is very simple to make and requires just one pot.
First, prepare your ingredients.
Finely chop the red onions and ginger.
Peel the carrots and cut them into small dice.
Heat the oil in a pan over medium heat. When the oil is hot, add the cumin seeds and black mustard seeds and bloom them for thirty seconds. Blooming spices means to cook them very briefly to release their flavours. Be careful not to burn them, though. Also, the mustard seed will pop and fly, so be aware!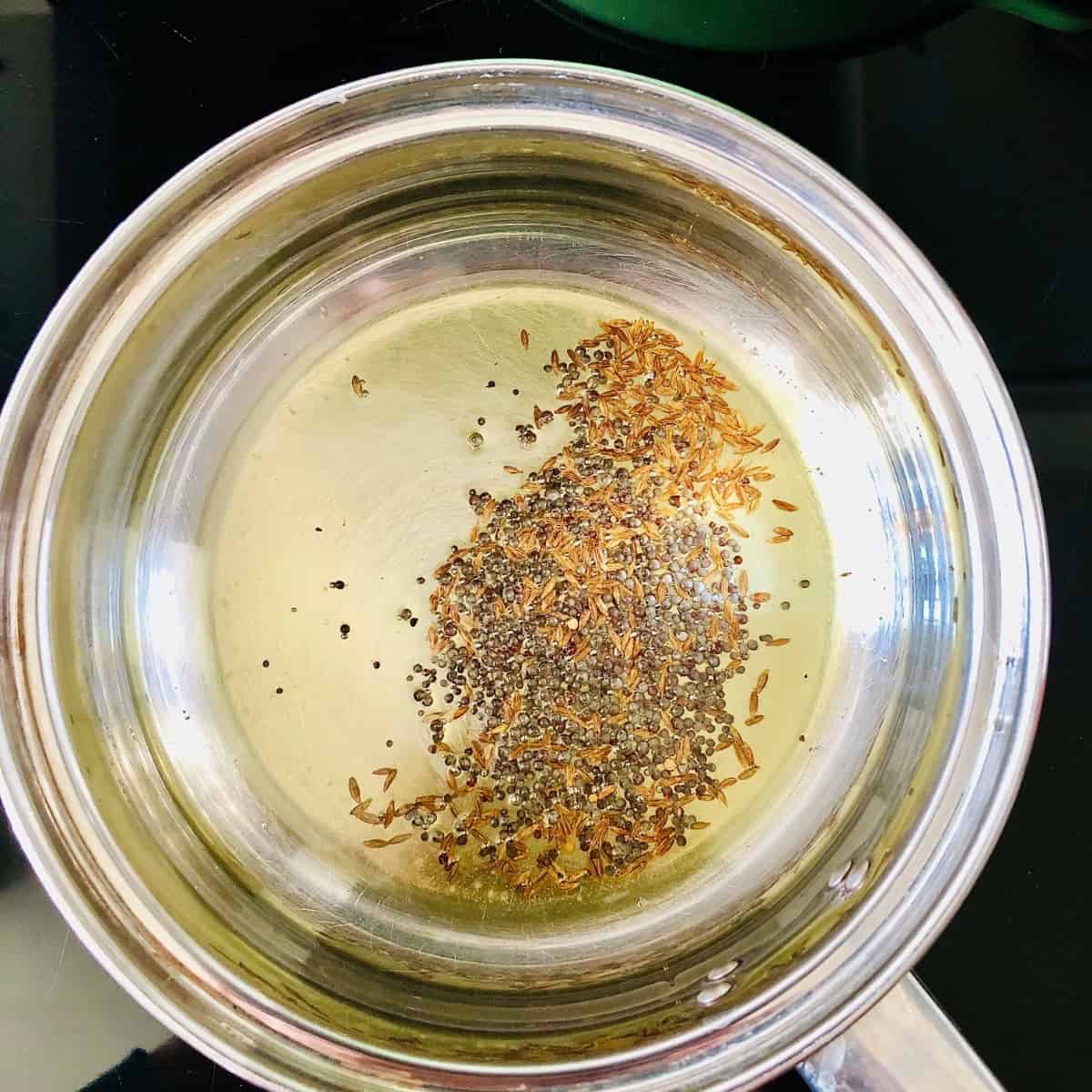 Then add the finely chopped red onion and saute for a minute or two.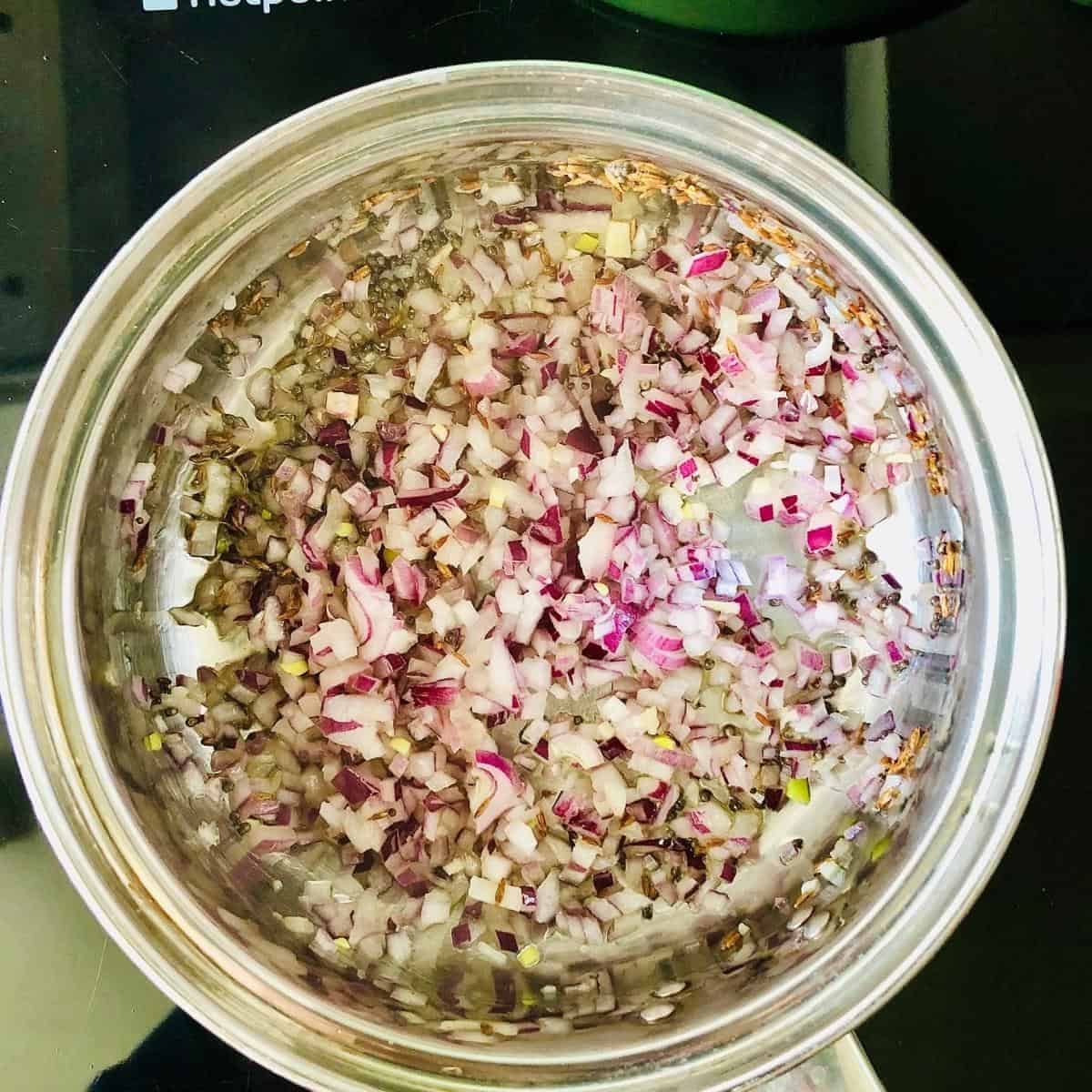 Next, add the finely chopped ginger and continue to saute for a couple of minutes.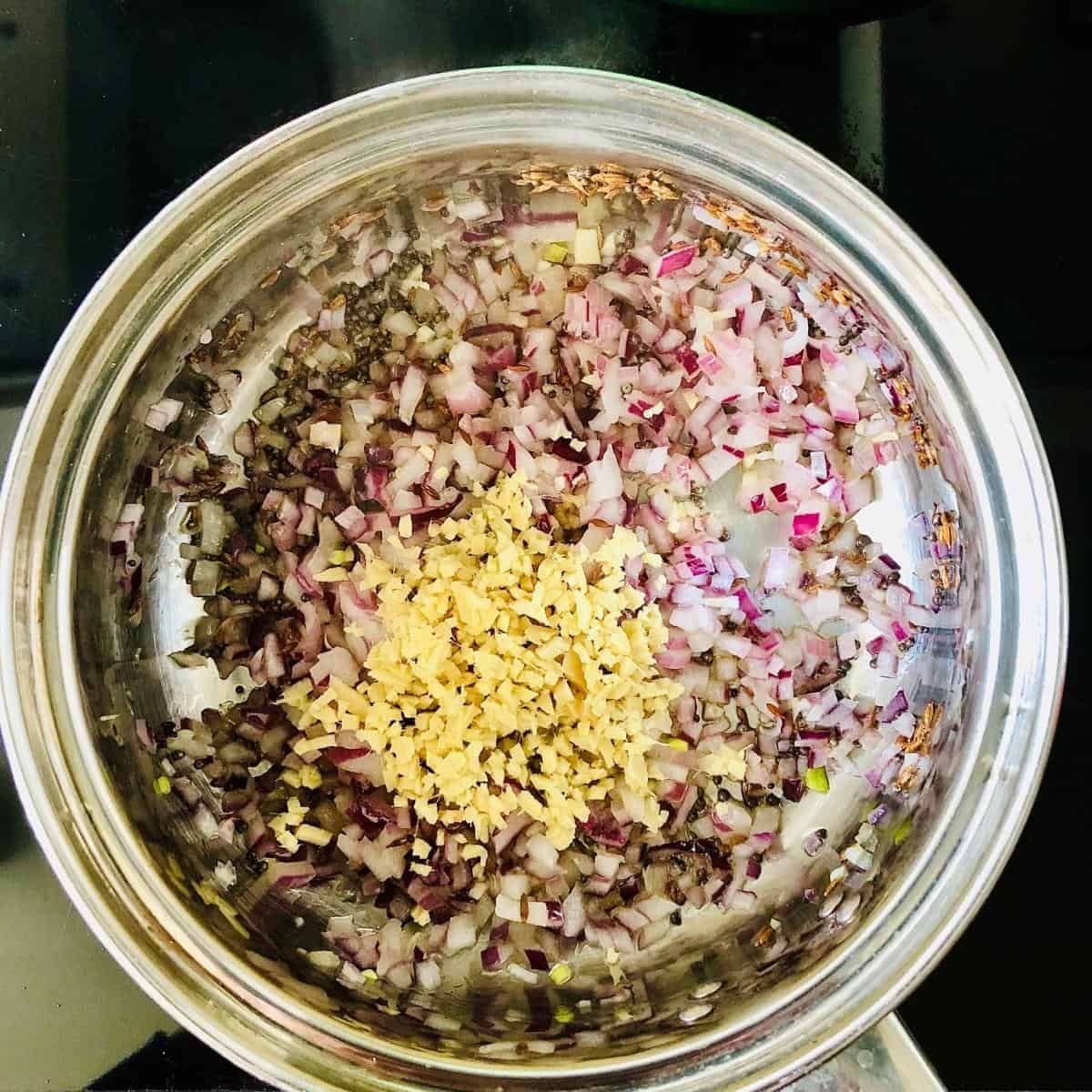 Strip the curry leaves from the stem and add them to the pot.
Add the carrots and saute for two minutes.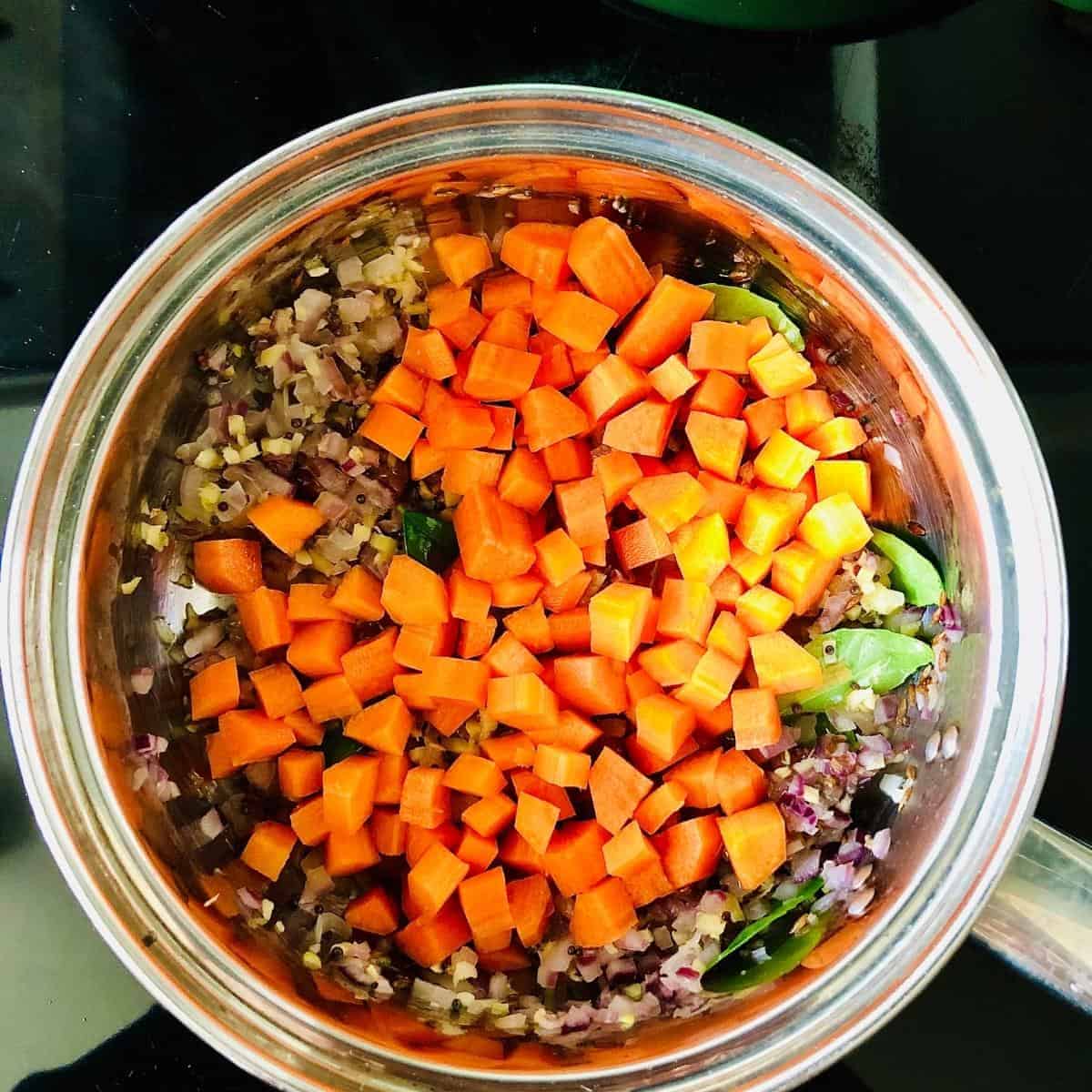 Add the peas and saute for another two minutes.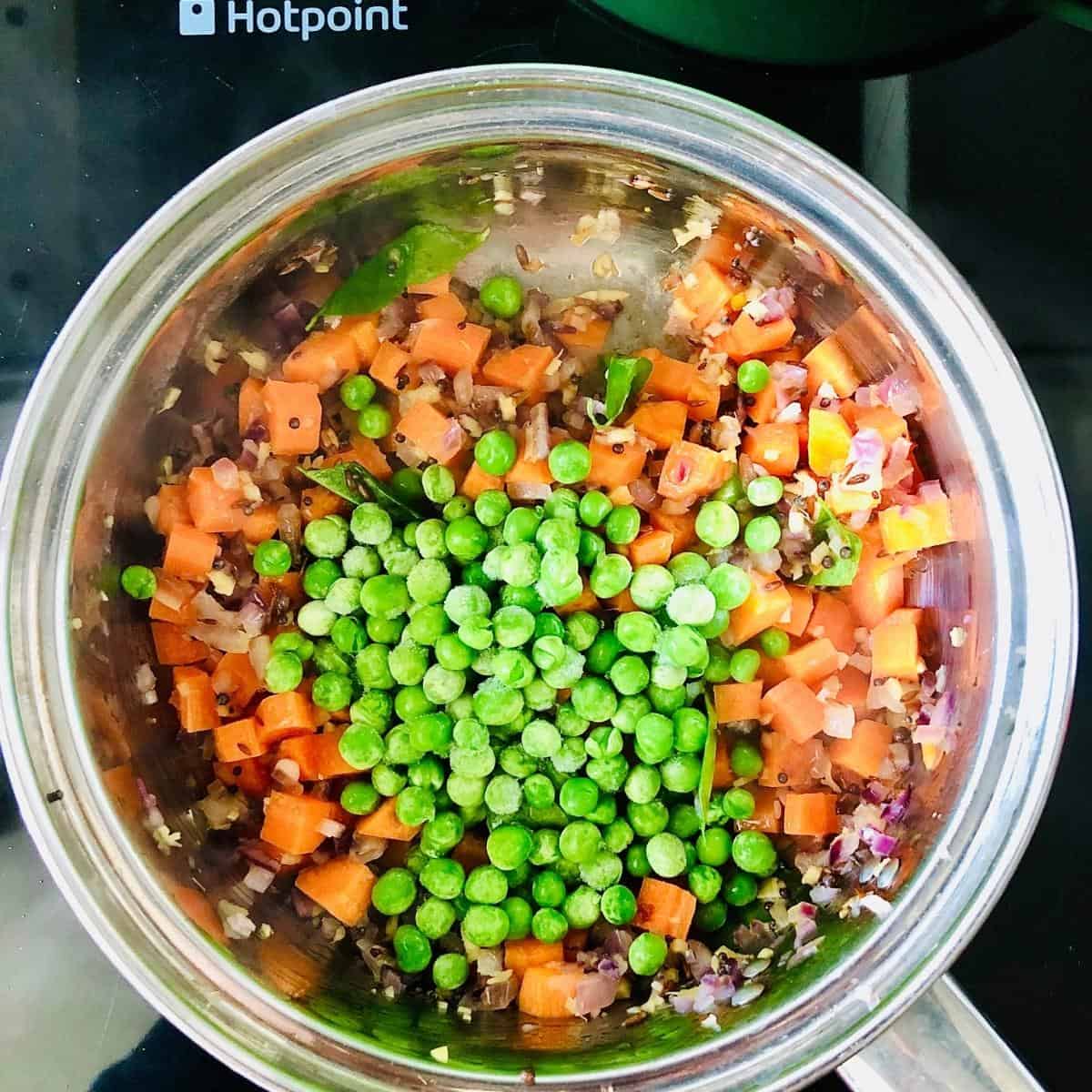 Season the mix with salt and pepper to taste and mix well.
Add the dalia (broken wheat) and the water. Stir the contents and cook for ten minutes with the pot covered with a lid.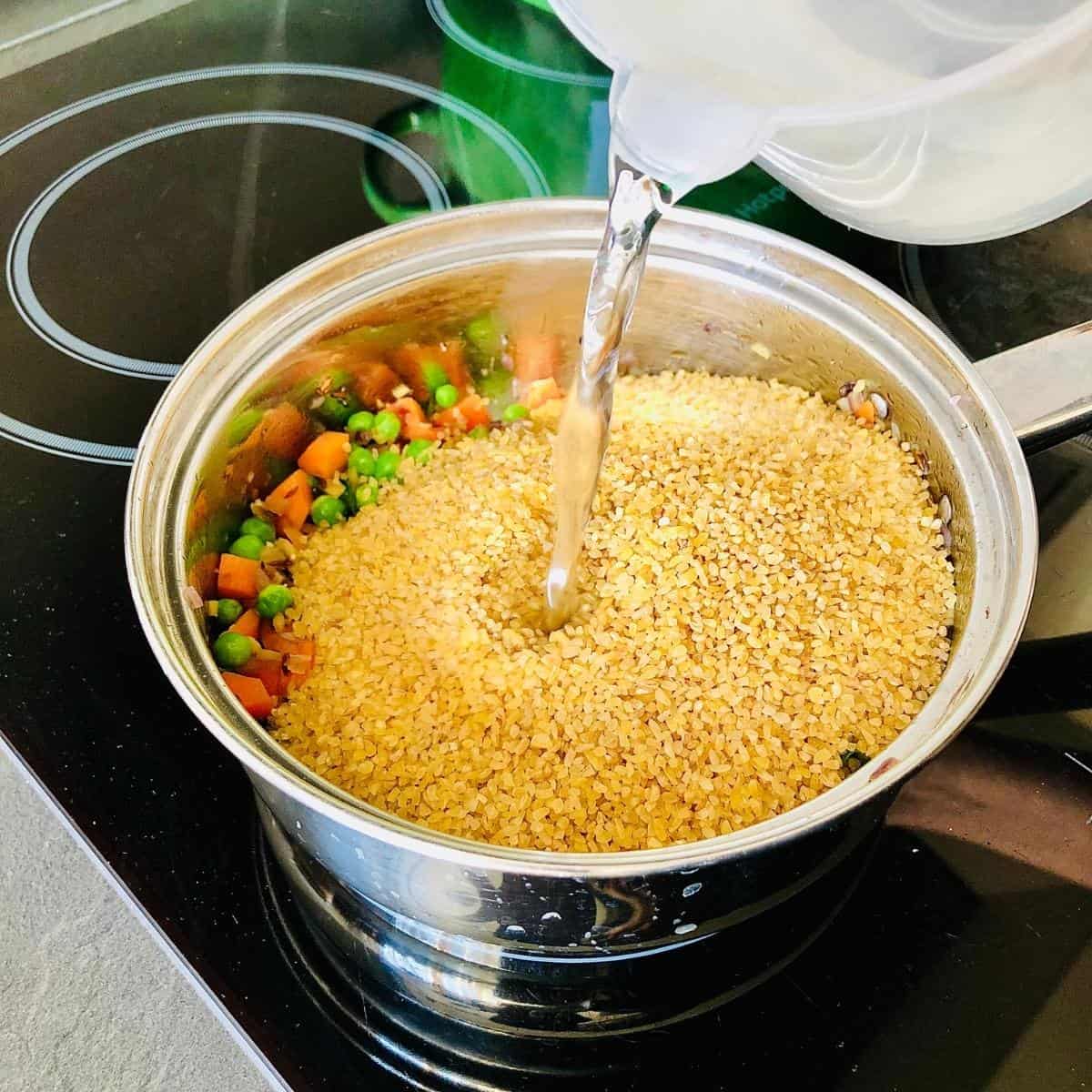 After cooking for ten minutes, the dalia (cracked wheat) should be fluffy and soft.
Remove the pot from the heat and transfer the contents to serving bowls.
Serve the dalia upma hot with coriander chutney or yoghurt. You can also serve it just as it is with a squeeze of lime.
How-To Video: Dalia Upma Healthy Breakfast
Here is a video guide to making dalia upma, a healthy breakfast.
Substitutions
If you don't have access to fresh curry leaves, leave them out, and you can add chopped herbs like coriander or even mint before serving.
You can change the vegetables to what you have at hand. Add a similar quantity. Just bear in mind the cooking time may vary depending on the hardness of the vegetables.
Variations
This Dalia upma recipe is a blank canvas; you can play with a choice of spices and vegetables. The only thing you need to bear in mind is that the ratio of dalia and water is 1:2. Thus, if you use one cup of dalia, you need to add two cups of water to cook.
Storage
This healthy breakfast recipe is best fresh; however, you can store it up in the fridge in an airtight container for up to three days. Just make sure you heat thoroughly before consuming. Microwave heating is the best option, if however, like me, you don't use a microwave, transfer the cooked Dalia into a pan, add some water and cover the pan with a lid. It should heat up in a matter of minutes.
Top tip
When blooming (tempering) the spices, have everything at hand, including the chopped onions. This process is swift, and any delay will cause the spices to burn. Also, the popping mustard seeds may fly off the pan in this particular recipe, so be ready!
Do not be tempted to open the pot/pan after adding the bulgur and water; if you do, the steam will escape, and it will alter the cooking time and the water/steam required for it to cook. Just leave it on medium heat, and everything will come out perfect.
📖 Recipe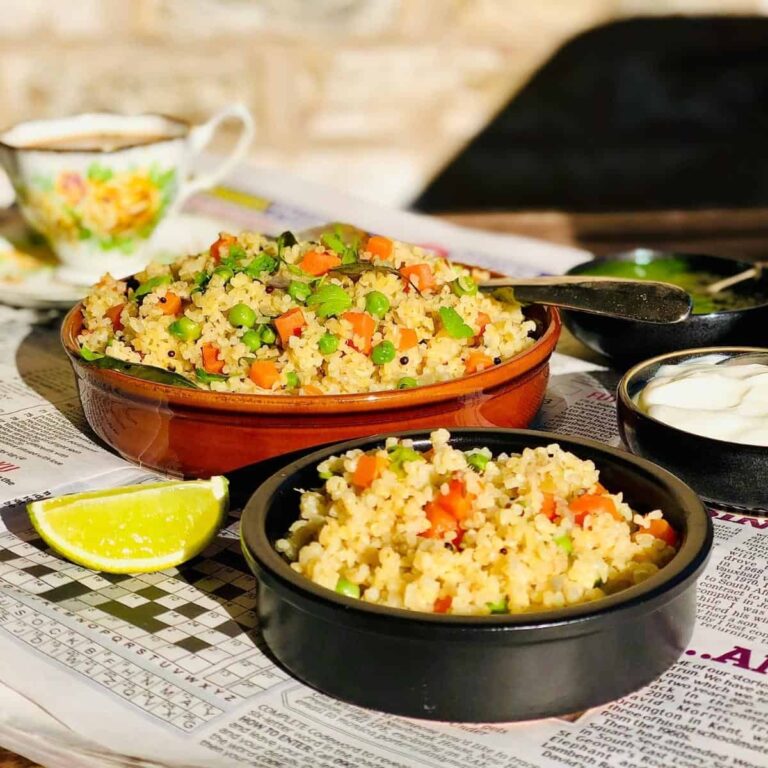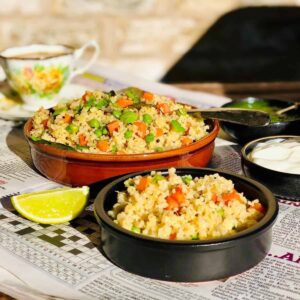 Quick And Easy Dalia Upma
One-pot healthy breakfast recipe.
Ingredients
300

gms

Dalia (broken wheat)

100

gms

Carrots

50

gms

Peas

50

gms

Red onions

15

gms

Ginger

1

stem

Curry leaf

1

teaspoon

Black mustard seeds

½

teaspoon

Cumin seeds

1

tablespoon

Olive oil

600

ml

Water

1

teaspoon

Salt
Instructions
Peel and finely chop the red onion and ginger

Peel and cut carrots into small dice

Heat the oil in a pot/pan over a medium heat and add cumin and black mustard seeds. Give them about 30 seconds to a minute to bloom. Be careful; mustard seeds pop and fly!

Add chopped red onion and saute for a minute, then add the chopped ginger and saute for another minute or two.

Remove the curry leaves from the stem and add them to the pot.

Add the carrots and saute for two minutes and then add the peas and cook for another two minutes.

Season with salt and mix well.

Now add the Dalia (broken wheat) and the water. Cover and cook for ten minutes.

After ten minutes, the Dalia should be soft and fluffy - a bit like couscous.

Remove from the heat and transfer into serving bowls.

Serve hot with coriander chutney or yoghurt, or simply with a squeeze of lime.
Food Safety
In a professional kitchen, food hygiene and safety is a top priority, and from the very beginning of training, I practised good habits and routines. Of course, it is also very, very important to practice good food hygiene and safety at home. Here are some fundamental practices to adopt in the kitchen.
Wash your hands regularly while preparing, handling and cooking food
Wipe down counter tops and high contact points regularly
If you cook meat and fish, do not use the same utensils on cooked food, that previously touched raw meat. Use separate chopping boards for meat and fish. Wash your chopping boards immediately after use.
Thoroughly cook food to a minimum temperature of 165 °F (74 °C)
Don't leave food sitting out at room temperature for extended periods (more than 2 hours)
For more details of food hygiene and safety in the home, visit the UK Government's Food Standards Agency webpage.