These smoky beans are all about elevating and not complicating. Think again if you think these beans are just like the baked beans you can get out of a can. They are indeed the next level for your humble baked bean. Homemade smoky beans are easier to make than you think, and they are also tastier, nutritious and cheaper. Making them from scratch, you know what ingredients goes into them, and they are fresh. No tin here!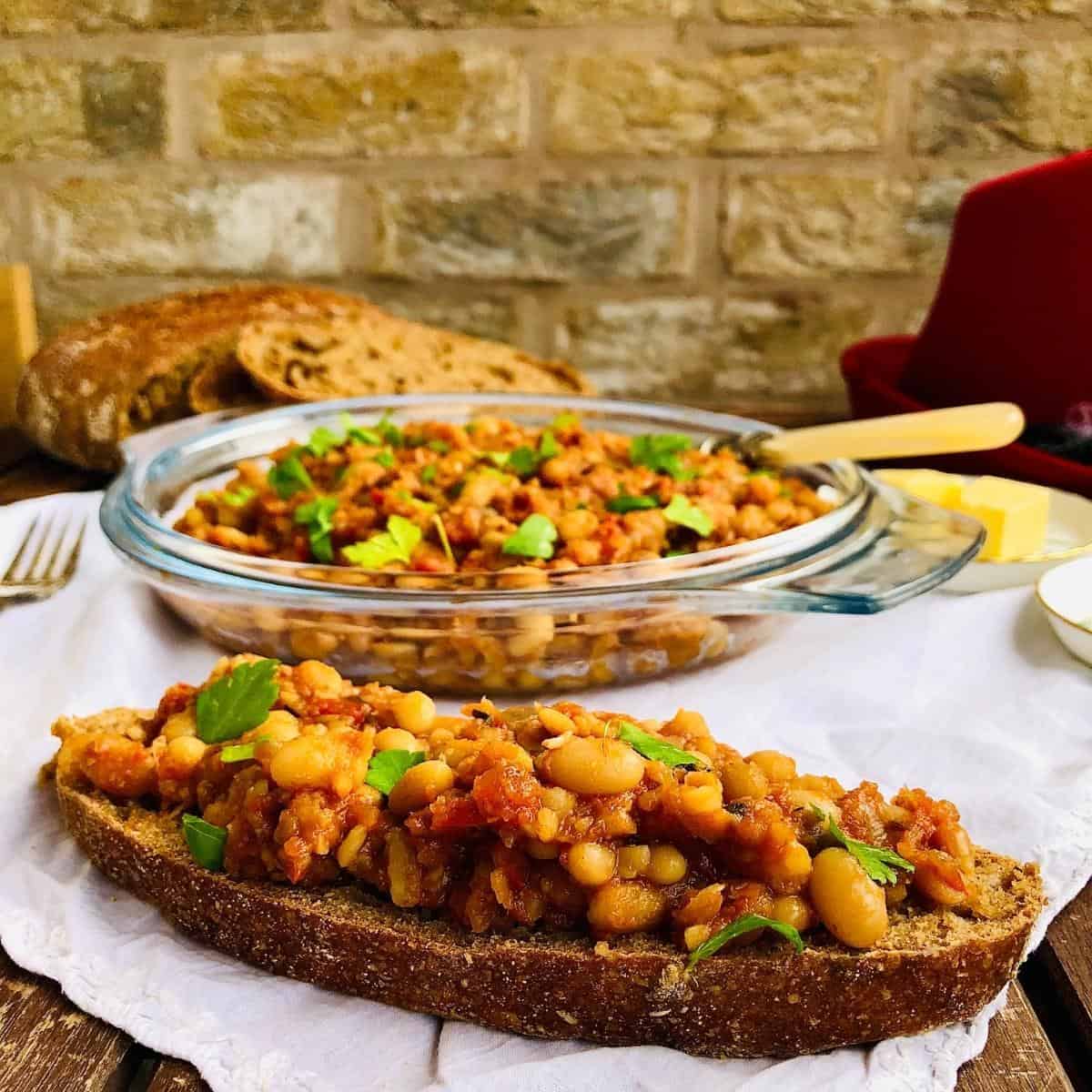 These smoky beans are perfect for beans on toast, baked with eggs, or even a topping for a baked potato. They are straightforward to make. You do need any specialist ingredients to achieve that smoky flavour. We get the flavour from smoked paprika and a touch of maple syrup for these beans.
Right then, let's cook!
Jump to:
Ingredients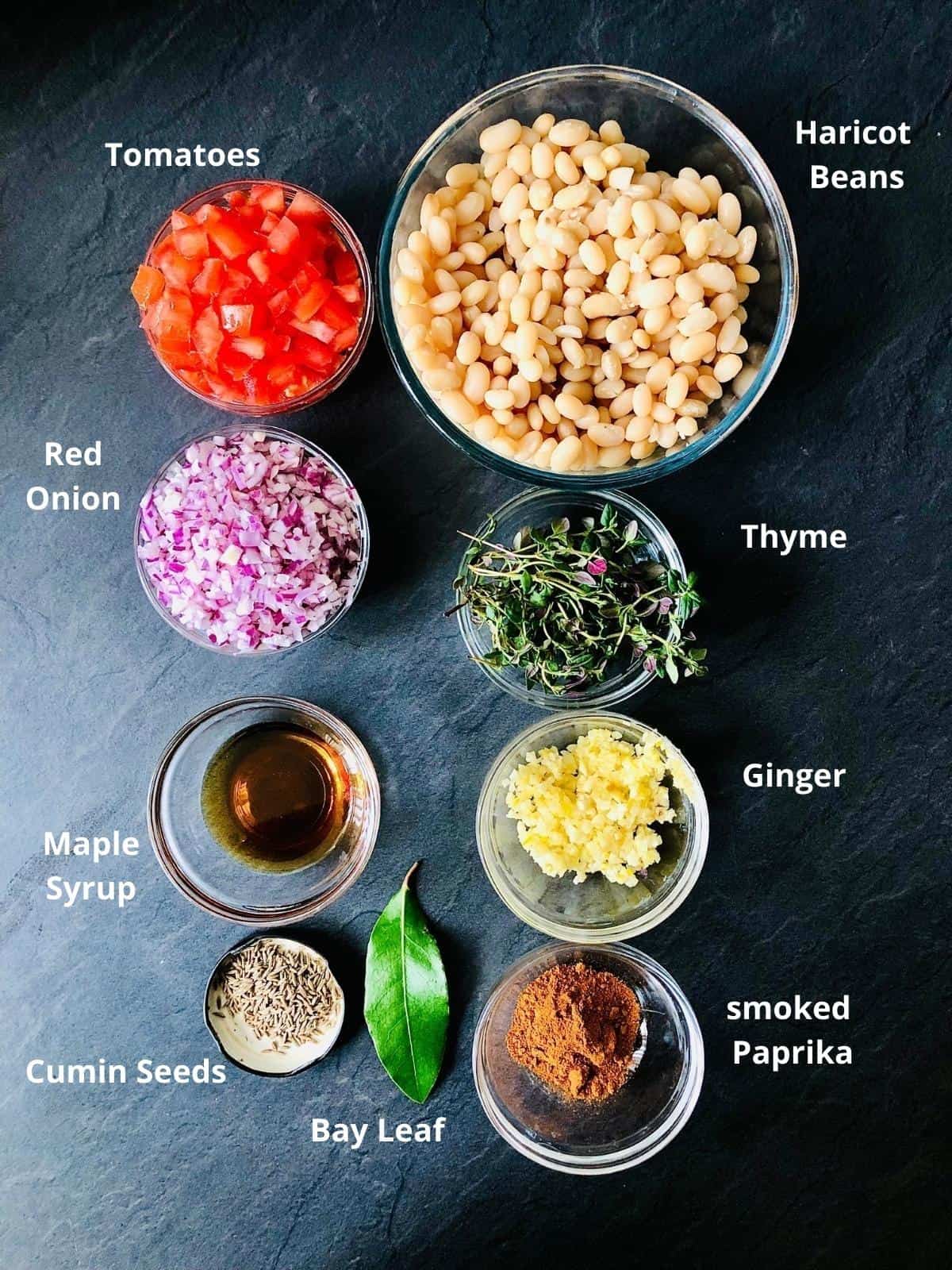 Haricot beans
Red onion
Garlic
Plum tomatoes
Thyme
Bay leaf
Maple syrup
Smoked paprika
Cumin seeds
Olive oil
Baking soda
See the recipe card for quantities.
Instructions
On the day before you plan to cook your smoky beans, place the haricot beans in a bowl of water to soak overnight. Sadly most people don't soak their beans and lentils anymore. Soaking the beans overnight is the simplest of tasks; it not only helps them to cook faster but also helps in reducing bloating.
After soaking, drain the soaked beans when ready to make the smoky beans.
Add fresh water to a pot. Then add the beans and half a teaspoon of baking powder and boil for about twenty minutes. The baking powder will help them cook faster. If you have a pressure cooker or an instant pot, you can omit the baking soda and cook your beans much quicker.
Remove any scum that forms in the water during the boiling.
While the beans are boiling, prepare your ingredients.
Finely chop the red onions and garlic.
Roughly chop the tomatoes.
Heat the oil in a large pot and add the bay leaf, finely chopped red onion and garlic. Saute for about three minutes until the onions are translucent.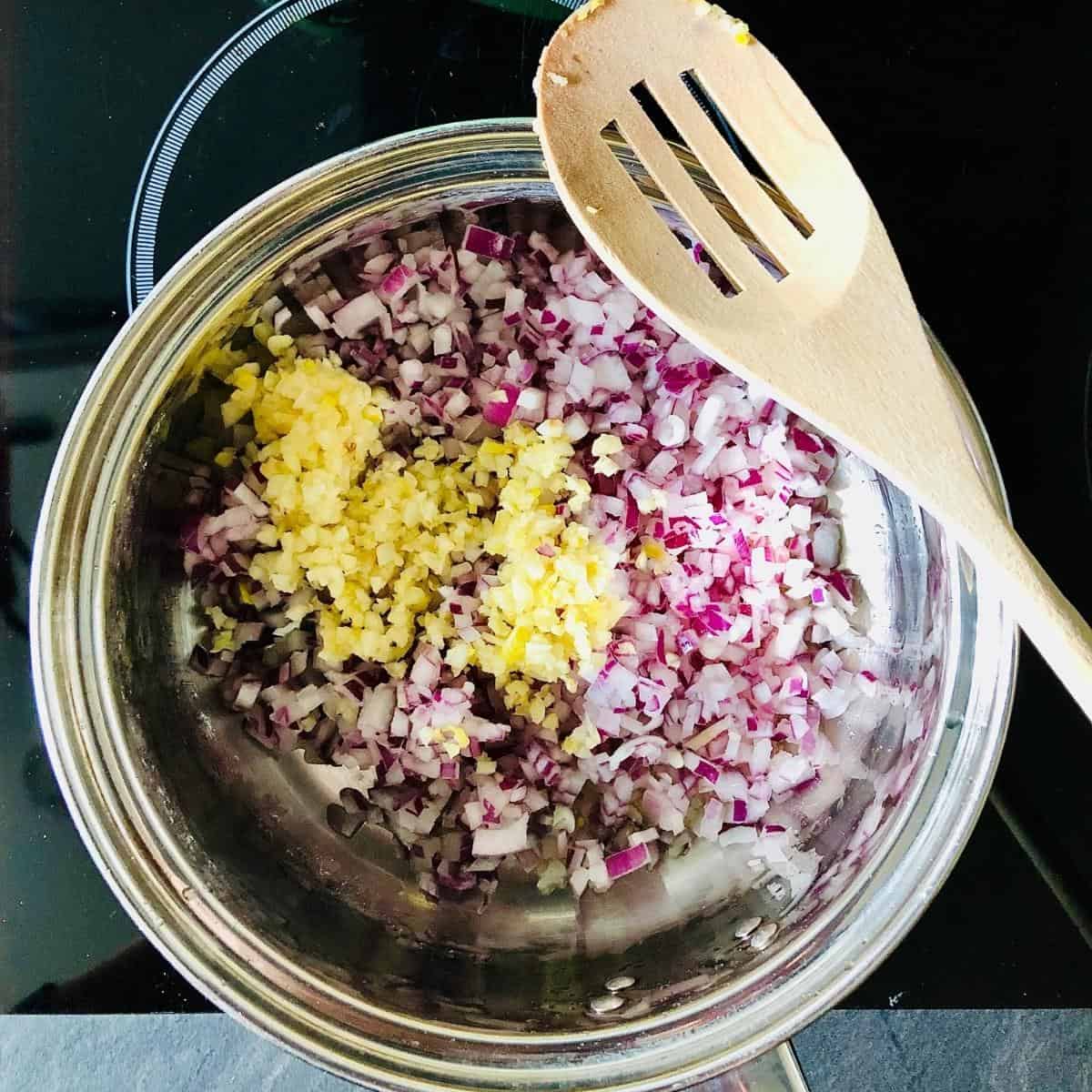 After this, add the cumin seeds, thyme and chopped tomatoes and cook until the tomatoes are soft - about five minutes.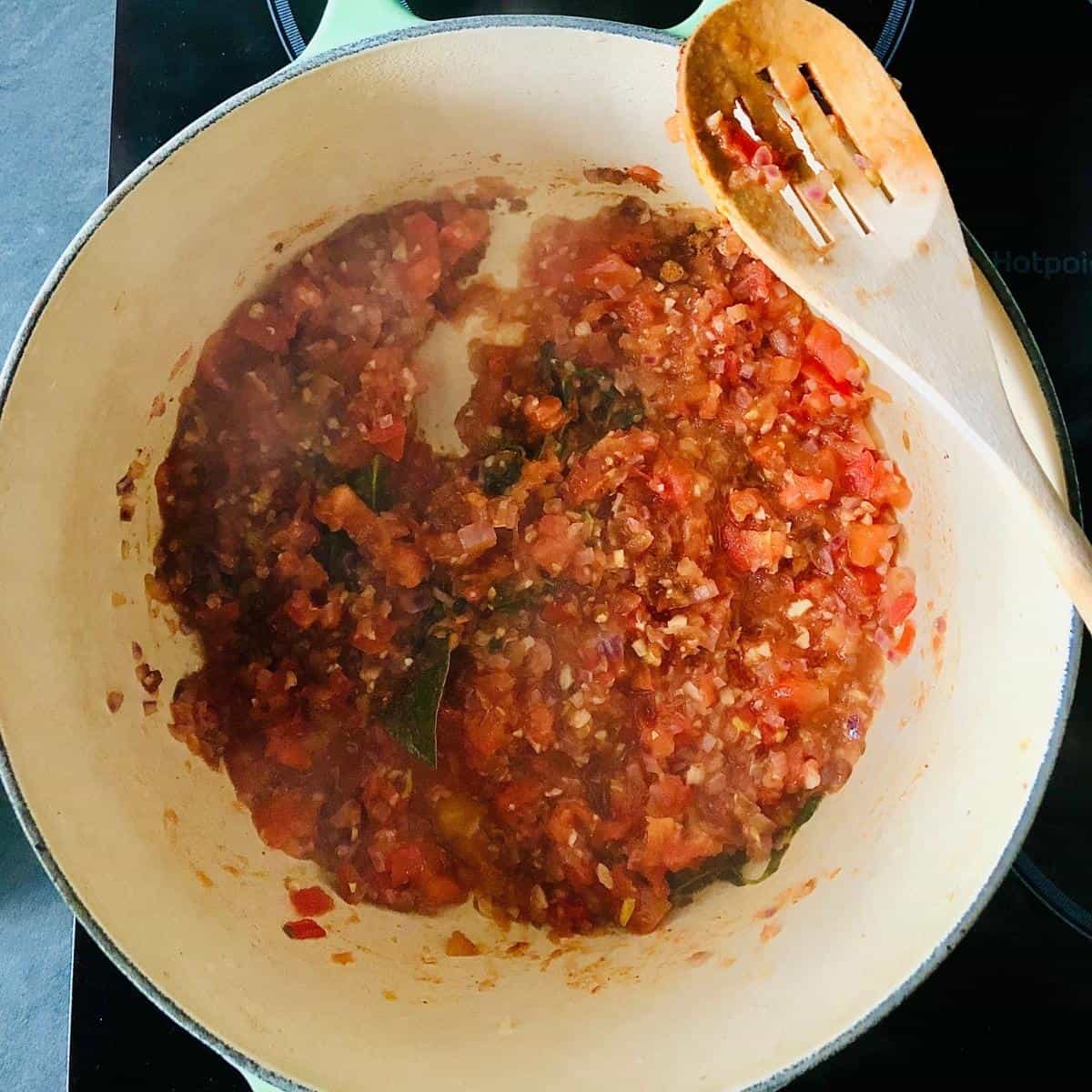 Add the smoked paprika, the boiled beans, and the boiled bean water.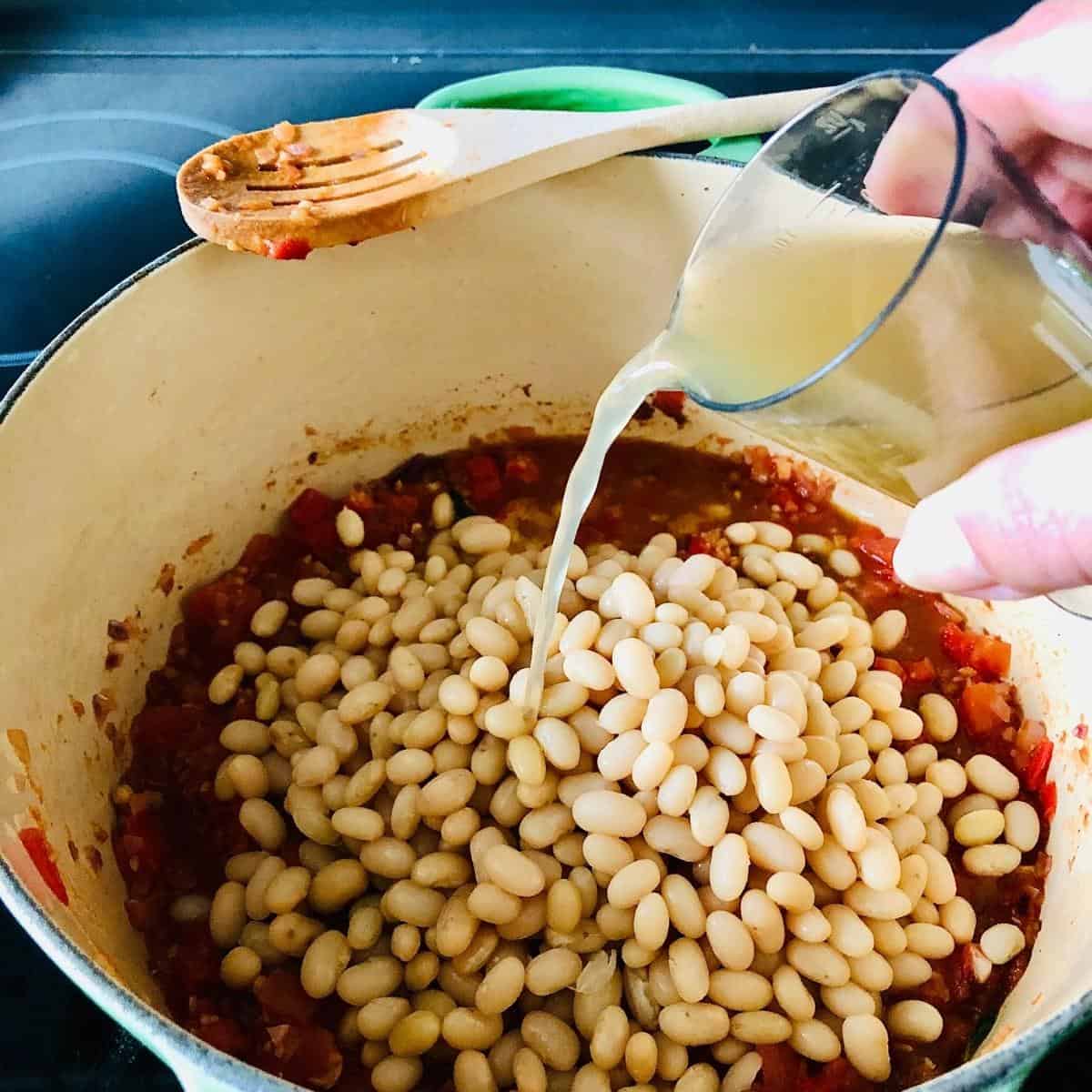 Add the maple syrup.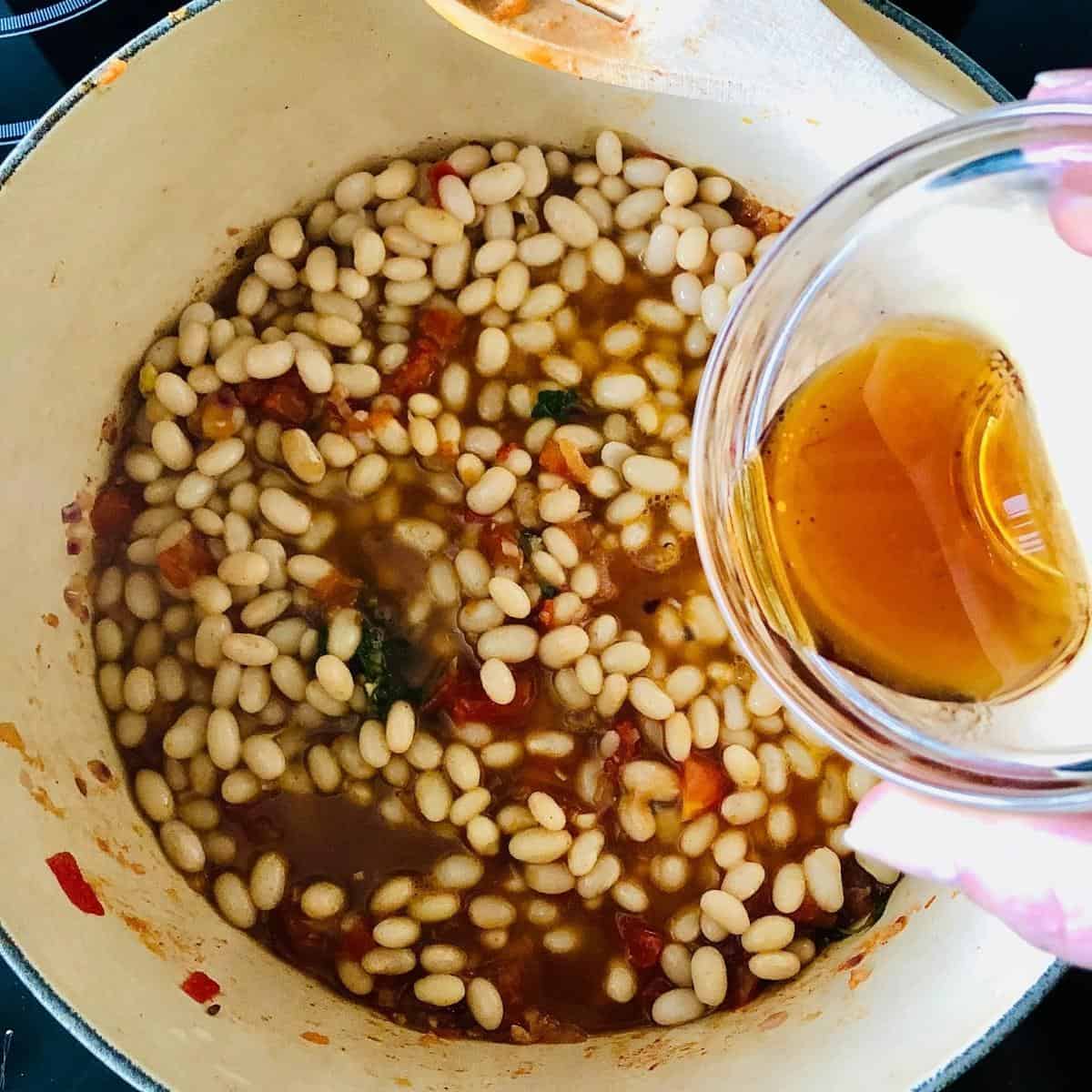 Cover the pot and bring it to a boil. Reduce the heat and simmer, covered, for about twenty minutes.
When the beans have cooked, crush some of the beans using the back of a spoon or ladle, making the sauce thicker. Continue to cook for a couple of minutes.
Serve on toast, garnished with herbs.
How To Make Smoky Beans Video
Here is a video guide to making smoky beans.
Substitutions
I have used Haricot beans for this smoky bean recipe, also known as navy beans. If you do not have haricot beans, you can replace them with cannellini beans or any other small white bean.
If you don't have fresh thyme, you can also use dried thyme, but use a bit more. Or use rosemary if you have that.
I always try to use fresh ingredients in all my recipes; however, if you don't have fresh tomatoes, you can replace that with tinned plum tomatoes of the same quantity.
Variations
These smoky beans also work well as baked beans with eggs. Add the cooked beans to an ovenproof dish, create a well and break an egg or two into the wells.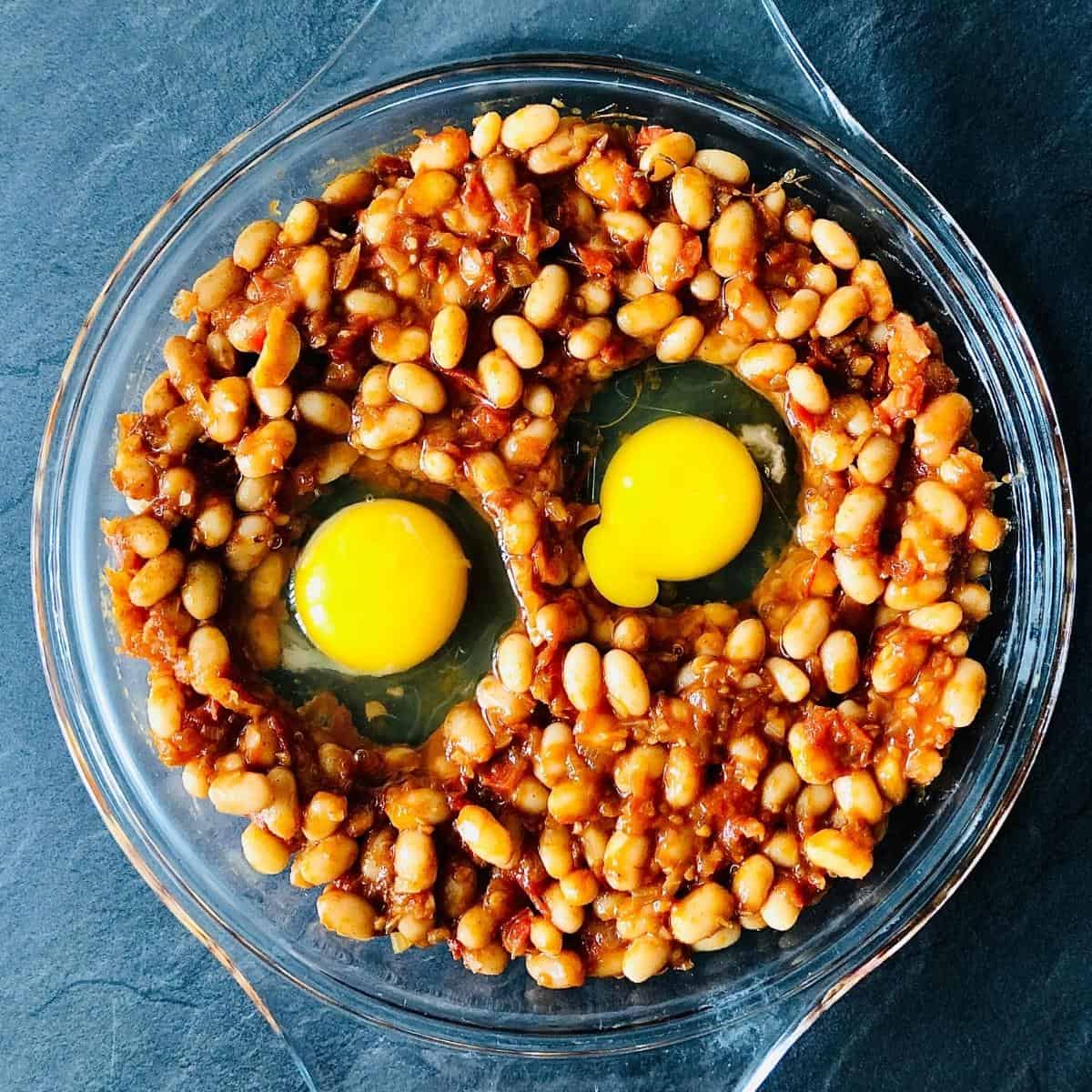 Bake in the oven for about 15 minutes at 180ºC. For this variation, ensure the beans have enough sauce, or else after baking, the beans may end up too dry.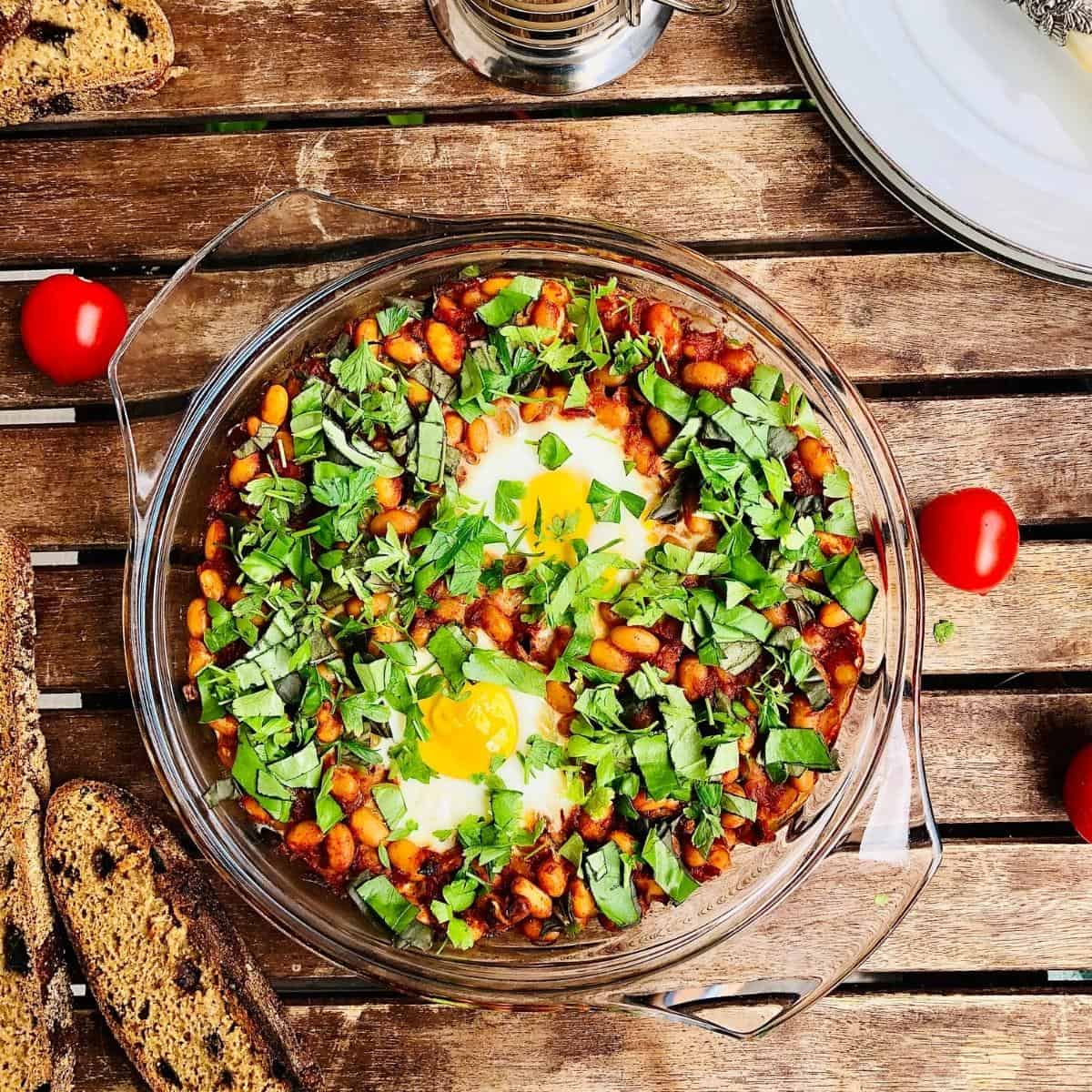 You can also bake these beans in the oven with a cheese topping. Transfer the cooked beans into an ovenproof dish, add grated cheese and bake in the oven at 180ºC for 10-15 minutes or till the cheese has melted.
Storage
You can store these smoky beans in the fridge in an airtight container for up to three days.
You can also portion the cooked beans and freeze them. As always, defrost overnight in the fridge and heat thoroughly before consuming. If required, add a bit of water while reheating.
Top tip
Be sure to remove the foam from the top of the beans during boiling. It helps to reduce bloating in your tummy.
📖 Recipe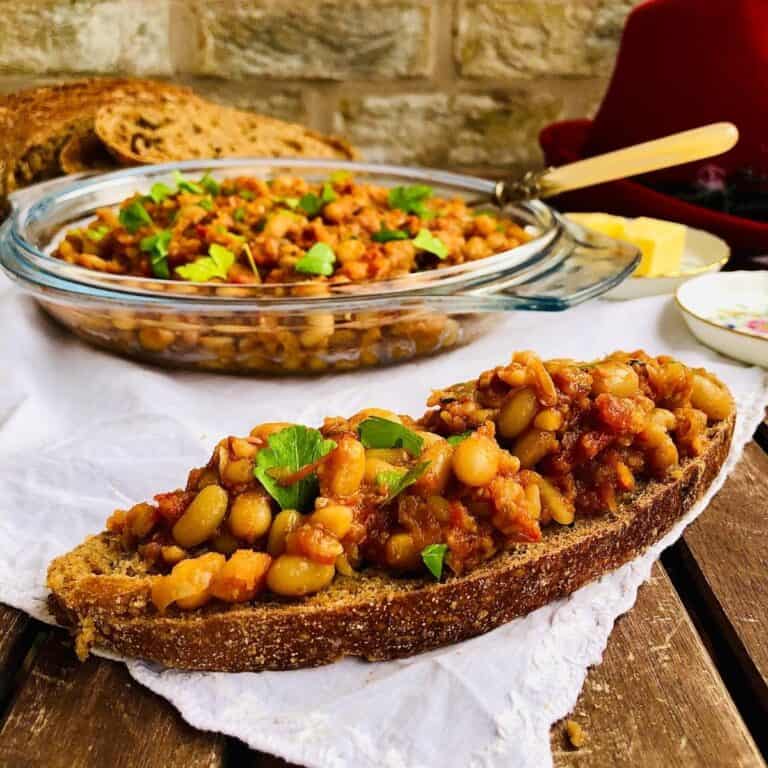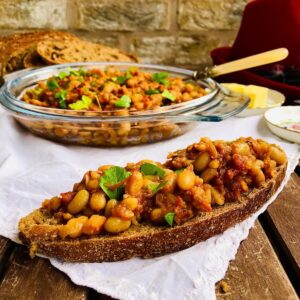 Smoky Baked Beans
Cooked-from-scratch smoky baked beans, flavoured with paprika and maple syrup.
Ingredients
200

gms

Haricot beans

115

gms

Red onion

20

gms

Garlic

400

gms

Plum Tomatoes

1

nos

Bay leaf

5

gms

Thyme

1

tablespoon

Olive oil

2

teaspoon

Smoked paprika

1

teaspoon

Cumin seeds

½

teaspoon

Baking soda

1

tablespoon

Maple syrup

2

teaspoon

Sea salt
Instructions
Wash and soak the beans overnight or for at least a minimum of six hours. Drain the water the next day. Add fresh water and boil the beans with ½ teaspoon of baking soda for about 20 minutes. Cooking with baking soda helps it to cook faster if you don't have a pressure cooker. You will see white foam forming on the top during the boiling process. Remove the foam using a ladle or spoon.

While the beans are boiling, finely chop the onions and garlic.

Roughly chop the tomatoes, seeds included.

Heat the oil in a large pot over medium heat and add the bay leaf, onions and garlic and saute until translucent. About two to three minutes.

Then add the cumin seeds, thyme and chopped tomatoes and cook until the tomatoes are soft and squishy. About 4-5 minutes.

Now add the smoked paprika, the boiled beans (including the bean water), the maple syrup and cover and bring to a boil. Once it comes to a boil, reduce the heat and simmer for about 20 minutes.

Once the beans are cooked, using the back of a spoon or ladle, crush some of the beans. This gives the beans a thicker sauce. Continue cooking for a minute or two.

Serve hot on toast garnished with some chopped herbs.
Food Safety
In a professional kitchen, food hygiene and safety is a top priority, and from the very beginning of training, I practised good habits and routines. Of course, it is also very, very important to practice good food hygiene and safety at home. Here are some fundamental practices to adopt in the kitchen.
Wash your hands regularly while preparing, handling and cooking food
Wipe down counter tops and high contact points regularly
If you cook meat and fish, do not use the same utensils on cooked food, that previously touched raw meat. Use separate chopping boards for meat and fish. Wash your chopping boards immediately after use.
Thoroughly cook food to a minimum temperature of 165 °F (74 °C)
Don't leave food sitting out at room temperature for extended periods (more than 2 hours)
For more details of food hygiene and safety in the home, visit the UK Government's Food Standards Agency webpage.