I am a chef, so sometimes I have to decide to sleep an extra five minutes after a late shift or have breakfast. Yes, you guessed it right, I choose to sleep! Cereal is ideal for a quick breakfast; however, the sugar content puts me off. I find that many shop-bought kinds of cereal have sugar near the top of the list of ingredients. Consequently, I decided to make my healthy granola recipe with no refined sugar or unhealthy oils.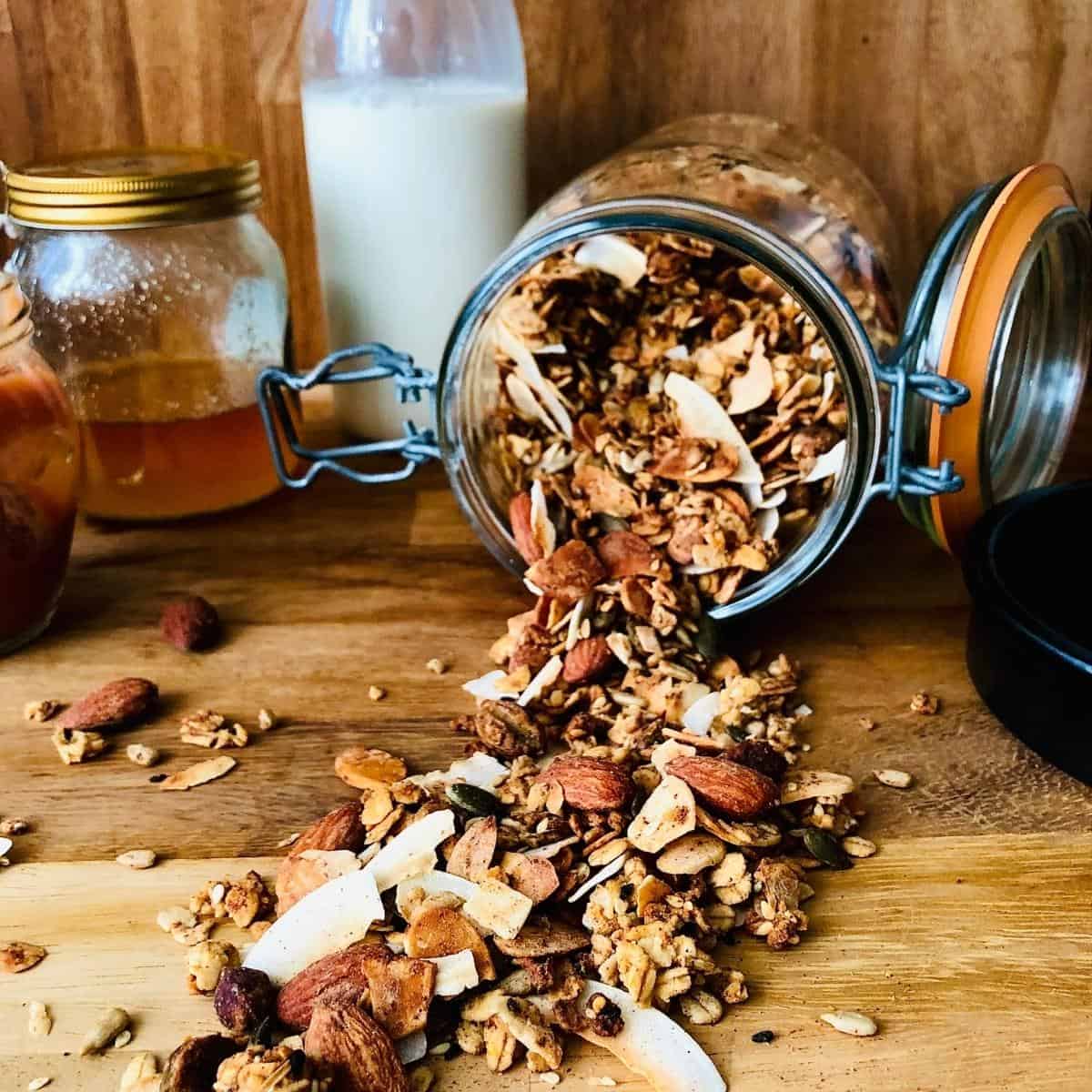 This healthy granola recipe has a broad spectrum of nuts and seeds.
Coconut oil and maple syrup give this granola sweetness.
Orange zest and orange blossom give it a citrusy flavour. For those who don't know, orange blossom is orange blossom water - produced by the distillation of bitter orange blossoms. You can find it in a supermarket.
All in all, this is a healthy breakfast that will keep you fuller for longer and not impact your blood sugar.
The time and effort to make this healthy granola recipe is well worth it for the nutritional payback. You can do a big batch like me that will last a couple of weeks.
Top it off with some sliced fresh fruit, or perhaps make my crab apple butter or medlar fruit butter and put a dollop on top.
If you prefer chocolate granola, I have you covered for that too!
Lets cook!
Jump to:
Ingredients
Jumbo oats
Almonds with whole skin on
Sunflower seeds
Pumpkin seeds
Black sesame seeds
White sesame seeds
Almond flakes
Pistachio nuts, shelled
Maple syrup
Coconut oil
Sea salt
Coconut flakes
Oranges
Orange blossom
Cinnamon powder
See the recipe card for quantities.
Instructions.
Making this healthy granola recipe is quite simple.
Turn on the oven and set 180ºc.
Get two bowls.
In one bowl, place all the dry ingredients: Oats, Almonds, sunflower seeds, pumpkin seeds, sesame seeds, almond flakes, pistachio nuts and cinnamon powder. Mix all of these dry ingredients thoroughly. Hands are suitable for this!
In the other bowl, place the wet ingredients: coconut oil, orange blossom, maple syrup, orange juice and zest. Mix these wet ingredients thoroughly together.
Pour the wet ingredient mixture into the mixed dry ingredients bowl and thoroughly mix them. Again, the hands are very good for this!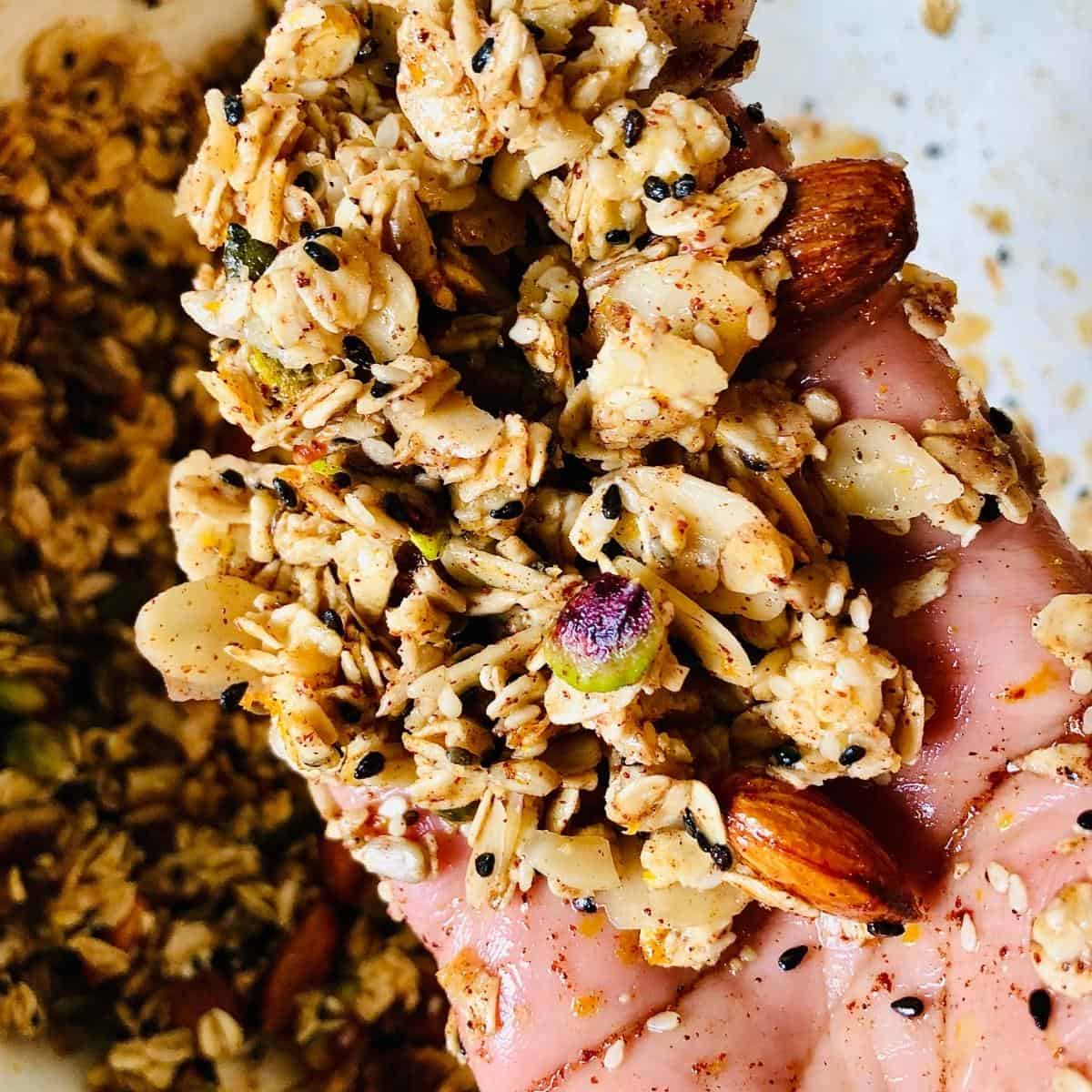 Once thoroughly combined, transfer the mix to baking trays. Make sure you spread the mixture thinly and evenly so the granola cooks uniformly. Spread it to the edges of the baking trays.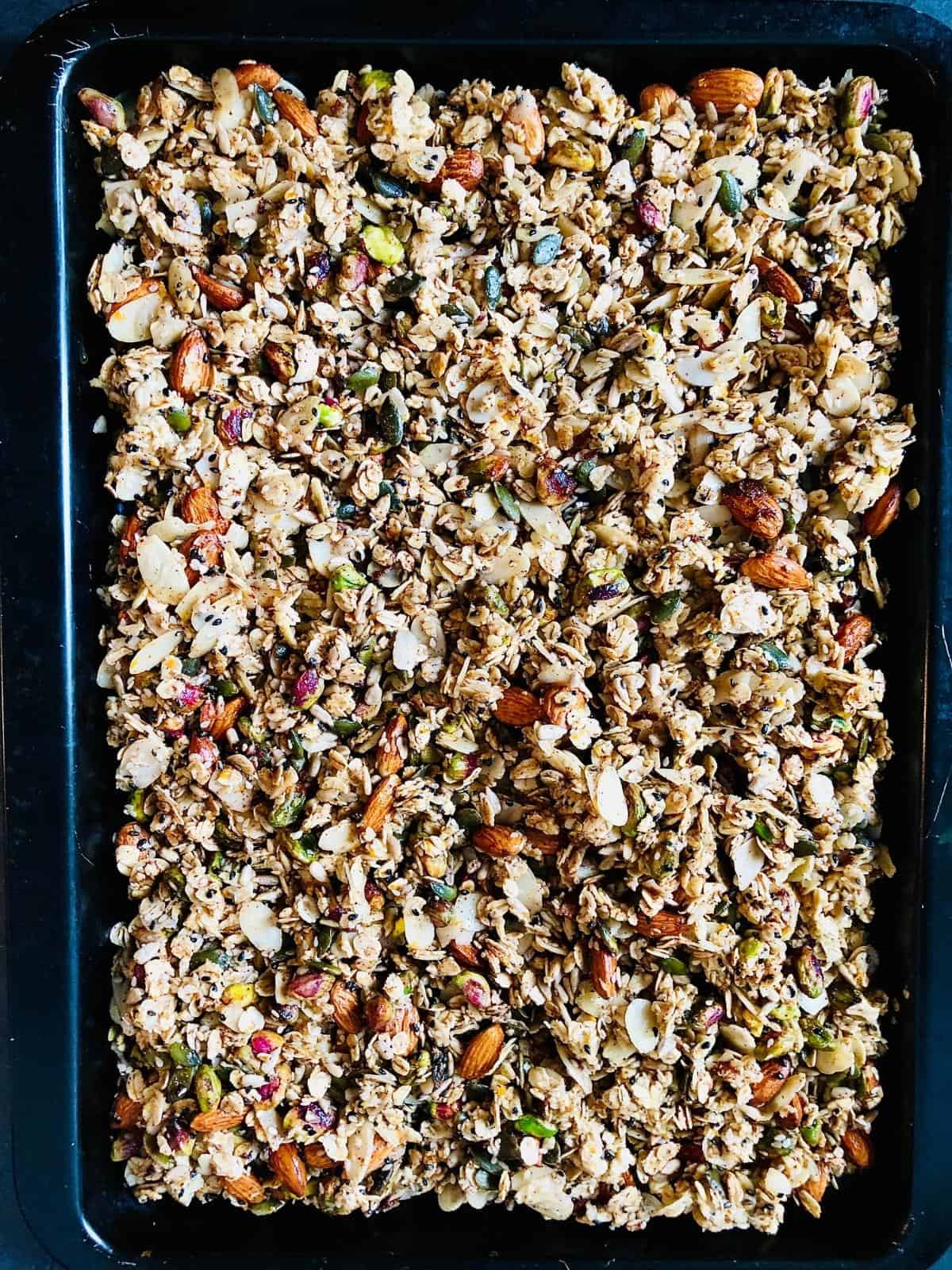 Place the trays in the preheated oven.
Bake the granola in the oven for twenty minutes. Remove the tray from the oven and mix up the contents. The granola around the edges tends to cook a little quicker, so turn it into the middle. The aim is to get everything roasted evenly.
Place the trays back in the oven and cook for a further fifteen minutes. Remove and remix the granola. This time add the coconut flakes.
Put the trays back into the oven for a final time and roast for five more minutes until the coconut flakes start to brown.
Remove the trays from the oven and break up any granola stuck together. Let it cool, and then divide into appropriate airtight containers.
How To Video
Here is a video guide to making healthy granola flavoured with orange blossom.
Substitutions
You can substitute the nuts and seeds listed in this recipe with others of your preference. Replace with similar amounts, or you may end up with a very wet granola mix which may take longer to cook.
If you omit one of the dry ingredients, you will need to reduce the liquids accordingly. Note, for the granola, the oil and the maple syrup are essential, as the oil will help in the roasting, and the maple syrup will give it the sweet flavour. So I suggest you take out the orange juice.
Orange blossom is not essential, but it does lend well to the citrus flavour. If you do not have it or do not have access to it, leave it out. The orange zest will still give it a citrusy flavour.
I do not recommend using honey as a sweetener. When heated, honey loses its health benefits. Its chemical structures are changed.
Variations
I want to show that making a healthy granola recipe at home is relatively easy. As with all my recipes, I try to provide a primary cooking method that you can put your stamp on. Granola is essentially dry ingredients, like oats, seeds and nuts, combined with wet ingredients, like oil and maple syrup. You can alter the flavour to your choice. So experiment to create your signature granola.
Storage
You can store this granola for up to three months in an airtight container.
Top tip
Make sure you toss the granola between the cooking to ensure an even colour and crispness. Usually, the sides get coloured and cooked more quickly than the centre of the tray; if you mix it up, it will have an even colour and crispiness.
📖 Recipe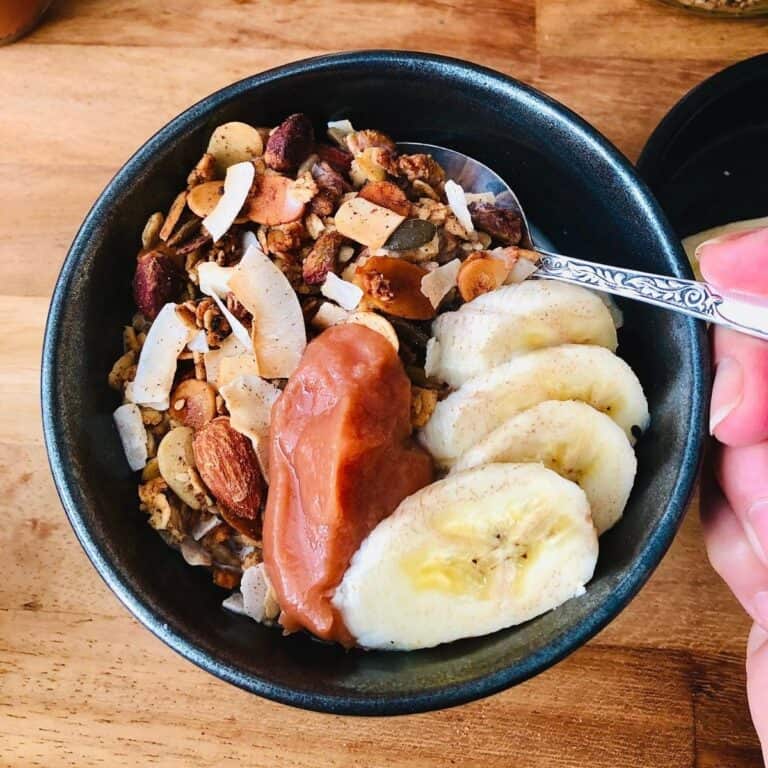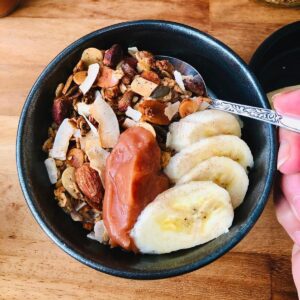 Orange Blossom Granola
Healthy homemade granola recipe. Flavoured with orange blossom and packed with seeds and nuts.
Ingredients
500

gms

Jumbo oats

95

gms

Pumpkin seeds

125

gms

Sunflower seeds

50

gms

Black sesame seeds

50

gms

White sesame seeds

200

gms

Pistachio shelled

200

gms

Almonds whole skin on

250

gms

Almond flakes

250

gms

Maple syrup

5

gms

Sea salt

125

gms

Coconut oil

3

gms

Orange zest

20

gms

Orange blossom

20

gms

Cinnamon powder

145

gms

Coconut flakes
Instructions
In a bowl, add the jumbo oats, seeds, nuts and cinnamon powder.

In another bowl, add the melted coconut oil, maple syrup, salt, orange blossom and the zest and juice of the oranges. Mix to combine.

Add this mix to the oats, nuts and seeds. Mix thoroughly to combine.

Transfer the mix onto two baking trays. Spread evenly so that the granola roasts evenly.

Bake for 20 minutes and then remove from the oven and toss the granola with a spatula to mix, so that the granola browns evenly. Put the tray back in the oven and cook for another 15 minutes.

Remove the tray from the oven, and toss the granola with a spatula again. Add the coconut flakes and put the tray back in the oven for 5 minutes or until the coconut chips start to turn golden brown.

Once done remove from the oven and break up granola if required. Leave to cool.

Once cooled, transfer into an airtight container.
Food Safety
In a professional kitchen, food hygiene and safety is a top priority, and from the very beginning of training, I practised good habits and routines. Of course, it is also very, very important to practice good food hygiene and safety at home. Here are some fundamental practices to adopt in the kitchen.
Wash your hands regularly while preparing, handling and cooking food
Wipe down counter tops and high contact points regularly
If you cook meat and fish, do not use the same utensils on cooked food, that previously touched raw meat. Use separate chopping boards for meat and fish. Wash your chopping boards immediately after use.
Thoroughly cook food to a minimum temperature of 165 °F (74 °C)
Don't leave food sitting out at room temperature for extended periods (more than 2 hours)
For more details of food hygiene and safety in the home, visit the UK Government's Food Standards Agency webpage.