Looking for a sweet spread? Or a fruity topping for your porridge or cereal? Then look no further than this sweet treat: Medlar fruit butter. What on earth is medlar fruit, I can imagine some of you are asking. I would not be surprised if you asked this question because it is a fruit not commonly available in shops. It is a bit of a forgotten fruit and I want to shine some light on it in this post.
Jump to:
Medlar Fruit: Appearances Can Deceive
The medlar was introduced to Europe way back in history, indeed, since before Roman times. It was popular up to Medieval times, but by the 1700's had lost its popularity.
Medlars are small crab-apple sized fruit with a kind of dull golden colour. They are not particularly attractive fruit. Amusingly, they are referred to in some localities as "monkeys bottom" due to thier appearance. Indeed, references to "open arse" occur in literature like Shakespeare and Chaucer. In France it is referred to as "cul de chien" or "dog's arse." I will have none if this though! I am here to champion this humble fruit!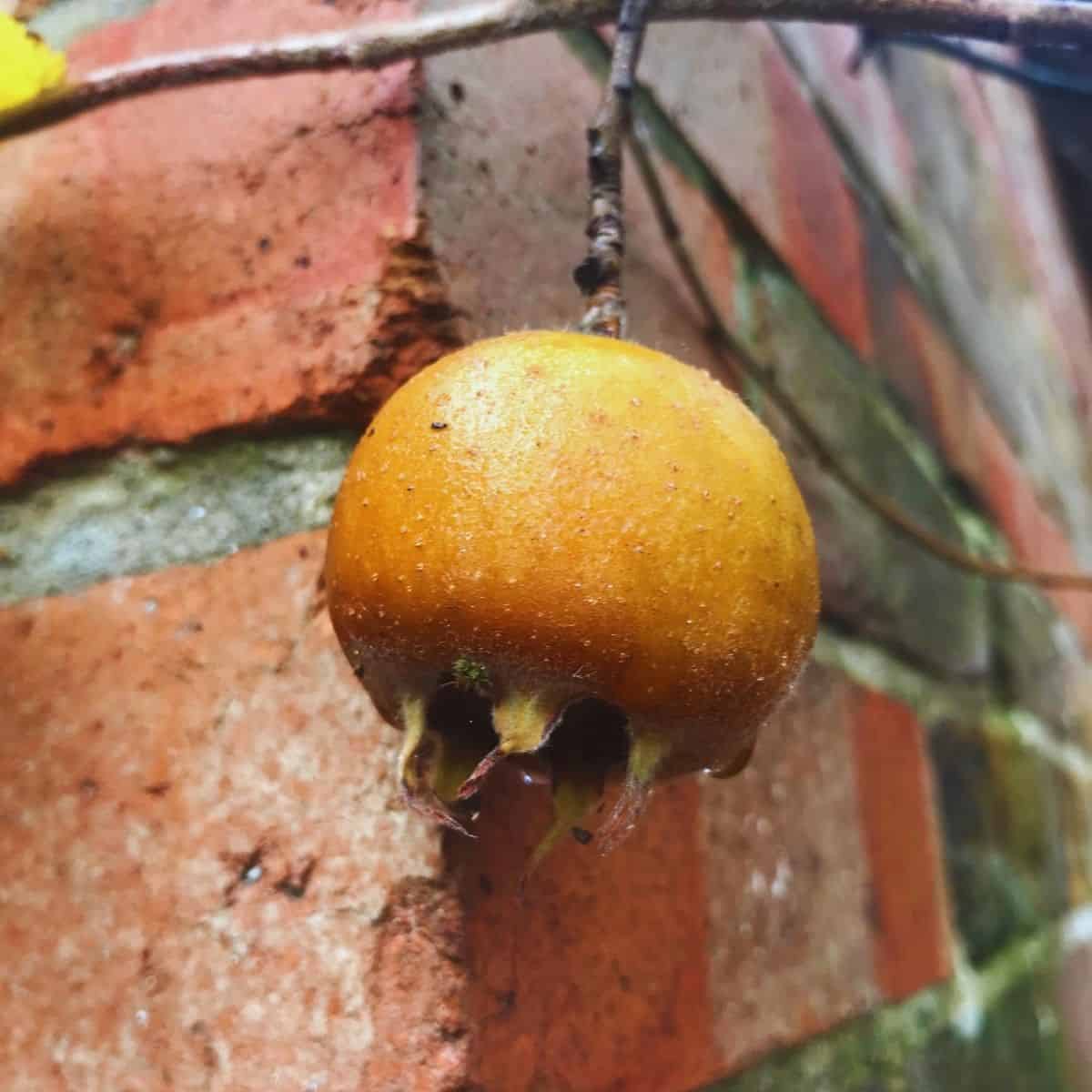 Give Medlar Fruit A Chance
As well as its appearance, the way this fruit ripens to a point of being edible can put people off. Usually, if a piece of fruit goes soft and wrinkly, it is basically ready for the bin. Medlar fruit, on the other hand, are at their prime eating stage when they are soft and wrinkly. To get to this point, they need bletting. This is the process to turn the fruit from a hard, tart, inedible fruit to a soft squishy and sweet state. Basically, they are edible when they look rotted. This is counter intuitive for most of us. However, don't be put off by this appearance.
Bletting occurs on the stem after a frost. The medlars can also be picked off the tree while still hard around November time (yes, they are a winter fruit) and then bletted by storing them in single layers until they turn soft and wrinkly. This process can take onwards of a week.
The soft sweet fruit has been described as tasting like stewed apple or over-ripe dates. Medlar fruit can be eaten raw by squishing out the fruit after the betting has finished.
A popular way to use medlars is in jellies or jams. This recipe is a medlar butter. Basically it is between a fruit puree and a jam. Perfect for porridge, cereal or to spread on toast, perhaps with a layer of sliced banana.
I hope I have persuaded you to give medlars a chance.
If so, let's cook!
How-To Video
Here is a video guide to making medlar butter.
📖 Recipe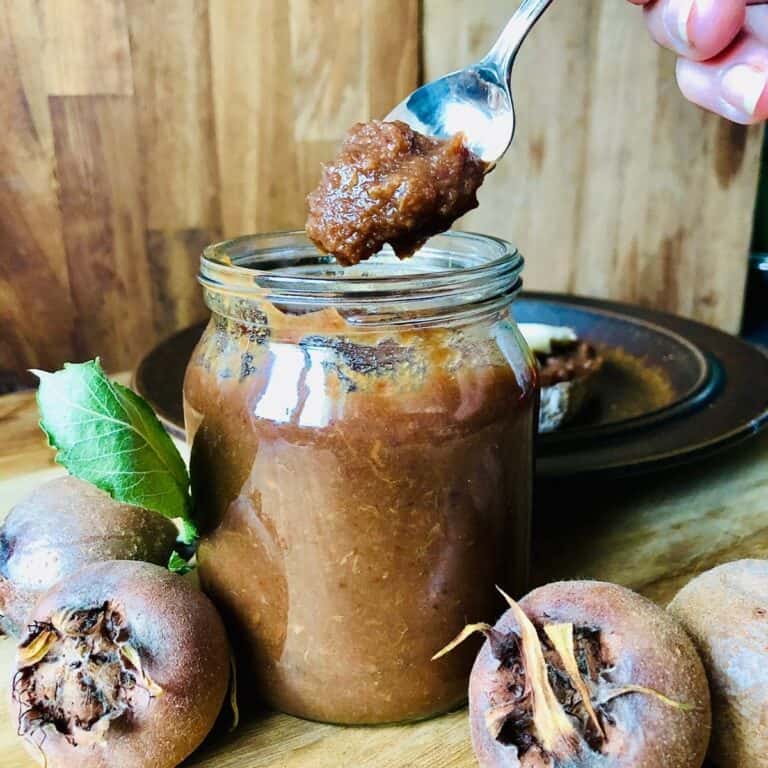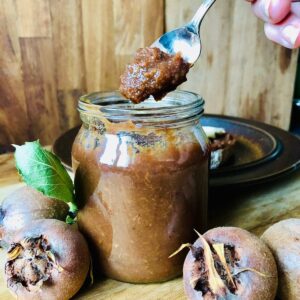 Medlar Fruit Butter
A sweet treat made with foraged medlar fruit. Perfect in your porridge, cereal or spread on a piece of toast.
Ingredients
2

kg

Medlar fruit

Bletted

200

g

Soft brown sugar

750

ml

Water
Instructions
Remove the skin from the bletted medlars and transfer into a pan with the water.

Bring to a rapid boil and simmer for 15 minutes or until the medlars are soft and pulpy.

Pass the medlar puree through a colander (not a sieve)

Once the seeds are out, transfer the pulp back into a pot with the sugar over medium heat.

Keep stirring throughout this process as the medlar pulp will jump. Be careful as the medlar butter thickens, it will be hot and can cause severe burns.

As the syrup thickens it will change colour. If you have a temperature probe or a jam thermometer you can measure the temperature to 85º to 90ºC. If you don't, please have a look at the video, it shows the thickness you should achieve. read more in the recipe notes below.

Once ready transfer to sterilised bottles and seal the jars shut once the contents has cooled a bit.

Store in a dry dark place or refrigerate.
Medlar Fruit Butter Recipe Note
The reason for using a colander and not a sieve is that the aim is to only remove the stones to leave the pulp. During cooking, the pulp breaks down completely into a smooth puree like texture.
How will you know when the fruit butter is ready? It will change from a tan colour into a chocolate brown colour. It will be quite thick, like a soft jam and have a nice shine to it. Have a look at the video to see the different stages.
Medlar butter can be kept at room temperature in a cool dark place for up to three months. Just make sure the bottles and all equipment are sterilised, and use a clean spoon. It can also be refrigerated.
If you liked this fruit butter, then why not try my crab apple butter.