Travelling around the countryside and the city in these late summer months, you will notice apple trees full of ripe apples of different varieties. My mother-in-law's village in Cambridgeshire has numerous crab apple trees at the end of her road. Each year the fruits fall to the ground, and nobody eats them or uses them. Their small size makes them less attractive to eat than larger apples. Such an opportunity missed! Not for me, though. I like to make chutneys and tarts with them. Also, I love making this glorious apple butter, a low-sugar sweet treat.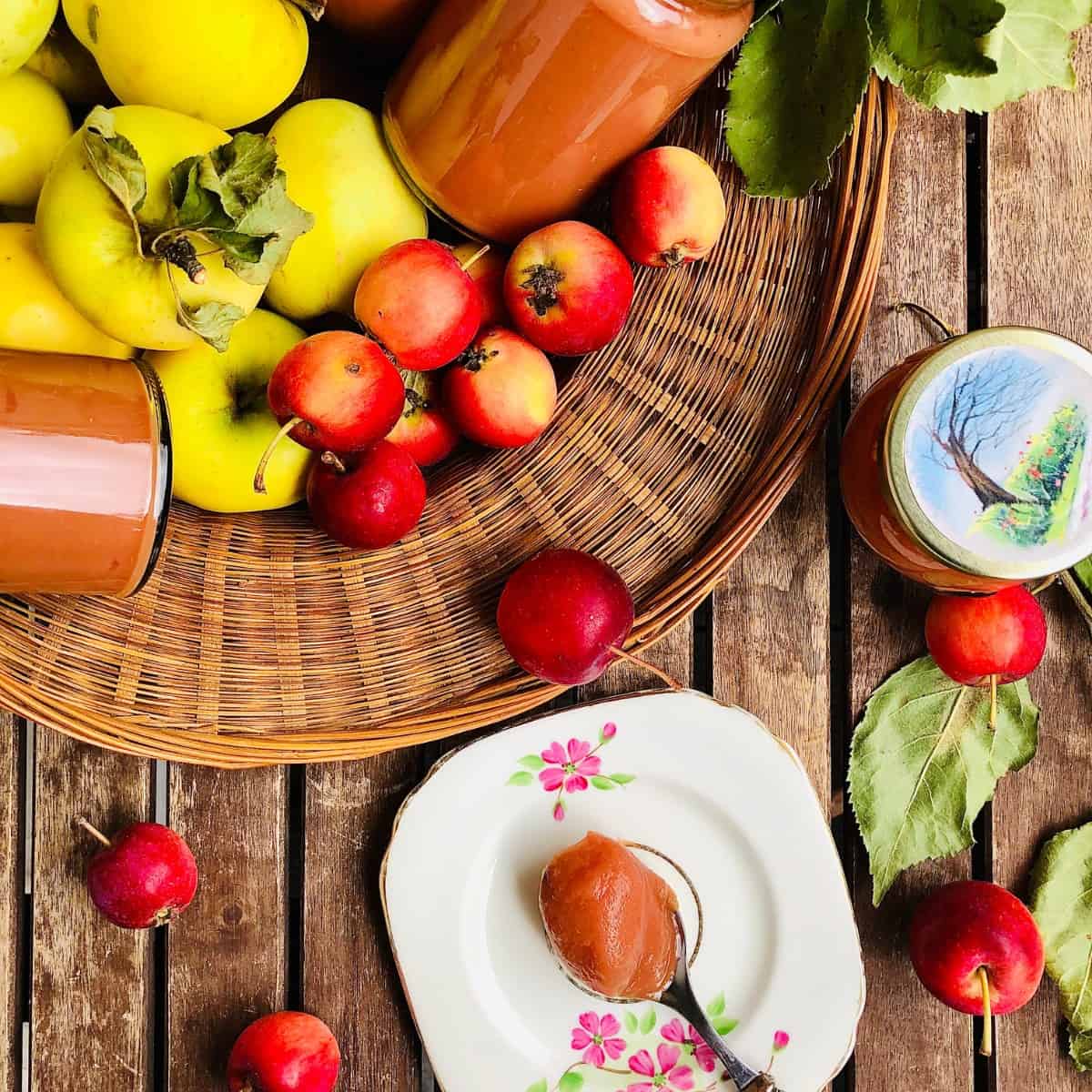 Jump to:
I use beautiful rosy red crab apples and the juice from other apples to make this luxurious low-sugar apple butter. The rosy red crab apples give this butter a beautiful colour and flavour.
I add the juice of other larger apples gathered on my foraging trips for extra flavour and sweetness. The cores from these I keep to make apple cider vinegar.
Since beginning wild food foraging, I have been astonished at what I have missed in nature that is good to eat and, of course, free! Foraging has taught me to slow down and observe my environment.
Wild apples are in abundance at the moment (early September), both in the towns and the countryside. So many just fall to the floor and rot. By gratefully accepting nature's offerings, I feel I am doing my little bit to tackle food waste and climate change.
Grab a basket and look for some wild apples yourself!
I have a few other recipes that use apples, such as my spiced apple chutney, apple cider vinegar, and another sweet treat - my edible apple roses.
While you are out foraging, why not gather some wild blackberries and wild plums? If you are quick, you can still harvest some elderberries and make my elderberry syrup!
Also, please have a look at my medlar fruit butter recipe. Medlar is another foraged fruit recipe using the medlar, an unusual fruit not often used in recipes. They are ready to harvest in November/December.
Ingredients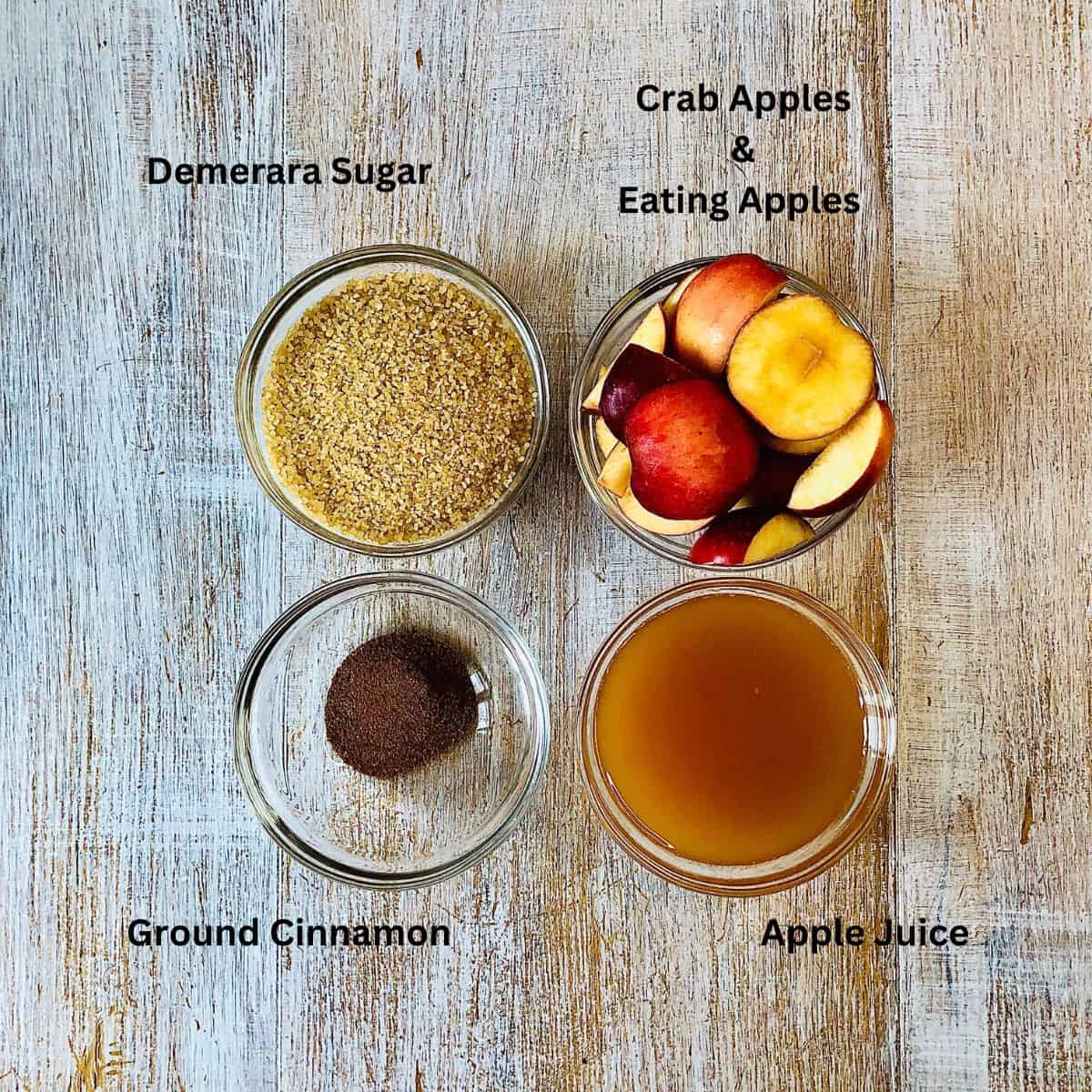 Crab apples & eating apples.
Demerara sugar.
Ground cinnamon.
Apple juice (homemade).
Instructions For Making The Apple Juice For The Crab Apple Butter
All the apples I use in this recipe are from wild apple trees.
I use a variety of gathered eating apples for the apple juice that is added in this recipe. Here is my method for extracting the juice.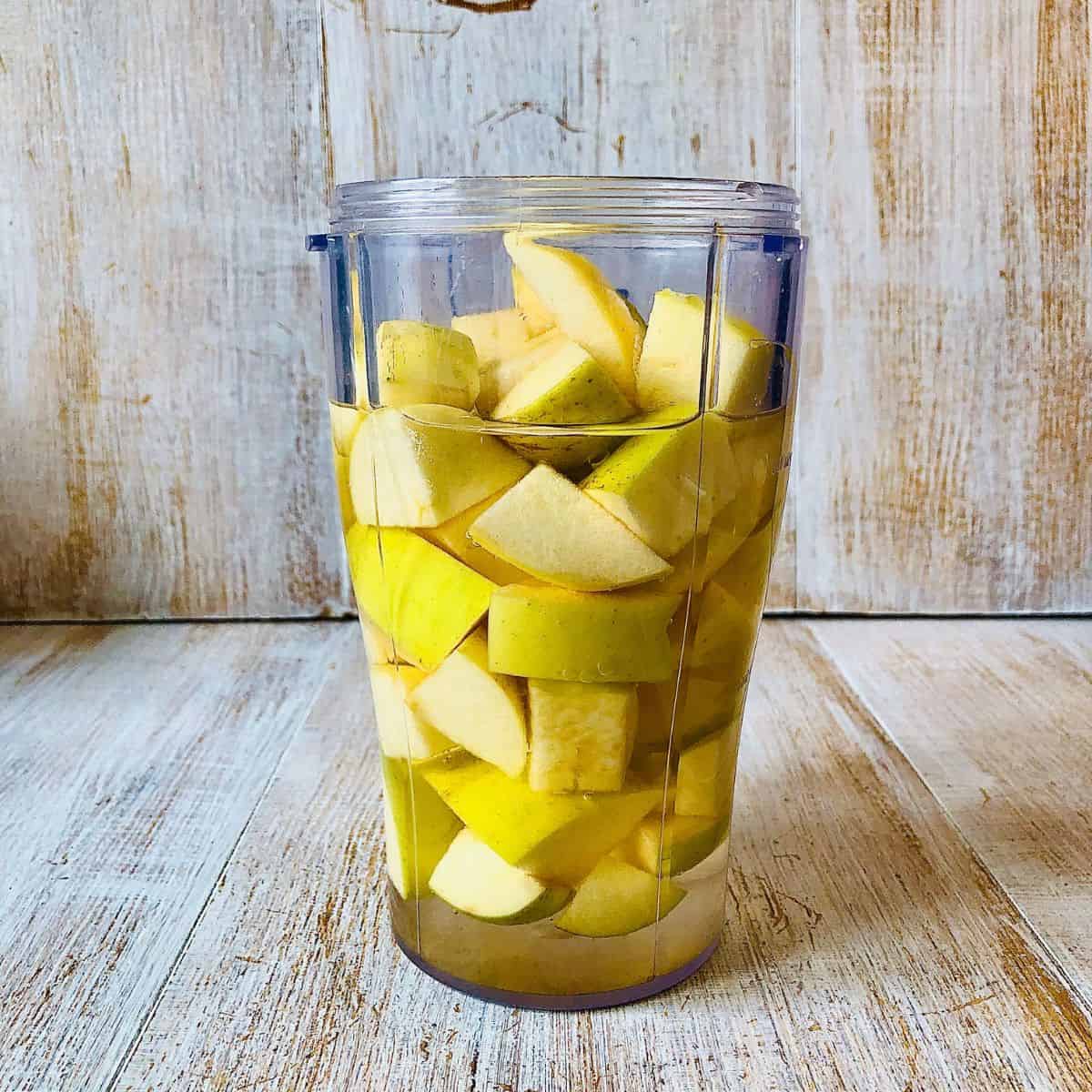 Wash, core and chop the apples for juicing. Blend the chopped apples with 375ml of water.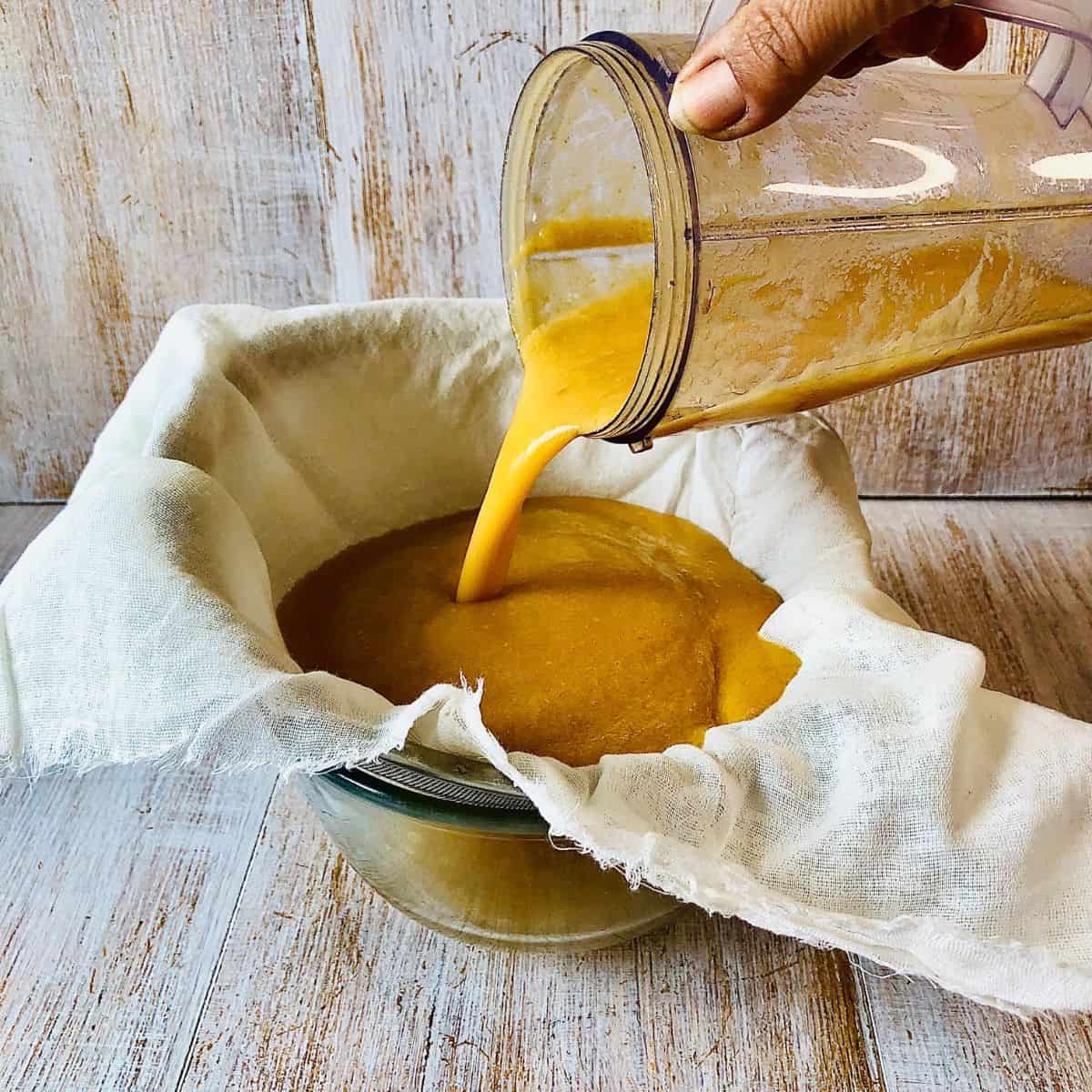 Transfer this blended mix onto a muslin cloth placed on a sieve with a bowl underneath to catch the juice.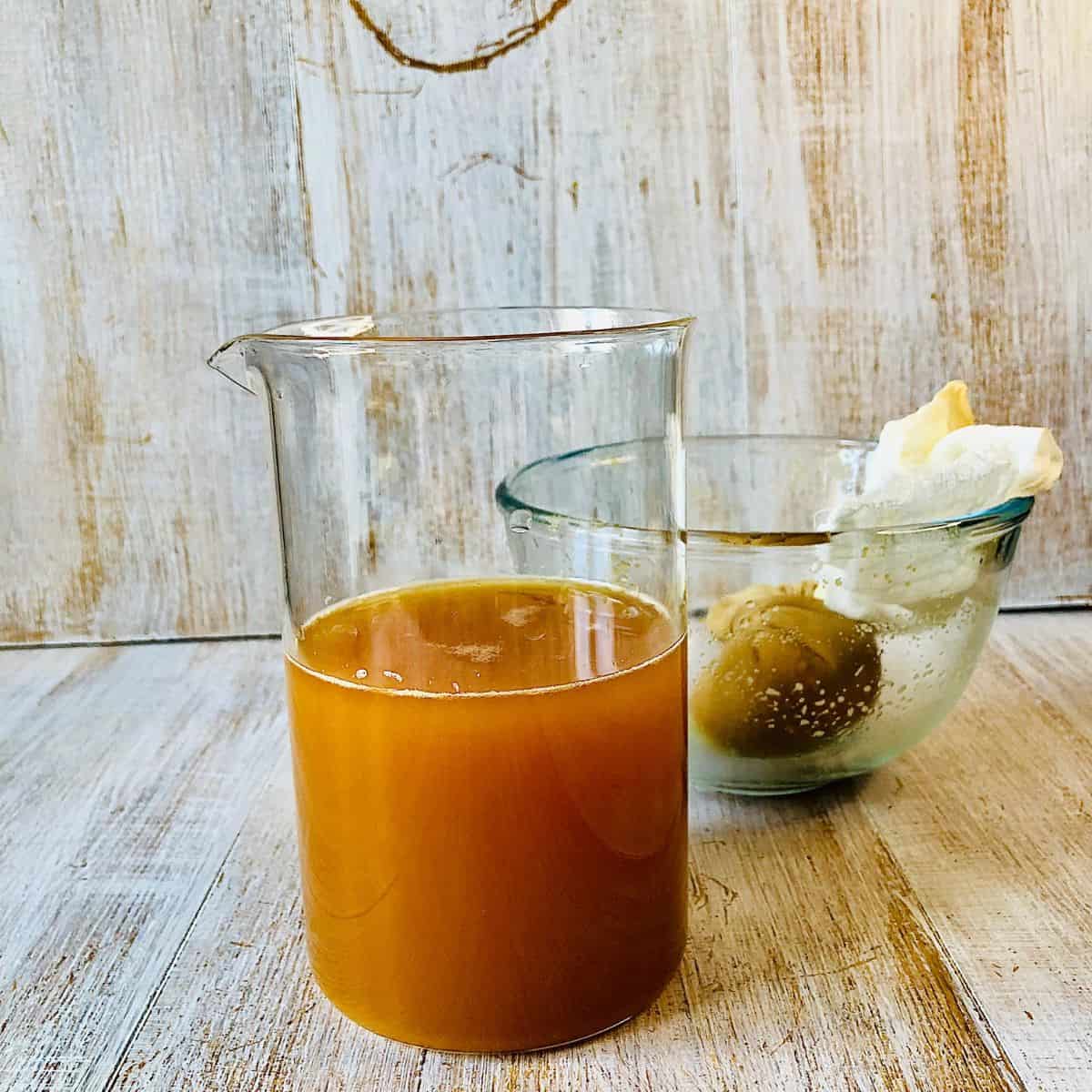 Bring the four corners of the cloth together and squeeze the puree to release the juice. Compost the pulp.
Instructions for Making the Crab Apple Butter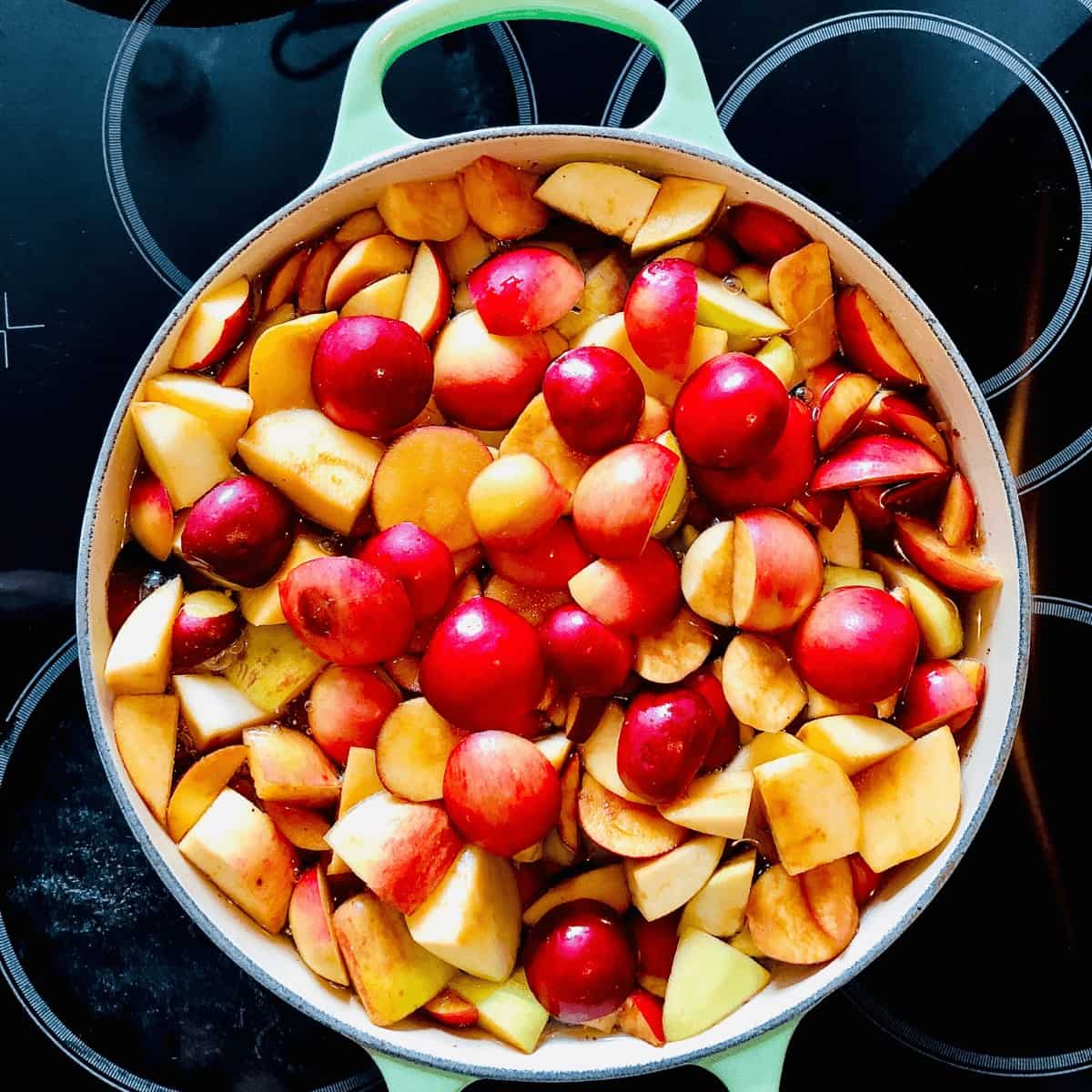 Wash and core the crab apples. Cut into smaller pieces and transfer to a large pot.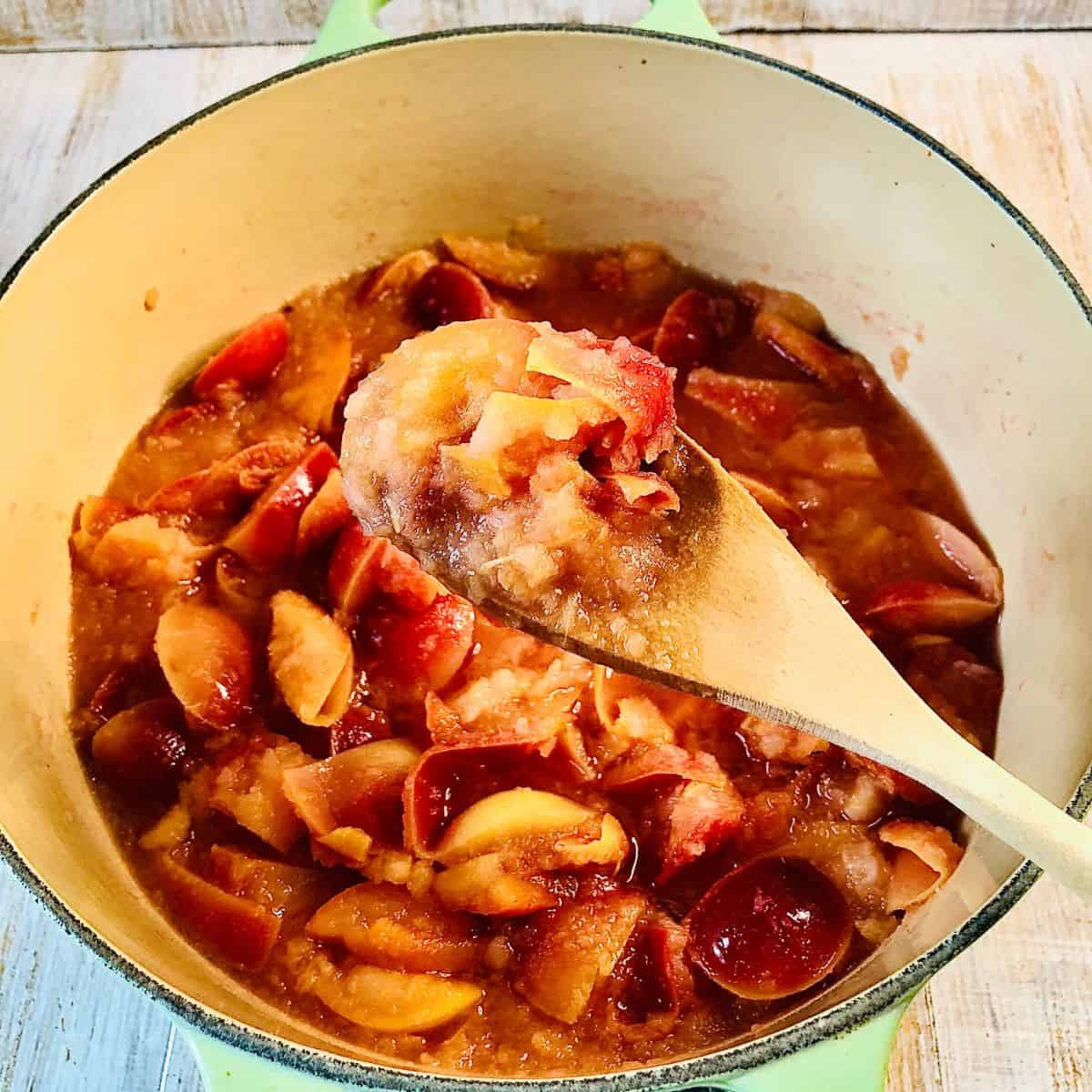 Add 750ml of water and bring to a boil. Turn down to a simmer and cook the apples for 30 minutes. Check if the crab apples are cooked by pressing one against the pot's side. It is cooked if it is soft and breaks easily.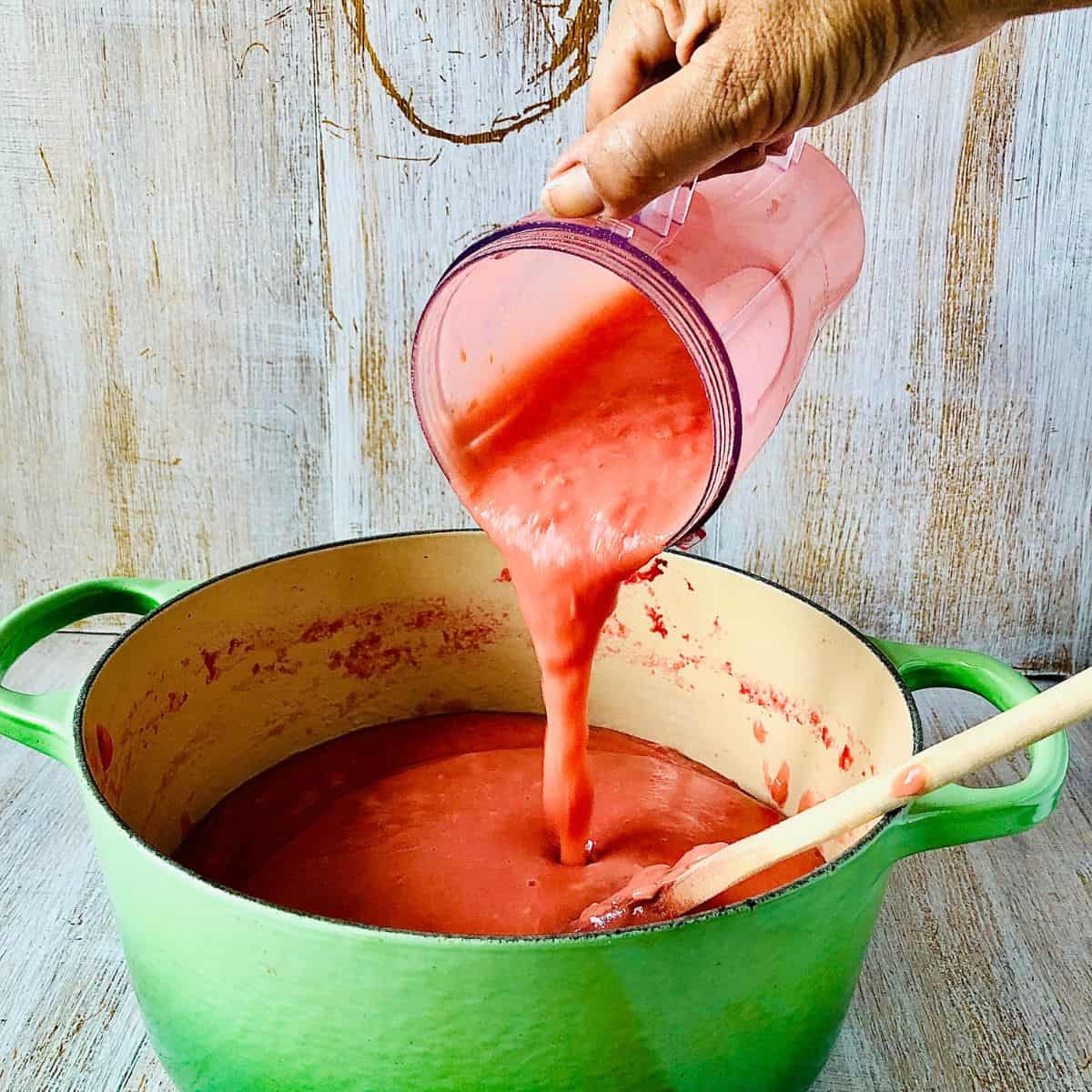 Set aside to cool. Then puree the cooked crab apples in a blender. Transfer the blended apples into a large pot.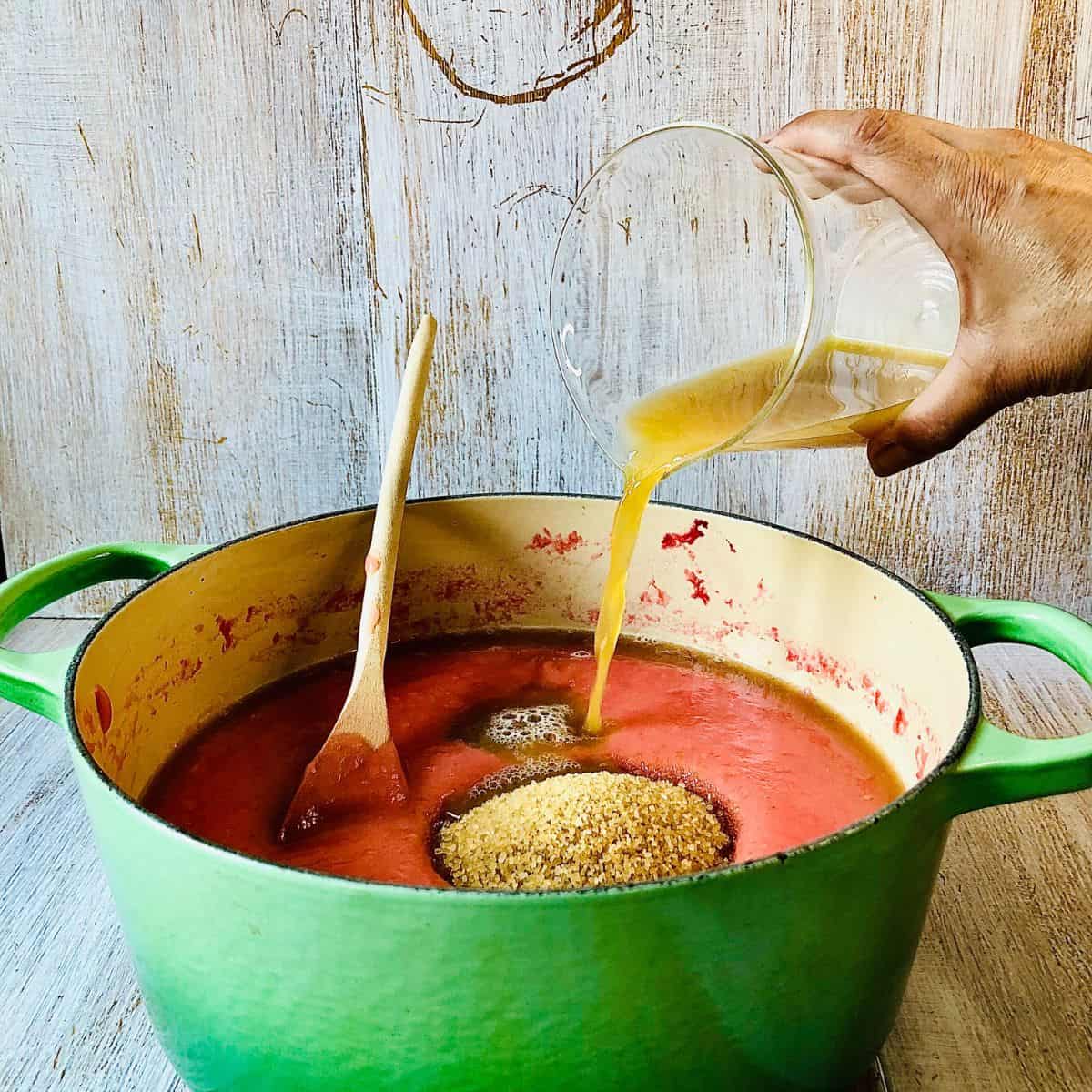 Add the sugar and apple juice and bring to a boil while stirring.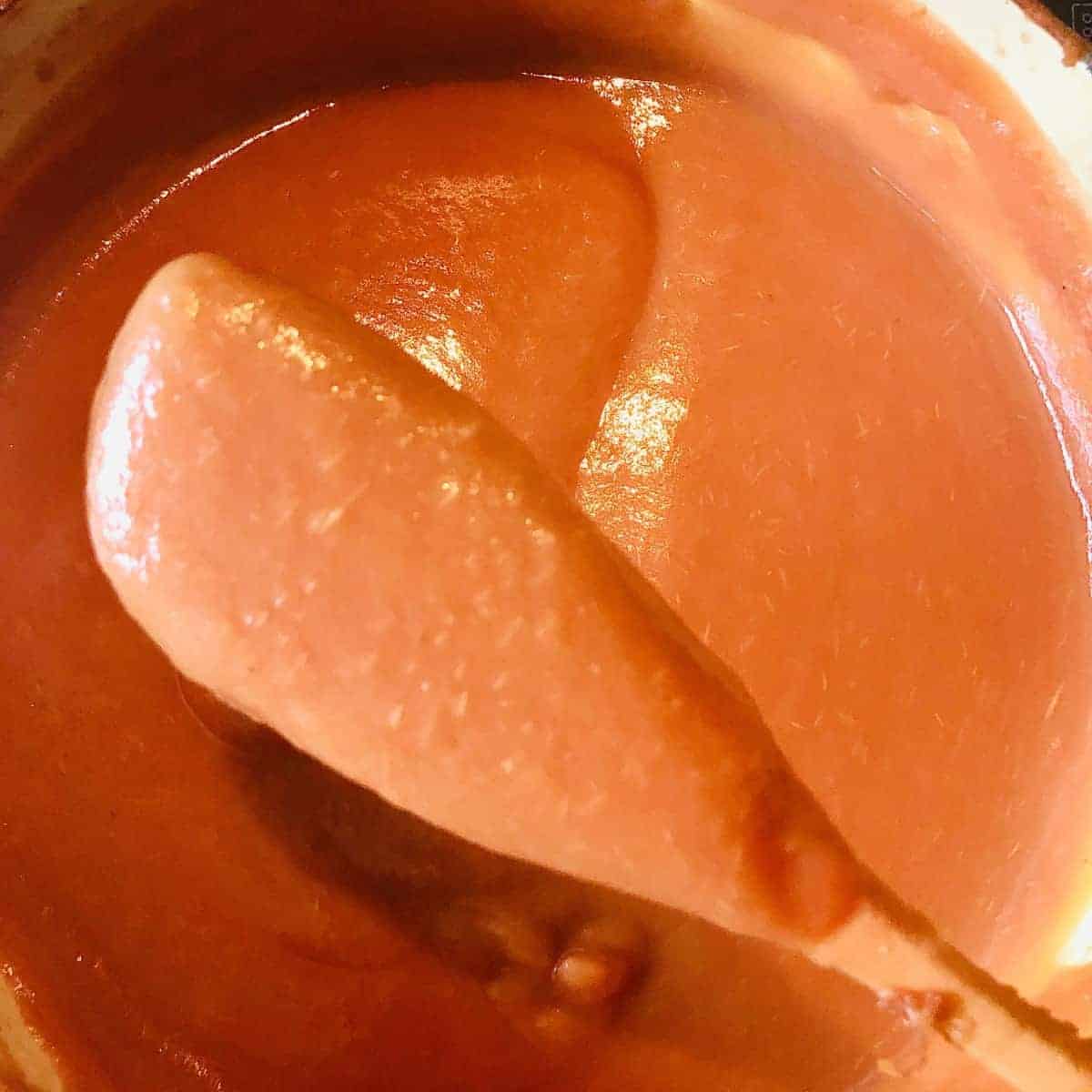 Reduce the heat. Add the cinnamon and simmer for 30 minutes while stirring until you have a thick paste. It is cooked when the apple butter shines and has a coating consistency. When a spoon is dipped into the apple butter, it will cling (coat) to the spoon as it drips off.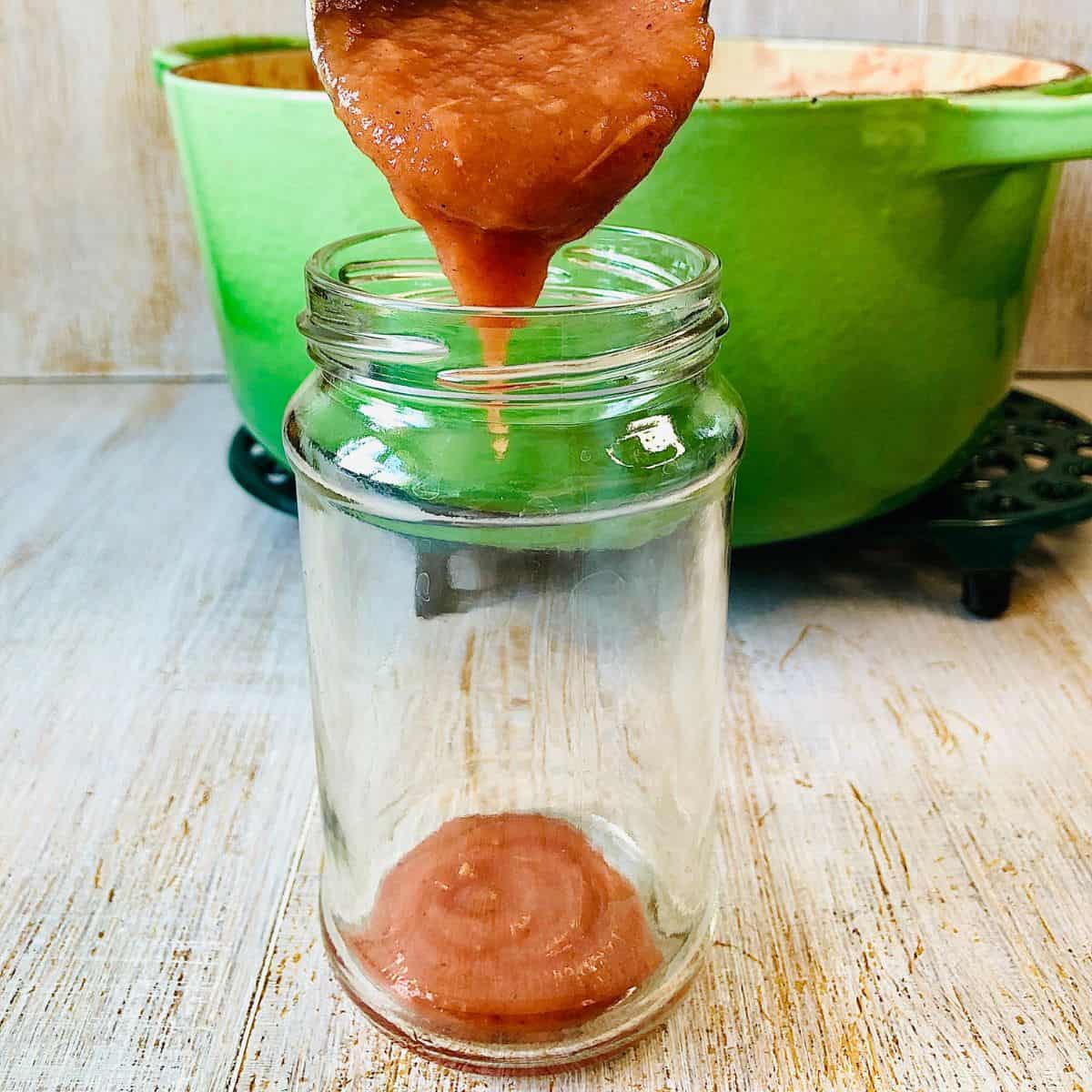 Let the apple butter cool down before transferring it into sterilised jars for storage.
Substitutions
Although all of the apples in my crab apple butter are wild apples, you can use store-purchased apples. In this case, you may need fewer apples.
Don't use cooking apples for this recipe as it will make the butter too tart.
Variations
I don't add any spices apart from cinnamon; however, you can add more flavour by adding spices like star anise or cloves.
Storage
You can keep the unopened crab apple butter at room temperature. Once open, refrigerate it and consume it within a week.
The crab apple butter will keep unopened for three months if the jar has been sterilised properly. Sterilise your jars by washing them in warm soapy water, then place them in an oven at 100ºC for a minimum of 30 minutes.
Be sure to use a clean spoon for serving to avoid contaminating the apple butter and encouraging mould growth.
Top Tips
This recipe is a labour of love. You will need to pay attention and keep stirring so that the butter does not stick to the bottom of the pot. Be careful of splatter as it bubbles away while cooking!
To best way to manage your time, first, get the crab apples cooking. While they are cooking, you can get the apple juice ready.
📖 Recipe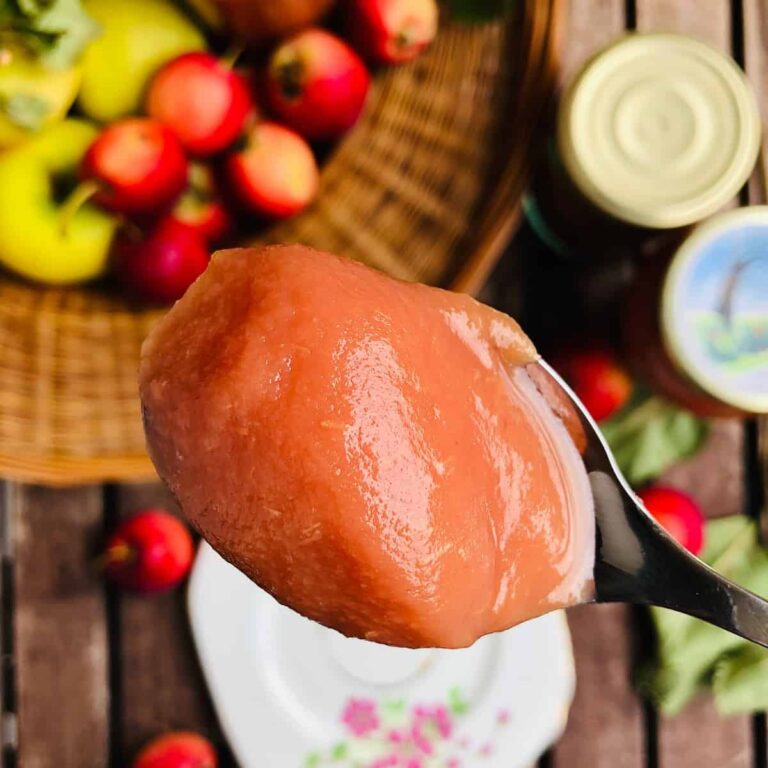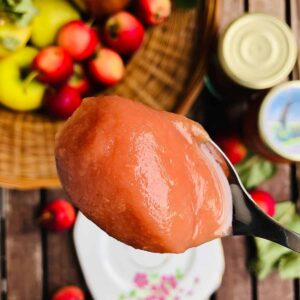 Luxurious Crab Apple Butter
A smooth sweet treat made from wild crab apples. Perfect topping for your porridge!
Ingredients
2

kg

Crab Apples (approximately 55 crab apples)

After coring you will have 1kg, if you are using foraged apples like me. If using store bought apples, you will need less

750

ml

Water

For cooking the apples

750

gms

Apples for juicing (approximately 6 to 7 apples)

After coring you will have 375gms

375

ml

Water

For making the apple juice

100

gms

Demerara Sugar

1

teaspoon

Ground Cinnamon
Instructions
Making the Apple Juice
Wash and core the apples for juicing.

Transfer to a blender together with 375 ml of water and blend.

Transfer this blended mix onto a muslin cloth placed on a sieve with a bowl underneath to catch the juice.

Bring all the corners of the muslin cloth together and squeeze to release the juice.
Cooking The Crab Apples
Wash and core the crab apples.

Add 750ml of water and bring to a boil. Once boiling, turn the heat down to a simmer and cook the crab apples for about

30 minutes.

Puree the cooked crab apples in a blender and bring it back to a large pot.

Add the apple juice and sugar. Bring to a boil while stirring the apple butter. It will take about 15 minutes to come to a boil. Remove the foam (scum) that forms.

Once boiling, turn down to a simmer, add the cinnamon, and cook for a further

30 minutes

on medium heat, stirring often.

Once ready, turn off the heat and let it cool for

10 minutes

or so.

Transfer the apple butter into sterilised jars and shut the lid tightly. Leave on the kitchen counter to cool down.
Nutrition
Calories:
573
kcal
(29%)
Carbohydrates:
146
g
(49%)
Protein:
2.8
g
(6%)
Fat:
1.65
g
(3%)
Saturated Fat:
0.55
g
(3%)
Polyunsaturated Fat:
0.55
g
Monounsaturated Fat:
0.01
g
Sodium:
21.95
mg
(1%)
Potassium:
1169
mg
(33%)
Fiber:
5
g
(21%)
Sugar:
44
g
(49%)
Vitamin A:
301
IU
(6%)
Vitamin C:
48.6
mg
(59%)
Calcium:
117.1
mg
(12%)
Iron:
2.2
mg
(12%)
NOTES
The nutritional information is per 250ml jar.
The nutritional information is for guidelines only, generated by the Spoonacular API.
FAQ
What is apple butter used for?
My favourite use is to put it on top of my porridge, on a piece of sourdough and even use it to make a quick dessert, for instance, layering the apple butter onto filo pastry sheets, sprinkling with seeds and then baking it. Yum yum! Since I use hardly any sugar (I use apple juice for sweetness), I can enjoy this daily guilt-free.
Are crab apples edible?
Crab apples are edible, contrary to what many people think. However, they are small and a bit tart, so they are not popular as eating apples. However, they are perfect for jellies and, in my case, apple butter, with their relatively high pectin content. The crab apples are cooked with the skin and then pureed in this recipe.
Food Safety
In a professional kitchen, food hygiene and safety are top priorities, and from the beginning of my training, I practised good habits and routines. Of course, practising good food hygiene and safety at home is also essential. Here are some fundamental practices to adopt in the kitchen.
Wash your hands regularly while preparing, handling and cooking food.
Wipe down countertops and high-contact points regularly.
If you cook meat and fish, do not use the same utensils on cooked food that previously touched raw meat. Use separate chopping boards for meat and fish. Wash your chopping boards immediately after use.
Thoroughly cook food to a minimum temperature of 165 °F (74 °C).
Don't leave food at room temperature for extended periods (more than 2 hours).
For more details regarding food hygiene and safety in the home, visit the UK Government's Food Standards Agency webpage.