Elderberry is full of vital vitamin C. Before resorting to pharmaceutical remedies, I look to nature first, so this elderberry syrup is a seasonal favourite natural remedy of mine. I first encountered the benefits of elderberries a few years ago when I started my foraging adventure. In the first year I made cordial and had a spoonful everyday. Sure enough, it was the first winter that I did not suffer from a cold or cough.
Jump to: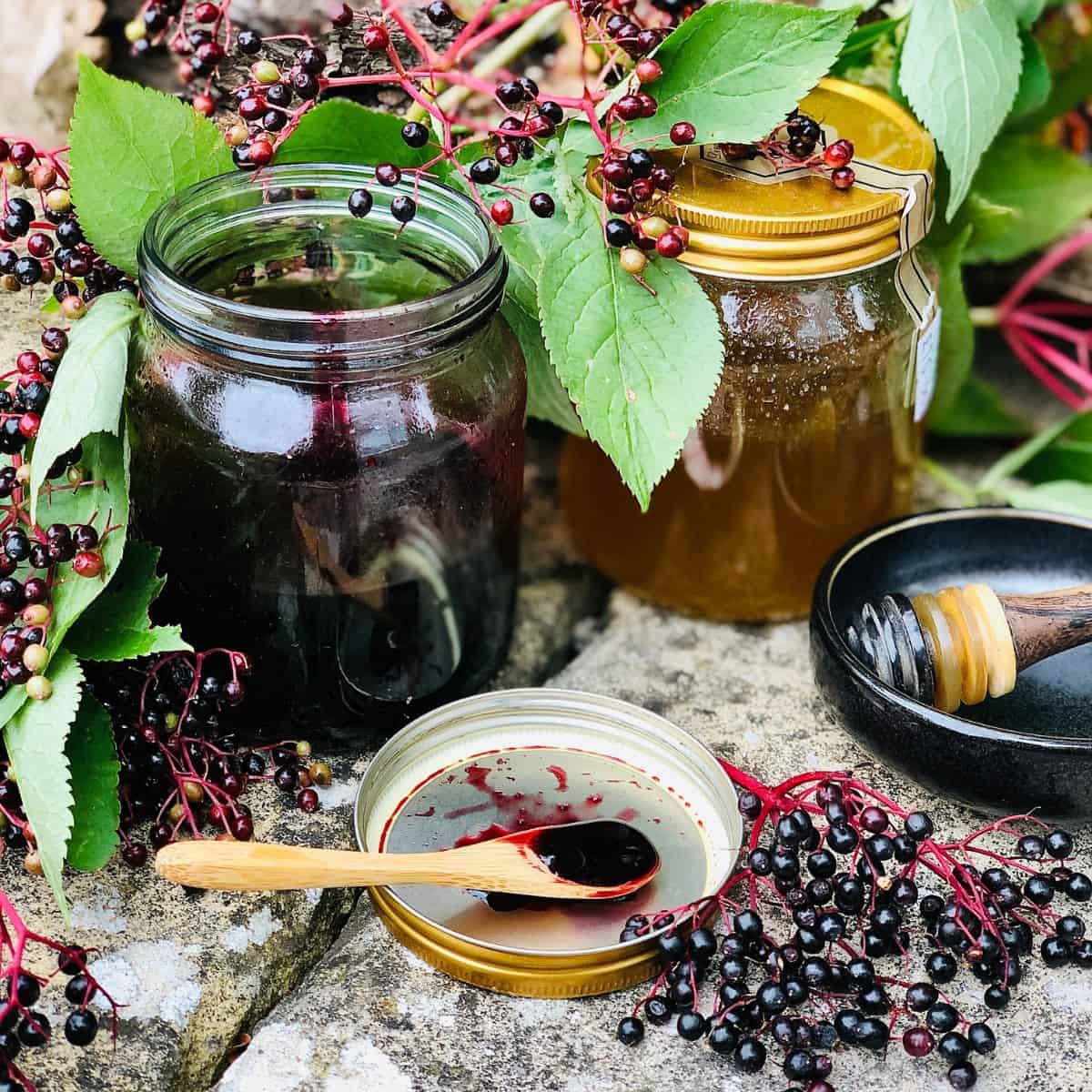 The problem with cordial though, is the added sugar. So since last year I decided to make elderberry syrup with honey.
Elderberry Syrup - A Vitamin & Antioxidant Boost
Elder trees and bushes grow in woodlands, hedgerows, parks, and road sides all over the U.K. In late spring you can see the white fragrant blossoms everywhere. Like the later arriving berries, the flowers can by used to make a refreshing cordial drink too.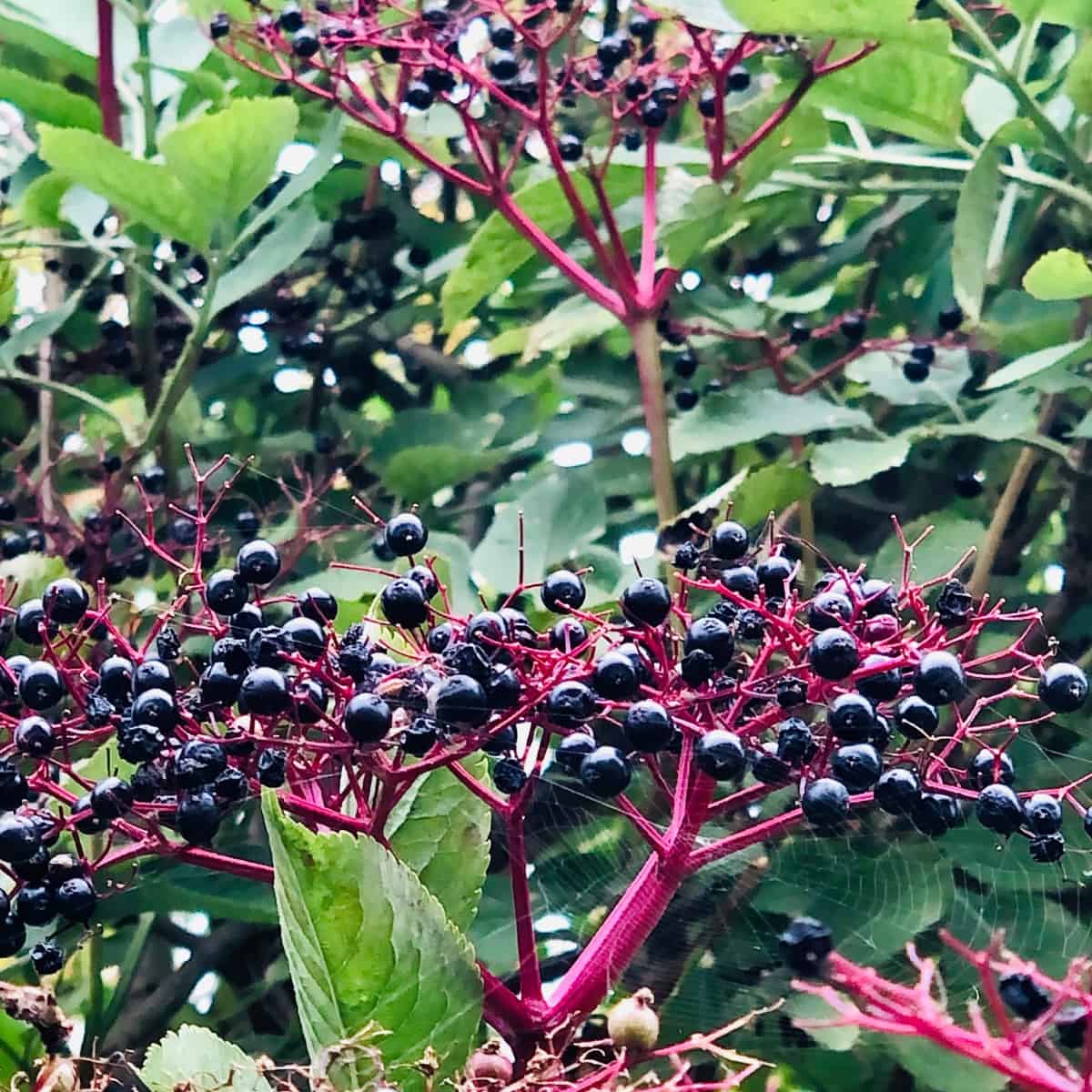 Elderberries contain antioxidants and vitamins that may help to boost the immune system. They have long been a popular choice as a healing agent. Elderberries contains substances called flavonoids which possibly reduce swelling, fight inflammation and boost the immune system. Some scientific research is out there to back up the elderberries ability to help combat colds / flu. Follow this link for an example. I usually have a teaspoonful of my elderberry syrup a couple of times a week as a preventative measure. At the first sign of the sniffles, take a spoonful!
Eating elderberries raw can cause stomach issues so it is important that you cook them before consuming the produce. Don't use the stems or leaves in any way. When making your elderberry syrup, it's important to pick only the black ones and remove them from the stem. A good way to do this is to gently run a folk through the berries on the stems. They pop off quite easily. Before cooking remove any berries that are not black in colour.
This recipe for elderberry syrup is easy to make at home. I either have it on top of my porridge, sometimes as a drink mixed in warm water, or just neat straight from the teaspoon. Don't add it to boiling water though as this changes the enzymes in the added honey and reduces its benefits. Aim for raw honey to get the maximum health benefits.
If the foraging bug bites you, then why not give my foraged wild crab apple butter a go!
How-To Video
Here is a video guide to making your elderberry syrup.
📖 Recipe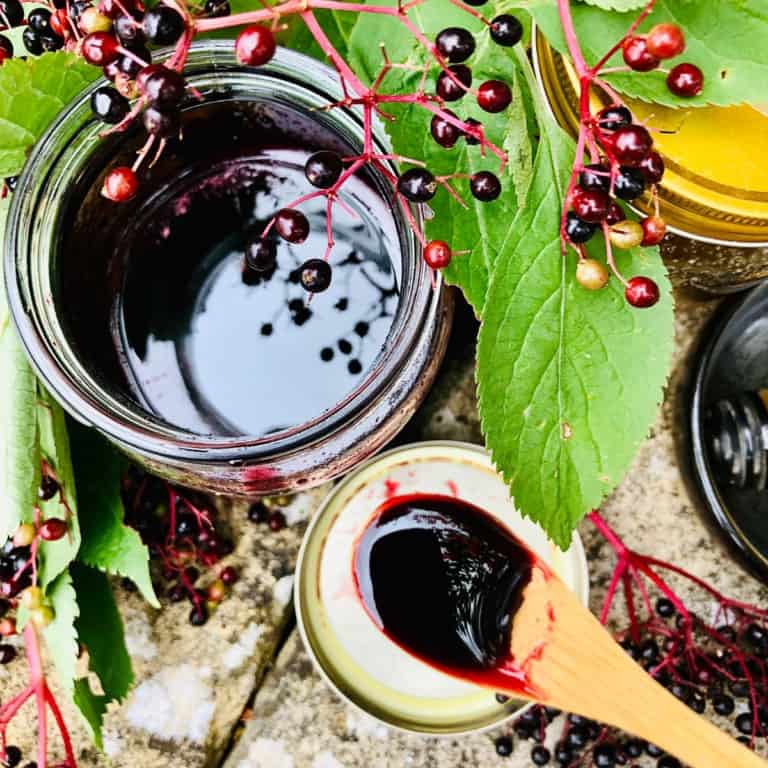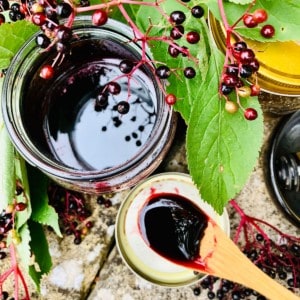 Immunity boosting Elderberry Syrup
Elderberry syrup with honey, free from refined sugar. Give your immune system a boost!
Ingredients
250

gms

Elderberries

Picked off the stem

100

gms

Honey

Preferably raw, unpasteurised

200

ml

water
Instructions
Gather the elderberry. Wash and pick off the stem. If making a large quantity use a fork to separate the berries from the stem. Insure you only have the black coloured ones and not the green or rosy ones.

Transfer the berries to a pan and add water. Bring to a rapid boil, then simmer covered for about 15 minutes.

Transfer the cooked berries to a sieve with a bowl underneath to catch the juice. Using the back of a spoon, press the berries to release the juice. You should get about 180 gms of juice. Once done, discard the berries.

Return the juice of the cooked berries back to a pan and simmer gently for 15 minutes until syrup consistency. Set aside to cool.

Transfer the berry syrup to a sterilised bottle and slowly add in the honey. Give it a good mix. You should have about 130 gms of elderberry honey.

Seal the jar and store at room temperature. ( If you live in a country where the temperature is above 18ºC please store it in the fridge ) Once opened, store in the refrigerator for upto three months.

When using the elderberry syrup, always use a clean, dry spoon and be careful not to contaminate the rest of the tonic in the bottle.
Elderberry Syrup Recipe Notes
When gathering the elderberries I would suggest that you avoid picking from road sides or fields that look like they have been sprayed with chemicals.
ALWAYS do your research when foraging for wild food and only consume what you are completely sure is edible.
Although I am a passionate believer in the power of natural remedies, of course, don't hesitate to seek the advice of a medical practitioner if neccesary.
You can use vegan honey instead of bee honey, however, you may need to adjust the quantity.
I have kept my elderberry syrup for over a year, however, I recommend to use it within three months. Keep it refrigerated once you open the bottle, and always use a clean, dry spoon each time you use the elderberry syrup so as to avoid mould growth.
To sterilise a bottle, the easiest way is to wash it with hot soapy water and then leave it in the oven for a minimum of 30 minutes at 100ºC.